The Best Early Prime Day Home Deals To Shop Right Now
Betches may receive a portion of revenue if you click a link and purchase a product or service. The links are independently placed and do not influence editorial content.
Mark your calendars: Prime Day is officially one week away. It feels like Christmas morning, only it's mid-July and I'm buying my own presents. I'd personally like to thank Amazon for allowing me to purchase the things needed to keep my abode humble while convincing my husband we're saving money since everything's on sale. 
Most of the discounts that start on July 12th are still being kept under wraps, but we're not gatekeeping all our favorites that you can shop early. Here's a roundup of all the best home deals so you won't actually break the bank when decking your halls.

Adjustable Portable 8 Position Lap Top Desk

Mind Reader
So you've finally decided to upgrade your space after 2+ years of WFH? It's time to stop working from bed, and this is the perfect portable laptop desk to make any space work-friendly. Goodbye, tech neck.

48-Foot LED Outdoor String Lights

Amazon Basics
While not everyone can vacation in Italy this summer, you can bring the Amalfi ambiance to your backyard by dining al fresco under these outdoor string lights.

Waterproof Portable Bluetooth Speaker

JBL
From the beach to your backyard, keep the summer concert series going just about anywhere with this waterproof portable speaker.
Nothing screams "adult" quite like buying yourself a vacuum. Don't worry though, you don't have to actually clean—this Roomba will do the dirty work for you.

Queen-Sized Sleep Element Mattress

Casper
You know how we mentioned adulting with the vacuum? Well, it's time to buy a new mattress too. The one you took from your childhood bedroom just won't cut it anymore.

100% Cotton Terry Bathrobe

Pinzon
Imagine being able to feel like you're at a five-star hotel while lounging around in your new bathrobe sipping on an oat milk iced latte every morning. You're welcome.
Great news—gone are the days of having to get up from the couch to see who's at the front door. The Ring Video Doorbell not only makes you feel safer, but also lets you keep an eye out for all your incoming Amazon packages.
You can blend way more than just smoothies with this Vitamix. Can't you just picture piña coladas by the pool?

7 Piece Barware Essentials Set

Viski
Speaking of piña coladas… Get classy with your cocktails this summer. This set has everything you need to make it shaken or stirred. 

Pre-Seasoned Cast Iron Skillet Set

Utopia
The seasoning process of skillets always seemed so complicated to me. Thankfully, these come pre-seasoned so you are one step closer to that perfect cast-iron cookie recipe.
I know it's all "hot girl summer" and "hot girl walks," but let's not forget to stay cool with a good indoor fan.

Wrist & Ankle Weights

Bala Bangles
Update your at-home workout with these aesthetically pleasing wrist & ankle weights. They're so cute you might even want to leave the house with them on.
Image: NICK FANCHER / Deathtothestockphoto.com
Apartment Decor Under $50 That Looks Chic, Not Cheap
I recently heard something about how millennials can't afford to buy houses because we spend all of our money on avocado toast or something. Fair. But like, in our defense, we also have a harder time getting into colleges, getting a job after college, and are pretty much guaranteed no social security. Cool. So anyway, that being said, most of us twentysomethings aren't living in houses right now the way our parents already were at our age. Most of us are still living in apartments, and you know what? I'm okay with that. But we're also not in college anymore, so we don't have to subject ourselves to below average, frat-house-style living conditions. And, one of the best ways to make a less desirable space more desirable is by elevating it with decor. For example, you shouldn't have one of those tacky Walmart college-dorm-special desk lamps in your new grown-up apartment. Rather, you should have a more mature and chic lamp, such as a Himalayan salt lamp. So here is some more apartment decor under $50 (wouldn't want you to sacrifice your avocado toast, I get it) that will elevate your living space, regardless of whatever exactly that is.
1. Himalayan Salt Lamp

Himalayan Salt Lamp, $34
I just alluded to it, but an easy way to make your space more elevated and zen is by getting yourself a Himalayan salt lamp. I actually had one in my room my senior year of college, and everyone gave me sh*t for having a new-agey crystal. Which, when I bought it, I didn't even realize the health and mood benefits the lamp actually offers. Honestly, I just bought it because I thought it was cute. The soft lighting it creates is pretty much the holistic equivalent of taking a Xanax, and you can easily get one for under $50 at your local Home Goods.
2. Flowers and Fake Plants

Peony Faux Flower Bouquet, $29
If you live somewhere hip like LA, you probs have the luxury of picking up fresh flowers at your weekly farmers market to bring life to your apartment. For the rest of us, fresh flowers may not be that practical or financially responsible to have in our apartment every day. That's why it's great to buy some fake plants to mix in and elevate your space during the off-seasons when you don't have the luxury of real ones. Just the sight of the plant (fake or not) will make your place look a little more boho and natural. Plus, fake plants are a great filler for dead floor or wall space. You could also buy a few different succulents to keep around all year because they last a while and require less maintenance.
3. Coffee Table Books

The Swimming Pool in Photography, $37.40
It may seem like a basic way to decorate but, as basic as coffee table books may be, they are an easy way to up your apartment game. Whether you're into fashion, architecture, food, or whatever, there are coffee table books that make sense for you. Personally, I love using them to create depth to an otherwise flat space. Meaning, besides just on my coffee table, I use cute books in my bedroom to raise my jewelry dishes, etc. It's an easy way to make the space more lived-in and create added visual interest. 
4. Rugs

House of Hampton Charlotte Hand-Woven Faux Sheepskin Area Rug, $41.99
It may seem obvious, but adding rugs in your apartment is an easy way to elevate your space by making it seem bigger, while also bringing the room together. Look for rugs with simple patterns or texture details to make your space more homey and overall more chic. I personally am a sucker for a faux fur rug, but you have to be careful not to buy one that looks tacky. The faux fur should feel soft, not rough, and should appropriately match the space.
5. Neon Sign

Love LED Neon Sign, $49
I know neon signs are a very "trendy" thing right now, but that doesn't take away from the fact that they really add a cool vibe to any space. They legit elevate any otherwise boring space by making it feel instantly edgy and gram-worthy. Pro tip: just make sure you only get one. You want your apartment to look adult and glam, not like DayGlow.
Overall, finding apartment decor is a process that shouldn't be rushed, or else it's going to look cheesy and inauthentic. You know, like when a natural brunette tries to go platinum blonde overnight. Unless you're Kim Kardashian, it doesn't work. Buy things here and there, and slowly build your apartment into a masterpiece that truly embodies you and your tastes. Just like you don't want to end up with macaroni-and-cheese-colored hair, you also don't want to end up with an apartment that looks like you built the whole thing on Sims 2.
Images: @daniellajardim / Unsplash; Urban Outfitters (3); Amazon; Wayfair
Betches may receive a portion of revenue if you click a link and purchase a product or service. The links are independently placed and do not influence editorial content.
The Must-Have Dorm Room Decor Items That Will Save You From Looking Basic
I look forward to Back to School season for one reason, and one reason only: the shopping, obvi. IDC if it's because I'm buying markers, pens, colored pencils, and other boring shit that just collects dust. It still means I have to spend money and buy things for myself that I (debatably) need. It's the time of year where I buy another overpriced planner, simply because the design is cute and I like feeling as though I have my shit together. Oh, how a planner makes for a perfect disguise. *writes in it for syllabus week only* I then go out and buy an entire new bed set because my side of the room has to look the fucking best. You know, just in case MTV Cribs decides to come back and have a dorm special or something. Although I'm now ancient af a college alum, if there's one thing I learned, it's where to buy the hottest shit for your dorm room to make everyone 1) jealous and 2) come to you for all the pregames. Listen up, betches. Class is session.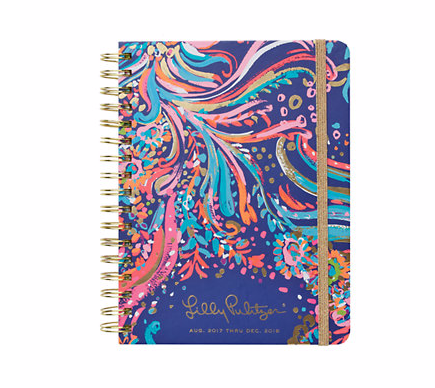 Nothing screams basic bitch or sorority girl more than owning a Lilly Pulitzer planner. The large size comes with more than enough pages and space to write down all of your parties important dates. Plus, it comes with stickers that resemble Lisa Frank but like, for adults in a festive print that's on your fave Lilly dress for this year's track season.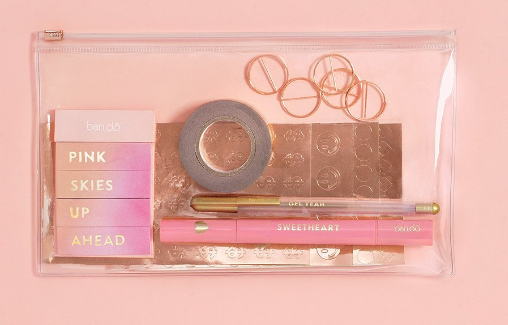 If you didn't already, you're probs getting a new big af bag to carry all your shit in to and from class. Although you'd like to look like you know wtf you're doing, all of your things def get thrown in like pocket change after the first day of school. Well, this little pouch kind of makes your life easier. According to its description, it comes with things you just "neeeed," like a marker stamp and gel pen—sounds about right. Since you lose pens like you lose bobby pins, you'll need this rose gold pouch to keep at least one aspect of your life organized.

Too much of a colorful floral comforter makes me think you're still a 5-year-old. You want one that's simple, yet classy (whatever that means) in a neutral color so your one night stands don't feel like they're sleeping in their little sister's room. For whatever reason, a white comforter says you're a sophisticated betch with a fuck ton of power because you are taking a huge risk to keep a white comforter clean. This white one has a gray floral design you can mix and match with other bed décor and still feel like a queen.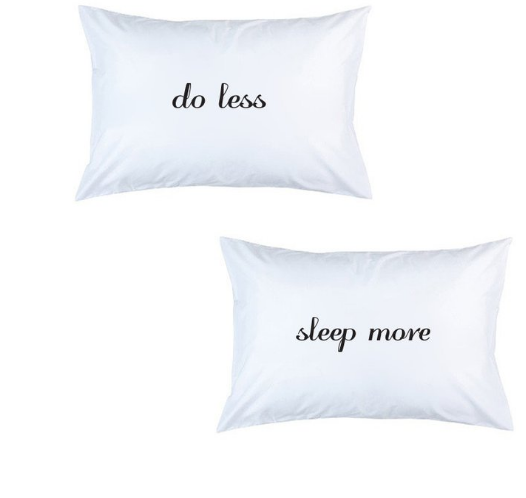 While we're on the topic of bed sets that mix and match, you'll also need pillow cases that inspire you to have sweet dreams, help you go to sleep faster, blah blah blah. It's not like these are like, therapeutic or anything, but at the end of the day you'll feel really good about rewarding yourself with a nap you don't need after barely lifting a finger. Same thing.

If you don't have a $50 UO tapestry hanging in your dorm room, do you even smoke weed dorm? This one comes in either navy or white with rose gold detailing so it'll easily go with any bedroom theme you have going on. Its artsy design will make for the perfect Insta background so all of your followers will think you're somewhere way cooler than your dorm room. Pro tip for those who aren't ready to give up the tapestry life after college: You can actually get your tapestries framed, and it will instantly take your décor from "college stoner" to "cultured intellectual who probably studied abroad in India or some shit." You're welcome.

You've seen this all over Pinterest and even though it's probs easy af to make yourself, ain't nobody got the time, patience, or attention span for that shit. So naturally we're going to buy it instead. This cute photo holder can showcase all the photos you look good in cherish in a v crafty way—one you can totally get away with telling people you made yourself.

Naturally, you're going to get white Christmas lights like every other student and their mother. But these are different and like, literally the best thing I've ever seen. These come with Bluetooth enabled speakers you can pair with your iPhone so you can host the best pregames on campus, make all of your friends jealous, and have your room still looking lit. How fucking cool.