Nick Viall Wants To Clear Up Misconceptions About Essential Oils
What do you do after becoming the Bachelor? For most alumni, it's hawking fit teas and watches on their Instagram. But some of them have legit businesses, Nick Viall being one of them. The two-time Bachelorette contestant and one-time Bachelor decided to team up with his sister and start his own business, Natural Habits essential oils. Naturally, we were curious, so we sat down with Nick to discuss his new venture. Nick talks all things essential oils, including his personal experiences with oils, the inception of Natural Habits, and how his oils are different from the ones your aunt's friend keeps messaging you about on Facebook.
Read on to learn more about the beneficial ways you could be incorporating essential oils into your daily routine.

How did you learn about essential oils?
I've been using essential oils for going on six years now. I got into it because, like a lot of people, I get anxiety, and that anxiety would lead to me grinding my teeth, and subsequently, I'd get headaches. My sister, who's a holistic nutritionist, is always looking for alternative forms of self-care and improvement, and so she turned me onto them and suggested I try them. I understand that when it comes to anxiety and headaches sometimes you have to medicate, but if you can try to do other things before you get to that stage it's always beneficial, so I wanted to avoid relying on medication for anxiety.
Did you have any doubts about using essential oils at first?
I reluctantly started using essential oils. It honestly sounded kind of hocus-pocus-y to me. And the two biggest companies and players in the space are doTERRA and Young Living, who are, as a lot of people know, multi-level marketing (MLM) companies. And there are some red flags with that concept. But there's other, smaller brands out there so I started using those, and to my surprise, they really helped with me sleeping, relaxing, and anxiety, and then especially also with headaches.
Why did you decide to start your own essential oils company?
It was a bit cumbersome for me because you can have individual essential oils, like peppermint oil is really popular for headaches, but when you blend essential oils together you can maximize the medicinal benefits. That's kind of time-consuming for the average person. I just wanted to use them as a way to make myself feel better. I also found it surprisingly interesting that it was a challenge for me to find essential oils that were USDA Organic Certified. So that's kind of how Natural Habits started, with two ideas in mind: first, being able to offer an organic oil that was certified by the USDA, and then we specialize in blends.
What does it mean that your oils are USDA Organic Certified?
So I can only speak in the essential oils space, I don't know the qualifications for shampoo or whatever, but it's just making sure there's no contamination, there are no chemicals, especially when it comes on the farms. Like, we have to make sure there's no runoff that comes into the soil, no chemicals are added, no adulterants are in there, and a lot has to do with the farming. And the fact that it is a third party, it's the USDA that we have no relationship with other than the fact that they're approving our oils so we can legally fly that symbol. There's a lot of companies that would call themselves organic. Anyone can say they're organic, but they can't say they're verified by the USDA.

What sets Natural Habits apart from other essential oil companies?
We're not the only ones who do blends, but we specialize in those blends, and we've taken time to create the blends. And we try to keep it simple and safe. So the combination of us being USDA Organic, the fact that we're simple. Right now, we only have four blends. We're going to keep those for a while, the same four blends will be in our diffuser line. Eventually, I'm sure we'll have more, but these are the four blends that I've used for the past five years that have really helped me, and honestly, if you use these on a regular basis, they will help your emotional, physical, and mental well-being. We try to make it simple for the average user, not over complicate it. I've seen the memes like, "What's the essential oil for bae not calling me?" But it's almost a little out of control, and I think some of the companies make it more confusing than it needs to be.
Which essential oil is best for getting people to stop talking to you

— Stephen Lee ?? (@shopkins776) November 30, 2018
What products do you currently offer?
Our roll-ons are out of the box, ready to go. You roll them on just like you would a perfume, anywhere your blood flows, on your temples and like that. We created four blends, Rise, Protect, Center, and Release, with very specific ideas. The idea being that these are habit forming, to get you through the day. Rise to wake up, get your energy boost. Protect for an overall immunity boost, and anything in terms of keeping your immunity up. Center is great for headaches, so if you are prone to headaches it'll help reduce the headache that you have, but more importantly, it helps make sure you're not getting that headache in the first place. And then Release is perfect for sleep and anxiety.
Why is diffusing essential oils better than burning candles?
Candles aren't good for you. Basically, the fragrances and the chemicals they put in to make them burn longer and last longer, to smell the way they do, are all things that you're literally putting on fire, and by putting them on fire you're breathing in toxins. Think about how much beneficial using a diffuser : You can control how much or how little is going into the air, as opposed to setting your place on fire.
What is the mission of your company?
You know for me, obviously with my platform, I reach a lot of women, but gender neutral. I use essential oils, guys have anxiety and headaches too, and everyone can benefit from what they can do. I think we're just trying to get the message out about essential oils and how they're beneficial, and kind of fighting against some preconceived notions of essential oils. 
Do you have a favorite blend or oil that you go to?
Mine is the Release, I use that a lot. I mean, that's the one that's designed for sleep and anxiety, and that's really what got me into it, and so that blend with peppermint, clary sage, lavender, and grapefruit is the one I use the most. I use it every day when I go to sleep, and I use it throughout the day if I ever go to yoga or do meditation, which I don't do as much as I should. Thankfully, I get less and less headaches now, but the Center's been really helpful for that. I find that my second favorite one is probably the Protect because I like the way it smells, and when I'm traveling I put it on and it helps with the immune system. I hate getting sick, and I always try to avoid it, so I'm using it every day for that extra boost.

How do you incorporate essential oils into your daily routine?
That's how we came up with the name Natural Habits. should be habit forming, it should be something you do on a regular basis to maintain that healthy lifestyle. It's like when you want to get in shape, you don't just hit the gym and eat donuts, you look at a holistic approach to having a healthy lifestyle. Essential oils have been a big part of , and they've really helped me.
I'm sold! If you're officially drinking the essential oils kool-aid too, check out Natural Habits' current line of roll-on oil blends, and the diffuser line, available now. And for a limited time, Natural Habits is offering Betches readers a discount on their purchase. Use code BETCHES for 20% off your purchase on Natural Habits. 
Images: Natural Habits
The Common Acupuncture Myths You're Falling For & What The Truth Is
When you think of acupuncture, you probably think of two things: needles to the face, and your weird alternative friend who shadily doesn't believe in vaccines. Well, like most stereotypes, this is not really correct. Acupuncture has been around forever and isn't like, some back-alley shit you turn to in a moment of desperation. Well, I mean, maybe you're desperate, but my point is it's a legit science that's been proven to help with so many issues like pain, digestive issues, and sleep. Acupuncturists have to go through a lot of schooling before they can practice—a three- to four-year masters program, to be exact. So yeah, we're going to bust some common acupuncture myths thanks to our friends from Sanctuary Acupuncture & Holistic Health in NYC.
We were lucky enough to have Sanctuary Acupuncture & Holistic Health come to our office, where they offered a variety of services. We tried out ear acupuncture and cupping. These are our stories. EXECUTIVE PRODUCER DICK WOLF. Oh wait. That's not right. Moving on.
Ear Acupuncture
First of all, acupuncture doesn't have to be needles all over your body. It can be if you're into that, but it's not necessary. If you want the same rest and digest benefits of all-over acupuncture, but like, you can't sit with your facial muscles completely still for an extended period of time (hi), you can do ear acupuncture. The acupuncturist will stick five needles in various parts of your ear and leave them chilling in there for about 10-20 minutes. I know what you're thinking, and it hurts wayyyy less than getting your cartilage pierced, so it's a pretty painless experience. Afterwards, they can continue the treatment and put gold ear seeds or crystals in the same points. It helps prolong the benefits of the acupuncture AND you get to feel like one of those super edgy people with multiple ear piercings even if you secretly cry at night listening to Taylor Swift.

I specifically told the acupuncturist that I wanted help clearing my sinuses, and I shit you not, I stopped sniffling so damn much during the procedure. I'm not saying acupuncture works miracles, but I am saying I might book another appointment when I feel a sinus infection coming on. So like, the second I step outside today. If you want the full benefits of acupuncture but you're a little commitment phobic, try ear acupuncture as your gateway.
Cupping
You probably remember vaguely hearing about cupping back during the last Olympics, when Michael Phelps showed up with perfectly round bruises all over his body that made us think, "Damn, who gave Michael Phelps all those hickies?" The answer: ancient Chinese alternative medicine. Cupping was developed thousands of years ago, and it is the practice of putting special cups on your skin to create suction (hence the hickies). It can be use for pain, inflammation, blood flow, relaxation, and, in the case of Michael Phelps, winning gold medals.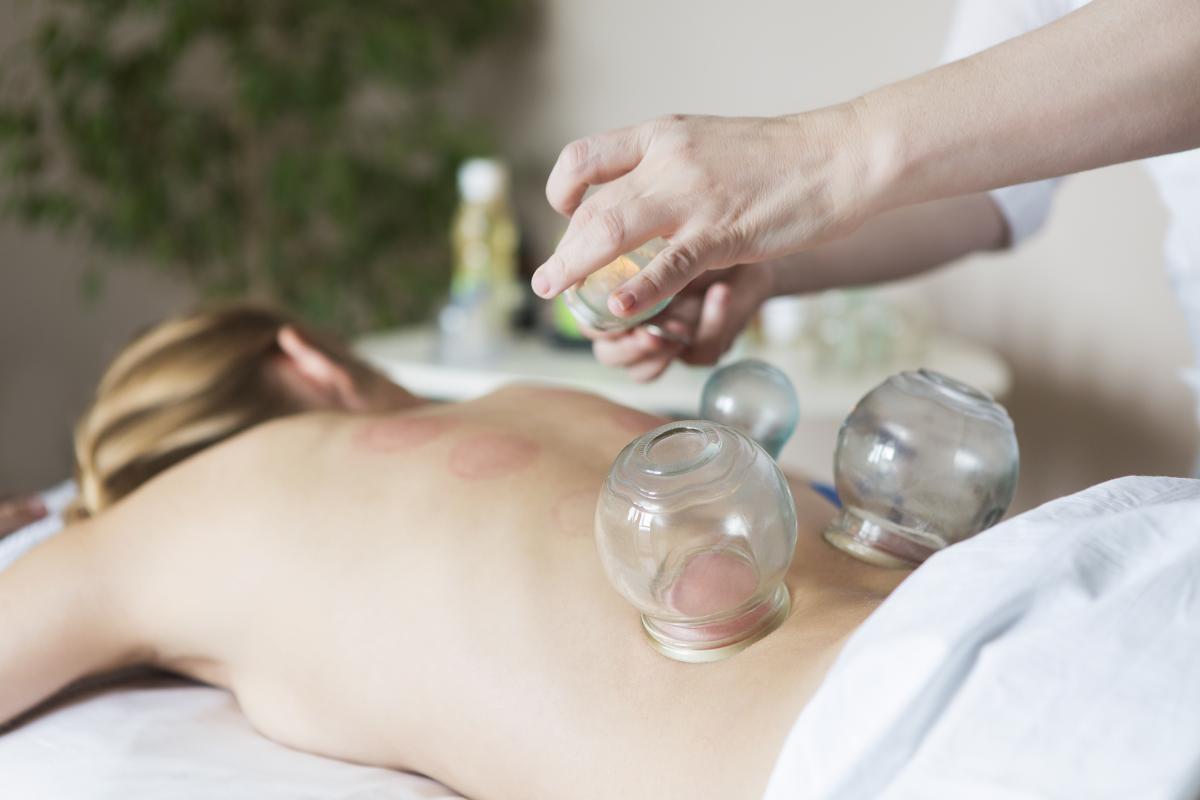 Okay, so cupping won't directly help you win gold medals, but it definitely didn't hurt. Basically, if you spend 90% of your week rubbing your shoulders and screaming about how you need a massage, cupping is for you. Funnily enough, cupping is actually the opposite of a massage in that it uses pressure to suck the muscles upward, rather than pull them down. Tons of celebs are obsessed with cupping, including Jennifer Aniston, Lady Gaga, and Victoria Beckham, so if you're worried about the marks, don't be. They're literally a status symbol at this point. (But also if you're going to an event and are wearing a backless dress or something, you can just tell the specialist and she'll place the cups strategically for you. NBD.)
Don't forget to follow @sanctuaryacu and book your appointment NOW!