Is Your Soul Naughty Or Nice: Weekend Horoscopes Dec. 6-8
Well, would you look at that? We've had our first snow, Thanksgiving is in the rearview mirror, and before we know it, this decade will be over. It's honestly scary, but instead of pushing out the real world with online shopping or copious amounts of alcohol, this weekend might be the time for a little soul searching. We're only a few days from the full moon in Gemini, which causes the ~spiritual portal~ to open (whatever that means), so you don't want to miss the chance to be in touch with yourself.
Aries

Right now you're in crunch mode with work or a personal project you've been trying to get done, and this weekend might finally be the time to get it done. Basically, the extra effort will be worth it in the end. But make sure that you take some time during the weekend to relax, whether you go get a massage or just stay in bed until 3pm. It's all about balance.
Taurus

This weekend, Taurus, you're probably going to be experiencing conflict in one or more of your relationships. Maybe your work wife ate your yogurt, or your man said he's getting you a Peloton for Christmas. Either way, this weekend is the time to practice your conflict resolution skills. And by "conflict resolution skills," I don't mean pretending the other person doesn't exist for two weeks. Talk about it, you'll feel better.
Gemini

Okay, Gemini, I know you still have end-of-year goals to hit or whatever, but this weekend is not the time. Put your Slack/email/Gchat on mute for two days, and spend time with someone you love. And no, Netflix doesn't count. Call a friend, a family member, or an old flame that you've been wanting to catch up with, and get out of the f*cking house. Monday morning, you can get back to work.
Cancer

You've been working hard on every aspect of your life, and it's finally paying off this weekend. Your friends, family, and coworkers all pretty much think you're a rockstar right now, so take the weekend to accept some special treatment from the people in your life. Let them buy you a drink, dinner, a spa treatment—you've earned it. What's the point of all that hard work if you never actually reap the benefits?
Leo

Leo, you've been struggling with some things in your personal life, but now isn't the time to make any important decisions. Let me say it louder: NO MAJOR HAIRCUTS. Everything will work itself out in the near (or slightly less than near) future, even if it doesn't seem that way right now. I'll just say it one more time, for good measure: now is not the time to get bangs.
Virgo

Let's talk about relationships, Virgo. If you're already in one, congratulations. You and your SO are especially in tune this weekend, so take some quality time together, and have any important conversations you've been putting off. If you've been dreading spending the holidays with their family, now is your chance to bring it up without ending up in a blowout fight. But for all the single Virgos, this weekend isn't the time to meet your soulmate. Just keep your friends close, and you can focus on meeting someone in 2020.
Libra

Libra, the holidays are here, and they've turned you into a completely different person. You're on the hunt for every Christmas market, holiday light display, and production of The Nutcracker in a 50-mile radius, and this weekend the holiday spirit is going to bring an old connection back into your life. You're feeling optimistic AF right now, and this weekend could be one you'll never forget.
Scorpio

Now that the temperatures have dropped, it's tempting to spend the weekend at home and not talk to anyone. That's fine sometimes, but this weekend, you need to step outside your comfort zone, both literally and figuratively. You have some goals in mind that are going to take some help, so don't be afraid to reach out to the people who are always there for you. And then on Sunday, you can stay in bed all you want. Praise be.
Sagittarius

Hey Sagittarius, I've got news. I'm sure you've never heard this before, but money actually can't buy happiness. Groundbreaking! But really, cool it with the online shopping and do some things that make your soul happy this weekend. Call your grandma! Work on your scrapbooking! Or continue online shopping, but put some gifts for other people in your cart. It's not that hard, I promise.
Capricorn

The holidays might not be the ideal time to change your lifestyle, but you're feeling inspired to dip your toes into minimalism right now. Embrace it this weekend, but also like, don't get crazy. Marie Kondo-ing your closet and donating your stuff to Goodwill? Amazing. Getting rid of all your furniture and getting a flip phone? You need to calm down. Treat this as a gradual process, so if you change your mind, you haven't thrown out 90% of your sh*t already.
Aquarius

You've been living in fear lately, Aquarius, and it's time to kick it to the curb. Whether you're worried about being open with your SO, something at work, or a situation with your friends, this weekend is the time to tackle it, even if it won't be fun. Just be an adult, and don't say anything that you'll regret later. Oh, and wait to get drunk until after you say what you need to say.
Pisces

I've been listening to Frozen on repeat lately, and this weekend, you've got to say "Let it Go" to whatever has been stressing you out. Translation: stop stressing about that guy who obviously isn't into you. You'll forget about him the second you sit down for bottomless brunch, so fire up the group text and make some plans. Surrounding yourself with love (and mimosas) will put you in the right mood for the holidays.
Images: Giphy (12)
Happy Winter Solstice: Weekend Horoscopes For December 21-23
The best, and possibly only good thing, about the shortest day of the year starting this weekend is that now we're on the uphill climb, slowly getting more and more daylight each day. I can already feel my Vitamin D levels rising and my mood greatly improving. This weekend is also the official start to Capricorn season. It's okay to indulge in the practical. Don't go outside when it's cold AF for any reason. Drink the rest of the vodka because it goes bad if you open it. Block your ex because if Santa won't bring him coal, he certainly deserves the coldest of shoulders. Here are your weekend horoscopes for December 21-23:
Aries
The Moon in Cancer warms your cold heart this weekend. It also gives you major nesting vibes. You're craving all the creature comforts the holiday season brings: warm socks, fuzzy blankets, hot drinks that may or may not involve a splash of something out of the liquor cabinet. Make a resolution for the rest of 2018 that you won't be wearing any pants with zippers or buttons. Do you feel an Instagram pic of your feet next to a fire and beautifully decorated hearth coming on, or is that just me?
Taurus
If you don't already have gifts for your besties, you'll probably feel the urge to run to the nearest artisanal candle store and buy everyone you know a little something. Betches love candles. The Moon's glow in Cancer shines in your house of Friendship. Your desire to be social and show your friends you care is at an all-time high this weekend. If you're not really a gift-giving person, make it a goal to make plans and actually follow through with them while you and your friends have some time off.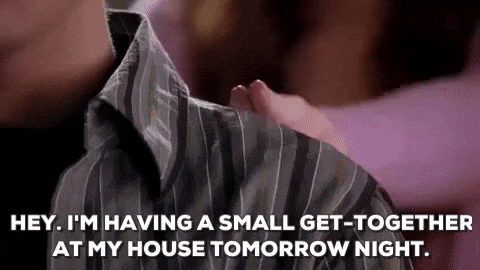 Gemini
Don't fret over the cash you have to spend to be social this weekend. Every dollar spent will be worth it. Somehow. I'm pretty sure. This is an excellent weekend for making the right connections to pursue your goals, whether that be securing the hottest date ever for New Years Eve or networking with someone who can help you get the job of your dreams. Wear semi-comfortable shoes and mix with diet Redbull so you have the energy and stamina to stick around when the conversations starts heating up.
Cancer
The Full Moon in your sign this weekend gives you energy and power. Put that burst of energy to use by accomplishing all the stuff you didn't get to this entire year. Clean out your closet, throw away the college Halloween costume that would take an act of God to fit into again. Delete old emails and phone numbers of anyone with the last name of "Hinge". Actually vacuum instead of just thinking that you need to every time you step on an extremely sharp and invisible mystery object on your bedroom carpet.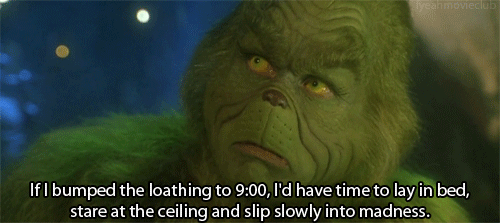 Leo
TBH, the Sun moving into Capricorn is kind of a major killjoy for you. Your practical, logical side takes over this weekend. Since you don't want to have to diet like a maniac and hit the gym with sad, gross resolutioners come January 1, you'll probably start considering cutting back on the festive treats. You might want to trade the Christmas cookies for crunches, hot chocolate for hot yoga, candy canes for carrots. Need I go on?
Virgo
No fake friends for the Virgo betches this weekend. The planets pull you to spend time with people with whom you share a genuine connection. Like, maybe your high school friends want to get together for drinks while everyone is home. That's nice and all, but you haven't talked to any of these people in years and probably shouldn't care to start now. Did they bail you out when you spent all your rent money on mozzarella sticks and Ugg boots in college? No, that was your mom and dad.  Spend time with them instead.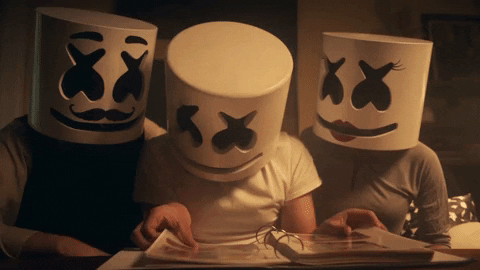 Libra
Even though the long nights of winter are a downer, you won't be in a horrible mood heading into the weekend as a Mercury-Jupiter merger makes you optimistic. No longer will you tell your friends you don't want to go out with them to prowl for dudes because guys are only on the apps. Instead, you'll be motivated to wrangle your girls into a push-up bra and head out with the crew. You'll start seeing the world as your oyster instead of a horrible hellscape on the imminent path toward destruction. I mean, also stay off Twitter to keep that sunny outlook in tact, even if it's just for the weekend.
Scorpio
The Sun in Capricorn in your house of communication makes you chattier than normal. You usually have no problem keeping everyone's secrets on the DL, including your own. This weekend, though, you'll be more likely to experience foot-in-mouth disorder. Watch what you say and who you say it around, especially if you're drinking. Whatever your truth serum is, avoid that. No tequila for the Scorpio this weekend!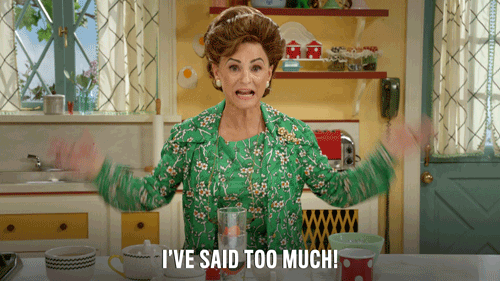 Sagittarius
An intense, romantic weekend could be in store for you and your significant other. Everything won't necessarily be lovey-dovey. A fight or argument could lead to a resolution that not only brings you both closer together, but also gets a little hot and steamy. They say makeup sex is the best for a reason. For a single Sagittarius, don't fear. It's not about labels and things going exactly as planned this weekend. Let the chips fall where they may.
Capricorn
There's, like, a lot going on for you right now. The Sun in your sign brings you loads of attention. The Full Moon in Cancer makes you lovable. If your friends turn down an invitation to do something with you this weekend, it's probably because they already have plans to be at your surprise party. How could anyone say no to you? Like, really, if someone is "busy" or "sick" or  "already has plans" is seriously disturbed.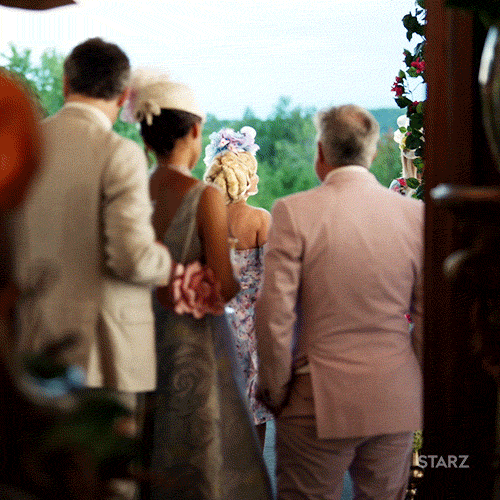 Aquarius
The end of your Zodiac year and the calendar year is all about tying up loose ends. This weekend you'll start wrapping up what you're leaving behind in preparation for what's to come. That could mean your relationship red flags turn into deal breakers over the holidays. Maybe your Christmas bonus at work isn't what you expected and you feel you could be more highly valued at a different company. There's a lot to learn in the next two weeks.
Pisces
A Pisces usually isn't the most festive in the room, but the Sun in Capricorn makes you weirdly flamboyant. Prepare to pull every shiny, sparkly, or fuzzy article of clothing out from your closet. If there's an ugly sweater to be worn, you'll be wearing it. If there's "Santa Baby" or "All I Want For Christmas" on the karaoke machine, you'll sing it. With the Full Moon in Cancer, you're likely to turn a few heads. Welcome the attention like a friend showing up unexpectedly at your door with booze in hand.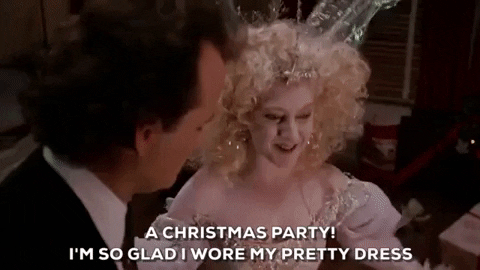 Images: Giphy (6)
Put The 'Ho' In Holidays: Weekend Horoscopes for December 14-16
It's practically a perfect weekend to get your Ho Ho Ho on. The Moon moves into Aries on Saturday, making things fun and festive for most signs—leaving the house won't be a total bust even if it's cold AF outside. Let your year-end worries and stress just wash away with every sip of your vodka (sugar-free) cran. Cheers, betch. Here are your weekend horoscopes for December 14-16:
Aries
Your weekend horoscope calls for some accurate self-evaluation. It might be time to refocus your ambition into something more manageable. Losing 20 pounds this weekend and getting asked out by a celebrity are fine aspirations, but they're probably not going to happen. Set your sights on something more realistic, like having a Hinge conversation where the guy doesn't ask for nudes in the first 10 messages.
Taurus
This is your weekend to drop the grudges you've been holding all year. You don't want to take any negative sh*t into 2019. This weekend, mend fences by offering to buy your annoying coworker a drink at the cash bar at the company party. Sure, she screwed you over by saying she would cover for you and then couldn't at the last second because her cousin's dog groomer was in town for a surprise visit, but it's probably time to let bygones be bygones. But, like, don't go out of your way to do her any favors ever again. You forgive, but you don't forget.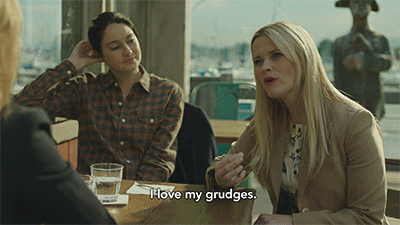 Gemini
Hold back on releasing your big secret until after the weekend. Things get more complicated when everyone else wants to add their two cents to your business. It might not be the best time to take your current fling to your family's holiday party. Likewise, telling others about your big move or job promotion or career change might not go as smoothly this weekend as it would if you waited just a bit. Let the secretive side of your personality dominate for once.
Cancer
It's time for you to get outside your comfort zone. This weekend's horoscope calls for you to stop being such a snooze-fest, and add a little more adventure and intrigue to whatever you do. If things are cold in the bedroom, try one of those ridiculous positions you saw one time in Cosmo but never had the nerve to try. Make your friends a new recipe from Chrissy Teigen's cookbook or some shit. Crush winter boredom with a new hobby. IDK man, life is too short to be boring.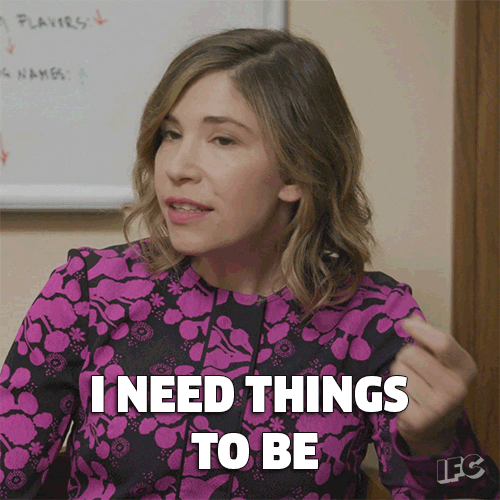 Leo
The Aries Moon on Saturday can lead to a lot of fun. Have drinks, go out with your friends, order too much takeout. Just keep things light and as drama-free as possible, because Jupiter's influence on you Sunday makes it harder to not clap back. Try to curb the urge to comment on your ex's new girlfriend's Instagram pictures, or sub-tweet or whatever other petty sh*t you can come up with to do. Drink some tea or take a bath or hold a plank or something productive when you feel the urge to be a nasty skank Grinch.
Virgo
This weekend, do not let someone else talk you out of your plans. Sure, there might be three feet of snow outside, but that's not going to stop you from getting your ass to the bar. Maybe your boyfriend wants you to skip Christmas Eve with your family to have dinner with his. Yeah, right. Like you're going to miss out on your grandparents slipping you cash while you get drunk with your mom in exchange for enduring awkward dinner conversation while you hold in gas. No thanks.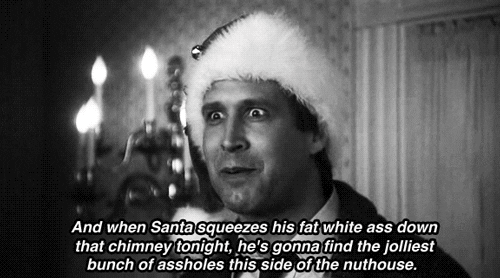 Libra
Spiritual Neptune energizes your work and money zones this weekend. No one's saying you're going to do actual work this weekend—God, no. Instead, you'll be enlightened to realize the true value of things. Is it really worth it to spend your precious time in a gray cubicle when you could be starting an Instagram marketing business or Etsy shop or super successful fashion blog? Probably, because there has to be someone in the world with health insurance. Anyway, this weekend, your head will clear and your true path and priorities will be more apparent.
Scorpio
You've done a great job of remembering that the holidays were coming up and saving your money so you could actually afford decent gifts this year. Good on you. Sure, you could blow your nest egg on some lavish presents or a night out or one of those insane faux fur coats all the bloggers are wearing right now. Instead, you should just continue to pretend to be poor. Buy some decent gifts for friends and family so you don't seem cheap, and then keep saving the rest so you start 2019 with some cash in the bank and zero anxiety.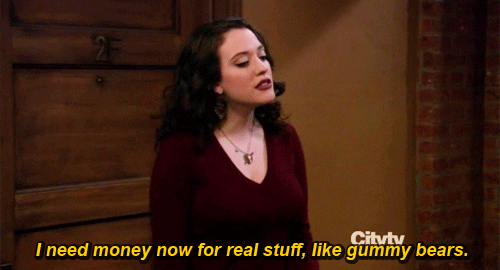 Sagittarius
The Sun is still in your sign so you're still being #blessed with good vibes, lots of attention, and general well-being. You're also feeling more self-confident and sure of who you are. That's really great for you, but it can be frustrating for those around you who want you to fit a different script. Some fake friends might feel insecure when you start to get noticed for your individuality and try to put you down for being yourself. Screw 'em.
Capricorn
The Sun hiding in your chart (this always happens before your birthday) makes you more tired than usual. It's time to reset the clock before your personal year begins. Take naps this weekend, and skip the 8am SoulCycle class in favor of the noon class and two more hours of sleep. Check in with your friends and family members with actual phone calls. Since no one does it anymore, you'll seem really sweet for calling and your grandma will probably give you more money for it in her Christmas card.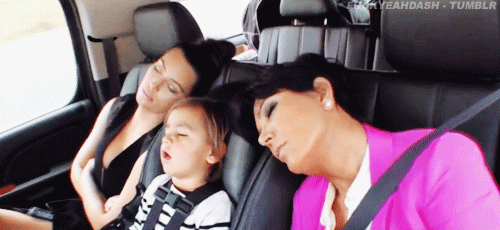 Aquarius
The Aries Moon really puts you in a party mood. Basically, you're making fun and games a priority all weekend. Anyone who is going to bring down your mood whatsoever needs to be muted for the weekend, including your whiny, high-maintenance friends. In fact, it's probably best that you ignore your phone altogether. If you're on your phone, it probably means that you aren't having as much fun as you should. Be present and don't be lame.
Pisces
Keep your sh*t together this weekend. You work really hard to maintain an air of sophistication and class, at least most of the time. Don't let your Pisces weirdness come out this weekend and ruin it all. Usually, the best advice is to just be yourself. This is not a weekend where you should take that advice. Think before you speak, and also feel out the situation before you do anything detrimental to you reputation. So, yeah, keep the obscure references to a minimum.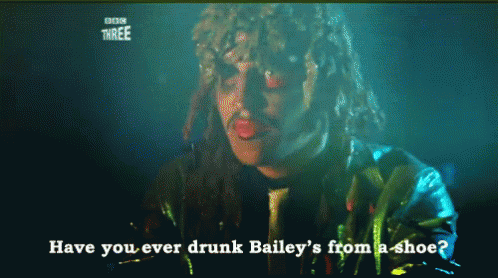 Images: Giphy (6)