9 Last-Minute Gifts For People Who Have Literally Everything
Is it just us, or can getting holiday presents for everyone on your list start to feel like a full-time job?
I mean, it's not like we're all sitting here taking meticulous notes all year about products that our fav people have their eye on, right? (If you are one of these people, please tell us all of your secrets).
And let's be real—we all have that one friend who mentions something they want, and next time you see them, welp—there it is. They're the type of person who has literally everything. Is there anything more frustrating than thinking you found the perfect gift just to find out they got it for themselves before you could even hit the "buy now" button? We think not.
Shopping for these people can be a tough task, which is why we've collected the best gifts to give for those hard-to-please people in your life. From unique experiences to little luxuries they wouldn't normally buy for themselves, trust us when we say there really is something for everyone here.
Give them a reason to stop scrolling and go smell the metaphorical flowers by gifting them a National Parks Pass. Nothing says, "You need to get outside" like a gift that will force them to spend some time in nature.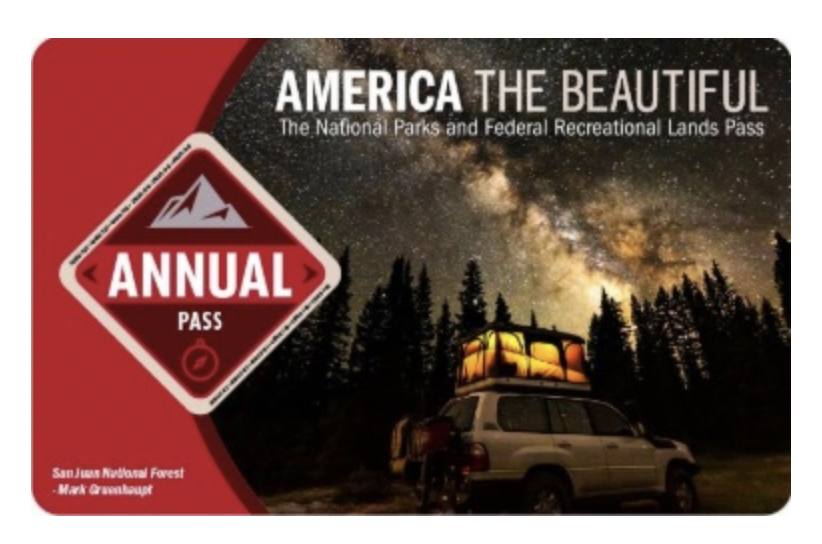 National Parks Annual Pass
USGS
That's nothing quite like the gift of competition. Bananagrams is a thought-provoking, anagram game that will get everyone gathered around a table for some quality time together. Albeit, we can't promise you won't get into a screaming match about if a word is real or not. You win some, you lose some, right?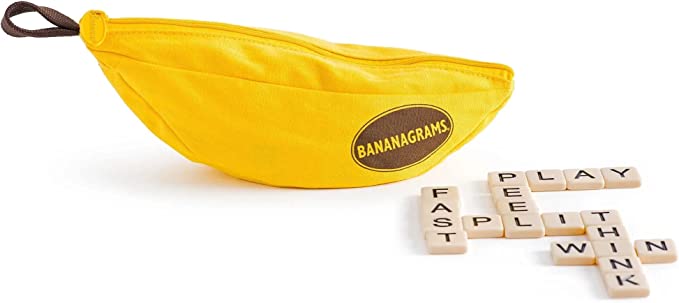 Cozy up together with the blanket of your literal dreams. We've never met a person who was upset with receiving a chic, comfy blanket, especially when it just so happens to be the Kardashians' favorite brand.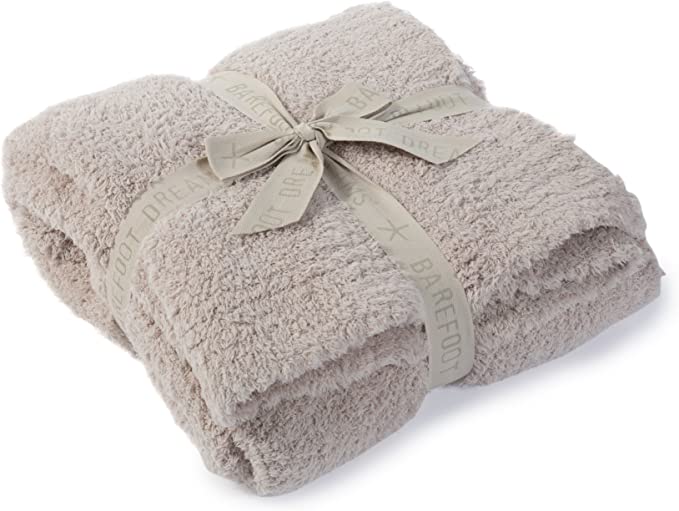 CozyChic Throw
Barefoot Dreams
Okay hear us out on this one—this flavored olive oil set is a little something special. Most people would probably never buy it for themselves since they likely only use flavored oils on certain cooking occasions… aka get this for them and have them make you a nice meal. Win-win.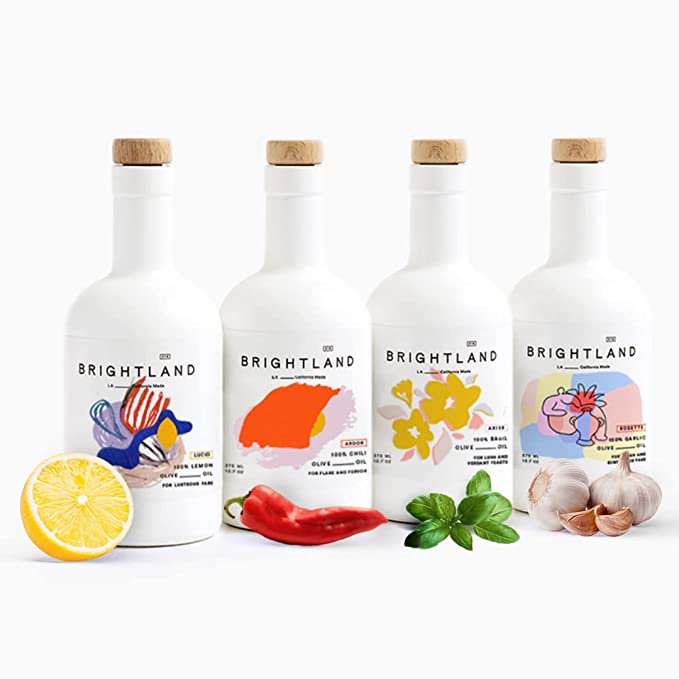 Olive Oil Set Infused with Garlic, Lemon, Basil, and Chili Peppers
Brightland
Truth be told, the holidays are stressful AF and we could all use a drink. Enter: these chic colored coupe glasses. They're chic, trendy and the perfect luxury to gift your bestie for a future wine night. Pro tip: assign everyone a color and you'll never get your drinks mixed up again. Probably.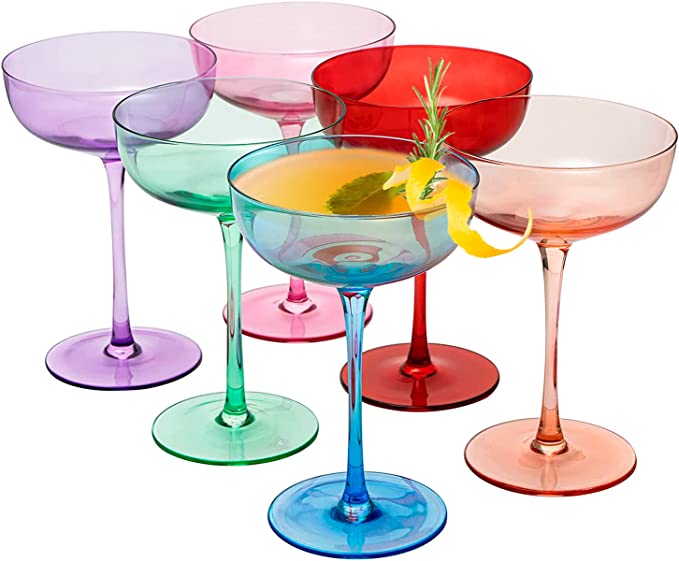 Colored Coupe Glasses
The Wine Savant
A custom photo puzzle will keep them busy during the strange abyss that is the week between Christmas and New Year's while also showing how thoughtful you are by displaying one of your favorite photos. Thank us later.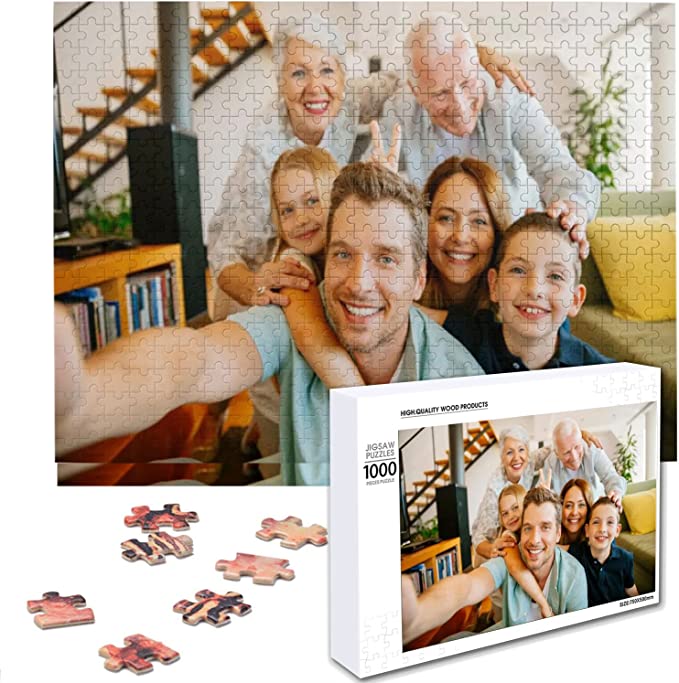 A wise woman once said you can never have too many candles, and who are we to doubt that as fact? Not only is this candle the best scent in the world (in our humble opinion), but the packaging is so gorgeous you hardly even need to wrap it. Throw a bow on it and you're good.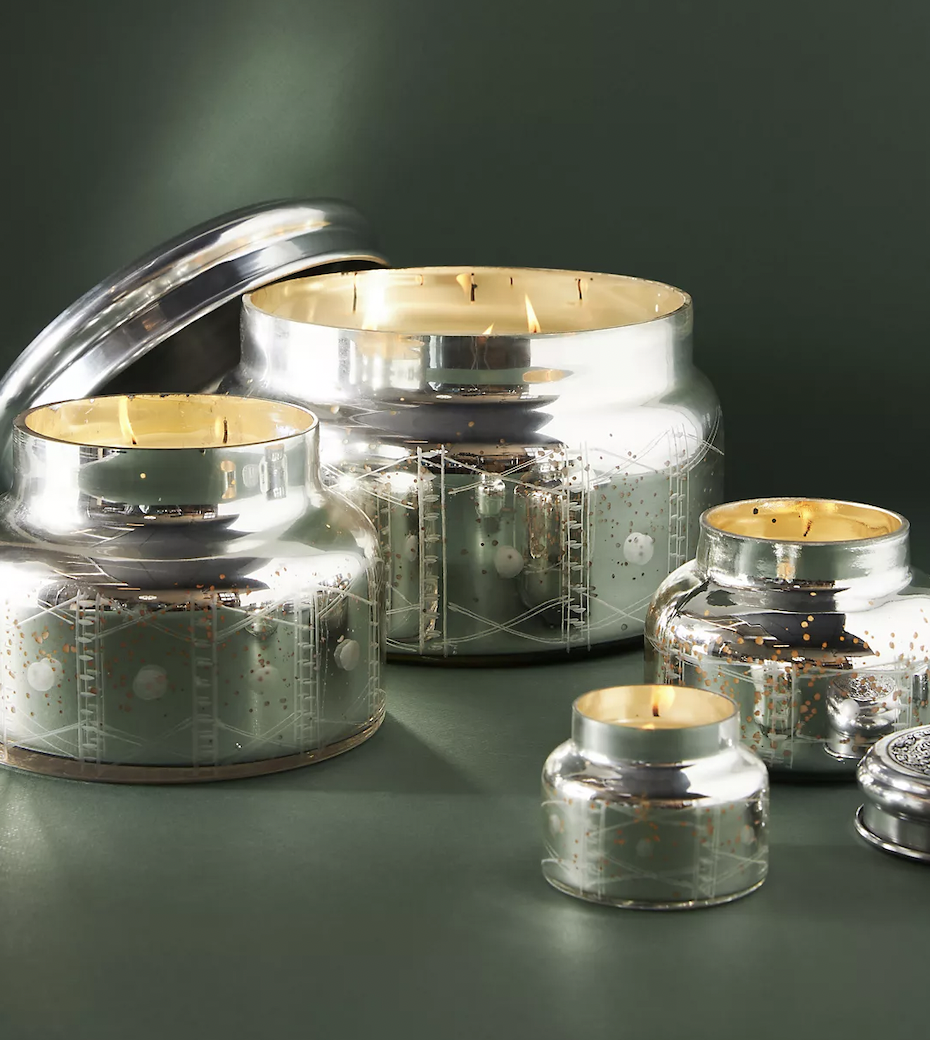 Volcano Mercury Glass Jar Candle
Capri Blue
Everyone loves chocolate. Need we say more?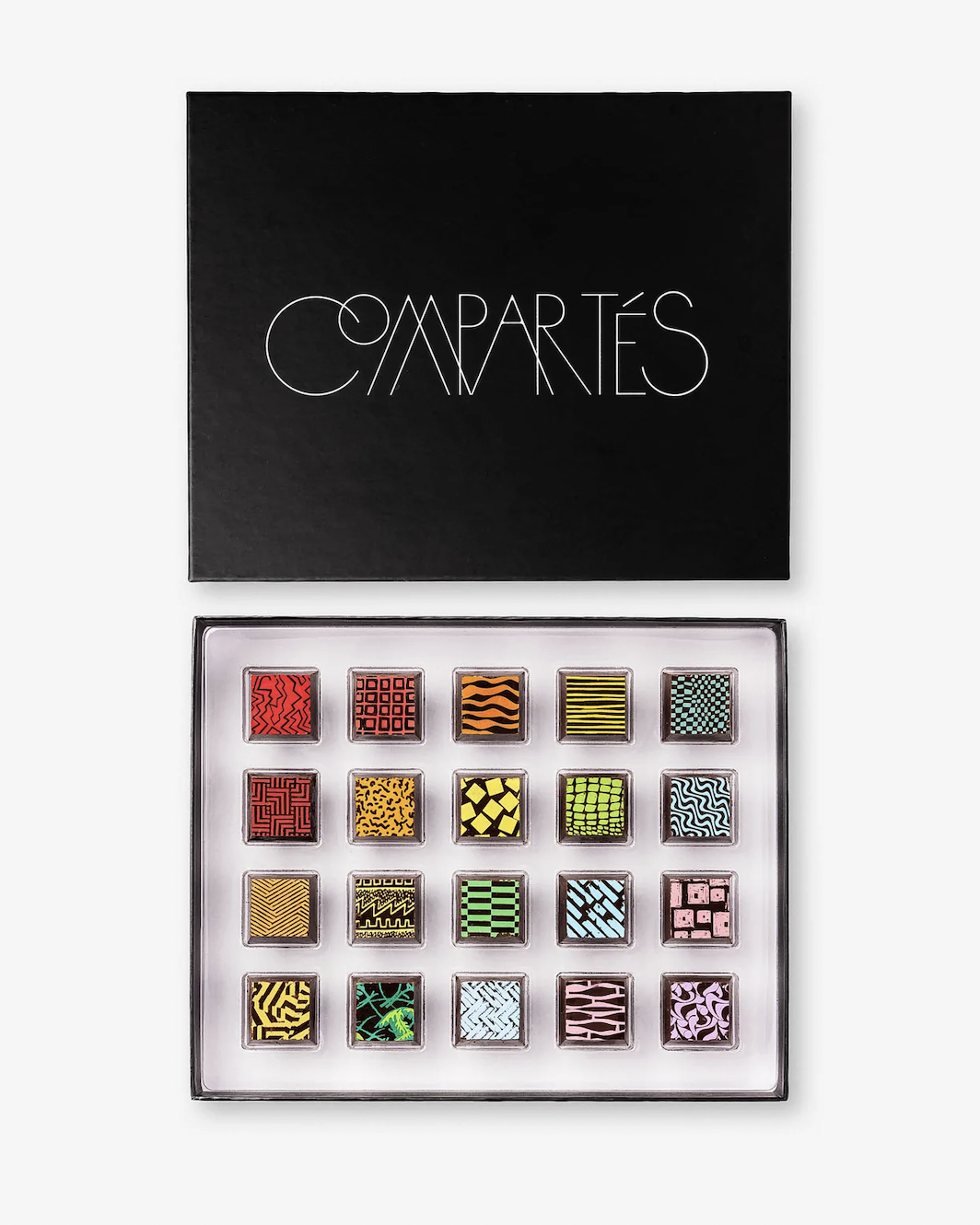 20 Piece Signature Truffles Gift Box
Compartés
Last but not least… If you're truly stuck, there's no better gift to give than to give. Pay it forward on their behalf and you'll stay on karma's nice list for another year.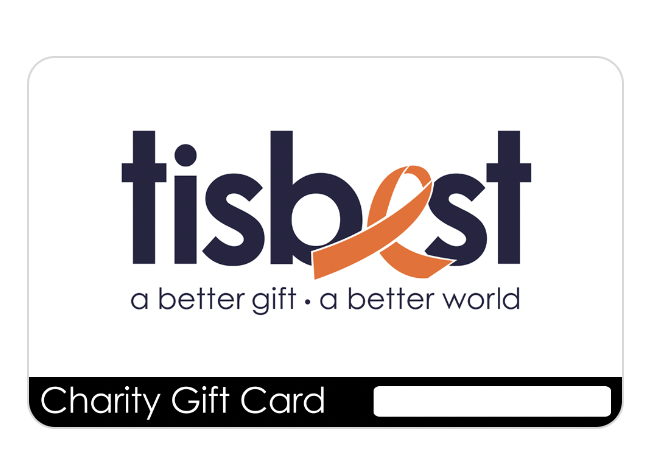 10 Last-Minute Gifts You Can Get On Amazon
If being what my grandmother calls a "youth" has taught me one thing, it's that delayed gratification ain't worth sh*t. Call me crazy, but if there is something wrong with getting what I just decided I wanted with free two-day shipping, then I don't want to be right! Obviously, Amazon is the holy grail of online shopping 365 days a year, but the one time it really comes in handy is during the holidays.
A modern nightmare: I have a dinner date with a friend in a few days and last night, she texted to confirm and then she sent a follow-up text, "You're going to love your gift!" My first thought was "Yes! I love presents!" and my second thought was "F*ck, now I have to get this bitch a present." Even though a small part of me hates spending money on people who aren't myself, I was pretty happy to order her gift and have it wrapped and ready for her three days later for our dinner-turned-gift-exchange. 
If you, too, hate waiting, here are ten of our favorite gifts to shop on Amazon. If you order in the next two days, you can get free delivery by 12/24. 

One thing my 90-year-old grandmother and I have in common is that neither of us understands technology, like, at all. Take this Fire Stick, for example, which, after using it this weekend, seems like it was designed for idiots people like me. It's a skinny remote control and a USB that plugs into the side of your TV. It works exactly like an HDMI cord, except no one will trip over it and you don't have to have your laptop open and simultaneously playing whatever you're trying to watch on your TV. 

I am the type of person who gets the generic version of literally everything because I don't want to spend money on the name brand stuff, but this Slip pillowcase is my one exception because it's that good. First of all, it's soft af. Secondly, unlike cotton, silk doesn't absorb your expensive nighttime skin care. Lastly, it always feels cool to the touch, which, if you run hot (hi), is a blessing. 

A few weeks ago, a friend was telling me about this amazing towel for your hair and, whaddya know, I was seeing its sponsored posts on my Instagram feed later that day. As creeped out as I am by technology that has no respect for boundaries, I bought and used this Aquis towel. Let me just say, it's not just a towel. There's something about microfiber that makes it insanely absorbent without tugging your scalp. I leave this bad boy in for like, 15 minutes while I put on my makeup and when I take it off, my hair is basically dry. 

If your bedroom is like mine, it's white and boring af. This little guy changes that! You can watch movies, stalk your office crush, and mindlessly scroll Instagram from the comfort of your own bed, which may sound like what you usually do, but this is different because it's projected on your ceiling. For reference, the iPhone 11's screen is six inches long and two inches wide. The choice is yours. 

This is one of those things I really want but would never actually spend $60 on because I'm cheap. Even though I don't really go anywhere, I go to my hometown for nearly every holiday, which is enough travel to warrant a travel case for all of my jewels (one ring, my watch and a few pairs of earrings). This is the kind of gift everyone would appreciate. 

I do not fancy myself a chef, but I do f*cking live for pasta, and I love it even more when I don't have to pay New York prices for it. Luckily, none of the recipes in this cookbook are Top Chef-level complicated, so even if your Secret Santa uses her oven to store her sweaters, she'll be able to nail a few of these recipes. 

One thing I love is the amount of cups in the world. There is literally a designated cup for every type of beverage and I'm all for it. Even though I stan a beer chalice, I love a good Champagne flute. These ones are amazing because they're insulated, and because nothing is less appetizing than flat, warm Champagne, these are good to have on-hand. 

While fingerless gloves do seem completely useless in theory, gloves with fingers are horrible. Contrary to popular belief, you'll be pretty warm in fingerless gloves and you'll be able to use your phone's touchscreen while avoiding your coworkers on the subway. 

Not only does this cleanser smell amazing, it makes your skin look and feel like you just got a hydration. Seriously, use this day and night for a week and you will legit notice a difference. It doesn't leave your skin feeling tight or dry, but rather, supple and moisturized. 

Most of my friends LOL at the fact that I still use planners even though I graduated from college four years ago, but I don't give a sh*t because I love them. This one is especially nice because it's not aggressively decorated or enormous, but it's big enough that you can actually fit all your appointments and sh*t in it. Get this for your friend who double books and everyone else in your group will thank you.
Images: Kira Auf der Heide / Unsplash; Amazon (10)
Betches may receive a portion of revenue if you click a link and purchase a product or service. The links are independently placed and do not influence editorial content.
The Betches 2019 Gift Guide: Under $50
If the proliferation of Christmas music through my eardrums is any indication, it's holiday season. That means it's the one time of year when you have to think about other people and not just yourself (bummer). However, as a conceited person, I'll say that there is no rush quite like the influx of praise you receive from buying someone the perfect gift. But that is hard to do, so I've rounded up some gifts that will get you those compliments you so badly need, organized by price point. Whether you're ballin' on a budget or straight ballin' you can find something on this list.
All of these items are under $50, so they're perfect for the person you like, but not too much. If you're looking for something more luxe, check out our other 2019 Gift Guides for items from $50-150, and over $150.
$25 & Under:

Scrunchies, like everything else that was popular in the 90s, are back in style. But since spending more than, like, $10 on a single scrunchie just feels wrong, you can get this entire set of eight for that much money. There's a velvet one, a sequined one, a silky looking one… basically, a scrunchie for every outfit.

This $22 value is only $12, which is basically free. Murad's Hydro-Dynamic Ultimate Moisture cream is what all our crusty winter skin needs, and the bright shiny ornament-like packaging is so festive.

I've used these wipes while traveling and after workout classes, and they are an actual life-saver. The travel kit gives you either full or mini sizes of their Face 201: Bacteria Fighting Wipes, Body 101: Deodorant Wipes (aluminum-free), and Body 301: Aloe Wipes. These are ideal to use in a pinch if you're kinda gross but can't shower (i.e. just left a fitness class or just got off a plane). Though they don't come in this pack, the hair wipes are also amazing because they get all the sweat out of your hair, and the face wipes are also super convenient.

Okay, you know this is hilarious, but unlike a throwaway gag gift, this sleep mask is actually useful. Described as "a mini pillow for eyes" by an actual review, our eye mask will help you block out the bullsh*t… and by bullsh*t, I mean light.

When you don't know what to get someone for the holidays, get them some fun earmuffs like these ones from Aerie. No matter who you are, what you look like, what you believe in, we all get cold ears in the winter time. I love the hot pink ones because they're obnoxious, and the headband part is sparkly, which is perfectly festive.

This is actually the cutest stocking stuffer. This little ornament contains pH-color-changing rosé glimmer balm that automatically adapts to the perfect color for you based on your pH. Plus the ornament doubles as a carrying case.

You love listening to Jared and Jordana play Red Flag or Deal Breaker on the U Up? Podcast, now take the fun home with you with our original card game. Whether you're having a girls' night in or need a game to liven up your summer share house, these cards are the perfect way to figure out just how low your group's dating standards are. The game comes with 52 red flag/deal breaker cards, plus a card holder.

Who doesn't need glitter right before holiday party SZN and NYE? Free People just launched a mineral-based shimmer formula that provides subtle, buildable, natural-looking sheen that can be used anywhere on the body. For your clean beauty betches, it's free of parabens, silicones, phthalates, synthetic colorants and synthetic fragrances—and the packaging uses no plastic. It comes in four shades: gold, rose quartz, opal, and amethyst. 

With locations from Georgia to Colorado to New York, and many more, bartaco is a coastal inspired taco eatery that is literally popping up everywhere. If you don't have a location nearby, you can still take the bartaco taste home with their trio of three signature hot sauces. The 3-pack includes Habanero, Jalapeño, and Roja. 

If you want to give someone the gift of an influencer-worthy unboxing, pick up the ROUTEINE KIT, because the packaging is seriously so cute I didn't want to throw out the box. This $70 value will only cost you about a third of that, and it contains THE EVERYTHING DAY and NIGHT, skin "multitaskers" that boast anti-aging, firming, moisture, and more; THE GOLDEN RULE retinoid; and THE GIRLFRIEND primer.
$26-$50

If you've ever needed a blade, or scissors, or a nail file, and not had one, then you know how useful having a Swiss Army knife is. This little one comes with all that plus a few other extras, and they have cute patterns inspired by food. So really, what's not to love?

Okay, so like, it might feel kind of shady to give someone a gift that implies, "your under-eyes are super dark and puffy!" However, these are so cute and these eye masks are all over Instagram, so I think you can get away with it. These energizing eye masks contain collagen, vitamin C, and everyone's favorite skincare ingredient, hyaluronic acid. They come in a pack of 12 or 24, so it's worth the price tag. Plus, this gift gives you and whoever you give it to an excuse to have a + face masks night.

For the serious insomniac in your life (hi), it's time to pull out the big guns with this weighted sleep mask that contains a half pound of evenly distributed weighted beads, an adjustable velcro strap, and premium fleece to get your ass to sleep.

Hot girl summer was exhausting, and I don't know about you, but I'm positively excited to settle into cold girl winter. All it means is I don't leave my apartment and just sit with this lavender scented candle all day and night. 

If you're tired of Cards Against Humanity, try Off Topic. Basically, you draw a card to determine the topic, then roll the die to determine the letter all your answers have to start with. Once you flip over the hourglass, everyone has to race to write down as many answers under the designated topic that start with the designated letter. Then you get to defend your questionable answers to everyone else playing the game. 

Do you have a friend with tired, dry hair? Weird flex, but ok. This elixir that works either as a leave-in treatment or finishing oil comes in the cutest little flask, and I'm a sucker for cute packaging. Especially if that packaging could be reused to sneak alcohol into the club… 

So, these candles are a little out-there but I think they're so fun. Basically, it starts out as a cute geometric animal candle, but then when you burn it, it reveals a metal skeleton. I feel like we all have that friend who is still obsessed with Tim Burton and used to love Hot Topic back in the day, and I have a feeling that friend will appreciate this candle.

Robyn Blair Davidson has become a big deal for turning her candy obsession into literal art. So, following that logic, her prints (a collab with Dormify) are the ideal gift for anyone with a sweet tooth who needs to liven up their walls a little bit. 

I have a Sonix portable charger and always get so many compliments when I whip it out. They have way cuter ones than just the standard black boxy thing everyone else has, and still provide an extra 16 hours of battery life for all your iPhones.

This kit contains a cannabis facial moisturizer, cannabis cleansing foam, and scrunchie. But don't get too excited… the products do not contain CBD or THC—just cannabis sativa seed oil. Still, it makes for a cute gift for your stoner friend who you don't want to just gift a dime bag for Christmas.

Don't let the size fool you—this little guy can pack some serious sound. (Sorry you can't say the same about…. Well, nvm, you know where I was going with that). But since it's still small, it's easy to carry around and bring to your friend's house party, the beach, or wherever you're going.

Forget about the Disney Vault, it's all about the Moroccanoil Beauty Vault. This limited-edition set, first of all, looks luxe as hell, and it also contains seven of Moroccanoil's best-selling hair and body products, in perfectly convenient travel-size versions. TSA can't tell you nothin'.

Under $50 for a pair of legit, not-paper-thin leggings sounds too good to be true, but it's real. I personally love a high-waisted legging, and these fit really well. As in, they won't be falling down but you won't have your breathing cut off either. Their sports bras also fit well and provide good support (I have this one and it's great). It's a holiday miracle!

I am not a gin person, so I am judging a bottle by its cover here. But, like, that black bottle is so chic. This gin has the classic gin flavor of juniper berries, plus notes of hand-picked Indian botanicals, like coriander and vetiver. Look, if you can actually taste those notes, more power to you. All I taste is my impending inebriation.
Betches may receive a portion of revenue if you click a link and purchase a product or service. The links are independently placed and do not influence editorial content.
4 Holiday Gift Ideas For Your Newly-Engaged Friends
Between the cozy weather, Christmas music that's already started playing, and the abundance of holiday gatherings on the horizon, this really is the most wonderful time of the year. And on top of that, it's become one of the most popular times of year to get engaged. If you're at the point in life where lots of people are getting engaged, there's a good chance that your BFF, family member, or work wife might be getting a ring this holiday season, so there'll be one more reason to celebrate.
While giving gifts is great, when you have a long list of people to remember around the holidays, it's also nice to be able to kill two birds with one stone. It can be tough to think outside the box with gifts, so we're helping you out. Here are some unconventional gift ideas that will make great dual-purpose holiday and engagement presents, 
Anniversary Wine Boxes

Artificer Woodworks' patented Anniversary Wine Boxes or Keepsake Ceremony Boxes are the perfect gift ideas for the newly-engaged. The Anniversary Box is a gift designed to be the perfect wedding or engagement gift. It toasts the couple on their future anniversary celebrations, so it's a gift that's perfectly designed to celebrate the happy couple's love and longevity. The Keepsake Ceremony Box is a great way for the couple to create a new anniversary tradition. Tell the couple to add a bottle of wine each year to open on their next anniversary, and they can also add keepsakes in the larger compartment, either from their wedding day or other big life events. What better way to celebrate your anniversary than looking back on your best memories? 
A Gadget To Protect Your Ring

If your friend just got engaged, she probably doesn't kn0w all the proper ways to care for her engagement ring. While there are lots of times you should take your ring off, you should also be protecting your ring while you have it on. Buffr is the perfect solution for protecting your ring, especially if your friend can't bear to take her bling off while she's at the gym. It's barely even visible while you're using it, so all eyes will still be on the ring, while making sure that it stays safe.
At-Home Wine Tasting Subscription

Okay, what bride-to-be doesn't want wine and a pre-planned tasting party to celebrate with her girls? If your group is always looking for an excuse to drink wine and talk sh*t, getting the newly-engaged friend a wine tasting subscription from Experienced Simply is the perfect gift idea. Surprise her with a one-of-a-kind gift that she is sure to love and will definitely remember, at least after the wine hangover wears off.
Bridal Subscription Box

So your best friend just got engaged and won't stop texting you about how she has no idea how to plan a wedding. Maeven Box is the perfect saving grace to get your BFF in the wedding planning spirit, and off your phone notifications. Sign her up for a monthly subscription box filled with top-notch wedding products and tools to help with the wedding planning process. Each box is guaranteed to have the newest and trendiest bridal sh*t, so she's always up to date on what's in season and on trend. She might never stop texting you about her planning process, but at least she'll have some guidance.
Images: Be Inspired PR
8 Beauty Gift Sets That Make Great Holiday Presents
It's the best of times and the worst of times. Sure, everyone is being merry, singing "Jingle Bell Rock", feeling the urge to be creepily nice, getting a break from work, and of course, spending true quality time with your loved ones. However, at the same time, it f*cking sucks. It's brick AF outside, it's dark by like, 4pm, and you're draining your bank account faster than you can say, "payday."
Buying everyone in your family a gift this season feels amazing and all, but you've got to admit that watching the numbers on your account get smaller makes you die inside. Same. It may be the season of giving, but it's also the season of receiving…even if that means secretly buying yourself that well-deserved palette or face mask you've been eyeing at Sephora. No one is here to judge, otherwise, you wouldn't be reading this right now. So here it is: the eight best beauty gift sets worth buying this year. Whether it's for yourself or your best friend, no one has to know.

Lancôme is a really good brand that doesn't get enough attention. I feel like people tend to forget about it because it's on the pricier side, but this is one of the rare times when cost actually makes up for the quality you're getting. This super dope gift set comes with 10 full-size bestsellers (FULL-SIZE, people!) and a cute makeup bag you can actually use.

If you already own one or have even sampled a shade or two, you'd know that Morphe palettes are life. Their shades are always really pigmented and right on point. The only things you need to go with it are their soft, clean brushes. These nine ~vegan~ eye and facial brushes cover all the bases when it comes to makeup application. They also come in a chic little brush case.

I am a huge fan of IT Cosmetics because it's not only affordable for the quality, but also their products are all great for my annoyingly sensitive skin. Seriously, if you haven't tried anything from this line yet, now is the time. This limited-edition anti-aging gift set comes with a full-size moisturizing super cream—a must-have during the winter—and travel sizes of their hydrating cleansing serum and eye cream.

'Tis the season for vampy and festive-colored lips, so get 'em while they're hot, in stock, and on sale. This colorful set comes with 10 fan-fav mini lipsticks ranging from deep burgundy to "very hot" pink to a classic deep-tone beige.

If you're going away for the holidays, congratulations. I hate you, I'm a jealous b*tch. If you're not going anywhere, that makes two of us. But, on the bright side, this cheery gift set is enough to make us pretend we're getting our tans at the beach. It features 15 exclusive, new eyeshadow shades; a 12-hour lasting blush; eyeliner; and a bestselling glossy lip paint.

If you're a consistent reader of my stuff (sidenote: you the real MVP) you'd know that I've tried plenty of products from the Insta-famous Glossier. It's packaged in the millennial pink shade we love, stays in an affordable range, and actually delivers what it promises (most of the time). This gift set comes with the bestselling Boy Brow (my personal favorite), Lash Slick mascara, and Cloud Paint in the color of your choice.

Sounds too good to be true? It basically is. For a salon-style blowout in the comfort of your own home, this gift set isn't one to skip over. It carries a top rated straightening brush, anti-humidity spray, dry shampoo, and a ton more. Get perfect-looking hair this holiday for under $100.

These colder temps make me want nothing more than fuzzy blankets, comfy slippers, unhealthy food, and dozens of hot baths. If that doesn't sound like the most perfect and well-spent night ever, I'm officially a f*cking grandma. And you're just missing out on a good-ass time. This deluxe holiday collection from Philosophy features shampoo, shower gel, and bubble bath, all in holiday-friendly scents such as apple cider and peppermint stick.
Images: Charisse Kenion/Unsplash; Nordstrom; Ulta (2); Saks Fifth Avenue; Macy's; Glossier; Sephora (2)
Betches may receive a portion of revenue if you click a link and purchase a product or service. The links are independently placed and do not influence editorial content.
8 Holiday Gifts For The Coworkers You Actually Like
I don't think I need to remind you that it's the holiday season. This means you're supposed to start thinking about buying gifts for other people, ugh. Worst part? It's not just your family. You've got to get stuff for your friends, for your kind-of boyfriend, Secret Santa gifts for your coworkers… it's all v stressful.
But if you're on a personal quest to be crowned the nicest, coolest, fetchest person in the office, then it's time to think about gifts for your coworkers. You don't need to go balls to the wall, but these are people you likely spend the majority of your Monday through Friday with. Small gestures go far, and this could totally (maybe) pay off for you later.
Here are a few collective and individual gifts for your coworkers that say "hi, I'm cool and got you something cause I'm thoughtful" without coming off as creepy or desperate. You can thank us when that promotion comes through.
1. Coffee And Treats
Everyone loves coffee and treats when at the office. Diets don't exist when you're in that fluorescent-lit sixth circle of hell. Honestly though, if you're looking to please EVERYONE in the office rather than buying a bunch of individual gifts, get things to eat and caffeine to drink. Wandering Bear makes a delicious peppermint cold brew (also regular and vanilla) that comes in individual boxes or a giant 96 oz. monster that can be delivered right to your office.You could also just stop at Dunkin' or Krispy Kreme if people are more into the typical hot coffee (esp. great if it's negative three degrees outside).
Pair with a few boxes of freshly made doughnuts OR get super fancy with it and order brownies (or bonbons) from this small mom-and-pop North Carolina shop, French Broad Chocolates or Harry & David if you're fancy and into large corporations.

Wandering Bear Organic Cold Brew Coffee
2. Desktop Organizers
Is your work husband's desk so disgusting it's become a joke? Get him a "clean it up" gift basket with monitor wipes or mist, a desk organizer, and pocketbook on Feng Shui. It's a win-win. You're encouraging him to clean up his sh*t so he can be more organized and you don't have to look at his crusty monitor anymore.

Joss & Main Camile Desk Organizer
3. Lip Balm And Hand Cream
If the folks in your office are anything like me, they're constantly searching for hand cream and lip balm because of how full of black mold dry the office is. Get some desk #necessities in the form of Nyakio lip balm, cuticle cream, Burt's Bees, and the ALWAYS amazing Neutrogena Norwegian Formula Hand Cream. Make sure whatever products you pick are free of any color or glitter. If you do go this direction with your gifts, you won't have to look at people's nasty dry hands or lips anymore. Yay!

4. Plants
Plants are a wonderful gift if you feel that more oxygen in the office would truly benefit everyone and you're confident that the plants won't die within the first week of your recipients having them. Snake plants are a great option because they're practically impossible to kill. Succulents are even better if the recipient is likely to forget about watering their new gift. Bonus points if you find something that incorporates plants into something functional, like a "smartphone valet" (whatever that is… do I need to tip it?).

Uncommon Goods Smartphone Valet and Planter
5. Cubicle Guest Book
If you don't know where a coworker stands on caring for living things (or you work in a sad, windowless room), this cubicle guest book is a fun, cheap, and kind of universal option. It's hilarious because, like, they have to interact with others and make them sign it with fun notes. We all know how awesome interacting with people can be in an office environment, don't we?

Knock Knock Guest Book Cubicle
6. DIY Cookie Mix
Don't feel like spending money or applying effort other than pouring ingredients into a Mason jar? Cool! Create a DIY brownie or cookie mix and slap on a cute tag tied with adorable ribbon. It'll cost you next to nothing since you likely have sugar, flour, and whatever else in your pantry. Or, you can buy pre-done ones and say they're your handiwork!

The Mason Jar Cookie Company Cookie Mix
7. Desk Games
Desktop golf, basketball, and other games are all great gifts for your coworkers, because they will help distract your everybody from doing real work while providing hours of entertainment. Your boss will probs hate it, but you'll become an office legend.

Uncommon Goods Desktop Basketball
8. Dammit Dolls
This is perfect for that coworker who's always shouting obscenities from their office or cubicle. These are stress relievers in the shape of tiny people that you can throw into walls, drive pins in to, choke, curse at, etc. They're great for anyone looking to lessen their outbursts directed towards individual people. Now they can channel that very rage into an inanimate object. Healthy!

Images: rawpixel/Unsplash; Paper Source; Uncommon Goods (2) Amazon (5); Joss & Main; Ulta
Betches may receive a portion of revenue if you click a link and purchase a product or service. The links are independently placed and do not influence editorial content.
Holiday Gifts The Men In Your Life Actually Want
If you have a man in your life—whether it be a dad, uncle, brother, or boyf, shopping for him during the holidays is like, really difficult. It's not like shopping for women, where you can get away with candles, artisan chocolate, flowers, and anything sparkly. Sh*t, you can even buy us fuzzy slippers and ugly loungewear and we'll likely be psyched.
But every year, the men (at least in my life) prove increasingly difficult to shop for. So I asked my husband, Kyle; brother, Geoff; and father, Fran about their must-haves and wants this holiday season and why. For reference, Kyle is a 35-year-old almost-hipster construction superintendent (don't ask) who enjoys a nice glass of Scotch, reruns of The Office, and beard grooming. Geoff is a 26-year-old director for a large poultry corporation, nearly failed out of WVU for being too cool and burning several couches, and insists Saturdays are for the boys. My dad, Fran, is a retired 60-something who lives on a lake, is a long suffering Jets fan, was born and bred in New Jersey, and looks like a better-groomed version of Anthony Bordain, RIP.
If you're looking for holiday gifts for him, look no further than the fruits of my own nagging labor. Shall we?
A Couch-Approved Cereal Bowl
Oddly specific, but Kyle mentioned this one because he enjoys eating meals in the comfort of his underwear on the couch (ew). These bowls have indentations so your S.O. can comfortably hold them while eating cereal or soup or whatever the f*ck he's managed to microwave for himself without spilling it all over himself. Cool.

Geoff mentioned these online classes by Gordon Ramsey, the mean British chef that yells at everything. Geoff says, "I want to learn how to cook fancy things, but I also want to work up a sweat and get nervous pretending Gordon Ramsey is over my shoulder, and could call me an idiot sandwich at any moment."

Sounds practical, plus, if you buy a man this subscription, he has no excuse NOT to cook for you. Win-win.
Trips And Vacays
Fran says, "If someone bought me airline tickets to go on a trip, I think that'd be a great gift. Maybe I want a trip to Germany. Then I can go to the Porsche test track and drive around. That'd be very nice." Alright, well, for those of us not in a position to send the men in our lives to Europe, perhaps pieces of a trip—like a night at a hotel or a gift certificate to a nice restaurant—would be in order.
A Utilitarian Pair Of Boots
Geoff and Kyle mentioned these, for good reason. Kyle says, "I don't want them to show too much dirt, but they also need to be steel-toed for when large objects are falling or people try to kick me." Geoff, who spends some days in an, um, animal processing facility, says, "I just need them not to show too much blood." This is getting weird.

Chippewa American Handcrafted GQ Apache Lacer Boot
Concert Tickets
Experiences are probably better options for those in your life that have, well, everything already. Dad says concerts rule because they let him relive his glory days, like when he used to hang out at Pink Floyd concerts (yeaaaaaah buddy) or see Bruce Springsteen in his prime before he got ALL old and sweaty (respect, tho).
A Good Beard Trimmer
Kyle says this is all about the lady's preference (thanks, honey), and being a well-groomed man so as to not embarrass anyone or scare your mother-in-law is important. "If you're a man without a beard, are you even a man?" Like, yes, but I understand the sentiment, even if it is a little chauvinistic. But yes, get the beard trimmers, but add in some nice beard oil and comb, too, so the gift feels more complete.

Wahl 9818 Stainless Steel Beard, Stubble & Detailing Trimmer
A Shearling Bomber Jacket
Kyle says these jackets aren't just warm, but they're "really f*cking cool" and "they remind me of Tom Hardy, and Tom Hardy is the f*cking man." Alright.

Caine Leather Jackets and Bags Men's Brown and Ginger Sheepskin Jacket: Gent
A Nice Watch
"I bought myself a nice watch. I didn't need it, but your mother convinced me to get it. It's not a Rolex or a Patek Philippe, but it's fine." Per Fran, watches are always a nice, practical gift for the dude in your life. These days, you don't have to spend hundreds on one, and there are super cool options, from FitBit watches to hipster-approved craftsman-style pieces made from assorted woods.

Urban Bamboo Zebra and Ebony Wood Watch
Every Flannel Shirt
"Because," say both Geoff and Kyle. That's easy enough, considering J Crew, Woolrich, Banana Republic, and every other store, ever, sells flannel. Plus, they work well dressed up or down, and you can search for options that are warm AF, which will come in handy during the beastly winter ahead.

J. Crew Slim Midweight Herringbone Flannel Shirt
A Good Knife
Every man wants a good, cool knife for, uh, utilitarian projects and other things. Kyle says, "it's in case the boots don't do the trick." For the record, a classic Swiss Army Knife is a WONDERFUL gift if he doesn't have one. Other than that, cool wood-handled pocket knives are awesome.

L.L. Bean Buck 110 Folding Hunter's Knife
Wireless Bose Headphones
For the man who travels a lot, these are a great option. Geoff says they would successfully "block out the sounds of children screaming and seniors hacking up lungs on long flights."

Bose QuietComfort 35 wireless headphones II
Piano Or Guitar Lessons
If your dude is musically inclined, not only will these keep him busy so you can wear sweatpants and ignore him, but he may also earn some skills. "If a jabroni like Billy Joel can pull Christie Brinkley just cause he can play piano, adding music to my skillset can't HURT my chances of wooing Emily Ratajkowski." Thanks, bae.
"Bottom line, I'm at a point in my life where I really like gift cards. Let me buy my own sh*t," says Fran. Although YOU may feel like it's a bit of a cop-out, getting the dudes in your life gift cards along with a few ACTUAL gifts is a great way to go. Maybe $100 to R.E.I. so he can get some weird camping stuff you know nothing about, or $50 to Home Depot so he can pick out a great snow blower. Whatever.
Liquor And Wine
When I asked all three men if booze was a good gift, the answer was "obviously." So, if you notice he loves indulging in a particular brand of bourbon, or ALWAYS orders Spanish reds when out to eat, or just loves craft beer, go ahead and put a big fat bow on it. You know it'll go to good use.

Images: Uncommon Goods; Rebecca Matthews / Unsplash; Giphy; Zappos; Amazon; Caine Leather Jackets and Bags; J Crew; Urban Bamboo; L.L. Bean; Bose
Betches may receive a portion of revenue if you click on a link and purchase a product or service. The links are independently placed and do not influence editorial content.
5 Gift Ideas For Friends & Family That Are Really Gifts To Yourself
The holidays are the main time of year when we all have to pretend like we're totally on board with the whole "'tis better to give than to receive" thing. Sure, it's great to totally nail a gift, but it's even greater when that gift is kind of a present to yourself, too. Here's what to buy for the people on your list if you're high-key selfish and want to take the gift of giving philosophy literally.
1. Party Games
Everyone who isn't a wet blanket loves party games, but nobody ever really wants to buy them for themselves. Your apartment will now be the ultimate pregame palace, but you totally can pass it off as a gift to your roommate. It's like killing two birds with one pong ball.

2. Cooking Classes
Give a man a fish and you feed him for a day. Teach a man to fish and you will feed him for a lifetime. Gift your boyfriend or girlfriend cooking classes and your lazy ass will never have to feed itself. It's like, an ancient proverb or something. Look it up.
3. Photography Stuff
Cool little photography things like iPhone lens kits and instant cameras are a great way to achieve dope Instagrams all of the time. Your best friend would obv love a gift that would get her more likes. Plus, you can definitely just be like "Hey, can you bring that to brunch?" and casually make her take killer shots of you all of the time, too. Everyone knows what's good for your BFF's Instagram is good for yours, too.

Urban Outfitters Mobile Lens Kit
4. Concert Tickets
This is the most obvious mutually beneficial gift in the book. Nobody wants to go to a concert alone, so get the friend with the same musical taste as you tickets to see your favorite band. Duh.
5. Boujee Sweats
You already steal all of bae's sweatshirts, anyway, so why not just start buying some with yourself in mind? Blowing tons of money on loungewear isn't ridiculous when it's technically a present, so just pretend this is a gift and steal it a few weeks after the holidays.