Hillary Clinton Slams Bernie Sanders: 'Nobody Likes Him'
Sometimes the news is just gossip, and that's okay. (Is it though?) Today everyone online is poppin' off about a recent interview with Hillary Clinton in the Hollywood Reporter where ya girl talks some serious sh*t about Bernie Sanders. The interview covers an upcoming docuseries set to premiere on Hulu, entitled "Hillary," which gives an inside look at Clinton's life. Apparently she doesn't hold anything back, because when asked about Senator Sanders, Clinton says, "Nobody likes him." Yikes.
The quote comes from a point in the doc when Clinton is going on Sanders as a politician.
"He was in Congress for years. He had one senator support him. Nobody likes him, nobody wants to work with him, he got nothing done. He was a career politician. It's all just baloney and I feel so bad that people got sucked into it." 
When asked by the Hollywood Reporter's Lacey Rose if this assessment holds true, Clinton responded that it did. Damn, tell us how you really feel, Hill.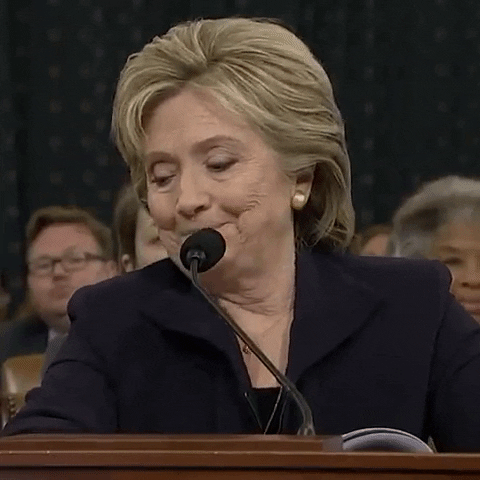 And it didn't end there! When asked if she would endorse Sanders, Clinton wouldn't say that she would, which is pretty cold considering he endorsed and campaigned for her after losing to her in the 2016 primary. Clinton also had some sh*t to talk about Bernie's followers and the culture around them that she believes he supports:
"I will say, however, that it's not only him, it's the culture around him. It's his leadership team. It's his prominent supporters. It's his online Bernie Bros and their relentless attacks on lots of his competitors, particularly the women. And I really hope people are paying attention to that because it should be worrisome that he has permitted this culture — not only permitted, seems to really be very much supporting it. And I don't think we want to go down that road again where you campaign by insult and attack and maybe you try to get some distance from it, but you either don't know what your campaign and supporters are doing or you're just giving them a wink and you want them to go after Kamala or after Elizabeth . I think that that's a pattern that people should take into account when they make their decisions." 
Looks like Hill is *not* a fan of Bernie Bros.
When asked about the recent Bernie/Warren "feud," Clinton first stated that she believes a woman can be president, and then implied that Sanders doesn't believe one could, and cited the fact Sanders called her unqualified when he was running against her, seemingly to imply that that means he doesn't believe women can be president.
All of this seems like a lot of negative energy to spend on trashing a Democratic candidate who is doing well in the polls right now. However things may have gone down — and again, Bernie campaigned for her — the fact of the matter is that Hillary Clinton and Bernie Sanders are no longer running against each other. His supporters were not nice to her at times, nor hers to his, and that sucks, but maybe it's time to move past it all?
After all, we have an election to win.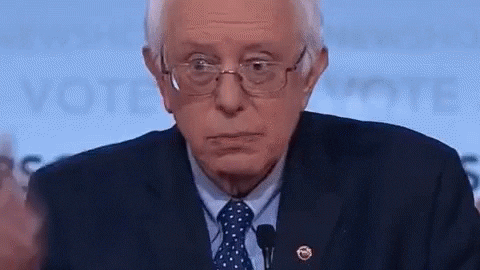 Want to keep up with the news without crying into your sad desk salad? Subscribe to the Betches Sup newsletter for a lunchtime briefing to make you laugh, instead of cry, about the news.
Images: Giphy(2)
Sweden Has Dropped Its Investigation Into The Julian Assange Rape Case
Julian Assange is one of the most controversial public figures of our time, and that's saying a lot. You probably know him as the man who founded WikiLeaks, the juicy non-profit that publishes leaked/classified documents from anonymous sources.
Some people, such as Pamela Anderson, think of Assange as a hero and a pioneer for the truth who stops at nothing to give the people the real story. Others think of him as a messy bitch who lives for drama criminal who has illegally leaked information that has been damaging to the world and the hacked emails of the DNC, which may or may not have cost Hillary Clinton the presidency. These are the two sides of Assange most of us are familiar with, but what many of us don't know is that he has also been accused of rape.
The rape allegations date back to 2010, when Sweden first started investigating Assange. The investigation has been closed and reopened a couple times, due to the complicated nature of investigating a man who is constantly running from arrest/extradition. However, the case was reopened this past May when Assange was removed from the Ecuadorian embassy in London and immediately put in jail for breaching bail conditions.
Multiple interviews were held during the re-opened investigation, including with five witnesses who had previously been interviewed and two new witnesses who had not. However, the investigation was dropped after it became clear that the victim's account was lacking due to the natural fading of memory of the years. In short, it was difficult for the victim to recount the evidence, as nearly a decade had passed. The deputy chief prosecutor, Eva-Marie Persson, found the victim to be both credible and reliable, but couldn't rely on the faded memories as evidence. She said:
"After conducting a comprehensive assessment of what has emerged during the course of the preliminary investigation I then make the assessment that the evidence is not strong enough to form the basis for filing an indictment. An appeal against the decision could be made to the office of Sweden's attorney general."
Assange has always denied the allegations and implied that they are merely another way for Sweden to push for his extradition to the US.
This is yet another case where the fine print of a criminal justice system works against sexual assault victims.
Call me radical, but I just don't think justice should feel like an impossible destination beyond a horizon of obstacles for rape survivors. Just saying.
5 Times Hillary Clinton Has Made This Whole Impeachment Thing Fun
I don't want to jinx anything, but we are currently residing in a moment when Donald Trump is living a nightmare and Hillary Clinton is thriving. The year of Lord & Savior 2019 at its best.
The impeachment process is poppin' off, and HRC is wasting no time in terms of joining in on the fun. She's had some iconic tweets about the matter, and even made some fun n' flirty TV appearances while she promotes her new book written with daughter Chelsea Gutsy Women. Here are five legendary ways Hill has made herself queen of the impeachment so far.
Two queens, one tweet thread. HRC knows a good call back opportunity when she sees one, and we love that for her. Get 'em!
But my emails. (Thank you.)

— Hillary Clinton (@HillaryClinton) September 30, 2019
2. This No Bullsh*t Tweet About Trump's Corruption
The 'again' here is absolutely savage. Trump beat her unfairly through corruption, and now he's planning to do it again with his next opponent. Hillary knows it, we know it, but for some reason my uncle Bobby does not know it. Maybe I can show him this tweet to help…
The president asked a foreign power to help him win an election.

Again.https://t.co/EjkE84oCCF

— Hillary Clinton (@HillaryClinton) September 20, 2019
3. This Interview With Stephen Colbert
If you have 10 minutes to spare, I highly recommend watching this interview of Hillary and Chelsea Clinton on The Late Show With Stephen Colbert. HRC really let her long bob down and is lol'ing loudly pretty much the entire time. It's adorable. She throws out a lot of shade, but the best is when she's talking about word-vomit enthusiast Rudy Giuliani and says, "As we've seen on television, carefully thinking through things is not one of Rudy's strong points." Hope Rudy carries Neosporin on him because he's going to need some for that BURN.
TONIGHT: Sec. @HillaryClinton and @ChelseaClinton react to the news that Secretary of State Mike Pompeo was on the line during Trump's problematic call with the leader of Ukraine. #LSSC pic.twitter.com/pk9nhcEF02

— The Late Show (@colbertlateshow) October 1, 2019
4. This Perfect Tweet
No notes. That's it. That's the tweet.
The president is a corrupt human tornado.

— Hillary Clinton (@HillaryClinton) September 30, 2019
5. This Exchange With Ashley Nicole Black
I never knew seeing Hillary Clinton talk about 'text threads with girlfriends' would bring tears to my eyes, but here we are. Thank you to Queen Ashley Nicole Black for bringing this beauty into my life. G bless.
In times like these, you can never have enough text threads with girlfriends…

— Hillary Clinton (@HillaryClinton) September 26, 2019
Images: Twitter (5)
Want more news like this? Subscribe to the Betches Sup newsletter, the daily email that explains the news like you're the funniest friend in the group chat. We tell you everything you need to know, and nothing you don't.
10 People Everyone Thinks Will Run For President In 2020
Politics is a forward-looking game. I mean it shouldn't be, politics genuinely affects people's lives in a very real and visceral sense and its gamification is shameful, but welcome to 2018. As a rule what's going to happen is more interesting than what's happening at the moment (especially when what's happening at the moment is ghastly). It's normal, then, that people want to know who might run for president in 2020.
And worry not, there's a deep pool of grifters more than willing to make their intentions perfectly clear. Obviously anything is possible, but these are the folks who've made it clear they have their eyes on the awful, gilded White House in 2020.
Beto O'Rourke

Fresh off a close loss in Texas to the Zodiac Killer Ted Cruz, Beto seems to think he has the momentum to parlay the nationwide attention he received for a presidential bid. He may be right! Of all the people on this list he's probably the one I'd least like to see catapulted into the Sun. Beto recently met with Al Sharpton, which people are taking as a big sign he's running.
(Editor's Note: The Head Pro – for reasons that I will never understand – failed to mention that in addition to being a bonafide progressive with exciting ideas, Beto O'Rourke is also a sexy, sexy lil snack. I feel this is an important part of his backstory and qualifications, which is why I've mentioned it here.)
John Kasich

After getting mollywhopped by Trump in 2016, Kasich said recently that he's seriously considering doing it again. Is this a smart idea, for him? No! Will I enjoy seeing him prostrate himself before Trump when he inevitably loses again? Absolutely.
Kamala Harris

Harris said she'll make a decision on whether or not to make a play for 2020 over the holidays. That could make for a very merry Christmas for anyone looking to Senator Harris bring her signature shade to the White House and/or for anyone who has already purchased our icons tee.
Joe Biden

Biden hasn't made any obvious declarations yet, but people have noticed that his recent speaking engagements have a distinctly political tone to them. God, please no. Joe Biden is approximately one thousand years old.
Elizabeth Warren

Warren has been spotted scouting out locations for a campaign headquarters, so it's safe to say the frequent target of Trump's ire is running. She's been pretty consistently progressive throughout her career, but her officially running would just dredge up the insufferable DNA testing fiasco again. (You know, the time she released a DNA test to prove she 1/32 Cherokke – aka the most white lady sh*t anyone has ever done.) Thank you, next!
Michael Bloomberg

The former NYC mayor is talking about 2020 a lot in the news, and reportedly met with some top Democratic officials in Iowa. I'm going to go out on a limb and say that we don't need to follow up Donald Trump's presidency with another out-of-touch NY billionaire. Just sayin'…
Cory Booker

Cory is reportedly doing campaign sh*t in New Hampshire. Cool, I guess? Booker was pretty vocal during Brett Kavanaugh's confirmation hearings, but Senate Democrats in general have been spineless pushovers since Trump took office. Most of that is on Chuck Schumer, who sucks ass, but it's at least a little bit on all of them.
Jeff Flake

Recent reports peg Jeff as backing away from a potential run if anything, but power is sexy, and it's not like he'll have another job to do. Besides, there's nothing Jeff Flake loves more than to stand in front of a camera promising to do something about Trump and then getting absolutely humiliated by them. He gets off on it. I say if Kasich goes for it, so does Flake.
Bernie Sanders

Look, all the credit in the world to Bernie for shining a national spotlight on progressive policies and generally moving the Democrat party further left. But if 2020 is going to be a big year for change, a guy older than the Sun is probably not the best standard bearer for that. Also I can't live through another primary full of Bernie Bros. I just can't.
Hillary Clinton?

Ok, so this is probably not going to happen, but a surprising number of people seem to want it to. A single poll apparently showed Hillary receiving more support than Beto O'Rourke, which was apparently enough for multiple outlets to talk to people who openly mused about how there's no reason she couldn't run. If this happens, I will not be voting – not because I do not believe in the power of the vote – but because I will have renounced my U.S. citizenship and moved to the Moon to live out my days in solitude.
Heads up, you need to keep up with the news. It's not cute anymore. That's why we've created a 5x weekly newsletter called The 'Sup that will explain all the news of the week in a hilarious af way. Because if we weren't laughing, we'd be crying. Sign up for The 'Sup now!
Updated: Here Are All The Democrats Who've Received "Suspicious Packages" So Far
All hail the Secret Service. On Wednesday, they intercepted explosive devices sent to Barack Obama and Hillary Clinton. In case that news wasn't sh*tty enough, both CNN's New York office and the office of Florida Congresswoman Debbie Wasserman Schultz also received suspicious packages, and had to evacuate. This act of domestic terrorism was aimed at many of President Donald Trump's favorite targets.
A law enforcement official told the New York Times that Wednesday's explosive devices bore similarities to the pipe bomb found in Democratic donor George Soros's mailbox on Monday. Thankfully, none of these devices have physically harmed anyone.
So hmm, what do all of these targeted people and companies have in common? Could it be that the president of the United States habitually demonizes them, stoking the flames of hatred towards them because it serves his agenda and helps him consolidate his power? Just a thought. Meanwhile, the Secret Service confirmed that reports of a bomb being sent to the White House were incorrect, because of course.
CLARIFICATION: At this time the Secret Service has intercepted TWO suspicious packages – one in NY and one in D.C. Reports of a third intercepted package addressed to the WH are incorrect. We refer media to our statement: https://t.co/lJdTn04KmI

— U.S. Secret Service (@SecretService) October 24, 2018
Law enforcement agencies are currently investigating the attacks, and hopefully will bring whatever f*cked up person did this to justice. In the meantime, White House spokeswoman Sarah Sanders said, in a statement, "These terrorizing acts are despicable, and anyone responsible will be held accountable to the fullest extent of the law."
Cool words, Sarah. But the real way to show condemn these explosive devices is to stop smearing the people who received them. And maybe, while they're at it, all those in the White House professing outrage could take away Trump's access to Twitter?
UPDATE 10/24/18: A string of prominent Democrats have continued to receive suspicious packages today, including New York Governor Andrew Cuomo, Rep. Maxine Waters, and former Attorney General Eric Holder. Sen. Kamala Harris' San Diego offices were also evacuated, but that turned out to be a false alarm.
Many of the nation's top Republicans have come out to publicly condemn what appears to be an attempted domistic terrorist attack. Maybe this will make Washington see past their differences and come together as human beings? (Probs not but still…)
We condemn the attempted attacks against fmr Pres Obama, the Clintons, @CNN & others. These cowardly actions are despicable & have no place in this Country. Grateful for swift response of @SecretService, @FBI & local law enforcement. Those responsible will be brought to justice.

— Vice President Mike Pence (@VP) October 24, 2018
Following explosive devices sent to CNN's Columbus Circle offices, Hillary Clinton's home and Barack Obama's office, @senatemajldr issued a statement condemning the attempted acts of domestic terrorism. pic.twitter.com/whtTIzxmSG

— Annie Andersen (@Annie_Andersen) October 24, 2018
I agree wholeheartedly! https://t.co/ndzu0A30vU

— Donald J. Trump (@realDonaldTrump) October 24, 2018
Those behind such reprehensible acts must be brought to justice. We cannot tolerate any attempt to terrorize public figures. I am grateful to the @SecretService, Capitol Police, and all law enforcement who guard against these threats. https://t.co/HUQQxynU9h

— Paul Ryan (@SpeakerRyan) October 24, 2018
UPDATE 10/25/18: There are new reports of suspicious packages sent to former VP Joe Biden in Delaware and Robert De Niro (random) in New York. This brings the total number of suspicious packages to 10, which is frankly 10 too many suspicious packages.
The President first addressed the packages at a White House event yesterday. You can watch his full remarks here:
Then he addressed them again at a rally last night in Wisconsin, where he blamed the the media for stoking fears and division:
No mention of the fact that he literally praised someone for body slamming a reporter like, a week ago tho…
Update 10/25/18 10:30am: Additional suspicious packages were found sent to Senator Cory Booker and to former Director of National Intelligence James Clapper, bringing the total suspicious package count to 12. Now the FBI is reportedly focusing on a mail distribution center in Opa-Locka Florida in connection to the packages. It is believed that several of the packages went through that processing center soooo yeah that seems like a pretty good clue.
Update 10/25/18: 11:20am: Federal authorities have arrested a man in connection to the suspicious packages. That's literally all we know. You can follow live developments on this story on CNN here.
Heads up, you need to keep up with the news. It's not cute anymore. That's why we've created a 5x weekly newsletter called The 'Sup that will explain all the news of the week in a hilarious af way. Because if we weren't laughing, we'd be crying. Sign up for The 'Sup now!
5 Takeaways To Pretend You Watched James Comey's ABC Interview
Guess who's back, back, back. Back again-gain-gain. Comey's back, back, back. TELL A FRIEND. Y'all know him. He's the former Director of the FBI, he was fired by some asshole our president, and he's tall AF. That's right, we're talking James Comey. Tallboy Comey sat down with ABC's George Stephanopoulos for a juicy interview, and let me just say, I hope they had some mops on set because the damn tea was SPILLED. The thing about interviews is that they are long and require you to pay attention (ew), so we went ahead and highlighted five takeaways from the interview so you don't have to watch the whole thing. Or like, read a non-fun article. You're literally so welcome.
Comey Compared Trump to a Mob Boss
Lol. Grab yourself a sweatshirt because Comey is bringing the SHADE. Are we loving my prop comedy in this article so far? Okay, great. Comey compared D. Trump to a mob boss, not in that he's out breaking legs per say, but more so just the culture within his administration. Comey mentioned, "the loyalty oaths, the boss as the dominant center of everything, it's all about how do you serve the boss, what's in the boss's interests," and went on to say that this is what's prioritized over what is best for our country. Dope. Comey says "mob boss," I say "big, whiny brat with a small peen complex." To each their own.

Comey Thinks Trump May Have Low-Key Obstructed Some Justice
Love when the prez casually obstructs justice. Comey can't say for sure since he's not investigating this, but he can say he witnessed Trump ask him to drop the investigation against Michael Flynn. Furthermore, Trump made this request after asking everyone but Comey to leave the room. Suspicious much? Stephanopoulos brought up that Trump denied doing this, to which Comey responded, "Yeah, well, what am I going to do? He did." It's like when you're little brother would hit you, and you'd hit back, and then your mom would yell at you, and your brother would say you started it, but like, there was no way to prove he was lying. So yeah, dealing with Trump is like dealing with your five-year-old brother.

Comey Confirmed That Trump is a Certified Narcissist
Look, it's 2018 and we all enjoy taking pictures of ourselves just a tad too much. But Trump takes narcissism to a whole new level. In the ABC interview, Comey talked about how Trump would break out into monologues about himself — about how big the crowd at the inauguration was, how great his speech was, how he never assaulted any women, and other lies things of that nature. The best part is that Comey clarified, "I'm sure you're wondering what question did I ask that would prompt those? None, zero." Trump goes on and on, defending himself against things that nobody in the room has brought up. There is a word that…it's…UNHINGED.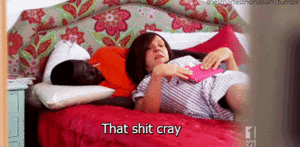 Comey Thought Hillary Clinton Was Going to be President
Girl, same. Comey has been criticized a lot about how he reopened the investigation of Clinton's emails towards the end of the election. It was messy AF, but Comey stands by his decision. He and Stephanopoulos discussed how Comey's assumption that Hillary was going to win might have affected his decision making here. The idea is basically that Comey assumed Hillary would be president, and he knew if that were true, it'd only be fair and just to have her name cleared/have the public know the truth about her. Too bad things didn't work out as planned. *Stares out window, watches the rain fall, and feels a single tear roll down my cheek*

Comey Thinks Trump is "Morally Unfit" to be President
Again, going to have to agree with the tall guy on this one. Comey suggested that it's not Trump's mental state that makes him unfit to be the leader of the free world, but rather his broken moral compass. Sometimes the answer has been right in front of you the whole time: Trump is simply too big of a douchebag to run this country.

Well, there you have it. I hope you have your air conditioner installed so you can cool off from all of that hot goss. Okay, I'm done.
Heads up, you need to keep up with the news. It's not cute anymore. That's why we've created a 5x weekly newsletter called The 'Sup that will explain all the news of the week in a hilarious af way. Because if we weren't laughing, we'd be crying. Sign up for The 'Sup now!
Who Is Hope Hicks And What Highlighter Does She Use?
If when you hear the words "Donald Trump" and "former model" in the same sentence, you immediately jump to sexual assault allegations or Forbes-magazine-spanking scandals, you're not alone and I really can't blame you. However, there's a former model currently working in the White House as an indentured servant named Melania who might accidentally be the one who brings down the Trump presidency from the inside. So who exactly is Hope Hicks and how did she get a job in the White House with no prior political experience? Here's what we know.
Who TF Is Hope Hicks?
Trump's third attempt at choosing a White House Communications Director that will last more than 10 days (RIP "the Mooch") is former model and NYC publicist, Hope Hicks. Hicks worked at a PR firm representing major celebs like the Trump family, and specifically Ivanka, who poached her to work on b0th expanding her clothing brand and then modeling her pieces as well. When clients come into our office, they usually ask me to fetch them coffee or point out the bathrooms instead of offering me my big modeling break, but I'm not bitter or anything.

Before she was a big shot publicist, Ms. Hicks still had her finger on the pulse of Manhattan's elite in another way. Before she modeled for Ralph Lauren and Ivanka, Hope was on the cover of the Gossip Girl spinoff series about Jenny Humphrey called It Girl. Just when you thought little J could literally not get any more insufferable, she ends up working to desperately make Trump look sane in the public eye.

Ivanka clearly trusted Hope because she looks hot in her clothes to promote her family in a positive light, which led to the Big D hiring her as Communications Director because she looks hot in Ivanka's clothes even though she's only 29 and has no political experience whatsoever. While that is seriously impressive and, like, inspirational to young bad business bitches everywhere, I can't think of any person in their twenties who is actually qualified to hold an official government position. Every year before 30 is still a shit-show and deserves to be treated as such before it's socially unacceptable to end the night wasted and asleep with a bowl of mac and cheese in your bed.

Why Is She In Trouble?
As a Communications Director, it's Hicks' job to attempt to filter the insane shit that leaks out of Trump's mouth to at least make him look semi-sane and to stop him from saying something that will get him in tons of trouble (TBH she's doing a pretty terrible job as far as that's concerned). One of her responsibilities is literally to type out Trump's tweets as he dictates to her through greasy mouthfuls of McDonald's, and my question is just…how could you let those get posted? A small part of your educated, press-savvy brain must be rotting away having to use the wrong "there/their" and punctuating everything with indiscriminate caps lock. I know I have a slight aneurysm every time I read one.

At the moment, Hope may be in hot water now that it was revealed that she and Trump allegedly drafted the statement together that claimed Donald Jr.'s meeting with Russian lawyers had nothing to do with dirt on Hillary Clinton and was about lifting sanctions on Russian adoption. You're not exactly proving your PR skills, girl, because that is the least believable lie I've ever heard since those few months when Kylie Jenner tried to pretend she doesn't have lip injections. It's (literally) written all over your face.

Mark Corallo, a former legal spokesman for the Trump administration who resigned last July, claims that Hope told him Don Jr.'s emails about the meetings "will never get out," which some might take as a threat that she plans to cover them up and prohibit anyone from seeing them – AKA obstruction of muhfuckin' justice. Corallo plans to testify to Mueller that Hicks may have had knowledge of or intent to obstruct justice, which would lump Trump himself right into the equation if they cite the statement they drafted together about the Russia meeting.
It's also worth noting that the PR firm Hicks previously worked for was owned by a guy who made his name as Harvey Weinstein's publicist, so it's clear that Hicks learned her techniques from the top of the covering-up-dubious-behavior food chain.
Oh Little H, did you learn nothing from Blair Waldorf? The secret to a good lie is making sure no one ever finds out. If you really have something to do with holding back information, it looks like your "hope" of keeping your job – and staying out of jail – might get squashed. I hope you know how to model orange jumpsuits. XOXO.

What Highlighter Does She Use?
Unfortunately Hope has not spoken out on this important topic, but hopefully Robert Mueller can include this line of questioning her in deposition. The American people deserve to know.
Heads up, you need to keep up with the news. It's not cute anymore. That's why we've created a 5x weekly newsletter called The 'Sup that will explain all the news of the week in a hilarious af way. Because if we weren't laughing, we'd be crying. Sign up for The 'Sup now!
5 Grammy Moments That Will Make You Feel Woke Af
It's 2018 and even the Grammys are political now. I mean, after one of the most hated reality TV stars became president and men as a whole were outted for officially being the worst, it's kind of hard to not start talking some shit. As a wise prophet once said, "There are two kinds of evil people in this world. People who do evil stuff, and people who see evil stuff being done and don't try to stop it." Some artists at the Grammys last night opted to avoid the whole being evil through silence thing, and instead made a statement. Here are our fave political moments from last night.
Kendrick Lamar's Performance
I mean, wow. Kendrick's performance had a powerful political message and included cameos from Dave Chappelle and U2. Love a good collab. The entire set was incred, but the grand finale is what has everyone talking. As Kendrick continued to rap, the dancers surrounding him fell to simulated gun shots, one bye one. It was the opening performance of the night and set the tone of "let's fuck some shit up" for the evening.

Camila Cabello's Speech
You probably know Camila Cabello as the woman who sings that song "Havana" that plays in your head on loop literally 24/7. She is amaze. Last night she made a speech about Dreamers before bringing U2 to the stage, and if you were low-key wasted on a Sunday like I was I was, you were crying into your mug of wine by the end of it. The Cuban-Mexican immigrant spoke about her own journey of coming to America and going after her dreams. She said, "Standing in front of you on the Grammy stage in New York City and all I know is just like dreams, these kids can't be forgotten and are worth fighting for." It was beautiful and emotional and I am livid that now even the Grammys can make me feel things.

Kesha's Performance
Kesha. Is. Everything. This performance fucked me up good. Kesha was joined on stage by an army of badass bitches, including Camila Cabello, Cyndi Lauper, Julia Michaels, Bebe Rexha and Andra Day. They were all dressed in white in solidarity for the #MeToo movement, and I know it's besides the point to point out that they looked amazing, but leave it to women to make a powerful statement while also looking perfect. Kesha performed "Praying," which was particularly poignant, as this song was her comeback after her legal battle with her producer and "alleged" abuser — a man who has the audacity to refer to himself as "Dr. Luke." Ew. Anyway, Kesha killed it and I will never recover from seeing she and Cyndi Lauper sing side by side. Women are amazing and everything else is shit.

Cardi B Reading From Fire and Fury
The goddesses have blessed us all with Cardi B's rise to fame. We are not worthy. In a pre-recorded interstitial at last night's Grammys, some celebs read excerpts from Fire and Fury and lucky for us, Cardi B was one of them. After reading about Trump's hard-on for McDonald's in bed, Cardi B was like, "Why am I even reading this shit?" Same, girl, same.

Hillary Clinton Reading From Fire and Fury
If Hillary Clinton doesn't make an appearance at the Grammys did they even really happen though? HRC was also in the vid of celebs reading from the Trump Burn Book. She closed out the segment by reading the part about how Trump is hella paranoid that he's going to get poisoned, and hearing the words "Trump" and "poisoned" in the same sentence delivered by Hillary Clinton was all I need to get through the next, IDK, two to three hours maybe.

And none for Taylor Swift, bye!
Heads up, you need to keep up with the news. It's not cute anymore. That's why we've created a 5x weekly newsletter called The 'Sup that will explain all the news of the week in a hilarious af way. Because if we weren't laughing, we'd be crying. Sign up for The 'Sup now!