A High-Intensity Home Workout That Won't Piss Off Your Downstairs Neighbors
By now, most of us have probably tried at least a few home workouts. With gyms still closed in several states, the art of working out from the comfort of your own home is still essential. But can you still feel the burn with limited or no equipment? Incorporating plyometrics (aka plyos or jump training) can be an easy solution, but if you live in an apartment, that can also be a problem. Your neighbors probably won't be too happy with you if it sounds like a herd of elephants is about to fall through their ceiling once a day.
The answer to all your problems is HILIT, or high intensity, low impact training. HILIT workouts use short intense bursts of activity followed by brief rest periods that never require jumping movements. You read that right: no jumping.
I've been an athlete my whole life and a personal trainer and fitness competitor for several years, and this is the method I've used during all of quarantine to maintain my fitness level. HILIT uses little to no equipment, increases your metabolism, and is also gentle on your joints. If you ask me, it's a win-win-win. If you're looking for a home workout that burns fat while toning your body, this is it! Here are a few moves you can do for a full at-home HILIT workout.
Low To High Wood Choppers
This is a dynamic exercise that works your obliques and shoulders. To begin, squat, twist your torso to the right, and hold your hands to the outside of your right leg. If you have a dumbbell at home, you can hold that as well. Exhale and swing your arms diagonally across your body so that you end with your arms above your left shoulder. Return back to your starting position to complete one rep. Continue the movement on this side for 30 seconds, then switch.
Standing Supermans
Standing Supermans strengthen your upper back, glutes, hamstrings, and calves. Stand on one leg and extend both your arms out to the side as you bend forward. Let your raised leg stretch all the way behind you as you bring your back to a table-top position. Squeeze your glutes and pull yourself back to a standing position. Repeat the Superman on this side for 30 seconds.
Iguana Press-Ups
Start in plank position, then bring your left knee up to your left elbow. While holding this position, do a push-up. Alternate your legs back and forth for 30 seconds. Iguana press-ups require more stabilization than traditional push-ups and are excellent for building core stability in addition to working out your chest.
Standing Knee Drive
Stand with your hands behind your head and forcefully drive each knee in towards your chest. For maximum results, move as quickly as you can for 30 seconds straight. 
Reverse Plank Leg Lift
Begin by sitting on the ground with your legs bent and your arms behind you—your fingertips should be facing towards your toes. Push your butt up off the ground and begin raising one leg at a time up towards your chest. Keep your movements controlled, squeeze your abs at the top of each leg raise, and always keep your hips lifted.
Squat Hold To Calf Raise
Stand in sumo position (feet outside your hips and shoulders) and sit into a squat. Hold this position for 30 seconds while you raise your heels up and down off of the floor. You should keep your weight in the balls of your feet throughout the movement. Prepare to feel an intense burn in your thighs and calves!
Hip Bridge with Hamstring Curl
You're going to need to wear a pair of socks for this one! Start by lying on your back with your knees bent and feet placed hip-width apart. Bridge your hips up into the air and slide your feet forward as far as you can without dropping your hips down. Then pull your feet back in towards your glutes and repeat the movement for 30 seconds. Don't lower your hips for the entire 30 seconds.
Images: Jonathan Borba / Unsplash
How Many Calories Your Favorite Workout Classes Actually Burn
Group workout classes are great. You're motivated by the overachieving people in the front row to work harder, but you also don't feel super sh*tty about yourself because there is usually someone who's just as lost as you. But even if you're not perfectly coordinated (me in dance cardio classes), you will likely still be dying at the end of a class, if you're doing it right. Obviously, not all workout classes are created equal, and some will burn more calories than others. So I did the research to find out if cycling is really kicking your butt, if CrossFit is really worth it, and more. Read on to find out how many calories workout classes burn. For reference purposes, I reported the number of calories burned for a woman who is 155 pounds. So your mileage may vary, but here's a good reference guide to the calories burned in your favorite group fitness classes.
HIIT

Also known as high-intensity interval training, HIIT classes involve lots of sweating, heavy breathing, and typically burpees. As the name implies, they are structured in intervals of high-intensity workouts. Typically, you push yourself to the maximum for 20 to 90 seconds before taking a short break and doing it all again. Due to the intensity of the workout (say "intensity" again), you can burn up to 900 calories in an hour. The harder you work, the more you'll burn. Either way, you'll for sure need a shower and nap after this workout.
Kickboxing

If you want a major confidence boost, take up kickboxing. This high-intensity workout will test your balance, endurance, strength, coordination, and flexibility. Not to mention, you'll feel like a total badass when you master a mean uppercut. A 155-pound woman could burn around 740 calories in an hour of kickboxing class. Speaking from experience, you'll work legit every muscle in your body, and I can guarantee you'll be so sore the next day. Have fun walking upstairs!
Cycling

Personally, cycling is my favorite workout. The high energy and fun music makes me forget about how much the instructor is kicking my ass. According to this calculator, you could burn 637 calories for a one-hour spin class working at mid-intensity (which means that you could still have a conversation). Personally, I can barely breathe midway through a spin class, let alone have a conversation, but sure.
CrossFit

Say what you want about the people who swear by it, but this workout is no joke, and you're able to burn almost 800 calories in an hour (so I guess those bros are doing something right). It's a high-intensity, constantly changing workout that involves exercises like push-ups, pull-ups, and squats. Honestly, I don't feel like I need to explain it further—if you want to know more just go up to the nearest person you know who does CrossFit and breathe in their direction and they'll tell you all about it.
Circuit Training

This workout may be hard, but it is never boring. It combines a variety of different exercises to work different muscle groups that you move through with a short or no break in between. Your heart will be racing basically as soon as you start. In a one-hour class (or workout you do yourself, which I'm v impressed you are motivated to do), you could burn up to 547 calories.
Hot Yoga

Well for starters, it's hot, which some people hate but I personally love. You sweat balls, which always makes me feel like I'm working 10 times harder that I probably am. The heat also helps you release toxins and loosens your muscles so you can have a deeper stretch. For an hour hot yoga session, you could burn up to 500 calories. You can also improve flexibility and reduce stress.
Barre

I don't think I've ever left a barre class when my legs don't feel like Jell-O. Even though I danced ridiculous hours as a child, these classes are very hard. In case you missed the trend, barre is a combination of ballet, yoga, and pilates poses and exercises to work muscles you never even knew you had (or at least, that's the case for myself).  You can burn more than 400 calories in an hour class and tone your muscles. These ballet-inspired classes will make you feel like a classy ballerina.
Images: Scott Webb/Unsplash; Giphy (7)
The Full-Body Workout You Can Do In A Corner Of The Gym
If you go to the gym right before 9am or right after 6pm, you know how annoying it can be to get around the place during workout rush hour. As much as we'd all love to work out in an empty gym with the whole place to ourselves, it's v unrealistic unless you're like, a psychotic morning person or like, super rich. Luckily for you, we've put together a workout can literally be done with one mat in a tiny corner of the gym, so you don't have to bother waiting for a machine to become available or for people to step away from the dumbbell racks. Here's a quick workout that will tone your whole body and burn a ton of calories while staying in one space the whole time.  
1. Walkout Push-Ups
The walkout push-up is a great warm-up move because it gets your lower and upper body working without diving right into a cardio or strength move. The idea here is to first warm up your hamstrings by starting in a standing position and folding your arms and head forward, and then get your upper body warmed up by crawling your hands out to a plank position. Once you're in your plank, perform one push-up (drop to your knees if you have to) and then crawl your hands back to your ankles to stand back up, engaging your core at the top each time. Start off slow, and then try to speed up on your last few reps. Do 10 of these in total.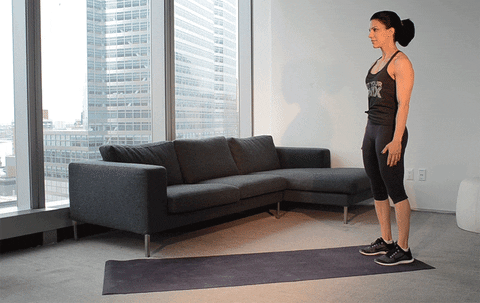 2. Glute Bridge To Oblique Reach
This is another lower and upper body movement, but this time you're working your butt and your obliques, aka your side abs and love handle region. Start by lying on your back with your knees bent and your feet on the ground. Then, extend one leg straight out and lift your hips into a bridge, squeezing your glutes and specifically feeling the burn on that same side. After the bridge, lower your hips back to the ground and reach your arms toward the straight leg while extending the leg upwards. Remember that you're crunching with your abs, so don't just use your arms to swing your body up. This combo is slightly complicated since it's technically two moves in one, so you can take your time on these until you get the hang of it. Do eight reps on each side.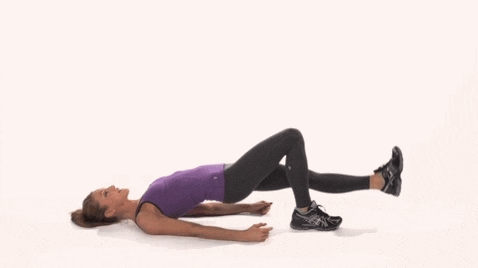 3. Tricep Extensions
You'll need a weight for tricep extensions, but it shouldn't be too hard to find because you can literally use whatever you want—a dumbbell, a weighted medicine ball, or a kettlebell. If you have a kettlebell available to you, you're gonna hold it by its horns (AKA the non-bell part) and lift it up over your head, keeping your elbows straight forward and your arms tight. Then, extend the bell toward the back of your neck, using your triceps to bring the weight up and down each time. If you feel like your elbows are widening out to the side, take a break and reposition yourself. The tricep muscles are really what give your arm that toned, sculpted look, so go heavy on these and take your time. Aim for 10-12 reps.

4. Deadlift To High Pull
The good news with this move is that you can use the same weight you were just using. Again, this is a combo move, so you're totally killing two birds with one stone by working your legs and your arms in one exercise. Place your kettlebell on the ground in front of you, and make sure it's between your legs, but like an inch or two forward. Then, bending your knees slightly, you're going to hinge your hips backward and lift the kettlebell keeping your arms straight, bringing it to your waist as you hinge the hips forward. That's the deadlift part. Then, you're gonna pull the kettlebell up to your chin, using your shoulders to row upright, with your elbows wide towards the sides. Once you complete one rep, bring the kettlebell down to the ground and do five more.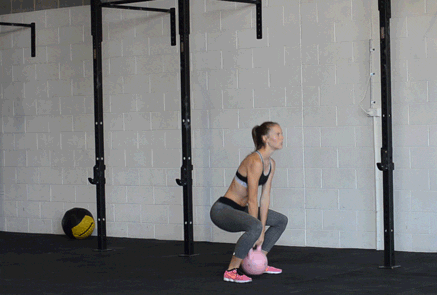 5. Squat Jumps
Now that we've done a bunch of strength work, it's time for some cardio. Your legs burn the most calories out of all the muscles in your body, so doing jumping exercises while combining squats or lunges is super effective. It's also really hard, so pace yourself. Start in a squat position, making sure your knees are behind your feet so you don't hurt yourself. Get super low, and then jump up explosively while straightening out your legs and arms. Aim for 20 reps here, but you might want to die by the time you get to 15. Try to fight through it.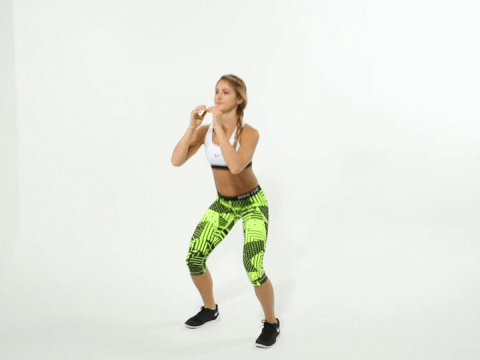 6. Burpees
Burpees are annoying and difficult, but there's a reason you see them in every fitness magazine and at every workout class—they WORK. Start by standing with your feet shoulder-width apart and your arms at your sides. Then, lower your body into a squat and place your hands on the floor in front of you, jumping your feet back so that you're in a plank position. Once your body is in a straight line, lower your chest to the floor and then bring it back up as quickly as you can. Then, jump your feet forward, outside of your hands, and jump up with your arms in the air. Do 8-10 of these, depending on your energy at this point in the workout. Also, keep in mind this is a full-body move, so make sure you follow the motions without just slamming your body down to the ground in the sloppiest way possible.

Images: Trust Tru Katsande; Unsplash, Giphy (5), Pinterest (1)