12 Common Sunscreen Myths Debunked
You've heard it from your mother, your dermatologist, your first-grade teacher, and even Baz Luhrmann: Wear sunscreen. With the wealth of knowledge we now have on sunscreen's ability to reduce our risk of skin cancer and to protect against sun damage like wrinkles, dark spots, and sagginess, it seems wild to think that some still skip this crucial step in their daily skin care routines. But in reality, the increasingly oversaturated sunscreen market and the onslaught of information, studies, and data surrounding it can often have a detrimental effect on consumers, leaving them unsure of what to believe and whom to trust. Over the years, certain myths about sunscreen have permeated our culture, and even the wisest of skin experts have fallen victim to them. With a scorching summer already upon us, it's more important than ever to not only debunk these misconceptions but also to understand why they're inaccurate.
Myth #1: Sunscreen Is Not Necessary Indoors, On Cloudy Days, Or Inside A Car
"False, false, false!" says Dr. Shereene Idriss, a board-certified dermatologist in New York City. "Yes, clouds do reduce some of the harmful UV rays, but they don't block them all, particularly in areas where the ozone layer is dramatically reduced." It's also important to realize that UV light is not alone in its ability to cause harm. Outdoors, UV light, in the forms of UVA and UVB, can impact skin aging and increase the risk of skin cancer. Some of that light can travel indoors through windows, but we're also exposed to other types of light indoors, including visible light and blue light, which can also impact the skin. For that reason, it's crucial that sunscreen be worn daily, and it should not be skipped just because you're inside.
Myth #2: One Application Of Sunscreen Will Last All Day
"If you have discovered the sunscreen that lasts up to 24 hours, please let us all in on that secret!" Dr. Idriss jokes. In fact, not only will one application of sunscreen not last all day, but it will last just a couple of hours. "Most sunscreens are tested for a specific amount of time, and that's on average two hours," explains Dr. Caroline Robinson, a Chicago-based board-certified dermatologist and founder of TONE Dermatology. "After two hours, the SPF protection goes down significantly, so you do need to reapply to maintain that initial level of protection." If you are in the sun, reapplication every two hours is imperative, but if you're mostly indoors, you can be slightly more lenient in reapplying so long as you apply before stepping outside again. "I tell people to bring a sunscreen brush, like ISDIN's, with them wherever they go and quickly apply that to their arms and face and any exposed skin before going back outside," Dr. Robinson notes.
Myth #3: The Higher The SPF, The Better The Protection
While this is not totally true, there is some logic behind the belief. "The SPF number does not reflect the duration of efficacy of the sunscreen; it indicates how long it would take for your skin to redden when using the product," Dr. Idriss says. "So, for example, if you are using an SPF of 30, it would take 30 times longer for you to burn while using the sunscreen versus if you didn't use it all." There is also proof that the higher the SPF, the more protected you will be—but only to a certain point. "SPF 15 blocks 93% of UVB, whereas SPF 30 blocks 97%, and SPF 50 blocks 98%," the New York dermatologist explains. "This may seem like a negligible gain in protection, but if you are prone to sunburns or skin cancers, that little gain can make a world of a difference."
Once you go above SPF 50, though, the difference in protection is quite small. Dr. Robinson says a nickel-sized amount of sunscreen is required to cover the whole face and about a shot-glass full is necessary to cover the whole body. "But if you know that you're not going to follow those recommended amounts—and most don't—then you can actually benefit from a higher SPF," she advises. "In doing so, you can get a similar protection to an SPF 30, which is what those measurements are based on, but you can get it with less than the nickel- and shot-glass-sized amounts." Essentially, it will be more thinly spread than the recommended amounts would, but because it's a higher SPF, it will be roughly as powerful.
Myth #4: People With Darker Skin Tones Don't Need To Wear Sunscreen
"This is a misconception I've been fighting for a very long time," says Dr. Robinson. "While people with darker skin tones are indeed less likely to burn, they aren't immune from sun damage, and oftentimes, it will develop in the form of hyperpigmentation—potentially even more dramatically than sun damage would manifest on lighter skin tones." Additionally, certain conditions, including post-inflammatory hyperpigmentation (dark spots that result from acne or irritation to the skin) and melasma, can be worsened by sun exposure, especially in people of color. So, even if your sun damage doesn't come in the form of the traditional sunburn or freckles, it's still important to wear sunscreen in order to protect your skin from other damage.
Myth #5: If You're Not Prone To Burning, You Don't Need To Wear Sunscreen
Much like the belief that those with darker skin tones don't need sunscreen, there's a misconception that if you don't burn, you similarly don't need SPF. "There's this idea that just because you tan, you're fine, but tanning can actually be a system of sun damage," Dr. Robinson explains. "You can have enough exposure to the point where you no longer burn; your skin just goes straight to tan, and that's not a good thing." Immediate tanning can be an indication that your skin has skipped the warning response of burning entirely, and that's actually a sign that your skin is damaged.
Myth #6: If You Wear Sunscreen, You Won't Get A Tan

Many refrain from wearing sunscreen because they claim it will keep them from achieving that oh-so-coveted sun-kissed glow. But, as Dr. Idriss says, this is once again false. "Sunscreen makes your skin slower to react to UV rays," she notes, "but it doesn't prevent it from reacting altogether." You can definitely still get a tan while safely protecting your skin with sunscreen.
Myth #7: Wearing Makeup That Has SPF In It Is Enough
Absolutely not! "Most makeups that include an SPF are not tested to the extent that sunscreens are, especially compared to the sunscreens that carry extra credentials, like an endorsement from the Skin Cancer Foundation, or anything like that," Dr. Robinson explains. In order to reap the full benefits of the SPF listed on your makeup, you would need to use a hefty amount, up to the size of a nickel, and unless you're a Kardashian, you're probably not equipped to wear that much makeup. You also likely won't be putting makeup on your ears, neck, chest, or any of the many regions of the body that are not the face but are equally susceptible to sun damage, and you won't be reapplying makeup every two hours as you would sunscreen.
Myth #8: Spray Or Powder Sunscreen Is Just As Effective As Lotion
As new agents of delivery have come to the sunscreen market over the years, they've often appeared to be solutions to the stickiness and getting-it-in-your-eye tendency of traditional lotion, and while that can be true, spray and powder sunscreens can also have their shortcomings. "They can definitely be as effective, but a lot more needs to be applied in order to reach the same level of effectiveness," says Dr. Idriss. Unlike lotion sunscreens, applying a spray or powder means that some of its contents will not land on the actual skin, so you'll need to as much as double the amount you're using.
Myth #9: Sunscreen Can Lead To Cancer Or Other Health Problems
While an alarmingly common belief, the idea that sunscreen can cause cancer or any other health issue is founded in no truth. "I wish this myth would go away because it's been disproven time and again," Dr. Robinson says. "Sunscreen does not cause cancer, and there have been so many studies to show that, but they sadly don't make the headlines as much." And if you're really worried, do as Dr. Idriss suggests and simply opt for a physical sunscreen instead of a chemical one.
Myth #10: There's No Real Difference Between Chemical And Mineral/Physical Sunscreens

Although both types of sunscreen achieve the same goal, scientifically, they work very differently. "Mineral and physical are interchangeable terms, and the most common ingredient in those sunscreens is either zinc oxide or titanium dioxide," explains Dr. Robinson. "Those are metals, and if you think about a sheet of metal, you know that it literally just reflects light; so, physical sunscreens sit on top of skin and reflect the UV rays and scatter light." Chemical sunscreens, on the other hand, absorb the UV light and put it through a chemical reaction (their namesake comes from this) that converts the light to heat. "Because the chemical sunscreens have to first absorb the light, they take a little longer to become active, so you can't apply them while you're outside or even right before," the Chicago dermatologist notes. "You have to allow at least a few minutes, which the bottle will tell you."
Some people can be more sensitive to the ingredients in chemical sunscreens, so for babies, children, and anyone with sensitive skin, a physical sunscreen is the way to go. Historically, some consumers have shied away from physical options because they can leave more of a white film, but some recent additions to the sunscreen market have gotten around that with advanced technologies. Dr. Robinson recommends SkinBetter's SunBetter Stick, a physical SPF 56 sunscreen which uses a new technology to uniquely shape the zinc particles so that they sit atop the skin without leaving the familiar white cast. She also loves Eryfotona Actinica from ISDIN, another physical option that uses DNA Repairsomes to repair DNA damage that can come from sun exposure, and Revision Skincare's IntelliShade TruPhysical, which has Vitamin C in it and effectively serves as two necessary products in one.
Myth #11: If You Didn't Wear Sunscreen When You Were Younger And Already Have Sun Damange, There's No Point In Wearing It Now
"Although most of the damage is actually accumulated while you're younger (typically before the age of 18), it doesn't make you immune to worsening damage," Dr. Idriss says. Indeed, sunscreen protects from the visible signs of aging caused by sun exposure, but it also reduces your risk of skin cancer, and that alone is reason to start or continue wearing it even if you've already suffered some sun damage. "I recommend you adopt a 'never give up' attitude," suggests Dr. Idriss. "You only have the skin you're in, and hopefully your life will be long, so you might as well protect and enjoy it every step of the way."
Myth #12: Sunscreen Never Expires
Of all the myths that exist about sunscreen, the notion that it doesn't expire might be the most outlandish. "Sunscreen is doing a lot of work, so when you're applying it, you want to be confident that you're getting the coverage you think you are," Dr. Robinson explains. Like everything in life, sunscreen has an expiration date, and you can find it by looking at the back or bottom of the bottle. As for any wiggle room when it comes to that expiration, like the "five-day rule" for milk, Dr. Robinson says, "we don't take chances with sunscreen."
Images: Retha Ferguson / Pexels; Maciej Serafinowicz / Unsplash; Antonio Gabola / Unsplash; Taylor Simpson / Unsplash
6 Night Creams That Will Fix Your Skin While You Sleep
None of us ever get the amount of sleep we actually need to function as a contributing member of society, and we most definitely do not get our beauty sleep, ever. There's always something that seems to f*ck up our sleep schedule and give us Crypt Keeper skin overnight—things like taking 2am tequila shots, binge-watching The Bachelor, or just stressing out over f*ckboys' texts. All the Starbucks, organic smoothies, and contour sticks in the world will only work for so long. You may think it's too soon to start buying night creams while you're 20- or 30-something years old, but you'd be wrong. Overnight creams are actually the life-saver we don't nearly appreciate as much as we should. They're like, so hydrating, anti-aging, and v brightening. Amazing, so here are the best night creams you should buy if you want to wake up with flawless-looking skin.


The Tula Beauty Sleep Overnight Repair Cream works its magic while you sleep, smoothing your wrinkles and brightening your skin overnight so that by the time you wake up, you will look as fresh and glowing as ever. The cream can be used for all skin types and has fruit extracts and probiotics to hydrate and nourish your skin. We love to see it.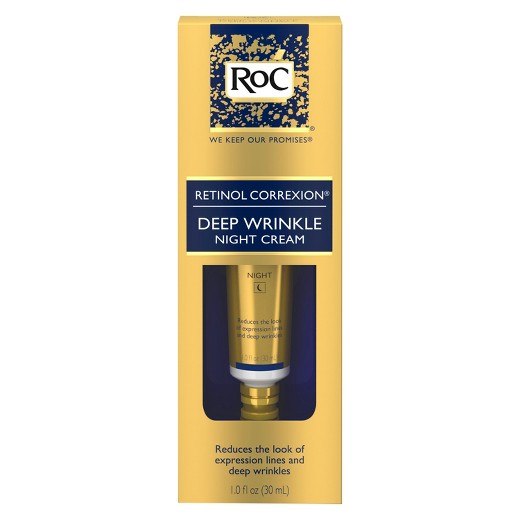 If you didn't already know, retinol is basically like, crack for your skin. And I mean that in the best way possible. It actually reverses aging, tightens big-ass pores, and helps your wrinkles disappear ASAP. It smoothes and evens out your skin tone, so eye bags and tiny lines are gone.

Again, this is full of that good sh*t, aka retinol, so already you know it's amazing. It's super lightweight and creamy, so you won't feel like a greaseball after putting it on. It tightens your face (but not too tight that it feels like you just got botox), and it reduces any signs of wrinkles by the time you wake up.

This soufflé (which sounds bougie and great already) helps your skin get some beauty sleep of its own overnight. Think of it as rubbing Chobani on your face before bed. Okay, well, it sounds better in theory since Greek yogurt is a natural skin-soother, softener, and hydration-giver, but I swear this sh*t is good. It's a facial mask and night cream in one, so you wake up feeling refreshed and looking five years younger.

Most overnight creams can be ridiculously expensive and cost like, more than your average bar tab. However, there are still some good options at your nearest drugstore that work just as well. Our good ol' go-to Neutrogena cream is full of vitamins for a deep moisturizing, oil-free, non-comedogenic wrinkle cream that won't make you break out.

Anything from Philosophy is obviously amazing, so this speaks for itself. The Renewed Hope in a Jar helps combat winter dry skin throughout the night and provides you with literal glowing skin by the time you wake up for work in the morning. It's fab for sensitive skin so you def won't wake up to pimples, and it refines your skin tone so there aren't any awkward red or discolored patches.
Betches may receive a portion of revenue if you click a link in this article and buy a product or service. The links are independently placed and do not influence editorial content.
Images: Linda Prebreza / Pexels, Giphy (1)
Are Selfies Actually Ruining Your Skin? We Asked An Expert
Yesterday, I woke up to a text from my mom. Was it an emergency? Of course not. Instead, she was sending me a story she heard about on the radio about how selfies are apparently "as damaging to skin as sunbathing." Naturally, she heard this story and automatically thought of me. How sweet! I really don't think I take a lot more selfies than the average millennial, but nonetheless, I don't want my skin to be ruined just because it takes me 50 pictures to find the right angle. I wear sunscreen every day, so should I be wearing selfie-screen too? I need answers!
First, let's go through what this new report actually says, because I'm a little skeptical. According to "nurse and beauty therapist" (idk what that means) Sara Cheeney, the electromagnetic rays emitted from our phones can accelerate aging at an "alarming" rate. Cheeney says that she "has noticed a sharp rise in the number of patients suffering from selfie-induced skin damage and claims 'the results are quite alarming. I get a lot of bloggers and patients who take selfies every day coming to me and complaining about the issue, and it's an issue which seems to be getting worse'".
First of all, I love the phrase "bloggers and patients," as if bloggers are some different form of humans who don't count as regular patients. Sounds about right. The original article also quotes dermatologist Zein Obagi, who says that he can tell which hand patients use to take selfies based on their skin damage. "You start to see dull, dirty looking texture that you cannot identify on one side of the face."

Excuse me? Are they trying to say that even with a seven-step skincare regimen, the selfies that you can take are making your skin look dirty? This just doesn't seem fair. Also, what makes taking selfies specifically so bad when we're all looking at our phone screens all day long anyway? Needless to say, I was left with some important questions.
In order to get a little more context, I reached out to Deanne Mraz Robinson, Assistant Clinical Professor of Dermatology at Yale New Haven Hospital. She broke things down for us:
"Electromagnetic radiation extends across a spectrum from high energy to low energy. High frequency (energy) radiation can penetrate our skin deeper than low frequency energy.  Cell phones emit blue light, which is also known as high energy visible (HEV) light. This is a form of high frequency and high energy light.  There is evidence that excessive HEV can damage our skin, break down collagen in addition to causing issues such as hyperpigmentation."
Essentially, she's saying that the initial report was more or less correct. The blue light emitted from your phone can damage your skin. But I think the most important thing to note, both from the original story and from Dr. Robinson, is that none of this is specific to taking selfies. Sure, it's more attention-grabbing to say that selfies are going to kill us all, but your phone is emitting blue light the entire time you're using it. Basically…we're fucked?

Dr. Robinson does recommend using protection against the blue light from your phone, and her recommended product for this is the ISDIN Mineral Brush 50, a facial sunscreen powder that "contains iron oxides that protect skin from photoaging and blue light." It's  new product that's not available in the US yet, but once it is, I'll definitely be giving it a try. We could probably all benefit from using our phones a little bit less, but products like this are a more realistic way to protect our skin.
So, should you stop taking selfies? Perhaps. But you're probably not going to, and it's okay, neither am I. But it's good to understand what potential side effects technology has on our bodies, and to make choices with these side effects in mind. That being said, don't ever let anyone tell you your skin looks dirty, because you are not the one.
Images: Vinicius Amano / Unsplash; ISDIN
7 Beauty Resolutions You Should Make For 2019
Raise your hand if you've ever been personally victimized at the start of a new year by your own ambitions. You know, those resolutions you've set for yourself saying you're going to cut back on ordering from UberEats, slow down on the booze, or finally start using your gym membership? (Same, same.) While those resolutions tend to be forgotten by February (or like… the second week of January), I've rounded up some not-so annoying beauty resolutions that are pretty easy to stick to in the new year. Your hair and skin will thank you, and then you'll thank me, so it works out for everyone.
Finally, beauty resolutions that will make you like, really pretty (and healthy), and don't require working out every day or cutting daily weekly happy hours out of your schedule.
1. Remove Your Makeup Every Night Before Bed
… Yes, even when you're drunk. I know, the last thing you want to do when you get in from a long day (or long night) is remove your makeup before you lay down for your beauty rest, but the truth is you really should. You see, your makeup can trap dirt and toxic environmental pollutants and lead to a number of concerns like clogged pores, acne, dry skin, and the degradation of collagen (which eventually leads to premature aging). Just do it, ok? You know what'll make it a hell of a lot easier to stick to? Makeup wipes.
For wipes that will take off all of your makeup (yes, even pesky mascara), no face wash or sink needed, grab La Roche-Posay's Effaclar Cleansing Towelettes and take "lazy but efficient" to the next level. You can even use them while you're in bed if you're willing to be that pathetic strategic.
La Roche-Posay Effaclar Clarifying Oil-Free Cleansing Towelettes
2. Use A Mask Multiple Times A Week
If you're super lazy, adding another step to your beauty routine may seem like an impossible task. But let me tell you, I swear there is plenty of time for them and they will do wonders for your hair and skin. First off, as far as hair masks go, there are plenty of masks that you can massage into your locks overnight and wash them out in the morning. For face masks, opt for one that targets your main skin concerns. Plaster it on while you're binge-watching Netflix, in the morning when you're checking all of your social media platforms before you get out of bed, or while you're waiting for your shower to warm up. The key is to use it 2-3 times a week. That way, you're actively addressing your skin issues but you're not over-using it so it won't dry out or otherwise irritate your skin.
Lab to Beauty's The Green Cure Mask contains matcha, french green clay, lavender, and the ever-trendy CBD oil to detoxify the skin, calm redness, and revitalize for a healthy, glowing complexion.
Lab To Beauty The Green Cure Mask
On wet hair, apply this overnight hair mask to calm frizz, provide nourishment and just make your strands smell so much better. Just be sure to rinse out in the morning and then style as usual.
Matrix Biolage 3-Butter Control System Overnight Mask, $25
3. Stop Self-Medicating With Sex And Alcohol
So this one is a little more for your brain and emotional well-being. But regardless, if your anxiety is at an all-time high, your skin is freaking out, your bank account is drained, and you've been ghosted by too many f*ckboys to keep track of in 2018 (I swear, I'm not writing an autobiography here), odds are you should probably stop self-medicating by getting drunk and hooking up with even more f*ckboys. Instead, clear your head, ease your anxieties, and get focused using natural supplements. These vitamins contain mood-enhancing ingredients like organic St. John's wort, organic gingko leaf, vitamin B6, and GABA. They literally just lighten your mood and clear your thoughts to help you focus and get back on track (whatever track that is).
Love Wellness Mood Pills, $18.74
4. Drink Your Collagen
Ingestible collagen became like, really trendy in 2018—and for good reason. It works from the inside out for a more effective outcome compared to topical collagen products. And in case you weren't aware, your collagen production begins to slow down in your mid to late 20's. So odds are, if you're reading this and you'd like to maintain a smooth, youthful complexion, then start chugging collagen every morning ASAP. Skinade is part of my daily morning routine, and not only does it taste good, but I honestly notice such a difference in my skin. The peach and mangosteen drink combats the signs of aging by preventing the breakdown of collagen and improving moisture and hydration. Basically? Your skin will appear smooth, supple (ew but true), and hydrated in less than 30 days.
5. Get Into A Consistent Skincare Routine
I'm sure you've heard all sorts of conflicting things about what your skincare routine should and shouldn't include. Let me put it plainly for you: getting into any consistent routine should help keep your skin issues at bay. What I'm trying to say is, do you keep randomly trying all sorts of different products and you keep experiencing breakouts? If the answer is yes, then consistency is key. Try getting into a routine using the same products and the same steps everyday and watch as your skin beings to glow. My recommendation? Try cleansing, using a serum, and then a moisturizer every morning and every night.
6. Stay Out Of The Sun And Start Using SPF
In case you still hit the tanning beds or go into the sun without SPF on your face, I'm not going to flat-out tell you to stop because well, I used to be the same way. But what I will tell you is that UV rays really do f*ck with the texture of your skin, especially as you enter your late twenties when your collagen naturally starts to deplete. Protect your face in the sun. And if you're anything like me and crave a bronze glow, try a self-tanner for your face. If you want an effective SPF that doesn't just protect but also moisturizes and feels good on your skin, Glossier's invisible shield doesn't disappoint.

Glossier Invisible Shield SPF 35
But when you still need that glow so that you don't look absurdly pale, sickly, and all around ghost-like, Tan-Luxe's The Face Self Tan Drops can be dropped in with your daily facial moisturizer and then develop in two to four hours for an amazing bronzy glow. Just remember, though, just like with any other self tanner, you're going to want to stay away from getting your face wet while the color develops (aka no bathing, swimming, sweating, pouring champagne in your mouth/all over your face, etc.)
Tan-Luxe The Face Illuminating Self Tan Drops
7. Use Sulfate-Free Shampoos And Conditioners
Sulfates in your shampoos can cause build-up, strip your color (if you have color-treated hair), and basically make it gross, dry, brittle, and hard to style. Sulfates are the chemicals that we associate with a rich, foamy lather, but guess what: You don't actually need that sh*t for shampoo to work. Take my word for it and opt for a sulfate-free option.
SheaMoisture Manuka Honey & Yogurt Hydrate Repair Shampoo & Conditioner
Betches may receive a portion of revenue if you click a link and purchase a product or service. The links are independently placed and do not influence editorial content.
Header photo by kevin laminto on Unsplash
The Best Sunscreen For Every Skin Type That Won't Cause Breakouts
In LA, it's basically already summer.  For the rest of you sad people who live in places with "weather," summer is coming soon and the most important part of having sunshine back is protecting your skin. Do you want to look wrinkled and haggard and like you're 60 at age 32? I grew up on the beach, people, and let me tell you: the sun DOES NOT age you well. Also, I'm pretty sure I'm going to die of skin cancer from the many years I tanned my naturally ghost-pale skin without sunscreen. Sigh. Lucky for you, you don't have to end up like me. I researched and ranked the best sunscreen for every skin type so you can all die pretty.

Is there anything worse than when your skin is already oily af by itself than adding greasy sunscreen to it? Fuck no. Thankfully we live in the age of ~science~ and you can now buy grease-free and oil-free sunscreen, like this awesome one from Clinique. It also works well under makeup and is SPF 40, so you don't need to worry about your look melting halfway through the day.

Ah, acne. I remember seeing my dermatologist at 19 and being all, "when will I grow out of this shit?" And he laughed and said I was old, it was too late, and I will have adult acne forever. Good times. Fortunately, Shiseido makes an entire line of skincare products for the acne-challenged, including sunscreen that isn't greasy and won't make you break out. This one is SPF 50 and water/sweat resistant, so you can workout in it and not worry about it wrecking your fragile skin.

If your skin is really dry, you'll want something both protective and moisturizing. You're already at greater risk of wrinkles with dry skin, so SPF is super important. This one by First Aid Beauty is a thick moisturizer that will hydrate your dehydrated skin as a two-in-one. Since it's non-comedogenic, you don't have to worry about clogged pores and ending up with our acne-ridden friends above.

Sensitive skin requires extra care, so you need something with mild ingredients that won't cause a breakout or rash. Supergoop's products are highly rated for sensitivity, and this particular sunscreen is really light, but still effective. It also is oil-free and won't dry out your skin.
Image: Marvin Meyer / Unsplash
Betches may receive a portion of revenue if you click a link in this article and buy a product or service. The links are independently placed and do not influence editorial content.
5 Foods That Will Make Your Skin Literally Glow
You can buy all of the $80 face serums in the world, but if your diet is trash, it'll definitely show on your face. We already know that increasing water intake and cutting out dairy and sugar will improve our skin. But there are also foods you can add to your diet to eat your way to a better complexion. If you're sad about having to cut the milk out of your daily latte in the name of clear skin, try these five foods for better skin in addition to your skincare routine.
1. Strawberries
Strawberries are like a superfood for your face. They're a major source of antioxidants, which can prevent sebum from oxidizing, aka preventing blocked pores and acne. Additionally, the fruit is packed with Vitamin C which is key to producing collagen which helps to provide a clear, smooth, wrinkle-free complexion. Tom Brady doesn't know what he's missing.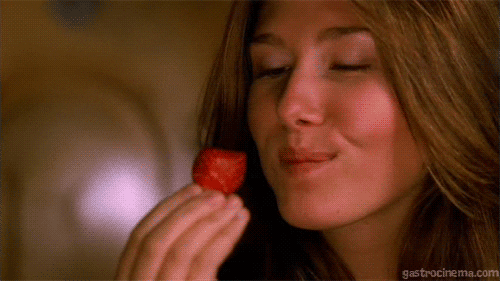 2. Salmon
Adding wild salmon to your diet helps keep your skin supple and moisturized since salmon is a major source of omega-3 fatty acids. What's more, swapping out other meats for salmon means you're increasing your vitamin D intake which helps to strengthen your skin, teeth, and bones.
3. Broccoli
Broccoli (the kind your mom tried to shove down your throat as a kid, not Lil Yachty's kind) is actually one of the major foods for better skin. Not only is the veggie good for your health, but it contains a substance called glucoraphanin that gets converted into sulforaphane inside the body. Sulforaphane aids in skin repair and renewal, leaving you with a natural glow. The little trees are packed with Vitamins A and C which, like strawberries, contribute to collagen production to prevent wrinkles.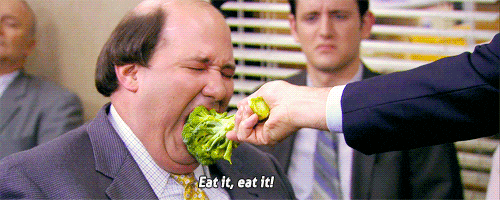 4. Walnuts
IMO, walnuts are like the unsung hero of nuts. They're a source of "good" or nourishing fats that attract moisture from the air to soothe dry skin, reduce skin inflammation, and can help to protect your skin from harmful UV rays. You still need sunscreen though, just so we're clear.
5. Kale
If you're one of those people that pays like, $9 for a kale smoothie just to look like you're doing the whole health thing right, then you're already on to something (and you probably don't have dark circles under your eyes, either). Kale is loaded with Vitamins A, C and K, plus iron and antioxidants. They help reduce the dark circles under your eyes, reduce fine lines and wrinkles, reduce swelling and detoxify your skin. Basically, eating a shit ton of kale targets just about any skin issue.

Images: Rakicevic Nenad / Unsplash; Giphy (5)
7 Ways You're F*cking Up Your Skin Right Now
You take your makeup off before bed (usually, unless you are suuuuppppper fucked up), you moisturize, you understand the importance of masks and facials, but even with all of that, you're probably still doing dumb shit to your poor skin. The problem is that you don't know what kind of heinous acts you are committing against your visage. Thankfully, now's the time to get out of your bad skin rut by paying attention to all the ways you've been fucking everything up. See below.
1. You're Eating Too Much Sugar
It's common knowledge that what you eat affects your body, which affects your skin. But sugar, specifically, has a nasty way of fucking with you. Overconsumption of your second favorite white powder substance leads to a breakdown of collagen, which leads to premature aging and saggy skin.

2. You're Not Wearing SPF All Year Long
IDGAF if the temperature makes your hands feel like they are about to fall off, if the sun's out (and even if it's not tbh), it's still harming your skin. Put SPF 50 or higher on anytime you are going to be outside. Yes, even if it's cloudy. And if you are out there longer than an hour, you have to reapply. Try a setting spray with SPF (like this one from Goop) so you can easily reapply throughout the day.

3. You're Not Sleeping Enough
Life can be a real motherfucker. Meaning, it doesn't allow you to get any sleep. Most of the time there's nothing you can do, but if you find yourself not being able to fall asleep before bed, try shutting down your electronics and phone 30 minutes prior (artificial light before bed interferes with the production of sleep hormones). Pick up a fucking book or something instead.

4. You're Sleeping On Your Side
Sleeping on your side or stomach causes your skin to wrinkle in places it shouldn't. Consider getting a silk pillow, or make a conscious effort to fall asleep on your back instead.

5. You're Popping Pimples Yourself
When you get a zit, put some salicylic acid on it and then leave it the fuck alone. If it's big and red, you can ice it for the swelling to go down. But, as for popping it and picking at it, you'll just end up making the problem worse, so don't. 

6. You Never Clean Your iPhone
That shit is a breeding ground for bacteria. If it's by/on your face, or if you touch it and then touch your face, consider yourself also a breeding ground for bacteria.

7. You're Too Stressed Out
I'm sure everyone's told you this based on your demeanor and high-pitched voice, but you need to fucking relax. If that means going to yoga, fine. If that means popping a Xanax and taking a long shower, also fine. If you can't do it for your heart palpitations, at least do it for your skin.