3 Eating Habits That Are Slowing Your Metabolism
If you're the victim child of a Jewish mother, you're more than familiar with the rhetorical question, "Do you want to mess up your metabolism forever?" I skipped breakfast once when I was 16 and I'm still hearing about it. Little does my mom know, metabolisms are actually really complicated and cannot be "messed up forever" by skipping one single meal. Much like your boyfriend who insists that cargo pants are very much in fashion, your metabolism has to be trained to do what you want. For the sole purpose of proving my mom wrong expanding my knowledge about the human body, we linked up with Samantha Cassetty, RD, Director of Nutrition at The Healthy Mommy, to talk about the metabolism and what habits could be slowing yours down.
Before we dive into some hard science, I will explain what the metabolism is in layman's terms. According to WebMD, the place I go to confirm I'm dying from my run-of-the-mill cold, "Metabolism refers to the process of converting food into the energy that allows your body to function. People who have a fast metabolism use up calories more quickly than those with slower metabolisms." Yes, we all want a fast metabolism, but how the hell do we get one of those? Read on for ways your eating habits may be slowing your metabolism down, from an expert.
1. Picking The Wrong Breakfast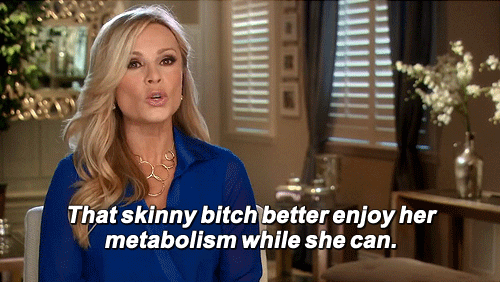 You are what you eat! Kidding…but, like, not really. Cassetty says, "One of the main issues I see is reaching for a carb-rich, protein-poor breakfast option. Common breakfast foods, like cereal, oatmeal, bagels, muffins, and even avocado toast don't supply enough protein to repair muscle tissue that's naturally broken down at night." Your metabolism does its best work at night, which is why you usually wake up needing to spend a few extra minutes in the bathroom in the mornings. Just me? Cool! But it's also why you need a solid breakfast. Cassetty continues, "In order to activate the repair process, you need a meal that provides adequate protein. If you skimp on this, over time, you'll lose muscle tissue, which translates to a slowing metabolism." So, okay, I guess we really do have to listen to what we've been told since middle school and eat breakfast because it is the most important meal of the day.
2. Eating Too Many Processed Foods

Your metabolism breaks down your food, but the speed at which it operates depends, in part, on what you eat. "Eating too many hyper-processed foods instead of whole foods will ultimately cause metabolic issues. Your body can more efficiently grab the energy (read: calories) from heavily processed foods, so if your diet is more heavily processed than whole, you might notice weight gain over time," Cassetty says. These foods also don't really fill you up, so you're probably eating more of them. Cassetty also says, "When you eat whole foods, your body gets a slight metabolic edge by breaking the food down to grab the energy and nutrients it needs. In other words, you're shortchanging your metabolism by making its job too easy." I guess that's why they call it Whole Foods? Everything makes sense now! For real, though, it should be obvious that foods with ingredients you can pronounce are better for you and your internal systems than say, Flamin' Hot Cheetos, which are made with something called thiamin mononitratea, but you can never take knowledge for granted.
3. Eating Too Lightly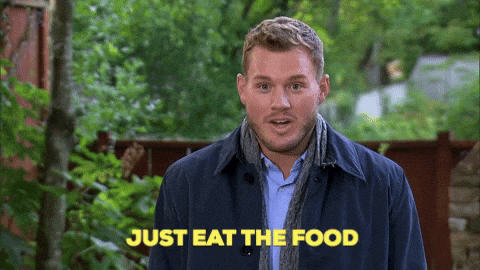 I feel like this is a "you already know the answer" situation. Cassetty explains, "Eating too lightly can slow down your metabolism because your body senses the food shortage and wants to hang on to its stores. Your body works better when it has the energy and nutrients it needs to thrive, and you'll feel better and more energetic when you nourish it properly." That's not that surprising since we've all been told about "starvation mode" probably around the same time we discovered skipping breakfast. Just don't do it! 
I'm loving that the theme of this seems to be "eat food". You don't have to tell me twice. And, in fact, you can eat certain foods to help boost your metabolism. "I usually recommend including two of the three food groups at snack times, choosing a fiber-rich fruit or veggie (the carb group) along with a healthy fat or protein," Cassetty says. It'll be hard to give up my honey mustard and onion-flavored pretzels, but it's for the greater good, I guess. Think of your metabolism as a car, but not like a Volvo or a Jeep. You're a f*cking Maserati, and you wouldn't put Kool-Aid in a Maserati, right? No, you'd put premium f*cking gas.
At the end of the day, everyone's body is different, but regardless of that difference, limiting processed foods and not skipping meals is the move. You'll feel better, look better and, most importantly, be able to talk about how healthy you are to people who really couldn't give a sh*t. And that's the best reward of all, isn't it?
Images: Giphy (3); Tarutoa / Unsplash
7 Healthy Summer Food Swaps To Help You Stay On Track
Summer means a lot of things: tanning, day parties, bikinis, vacations and a lot of food at BBQ's, cookouts, and/or a boozy brunch. Unfortunately, a lot of these food options probably aren't conducive to your bikini and vacation plans. Lucky for you (as opposed to my clients who go on their honeymoons never to return *ahem*), you have me. Here are some of my best food swaps for the summer so you can stick to your fitness goals but still enjoy yourself.
So instead of…
1. Ice Cream

Make banana soft serve with frozen bananas in a food processor. You also have the option to add in peanut butter if you want a nuttier taste—and I'll even let you keep all your toppings.
2. Hot Dogs

Go for chicken or turkey dogs instead of pork or beef (it's way leaner), and if you want the extra credit, do a naked dog and nix the bun. Go crazy on the mustard, be careful with the ketchup, and ditch the mayo completely.
3. Burgers

The easiest thing to do is to lose one or both buns. If you're eating out, maybe places will do a lettuce wrap instead of the buns (if you're in a city with In-n-Out, the protein-style burgers are my jam). This way you could split a serving of fries without the carb overload.
4. Soda

Be a bougie betch and pick sparkling water. Throw in a slice or two of lime/lemon and you get all the fizz, with none of the sugar (even the fake one in diet sodas, they're equally bad for you).
5. Chips And Dip

Okay, this is a rough one. Swap corn chips for bean chips for added fiber and protein, and stick to salsa and yogurt dips. Steer clear of like… those 7-layer dips (I know that you know that already sounds crazy, girl), buffalo chicken dips, artichoke dips, spinach dips, etc. I mean, you know those are full of fat. Just because they have a vegetable in the name does not mean you can eat it; their main ingredients are mayo and cream.
6. Popcorn Shrimp

Ok, so I don't know if this is summer food to anyone, but I love me some popcorn shrimp, so I'll just add it to this list. Popcorn shrimp would be fine if we can stop at like, five pieces, but who can really do that? Instead of this breaded diet grenade, grill up some well-seasoned shrimp and focus on making super flavorful dips for your shrimp instead, such as a spicy chili-lime dipping sauce made with lime juice, chopped peppers, salt and ground pepper.
7. Margaritas

I have never met a margarita I didn't drink (this is not limited to summertime, btw). But here's the thing: a margarita is a sugar bomb. So my thing is, do a super-skinny margarita. I add tequila, a lot of fresh lime juice (fresh is key) and an optional splash of agave nectar (I skip this). I cut up jalapeños into my margarita as well.
Making these healthy food swaps will slowly become second nature over time; the key is to stay consistent with your changes and make the best choices for your body and fitness journey. It's all about balance and keeping nutrition first. So many times we focus on food and it's either all or nothing: either we're super strict and don't even eat at the family BBQ or we're going in and trying to eat off Aunt Edna's plate. Remember that the main objective of these social gatherings is time with family and friends—it's not really about the food. Make the most nourishing aspect of any of these events about the time with people you love. Food will always be there, this isn't your last supper. This way, you get to eat a little and still feel hot enough to change into your bikini.
Images: Valerian KOo, Peter Secan, Louis Hansel, bradley, Sean McClintock, Anthony Espinosa, tanialee Gonzalez / Unsplash
Healthy Breakfasts To Make When You're Super Lazy In The Morning
You just woke up. You're tired. You're starving. You don't want to go out and buy breakfast because you're a betch on a budget. Here are a couple of healthy breakfast ideas that are decently healthy and easy to make when you're feeling super lazy (read: hungover) in the morning.
Veggie Omelettes
Got eggs in the fridge? Check. Got some produce that's about to go bad in a couple of days that you don't actually plan on using in the elaborate dinner you found on Pinterest and wanted to make? Check. Whip a couple of eggs, chop up veggies of your choice, mix them together in a pan, and enjoy your healthy breakfast. Top with salsa or avocado or hot sauce if you're feeling crazy.
Overnight Oats
So this isn't exactly something you'd make in the morning, but it takes no time to take this pre-made meal out of the fridge in the morning, so it counts, right? K. Before you go to bed at night, grab a mason jar out of the cabinet and fill it with rolled oats, milk of your choice, and other ingredients that you like. You can add honey, peanut butter, almond butter, dark chocolate chips, coconut flakes—whatever your little heart desires. Put it in the fridge to "cook" overnight and you've got yourself a delicious jar of overnight oats ready to eat in the morning.
Smoothies
Smoothies are the ultimate lazy meal hack. They're super healthy and incredibly easy to make. Literally all you have to do is throw a bunch of ingredients from your fridge into a blender, turn it on, then drink up. Spinach, banana, apple, blueberries, ginger, carrot, cucumber, lemon—there are so many great combinations of fruits and veggies that taste great together. The possibilities are endless, but all of them will leave you feeling good, strong, and ready to kick ass (until lunch).
Yogurt & Fruit Parfait
Start off with either full-fat milk yogurt, Greek yogurt, coconut milk yogurt, or cashewgurt (yes, that's a real thing—no personal questions, please). The choice is yours. Depending on how big your appetite is, get a bowl or a cup and alternate layers of yogurt, berries, and granola to create an Instagrammable parfait.
Avocado Toast
Avocado toast is one of my all-time favorite healthy breakfast options because it's SO DELICIOUS and ready to eat in 5 minutes. While the bread of your preference is toasting (I prefer soft quinoa, multigrain, or gluten-free bread), mash up half of an avocado. Spread the avo once the bread is toasty. (I feel like I shouldn't have to explain this to you.) I usually top mine with sesame seeds, hemp seeds, turmeric, lime juice, and Himalayan pink salt. You can top yours however you want. I'll allow it.
It's important to start your day off right with the right meal. Even if you barely have any energy to make it happen, it's still possible. All you need are a few good ingredients and the energy to get out of bed, stand up for a few minutes to whip one of these meals together, and eat.
4 Healthy Foods That Are Surprisingly High In Fat
Over the last few weeks, I've been tracking macros on MyFitnessPal. Initially, I was doing it to try and get back on Keto. (By "back on," I mean I did it for two weeks before a vacation once.) Unsurprisingly, I bailed on Keto (nothing is low-carb enough!!!). and I then decided my #newyearnewme would be about counting macros instead. I'm currently using this calculator, which I found via this highly reliable fitness Instagram. I'm not even being sarcastic—there's very good advice on there. My biggest challenge with macros so far has definitely been keeping my fat content in check. Within a week, I realized I knew way less about which foods are high fat than I thought. For example, I had a day of what I considered very healthy eating (salads! oats! grain bowls!), and then discovered my diet had been 60% fat. And this is why I have trust issues. So, I did some research into which of my "healthy" choices were causing that high fat content. I'm not talking about obvious fats—you should all know that baked goods are full of bad fats and avocados are full of good fats. These are the sources of fat you're not as likely to guess as, say, a fried chicken sandwich or a BLT with mayo.
Disclaimer: Everyone's dietary needs are different, and many diets may call for higher fat content. I am not advocating for a universal low-fat diet, so do not come for me. Rather, I am hoping this information may be illuminating to some of you (read: I don't want to be the only one who didn't already know all this).
I'll be honest, I've never really known a lot about the nutrition content of falafel. It felt like a kind of dietary gray zone. Not as healthy as a vegetable, but probably better than cheese. Right? Not really. While trying to design a low-fat grain bowl at Tender Greens, I was pretty shocked to see that the steak topping was lower in fat than the falafel option. While falafel can be a healthy dish (the ingredients themselves are nutrient-rich), I'd somehow forgotten that it's typically deep-fried. This adds, in scientific terms, a sh*t ton of fat to your meal. FWIW, the "baked falafel" option at Tender Greens was way healthier—but unless a menu specifies "baked," you should assume it's deep fried, and therefore higher in fat.
Tofu is a similar deal to falafel—it's all about how it's prepared. While tofu isn't deep-fried quite as often as falafel (though still more often than you'd think), it's really good at soaking up whatever it's cooked in. And given that tofu on its own has just about zero flavor (it's okay, we can all admit that), it's usually cooked in a bunch of oils, sauces, etc. So tofu on its own? Low-fat, healthy option. But the way it's usually prepared in restaurants can make it a higher-fat option than something like chicken.
Okay, this one errs more on the side of "foods we knew were high in fat." But take a minute and actually consider how many "healthy options" feature nuts as a key ingredient. Protein bars that pride themselves on not adding sugar? Full of nuts. Overnight oats? Probably filled with nut butter (or WTF are you doing). Even a lot of salads and bowls will add nuts as a topping, plus, almonds are constantly touted as the ideal mid-afternoon snack. We also all know the problem with nuts—they are impossible to portion for how calorie-dense and fat-dense they are. And anyone who says they're full after 6 almonds is a dirty liar.
So, while nuts are full of technically good fats, it's still super easy to go over on your fat content goals if all the healthy options you're choosing are nut-heavy. So if my breakfast included 2 tbsp of almond butter (18 grams of fat and it never feels like enough), maybe I don't also have have a nut-based Lara Bar at 4pm (9 grams of fat), and snack on nuts at 6pm (19 grams of fat). That brings my fat content from nuts alone (not even the fun fats, like sauces and cheese and sugar) to 46 grams, when my daily goal is 48. (Let it be known that my total fat content for that day wound up being 90+ grams. This sh*t is hard!!!)
I know! I said this list would be about non-obvious sources of fat. Yet here I am basically listing the liquid form of fat and saying "surprise! This is fat." Sue me, but also listen because this is probably the #1 thing that people forget to count in their diets. One tablespoon of olive oil has 14 grams of fat. One tablespoon of butter has 12 grams of fat. (The type of fat they offer is different. Here is a long article on different fats and how they affect you.) Even at home, I struggle to cook something edible using less than 2 tbsp of one of these. It can be super tempting to just log the one chicken breast you cooked in there, but unless you're using a cooking spray, you have to account for the fats it absorbed.
Well, that's the end of my tirade on fat, and now I never want to look at a nutrition label again! Remember, the worst thing you can do with your diet is eat in a way that makes you miserable, because you know that sh*t won't last. My fat content is still way too high most days, but I'm figuring out what a low-fat day I can live with looks like. At least it's not Keto!
Little Things To Cut Out Of Your Diet To Get Healthy
So you're looking for an easy way to shed those extra pounds. Unfortunately, there's no shortcut to transform from a solid five out of ten (hi) into an Instagram model overnight. On the bright side, there are certain things you can do and small ways to change your diet to de-bloat, drop some pounds, and improve your health at the same time. Here are five little (BIG) things to cut out of your diet if you're looking to feel better and maybe lose a few pounds.
1. Dairy
Dairy is inflammatory. Like, it's literally cow breast milk that's meant to bulk up baby calves. Yes, cheese is f*cking delicious and so is a gigantic ice cream sundae with whipped cream and a cherry on top, but that disgusting, heavy feeling you get after eating a quesadilla or pint of Ben & Jerry's is real. Cut out any milk-based products in exchange for dairy-free options like almond, coconut, cashew, or oat milk instead.
2. Artificial Sugars & Sweeteners
Natural sugars, like those found in fruit, are okay because they're natural (duh). Artificial sugar, on the other hand, is basically the devil. Sugar alternatives like stevia are hyped up to be low-calorie and "better" for you, but that's not exactly the case. Consuming artificial sugars can actually make you crave more sweet foods, a fact I'm sure you already know but bears repeating. Avoid eating candy and snacks with fake sugars, sweeteners, aspartame, and high-fructose corn syrups whenever possible.
3. Carbonated Drinks
Sure, carbonated drinks like soda, seltzer, and beer taste great. However, those sweet, sweet bubbles aren't worth the calories, sugars, indigestion, bloating, or burps. Substitute all of these drinks for water or tea and watch the pounds melt off (if you don't believe me, my ex-boyfriend lost 15 pounds after he quit drinking soda).
4. Whites
Allow me to elaborate. White foods are bleached and are not good for you. Swap out all white ingredients in your diet and replace them with brown ones, including bread, rice, flour, sugar, and pasta. These complex carbs are way more natural, easier to digest, and kinder to your stomach.
5. Processed Foods
Frozen meals are quick and easy to make—there's no argument there. What I will argue, though, is that processed foods aren't worth the convenience. Pre-packaged bags of produce are one thing, but microwavable rice side dishes, dumplings, and canned soups are trash. Quit being lazy, stop eating sh*tty TV dinners, and start cooking meals at home with fresh ingredients. There are more fresh food delivery/meal prep services than I could even name off the top of my head, there's literally no excuse anymore.
Be an adult. You love ramen noodles and Taco Bell cheesy gordita crunches because they're cheap and delicious… I get it. All of the things on this list taste pretty good, but they're also super unhealthy and easily replaceable. Just by following these simple rules and removing some toxic foods from your diet, you'll be on your way to better health, a smaller waistline, and maybe even a couple more Instagram followers too.
Healthy Post-Workout Snacks That Won't Undo All Your Progress
I don't know about you, but I literally always feel the need to reward myself with at least 36 burritos and 75 margaritas after a good, hard workout. Unfortunately, I have to force myself not to be the fat f*ck I truly am at heart, because I don't want to reverse all of the time and energy I just put in at the gym. Instead, I save my money and keep my waistline at bay by fixing up some healthy post-workout snacks at home.
Here are four healthy post-workout snacks for when you're super hungry after exercising but don't want to eat anything that makes you feel heavy like you didn't just bust your ass at the gym.
1. Avocado Toast
Avocados are the f*cking best, especially when they're slapped on top of some carbs. My favorite avocado toast recipe is super simple to make. All you need to do is mash up half of an organic avocado, spread it on a slice of toasted 10-grain bread, then top it with red pepper flakes, sesame seeds, hemp seeds, turmeric powder, Himalayan pink sea salt, and fresh lime juice. Top it however you want to, but this is my number one go-to snack to eat after a killer class.
2. Protein Shake
Yeah, I know what you're thinking… protein shakes are trash. Sure, some of them are gross, but they can actually be pretty damn good and nutritional if you use the right ingredients and protein powder. Mix an all-natural plant-based protein powder in vanilla or chocolate with fruits and veggies that complement the powder flavor you choose. I personally use less water in mine because I think thicker shakes are way more filling than loose, watered-down shakes, but you do you, boo.
3. Bananas With Peanut Or Almond Butter
Bananas are high in electrolytes, low in calories, and extremely delicious, making them a kick-ass post-workout snack. Just cut a banana in half and dress each side with 1-2 tablespoons of peanut or almond butter, which serves as the missing protein and healthy fat components that will replenish your body after sweating to death. If you're feeling fancy, throw some granola on that b*tch.
Pro tip: Coat the banana with the nut butter of your choice and a dark chocolate drizzle, then throw it in the freezer before you head out to exercise. You'll come home to a cold, ready-to-eat treat that feels like a magical dessert in your mouth.
4. Açai Bowl With Nut Butter
I didn't realize how nasty the phrase "nut butter" sounded until I just wrote it. Anyway, açai bowls are said to be the perfect thing to eat after working out for many reasons. Although they're high in natural sugar, because they're full of fruit (duh), açai bowls are literally super-food bowls packed with antioxidants that boost your energy level. Depending on which type of nut you like best, top your bowl with some butter, and enjoy.
After eating any of these post-workout snacks, you should feel full enough to push back your taco and margarita cravings until cheat day. If you're still hungry, make another serving of your healthy snack option or just say "f*ck it" and go reward yourself at your local Mexican restaurant. At least you worked out today. You can always try again tomorrow.
5 'Unhealthy' Foods That Are Not Actually Bad For You
Some food myths were made up decades ago, and yet we still can't seem to shake them. Like, sometimes we'll take any tips we can get, but we don't stop to realize this advice was literally created during the same time that women were advised not to exercise because it would make them less feminine. It's 2018, and we're *starting* to know better. I mean, if we can order bottles of tequila on an app and convince our boyfriends to go to a Rihanna-themed spin class on a Saturday, we can do anything. It's time to stop giving up healthy foods just because someone once told us they're unhealthy. Here are six formerly unhealthy foods we can start with.
1. Regular Potatoes
So many "healthy people" will devour sweet potatoes by the bowl, but would never touch a regular potato. These people are straight-up misinformed. Honestly, sweet potatoes have a little more fiber than regular potatoes and they're a little lower in calories, but the difference isn't that dramatic, so you can stop crying when your By Chloe waiter brings you regular fries when you ordered sweet potato. Regular potatoes have a terrible rep, and while they are a starchy carb, they're really not that bad for you. They have more vitamin C than sweet potatoes do, and also have more protein and less sodium. Game changer.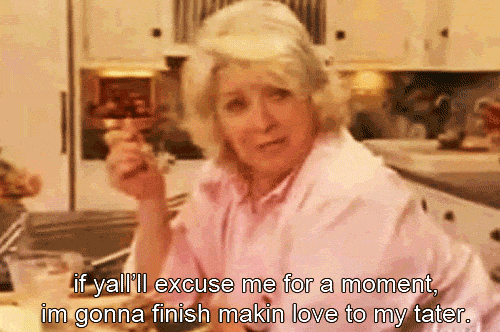 2. Gluten
The gluten-free diet has taken on a life of its own, and honestly we need to backtrack a bit. Once upon a time, people had (and still have) legit Celiac disease, a medical intolerance to gluten. These people were told by their doctors to cut out gluten, and suddenly they looked and felt much better. Ever since then, half of society thinks they need to follow the same advice when they don't even have a gluten intolerance. Obviously eating enough bread and crackers every day won't do your body any favors, but you're not going to sabotage your lifestyle just by having gluten in your diet. Let's put it this way: If you can't explain what gluten is, you shouldn't be gluten-free.
3. Egg Yolks
Egg yolks are one of those things that people shunned in the 70's and the myth never really recovered, even though our science has majorly advanced. While the egg white is the part of the egg with no fat and a few grams of protein, the yolk carries a ton of important vitamins, like vitamin B12, D, A, B-6, zinc, and iron. It has a few grams of fat, but it's healthy fat that will just help keep you more full after your meal. Also, for anyone who told you yolks are high in cholesterol, it's actually not the same cholesterol that's bad for your body. Basically, we gotta let go of the yolk myth. I mean, the people who decided the yolks are bad for you are the same people who smoked cigarettes while pregnant. Let that sink in for a sec, then order the omelet with regular eggs.

4. Feta Cheese
A lot of people think getting cheese added to your salad is unhealthy, but those are also the people who enjoy the taste of kale and think Balsamic vinegar is a suitable dressing. No on all accounts. Feta cheese isn't bad for you. First of all, it's lower in calories than most other cheeses, and it's also packed with vitamins that are so good for you, like Vitamin D, B12, calcium, and iron. Cheeses like mozzarella and cheddar don't have half as many health benefits as feta. It's pretty high in sodium, so I wouldn't go ham, but adding some here and there is actually fine for you.
5. Packaged Bars
Protein bars and energy bars get a bad rap for being glorified candy bars, but honestly it depends what brand you're buying. So many of these bars are filled with shit that you wouldn't feed to your friend's dog, but some of them are actually pretty good when it comes to their ingredients. Products like RX Bars, Square Bars, Lara Bars, and Go Macro bars all have super clean ingredients and minimal added sugars. Any nutritionist will tell you that whole foods and fresh produce are better than processed bars, but if you're starving at 4pm and just need a bar so you don't keel over or reach for the candy bowl on the receptionist's desk, they're really not bad for you. It just depends if you're picking up the bar with four ingredients or the one that sounds like the warning label on a pharmaceutical prescription.

6. Frappuccinos
I'm obviously kidding. These are fucking terrible for you. Order a cold brew like everyone else.
Images: Eaters Collective / Unsplash; Giphy (3)
I Tried Kourtney Kardashian's Wellness Routine And Here's How It Went
Kourtney Kardashian is proof that your body can actually look better with age. She's also proof that people seriously buy that shit you pass in Whole Foods and ask, "Organic mushroom cordyceps? WTF has this world become?" Aside from working out on a daily basis and adhering to a strict gluten-free, dairy-free diet, Kourtney Kardashian's diet includes shit-ton of weird supplements and wellness tricks. Like, it's worse than you'd think. I've always been down to try different wellness routines and health tricks, so I took a look at Kourtney's daily routine and picked five wellness rituals I thought I'd be able to stick to for a solid amount of time. I quickly eschewed the spoonful of ghee butter every morning, but I found five that seemed realistic. Here's what I learned.
1. Probiotic Supplement
I've already raved about the benefits of daily probiotics on this site, so this one was easy for me to take on. I've taken different multivitamins and iron supplements in the past and had never actually felt their effects, but when it came to taking a probiotic, it was a game-changer. Probiotics are basically healthy bacteria for your gut, and they help balance the microbiome in our bodies. They're supposed to improve the immune system, lower blood pressure, and help regulate digestion. I took one in the morning before my coffee, and within a couple days, I already felt like my digestion was better and my stomach didn't hurt at all during the day. IDK what brand Kourtney Kardashian's diet includes but I assume they're all pretty similar, so get on board.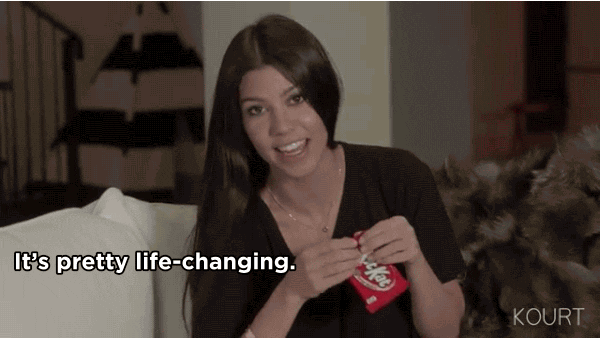 2. Apple Cider Vinegar
Kourtney has raved about this one for a while now: The daily ACV. Kourtney drinks a tablespoon of organic apple cider vinegar mixed with water in the morning, and she claims it does wonders for her skin and body. I was kinda skeptical about this one because the idea of drinking vinegar on an empty stomach makes me wanna hurl, but I sucked it up and did it. Honestly, I'm not sure if it did anything for me. It actually made my esophagus feel pretty acidic and weird, and mixing it with water just made it taste like watered down vinegar. Not a fan.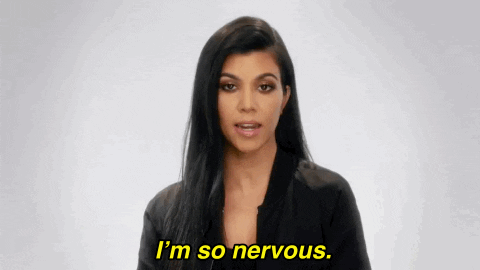 3. Vegan Probiotic Shot
A key part of Kourtney Kardashian's diet is the vegan probiotic shot that she takes in the morning before her avocado pudding, and honestly I still don't know what this is. Luckily I live down the street from Pressed Juicery so I asked them for anything that related to a vegan probiotic shot. They gave me their Digestion Shot, which turned out to be a tiny bottled concoction of ginger, probiotics, parsley, aloe vera, celery, moringa, and yup—that goddamn apple cider vinegar again. The actual shot tasted pretty good and it wasn't hard to get down. I've taken ginger shots in the past when I've felt a cold coming on, and this was a piece of cake compared to those things. But like, not actual cake, obviously. It's essentially a shot of celery and aloe vera. Keep expectations low.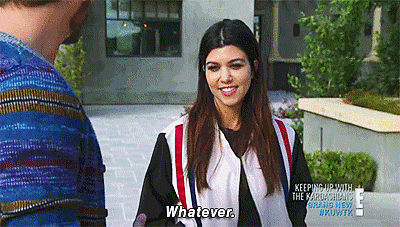 4. Gallon Of Water
I know a gallon of water seems like a lot, but if you've watched enough episodes of Keeping Up, you know what the Kardashian's supply of refrigerated Smart Waters looks like, so it's not that surprising that this girl is chugging water all day. If I had a designated fridge for water I'd probably drink more of it, too. Anyway, drinking a gallon of water everyday was difficult, especially in the winter. When it's warm out it's probably easy to get more water down, but I live in New York City and I don't really feel like chugging a 24-pack of Poland Spring when I'd rather be sipping on a hot cocoa. I was also running to the bathroom to pee every five minutes. Why don't they show that on the show?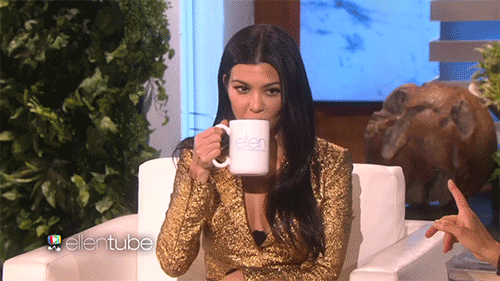 5. Vegan Protein Supplement
Kourtney eats a lot of lean protein sources, like grilled chicken, fish, and eggs, but she also adds vegan protein powder to her post-workout shakes for some added protein. Once again, IDK what brand Kourtney uses, but I bought an organic blend of pea protein and brown rice protein from Whole Foods and mixed it with vanilla almond milk after my workout. Honestly, it was pretty good. Vegan protein is known for being a little more grainy and not as creamy as whey protein powders, but after an aggressive shake, the powder mixed pretty well and tasted kinda like a watered down vanilla milkshake. It sounds gross but like, it's a vegan protein shake… IDK what I expected. Whatever, I'm getting cheese fries.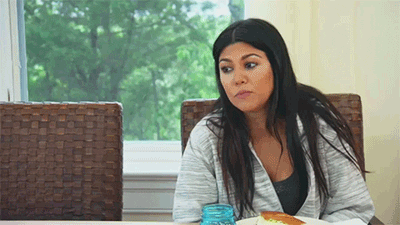 Images: Giphy (5); Shutterstock