Does It Matter What Time Of Day You Eat?
Is it just me, or do people literally never crave salad when they're really hungry? Like, if I haven't eaten since lunch and it's rolling on 9pm (I eat dinner late, sue me), I am never hunting around for a big-ass bowl of mixed greens. If "you are what you eat" is true, then I'm a Domino's thin-crust cheese pizza, and I'm honestly fine with that. Here's the thing, though: in the decades that have passed since that ridiculous phrase was coined, we've come a long way. And by "we," I mean the nutritionists and doctors of the world. That's because what you eat is not the only important factor in your diet. Sounds fake, but it's true, at least according to Dr. Michael Crupain.
Dr. Michael Crupain, medical director at The Dr. Oz Show and author of What to Eat When, believes that it's not only about what you eat; it's also about when you eat. Thank the f*cking lord. I spoke to Dr. Crupain about why timing is so important in your diet. So if you tend to feel hungry before bed and always reach for the bag of pretzels, read on!
Does When You Eat Matter As Much As What You Eat?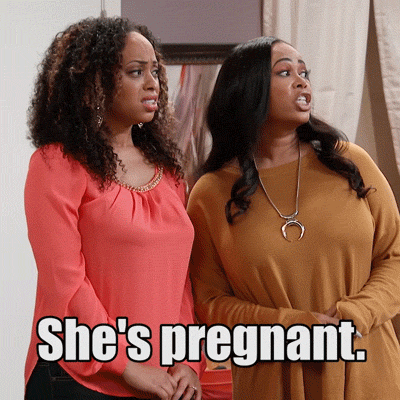 Simply put, yes. They both matter a lot because, according to Dr. Crupain, "it has to do with something called our circadian rhythm. That is our body's internal clock, which is set by the sun. We often think about it as important for sleep, and it is, but it also helps regulate all the systems in our body including our metabolism." And our metabolisms actually change throughout the day. Did anyone else know that? I sure as f*ck didn't!
In layman's terms, our bodies generally expect a lot of high-quality food earlier in the day and less food in the evenings. "When you eat a big meal at night," explains Dr. Crupain, "you throw a wrench into the whole system, and instead of burning fat you are more likely to store it." Ah, so that explains the bloat I wake up with, that part of me worries is an actual baby bump at this point. So if you don't want to massively confuse your body, don't have your pesto pasta right before you plan on passing out. However, this does not mean that you can't eat before bed. Like, sometimes, I am so hungry that my body won't let me sleep until I feed it something edible. More on this in a moment.
What Foods Should We Eat/Avoid?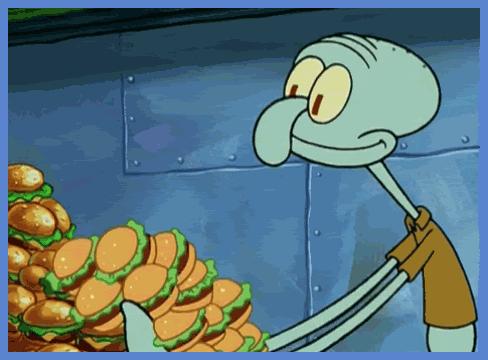 If you're aiming to live a healthy and clean lifestyle, which, like, same, eat the good stuff like whole grains, healthy fats, lean fish (salmon), seeds, and veggies. This applies at any time of day. So if you're mad hungry right before bed, spread some mashed avocado on a seeded cracker and, boom, you've got yourself a healthy snack that will actually help you fall asleep without f*cking up your metabolism. Eating a low-energy food before bed helps regulate blood sugar levels that usually drop while you sleep.
Dr. Crupain also notes one thing we all already know but refuse to accept: "The most important foods to avoid are ultra-processed ones that are loaded with sugar. Also skip fried foods and a lot of red meat." Look, cheeseburgers are my best friends and I will never fully give them up, but after talking to Dr. Crupain, I will def limit my Shake Shack intake because it is slowly killing me. *Cries quietly* Baby steps, though, right?
When Should You Have Your Largest Meal And Why?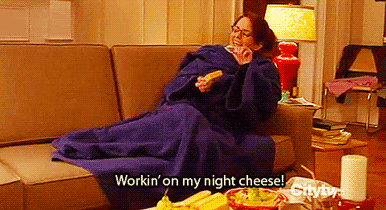 Has anyone ever heard "breakfast is the most important meal of the day?" Lol, I joke. We are all too familiar with that phrase. Dr. Crupain says that the jury is actually out on this but, "what we do know is that breakfast and lunch combined are the most important meals of the day because that is when your metabolism is expecting you to eat and is best able to process that food. We recommend that you make breakfast and lunch your largest meals of the day and dinner the smallest. Ideally, you should eat when the sun is shining and get 75% of your calories in before 3pm."
*Pauses to perform elementary-level math* I mean, this makes sense given that your metabolism is hard at work during the day and not as much while you sleep. I, however, have been doing the literal opposite of this since graduating college. I have coffee for breakfast, then the chicken and cheese from my salad for lunch, and an enormous dinner every damn day. Where has Dr. Crupain been all my life?! Since speaking with him, I've started waking up earlier to have a legit breakfast that ranges from avo toast to Purely Elizabeth granola with bananas and a lunch that consists of actually eating the greens in my salad. Adjusting to dinners that aren't Michael Phelps-sized has been hard, but I have found that I'm sleeping a lot better and haven't looked super bloated in the mornings! Speaking of sleep…
What's The Best Type Of Food To Eat For A Good Night's Sleep?

"For specific foods that can help you sleep, studies show that eating a lot of saturated fat and sugar can interfere with the ability to fall asleep, while foods like whole grains and fish can make falling asleep easier. In a pinch, some research suggests that kiwis and tart cherry juice can help people fall asleep," I'm not a huge fan of kiwis, but I'd be down to try tart cherry juice because that just sounds delicious and like it'd be a great mixer.
So there you have it, everyone. What you eat is important, but so is when you eat. This doesn't necessarily mean that you should start eating Chipotle for breakfast, it just means maybe don't have Chipotle for dinner if you eat dinner at 9pm. Of course, everyone's bodies are different, but it's safe to assume that having a heavy and enormous meal before bed will not work for you if you want quality sleep and a healthy gut.
Images: Giphy (4); Unsplash
Little Things To Cut Out Of Your Diet To Get Healthy
So you're looking for an easy way to shed those extra pounds. Unfortunately, there's no shortcut to transform from a solid five out of ten (hi) into an Instagram model overnight. On the bright side, there are certain things you can do and small ways to change your diet to de-bloat, drop some pounds, and improve your health at the same time. Here are five little (BIG) things to cut out of your diet if you're looking to feel better and maybe lose a few pounds.
1. Dairy
Dairy is inflammatory. Like, it's literally cow breast milk that's meant to bulk up baby calves. Yes, cheese is f*cking delicious and so is a gigantic ice cream sundae with whipped cream and a cherry on top, but that disgusting, heavy feeling you get after eating a quesadilla or pint of Ben & Jerry's is real. Cut out any milk-based products in exchange for dairy-free options like almond, coconut, cashew, or oat milk instead.
2. Artificial Sugars & Sweeteners
Natural sugars, like those found in fruit, are okay because they're natural (duh). Artificial sugar, on the other hand, is basically the devil. Sugar alternatives like stevia are hyped up to be low-calorie and "better" for you, but that's not exactly the case. Consuming artificial sugars can actually make you crave more sweet foods, a fact I'm sure you already know but bears repeating. Avoid eating candy and snacks with fake sugars, sweeteners, aspartame, and high-fructose corn syrups whenever possible.
3. Carbonated Drinks
Sure, carbonated drinks like soda, seltzer, and beer taste great. However, those sweet, sweet bubbles aren't worth the calories, sugars, indigestion, bloating, or burps. Substitute all of these drinks for water or tea and watch the pounds melt off (if you don't believe me, my ex-boyfriend lost 15 pounds after he quit drinking soda).
4. Whites
Allow me to elaborate. White foods are bleached and are not good for you. Swap out all white ingredients in your diet and replace them with brown ones, including bread, rice, flour, sugar, and pasta. These complex carbs are way more natural, easier to digest, and kinder to your stomach.
5. Processed Foods
Frozen meals are quick and easy to make—there's no argument there. What I will argue, though, is that processed foods aren't worth the convenience. Pre-packaged bags of produce are one thing, but microwavable rice side dishes, dumplings, and canned soups are trash. Quit being lazy, stop eating sh*tty TV dinners, and start cooking meals at home with fresh ingredients. There are more fresh food delivery/meal prep services than I could even name off the top of my head, there's literally no excuse anymore.
Be an adult. You love ramen noodles and Taco Bell cheesy gordita crunches because they're cheap and delicious… I get it. All of the things on this list taste pretty good, but they're also super unhealthy and easily replaceable. Just by following these simple rules and removing some toxic foods from your diet, you'll be on your way to better health, a smaller waistline, and maybe even a couple more Instagram followers too.
Are Fiber Supplements A Scam? We Asked A Nutritionist
Like any betch, I'm constantly complaining, and usually, it's about my stomach. It feels like I'm forever stuck in a cycle of either sh*tting to the death or being constipated for a year. Yeah, it's TMI, but I can't be the only one suffering—and I'm not. A lot of these struggles can come down to one thing: fiber. Nutritionist and dietitian Tracy Lockwood Beckerman gave us all the info on how to properly incorporate fiber in your diet on our Diet Starts Tomorrow podcast.
WTF Is Fiber?
Fiber is a plant-based nutrient that aids your digestion. It can be found in vegetables, fruits, grains and legumes (so like, none of the fun foods). Your body doesn't store fiber, so it wants to get rid of it ASAP. Fiber also clings to cholesterol, so that's going to come out of you too, which is like, a good thing.
Why Is It Good?
Tracy believes that all diets should have fiber in it. Other than helping you poop (sry), fiber also keeps you full. Foods with more fiber have the ability to stave off hunger for longer. For example, oats have bran, so they stay in your stomach longer and make you feel less empty *emotionally eats oatmeal*. And, no matter the amount of fiber you eat, Tracy says, "It doesn't contribute to any weight gain." So it's basically magic. Another bonus: eating lots of fiber (and consequently, getting rid of said fiber via your digestive system) can prevent colorectal diseases and intestinal diseases in the future.

Don't Abuse Fiber
Like all good things, it's important to not OD on fiber. If you start eating too much fiber all at once, you can deplete your body of other nutrients it needs. "The body is not used to taking in as much roughage and grains that we should be." Tracy explains, "by increasing the fiber you have to do it in a little bit more mindful and incremental way."
Drink Water
When you're eating more fiber, you also need to drink a ton of water. This keeps you from getting dehydrated and helps you push all that crap you ate through your system. Without enough water, the fiber can get stuck and cause a lot of bloating and pain (aka my normal state of being). So yeah, I should probably listen to my mom when she says water fixes everything, but don't tell her I said she's right.

How Much Fiber Should You Get?
Women should be getting 30-35 grams per day. Tracy says most Americans are only getting between 16-18 grams of fiber and apparently that's really bad. Some examples of fibrous foods from Tracy are beans, apples, kale (obviously), berries, broccoli, whole grain bread/ pasta, etc. So you have some options in ways to get your fiber in—figure it out, betch.
Are Fiber Supplements Worth It?
Like, no. "It's not worth it," Tracy says. She explains, "We're spending a lot of money on these supplements and sometimes we're seeing benefits, sometimes we're not, but you can get this all through food." Basically, you're blowing your money on tiny pills when you could just eat better. Supplements seem like a lazy move, which sounds fun until you're broke. Haha.
Clearly, fiber is important. But there is more to learn about it and being like, a fully well rounded healthy human. I'm not a f*cking scientist so don't @ me. Instead, check out Tracy's Instagram and listen to our Diet Starts Tomorrow episode below.
Images: Giphy (2); Trang Doan/Pexels
Stop Doing The Same Old Sh*t: 6 Changes To Make To Your Fitness Routine
With Groundhog Day coming up, we're slowly being reminded that winter is almost over and it might be time to switch up our fitness routines. I mean, don't get me wrong. Betches are all about routine. Like, we literally have a written list of all the shit we like doing. But as much as we love sticking to our favorite workouts and eating the same Sweetgreen salad four times a week, it can also be good to switch it up sometimes to keep shit from getting repetitive. Why do you think Bieber dyes his hair every three months? He gets bored, like the rest of us. Here are some swaps you should be making in your routine this month:
If You Always Go For The Elliptical Or Treadmill…

Try lifting weights. I mean, we're not judging you for blasting Spotify's Rap Caviar playlist while lightly jogging for thirty minutes, but if you're bored of your light cardio routine and you're wondering why you're not toned AF yet, consider strength training. Most girls don't realize that by weight-lifting, your body continues to burn calories even after the gym, and putting some muscle on will actually allow you to burn more calories at rest, like even on days where you're lying on the couch watching This is Us.
If You Always Order The Salad…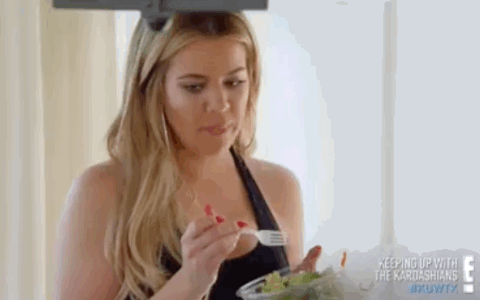 Try a complex carb, or dare I suggest some healthy fats. You can only pretend you enjoy that spinach/tomato/low-fat Balsamic combo for so long before you start gagging at the thought of mixed greens. Salad is obviously healthy AF, but there are usually other healthy options on the menu too, and it's okay to eat carbs and fat sources. Try ordering a whole wheat wrap or avocado toast on Ezekiel bread. It has a shit ton of fiber and lots of antioxidants, which will keep you full without making you fat. Is butter a carb?
If You Always Tap It Back….

Try doing bodyweight HIIT cardio instead. We love SoulCycle more than the blonde botoxed Long Island mom on the bike next to us, but sometimes you don't need a 45-minute cycling class to get in your cardio fix. HIIT is all about getting your heart rate up and burning a ton of calories in a short amount of time, so you don't even need to leave your house to get in a sick workout. Try spending fifteen minutes alternating cardio moves, like jump squats, burpees, and plyo lunges. You'll surprised how sweaty you'll get when you're working in shorter intervals, and you don't even need to pay an extra three dollars for water. Win-win.
If You Always Work Out At Night…

Try waking up early. No betch is naturally an early riser, but sometimes you need to push yourself to get shit done. Wake up, take an espresso shot, and haul your ass to the gym. Morning workouts will give you extra energy throughout the day and will give you more time to do your own thing after work instead of worrying about getting to the gym. Happy hour will feel so much more rewarding knowing you already worked out like, ten hours earlier. Who knew life existed before 10am?
If You Always Go To Yoga Or Barre…

Try a Pilates class on The Reformer. Yoga is great for flexibility and barre movements will elongate your muscles, but pilates will take your bodyweight planks to the next level and tone almost every muscle in your body. The Reformer machine will strengthen the muscles you don't usually hit with yoga poses or barre moves, and it's easy enough on your joints to prevent injuries. You'll end up shaking and sweating more in the first few minutes than you do in your 90 minute heated Vinyasa. Get on the machine.
If You Always Hit Up The Sauna Afterwards…

Try Cryotherapy. Sweating it out in the sauna after a workout feels amazing, but that's yesterday's news. The Cryotherapy method is the newest fitness recovery trend and it basically entails standing in a deep-freezing tank for less than five minutes. The shock of the freezing air on your body is supposed to help you lose weight, reduce muscle soreness, and even help you sleep better. Celebs like Yolanda Hadid and Derek Hough swear by their Cryotherapy sessions, and it's literally taking over Hollywood faster than the La La Land soundtrack. Book a session.