A Look Back At The Biggest & Weirdest 2019 Wellness Trends
It's almost 2020, and you know what that means… time for literally everyone to say "where the HELL did the time go???" But for real. It seems like it was just yesterday when we published our predictions on what food and health trends were going to take over 2019 back in December 2018, and here we are now, reviewing those predictions to see if we were actually right or not. Want to know just how far we'll go to prove we're always right? We consulted health, food, and trends experts to double-check those receipts. You're welcome. Now let's reflect.
We predicted these 2019 health trends would be big in the new year:
Shorter workouts 

Fitness streaming services 

Vibration therapy/percussion guns 

More sleep 

Personal training

Treadmill classes 
And the verdict is… ALL OF OUR HEALTH TREND PREDICTIONS WERE ACCURATE AF. Christine Lusita, TV health expert and author of The Right Fit Formula, confirms that every single thing on this list was actually trendy in 2019. "We're in a crucial time right now where we're celebrating our individuality and building community," she says, which is why short classes, apps, and gadgets gained popularity and helped us live our best lives this year. Wanna know just how sleepy we all were in 2019? MINDBODY's senior director of research and product marketing, Amaya Weddle, Ph.D., adds that "60% of Americans say they're frequently exhausted at work. Nearly 22% say they regularly nap in their cars during the week." Vibes. Hence the need for more rest and self-therapy.
Speaking of self-care, I know I'm not the only one who watched slow-mo videos on Instagram of fitness influencers using percussion guns on their thighs and ass in the name of engagement "post-workout therapy" (hello? Am I actually the only one?). The only trend Lusita thinks might be slightly off (BUT STILL RIGHT) is personal training, because that was "more popular with Gen X and boomers" (lol, ok boomers) than with millennials. But all of our other trends were, and I quote, "SPOT ON" and "great predictions by yourself and Betches." Ugh, we're like sooo smart. 

We also predicted these weird af 2019 food trends:
Fake meat snacks

Fats

Avocado ice cream

Kimchi

Seaweed
Drum roll, please… Lisa Richards, nutritionist, author, and the creator of The Candida Diet, confirms we were *basically* ALSO TOTALLY RIGHT! "Fake meats have certainly become more popular as we close out 2019. While they're not necessarily snack based, there are many restaurants and food manufacturers turning to plant-based proteins for burgers and other fake meat products," says Richards. And if you need further evidence, just look at every single burger chain scrambling to get a version of The Impossible Burger up on their menu rn. Fats were a thing, too, but mainly for people who follow a Keto diet. "A focus on preventing inflammation and improving heart health has contributed to this focus on healthy fats as well." She notes that seaweed had a "steady presence that wasn't so large it would be considered a fad, but not too small that it wasn't noticed." Avocado ice cream was also prob at the bottom of the 2019 food trend list, but it was popular nonetheless. "The overall category of ice cream with non-dairy bases has certainly risen in popularity. Especially people with lactose issues can now find plant-based frozen desserts made of coconut, almond, oat, cashew bases," adds Joy Wang, RDN with Sun Basket. Raise your hand if you've ever been personally victimized by lactose. *raises hand*
Anyway. See??? Right. Always. Can't wait to show this to the next person who doubts me. Maybe I should quit my day job and become a fortune teller. 

2020 Health & Food Trend Predictions
We're too tired from being right all the time, so we're not doing a full-length 2020 trend predictions list this year. BUT, because we're also really nice, here's a preview of some health and food trends to come after the ball drops. 
Weddle claims that fitness streaming services like Peloton (despite that tragic holiday commercial) and more sleep will continue to reign supreme in the new year, including an emphasis on… wait for it… NAPS. "We're seeing the demand for nap bars and nap pods is growing. In fact, 54% of us want to try nap bars for some midday Zs." SIGN ME TF UP FOR A NAP BAR. (Sorry for yelling, I'm just very enthusiastic about this trend.) In addition to fermented foods like kimchi, Uber predicts (based on what people were ordering off Uber Eats this year) that starfruit, cold brew, udon, bone broth, oat milk, and Impossible burgers are going to spike in popularity in 2020. I mean, I just Uber Eats things like bagels and Gatorade when I'm hungover, but to each their own, I guess.
Finally, according to Lusita, "we're going to see an increase in more 'fun' related workouts that build community, spirit, and all the feels," as well as an increase in a more individualized approach toward food and fitness. Think wellness and nutrition coaching, mindful exercise, intuitive eating, and at-home workouts with MIRROR and Hydrow. Health and wealth, here we come!
Here for it. Maybe 2020 is the year I'll finally eat right and pick up a dumbbell or two. Prob not tho. Who needs to workout when you can predict the future? Not us! 
Images: Brenda Godinez / Unsplash, GIPHY (2)
6 Uses For CBD That You Haven't Tried Before
CBD is all over the place right now, especially in LA. Everywhere from my favorite coffee shop to my dog groomer carries products with CBD. And tbh, I totally can see why. CBD does not get you high, but instead can help with pain, arthritis, anxiety, depression, blood pressure, and it seems like a million other things. Like most popular health kicks, everyone tries to get it on it. Here are a ton of products that I would have never thought would have CBD, but do, and their unexpected uses for it.
1. High Heel Pain

I'm sorry, what? I love heels and I'm famous for being able to wear my shoes all day and night without flinching. I've walked the entire Vegas strip in 6-inch stilettos. It's mostly due to my paralyzing fear of germs, and over my dead f*cking body would I ever walk around barefoot, especially somewhere as dirty as Vegas. But anyway. There is now a foot cream called Cannuka that uses CBD to ease inflammation and calm angry feet so that your heels don't kill you by the end of the night. It also can be used to help with any skin ailments like dry skin, lips, acne, eczema, and psoriasis. No pain and I don't have to take my shoes off? What is this, witchcraft?
2. Athletic Recovery

Weirdly enough, I would never think this would apply to me, but I'm currently in so much pain from doing squats for the first time in a while two days ago. Seriously, I've been half-limping all day. Elevate Pain Relief Cream is to help actual athletes, instead of just out-of-shape people like me, recover from their workouts and injuries without prescription painkillers. It also helps them bounce back quickly to get back to training. I'm all for using a natural product over highly addictive drugs, so yeah, this is a really great idea, regardless of your athletic level.
3. Dry Skin Relief

Body creams with CBD (like this one from Extract Labs), help with winter skin, dry skin, and itching. It also helps your skin heal and rejuvenate faster. As a victim of adult acne (and chestne, backne, assne, etc, is it skin? I get acne on it), it's super hard to find lotion that is heavy and moisturizing enough but also doesn't make me breakout. Since CBD is also an acne treatment, this seems like it would basically solve all skin problems? Is that possible? That's pretty cool.
4. Concentration

Sweet Reason Strawberry+Lavender
Ladies, put down your Adderall. Sweet Reason is a CBD sparkling water company, and honestly, I want it just because the bottles are so cute??? Like, this is way chicer than La Croix. Anyway, by putting CBD in the water, Sweet Reason boasts that you'll feel calmer, have less anxiety, be less stressed out, and be able to concentrate better. So yeah, way more beneficial than La Croix that is just expensive flavored water. I say, un-ironically, as I take a sip of my La Croix (it's the mango one, unsure if I like it). And don't be grossed out by the thought of drinking CBD—I promise, it does not taste like the smell of your college dorm. And their flavors actually sound really good, like Grapefruit, Cucumber and Mint, and Strawberry and Lavender.
5. Sexual Arousal

Foria Awaken Natural Arousal Oil
Yes, you read that correctly—CBD is in lube now. Foria is the first company to make an "intimate arousal oil" with broad-spectrum CBD and botanical and aromatic oils. The company says it's "formulated for women to enhance tactile sensation and pleasure while decreasing tension, discomfort and dryness" and has a chocolate and mint aroma. It's only intended for topical use, but it is edible, vegan, and gluten-free. It really checks all the hippie boxes.
6. Dry Lips

This lip duo from W!NK will be your CBD fairy godmother when it comes to dry or chapped lips. It includes a scrub and a balm to first exfoliate, then hydrate. Honestly, I usually end up eating half my lip balm every time I apply it, so at least this one is all natural. (But to be clear, you should NOT eat this.) Plus, there's no animal testing, which we love. W!NK creates CBD wellness and skincare products, so if you have naturally hydrated lips (jealous), they have tons of other CBD products you can try. 
Image: Kimberly Nanney / Unsplash
Betches may receive a portion of revenue if you click a link and purchase a product or service. The links are independently placed and do not influence editorial content.
The 2019 Health Trends We're Looking Forward To In The New Year
Just like Shake Weights came into our lives unexpectedly (and uninvited) back in 2010, so do a lot of other weird fitness trends. 2018 is basically over, which means we're already looking to 2019 for new ways to magically improve our lives. While the past year was all about wearable fitness trackers and High Intensity Interval training, the upcoming 2019 health trends are predicting a little variation on the fitness trends we've come to know and love (or hate, depending on who you are as a person). There's already a bunch of incredible and weird upcoming 2019 health trends to look forward to. While I'm sure that fitness influencers will have no shortage of bizarre health trends to try to push on us in the new year, I'm choosing to focus on the 2019 health trends I can actually get behind. Here's what we can look forward to in the new year.
1. Shorter Workouts
THANK GOD. No more dying a slow death by losing our breath on the StairMaster anymore. Fitness experts are saying that we can decrease the amount of time we work out if we just work out the right way at the right intensity. Think of all of the things you can do if you only exercise for 15 minutes a day. You can spend those leftover 45 minutes ruining your diet eating delicious post-workout food!
2. Fitness Streaming Services
Fitness streaming services are giving gyms a run for their money (see what I did there?). There's no need to go to the gym anymore when you can just stream a good workout from your phone, TV, or laptop. Exercising from the comfort of our apartments in 2019? Sign me tf up. Some awesome workout streaming services include CorePower Yoga, Peloton Digital, ALO Moves, or MNDFL Video. If you're balling and have a ton of money to blow, get that interactive fitness MIRROR for $2,000.
3. Vibrations
No, not the type of vibration you're thinking of… although that could burn calories too. Vibration therapy and percussion guns were trendy in 2018 and will stay throughout next year to continue to stimulate and loosen our aching muscles. These vibrations help to penetrate deep into your skin, tissues, and muscles to recover and repair your body pre- and post-workout. Time to whip out your vibrator wand for the right reasons!
4. Sleep
This is another amazing trend that we totally approve of. Sleep is a vital part of any wellness routine—specifically, how well we sleep, including how long we sleep for, how long we stay asleep for, and how deep our sleep is. The real trend here involves managing and tracking our sleep through wearable devices and mobile apps that enable us to analyze just how many quality Zzzs we're actually catching every night. Fitbit, Beautyrest, S+, and Beddit are just a few of the more popular sleep trackers available. Some will even sync with your Apple Watch.
5. Treadmill Classes
Yup, you read that right. You already know about the cycling/SoulCycle craze that took over the world last year. According to ClassPass, we're kicking bicycles to the curb and hopping back on those treadmills. But they won't be boring this time around. Group treadmill classes are a new trend that will get you, your friends, and a bunch of old ladies in shape in no time.
6. Personal Training
Maybe you hate the gym. Or maybe you hate the idea of working out and getting all sweaty in front of strangers. Well, personal training is predicted to become way more popular over the next 365 days. Everyone has different needs, both in terms of diet AND fitness. Certified personal trainers are here tell us what to eat, kick our asses and give us six-packs, and transform us into better, healthier versions of our 2018 selves.
Images: Spencer Dahl / Unsplash
We Tried The Health Trends Celebs Like Kourtney Kardashian & Jennifer Aniston Love
If you're anything like me, you spend most of your time on the internet browsing the ASOS sale section and reading about shit like what Bella Hadid does in the morning. People love finding out what healthy habits successful people swear by, and for those of us who aren't exactly "morning people," it's hard to relate. Like, waking up at 6am for hot yoga sounds like a terrible dare, not something I'd willingly set an alarm for. Regardless, I decided to try five morning routine trends healthy celebs love. People who swear by these habits include Jennifer Aniston, Jessica Alba, Kourtney Kardashian, Julianne Hough, and Gwyneth Paltrow—the literal beacon of health. If these women can preach about their amazing morning routine hacks, I thought I'd give them a try. Here's how they all went down.
1. The Apple Cider Vinegar Shot
Until recently I thought apple cider vinegar was just an ingredient for baking cookies or something. But then again, I don't bake or know anything about baking-related ingredients, so maybe that was just me. Anyway, it turns out people drink a shot of apple cider vinegar in the morning, and it's supposed to help with killing bad bacteria in our bodies and make us less hungry throughout the day. Some people mix it with water and some people take it straight, but after trying both ways I can guarantee it's just as gross in either capacity. I took a swig of the APV (that's what the celebs call it) before my breakfast in the morning, and I honestly didn't notice much of a difference throughout the day. Like, maybe I was less of a ravenous animal at around 3pm when the caffeine/ sugar crash usually kicks in, but that could be just a placebo effect. Either way, I don't think this is doing much for everyone.

2. The Glass Of Lemon Water
The glass of room-temperature lemon water is nothing new or trendy, but every successful woman in the world does this, so I thought I'd finally get on board. Considering I usually wake up and consume a dangerous amount of coffee before 9am, it was kinda nice to drink my lemon water first and pace myself. I drank 16 ounces of lukewarm water with lemon slices before I had my coffee, and I really think this made a difference in my day. People say the water and lemon combo is supposed to kickstart your digestion and keep you hydrated throughout the day, and I can confirm that I felt a lot better on the days I had my lemon water. I felt like my digestion was on track and I was super hydrated, and I got less tired once the coffee started wearing off. Once again, this could be a placebo effect, but I totally felt like a wellness blogger in the moment so that alone was worth it. Ugh, love my healthy lifestyle.
3. The Early Morning Workout
The only thing worse than the girl who describes herself as an "early bird" is the one who voluntarily sets an alarm to start sweating before the sun is up. The early morning workout is a painful and tragic morning routine, but literally every single successful person does it, so I couldn't pass on this one. Like, even Mark Cuban gets up early to work out six days a week. I literally thought his job was just sitting on a leather chair while listening to people trying to get his investment. Anyway, getting up early to work out is difficult and requires a lot of strategy. You have to lay out your clothes the night before, brush your teeth in 10 seconds, and basically pretend the snooze button doesn't exist. Honestly, it feels good to know you got your workout over with before work, but it's so painful to get there so IDK how many days a week most people can realistically do this without going insane.

4. The Probiotic
A lot of celebrities have been preaching about taking a probiotic every morning, so I had to look into this magical pill and see what's so special about it. I've never really been into diet pills or sketchy vitamins, but apparently probiotics are the real deal and our bodies actually need them. After doing some research, I found out that our bodies are filled with microbiome, and by taking probiotics, which are essentially "good bacteria" for our gut, we can balance our microbiome while improving our digestion and balancing our blood sugar. The probiotic definitely takes a few days to kick in, but once it does, you'll definitely notice a difference. By taking one pill in the morning before you eat, you'll feel less bloated and gross during the day, and you'll probably feel like your stomach is flatter, too. I'm not a doctor or a scientist, but like, it can't hurt—right?
5. The Mindful Meditation
Ever since morning meditation became the new Diet Coke with two Adderalls, everybody claims they love their moments of mindfulness in the morning. Like, these people literally take the limited time they have in the morning to sit in silence, or even worse, set their "intentions" for the day. While it was hard for me to take this habit seriously, I thought I'd give it a try. I downloaded a popular meditation app and followed a morning meditation that lasted like, 10 minutes, and it didn't do much for me. It was hard to sit still and focus on my breath, but then again, I may have gotten more out of it if I went in with a better attitude. I mean, maybe I'm just not the "mindful" type of person like all these LA-based celebrities with two hours to kill in the morning. I live in New York City and have to be on an overcrowded train before Jennifer Lawrence even opens her eyes in the morning, so excuse me if I don't feel like meditating at the crack of dawn. Can I live?

2018 Health & Fitness Trends We Can't Wait To Try
For all of you who don't follow health bloggers or give a shit about what Gwyneth Paltrow will be mixing into her smoothies next year, the predictions for the top 2018 health trends just came out, and I've honestly been dying to know what's in store. Let's just say the list is barely in English. Like, I consider myself pretty extra for spending half my paycheck on natural supplements and yoga classes, and I STILL didn't know what any of this shit was. After going through the trends, I've picked 5 that I could potentially see myself trying out, and you should too. I mean, New Year's is around the corner so it's time to think of resolutions anyway. Here are the trends that could be legit and worth doing.
1. Being Committed To Self-Care
To be honest, the closest thing I have to a "self-care ritual" is my weekly $7 polish change and like, staring at my eyebrows in an illuminated mirror while I'm waiting for my sushi delivery. Unless you have all the time and money in the world, most people aren't regularly visiting infrared saunas or taking eucalyptus scented baths or getting regular Swedish massages (and if you are, fuck you). Anyway, making time for self-care is gonna be trending in 2018, and I'm SO on board. Any new excuse for skipping plans is amazing, so if I need to excuse myself from a group dinner to meditate on my couch for the rest of the night, I'm down. Just taking care of myself over here.
2. Taking Nootropics
Nootropics are apparently these natural brain-boosting pills that were made by Silicon Valley pros, and they're totally gonna take off next year. They're "cognitive performance enhancers," and they're supposed to help with stress levels while reducing brain fog. Kinda sounds like Adderall without the prescription, honestly. Supposedly they're made with specific amino acids and stimulants that make your brain work better, so why wouldn't you give them a try? I'm not opposed. Don't judge if you see me popping pills with my cold brew at 8am.

3. Using An App To Get Birth Control
There's obviously an app for everything, so it doesn't surprise me that there's gonna be a burst of birth control apps in 2018. Period tracker apps have been helping betches track their menstrual cycles since the beginning of iPhones, and I'm obviously on board with more technology to make my life easier. New apps like Maven, Eve Kit, and Nurx will connect you with healthcare pros around the clock and even deliver birth control to your doorstep, so you don't have to stop by CVS once a month and wait in that goddamn line. At least in 2018 we'll have to leave the house less.
Head to https://t.co/IrSr4jAGxU to redeem up to TWO months of free birth control with promo code #CHECKYOURFACTS pic.twitter.com/il2Ca38epq

— nurx (@nurxapp) November 1, 2017
4. Nut-Milk Yogurt
I've never actually tried a nut-milk yogurt, but swapping almond milk for skim milk was pretty harmless, so I imagine this will be similar. I mean, yogurt is healthy for you, but dairy sucks for your skin and everyone's somewhat lactose intolerant, so maybe we should all make the switch. I imagine nut-milk yogurt doesn't taste like some phenomenal sugar-filled YoCrunch yogurt, but then again it's yogurt, so how bad could it be?
5. Specialty Kombucha
Kombucha is literally the healthiest drink you can buy, and it somehow has some alcohol in it, so you can tell your green juice to kill itself. In case you don't shop at Whole Foods on the reg, Kombucha is a fermented tea drink that is supposed to be amazing for your gut and help fight inflammation in your body. Apparently Kombucha is becoming more mainstream in 2018, and regional craft brands are making their own versions of it, so you can basically be a WASPy Kombucha connoisseur in the new year. We could be facing a year of specialty crafted Kombucha and a mini Kyler Jenner. I'm so pumped.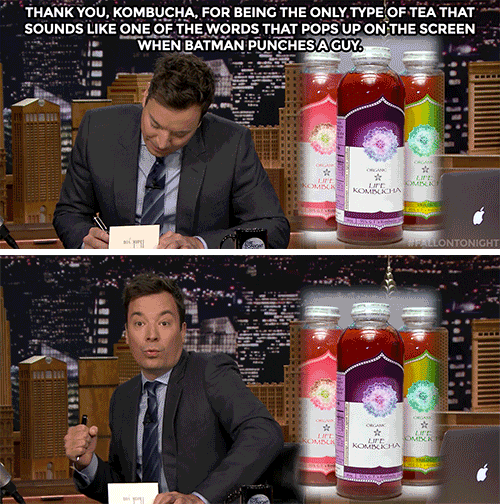 Images: Brooke Lark / Unsplash; Nurx / Twitter; Giphy
The 7 Psychotic Things Your Favorite Celebs Do To Stay Healthy
Look, I've tried a lot of bizarre diets and weird beauty hacks in my day. From Paleo, to Atkins, to low-carb to high-carb to Keto to vegan to juicing to brothing to counting calories and exercising, I've done it all, and most betches can say the same. Can you blame us? We're bored and practically willing to do anything to avoid regular exercise and a well-balanced diet. With that being said, there are certain lines we just won't cross. Like, sometimes you just know that a certain ingredient doesn't belong in your body or on your skin, and there are no further questions, no matter how many times Jennifer Aniston endorsed it. Celebrities are obviously insane, and some of them go to v dramatic lengths to stay healthy. Here's some of the craziest shit they do.
This news just came out, and it's honestly what prompted me to do more research on these weird celebrity health habits. Why the fuck would anyone put wheatgrass shots in their eyes, you may be wondering? Apparently it's supposed to hydrate your eyes, and Kate swears by it. "I wear contacts, and the wheatgrass really works," she said in an interview. "It basically hydrates your eyeballs. It's like flushing out your eye."
A couple years ago, Miley posted a pic on Instagram with the caption, "The avocado obsesh is mad real." I mean, we obviously agree with that statement (cue my 500 avocado toast orders), but like, not on our faces. The picture shows the avocado spread all over her face like guac, and it literally has chunks in it. I'm gonna vom. I really don't care if it makes your skin smooth or clear or whatever, it's gross. Can we stick with a mud mask next time?

I'm literally trying not to gag while thinking about this diet. Baby food is meant for babies, just like dog food is meant for dogs (although I wouldn't be surprised if that were a new weight loss trend at this point.) I mean, relatively speaking, I guess this isn't the most inedible diet ever, but baby food is just mushed up fruits and veggies, so why don't you just eat fruits and vegetables instead? Or like, a smoothie? Reese, you make no sense to me.
No, you didn't read that wrong. Queen of wellness and Goop guru Gwyneth sprays her airplane seat with literal silver before a flight. Apparently this spray is sold by naturopathic medicine brands, and it's made with potassium, distilled water, and actual silver. People say it fights off bacteria and viruses. IDK. Let's keep in mind this is done by the woman who gets her vagina steamed, so you do you, Gwyneth.

5. Kourtney Kardashian Drinks Avocado & Sugar For Breakfast
We've already talked about the health benefits of Kourtney Kardashian's daily lemon water, but I think it's time to talk about what the fuck this girl actually eats for breakfast, because it's alarming. Kourtney literally blends an avocado with sugar and drinks it as a smoothie, and like, sometimes eats with a spoon. Is this healthy? Is it good? Is anyone else getting hazing PTSD from the concoctions you had to drink as a pledge? So many questions, and I'd like some answers.
This situation actually sounds kind of relaxing, but it's also super weird. Madonna reportedly takes a basil bath on the reg, which literally consists of a bathtub filled with herbs. Basil is supposed to be an anti-inflammatory agent, so it can help combat stress and muscle pain and apparently make you look amazing. I mean, this sounds time-consuming and annoying, but if this is why Madonna looks so good at age 60, I can get down with a basil bath every now and then. But like, does the basil get stuck in the drain at the end? I need to know.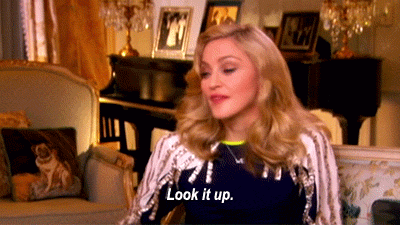 Um, was this cleared by a doctor?! January Jones once told reporters that she eats her own placenta in capsule form everyday. She claims "your placenta gets dehydrated and made into vitamins," which is still not a reason to eat it, if you ask me. She says she recommends it to all moms, but whether or not anyone wants to take her new mommy tip is questionable. I'm really not over this. Your own placenta?! Really? I can't. Whatever, I'm getting cheese fries.