Is Chlorophyll Water The Latest Bullsh*t Wellness Craze?
From alkaline water to celery water to not drinking any water at all, it seems like the wellness industry is obsessed with H2O as of late. I mean, I know it's the essence of wetness and wetness is the essence of beauty and everything, but why do we need to keep reinventing the wheel? And will it ever end? The answer to that final question, at least for the time being, is no, and that's because there's yet another type of water on the market that's making a whole lot of bold claims. Enter Chlorophyll Water, the green water drink that looks like a weird concoction I might have made in 6th grade biology, but that actually tastes amazing and is attracting celebs like Kourtney Kardashian, Mandy Moore, and VS Model Shanina Shaik. I'm listening…
While I wouldn't intentionally read, let alone try to learn anything from the POOSH website even if my life depended on it, I can't deny that I'd like to look like Kourtney K. So, I'd like to know: what's the deal with the latest chlorophyll wellness craze that she and these other hot people are getting behind? 
What Is Chlorophyll Water?
Chlorophyll is simply "a green, plant-based pigment that holds the power to translate light into oxygen and energy for plants," explains Tracy Lockwood Beckerman, Registered Dietitian at Betches. Remember from your middle school science class? She adds, "People are adding it with hopes of obtaining these similar energetic powers simply from drinking water."
What Are The Potential Benefits?
Besides making you appear up with the trends, studies have shown chlorophyll to: 
Have antioxidant properties: Beckerman explains that "chlorophyll has helpful antioxidant properties which will help combat negative cellular damage in the body."
Work as an internal deodorizer: According to this study administered on 62 geriatric patients, chlorophyll tablets were found to be helpful in "controlling body and fecal odors."
Detox the body: The study cited above also found chlorophyll to "aid in easing chronic constipation;" while other studies conducted on animals have shown chlorophyll to "promote the elimination of potentially harmful toxins and carcinogens from the body."  
Clear up acne: Chlorophyll-a photodynamic therapy (a treatment that uses drugs and light and in this case, chlorophyll) was used to treat 24 Asian subjects' acne, in which there were significant reductions. 
But…
As you might have already gathered, these studies are quite limited. Testing on animals or on subjects strictly of Asian descent like the studies cited above does not give us the science-backed results we need to feel confident that chlorophyll is a magical cure-all. Beckerman echoes this sentiment by explaining, "until I see long-term, large, randomized, double-blind, clinically controlled trials, I'd be skeptical that chlorophyll is the answer everyone is looking for."
Did My Experience Line Up?
Nutrition and science and Kourtney K. aside, I wanted to try out Chlorophyll Water in the first place simply in hopes of supporting a sustainable, earth-friendly brand. The water bottles are biodegradable and every case sold plants a tree—which might make you feel better about the $3.33 price tag for a bottle (and $39.99 for a case of 12). 
I was definitely weirded out when I realized that the green color was coming not from the water bottle, but from the actual water itself. However, my initial weirded-outness was replaced by a pleasant surprise at the fresh/crisp taste of the water, which I later learned can be attributed to the purification process it goes through. I was honestly pumped to have found a thirst-quenching drink that doesn't have any hidden sugars and whatever other chemicals MUST be in those weird flavored CVS drinks I'm always buying when I'm hungover. I found myself drinking about two bottles a day for one week.
Despite being tasty and making me look like an intimidating yoga betch (a long-lived aspiration of mine), I can't say that I was magically more energized or that my skin was suddenly glowing. I suppose I was going to the bathroom a good amount (aka I was not constipated for the Jerry in the back), but as a vegan, this isn't usually a problem (wow we're getting personal here), so I'm not necessarily the best guinea pig.
Conclusion
One week isn't long enough to test much of anything, but the current science doesn't give us much confidence in chlorophyll as the be-all and end-all health answer, either. 
Despite chlorophyll having antioxidant properties, Beckerman is instead urging us to stick to the ol'—wait for it—fruits and veggies concept (it sounds so simple on paper, dammit! *bites into chip*). She explains that the antioxidant properties found in chlorophyll "are also found in blueberries or broccoli, and we know these foods provide the body with anti-inflammatory and disease fighting properties. Why can't we all agree to eat more colorful foods instead of buying chlorophyll-infused water?" Okay, you got us there.
So eat your damn veggies, and until we have more research, if you're going to drink Chlorophyll Water, do it for its taste, prestige, and added vitamins (A, B12, C and D). 
Images: Vista Photo / Shutterstock.com
3 Eating Habits That Are Slowing Your Metabolism
If you're the victim child of a Jewish mother, you're more than familiar with the rhetorical question, "Do you want to mess up your metabolism forever?" I skipped breakfast once when I was 16 and I'm still hearing about it. Little does my mom know, metabolisms are actually really complicated and cannot be "messed up forever" by skipping one single meal. Much like your boyfriend who insists that cargo pants are very much in fashion, your metabolism has to be trained to do what you want. For the sole purpose of proving my mom wrong expanding my knowledge about the human body, we linked up with Samantha Cassetty, RD, Director of Nutrition at The Healthy Mommy, to talk about the metabolism and what habits could be slowing yours down.
Before we dive into some hard science, I will explain what the metabolism is in layman's terms. According to WebMD, the place I go to confirm I'm dying from my run-of-the-mill cold, "Metabolism refers to the process of converting food into the energy that allows your body to function. People who have a fast metabolism use up calories more quickly than those with slower metabolisms." Yes, we all want a fast metabolism, but how the hell do we get one of those? Read on for ways your eating habits may be slowing your metabolism down, from an expert.
1. Picking The Wrong Breakfast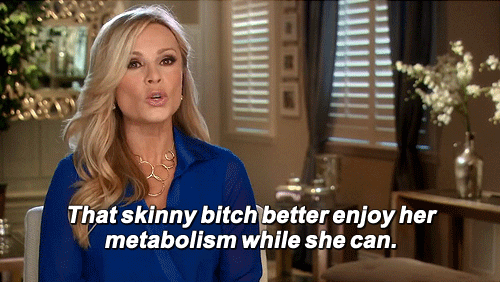 You are what you eat! Kidding…but, like, not really. Cassetty says, "One of the main issues I see is reaching for a carb-rich, protein-poor breakfast option. Common breakfast foods, like cereal, oatmeal, bagels, muffins, and even avocado toast don't supply enough protein to repair muscle tissue that's naturally broken down at night." Your metabolism does its best work at night, which is why you usually wake up needing to spend a few extra minutes in the bathroom in the mornings. Just me? Cool! But it's also why you need a solid breakfast. Cassetty continues, "In order to activate the repair process, you need a meal that provides adequate protein. If you skimp on this, over time, you'll lose muscle tissue, which translates to a slowing metabolism." So, okay, I guess we really do have to listen to what we've been told since middle school and eat breakfast because it is the most important meal of the day.
2. Eating Too Many Processed Foods

Your metabolism breaks down your food, but the speed at which it operates depends, in part, on what you eat. "Eating too many hyper-processed foods instead of whole foods will ultimately cause metabolic issues. Your body can more efficiently grab the energy (read: calories) from heavily processed foods, so if your diet is more heavily processed than whole, you might notice weight gain over time," Cassetty says. These foods also don't really fill you up, so you're probably eating more of them. Cassetty also says, "When you eat whole foods, your body gets a slight metabolic edge by breaking the food down to grab the energy and nutrients it needs. In other words, you're shortchanging your metabolism by making its job too easy." I guess that's why they call it Whole Foods? Everything makes sense now! For real, though, it should be obvious that foods with ingredients you can pronounce are better for you and your internal systems than say, Flamin' Hot Cheetos, which are made with something called thiamin mononitratea, but you can never take knowledge for granted.
3. Eating Too Lightly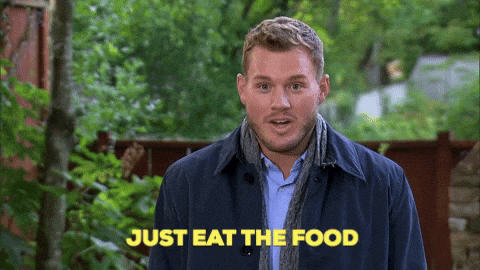 I feel like this is a "you already know the answer" situation. Cassetty explains, "Eating too lightly can slow down your metabolism because your body senses the food shortage and wants to hang on to its stores. Your body works better when it has the energy and nutrients it needs to thrive, and you'll feel better and more energetic when you nourish it properly." That's not that surprising since we've all been told about "starvation mode" probably around the same time we discovered skipping breakfast. Just don't do it! 
I'm loving that the theme of this seems to be "eat food". You don't have to tell me twice. And, in fact, you can eat certain foods to help boost your metabolism. "I usually recommend including two of the three food groups at snack times, choosing a fiber-rich fruit or veggie (the carb group) along with a healthy fat or protein," Cassetty says. It'll be hard to give up my honey mustard and onion-flavored pretzels, but it's for the greater good, I guess. Think of your metabolism as a car, but not like a Volvo or a Jeep. You're a f*cking Maserati, and you wouldn't put Kool-Aid in a Maserati, right? No, you'd put premium f*cking gas.
At the end of the day, everyone's body is different, but regardless of that difference, limiting processed foods and not skipping meals is the move. You'll feel better, look better and, most importantly, be able to talk about how healthy you are to people who really couldn't give a sh*t. And that's the best reward of all, isn't it?
Images: Giphy (3); Tarutoa / Unsplash
6 Foods You Think Are Helping Your Summer Body But Aren't
I once learned in AP European History that the first king of England was too fat to get on his horse, so he decided to eliminate all food from his diet and only drink alcohol in the hopes of shedding a few pounds. A thousand years have gone by, and it feels like our diets haven't really progressed (and tbh his sounds pretty logical). We're constantly being harassed by new diets and healthy foods, and some of the facts can get confusing, mostly because it all comes down to your own individual body. Although there aren't specific foods that will straight-up make you fat, there are some foods that are marketed as super healthy, but they aren't really doing you any favors. Here are some of health foods that are not so healthy.
1. Gluten-Free Bread
The "gluten-free" buzzword is often written on food items, but unless you're actually gluten intolerant or have Celiac disease, these products aren't necessarily healthier for you. In fact, gluten-free bread is usually packed with so many artificial ingredients and sugars to make up for the lack of gluten. You're honestly better off eating regular bread.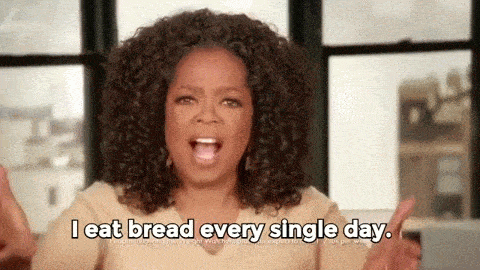 2. Orange Juice
The whole "fresh orange juice" health fad started like, 60 years ago, but let's keep in mind that women were still smoking while pregnant at the time. AKA, it's outdated. I mean, I'm not saying orange juice made with minimal ingredients is at all dangerous for you, but if you think you're drinking a glass of health with your oatmeal in the morning, you're wrong. Orange juice is basically a cup of sugar, and even if it's just made with oranges, which have a ton of vitamins, it's a lot of sugar to gulp down at once. Plus, lower sugar fruits like strawberries and papaya have more vitamin C than oranges do, so there goes that excuse.

3. Granola
Granola is one of those foods that really isn't terrible for you, but it's marketed as this magic bag of health and wellness, and honestly, nobody takes the serving size into account. Most granola companies, even the ones that use "clean" ingredients, don't make it clear that the serving size is usually 1/4 cup. Anyone who's ever looked at a measuring cup knows that is tiny. Many people (hi) end up eating entire bowls of granola, ingesting like, 600 calories in one snack. Granola is meant to be sprinkled on top of Greek yogurt or snacked on in small doses, so keep that in mind when eating half the bag before lunch.
4. Restaurant Veggie Sides
I'm one of those people who are guilty of going out to dinner and ordering a bunch of vegetable sides, thinking that it's the healthiest option on the menu. Honestly, they're usually not that healthy. It's pretty much known that vegetables suck, taste-wise, so these restaurants often douse them in oils and sauces and butter to make people want to order them. Like, if you're wondering why your Brussels sprouts appetizer tastes like french fries, maybe it's born with it, maybe it's tons of added fat. You're better off ordering a lean protein, like fish or grilled chicken. You don't have to avoid vegetables completely, but just be wary of what you're actually ordering when you're out to eat.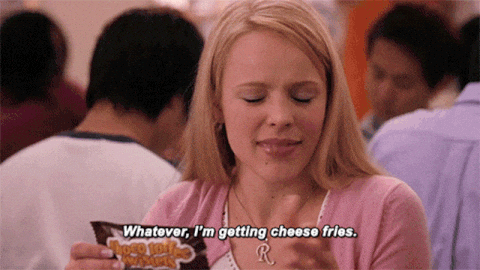 5. Agave Nectar
Ever since Miley went vegan and açai bowls became trendier than Momofuku cake, agave nectar is trending in the wellness world—but unless you're vegan, it's not that healthy for you. Like, agave is supposed to be the "healthy" sugar substitute, but the reason it has a low glycemic index is because it's filled with fructose, which, when ingested in large quantities, turns to fat because your liver can't turn it into energy. Instead of demonizing sugar and turning to agave as an alternative, just add sugar in moderation and realize what you're actually putting into your body when you buy these alternatives.
6. Dried Fruit
Ugh, this one makes me so sad because dried mango is actually the best thing since watermelon Sour Patch Kids. Dried fruit is similar to granola in the sense that it's really not harmful for you, but nobody talks about serving sizes, and they're SO sad. Dried fruit is all carbs and sugar, and often companies add even more sugar to them. Like, have you ever realized why Craisins are so much sweeter than actual cranberries? Spoiler: it's sugar. If you're eating dried fruit, find a brand that has no added sugar, and try not to eat the whole bag in one sitting. You can do this.

Images: Jannis Brandt / Unsplash; Giphy (4)