How I Lost 50+ Pounds On "The Fast Metabolism Diet"
For as long as I can remember, I've had a difficult relationship with food. I don't mean that as just something people say—the whole "as long as I can remember" thing. I literally recall being five years old, looking in the mirror, and thinking, "I'm fat." Pretty brutal for basically an infant to think about herself, but as the years went on, those critical thoughts only grew and evolved. I hated my thighs, the ones that smushed together when I sat, and I hated my wide hips, the ones that pushed me into the juniors section long before my third grade classmates joined me there.
It wasn't just puberty and the appearance of my childbearing hips that made living in my body feel unbearable. It was my addiction to food that caused the never-ending battle. One I didn't even realize I was fighting until I was fifteen. Until I started skipping meals, tracking calories, and eventually, throwing up everything I ate.
As a recovered-ish binge-eating-anorexic-bulimic with severe food anxiety (doesn't that sound like something straight out of a bullsh*t movie starring Emma Roberts?), diets have been my foundation since I started trading my lunch for a Diet Coke in 5th grade. As someone who was always just overweight enough to warrant comments from family members about her "plump" figure and "chubby" frame (*cough* assholes *cough*), I'm no stranger to viewing the scale as the enemy. Eating in moderation does not come naturally to me, and the sporadic "treat yo' self" meal can cause a spiral that results in a 10 pound weight gain in the blink of an eye.

So, naturally, I've done all of the diets. ALL of them. I've done all of the teatoxes. I've tried all of the bullsh*t shakes and supplements that girls from my high school who got knocked up and stayed in our hometown sold via Facebook messenger. I am that cliche. From Keto to Whole30 to The South Beach Diet and to my own special diet called "eat everything in your pantry in one sitting and hope your body won't transform it into fat"—I've tried them all. Most I've had some success on because when you cut out having cake after dinner and pizza four times a week, odds are you'll drop a few pounds.
The tricky part of my diet and health journey, however, has always been restriction and control. As someone with a LONG history of eating disorders, any doctor can tell you, diets are pretty precarious. It can take one slipup, one day of being too lax or too strict to completely relapse. So, sure, I can have success with these diets, but when they involve cutting carbs for months or foregoing fruit for weeks, it really f*cks with my head.
When a friend of mine told me about a diet where you're literally eating nonstop, not expected to work out like a crazy person, and don't have to give up carbs, I was intrigued. I was staying at her house for a weekend and she came into the kitchen, blurry-eyed, and said she needed to eat breakfast right then. She made a piece of toast, topped it with some turkey bacon and an egg, grabbed some carrots and a carton of raspberries, and went back to her room. When she emerged an hour later, bright-eyed and showered, and I asked her what that was about, she told me about the diet. The diet that requires you to eat within 30 minutes of waking up. That forces you to eat TONS of food. The diet she had been on for a week and already lost five pounds on. The diet that would quickly change my life.
Enter: The Fast Metabolism Diet (and by "diet" the author coined the phrase "Did I Eat Today?").
From the excerpt on Amazon, this pretty much sums up the whole eating plan:
"On this plan, you're going to eat a lot. You're going to eat three full meals and at least two snacks a day – and you're still going to lose weight. What you're not going to do is count a single calorie or fat gram. You're going not to ban entire food groups. You're not going to go carb-free or vegan or go cold turkey on the foods you love. Instead, you're going to rotate what you're eating throughout each week according to a simple and proven plan carefully designed to induce precise physiological changes that will set your metabolism on fire."
Created by celebrity nutritionist and best-selling author Haylie Pomroy, this is the first and only actually healthy diet I've ever been on. It encourages resting the body, not overworking it with tons of exercise, and eating delicious, wholesome meals. And before you think this is an ad, it's not. If Haylie wants to pay me, that's cool (my DMs are open, girl), but the truth is this plan just really f*cking works. Don't believe me? Take a peek. I was on and off the diet for a little over a year, and here are the results:


I lost 51 pounds on The Fast Metabolism Diet over the course of a casual 15 months. That was including indulging over the holidays, drinking at parties, and taking breaks in between months of being steadfastly healthy. I could have lost it faster if I did the month-long diet back-to-back, but that's just not how I function. I'm like, really popular, and giving up drinking (yup, you have to give up alcohol) for multiple months at a time was a no-go for me. While I did gain a decent portion of it back post-wedding (that's what going to Italy for a month will do to you), so now I fall somewhere between those two photos, I'm officially back at it. In the 12 days that I've been on the FMD, I've lost just over 10 pounds. And that's from eating a sh*tton, doing very light (if any, tbh) exercise, and messing up a few times when I forgot to go to the grocery store.
So, how does it work? Let's break it down:
Phase 1 (which happens every Monday and Tuesday) is all about healthy carbs and sugars. So, your meals are full of fruits and rice and pasta and sandwiches. Sure, you have to have sprouted grain everything, but honestly? Any diet where I can have quinoa and bread without shame is one for me. As for exercise, you need to do one day of cardio (which I skip a lot, tbh).
Phase 2 (which happens every Wednesday and Thursday) however, is where things get tricky. This is the only 2 days of the week I dread because honestly they're lame and they low-key kinda suck. Basically, you're restricted to meat and veggies these two days. That's it. But if you're on a strict diet and only 2 of the 7 days kinda suck, then I'll take it. Exercise? With all the protein, this is the time for strength training. You're required to do one day of weights or something similar (again, an activity I keep "accidentally" missing).
Phase 3 (which happens, you guessed it, Friday, Saturday, and Sunday) is a mix of both of the above phases, plus you get to add in healthy fats like oil, nuts, and avocado! Easily the best of the phases, this is where your meals are full of lots of colors and lots of variety. You can make almost any meal you love fit into this phase (one of my favorites is making a mock Chipotle bowl. WITH guac, of course). If you thought this was great, the exercise portion of this phase is even better. You're required to do something light that promotes blood flow like stretching, yoga, or getting a massage. Seriously. It says it in the book. GETTING A MASSAGE COUNTS AS EXERCISE IN THIS DIET. HAVE WE DIED AND GONE TO HEAVEN?!

What does a day on each phase look like? Glad you asked. Here's an idea of what I eat:
Phase 1:
Breakfast: Fruit smoothie and 10 brown rice crackers
Snack: Apple
Lunch: Open-face turkey sandwich on sprouted grain bread with carrots and berries on the side
Snack: Bowl of cherries
Dinner: Turkey chili
Phase 2:
Breakfast: Turkey bacon and egg white scramble with veggies mixed in
Snack: Deli turkey slices
Lunch: Salad with chicken with balsamic dressing
Snack: Turkey bacon wrapped asparagus
Dinner: Steak and asparagus or celery
Phase 3:
Breakfast: Sprouted grain toast with an egg and turkey bacon plus celery and berries on the side
Snack: Carrots and hummus
Lunch: Chicken curry
Snack: Nuts
Dinner: Steak, veggies, guac, and salsa wrapped up in a sprouted grain tortilla with some extra carrots on the side.
The pros: You get to eat a ton, you don't cut out full food groups, and you really will lose weight without feeling like you're totally restricting yourself. Plus, as someone who can backslide into disordered eating easily, there are no points, no counting calories, and no tracking grams of fat. You just eat the foods you're supposed to eat at the times you're supposed to eat them and you lose weight.
The cons: Like most diets, it's hard to go out to eat/have a normal social life. While, sure, you *can* manage it, it's easier just to make your own food. Which brings me to another con. You have to make A LOT of food. Plenty of it you can cook in bulk and freeze for later phases but ultimately, it takes a lot of cooking and prep (and pricey grocery runs) to pull this one off. And the worst part? No alcohol and NO caffeine. None. Nada. During later months when I was already losing lots of weight, I added a cup of coffee back into my life, but until then waking up without that jolt took a longggggg time to get used to.

Ultimately, despite the cooking and the lack of coffee and cocktails, I've never met an eating plan that I've loved as much as the FMD. And because Hayle (and her PR team) sum it up much better than I ever could:
"This is the silver bullet for the chronic dieter who has tried every fad diet and failed, the first time dieter attempting to kick her metabolism into gear, and anyone who wants to naturally and safely eat her way to a skinnier, healthier self."
A-f*cking-men. Follow along with me as I continue along with this plan or join the metaphorical club and start with me. The best part? When you finally drink again, your tolerance is so low you'll get schwasted on like, one glass of champs (which will save you time AND money). If that isn't the best reason to diet, idk what is.
Images: Gardie Design & Social Media Marketing / Unsplash; Rachel Varina (4); Giphy (1) 
Foods That Will Make Your Nails And Hair Grow
We already know that you can add collagen supplements to your fave shakes and smoothies to get your hair and nails to grow (in addition to giving you supple skin, of course). But what you may not know is that there are plenty of other foods for healthy hair and nails that will give you nail beds like baby Stormi Webster's and locks as long as her mom's (weaves). Because honestly, if you're consuming calories you may as well make them worth your while and eat your way to enhancing your beauty.
So if you're in the market for naturally long hair that doesn't look like Shawana's cheap K-Mart polyester hair extensions, include these foods in your diet for longer hair and nails.

1. Avocado
Lucky for all the basic betches, avocado toast has another purpose beyond providing weekend brunch content for Instagram. Avocados are high in Vitamins B and E which work at the cellular level to protect, strengthen, repair and stimulate hair growth. So go ahead, pay extra for guac at Chipotle and feel no remorse. What you're spending on mashed up avocados, you're saving on hair extensions.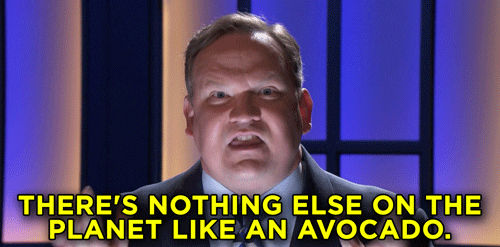 2. Almonds
A major reason to justify paying like, a million dollars for a bag of almonds? The healthy nuts are a great source of biotin, which is a water-soluble B vitamin that stimulates hair growth and turns weak, brittle nails into strong talons like Cardi B's.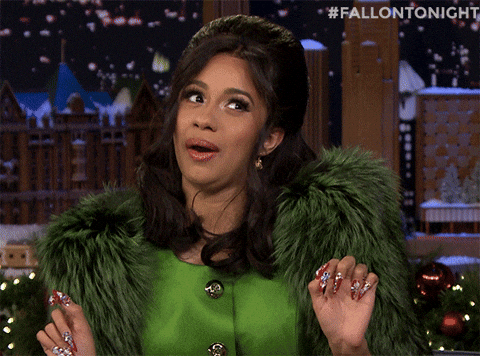 3. Carrots
Am I the only one whose grandmother used to tell her that eating carrots made your eyes pretty as a way to convince her to eat them? I passed on the carrots, because I knew at a young age that carrots weren't going to turn my shit brown eyes into baby blues. But had I known that the veggies would make my hair grow long like Rapunzel's (I exaggerate, slightly), I probably would have chowed down. Missed opportunity, grandma. Carrots are filled with almost every vitamin in the alphabet (A, K, C, B6, B1, B3, B2) in addition to fiber and potassium. When combined, these nutrients provide a shit ton of benefits for your hair—including strengthening, stimulating growth, and providing a lustrous, silky-smooth texture.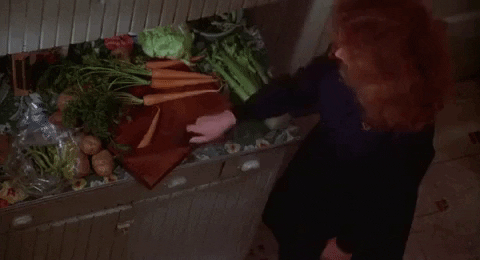 4. Pineapple
Thanks to that one episode of Kourtney & Kim Take Miami, you're probably well aware of the benefits that pineapple can have on oral sex. But what you may not know is that the sweet tasting fruit can also benefit your nails. Eating chunks of pineapple helps your body to use protein more effectively and supports collagen production, which help your nails grow longer and stronger.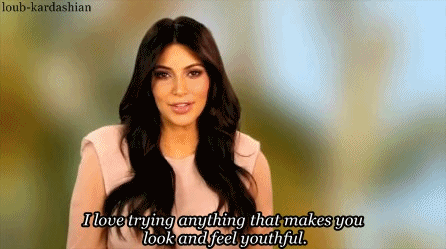 5. Chickpeas
Your questionable obsession with eating an entire container of Sabra hummus is now deemed completely healthy. Chickpeas are loaded with protein, zinc, and B vitamins, which are critical for strong hair, nails, and even clear skin.

6. Pumpkin Seeds
Another reason for basic white girls to love pumpkins: eating pumpkin seeds can make your nails grow. The seeds are a major source of zinc, which is a mineral that supports connective tissue in the body, and ultimately stronger hair and nails. Now we wait for Starbucks to start garnishing PSLs with PSs (pumpkin seeds, duh).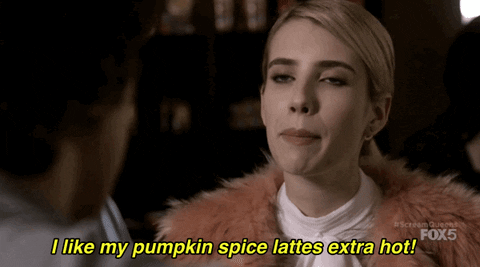 7. Spinach
You've probably heard the term "superfood" before, which basically means a food has like a million different benefits. Exhibit A: spinach. The leafy vegetable contains vitamins B, C, and E and a shit ton of iron. Those all help your red blood cells carry oxygen to hair follicles, which is essential for healthy hair growth and stronger strands. So alas, those green juices do more for your looks then just making you look healthier by holding them.

Images: Valerie Elash / Unsplash; Giphy (7)
Coconut Water Isn't Nearly As Good For You As You Think
In the overwhelmingly WASPy world of trendy superfoods, coconut water has risen to the top, promising every hungover and electrolyte-depleted betch that it would solve all of our problems. Today, that promise is being broken, and TBH we were just starting to get used to its (v mediocre) taste.
In a new study that just came out, a group of researchers and dietitians took another look at coconut water's properties, and concluded that it's really not that healthy for us. I mean, they didn't say it's UNHEALTHY or anything, but the research basically showed that coconut water is literally sugar water from a coconut, and isn't doing that much for us in the health department.
For the past couple years, coconut water has been placed on the same shelf as green juice and kombucha, promising white girls everywhere that it would give them clear skin, nails, tons of energy, and an amazing body. I don't know about you guys, but I kinda want a refund. Like, if I would've known that coconut water is essentially a more caloric version of water, I never would've bought an entire case to keep by my bedside for Sunday mornings. I also wouldn't have spent $14 on a coconut in Mexico just for the Instagram (but then again that picture got like, 200 likes so don't hold me to that).

If you're wondering what the study concluded exactly, here's a summary of the science behind coconut water:
While coconut water does have some potassium and vitamins in it, it doesn't have any specific hydrating or weight loss benefits that go along with it. So, people who think of coconut water as a healthy Gatorade are just wrong. In fact, coconut water isn't as filling as real foods that have the same calories and vitamins in them, so you're better off just eating healthy foods.

We're obviously just as outraged as you are, and we'd like to know who started spreading these healthy coconut water rumors in the first place. Seriously, we want names. I don't think my father, the inventor of Toaster Strudel, would be too pleased to hear about this.
The 8 Best Foods For Your Skin, Hair & Teeth AKA How To Eat Yourself Pretty
We've already established that you can now drink yourself pretty, but what's better than incorporating drinking into your beauty regimen? Food. Food is always better. Like, sure, blacking out off vodka sodas is fun and all, but if I could take those calories and use them towards eating my weight in cheese without becoming the "before" girl in a commercial for Nutrisystem, best believe I would. So yeah, now that we've established that food is objectively the best thing ever, it's time to talk about how you can consume unlimited amounts of (certain) foods and not only not turn into a hideous troll creature, but actually look even prettier than you do now. I can understand why you don't believe me—it goes against basically everything we've ever been taught—but this is literally real. We've rounded up the best foods that are good for your hair, skin, abs, and just overall attractiveness WITHOUT sending your waistline into a death spiral. And it's here just in time for you to drink excessively and ruin your diet by drunk eating pizza. Yas. So let's see which secret beauty boosting foods are basic and which ones are betchy. Here's a list of the betchiest beauty foods ranked:
8. Flaxseed
This seems like something Kourtney Kardashian would feed her children for "dessert." Is this why Reign always looks like he wants to set someone on fire?

​Seriously, someone get this kid a Capri Sun.
It's recommended that you ground the seeds up into a "meal" for a better taste, but I'm still skeptical about calling shit you'd find on a bird feeder a meal. Aside from looking fucking miserable to eat, the omega-6 and omega-3 fatty acids in flaxseed actually can help fix skin conditions like acne or eczema. But all the flawless skin in the world isn't going to take this food out of last place for the reason that when I want to eat like a small bird, I'm talking about the quantity of food I'm eating and not the actual food itself.
7. Greek Yogurt
Is it just me or does a part of you die inside every time you eat Greek yogurt because you're wishing it was actually frozen yogurt? Just me? K. Fine, if I have to eat this tasteless paste at least it's packed with enough calcium and protein to keep my teeth looking gorgeous. Yogurt also contains natural live active cultures or "good" bacteria (sorry, I just vomited in my mouth for a minute) that aid in digestion and keep your stomach flat. Blessings.

6. Almond Butter
It has the word butter in it, which makes me want to root for it but it's not actual butter or even peanut butter so now I'm just disappointed. It does have vitamin E, manganese, and selenium in it, which helps keep your hair shiny so it has that going for it. What puts it as #6 on the list is that health weirdos everywhere are rubbing this shit all over their bodies as some sort of DIY beauty serum. Jesus Christ, I hate people. Body hair and butter should never mix and for that, coupled with the fact that this shit costs like $11 a jar, Almond Butter gets the sixth spot.

5. Sweet Potato Fries
Okay, finally, something I actually want to put in my mouth. Full disclosure here, I may have added on the fries part to the end of this one, BUT sweet potatoes are hella good for you and promote glowing, gorgeous skin thanks to all the beta-carotene in them. They also have a shit ton of vitamins A, C, and E in them, which can help improve the look of your hair and skin. Mr. Potato would have been higher on the list had this beauty food actually been in fry form, but I guess you can't win 'em all. 

4. Berries
Aside from looking chic AF in your champagne glass, berries are loaded with anti-inflammatory agents and vitamins that help protect your skin from showing signs of premature aging. They're also packed with vitamin C, which helps produce skin that's firm and strong. Basically berries are natural botox for your skin and I AM ABOUT IT. 

3. Kale
Other than being betchy as hell, Kale is actually one of the most nutrient-dense superfoods and one cup of it can literally fix your whole life (i.e. give you gorgeous hair, strong bones, and awesome teeth). Kale can definitely sit was us. 

2. Dark Chocolate
About fucking time. This is something that's already incorporated in my daily diet because #FitLife. Chocolate contains anti-aging antioxidants, which fight free radicals to protect your skin from UV damage and help prevent the appearance of wrinkles, fine lines, and skin discolorations. Plus it tastes like a dream and may or may not curb all of my homicidal tendencies. 

1. Avocados
Avocados are the betchiest beauty food for sure. Not only are they the most Insta-worthy vegetable fruit (WTF seriously?), but avocados are also super fucking good for you. All of those monounsaturated fatty acids will make your hair look better than a Garnier Fructis commercial. Plus I love anything that brands itself as the "good kind of fat." Better get these while you can, girls, they're about to cost more than your senior year spring break trip to Cabo—because aside from ruining our lives, President Cheeto also wants us to look ugly. Ugh.

The Top 8 Foods You Think Are Healthy, But You're Wrong
When it comes to throwing shade, we're obv on board. Being able to secretly be a bitch or hate someone without them knowing is like, the rules of feminism. But when it comes to our food choices being shadily unhealthy and betraying our trust, it's not cute. So we're here to tell you which foods have been lying to you and masquerading as health foods when they're secretly junk food (or really, not-so-secretly since it's on the nutrition label).
1. Yogurts
"Not all yogurts!" you scream at your computer. Fine, bitch, but understand that pretty much almost all flavored yogurts (or the ones with those super cute flippy lids) are FULL OF SUGAR. Not just like "oh I'm cheating and having a jelly bean teehee!" amounts of sugar. We're talking full blown this-is-your-sugar-intake-limit-for-the-day amounts. You best be opting for full-fat unflavored Greek yogurt if you need a fix. Top it with whatever you want —shit, add 3 tablespoons of sugar to it and you'll essentially have one of those fucking Chobani flips.
2. Caesar Salad

A question we often ask ourselves: "If it contains bread and cheese, is it still a salad?" The answer is yes, but just because something fits a definition, it doesn't mean it belongs in and around your mouth. This ESPECIALLY applies to a Caesar fucking salad. On every menu literally everywhere and ALWAYS seemingly a safe choice, the average Caesar salad includes creamy dressing, a lot of cheese, and bread baked in a concoction of more cheese and oil. Look at the facts: The Caesar salad was created in Tijuana, tequila shot capitol of the world, because the kitchen ran out of normal shit and Mr. Caesar (literally his name) needed to serve some Hollywood bitches SOMETHING. Also, it was a finger food, which INSTANTLY ranks it on our list of unhealthy shit. Mozzarella sticks, chicken wings, pizza rolls—I think I've made my point. Aside from celery sticks, almost NOTHING you can hold and eat is under 500 calories. Next. 
3. Granola
Sprinkling granola on your Greek yogurt parfait makes you feel skinny and chic, but you wouldn't feel so adorable if you knew that most granolas are full of sugar and fat. How? Because that's literally how they're made. You take oats or some other fucking grain you find in bulk at whole foods, mix it with fair trade, organic, non-animal-endangering sugar, butter or honey, nuts, and bake it. Yeah. Let that sink in. That shit is practically candy. Same goes for granola bars, which require EVEN MORE sugar and sticky shit so they can be formed into the perfect rectangle. Don't buy into your hippie liberal douche friend's hype: Granola is not healthy.
4. Cereal

"Breakfast is the most important meal of the day"—not if you're scarfing down chocolate sugar puffs in a sea of fat-laden milk. Honestly, if you MUST have cereal, we require you either a) be hungover; b) are eating Cinnamon Toast Crunch —the only acceptable cereal; or c) are a child under the age of 9. None of those are health reasons, but unless you're eating GrapeNuts, you're popping calories like pills anyway. Slather some sad butter on your sad toast or squint at the sourness of a grapefruit and accept adulthood.
5. Potatoes

This shouldn't come as a fucking surprise, but potatoes suck. Honestly, how are they even considered a vegetable? Based on the US's ability to name pizza a vegetable and vote a literal human Cheeto into office, I guess we shouldn't be surprised, but still. Regular white potatoes have like, literally no health benefits. If you MUST partake in a potato, make it a sweet potato. At least you can pass off the carby starch mine with vitamin benefits.
6. Smoothies
You come to work sippin' on your green smoothie and, having just come from cycling class, you're officially allowed to look down on everyone else. Too bad, so sad—that shit is full of fat. Despite having a fuckload of fruit, those same fruit juices host tons of calories and sugar and no fucking fiber. Plus, your smoothie probably has DING DING DING YOGURT to help fill you up. Do us a favor: go buy a Vitamix and blend a smoothie made of spinach, avocado, and green grapes. Thin it with water. Then, you'll have a borderline healthy smoothie. Will it taste good? Um, no, but healthy shit usually doesn't.
7. Diet Soda

Feel free to crucify me in the comments, but if you're still drinking soda—diet or not—you'll probs get fat and/or cancer, we assume. IT ISN'T GOOD FOR YOU. Start drinking fizzy water instead. We know it's harder than weaning yourself off drugs (probably), but, really, your skin, thighs, and overall  health will thank you.
8. Dried Fruit
Whether you're trying to get un-hooked from jelly beans or need help pooping, dry fruit always seems like a healthy option. NOT FUCKING TRUE. A handful of dried banana chips or dried cranberries have the same amount of sugar as a lot of candy. So, like, you may as well just eat the jelly beans. Or, buy a dehydrator and make your own dried fruit, sans added sugars.