How To Run Safely Outside Without Being A Jerk About It
Apparently, I had no idea what being "stir-crazy" actually meant until we entered this indefinite solitary confinement they call quarantine. Even as a proud introvert, it feels like the universe is shoving all the plans I've ever canceled in my face and screaming, "IS THIS WHAT YOU WANTED?" This is absolutely not what any of us wanted—as any introvert will tell you, part of the thrill is canceling plans. With no plans to cancel, this endless abyss of plans that could have been (canceled) feels like a discount version of Groundhog Day. Not only are we mourning the closures of our favorite restaurants, stores, and bars, but many of the activities that kept us sane are no longer an option. One of the most difficult aspects of my quarantine has been the closure of my gym, and not only because of the sense of community it provided. Physical activity has been one of the only things I've found in over a decade of pretty severe anxiety that actually helped keep it in check. According to the CDC, reduced anxiety isn't the only noticeable benefit of regular physical activity. Just 150 minutes of moderate-intensity exercise each week (that's like 7 episodes of Schitt's Creek which, realistically, you've done in one day) can improve both your blood pressure and cholesterol levels. Regular exercise can also reduce your risk of certain cancers and cardiovascular disease. So yeah, TL;DR, exercise is good for you and I'm sorry for all the times I pretended I had cramps to get out of gym in high school. 
During this time of incredible stress and uncertainty, the anxiety-reducing aspects of physical activity are more important than ever. Being trapped inside a small space with no end in sight is stressful, to say the least. Exercise is definitely helpful, and nothing makes me feel quite as calm as the aftermath of a heart-pounding sweat session. There are plenty of workouts that can be done from the comfort of your own home, but when running is your go-to, working out while quarantined can be a little more complicated (unless you have your own treadmill, you lucky b*tch).
At the beginning of quarantine I was running four miles a day ….. Now I'm proud because I did a single squat

— Donese (@donese22) July 9, 2020
It's SO tempting—outside is literally right there. You can see it and hear it screaming at you to lace up and get out there. So what's stopping you? If your neighborhood is anything like mine, you've seen countless people jog by, headphones in, totally oblivious to the fact that we're in the middle of a freaking pandemic. If they can do it, why not the rest of us? Well, because we both know we're smarter than that. Yes, it's tempting to squeeze in a quick 3-miler and be back inside before the coronavirus even has a chance to notice we left our bubble. Unfortunately, this isn't some high-risk game of tag and we really can't afford to take any chances. Here's the great news, though—experts say that it is fairly safe to run outside, as long as we take the proper precautions. Family Medicine Physician Doctor Mike Varshavski—or as he's known on Instagram, Dr. Mike—tells Betches that running "is considered a low to moderate-low risk activity based on the new chart put out by the Texas Medical Association" and notes that "throughout this pandemic, almost all shelter at home orders have continued to allow and encourage solo exercise like hiking, walking, and running."
So that's the good news! And as long as you follow these pretty easy guidelines, you can rest easy knowing that you put your safety and the safety of others first.
1. Jog Alone Or In Small Groups, But Make Sure You Maintain A Safe Distance
I get it, running with your best friend or your running group like you've done for years is a blast. However, just because you have been extremely cautious about protecting yourself from the coronavirus doesn't necessarily mean your running partners have done the same. Make sure whoever you're running with is also taking the proper precautions, and continue to practice social distancing even when running outside.  Dr. Mike tells Betches, "any time you are exposing yourself to other individuals, it raises the risk of catching the virus," reminding us, "those who look healthy can still be spreading COVID-19. If you have to go with a group (for safety reasons, perhaps), try and be with the smallest group possible."
Brian Labus, Ph.D., MPH, assistant professor in the School of Public Health at the University of Nevada Las Vegas told Runners World, "If you deem running with a small group is something you're comfortable with, you'll want to ensure that these few people have been properly careful over the past few months, same as if you're running with one other person. Additionally, your small group should run somewhere you know you won't come in close contact with others." 
Labus also emphasizes that if you live with someone in the at-risk age group (over 65) or someone who is immunocompromised, extra precautions are necessary, and running with a partner may not be the best idea. He explains, "There have been over 182,000 cases (as of June 10) and over 77,000 COVID-19 deaths (as of June 6) in those age 65 and over since February 1, according to provisional data from the CDC. It is safer to run solo until disease transmission is low in your community."
2. Bring A Mask With You When You Run
It's probably not necessary to wear a mask while you run outdoors (and realistically, it would be really tough to wear a mask during any exercise that leaves you gasping for air) as long as you maintain the proper distance between you and anyone you encounter outside. Indeed, Dr. Mike tells Betches that "a mask should not be worn while running as sweat will make the mask wet and create other problems." He advises, "The best protection is to wear the mask until you're ready to exercise, take it off, and stay at least six feet away from others as best as possible."
View this post on Instagram
That said, it's probably not a bad idea to bring a mask with you when you run just in case. You may end up lost and needing to grab an Uber back, you could desperately need to run into Walgreens for a drink of water, or you might end up running into your ex and needing a disguise. Point is, there are a lot of reasons you may need a mask when leaving your house, so make sure you have one with you at all times. 
Donald Milton, a professor of environmental health at the University of Maryland School of Public Health explained to the New York Times, "Outdoors is relatively safe, and masks would only be important if you are exercising in crowded areas or indoors in space shared with other people." According to Milton, as long as you're keeping your distance, you should be pretty fine running outside with your mask at the ready in case of an emergency.
3. Scope Out Your Street During Different Times Throughout The Day, Or Find A Different Street Altogether
Please withhold all "duh"s, because from what I've seen firsthand it apparently needs to be said—the easiest way to keep your distance when running outside is to run in a less crowded area. Now, this doesn't mean driving 38 miles to the middle of the forest to knock out your run. This honestly may be as simple as spending a few days looking out your window every hour or two to see how many people are out and about. Peak hours in your neighborhood may also vary between weekdays and weekends, so also take that into account when planning your run. Ideally, you want to find both a time when not too many people are out, and a place where you have plenty of "escape routes." This means not running next to a busy street that you can't cross if you see a group of people on the sidewalk. If you're running on a forest path, it means being able to step way off to the side if someone else is approaching (and, see #2, don't forget your mask in case this isn't an option). 
Dr. Benjamin D. Levine, a professor of internal medicine at UT Southwestern Medical Center and Texas Health Presbyterian Dallas, explained to NPR the importance of keeping an even greater distance when exercising outside. He advises, "The greater volume and rate of breathing that occurs during exercise has the risk of spreading droplets farther. I think it's reasonable based on the known changes in breathing during exercise."
I don't know how many times I've been out walking and out of absolutely nowhere, a jogger runs by me so close that I feel a small gust of potential plague-wind as they pass. This isn't okay, guys. First and foremost, if we can't be considerate to other people who have just as much of a right to use the sidewalk as we do, we shouldn't be out running in the first place.
That said, if you've been keeping an eye on your street and it really doesn't seem like there's much of a break in the constant stream of people passing by, check out some other side streets nearby. Chances are, within a mile or so of where you live, there are some quieter residential streets that will be far less congested. 
4. Make Sure That It's Actually Okay To Run Outside In Your Area
As we've discussed, it is more than tempting to grab your shoes and just GTFO. But even if you've thoroughly read through these important tips and feel confident in your ability to run outside safely, please hit pause for just a hot second. Because of the constantly evolving nature of how we're handling this pandemic, running outside without a mask may not even be allowed in your area. Make sure you're constantly checking mandates from your state health departments to ensure you're adhering to your area's current requirements. These mandates are changing fairly regularly in some areas, so it's a good idea to check them daily before your planned run. Your state will most likely have a dedicated coronavirus page with all of the latest information, from things like the number of confirmed cases to reopening guidelines.
Dr. Mike emphasizes, "Know that there is no such thing as absolute safety when outdoors. The guidelines of wearing a mask, physical distancing, and washing hands will certainly reduce risk but not eliminate it. Know what is an acceptable risk for you."
If you're still hyped up to go for an outdoor run, more power to you. Just remember the four M's, and you should be good to go. Maintain your distance, Mask (in your pocket/bra/around your neck/whatever), find tiMes of the day that are less crowded (ok that was a stretch, who cares), and Mandates (check your local mandates to see what rules are in place in your area). Happy running!
Images: Andrea Piacquadio / Pexels; donese22 / Twitter; notskinnybutnotfat, dietstartstomorrow / Instagram
How French Fries Are Literally Killing You
I feel like scientific studies regarding food can really go either way. There are the kind that tell you something you thought was bad for you actually has health benefits. Ya know, like the ones that says cheese and red wine are good for you and shit. And then sometimes, these studies are culinary cock blocks and just ruin your whole life day. The study I'm about to break down for you is the latter because science now says that if you eat fries, you're more likely to die. Well isn't that just fucking wonderful.
Look, it's not like I've ever been under the impression that fries are good for you, but death? That seems a bit much, no? The study at hand looked at the potato intake of more than 4,000 people between 45 and 79 years old for eight years. During that time span, 236 of those people died (bummer) and those 236 people, as a whole, had a higher frequency of fried potato eating. So you're telling me this isn't just French fries, but tots and hash browns too? OH HELL NAH!

Getting even more specific, there were findings showing that those who ate fried potatoes at least twice a week had double the risk of death. Way harsh, Tai. Tbh, the whole twice a week kinda makes me feel better. I mean, that's a fucking lot of fry eating. You can probably guess why fry consumption and death are related, but for the people in the back, researchers guess it has something to do with the ridiculous amounts of salt and fat in fried potato products. That, or the people who are eating fried tots all the damn time probably don't live the healthiest of lifestyles to begin with so they're probs at a higher risk for heart disease anyway. Take your pick—whichever helps you justify your poor eating habits sleep at night.
One positive from this buzzkill study is that there were no signs that tie death to the consumption of other forms of potatoes. So like, mashed potatoes are Gucci. Phew. Also as I learned from my AP Psych class, correlation does not mean causation, so you scientists can go shave your back now.

So there you have it: don't eat fried potatoes more than once a week. But look on the bright side. At least it isn't pizza.
8 Healthy Smoothies That Won't Make You Vom
Smoothies and juices are always going to be a top tier food item in the pyramid de betch. Like, how else are we expected to get all of our servings of vegetables and fruits before noon? Unfortunately, if you're stopping at a smoothie place or grabbing one at the store, it's probs full of added sugar, weird tasting protein powder, and questionable combos which taste like you licked the underside of a trash can. Even if it's in the pursuit of being skinny, we can't get past the gag factor. We're here to guide you through the produce section and supermarket so you can low-key become master of the store-bought smoothies.

Packaged as a pouch, you can either add this powder to yogurt and ice or just go the water route. It's made from enoki mushroom, wild blueberries, and 14 additional super foods so you know that shit is good. PLUS, it only has about 35 calories per pouch, so you have plenty of room to add other shit to it. (But like, you probs shouldn't.)

If you're not into the whole sweet smoothie thing, grab a savory gazpacho combining tomatoes, onions, peppers, and other salsa-worthy ingredients. At only 100 calories, you literally can't afford NOT to drink this shit.

Stay with me here. At about 210 calories, it's a bit more than we want to choke down, but the yummy factor and the fact that it's full of fresh berries make it worth it. If you must go to McDonald's, grab this to keep you from hand-palming a burger into your face hole.

If you just finished an especially punishing cycling sesh, grab this shit at the nearest Whole Foods. Along with 12 grams of protein, it's only made with vanilla bean, water, hemp, and dates. At 290 calories treat this shit like a meal replacement. Upside is that it only has 9 grams of sugar, so you won't be crashing later.

I mean, it's a combination of orange, pineapple, and mango, so if you wanted to add a lil' Malibu we totally won't tell. Plus, it has no artificial sweetners and you get a shit ton of vitamin C, which will make your skin hella amazing.

If you're into the whole green juice and veggie thing, try this mix of beets, carrots, apples, and oranges. It's a tiny bit spicy, sorta savory, and sorta sweet. Plus it has tons of vitamins and antioxidants which will def help if you're driving the struggle bus after a weekend of fried food and pizza.

Found mostly in Europe and places not ruled by a toddler with a combover, this bottled bev has only 188 calories and about 35 grams of sugar. The Super Purple is loaded with beets, avocados, and fruit, so you get a one-two punch of healthy fats, vitamins, and natural fruit sugar to take the vegetal taste down a notch.
8. Your Own
Literally, your best bet for a healthy, non-gag-inducing smoothie is to make your own. We recommend our fav combo of bananas, peanut butter, non-fat Greek yogurt, and fresh raspberries. It'll taste like the greatest PBJ you've ever had AND it'll give you a shit-ton of protein needed to boost your energy. Allergic to that shit? Try a classic combo of celery, cucumber, honeydew, and mint for a refreshing smoothie that you can def add alcohol to if needed.
7 Ways You're F*cking Up Your Summer Body Without Realizing It
It's almost June, and with Memorial Day coming up this weekend, you might be wondering why your summer body is taking so long to show up to the party. I mean, you've been doing two-minute planks and eating raw kale salads for the past few weeks, but let's be real, you look the same and this shit is getting frustrating. Like, you didn't pay extra for two-day shipping just for your body not to be ready for your new swimsuits. If you feel like you're taking all the right steps and your efforts aren't paying off, it could be because some subtle things you don't even notice you're doing are sabotoging all your progress. You know, just like in all your relationships.
1. You're Underestimating Your Portion Sizes
We're not telling you to buy a food scale and weigh out all of your portions (though that would help), but portion sizes do exist for a reason, even if we feel personally victimized by the nutrition label on a jar of peanut butter. If you're not paying attention to your portion sizes, it doesn't matter how healthy you're eating. You could be eating way too much and be consuming a lot more calories than you think. Try to pay more attention to how many servings you're eating and see if that makes a difference.

2. You're Not Drinking Enough Water
Not drinking enough water can majorly alter your results if you're trying to slim down for summer. First of all, water literally fills you up, so if you're not drinking enough, you probably feel more hungry and are more likely to eat more throughout the day. Plus, water helps everything move through your system and keep your digestion on track, so you could be bloated or constipated from not drinking enough, which definitely isn't helping your summer bod.
3. You're Sabotaging Your Metabolism By Not Eating Enough
If you've been known to do extreme crash diets or starve yourself for the sake of a thigh gap, you've probably butchered your metabolism by not eating enough. Dieting is obviously about eating less, but if you've been cutting calories for a long time, your body might be crying for help. It sounds weird, but try adding in more calories for a few days and see how your body reacts. It might be holding onto any fat you're consuming because it's in starvation mode and needs a dieting vacation.

4. You're Relying On Cardio Way Too Much
If you're doing spin classes, HIIT, or any other types of cardio to lose weight for summer you're on the right track, but it's possible that you're overdoing it, and your body is telling you to chill. Too much cardio can actually make your body retain water, which could make you look bloated. Try adding in some strength training to your workout routine to tone your muscles instead of just burning calories. You'll find that once you have some muscle definition, your body will burn more calories on its own anyway.
5. You're Not Volumizing Your Meals
If your summer diet isn't getting any easier, it could be because you're not volumizing your meals. Meal volume is all about eating the most food for the least amount of calories, so you're getting the most bang for your buck. For example, instead of eating a 250 calorie protein bar that won't fill you up, eat a 250 calorie grilled chicken salad, which will keep you full for hours. Adding volume through things like fruits, vegetables, and seeds makes a huge difference in your hunger levels.

6. Blame It On The Alcohol
Sorry to really kill the vibe on your summer rooftop blackouts, but your alcohol binging could be the reason you're not seeing results. If you're working out all week and paying attention to what you're eating, you could be ruining that progress by taking tequila shots three nights a week. I mean, a drink or two over the weekend won't do anything crazy to your body, but if you're drinking multiple times a week, the calories add up and your body will start to hate you.
7. You're Relying On Artificial Ingredients Instead Of Real Food
It's easy to rely on things like Diet Coke and sugar-free gum when you're trying to cut calories, but the fake sugars might actually be sabotaging your body's hunger signals. Studies have shown that fake sweeteners actually increase your sugar cravings, which is why you end up craving ice cream and donuts after eating a zero-calorie snack. Skip the Splenda and the sketchy ingredients and instead focus on whole foods. They might be more caloric, but they'll keep you full and actually give you the nutrients your body needs to lose fat and function properly.
Stop Doing The Same Old Sh*t: 6 Changes To Make To Your Fitness Routine
With Groundhog Day coming up, we're slowly being reminded that winter is almost over and it might be time to switch up our fitness routines. I mean, don't get me wrong. Betches are all about routine. Like, we literally have a written list of all the shit we like doing. But as much as we love sticking to our favorite workouts and eating the same Sweetgreen salad four times a week, it can also be good to switch it up sometimes to keep shit from getting repetitive. Why do you think Bieber dyes his hair every three months? He gets bored, like the rest of us. Here are some swaps you should be making in your routine this month:
If You Always Go For The Elliptical Or Treadmill…

Try lifting weights. I mean, we're not judging you for blasting Spotify's Rap Caviar playlist while lightly jogging for thirty minutes, but if you're bored of your light cardio routine and you're wondering why you're not toned AF yet, consider strength training. Most girls don't realize that by weight-lifting, your body continues to burn calories even after the gym, and putting some muscle on will actually allow you to burn more calories at rest, like even on days where you're lying on the couch watching This is Us.
If You Always Order The Salad…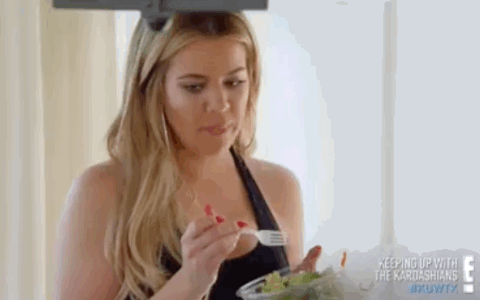 Try a complex carb, or dare I suggest some healthy fats. You can only pretend you enjoy that spinach/tomato/low-fat Balsamic combo for so long before you start gagging at the thought of mixed greens. Salad is obviously healthy AF, but there are usually other healthy options on the menu too, and it's okay to eat carbs and fat sources. Try ordering a whole wheat wrap or avocado toast on Ezekiel bread. It has a shit ton of fiber and lots of antioxidants, which will keep you full without making you fat. Is butter a carb?
If You Always Tap It Back….

Try doing bodyweight HIIT cardio instead. We love SoulCycle more than the blonde botoxed Long Island mom on the bike next to us, but sometimes you don't need a 45-minute cycling class to get in your cardio fix. HIIT is all about getting your heart rate up and burning a ton of calories in a short amount of time, so you don't even need to leave your house to get in a sick workout. Try spending fifteen minutes alternating cardio moves, like jump squats, burpees, and plyo lunges. You'll surprised how sweaty you'll get when you're working in shorter intervals, and you don't even need to pay an extra three dollars for water. Win-win.
If You Always Work Out At Night…

Try waking up early. No betch is naturally an early riser, but sometimes you need to push yourself to get shit done. Wake up, take an espresso shot, and haul your ass to the gym. Morning workouts will give you extra energy throughout the day and will give you more time to do your own thing after work instead of worrying about getting to the gym. Happy hour will feel so much more rewarding knowing you already worked out like, ten hours earlier. Who knew life existed before 10am?
If You Always Go To Yoga Or Barre…

Try a Pilates class on The Reformer. Yoga is great for flexibility and barre movements will elongate your muscles, but pilates will take your bodyweight planks to the next level and tone almost every muscle in your body. The Reformer machine will strengthen the muscles you don't usually hit with yoga poses or barre moves, and it's easy enough on your joints to prevent injuries. You'll end up shaking and sweating more in the first few minutes than you do in your 90 minute heated Vinyasa. Get on the machine.
If You Always Hit Up The Sauna Afterwards…

Try Cryotherapy. Sweating it out in the sauna after a workout feels amazing, but that's yesterday's news. The Cryotherapy method is the newest fitness recovery trend and it basically entails standing in a deep-freezing tank for less than five minutes. The shock of the freezing air on your body is supposed to help you lose weight, reduce muscle soreness, and even help you sleep better. Celebs like Yolanda Hadid and Derek Hough swear by their Cryotherapy sessions, and it's literally taking over Hollywood faster than the La La Land soundtrack. Book a session.