The New 'Gossip Girl' Is A Personal Attack On Millennials
Hey, Upper East Siders, Gossip Girl here. Just kidding: I'm actually just a millennial who has continued to allow a series about privileged teens define my personality for the last decade. And by "Upper East Siders," I'm really just calling out to anyone who spends the majority of their paycheck on student loans and Peloton financing, but still maintains that they're totally a Serena van der Woodsen. On the off chance that your efforts to make your weekly screen time report slightly less horrifying have finally paid off, you may have missed some major news: Gossip Girl is back. But this time, instead of simply serving designer looks and quotes sprinkled with alliteration, the new Gossip Girl is a reminder of our looming mortality. Yes, there's still fashion and scheming, but make no mistake: These new kids are coming for millennials' necks. 
Gossip Girl has always been savage, but the game has clearly changed this time around. While Blair Waldorf's punchlines typically targeted out-of-season Tory Burch flats and Tinsley Mortimer, the newest crop of Constance Billard kids are out to get us. I have never felt a gut punch quite like when Luna La declared in the premiere that Zara should be banned east of Lex. Actually, that's a lie. I legitimately began Googling crow's feet treatment when I realized Tavi Gevinson—the iconic influencer who came to fame at like, 12, back in the day when we were tuning into the CW to drool over Nate Archibald—was cast as an Old. And honestly, I'm not yet emotionally equipped to discuss the implications of a Gossip Girl that tolerates headband slander. 
Manhattan's elite went from banging out insults on the keyboard of an LG Chocolate to turning their noses up at REVOLVE partnerships, and even with a decade-long head start, millennials can't compete. I mean, these kids are 17-year-olds drinking dirty martinis at members-only clubs on school nights while you're hoping a crippling two-day hangover is enough of a distraction to prevent your coworker from realizing you still owe her a Venmo from after splitting a pitcher of frozen peach margaritas and buffalo cauliflower wings at happy hour. 
When the original Gossip Girl finale aired, you likely had a dorm room closet full of peplum tops and a dream that someday in the not-too-distant future, you'd be perusing the Chanel flagship store for an outfit to wear in the Hamptons with your bestie that weekend. You probably never envisioned that when you were finally old enough to see the series rebooted, the closest you ever got to becoming Blair Waldorf was that one time you broke 200 likes on a photo of yourself at Ladurée. 
If you watched Gossip Girl 2.0 without realizing this harsh reality, I have some bad news: you are not Julien Calloway simply because you force your significant other to pose for content for your Instagram Story. You may think you're a cool millennial, but you're most likely wrong. Here's a quick test: If, in our lord's year 2021, you still do not know that hashtags don't really work if you have a private IG account, you have officially aged out of Constance Billard's ruling class. You are no better than a group of private school teachers who legitimately thought they could go viral with a single tweet from a Twitter account with no followers. (Yes, even if you guffawed at the quip about Olivia Jade gaining followers when Lori Loughlin went to jail. We all should have had Gossip Girl referencing that scandal on our 2021 bingo cards.)  
Fortunately, what does not kill you makes you stronger, and I truly believe that the generation that spent months licking our wounds after learning that side parts aren't cool needs Gossip Girl now more than ever. We can love the series even though it may not love us back, like squeezing a squirming dog that does not want to be cuddled with. Go ahead, pat yourself on the back when a scene in the new series features a song that's already been on your Spotify playlist for months. I, too, gained a false sense of confidence when I recognized "A Palé" by Rosalia the second it came through the speakers at the Christopher John Rogers fashion show. We all deserve that much. Just don't forget to stay nimble: have a plan set in place for when these teens inevitably forge a trend that's simply unsustainable for anyone over the age of 20. Nobody wants to see you roll up to your 9 to 5 with like, shaved eyebrows.
Images: Karolina Wojtasik/HBO Max
What's 'Sex And The City' Without The Woman Who Brought All The Sex?
And just like that, another TV show reboot that we probably don't need is announced. On Sunday, Sarah Jessica Parker, Cynthia Nixon, and Kristin Davis graced our Instagram feeds with a short trailer alluding to the fact that the iconic 1998 show, Sex and the City, was coming back to life. I was fully prepared to leave this franchise behind me after their failed attempt at a third movie, but this revival has left me quite intrigued. As I watched the And Just Like That teaser three different times on each of the stars' accounts, I (say it with me now) couldn't help but wonder, where was Kim Cattrall? Surely, we couldn't have Sex and the City without the woman who brought all the sex?!
As bummed as I am, it shouldn't be a surprise that Samantha Jones would not return in a SATC reboot. Kim Cattrall mentioned in several interviews that she would not partake in another iteration of the iconic show. I mean, who can blame her? The off-screen drama with SJP and other members of the cast was even more dramatic than the scripted fights they got into. (In 2018, following the passing of Cattrall's brother, she dragged SJP on Instagram, writing, "You are not my family. You are not my friend. So I'm writing to tell you one last time to stop exploiting our tragedy in order to restore your 'nice girl' persona.") Kim perfectly put it when she said, I don't want to be in a situation for even an hour where I'm not enjoying myself."
Since we won't get an appearance from Samantha Jones, I'm having trouble figuring out who is going to bring all the entertainment, iconic one-liners, and even an ounce of flavor that this show lacked from its cis, hetero, all-white cast. (Though perhaps HBO will take this moment to shake up said cis, hetero, all-white cast.) Who will be the voice of reason when Carrie is full of sh*t? Who's going to remind Charlotte that she shouldn't be so uptight and stuck in her ways? Is there going to be a fourth character who is equally as successful and ambitious as Miranda, but not an absolute buzzkill? 
If the show "must go on", then I suppose all we have left is to reminisce on the hilarious and completely out-of-pocket moments that Samantha Jones brought to our televisions for six seasons and two feature films. Join me as I pour one out for the unapologetic, pleasure-chasing publicist, and look back at some of her best moments.
Season 1, Episode 1 "Sex and the City"

From the very first episode, Samantha was serving realness to her delusional dater friends. I actually love that the pilot is basically about Carrie deciding to live the way Samantha has always been living and turning this into a revelation all about herself. Kind of telling, if you ask me…
Season 1, Episode 10 "The Baby Shower"

Another moment where Samantha was anything but subtle! While there is absolutely no shame in those who choose to be mothers, it was hilarious (and empowering) to see her not fall to the pressures of society and live exactly the way she wanted. Tbh, I might throw an "I don't have a baby" shower for the gifts — and the Instagrams.
Season 2, Episode 6 "The Cheating Curve"

Okay so this was definitely one of the more problematic episodes. When Charlotte decides to hang out with lesbians because she got cheated on, Carrie gets back with Big, and the whole gang debates the definition of cheating. Even with her dumb views about what constitutes infidelity, Samantha manages to give this nugget of, dare I say, good advice, that is eerily reminiscent of what my therapist has been trying to tell me for years. Who knew I could have just watched Sex and the City and saved myself the copay.
Season 2, Episode 7 "Chicken Dance"

In this episode, Samantha realizes the guy she just slept with, she'd actually already slept with 15 years prior, and it feels like a bleak look into my future. Also, they all attend a wedding where Carrie is reading a poem, which is where Samantha delivers this one-liner that my mid-20s self can relate to all too well. Ok, who am I kidding, this quote is timeless regardless of my age.
Season 4, Episode 10 "Belles of the Balls"


I'm sorry, but does she or does she not spit the absolute truth? One thing about Samantha was that she played like a man living in a man's world (again, as discussed vis-à-vis the pilot episode and overall premise of the show), and did it well.
Season 5, Episode 4 "Cover Girl"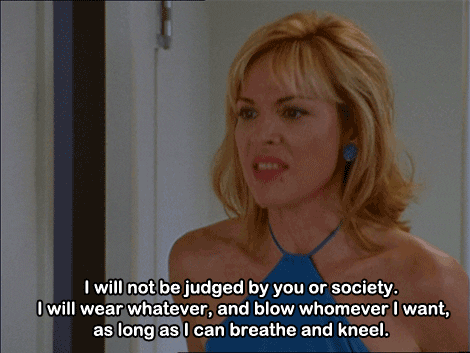 And just like that, we go from profound commentary on sexist double standards to a sexually explicit quote. Gotta love the woman's range. Even from her own best friends, Samantha had to defend herself from being slut-shamed, much like in this episode when Carrie judged her hooking up with a delivery guy. First of all, I would love to see that high-and-mighty attitude amidst the pandemic, when the delivery guy is the only person of the opposite sex with whom I regularly interact. Tbh if any of my friends did this, I'd be applauding them for (hopefully) getting a friends and family discount on Seamless.
Season 5, Episode 6 "Critical Condition"

Kind of conceited to think that any given person in New York City knows who you are, but I'll give her this one. I'll surely miss how unapologetic Samantha is, and how she does and says whatever she wants without worrying about how others will react.
Season 6, Episode 2 "Great Sexpectations"


Where would we be without that one friend who gives top-tier sex advice? Definitely not having as much sex as Samantha was, that's for sure. Thank God Carrie, Miranda and Charlotte had Samantha to remind them to not just have more sex, but good sex. Not sure they ever truly took her advice, anyway.
Images: HBO; Giphy
10 New TV Shows To Save You From Boredom This Winter
Back in March, who could have predicted that basically nothing would change by the end of 2020? Okay, a few things have changed, but assuming you're not one of the lucky few who have already gotten their hands on the vaccine, your ass is still glued to the couch, and you're still f*cking bored. Luckily, the TV gods understand our need for constant stimulation, so there's plenty of good stuff coming to a device near you in the next few weeks. Here are the most important new shows and seasons coming soon that you won't want to miss.
'Bridgerton' – Netflix, 12/25
Back in 2017, Shonda Rhimes made history with a record-breaking deal to set up shop at Netflix. It's taken a few years, but we're finally getting our first Shondaland Netflix show, and Bridgerton looks like the exact kind of thing I want to binge in 1-2 sittings. Based on a series of novels set in 19th century England, this soapy drama centers on two young nobles who pretend to be in love, each with their own motives. With a diverse cast, gorgeous visuals, and Julie Andrews as the narrator, this is the event of the TV season.
'Chilling Adventures of Sabrina' – Netflix, 12/31
If you're still watching Netflix's Chilling Adventures of Sabrina, congratulations, you've made it to the end. The fourth and final part drops on New Year's Eve, and as always, it looks creepy and thrilling. But the most exciting part, by far, is the news that the OG Aunt Hilda and Aunt Zelda from Sabrina The Teenage Witch will be making an appearance. Idk how this factors into the plot, but my sense of nostalgia is happy.
'RuPaul's Drag Race' – VH1, 1/1
The last time I was indoors at a bar was a viewing party for RuPaul's Drag Race season 12, so the fact that we're already getting a new season puts into perspective how long this year has felt. Season 13 features 13 new queens, and whether you're a Drag Race super fan or have yet to watch an episode, trust me, you'll love it. From the runway looks to the hilarious challenges to the SHAAAAADE that the queens throw at each other, Drag Race is the perfect competition show.
'The Bachelor' – ABC, 1/4
I don't think The Bachelor needs much introduction around here, but I keep forgetting that Matt's season premieres just two weeks after The Bachelorette wraps up. Filmed in a quarantine bubble in Pennsylvania, this season is sure to be (say it with me) the most dramatic season ever, and judging from the contestant bios, we might have more than one woman trying to secure the villain spot.
'The Real Housewives of Dallas' – Bravo, 1/5
I couldn't talk about The Bachelor without also including a Bravo show, and the Dallas housewives are back in January for their fifth season. This season was filmed during the pandemic, so we'll see how the ladies incorporate face masks and shields into their glam routines. Mainly, I'm curious to see how the cast fares in the aftermath of LeeAnne Locken's problematic behavior and subsequent firing, because that sh*t was messy. Judging from the trailer, newcomer Dr. Tiffany Moon seems like a promising addition, and the ladies of Dallas are often underrated.
'Dickinson' – Apple TV+, 1/8
With so many streaming services available, a lot of people sleep on Apple TV+, but Dickinson, one of their breakout original shows, is already coming back for a second season. Hailee Steinfeld plays a young Emily Dickinson who's struggling with the confines of her 1800s New England life. With modern music and dialogue, this show is super fun, and I found myself laughing out loud regularly during the first season.
'Everyone Is Doing Great' – Hulu, 1/13
James Lafferty and Stephen Colletti (aka Nathan and Chase from One Tree Hill) teamed up to create and star in this comedy about two actors who are trying to figure out wtf to do years after starring in a hit TV show about vampires. So One Tree Hill wasn't about vampires, but I'm pretty sure this is low-key autobiographical. Also, yes, this is the same Stephen Colletti from Laguna Beach, which is reason enough to watch.
'Search Party' – HBO Max, 1/14
After moving to HBO Max last spring for its third season, Search Party is already back for season four. Going forward, I would appreciate if all of my favorite shows could start putting out new seasons every eight months or so. Dory, Drew, and the gang are still dealing with the aftermath of Keith's death, and if you know anything about this show, things probably won't go according to plan. Can't wait!
'WandaVision' – Disney+, 1/15
When Disney+ launched, one of the main draws of the streaming service was the promise of new shows in the Marvel Cinematic Universe. It took a while, but the first one is finally here, and WandaVision looks like  it's going to be a f*cking trip. Wanda and Vision, two of the more under-used characters from the MCU movies, are the perfect TV couple in this supernatural sitcom through the ages. Tbh, I have very little idea what this is actually about, but it's going to be a big deal.
'Servant' – Apple TV+, 1/15
Along with Dickinson, Apple TV's Servant is also returning for a second season next month. This psychological horror show is produced by horror icon M. Night Shyamalan, and it follows a family who hire a nanny for their child… who is actually a doll. Sh*t gets weird, obviously. Season one got solid reviews, and Rupert Grint (Ron Weasley) is in this, which is reason enough to watch.
Images: Liam Daniel/Netflix; Netflix, RuPaul's Drag Race, Bachelor Nation on ABC, Bravo, Apple TV, Hulu, HBO Max, Marvel / YouTube
The 6 Biggest Questions 'The Undoing' Didn't Answer
After six long weeks, The Undoing, the latest installment in HBO's Rich White People Doing Crimes Cinematic Universe, has come to a close. For the first few weeks of the show, it didn't feel like many people were watching, but by the time the finale rolled around, memes about Nicole Kidman's luxurious coats and Donald Sutherland's weird "cocksucker" monologue were basically all I was seeing on social media. I'm not sure if we actually liked this show, or if we all just desperately needed something to look forward to, but either way, last night's finale felt like one of the most anticipated events of the year. Major spoilers ahead, so if you haven't watched the finale yet, turn back now.
So did the finale deliver? Honestly, I liked it! While most of us were focusing our energy on puzzling out which seemingly innocent side character could have conceivably killed Elena, the show went a different direction. Ultimately, Jonathan was the most obvious choice, but with that nail-biting chase sequence (and those chic AF helicopters), the writers found a way to raise the stakes without adding a forced plot twist. But just because I was mostly okay with the ending doesn't mean I don't have a million questions that went unanswered.

The Undoing was billed as a limited series, and given the way it ended, the chances of a surprise second season seem slim, which is probably a good thing (though I do have some great ideas for Part 2: The Redoing if HBO wants to cut me a check). But since we won't be seeing any more of Nicole in that wig (one of her best wigs, tbh), here are some issues that I would've liked to see resolved in the finale.
The Hammer
At the end of the penultimate episode, Grace found the hammer (aka the murder weapon) in Henry's violin case, and it was a truly shocking moment that threw a wrench into everyone's final predictions about who killed Elena. In the finale, we got more clarity about the hammer—mainly that Henry found it after the fact, and wasn't the killer—but I'm left with one specific question that I can't figure out. When discussing the discovery with his family and his attorney, Jonathan seemed excited at the prospect of DNA testing the hammer, as if it would magically exonerate him. Likewise, he seemed as annoyed as everyone else when Henry told them he'd run the hammer through the dishwasher twice.
But like… now that we know Jonathan did it, why the f*ck would he want the hammer to be DNA tested? Wouldn't that be the last thing he wanted? And wouldn't he be relieved to find out his son had flushed away any possibility of the murder weapon holding up in court? Obviously Jonathan made a lot of questionable decisions, but his whole reaction to the discovery of the murder weapon was confusing.
Sylvia
I love Lily Rabe, but throughout the show, it seemed a little odd how much time we were spending with Grace's best friend Sylvia, who also happened to be an attorney. For the most part, the show stayed laser-focused on the murder and the surrounding fallout, so Sylvia's scenes always felt a little random. For this reason, I noticed a decent amount of speculation that she could have been somehow involved in the murder. This always seemed a little far-fetched to me, and clearly it didn't end up happening, so why did we spend so much time with Sylvia?

In the finale, she played a key role in Grace's masterful takedown of Jonathan by slipping some key info to the prosecutor, but I still thought her scenes were building up to a bigger final moment. If there's any kind of spinoff I'd like to see from this show, it would be centered on Sylvia, because I have a feeling she also has some secrets up her sleeve.
The Family Sister
One of the more shocking revelations earlier in the series was that when he was a teenager, Jonathan's little sister died while he was supposed to be watching her. Jonathan's admission that he "killed the family sister" felt off-putting from the start, and I still don't feel like I got enough closure in terms of his mental state. Of course, Grace's creepy phone call with her mother-in-law ended up being key to her testimony, but the idea that Jonathan was a sociopath, or had narcissistic personality disorder, seemed to come up only when it was helpful in advancing the plot. By all accounts, Jonathan actually loved Elena, and it seems like his relationships with Grace and Henry were pretty solid before all of this mess started. If Grace, a clinical psychologist, was married to this man for 15 years, wouldn't some alarm bells have gone off before he was on trial for murder?
The Helicopter
Okay, so this is more of a petty thing that just felt off to me. In the climactic final scene, Grace and her father join the chase for Jonathan and Henry via helicopter, just in case you forgot how rich they are. Ultimately, they land the chopper in the middle of the bridge, which I just can't imagine is actually allowed. I'm not an expert on helicopter regulations, but I feel like one of the many police officers in the vicinity would have at least written them a ticket. And then, after Grace rescues Henry, they just immediately hop back in the 'copter and fly away. I'm sorry, but the police 100% would've made Henry stay there and at least answer some questions. I don't know how being rich works, but there's no way you could get kidnapped by your fugitive father, and then almost get killed by a truck, and then almost fall off a bridge, and the cops don't even detain you for a quick chat. But on a less nitpicky note, I absolutely want to rent a Blade so I can reenact this scene.
Elena's Locker Room Scene

After watching the first episode of The Undoing, I was really unsure of whether I liked it, mostly because I found Elena's energy kind of unpleasant. As we know, she didn't last long, and honestly I started enjoying the show more once she was gone. But I still want more answers about her behavior in those last couple days before she died. In the finale, we saw a flashback of her telling Jonathan about how she was getting closer to Grace, which he clearly didn't like. But while attending committee meetings together and talking at parties is one thing, I really need to know what the f*ck was up with that scene at the locker room, where Elena was fully naked while talking to Grace for like, five minutes. Grace was clearly uncomfortable (same), and for a while, I thought the show was going to be more focused on Elena being a creepy stalker. That never materialized (probably because Jonathan smashed her face with a hammer), but looking back, that first episode feels weirdly disconnected from the rest of the show.
Grace's Walk
Amid all the plot twists later in the season, I almost forgot about one of The Undoing's biggest red herrings: Grace's late-night walk right past Elena's studio. The security camera footage of her right by the crime scene cast doubt on Jonathan's guilt, and was really the only reason it ever seemed like Grace could've been the killer. But this line of thinking never went anywhere, and Grace's "I just went for a walk" explanation feels like a weak resolution for a plot twist that was so clearly contrived to make us think she was involved.
Overall, I enjoyed The Undoing, but I think they maybe tried to do a little too much in six episodes, and we were left with a lot of loose threads that never got tied up. But if anyone at HBO is reading this, that doesn't mean we need a second season—some things are better off being left alone.
Don't miss out on any pop culture or entertainment news. Subscribe to our weekly newsletter here. 
Images: HBO; Giphy
7 TV Shows To Watch If You Need An Escape From This Sh*tshow
We've spent most of this year talking about how ~unprecedented~ these times are, but now that Election Day has come and gone, it feels like the last seven months were just a fun appetizer for a totally hellish main course. While we still await results in many important races, it can be tempting to spend 14 hours a day watching CNN, but that's honestly not wise (or necessary). Remember, your mental health is as important as ever, and you can be a responsible, informed citizen without refreshing Twitter every 10 seconds.
For that reason, I wanted to put together a list of some TV shows that might be just what you need to take a little mental break from the unbridled chaos that's happening in the world right now. The shows on this list are a mix of new and old, reality and scripted, but for various reasons, they're all better than the nightmare purgatory situation we're currently facing. Put your phone on airplane mode, crack a new bottle of wine, and enjoy your binging.
If You're Obsessively Checking The Results: 'The West Wing' (Netflix)

Okay, it might seem dumb to recommend a show about politics to escape the torment of real world politics, but it's a better strategy than you might think. The West Wing was born out of a time when (most) politicians weren't literally evil, and it's a political drama with interesting storylines and characters you can actually root for. The writing is top-notch, and a West Wing binge will give you a few weeks to fantasize about what it would be like to live in a functioning democracy.
If You Need To Fully Turn Your Brain Off: 'Selena + Chef' (HBO Max)

Bear with me. When I heard that Selena Gomez was getting a cooking show, I rolled my eyes, but Selena + Chef is surprisingly great. Filmed during quarantine earlier this year, Selena gets a Zoom cooking lesson from a different professional chef each episode. It's a ton of fun—Selena's grandparents meander in and out of the kitchen giving unsolicited commentary, and she almost hurts herself at least once an episode. The food also looks incredible, if you're getting back into a cooking phase for round two of lockdown.
If You Need To Laugh Through The Tears: 'PEN15' (Hulu)

PEN15 is definitely one of Hulu's buzzier shows, and a ton of people have started watching since season 2 came out earlier this fall. If you haven't watched yet, now is the time. The show stars two 30-something women playing their middle school selves, and it's both hilarious and uncomfortable in a way that feels strangely cathartic. I think I can safely say that middle school was traumatic for most of us, and PEN15 is exactly what I needed to finally process that trauma.
If You're Trying To Pretend Everything Isn't A Mess: 'Get Organized with The Home Edit' (Netflix)

You're either going to love or hate this show, but even though I fell firmly in the "hate" column, I still couldn't stop watching it. These two women, Clea and Joanna, have a home organization business that's huge on Instagram (they're behind Khloé Kardashian's famous cookie jars), and in the show they help out a mix of celebrities and normal people with their projects. This style of organization definitely isn't for everyone—everything is in clear bins and categorized in rainbow order—but there's something incredibly satisfying about watching them work. It's basically the opposite philosophy of Marie Kondo, but with the same overall effect.
If You Want Chaos To Distract From The Chaos: 'Dance Moms' (Hulu/Lifetime)

I started rewatching Dance Moms last month, and I had forgotten how truly wild of a ride it is. Life might feel stressful right now, but nothing compares to the stress of 9-year-olds being yelled at by Abby Lee because they dropped their hat during the group dance. Dance Moms is over 200 episodes of pure reality chaos, and there's also a Dance Moms corner of TikTok that is beyond hilarious. If you need me later today, I'll probably be crying watching a compilation of Maddie's solos.
If You Need To Be Transported To A Simpler Time: 'The O.C.' (HBO Max)

Personally, I feel like The O.C. hasn't gotten the throwback boost it deserves, and it's time we fix that. Gilmore Girls and Gossip Girl are great, but Seth Cohen and Marissa Cooper need our attention too. Especially now that winter is basically here, it seems like the perfect time to watch drama unfold against the sunny SoCal backdrop. Thankfully, all four seasons are available on HBO Max, so I don't want to hear any complaints about not having anything to watch.
If You Find Murder Cases Oddly Comforting: 'Unsolved Mysteries' Season 2 (Netflix)

I do realize the whole point of the show is they discuss an unsolved mysterious death, but the murder part is heavily implied. I'm not sure what it is about true crime content that can be at once so morbidly frightening and comforting, but if that's what gets you going, Netflix recently dropped season 2 of its dark remake of Unsolved Mysteries just in time. Honestly, you might have better luck solving these cold cases than you would trying to make sense of the Electoral College map, so go nuts.
Or, if all else fails, you can always watch Friends or Parks & Rec for the 100th time. Trust me, no one is judging. Whatever happens, it's going to be okay, just make sure you take care of yourself.
Images: Erica Parise/Hulu; Giphy (6)
The Best Shows & Movies To Stream On HBO Max
Well friends, we made it. Not to the end of COVID-19 or the beginning of summer, but to the launch of the next major streaming service. Now that we're stuck inside 24/7, how else are we supposed to mark the passage of time? We were in quarantine for last month's launch of Quibi, today marks the arrival of HBO Max, and we'll probably still be dealing with this sh*t when Peacock takes off in July. Hey, at least we have options for numbing our quarantine brains!
So anyway, HBO Max. Not to be confused with HBO Go. Or HBO Now. At first, I was struggling to describe what HBO Max is, but then I realized that their official tagline is actually super accurate: "where HBO meets so much more." I'll get to what that includes in a minute, but before you even decide whether to make an account, there's a good chance you already have one (or your parents do). An HBO Max subscription is $14.99 a month, but anyone with an HBO Now subscription or a cable package that includes HBO can use Max at no additional cost. All I had to do was update my HBO Now app this morning, and boom, I was in.
So now that you likely have another new streaming service at your fingertips, WTF can you watch on it? It's easy to be overwhelmed by the choices, so here's a breakdown of some of the best shows and movies HBO Max has to offer.
All Of HBO

This feels obvious, but the foundation of HBO Max is HBO, and all your favorites are right there. Whether you're rewatching Sex and the City for the 25th time (no judgment) or finally forcing yourself to finish Game of Thrones, HBO has tons of amazing shows and movies. My personal favorite is Veep, if you need a recommendation, but I think pretty much everyone knows what HBO is.
Originals

In addition to all their existing TV programming HBO is now producing Max Originals specifically for their new platform.  They have a ton of projects in the works, but a few exciting things are available to watch right now. I can't wait to start watching Anna Kendrick's show Love Life, a romantic comedy series that will follow a different main character each season. There are also some original shows for kids, and voguing competition show Legendary, which you should be watching if you can't get enough of Pose and RuPaul's Drag Race.
There's also a documentary called On The Record, which follows the story of women who accused hip-hop producer Russell Simmons of sexual abuse. It's a #MeToo story that we haven't talked nearly enough about, and the documentary got a standing ovation when it premiered at Sundance Film Festival earlier this year.
And as we've talked about before, HBO Max will also be the home of the upcoming Gossip Girl reboot, which is the only thing getting me through 2020 at this point. Just like any other new streaming service, the original offerings are fairly limited right now, but they've got big plans.
'Friends'

To all my friends who have been complaining since January about Friends leaving Netflix, now will you leave me alone? In a deal that reportedly cost $425 million, HBO Max now has the exclusive streaming rights to Friends for at least five years, so it's not going anywhere. Another part of this was the much-anticipated reunion special that was announced earlier this year, but that's sadly been delayed due to the COVID-19 pandemic. It's still set to happen in the (hopefully near) future, but for now, you'll just have to be content with rewatching the 236 episodes that already exist.
'Harry Potter'

With the power combo of Friends and Harry Potter, your lazy hungover Saturdays are officially booked through 2022. HBO Max has all eight movies, which means I can finally stop searching for *totally legal* ways to watch them online. Seriously, I'm not sure why it took so long for these movies to be easily streamable in one place, but thanks to the good people of HBO Max for making this happen.
'Pretty Little Liars'

Guys, I have a confession to make. I've never seen Pretty Little Liars. Like, not a single episode. This feels like a major failing in my life, and now I really have no excuse. All seven seasons are available to stream now, so you can watch as things go from dramatic to absolutely batsh*t insane (from what I've heard). Honestly, I shouldn't even be writing this article right now, because I have important binging to get to.
DC Comics

All of the Marvel Cinematic Universe is available on Disney+ these days, but HBO Max also has plenty of superhero sh*t if that's your thing. They have a wide range of DC shows and movies, including Joker, Suicide Squad, and Wonder Woman. Even if you usually skip these movies, seeing Gal Gadot beat the sh*t out of some dumb men is worth it.
'The O.C.'

Oh wow. I feel like half the people I follow on Instagram have already rewatched The O.C. in quarantine, but now I guess you can all watch it yet again. Relive your middle school crush on Seth Cohen, and ponder where everything went wrong for Mischa Barton. This is the nostalgic sh*t I need to escape the nightmare that is 2020.
There are a ton more shows and movies on HBO Max, but those are some of the highlights if you haven't taken a look yet. With so many premium streaming services at this point, I'm skeptical of any new competition, but honestly, you can't go wrong with HBO. Technically I use my roommate's login, but even if I paid for it myself, I wouldn't be canceling any time soon. Anyway, I have to go watch Pretty Little Liars now, so happy streaming!
Images: AFM Visuals / Shutterstock.com; Giphy; HBO Max
The 'Gossip Girl' Reboot Is Officially Happening
In the past few years, there have been approximately one million reboots, spin-offs, and revivals of classic TV shows, and it's definitely gotten a little tiring. I thought I was officially done giving reboots a chance, but apparently there's room in my heart for one more, because Gossip Girl is officially coming back next year.
On Wednesday, HBO announced a 10-episode series order for an updated Gossip Girl reboot on their new HBO Max streaming service, which is set to launch in early 2020. Exact timing for the long-awaited return to the Upper East Side hasn't been announced yet, but sometime in 2020 seems like a safe bet. People have been talking about the possibility of Gossip Girl coming back basically since the original series finale in 2012, so it feels crazy that now it's actually happening.
While the original show took place in the late 2000s, when social media was just becoming a thing, the Gossip Girl reboot will put us in the present, with a new crop of high schoolers. While I'm a little bit sad that this means the original cast likely won't be back in any significant capacity, I'm excited to see how the premise of Gossip Girl works in 2019 (or 2020). I feel like Instagram culture must be a nightmare for teenagers now, so I hope they address that.
The Gossip Girl creators telling the old cast about the reboot:

According to E! News, "The series picks up eight years after the original Gossip Girl site went dark, a new generation of private school teens are introduced to the watchful eye of Gossip Girl." I wasn't really aware that the site had gone dark in the first place, but I'm glad it's back to wreak havoc on the teens of the UES. I mean, I'm assuming it will wreak havoc, because why else would I want to watch?
HBO Max, which is a collaborative effort between HBO and WarnerMedia, was just announced last week, but they're already making me want to give them all my money. The Gossip Girl reboot is probably a good enough reason to subscribe, but this is also the same streaming service that Friends is headed to after it leaves Netflix at the end of this year. Don't shoot the messenger, but you're probably going to have to pay for another streaming service. Or text your ex and ask for his password. Do you.
Right now, we don't have many details about the Gossip Girl reboot, but the original creative team is still heavily involved, so I have faith that it'll be dramatic and entertaining if nothing else. My biggest wish is that the original cast will at least make an appearance (really, what else does Leighton Meester have going on), but hopefully the new characters are amazing too. Obviously, we're all excited about this, so 2020 can't come fast enough.
Images: Shutterstock;