The Best Cute Winter Accessories That Are On Sale Right Now
It's officially 2019, which means it's time for the cliche "new year, new you!" (*Insert energetic fist pump*). In alignment with the new and improved you, one of your goals is probably to be more proactive and less reactive. (Okay, maybe it isn't, but you should def add it to your list.) For example, you should make the decision to start working on your summer bod NOW rather than wait until the first time you put on a swimsuit come summer. But I'm not gonna be a hypocrite and lecture you about going to the gym. I can, however, use my shopping expertise to help you be proactive rather than reactive when it comes to looking good while staying warm during this season's inevitable winter storms.
Consider this: in 2018, you would have pushed off buying winter necessities until it was officially -30 degrees and your fingers were at risk of frostbite. You'd then probs try to just pop into your local CVS to quickly grab a pair of gloves, and end up buying some fugly overpriced and poorly-made generic ones. But 2019-you is better than that, and would never have such an experience. The new you is smart and prepared, and is going to take 20 mins out of your day to go order some super cute sale winter accessories right now. Don't wait until you're desperate and have to buy those knockoff Burberry ones from a homeless guy with a black trash bag filled with other sh*tty counterfeit goods. Don't leave yourself desperate; 2019-you is definitely not desperate. You're confident, prepared, and definitely not using Snapchat maps to casually show up to the same bar as your ex.  'Cause, like, you're not desperate, remember???? REMEMBER. 
1. Scarves
Scarves are my favorite winter accessory, because they require minimal additional effort while providing a maximum additional layer of warmth. You can legit throw them on as you're running out the door, or easily toss them in your bag if your overly selfish, and frankly terrible at his job, Uber driver won't turn down the heat. To guarantee extra warmth, go Lenny Kravitz style and get a super-sized one that's so big you could legit mummify your whole body with it. Seems dramatic, but I'm dramatic, so touché.

Free People Dream Maker Stripe Scarf – $39.95

Urban Outfitters Extra Large Knit Oblong Scarf – $29.99

Free People Dreamland Chunky Knit Cowl Scarf – $39.95

2. Hats
Winter hats not only add warmth to your outfit, but they also add style. You can even select your winter head accessory based on the vibe you're going for that day. Like, go with faux fur earmuffs when you want to look chic as hell, or a cool beanie when you want a more edgy, cool girl look. Stock up on a few different styles of winter head accessories to ensure you have the perfect match for every mood! Just be aware of hat hair. If you're going on a first date, maybe don't wear a beanie. There's simply no sexy way to wrangle and tame your hat hair post-beanie. Go with the earmuffs instead.

Ted Baker Ear Muffs With Bee Embellishment – $43

Tommy Jeans Color Logo Beanie – $20

FP One Big Slouchy Beanie – $19.95

Stitch & Pieces Blush Knitted Headband – $6.50
3. Gloves
Gloves are a winter accessory that I always put off getting until I'm legit in my car trying to drive and can't feel my fingers. Um, yeah, not safe. Not to mention, not wearing gloves in the blustery cold contributes to dry, cracked hands, which is NEVER cute. In fact, idk if there's anything more cringeworthy than the mental image of those sad, thirsty hands. Just get several pairs of these sale gloves right now so you can put a pair in every coat pocket. Ya see, gloves help keep your hands moisturized. Moisturized hands are pretty hands. Pretty hands are feminine. Femininity attracts men. Gloves = Husband. See how easy that was???

Faux Leather Cheetah Print Glove – $19.99

ASOS DESIGN Leather Gloves In Check – $12.50

Alice Hannah Knitted Gloves With Faux Fur Cuff – $29

Zara Gloves With Faux Fur Lining – $12.99
Okay, so there you have it—a complete list of cute winter accessories that are all on sale right now, and that you need to buy now. Don't be a martyr and wait until there's legit snow falling from the sky to be crying about how cold your hands are. Don't be that girl. Nobody likes that girl.
Images: @Free People (3); Urban Outfitters (2); ASOS (5); Zara (2)
5 Hats That Make You Look Stupid
There a few things I hate more than douchebags wearing a giant sign on their head that says they are a douchebag. By sign, I, of course, mean big stupid hats that makes you look like a douchebag. In LA, there are bars that will not let you in if you're wearing a stupid hat (and/or sandals). These hats below are why. And look, I am PRO hat. I have a car hat that I leave in my car to keep the dreaded California sunshine from barbecuing my ghostly complexion when I'm stuck in a four hour traffic jam. Which happens weekly. And sometimes it's even longer if some asshole decided to die on the 101, because motorcycles should not be allowed to weave between cars on the freeway. My point is there is a time and a place to wear a hat. If done correctly, you will look chic af. Just do not wear stupid hats like these.
1. That Pageboy Cap All ~Artsy~ People Wear
 I cannot even begin to explain how much I hate these fucking hats. Are you in Newsies? No? DO NOT WEAR THIS HAT. It doesn't look artsy, it looks like you're trying super hard to look artsy, which is just really sad. It's like writers who can't write without everyone watching them write in a coffee shop. Just shut up and actually do some fucking art if you want to look artsy. Otherwise, leave these hats in the garbage. They are not even flattering and clash with everything you'll wear anyway.

2. Fisherman Hats
This looks almost the exact same as the horrible pageboy hats. Guess what, Urban Outfitters? You can't call it something else and make it cool. Also, are you a 60-year-old overweight white male that enjoys sitting next to a swamp all day fishing? No? Then do not fucking dress like one.

3. Oversize Hats Unless It's A Sun Hat
If you're at the beach in Cabo, sipping a skinny margarita in a lounge chair with your giant floppy sun hat shielding your delicate face and shoulders, then you are chic af and you are doing it right. Samantha Jones's ridiculously huge sun hat from the Sex and the City movie: also chic af, and I'll allow it. Otherwise, calm the fuck down, Pharrell Williams, hats should not come in giant. Pharrell writes literally everything in the music industry that isn't written by Taylor Swift, and he still looks like a douchebag in his huge hat. Don't touch anything that looks like this with a 10-foot pole, and that includes any douchey guy wearing a giant hat, too.

4. Berets
You're not French, you fucktard. And even if you are, if you're not physically in France sipping a cappuccino at a chic little cafe wearing all black, while writing poetry, you have no business wearing a beret. You look like a moron AND it is not flattering.

5. Bucket Hats
These hats were soooo cool when I shopped at Limited Too. In 1998. 20 fucking years ago. Even ScHoolboy Q couldn't bring back the bucket hat, so you most definitely don't have the swag or street cred to even try. This is a horrible trend, Miranda from
Lizzie McGuire
,
and we know how things ended up for her
.

Images: Urban Outfitters (3); Nasty Gal; Luigi Manga / Unsplash
Betches may receive a portion of revenue if you click a link in this article and buy a product or service. The links are independently placed and do not influence editorial content.
5 Winter Hats That Are Warm But Also Chic AF
It's about that time of year when it's officially cold as fuck. The struggle of wanting to look like the perfect balance of cute and slutty (while staying warm at the same time) is all too real. And obviously, once I'm home for night, there's no going back. Boot and rallies are 100 percent for times when the weather is at least 70 degrees. As someone from upstate New York, I thought I was mentally prepared, but like every year, I most definitely am not. I somehow convince myself that I'm going to die of hyperthermia on my 10 minute walk to the train every morning. It's fine though, I've already accepted my fate for the next few months. And by fate, I mean jeopardizing my appearance to dress as though I have no idea wtf fashion is. So long smooth, pin-straight hair, semi-revealing blouses, and block heels. Hello hat hair, prude turtleneck sweaters, and insulated boots. Scarves, gloves, and some form of hat are v essential to surviving the season (on the east coast, that is) so whether you're a hat person or not, here are five hats to keep you from freezing this winter.

Beanies are probs the most basic yet easiest style to pull off. Add a faux fur pom and you look like a cute ski bunny who literally knows nothing about skiing, but your latest Hinge boy def doesn't need to know that. Agree to the adventurous date, but whatever you do, don't actually hit the slopes and risk falling on your ass.

In honor of the rising 2018 trends, get a head start by sporting a chic French-style beret this winter. Hat Attack, who has the cutest effing hats, takes the classic look and adds a slouch fit to keep it low-key and trendy. It's all made out of wool, so both your head and ears will steer clear of going numb.

If you want to keep things simple because you literally will only be wearing a hat three months out of the entire year, obvs choose an all-black beanie. You can wear it with your hangover outfit and totally use it to your advantage if you're too lazy to wash your hair (uh, hi) and let everyone know it. The slouchy knit beanie folds to your liking so you don't have to look like you're about to mug somebody with this.

Yes, Uggs are sooo 2004, but they're fucking comfortable af and cost like, hundreds of dollars so don't expect me (or any other sane person) to toss them that quickly. For something super soft, cozy, and warm, pair these Ugg earmuffs with your favorite boots. They totally prevent hat hair (bless), and allow you to listen to your morning Spotify via an aux cord.

If neither earmuffs nor full-coverage hats are your thing, you can't go wrong with a sophisticated cashmere head wrap. Your ears are definitely shielded from the cold, and your hair stays frizz-free and in place. Switch up the knot—or don't, whatever—to change it from a bandeau to a classy turban.
8 Beach Hats That Won't Make You Look Stupid
Okay, so… it's time for us to talk about hats and the weird shit you guys have been doing with them at the beach. I'd like to start by saying that I totally get the hat thing. Your hair color is too expensive to expose it to the sun's damaging rays for hours on end. Plus, hats are kind of fun to wear. I don't know about you, but I always feel like a celeb hiding from paparazzi when I'm wearing one. (Except, LOL, I'd probably never shy away from a photo op.) But recently, a certain group of people who must not be named (social media influencers) have been totally ruining hats for the rest of us. It's like you can't even go to the beach or pool without a hat with dumb quote embroidered across it. These hats were ingeniously constructed by designers who want to trap young women into overpaying for a pile of straw in the hopes of breaking their personal Instagram likes record, but let me make one thing clear: Hats with cliché sayings are for girls who are too boring to come up with their own hilarious Instagram captions and have misattributed Marilyn Monroe quotes tattooed on their ribcages. Because I personally believe in each and every single one of you betches to come up with your own clever beach Insta (and not get tragic tattoos), I've compiled a list of hats that are socially acceptable to wear in public and/or on the internet.
Those of us who feel legitimate physical discomfort when wearing a color other than black deeply understand that sometimes even a neutral-colored straw hat is just too much. To stay true to your all black everything mantra without going full-out beach goth, rock this black straw boater hat.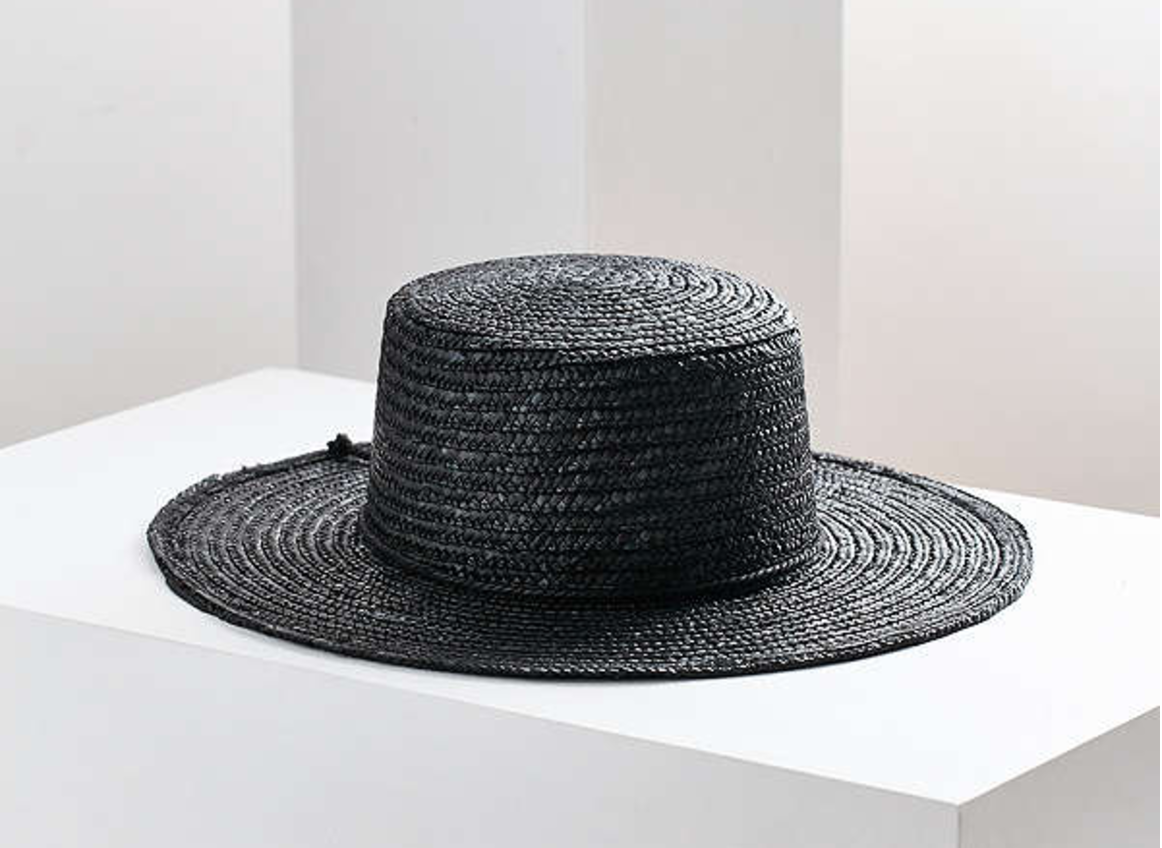 This enormous floppy hat is a great way to tell people to get out of your face without actually having to make eye contact. Plus, it has a rose gold metallic brim, which is pretty basic dope.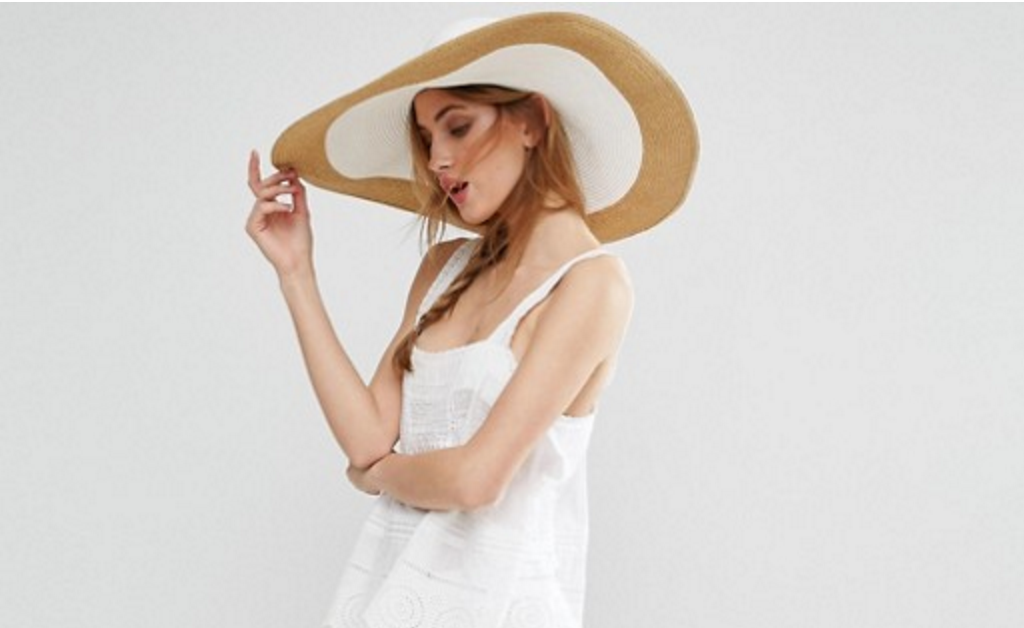 If classic beach hats aren't your style, go for this woven baseball cap. Plus, it's sold at Target, so you can also pick up 13 bottles of nail polish, gummy vitamins to fix a cuticle problem you didn't know existed, and a new phone case while you're at it.

Visors can be pretty stupid most of the time, but if you absolutely must wear one, it should be this. The tie in the back will look like, sooo adorable with your flawless beach waves.

I can't imagine why you would, but on the off chance you'd like to add a little color to your wardrobe, doing it with a hat is pretty easy. This dad cap is a perfect way to add a pop of pink to your beach look without seeming like you just got tarred and feathered in a Victoria's Secret PINK store.

Fedoras are a slippery slope, but if you think you're an interesting enough person to pull one off, then go for it. The bandana on this is very reminiscent of Audrina Patridge during her Justin Bobby phase, so just make sure you don't get ditched by a homeboy in combat boots at the beach while you're wearing it.

I actually can't believe I found two fedoras that are socially acceptable to wear. I should totally like, write fashion articles for Betches, or something. Anyway, this hat is pretty cool, especially if you're looking to pick sand out of a few stupid looking little pom poms after your beach trip.

Let everyone know that the only time you wake up early is on beach days with this Shop Betches hat. Remember how we talked shit about hats with dumb inspirational quotes? Well, this one's different because it's like, actually funny and not something you'd see taped up on a mood board. It's faux suede so like, maybe don't wear it in the water…not like you'd go swimming anyway.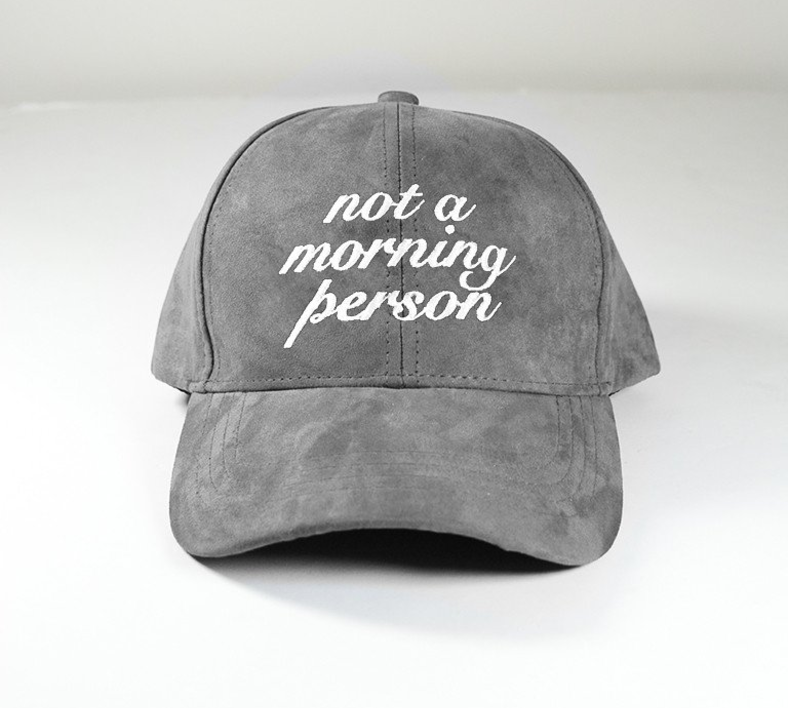 There's No Such Fucking Thing As A "Dad" Hat, So Stop
I'm convinced that Refinery29, the website equivalent of the girl in middle school who wore Sketchers and JC Penney clothes but still thought she was hot shit, doesn't let their writers out of their writer-dungeon-thing. A reader recently shared with me a post from last week, titled "'Dad' Hats Are The Kind-Of Weird, Kind-Of Cool Trend Infiltrating Our Closets." What's a "dad" hat, you might ask? Great question! Here's the author's straightforward, not at all weird description:
"Yet another staple being revived thanks to normcore, these typically solid-colored, cotton pieces (and normally embroidered with some type of logo or pop-culture reference) are become a staple in a whole new way. And the best part about that? You probably already own one."
You know what she's describing? A baseball cap. She's describing a fucking baseball cap, the same hat that literally everyone in America either has or has had in the back of their closet. She acknowledges this, yet she describes them as though she's an astronaut performing an autopsy on alien genitalia.
Look, I have no idea if baseball caps actually pass for chic fashion these days beyond "ugh my hair is disgusting," so don't ask. But like, come on, act like you've at least seen the thing you're writing about before.
Image: Volodymyr TVERDOKHLIB / shutterstock.com