Ashley Judd Scored A Major Court Victory Against Harvey Weinstein
The casting couch in Hollywood falls within the purview of sexual harassment laws in California. That was the big deal ruling coming out of the Ninth Circuit Court of Appeals on Wednesday in actor Ashley Judd's case against convicted rapist and former BFD producer Harvey Weinstein.
Don't sleep on this ruling, however, as it reaches much farther than just Hollywood. 
In fact, this ruling has big implications for freelancers, entrepreneurs and all others who face sexual harassment while seeking to advance professionally outside of the traditional employee-employer arena, at least in the Golden State.
Traditionally, you could sue for workplace sexual harassment only if you were in an employee-employer relationship or seeking to get into one. That meant freelancers and other professionals had little recourse at law if they faced sexual harassment while pursuing their jobs. That's bullsh*t. Many Emmy-nominated actors, including Judd, know it.
If you recall, when the #MeToo movement popped off in 2017, Judd was one of the first women to speak out against Weinstein, revealing how the producer invited her to his Beverly Hills hotel room for a "meeting" some 20 years ago, only to insist upon sex and, upon rejection, to negotiate some quid pro quo nonsense for a role in one of his movies. Once Judd made her hard pass known, Weinstein ruined her good name and her career by blacklisting her in Hollywood.
In 2018, emboldened and badass as ever, Judd sued Weinstein for defamation and sexual harassment under California Civil Code § 51.9. This state law allowed for people to sue for sexual harassment if they had a certain type of relationship with the harasshole. Because the actor-producer relationship wasn't on that list back in 2018 (although it is now), the trial court threw out Judd's sexual harassment claim.
Fortunately, the Court of Appeals flexed. Basically, it ruled that Judd's professional relationship with Weinstein was good enough to meet the spirit of § 51.9. Writing the opinion on behalf of a three-judge panel, Judge Mary H. Murguia said:
"heir relationship consisted of an inherent power imbalance wherein Weinstein was uniquely situated to exercise coercion or leverage over Judd by virtue of his professional position and influence as a top producer in Hollywood."
BOOM! Judd now has the right to sue Weinstein under California state sexual harassment laws.
Love to see it.
Like many entrepreneurial baddies, Judd wasn't an employee of her harasshole. Rather, she was a freelancer, navigating the professional game on screen. That doesn't mean she shouldn't be protected by the same laws that extend to those who are employees of companies. Without such protections, freelancers would be left vulnerable to this type of tit-for-tat "casting couch" harassment without recourse, even though we all agree that behavior has been unlawful since at least 1986, when the U.S. Supreme Court ruled that workplace sexual harassment violates the law.
Why did it take 34 years for courts to finally get on board by extending the law to freelancers like Judd? Because the law always shadows the science.
Sociologists and researchers have known for decades that workplace sexual harassment isn't about what goes on within the four walls of one's office. It's about the nature of the relationship between the parties, and the power plays made against those who are vulnerable—often women, BIPOC, and LGBTQ people. It may have taken the law three decades to get it right, but we're glad it finally did.
Of course, Weinstein isn't. He already took a much-deserved L in court this year and won't like taking another by losing this ruling.
We can expect the convicted rapist to ask the Ninth Circuit to reconsider its ruling and/or for the entire court to review the ruling (aka "en banc"). He may even march the decision all the way to the U.S. Supreme Court, although I can't see Weinstein walking away with a win, whether or not RBG is present.
Weinstein won't be alone in challenging this ruling, however. Many high-profile harassholes will loathe this decision because it means they may be held accountable for preying on those over whom they exploited power. 
Regardless, that's a "them" issue. Being a strong person who refuses to tolerate sexual harassment is a "you" issue, and with the court's ruling today in Judd's case, you now have more firepower in your arsenal.
Cheers to that!
Images: Tinseltown / Shutterstock.com
Judge Threatens To Jail Weinstein For Browsing His Phone During His Own Rape Trial
Trigger Warning: This story is about Harvey Weinstein and, as such, contains references to sexual assault. 
It seems like just yesterday and also 500 years ago when the floodgates broke open for Harvey Weinstein. The wide-ranging allegations against him launched the #MeToo movement in 2017, after which his disgusting behavior became common knowledge with 100 women coming forward with accounts of rape or sexual assault.
Of course, because our world is both metaphorically and literally on fire, this doesn't mean we can just send him to jail instantly — so now two years later, his trial has just begun. 
Kicking off on Monday, because I guess even the legal system agreed that you can't start "New Year, New Me" halfway through a week, the prosecution and defense are currently picking jurors for the case as we speak. That process is set to last two weeks, because I personally feel like it would be hard for his defense find jurors who a) don't feel any type of way about Weinstein's behavior or b) haven't yet been paid off by Weinstein's team. Or maybe that's just the Carrie Mathison from Homeland in me talking, but! Once the jury is selected, the trial is expected to last about six weeks. 
Things got off to a rousing start yesterday's jury selection when the judge threatened to throw Weinstein in jail for using his cell phone.
"Is this really the way you want to end up in jail for the rest of your life by texting and violating a court order?" Judge James Burke asked. The best part? It wasn't even the first time Weinstein's been warned for using his phone in court.
Harvey, truly no one wants you watching their Instagram story. Put the damn phone away.
Also, I know we all know what he's been accused of, but since you, unfortunately, can't get jail time for being a scumbag, let's break down what he is legally on trial for.
In New York, Weinstein is facing five charges in total: rape and predatory sexual assault of two women — his former production assistant Mimi Haleyi alleging assault and an unnamed woman who alleges Weinstein raped her in a hotel in 2013. A New York judge dismissed a sixth criminal charge last year, after a detective withheld information that might have helped Weinstein.
Actress Annabella Sciorra, who has come forward with an alleged assault that took place in the early 1990s — which happened too long ago to be prosecuted — is still able to be called as a witness during the trial.
On the same day his trial began, Weinstein was charged with four more counts of rape and sexual battery in Los Angeles. Harvey and the Terrible, Horrible, No Good, Very Bad Day. You love to see it. (Love to see justice more, but tbd.)
Right now you also could be confused because you thought you broke your phone in a rage-filled throw-against-the-wall when you read in December that Weinstein was settling out of court.
You did read that correctly, because last month Weinstein reached a tentative deal that would pay out $25 million to nearly 30 actresses and ex-employees of his that have come forward. But that was in a civil case, and also that deal has also yet to be signed off. If the deal goes through, it would end almost all of the lawsuits against Weinstein and he would not have to admit any wrongdoing as part of the deal. The payout would also be covered by insurance. Ugh. 
So, what's happened so far in just day one of the trial? The judge already ruled out one of Weinstein's witnesses, that detective accused of keeping "key evidence from prosecutors" that could have cast doubt on accusers accounts and who the Weinstein team hoped could undermine the New York Police Department. Have they not watched SVU? Never try to come for Olivia Benson.
If you — like me — are also a little concerned that he is only on trial for the rape and assault of two women when he's done this to so many, don't lose hope. Many are comparing this to the most recent trial of someone of his stature — Bill Cosby — who had over 50 women come forward but was only on trial for one count of sexual misconduct, and he still wound up behind bars. The team against Cosby had women that weren't on trial come forward to share their stories, which helped the jurors and judge realize the pattern that was happening here. 
While there aren't many major updates now, stay posted for the jurors to get decided and for this sh*t storm to go underway. 
Heroes Confront Harvey Weinstein At NY Bar While Crowd Boos — At Them
Harvey Weinstein's name is practically synonymous with "monster," which is a generous characterization for someone accused of rape and sexual misconduct by over 80 women. You'd think someone with a reputation so heinous and tarnished as his would be confined to a jail cell — or at the very least they would just stay in their billion-dollar penthouse and voluntarily remove themselves from society. But, to do that I guess you would need at least .8 percent of a conscience — and Harvey Weinstein clearly has nothing of the sort. 
Lately, he's been trying to introduce himself back into society, and his most recent attempt took place at Downtime Bar in New York's Lower East Side. He attended an event called Actors Hour, which describes itself as the "first speakeasy dedicated to artists. Only writers, directors, actors, musicians, and a few lucky outsiders have the privilege of gaining entry." Weird, I don't see rape offenders on that list — but guess that's what we call a 'lucky outsider.'
Three people reportedly confronted Weinstein at the event: playwright and actor Zoe Stuckless and comedians Amber Rollo and Kelly Bachman, according to The Cut. Stuckless could not believe the fact that a) Harvey was actually at this event that was supposed to support artists and b) that no one was making a big deal about it. He was reportedly sitting at a table with women and security guards when Stuckless confronted him in video footage you can watch here on their Facebook.
"Nobody's going to say anything? Nobody's really going to say anything? I'll get out of here, that's fine. I am happy to leave. I'm gonna stand four feet from a f*cking racist and nobody's gonna say anything," Stuckless says before asked to leave.
In an accompanying Facebook post, Stuckless describes their motivation for confronting the abuser, around whom others at the venue were just sitting quietly.
"I thought about all of the voices that have been silenced over so many years. I thought about the artists, the women, who were paralyzed by the same fear that I felt, surrounded by colleagues who were intimidated into a culture of silence and passivity. This room was a microcosm of our whole community. And I couldn't sit there and let him laugh. So I spoke up," Stuckless wrote. 
 Additionally, Stuckless wrote about another person at the event to address Harvey Weinstein. Comedian  Kelly Bachman,  who got on stage and called on the crowd to address "the elephant in the room." As soon as she alluded to Weinstein's presence, the event organizers, the bartenders, and a number of others booed her. She continued her set, which truly slayed. Watch below. 
Keep getting new followers today is it because my tweets are so fire? lol fuck Weinstein and thanks @ambercrollo ILY #mysecondtweet pic.twitter.com/hLjWn5VM8Y

— Kelly Bachman (@bellykachman) October 24, 2019
"I didn't know we had to bring our own Mace and rape whistles to Actor's Hour," Bachman says. After an audience member tells her to "Shut up," Bachman jokes: "This kills at group therapy for rape survivors."
Bachman told Buzzfeed News that Weinstein was treated as if his appalling actions didn't launch a global reckoning with sexual assault, as he chummed it up with other audience members.
"It kind of felt like old-school Harvey to me — having his own table in a Lower East Side bar, surrounded by actors," she said.
Comedian Amber Rollo wrote in a Twitter thread that she also confronted Weinstein, whose handlers called her a "cunt."
Then I went in and called him a fucking monster and told him he should disappear. His friend/body guard/goon/family member called me a cunt and I really really wanted to lunge over the table and strangle him.

— clever, but make it spooky (@ambercrollo) October 24, 2019
In the end, Zoe was kicked out, the event continued, and Harvey got to enjoy the rest of his evening. It was reported that Actor's Hour issued an apology on their Instagram but then deleted it. Their account is linked here if you want to comment on a post with some questions, I know I have some.
As for Harvey Weinstein's reply, he told TMZ that he "was out with friends enjoying the music and trying to find some solace in his life that has been turned upside down. This scene was uncalled for, downright rude and an example of how due process today is being squashed by the public, trying to take it away in the courtroom too." Uncalled for? Enjoying some solace? Disgusting. 
One Of Harvey Weinstein's First Accusers Paid Off An Accuser Of Her Own
 Last night, the New York Times broke a horrifying, heartbreaking story on Asia Argento, one of the first public accusers of Harvey Weinstein. The report states that Argento paid $380,000 to Jimmy Bennett, an actor who accused her of sexually assaulting him in 2013. (*Cue enormous wave of people taking this as a reason to discredit the entire #MeToo movement.) Neither Argento nor her representatives have commented at this time, but here's what we do know about their relationship.
In 2004, Bennet played Argento's son in the film The Heart Is Deceitful Above All Things. They exchanged friendly messages on Twitter and Instagram through 2012 (Bennett's Twitter is now inactive.) In 2018, Bennett filed a notice of intent to sue against Argento. In the notice, he details a May 9, 2013 meeting with Argento in her Marina del Rey hotel room. Bennett was 17 at the time; Argento was 37. The legal age of consent in California is 18. Bennett claims Argento requested to be alone with him, gave him alcohol, performed oral sex and then had intercourse with him. She then asked to take photos of him. The photographs allegedly taken on this day, of the two of them partially clothed in bed, were included in the notice sent by Bennett. The following Instagram posts from the day in question were also included. I wouldn't recommend reading the comments if you wanted to eat or sleep tonight.
Not much is known about the contact between the two following the alleged incident, with the exception of one Twitter message sent by Bennett on June 8, 2013, saying "Miss you momma!!!!" In the 2018 notice of intent to sue, Bennett requests $3.5 million in damages for intentional infliction of emotional distress, lost wages, assault and battery, highlighting the harm to his mental health and subsequent hits to his career. Argento's lawyers agreed to a settlement of $380,000. In exchange, Bennett relinquished the right to sue Argento, or post the photograph taken of the two partially clothed in 2013. The settlement does not include a non-disclosure agreement. In an April 2018 letter, Argento's lawyer claims the decision to omit non-disclosure language was because Argento "felt it was inconsistent with the public messages conveyed about the societal perils of non-disclosure agreements."
Since the settlement, only one instance of contact has been logged between Argento and Bennett, when she liked an Instagram post on July 17. While neither Argento nor Bennett are speaking to the press, other members of the #MeToo movement have come forward, stating their disappointment, heartbreak, and an urging not to let this story destroy the message of #MeToo.
I've said repeatedly that the #metooMVMT is for all of us, including these brave young men who are now coming forward. It will continue to be jarring when we hear the names of some of our faves connected to sexual violence unless we shift from talking about individuals [+]

— Tarana (@TaranaBurke) August 20, 2018
So, yeah. What a terrible day, what a terrible year. It hurts to see any story as painful as this come forward, it hurts to hear this about a woman I admired, and it hurts me to think how this story will be used to further attack the voices of #MeToo. I'm sure I'll pitch a dozen more thinkpieces on this this week, but for now I'm too dazed and too sad. I'd like to say at least this week can't get any worse but hey, Trump still has the nuclear codes. So let's just buckle in and see where this shitstorm takes us.
Heads up, you need to keep up with the news. It's not cute anymore. That's why we've created a 5x weekly newsletter called The 'Sup that will explain all the news of the week in a hilarious af way. Because if we weren't laughing, we'd be crying. Sign up for The 'Sup now!
Images: Instagram (3); Twitter
Harvey Weinstein Was Indicted And Here Are The Charges
On Wednesday, a Manhattan Grand Jury voted to indict Harvey Weinstein, Hollywood's richest bridge troll, on charges of Rape in the First and Third Degrees and Criminal Sexual Acts in the Third Degree. To break it down: Rape in the First Degree, according to New York law, is the most severe and requires forcible compulsion while the Third Degree means intercourse without another's consent (withheld for a reason other than incapacity). Both sound like Harvey to me but hey, I'm not a lawyer.
According to the Manhattan District Attorney, Harvey forced a woman to perform oral sex on him in his office and raped another woman in a hotel. This is the moment I wish we could hire all the girls from The Handmaids Tale to gather in a circle and throw stones at him, but apparently we live in a "civil society."
If convicted, Harvey Weinstein could spend anywhere from five to twenty five years in prison asking the guards if they know "why this hotel doesn't have bathrobes?" Five to twenty five years seems like a pretty wide range, but a victory is a victory I guess.
On Friday, Weinstein was forced to turn in his passport and was released on a one million dollar bail which is money he could probably find in change in his couch cushions. He was also strapped with a movement monitor that restricts him from leaving Connecticut and New York.
While the rape victim has not been publicly identified, she was reportedly attacked inside a Doubletree Hotel in 2013. The criminal sexual acts charge comes from an encounter with Lucia Evans, an actress who met Weinstein at a nightclub when she was 21 years old. Can you imagine having a fun night dancing with your friends and a wrinkly sea sponge with too much money and power offers you a deal too good to be true? Harvey is a way less fun Ursula the sea witch, stealing women's voices for power and then getting all crazy when we try to stab him. Evans says that Weinstein forced her to perform oral sex during what she thought was a casting meeting at the Miramax office in TriBeCa in 2004.
Weinstein's Lawyer, Benjamin Brafman, says that both acts were completely consensual and that Evans didn't report the incident for nearly fourteen years. Well, duh. He stole her voice! Why would a 21-year-old think she could bring down Hollywood's most powerful pufferfish? Society only started taking assault victims seriously this year – a casual two thousand and eighteen years too late. According to Brafman, the second woman had a ten-year romantic affair with Weinstein that went on long after the attack. Imagining Harvey Weinstein being "romantic" is turning my brain into a Tide Pods.
Weinstein plans to plead not guilty and he is prepared to "vigorously defend against these unsupported allegations that he strongly denies." If the case goes to trial, Brafman believes Weinstein will be acquitted. Ok, Brafman. Game on.
Heads up, you need to keep up with the news. It's not cute anymore. That's why we've created a 5x weekly newsletter called The 'Sup that will explain all the news of the week in a hilarious af way. Because if we weren't laughing, we'd be crying. Sign up for The 'Sup now!
Harvey Weinstein Was Arrested And No One Is Sad
Get ready to celebrate some good #MeToo news for once, because rancid swamp demon/movie producer Harvey Weinstein finally turned himself into the authorities on Friday morning, and was arrested on charges of rape and sex abuse. That's right, at least one shitty Hollywood man is going to face actual legal consequences, instead of laying low in Italy for a few months before resurfacing to make some movie about how he's "grown" and "changed."
Weinstein kicked off the Me Too movement when The New York Times and other outlets reported last October that he'd spent decades sexually harassing pretty much every actress you've ever loved, plus the occasional potted plant. Multiple women alleged that he'd gone beyond creepy massages and unwanted bathrobe-modeling to full-on assault, but for months, it seemed like maybe Weinstein would be able to get away with just having his career canceled while attending sex rehab as half-heartedly as a hungover college student attends a 9 a.m. sociology lecture.
But on Friday morning, women everywhere got some justice as Weinstein perp-walked out of an NYPD precinct in handcuffs. According to The New York Times, he was arrested and arraigned on charges of first-degree rape and third degree rape in one case where the accuser remains anonymous, and on charges of first-degree criminal sex act for allegedly forcing former actress Lucia Evans to perform oral sex on him.
Weinstein will put up $1 million for bail, and will have to wear a monitoring device before his trial. He plans to plead "not guilty" to the charges, and I'm sure approximately 0.00% of women in the world will believe him.
There's still a ways to go before Weinstein ends up in prison (fingers crossed!), but all in all, Friday's perp walk was a much-needed first step, especially after fucking Morgan Freeman.
Heads up, you need to keep up with the news. It's not cute anymore. That's why we've created a 5x weekly newsletter called The 'Sup that will explain all the news of the week in a hilarious af way. Because if we weren't laughing, we'd be crying. Sign up for The 'Sup now!
I Was Rooting For You, Lala, We Were All Rooting For You!
Okay everyone. It's only Wednesday, it's another fucking blizzard, and Lala Kent—breakout fan favorite of this season's Vanderpump Rules—has somehow made my morning even worse. In a classic Stassi circa November move, Lala participated in a podcast episode that seems designed to ruin her career. And just like I did with Stassi's podcast in November, I listened to the entire thing. Let's dive in to the river of horseshit controversial comments Lala shared on Tuesday's night episode of Juicy Scoop.
What Was Said
The most inflammatory part of this episode references Lala's ongoing "feud" with Jennifer Lawrence. (ICYMI: J Law called Lala a cunt on Watch What Happens Live. Lala was mad.) This clip, conveniently located 72 minutes into the 75 minute episode, is already triggering some well-deserved outrage. Naturally, host Heather "I love burying ledes" McDonald was eager to get into the J Law drama. And the two of them got most of the shit-talking out of their system in the first five minutes. Beyond the typical "my feelings were hurt" and "she's gross" and "congrats on the failed movies," they kept it pretty clean. UNTIL: an hour later, we get this exchange seemingly out of nowhere:
Heather: Do you think ever did anything sexual with Harvey Weinstein?
Lala: Yeah. I think she's that type of chick.

At this point, Heather starts breathing like she's having a panic attack. Obviously, she asked an incredibly leading and inflammatory question, and I think part of her can't believe Lala really fell for it. Lala herself seems aware she's crossed a line, though she doesn't seem interested in acknowledging it as a bad thing. If you're at home wondering why exactly it IS such a bad thing, that's what I'm here for. In the immortal words of Queer Eye's Jonathan Van Ness, let's unpack that.
Why It's So Fucked Up
First of all, Heather: "did anything sexual" is not appropriate terminology when discussing instances of alleged rape and sexual assault. To say the woman is "doing something sexual" when she's under coercion, stripped of her agency and ability to be "doing" anything at all, is beyond cruel. Second, as literally everyone can agree, the instances of "sexual activity" with Harvey Weinstein under discussion are instances of alleged rape or assault. So why is Heather McDonald essentially posing the question, "do you think Harvey Weinstein ever preyed on Jennifer Lawrence?" as though it's opportunity to talk shit? And why the fuck is Lala answering like she agrees? What is "that type of chick," Lala? Because from where I'm standing, it sure as hell seems like what you're referring to is a victim.

The Horror Continues
Heather at this point decides to abandon all remaining vestiges of dignity, saying she thinks it's "interesting" how Jennifer Lawrence decided to "abandon" Harvey Weinstein right away. Unlike Meryl Streep, who she says only "distanced" herself. So like, congratulations Heather—you've found the only context in which Meryl Streep is not the classier alternative. (Also, both J Law and Meryl have publicly denounced Weinstein since. Just because Meryl didn't immediately call for his incarceration does not mean she was standing by him.)
But again, I am so fucking confused about the stance being taken on Harvey Weinstein here. After Lala drops a few more charming tidbits about how J Law has a fat face and bad hair, the two women chill out a little and do manage to address the fact that Weinstein is a disgusting pig. (The word they're looking for is predator, but I'll take what I can get at this point.) Somehow, they don't seem to see where that fact clashes with making nasty speculations about Weinstein and Lawrence being "sexual," or trying to make her speaking out against Weinstein seem like a bad thing.

Lala Says Dumb Shit, Pt. 3
Then again, the other 72 minutes of this podcast really call into question how much Lala gives a shit about displaying human decency. About her friends: she wishes Raquel had "more than half a brain," mocks Scheana's singing voice and James' DJing, and casually drops that Faith may or may not have committed identity theft and "pulled a knife" on her. (To be fair, this last point was in response to a reader question. But Lala, rather than denying it outright, basically indicates she's not supposed to discuss it.) On relationships, Lala says she's not dating Randall for the money—because if she were dating for the money, she'd go for "a billionaire about to croak." And on why she so frequently engages in what Heather calls "urban-ish talk"? Well, Lala says it was a natural byproduct of her upbringing. You know, in Utah: the 39th least diverse state.

The Aftermath
So yeah, suffice it to say that Lala is not the most reliable or kind witness when it comes to anything. But I'm a little astounded that someone who has vocally insisted on her status as a feminist has stooped so unbelievably low, simultaneously delivering a "burn" to Jennifer Lawrence and setting society's understanding of the #MeToo movement back five years. Since the podcast aired, Lala has issued the following apology.
My interview with Juicy Scoop was taped a couple of weeks ago when I still felt hurt and emotional. Excuses aside, I wanted to let it be known https://t.co/jgyLLTyy75 and I are all good now.

— Give Them Lala (@lala_kent) March 20, 2018
And like, super glad they're on good terms. Good for J Law for definitively proving she's a bigger person than you. But it wasn't really the personal sparring I wanted an apology for here. I want an apology for discussing Weinstein's predatory behavior as though it's juicy gossip about the victim. I want an apology for saying that women should stand by men with a history of sexual abuse simply because they had a working relationship. You complain about Jennifer Lawrence not "standing by other women" by insulting you. But you, Lala, are the one who denigrated Weinstein's victims en masse for the sake of an ill-conceived punch line, and then made a low blow about another woman's weight. So please, sit back down with whatever feminist book you read the first 20 pages of, and FINISH IT. Think about how you can actually embody some of the girl-power ideas you've been screaming about all season—because this isn't it.
Images: Tumblr (4); Twitter; Amazon
The Oscar Nominated Movies You Need To See & Where To Watch Them
The 90th Academy Awards are coming up, and unless you want to spend the entire night refreshing Instagram and wondering WTF Jimmy Kimmel is talking about, you're gonna need to watch some movies. This year's Oscars is gonna be good, and not just because of the endless shade-throwing at Harvey Weinstein. It's been a weird year for Hollywood, but the films have been great, so if you don't see some of the nominated movies beforehand, you're missing out on good movies and a ton of cultural references.  I've basically spent the past two months generously donating my paycheck to AMC Theaters, so I've seen like, every Oscar nominated movie. Here are seven Oscar movies you should watch ASAP, and some tips about where you can still find them.
1. Lady Bird
Lady Bird has been out for a while, so if you haven't seen it yet, I'm just really impressed that you've literally had social plans since Thanksgiving and haven't caved for a good movie night. I personally saw Lady Bird as soon as it came out, and I knew it would be nominated. It's like I have ESPN or something. It's nominated for best picture and four other categories too, so it's v relevant. Plus, Saoirse Ronan kills it as the lead and Greta Gerwig is the film's badass female director, so yeah, the future is fucking female. Unfortunately, the movie isn't in many theaters anymore, but it's being released on iTunes and Amazon on February 13th, so you have no excuse.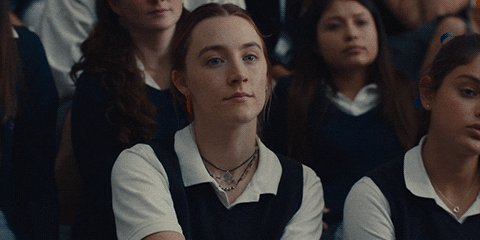 2. Three Billboards Outside Ebbing, Missouri
Also nominated for best picture, also amazing. If you're not familiar with Frances McDormand, she's the one who was cursing at the Golden Globes and accidentally wore navy when everyone else wore black. She DGAF and I'm kind of obsessed with her. This is one of those movies that you're literally passionate about after it's over. Go see it. It's still playing in a few theaters, but in case you can't find it, it'll be available on Redbox on February 27th.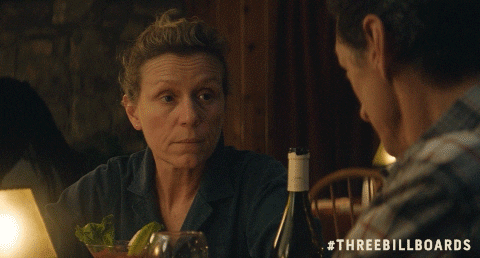 3. The Post
Some people told me they thought The Post seemed slow, but honestly I loved it, and it's not just because I have an actual crush on Meryl Streep. Tom Hanks kills it too. Have I mentioned Meryl Streep? The whole movie is about the Pentagon Papers being published in the Washington Post, and even if you don't care about journalism or politics, you'll love the story because Katharine Graham is literally an American icon. Oh yeah, and it's a true story. The Post is still playing in most theaters, so cancel your plans this weekend and go see it. Sorry, you're gonna have to leave the house. That's all.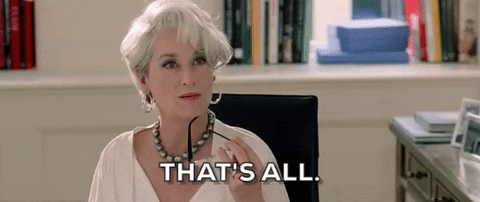 4. I, Tonya
Another American classic. I, Tonya is incredible because you basically follow a true story without really knowing what happened or who's telling the truth, even after the movie's over. The skating is sick, the costumes are great, and Margot Robbie might actually beat Nicole Kidman for my favorite Australian. Critics are saying the film is being snubbed this year because it only has three nominations, but, like, that's enough to see it. This one's also still in theaters. Go.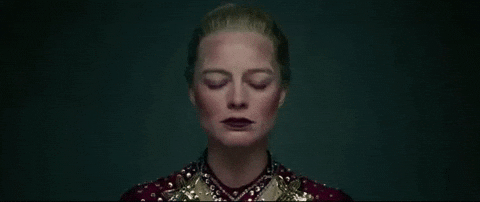 5. Dunkirk
Dunkirk is one of those movies that you hear about it and immediately dismiss it to go see Kate McKinnon in Rough Night, but then you hear everyone talking about it and reconsider your decision. Dunkirk is basically nominated for every category—best picture, director, cinematography, film editing, sound editing, production design—you name it. Again, even if you don't care about politics or war movies, it's worth seeing, because it's literally mind-blowing. It's also just a really important part of history, so like, it doesn't hurt to educate yourself a bit. The best part is that it came out in the summer, so it's already available for streaming on Amazon, YouTube, Google Play, and Blu-Ray. Blessings.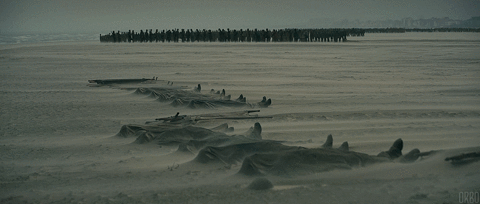 6. The Shape of Water
Okay, HEAR ME OUT on this one. When I first saw The Shape of Water, I was kind of weirded out by the whole girl/merman romance plot, and couldn't really get past that. But honestly, this movie has 13 nominations and it is sweeping every category. It's breaking records in film history, and for that reason alone it's worth seeing. Plus, the special effects and cinematography are actually really cool, if you're into that stuff. It's also v dramatic, so you're kind of on the edge of your seat the whole time. You know, once you get past the whole underwater sci-fi storyline. You'll be able to watch this on Amazon starting on February 27th, which gives you just enough time to squeeze it in before the Oscars.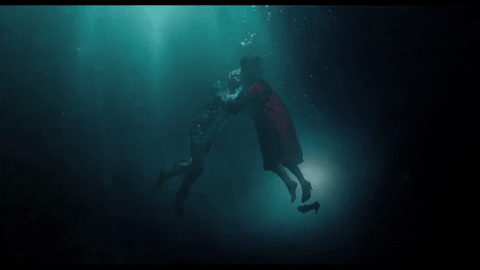 7. Molly's Game
People might hate me for this one because Molly's Game only got one nomination, and films like Get Out and Call Me By Your Name might be way more important. Those movies are good too, HOWEVER, I'm recommending Molly's Game because it totally deserved more than it got. I mean, aside from the fact that Jessica Chastain was literally at her all-time prime, the actual story is fascinating, and personally I'd like to meet the real Molly Bloom and ask her like, a million questions. It's a true story and it's fast-paced and super interesting. Even if you know nothing about poker you'll still love it. You just might need to Google a couple things afterwards. You'll also have to get your ass to a movie theater to catch this, but did I mention Idris Elba is in it? Yeah.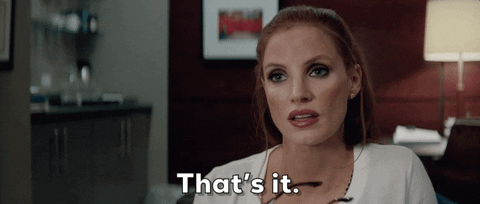 Images: Courtesy of NEON and 30WEST; Giphy (7)