Blac Chyna Is Going To Harvard
Now that we've all had time to process the news that Kim Kardashian is going to be a lawyer, it's time to keep the focus on education going. This time, the news is about one of my favorite former members of the Kardashian circle, Blac Chyna. It was just a few short years ago that Rob's relationship with Blac Chyna fell apart, and her future has been kind of uncertain since then. There have been lawsuits, a custody battle, and more FashionNova #spon than I can wrap my head around, but Blac Chyna is finally turning a corner. This week, she announced that she's going to Harvard. Okay, like, kind of.
Earlier this week, Blac Chyna was accepted to a Business Analytics course at Harvard Business School, which basically means she's the next Elle Woods. In reality, the class is a lot less legit than it sounds. It's an online course, so Chyna will be able to take her tests from the comfort of her own home, in between sponcon photoshoots. The class lasts eight weeks, and it's apparently a total workload of 40 hours which is…like nothing? TMZ is trying to say that it's a "substantial time investment," but I'm not buying it. 40 hours over two months is only five hours a week, which is honestly less time than I spend trying to think of excuses to call out of work.
According to the official course description, here's what Blac Chyna can expect to learn through the grueling class:
-Recognize trends, detect outliers, and summarize data sets.
-Analyze relationships between variables. Develop and test hypotheses.
-Craft sound survey questions and draw conclusions from population samples.
-Implement regression analysis and other analytical techniques in Excel.
Blac Chyna when she's asked to memorize Excel formulas:

I can't wait to see Chyna put her survey-crafting skills to use with the new Insta Story quizzes! Basically, this class sounds like an extremely general intro to statistics, but really, "analyze relationships between variables" could mean pretty much anything. Blac Chyna told TMZ that "School is going to help take things up a couple of notches," and I'm excited to see her make a chart of what those "couple of notches" look like.
After receiving the news about her (online) Harvard acceptance, Blac Chyna posted the following message to Instagram:
I totally get where Blac Chyna is coming from when she talks about the hate she's received in the media over the past few years. Being in the public eye isn't easy, and she's been through a lot. But she lost me at "Looking Back at A lot of my actions, I'm reflecting and realizing that confusion is a serious thing." Um…what? This sounds like an extremely word-salady way of not taking responsibility for your actions. I just…ugh.
Really though, my least favorite part of this notes app manifesto is the whole "Blac Chyna doesn't define Angela White" bullsh*t. There's nothing more annoying than when famous people act like their alter egos are separate humans. Girl, you ARE Blac Chyna. I'm all about the positive energy, but this is too damn much.
In case you haven't been keeping up with the latest news in the Blac Chyna Angela White Cinematic Universe, things haven't been all great lately. Even though she and Rob finally settled their custody issues, Chyna is still facing some other legal problems. Just last week, she was sued by her former landlord, who says that she left the house five months before the end of her lease, and just stopped paying rent. She allegedly owes almost $50,000 in rent and fees, but I'm glad she's using that money for an online class about surveys instead.
While writing this, I've been reintroduced to the thotty wonderland that is Blac Chyna's Instagram, and boy is it a treat. Basically, 80% of her posts are FashionNova ads that look like they were taken in a warehouse, then put through 47 filters. But really, the best part is the nonsensical captions.
Act as if it was, and it will be!!! Besides the fact that this statement is inherently false, I really love it when Insta-thots put motivational captions on their thirst traps. Like, sure talk about chasing dreams while you're squatting in a blazer-dress, sure. Here's another one of my recent favorites:
Much like Blac Chyna, I also wish common sense was more common. Deep!
Blac Chyna's Harvard class starts at the end of May, so I'm sure we can look forward to her incorporating business analytics into her Instagram thirst traps in new and exciting ways. Like, maybe she'll be analyzing a spreadsheet while she sits on a swing, or something like that. Think this, but more technical:
This is the content I live for. I'm also really hoping that after Kim passes the bar (fingers crossed) she and Blac Chyna get a show together where they just wander around an office not knowing what to do. It's what we deserve.
Images: Shutterstock; Giphy; @blacchyna / Instagram (4)
I Grew Up With The Wealthy & Connected—Here's Why The College Scam Shouldn't Surprise Anyone
I'm a person who's followed celebrity news since I was a kid (like, I had subscriptions to Us Weekly and PEOPLE in fourth grade), and even I did not anticipate the celebrity college admissions scandal blowing up like it has. When the news first broke, I was like, "Perfect. Now that Aunt Becky is relevant again, I can segue more easily into the story about how two women at Friendly's said I was a dead ringer for her when I was 16." Also, if we're being honest, I would drop $500,000 just to not have to endure the embarrassment of having a child who unabashedly calls themselves a "YouTuber" and "influencer." But beyond that, I was pretty unfazed about the news, because where I grew up, people have been fleecing the college system for years.
Full disclosure: I come from a WASP-y family. I was raised to not take that identity seriously, but to actually find humor in it. That led me to writing satire for a society website called Guest of a Guest, where I make fun of the culture and the people who try so hard to swindle their way into it all the time. I even make fun of myself for falling prey to it: I actually made the GofG list of "Most Pretentiously Named Socialites," my dog is literally related to the Kennedy's dog (plus I had relatives that worked for that administration), and I attended a boarding school at which my family boasted a really long legacy (although I only lasted a year). But thank god my family encouraged me to form my own identity, because otherwise, that would've made me the biggest douchebag. (I'm still a douchebag because I make snarky remarks about celebs for a living and literally highjacked an article about this scandal to talk about how someone once said I look like Aunt Becky, but at least I'm not wearing a cashmere sweater draped around my shoulders while doing it.) My parents and grandparents would be disappointed if I was too lenient on the WASP identity because it's tacky and lame to go into superfluous details about that lifestyle, but for the sake of illustrating how common it really is to game the college admissions system, I'm willing to risk sounding gauche, because it does need to be aired out.
First off, I'm proud of the family I come from, because while we were all given a great education, my grandfather taught us humility and the importance of a good work ethic. For the record, my family never once tried to buy their way into schools they didn't deserve a spot at, and I am grateful they didn't. Having access to great education and other perks is wonderful, but my parents really wanted to instill in me that there's so much more to life than going to a name-brand undergrad program straight out of high school.
But I grew up surrounded by and summering with a lot of ritzy prep school kids who didn't share the same beliefs (even the fact that I use the word "summer" as a verb is a huge tell). So I guess that makes me a ritzy prep school kid as well. I took a gap year after high school and did a program abroad, and the very first day of my program, I talked to a girl who went to an elite New Hampshire boarding school (I'll let you figure out which one), and she made it very known that she was attending Harvard in the fall. We took classes at a tutorial college and she would skip class and refuse to do homework because, "I'm going to f*cking Harvard." Ok, Elle Woods.
But some things she said would make me seriously side-eye. This chick was all too open about how lavish her family's lifestyle was and how liberal her dad was with his AmEx (only later on, he got tried for embezzlement). Ok, whatever. But one big piece of info she kept quiet about? Her grandfather was the president of a foreign country. Yeah. So I had to wonder if she got into Harvard solely on her own merit.
did any one else just assume that celebrities paid to get their kids into college and are shocked that it's actually illegal

— jaboukie (@jaboukie) March 12, 2019
This is not just me being salty—Harvard literally admitted that they let in wealthier people in hopes of getting more money from them, as if they need it. I even recall asking my parents how the hell our neighbors got all three of their kids into Harvard. Sure, they went to a really great New York prep school, but they also let the Harvard squash coach stay in their guest house for the summer.
I have tons of anecdotes like these, but I'll save the rest for my book. When I was having dinner with my parents after this whole story broke, I went into the conversation thinking it was funny as f*ck that these people were finally getting called out so publicly, while my parents were disgusted. Huh?
I brought up the story about my neighbors, and my mom said, "That's different. Those kids are smart." Is it different, though? It's just using your privilege, wealth, and access to get what you want. Maybe overt wire fraud isn't involved, but your hands are not entirely clean.
Now that the Hollywood Bribery Ring has been busted, the only thing helping rich kids get into college are legacy admissions, private tutors, board member connections, unpaid summer internships, interview coaches, and a lifetime of Ivy-bound grooming!!!

— Bess Kalb (@bessbell) March 12, 2019

What's even funnier to me is that my parents were outraged by Lori Loughlin and Felicity Huffman paying someone to falsify their kids' SAT scores. I don't see the big difference between that and donating a building, or giving free lodging to somebody who works at the school. And whether you're committing blatant fraud, or just throwing money to get your kid into a school you're not confident they could be accepted to on merit alone, you're doing a disservice to your child. Like, I know a girl whose dad is a higher-up in finance, and he secured her a job where he works, along with an elite education. When it came time to take the CFAs, she couldn't pass the test, even after her third time. So she wasted her time and energy (and Daddy wasted his money) on a career she wasn't cut out for, and she had to endure the humiliation of being fired from a company at which her father is a huge mover and shaker. I'm confident she's not the only story like that. I mean, Olivia Jade barely went to class at USC after her mom spent hundreds of thousands (and risked prison time) to scam her way in! Do you think she was really going to graduate with honors and a set career path in anything but makeup videos? No. An elite education, a trust fund, and two brain cells to rub together can't ultimately guarantee you success.
Job interviewer: Tell me about your time at USC
Olivia Jade: pic.twitter.com/qzDMWsyVxK

— Betches (@betchesluvthis) March 15, 2019
But ultimately, what I think should be on trial here is the antiquated education system that American society shoves down our throats. This stifling structure should be questioned because only a small percentage of kids actually thrive in that environment, and it's sad that parents are wasting money to force their way in. It's a detriment to their kids' personal growth, and pretty much everyone's personal growth, that we all think graduating college by 22 and adhering to a suffocating system like that is the only way to be successful in life. The VP of Google (F*CKING GOOGLE) even said that having a high GPA or going to an elite school has never been an accurate litmus test of whether or not you'd be a promising employee there (yet they funnel in Ivy League grads with 4.0's so…what the hell?). But until we realize that it really does not f*cking matter where you go to undergrad, wealthy, connected people will continue to finesse their wealth and connections to get what they want—just like they do in every other facet of society.
Images: jaboukie, bessbell, betchesluvthis / Twitter
Instagram Knows When You Zoom In On Pictures
You may think Gen Z is all bad dance moves and Fortnite, but Dr. Emily Weinstein, a Ph.D. research fellow at Harvard University, has the most positive view on today's kids. This week on our Diet Starts Tomorrow Podcast, we had Dr. Weinstein discusses with us the impacts social media can have on peoples' mental health, specifically kids grades 8-12. Unlike most doctors and old people, she actually has a lot of hope that social media, in fact, won't rot the youths' brains and subsequently make social interactions a thing of the past. Instead, social media has the power to connect kids to each other, communities they identify with, and social change movements. That being said, there's still a lot of bad sh*t going down, but you'll have to listen to find out. Here are some of the highlights from our conversation with Dr. Weinstein:
Social media does not automatically equal more depression, it's seriously not as clear-cut as you think
It's not about the amount of time you spend on social media, but what you're actually doing on it. Are you stalking your ex's new girlfriend or are you scrolling mindlessly through a Kar-Jenner kids fan page?
Instagram knows when you zoom in on photos to check if that pic was actually Facetuned
Instagram also knows when you linger way too long on that girl from your SoulCycle class's engagement pics
The more you engage with certain content on Instagram (even if you don't press like) the more Instagram will show you it, even if it makes you feel like sh*t
Weinstein has focused a lot of her research on understanding the value kids place on Snapchat streaks (spoiler alert: these are legit life-and-death matters)
Instagram bios are basically the new AIM away message
Boys who play Fortnite probably have PIU's (you'll have to listen to find out what this acronym stands for)
Social media can actually help kids who are feeling depressed or alone
Check out the full Diet Starts Tomorrow episode below to hear Dr. Weinstein's full segment.

Image: Lisa Fotios/Pexels
Your Friend Who Takes A Lot Of Selfies Might Be Depressed
Here's something we all know: Instagram is an emotional roller coaster. One minute you're looking at all your old selfies thinking about how pretty you are sharing memories with friends, the next you're sent into a rage spiral because your-man-who's-not-really-your-man commented the heart eye emoji on some thot's belfie and it reminded you that you haven't gone to the gym in three years weeks. So yeah, while the highs of a 100+ like beach pic are pretty high, the lows of a vulnerable selfie that never even hits the double digits are pretty fucking low. All of this is to say, Instagram can be depressing as fuck, and now we have the science to back that up. A new study from Harvard University (what, like it's hard?) found that your Instagram posts hold clues to your mental health, and I'm not just talking about how we all know you're fucking depressed when you post a picture of you looking longingly out a random window and caption it with some emo song lyrics from the early 2000s. But that too.
The actual study found that people who are depressed (aka you all winter), "tended to post photos that, on a pixel-by-pixel basis, were bluer, darker and grayer on average than healthy people." So basically, your grainy-ass black-and-white food pics aren't just fucking up the flow of my feed, they're actually revealing to the entire world (assuming your account is public) that you're depressed.
Researches came to this very obvious stunning conclusion by identifying participants as "depressed" or "healthy" based on whether they reported having been diagnosed with depression in the past.
Side note: Who are these healthy, non-depressed people? Where do they live? What is their secret?

Researchers then "used machine-learning tools to find a pattern in the photos and to create a model predicting depression by the posts," which is basically fancy science speak for "We taught a computer how to scroll through Instagram."

So what exactly in your posts reveals that you are depressed? Well, they found that depressed IG users tend to use "fewer filters," which supports my strongly held belief that people who post
#nofilter selfies are seriously disturbed. When they do use a filter, they tend to use Inkwell aka the fancy Instagram way of saying black-and-white, whereas healthy people use Valencia because…IDK. I guess the greenish hue brings people joy? Unclear.
Depressed participants were also more likely to post photos of just their face, which means that someone needs to drive to Brentwood and check on Kylie Jenner ASAP. I'm seriously concerned.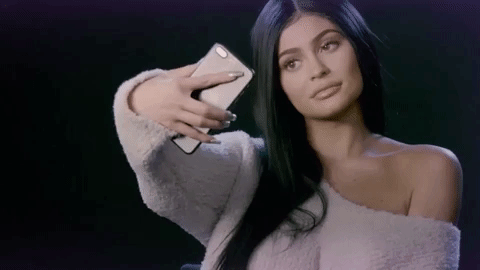 One thing these researchers found that I def could have told them myself is that depressed users tend to post more frequently. I mean, fucking duh. Anyone on Earth can tell whether or not I'm going through a breakup based off my daily post rate. Two or more selfies a day and you are fully justified in sending me a "U OK?" text. (I'm most definitely not okay.)
They also found that depressed people also tend to get more comments and less likes, which is really unfortunate because, as I previously stated, there's nothing better to get you out of a funk than a fire candid with 100+ likes. If they could find a way to turn that feeling into a pill, depression would be a thing of the past.

All in all, this study is, for lack of a better word, depressing. Mainly because all the things they said are signs of depression describe the social media use of literally every human person in my feed, including myself. That being said, I think the moral of this story is clear: Inkwell is just not an acceptable filter anymore and using Valencia is the same for your health as like, a really good cardio workout.