Hockey Analyst Jeremy Roenick Is Suing NBC For Discriminating Against Him As A Straight Man
When it comes to workplace sexual harassment, no one should seek to be a harasshole. But there is something harassholes often do that betches should make a practice—that is, documenting all workplace sexual harassment and how your employer handles it.
Harassholes keep score on who gets passes for inappropriate behavior because the information may give them leverage when an employer tries to hold them accountable for sexual harassment while allowing other harassholes to run amuck.  
Case in point: the audacious lawsuit hockey analyst Jeremy Roenick filed in New York on Friday against his former employer, NBC.
Here's the gist: Way back in December 2019, before COVID terrorized us all, Roenick went on a "cheeky" Barstool Sports podcast as a guest. While on the podcast, the 50-year-old offered off-color commentary on his NBC co-host's "ass and boobs" before explaining how he led strangers to believe he was having a threesome with his wife and co-host. Real professional, right? 
After suspending Roenick for a few months, NBC fired him in February 2020. Now the hockey star is suing the network, claiming NBC discriminated against him as a heterosexual man. 
Seriously.
According to Roenick, NBC didn't punish a gay figure-skating analyst who made sexualized—albeit scripted—comments about his co-host while the two were acting together in a parody promotional video. Roenick says, when he brought the matter to an NBC exec, he was told that the analyst "is gay and can say whatever."
Yes, there's a lot to unpack there, but don't get distracted. Roenick's basically saying NBC should have given him a pass on his filthy remarks about his co-host because the network gave another man a pass.
When you're done rolling your eyes at Roenick's audacity, let's discuss the ever-so important takeaway from his case: when it comes to workplace sexual harassment, betches need to document, document, document.
Documenting sexual harassment you and your colleagues experience, and your employer's response to the harassment, is among the most effective ways you can maintain the upper hand should things go south and you need to fight your employer for failing to enforce the rules.
Let me explain.
Employers say they're anti-discrimination, claiming they consistently enforce the rules by punishing harassholes, their popularity or your unpopularity notwithstanding. In reality, employers also give passes to people they like, creating a host of problems for everyone. The unfairness of it all gives rise to discrimination lawsuits—that is, if there's documentation showing the employer is not enforcing its rules.
By "documentation" I mean "What is written down, printed, recorded, photocopied, saved? What do you have to support your account about your experiences?"
Sure, you may remember details well and never lose your car keys. But when it comes to workplace sexual harassment, it's still best to have documentation because memories fade and documents are harder to manipulate. Also, while your word may be good enough for your mom, the patriarchy makes a woman's word a hard sell more than half the time.
That's why you document your version of the events with notes about encounters, dated-diary entries about conversations, text message chains and photos saved to the clou,; PDF copies of emails, papers, and websites, and so on. You hold onto anything that provides enough detail to refresh your recollection of the events should things go off the rails down the line and you need to back up your word should it be put to the test.
Harassholes and shady employers unapologetically lie and suddenly lose documents. You must be prepared.
…much like Roenick, whose ten-year tenure at NBC is over, to his complete and utter surprise. That's right—the former hockey gawd never saw it coming, as he insists his firing is one of the "biggest raw deals of all time." (Who knew you could lose your job for gratuitously sexualizing your co-worker's anatomy on a popular podcast and bragging about misleading others into thinking you're intimately throupled with her and your spouse?) 
Despite the supposed blindsiding, Roenick had the wherewithal to document how his employer treated him and others who acted up, giving him fodder for a lawsuit that may or may not end with Roenick taking home a settlement check.
You, too, should be boldly protecting your professional interests should your employer act up or let harassholes run amok, as documentation can make or break your future.
Adrienne Lawrence is an on-air legal analyst and the author of Staying in the Game: The Playbook for Beating Workplace Sexual Harassment (TarcherPerigee, 2020). Lawrence has contributed her insight on workplace sexual harassment for outlets such as the Harvard Business Review and NPR. Follow her on Twitter @AdrienneLaw and IG @AdrienneLawrence. 
Images: Fred Kfoury III/Icon Sportswire via Getty Images
An Expert's Top 3 Tips For Dealing With Workplace Sexual Harassment
The past few months have been big for change. Companies have been called out for systemic racism. The Supreme Court gave LGBTQ workers federal civil rights. Sexual predators are having a renewed #MeToo moment. Powers-that-be are being held to account. That's phenomenal for social progress. It's also horrible for workplace sexual harassment.
Sorry to be the bearer of bad news (amidst an already heinous 2020), but you'll want to beware of increased sexual harassment when you're on the job, as harassholes hate this new world.
Here's the skinny: Workplace sexual harassment is a power play. Basically, harassers are insecure people who want to make you feel small because they find you threatening and/or seek a power boost.
Don't get it twisted, though: Sexual harassment doesn't have to be sexual. What matters is that you're being targeted because of your gender or sexual identity.
Harassholes may try to "put you in your place" by using typical sexualized come-ons, like ogling your goodies in the office, jumping in your DMs to ask you out for the umpteenth time, or promising you a promotion in exchange for a Netflix and chill. Or, harassholes may leverage hostile put-downs that humiliate you, like calling you crude names on conference calls, cutting you out of morning meetings, berating you for not dressing the way a woman "should" dress. The displays of disrespect are limitless.
Now that our new world is pushing for greater respect for marginalized persons, women included, harassholes see our world as a less hospitable place for their antics. They're frustrated about not being able to mistreat you and others with impunity, and they'll try to reclaim their sense of power by stepping up their harassment game. Protect your purse and your mental health by being prepared.
Here are three quick tips to help you beat workplace sexual harassment:
Identify The Harassholes
You may be a butterfly, but harassholes aren't very unique. They tend to have shared traits, among them being gender. Men make up some 90% of harassholes. In addition to that, they're more likely to embrace these characteristics:
⭐︎ Support traditional gender roles
⭐︎ Maintain a strong male identity
⭐︎ Think men are superior to women
⭐︎ Believe men and women should be segregated
⭐︎ Sexualize women, girls, and LGBTQ people
⭐︎ Trivialize victimization or engage in victim-blaming
⭐︎ Lack egalitarian attitudes toward gender and/or race
You can spot these traits by listening to what a harasshole says about gender and sexual identity. For instance, harassholes often think men are better suited for traditionally male jobs and leadership positions whereas women should be in "pink careers," stay-at-home moms, or in supporting roles. Harassholes use activities and terms typically associated with women to demean other men, such as calling a man a "pussy" or promising to wear a dress in public as part of a bet. These are the dudes who use stereotypes about women as punch lines. 
The thing is, there's nothing funny about harassholes. Keep an eye out for them and remember—just because someone isn't a harasshole to you, doesn't mean they're not harassing another colleague. Harassholes are shady shapeshifters.
Document, Document, Document
Your records of what happened are essential to beating workplace sexual harassment. Why? Memories fade. Plus, there's a 99% chance that the harasshole (and your employer) will lie. Avoid the he said, she said situation by documenting what went down. On your personal computer or encrypted email, maintain a log of the who, what, when, where, and how of the experience like you're writing a bland yet detailed screenplay. Also, attach supporting documents such as text messages, emails, DMs, and notes. 
You'll want to have it all, especially if you ever need to speak out or if you suffer retaliation. Documentation can make the difference between getting the heave-ho with nothing and getting out of a company on your own terms with solid references and a strong severance.
Always Trust Your Instincts
Pay attention to that still small voice that echoes within when you're uncomfortable. Never try to override your instincts with rationalization. You know what you're sensing, what you experienced, and what you need not tolerate. Don't ignore it.
Do ignore gaslighting and shade-throwing coworkers. As much as I hate to say it, research shows that some coworkers will try to discourage you from speaking out about sexual harassment and many will distance themselves from you for fear of being mistreated by your employer too. That's a bummer. But it doesn't mean you should "take one for the team" by keeping quiet. Real friends won't insist you be disrespected and won't try to deny your reality.
Stick close to your instincts, demand to be treated with respect, and do you. You may not be The Boss, but you are a boss and you deserve to work in a harassment-free workplace.
Adrienne Lawrence is an on-air legal analyst and the author of Staying in the Game: The Playbook for Beating Workplace Sexual Harassment (TarcherPerigee, 2020). Lawrence has contributed her insight on workplace sexual harassment for outlets such as the Harvard Business Review and NPR. Follow her on Twitter @AdrienneLaw and IG @AdrienneLawrence
Images: Song_about_summer/ Shutterstock.com
James Kennedy's Mother Posted A Wild Statement About Her Son's Behavior
While I've absolutely loved this season of Vanderpump Rules so far,I've loved the off-camera drama even more. AKA James Kennedy's multiple meltdowns between aired episodes, as his life slowly unravels on screen. The latest in this series? An Instagram statement from James Kennedy's mother, Jacqueline Georgiou. Before I tear this woman to shreds begin, I'd like to acknowledge her struggle with alcoholism, and put forth my sympathies for how it has affected both her life and the lives of her children. THAT BEING SAID: James Kennedy's mother has had more than enough time to thoughtfully respond to his behavior, and the fact that this is what she comes up with is halfway between hysterically funny and rage blackout-inducing. Let's dive in, shall we?
The Background
In case you haven't been avidly watching, here's a quick recap of James Kennedy this season. He rapped about Jax sleeping with Faith while Brittany was working at SUR, then got drunk and body-shamed Katie at Pride. Lisa promptly fired him from SUR for both his alcohol problem and his treatment of the women who work there. (If you're on board with the logic of that sentence, congratulations. You're already miles beyond Kennedy's mother's understanding.) In last week's episode, Lisa Vanderpump met with James' mother, Jacqueline. We learned that Jacqueline is nine months sober (very sincere congrats!), and struggling to justify her past failures as a mother (also congrats, important step).
On the not-so-great side, she also said James was entitled to his behavior because he was "provoked." She also told Lisa she "can't give up on James" because he considers Lisa a "mother figure." To which Lisa responded, as gently as possible for such an obvious burn: "no, you are his mother figure."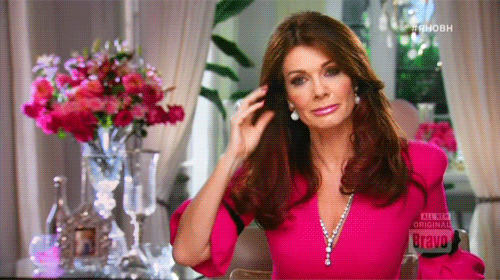 Next, James doubled down on all his crazy by talking sh*t about the recent deaths of Lala and Jax's fathers. (A risky move! Do not recommend!) Lala, not to be outdone, screenshotted the VPR scene with James' mom and posted an Instagram story, captioned like this. "Is this for real? Did this woman actually raise someone?" It's unclear whether this was the final straw for Jacqueline, but we now have her response.
The Statement
I'm too lazy to re-type the whole thing You've waited long enough, so I'll put the statement in full here for you to peruse.
Done? Still breathing? Excellent. Many, many comments off the bat from me! In a baffling first move, she begins with the phrase "to whom it may concern." I understand this is (to an extent) celebrity Notes app protocol, but it's also a phrase that feels overly formal when used in a cover letter, let alone an Instagrammed picture of a note handwritten on a piece of looseleaf. Also, someone should inform Jacqueline that Notes app exists, because the handwritten aspect makes it that much more upsetting.
Next! It is shocking to me how little anyone even peripherally involved with VPR understands what "feminism" means. And they use the word all the god*mn time! In this instance, Jacqueline accuses Katie of "claim to be a feminist then play victim." While "playing victim" is generally a bad move, I kind of fail to see what it has to do with "claiming" to be a feminist. Maybe Jacqueline is one of those feminists who believes women showing any kind of weakness detracts from the whole movement, but I think more likely she doesn't care about feminism or anything really other than continuing her moment of fame. Which will very, very swiftly end if James is not reinstated at SUR.
On this particular incident, she also defends James by saying he "never used the word 'fat'" (low bar there, Jackie), "nor did he speak to Katie first." Ok but Jackie!!! Inappropriate comments do not have to come out of a void to be inappropriate. And the fact that you can't condone, even a little bit, what he did say to Katie makes it impossible to take anything else you might say seriously. Sorry!
Also me:

On the Kristen/Hope situation, she has a similar take (TL;DR James is blameless, hire him back). Yes, Kristen has a serious problem when it comes to finding people's past hookups and bringing them to their workplace, but Jacqueline manages to void her criticism on this point too. She refers to it as "harassment (single white female style)," at which point I became incapable of thinking about anything Kristen has done wrong and could only focus on how truly insane this woman is. Also, if all else fails I hope James releases a single titled "harassment (single white female style)".
The note wraps up with a few more baffling moments, like the mention that "Ms. Doute repeatedly beat the shit out of my son on previous episodes." (Was it repeatedly? Not that once is okay—just trying to gauge how mentally sound this letter writer is). There's also "Mother figure…anyone with ½ a brain should know what I meant." (Lisa did know what you meant! She just wasn't down for you to offload your maternal responsibility!) She finishes off with a note to "all you judges and jurors," who she warns "before you speak and give your opinion," "unless you are living your best 'Oprah Life' then SYMFM." I cannot find backup for this on the internet, strangely, but I can only assume that stands for "shut your mother f*cking mouth." What "your best 'Oprah Life'" means, I can't begin to guess at.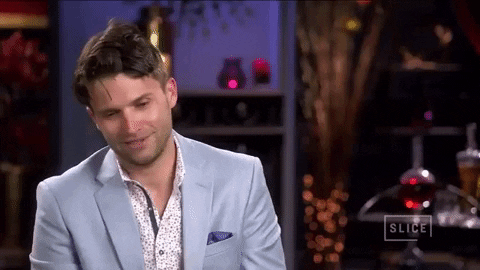 Finally, Jacqueline signs the note like this: "Jacqueline Georgiou/Mother." Because honestly, after reading through that, you may have been tempted to forget that she's an adult woman, let alone a mother. I can't f*cking wait to see James' response to this, and I can only hope it's half as savage as me tearing my mother apart in middle school for calling my teacher when I got in trouble. Until the next tweet storm, have a great weekend!
Images: Giphy (3); @jacquelinegeorgiou / Instagram
4 Of Your Favorite Female Senators Just Shared Their Own #MeToo Stories
In girl world, the past few weeks have been fucking exhausting, all thanks to the systemic opression of women that has gone on for centuries known as "the patriarchy" Harvey Weinstein. WeinstenGate has been absolutely wild for a lot of reasons, but perhaps one of the most outrageous is that men around the world are just now realizing that women are assaulted and harrassed on pretty much a daily basis. Welcome to 2017 and also every single year in the history of mankind.
I'm not entirely sure why men were under the impression that a sexual assault incident has to resemble a cold open to Law & Order: SVU to be taken seriously, but thanks to a bunch of brave women and a hashtag, now men with daughters around the world can finally understand that assault happens everywhere. It can be casual. It can happen in a second that leaves you questioning yourself for long after. And, in a not-at-all shocking turn of events, it can happen to powerful women – even politicians.

In light of this startling news, Meet the Press decided to reach out to every female senator, a rousing 21 out of 100, and asked them to share their own #MeToo stories. Of that 21 only 4 responded, all of them being Democrats. Let's just throw this on the record now: The rest def didn't abstain from responding for lack of material to share. It's really fucking rough being a female politician and I imagine being one who speaks openly about assault is even harder.

Despite the fact that #MeToo has only flooded your feeds in the past week or so, the movement was low-key started years ago by a black activist named Tarana Burke. It's provided women, who may have otherwise felt isolated by their own assault, a community of support. It's shown people, both men and women, but mostly men, that sexual violence isn't just minor Hollywood issue; it's a raging epidemic in every field, every profession, every environment in which a man can look at a woman and think "yeah I'm probably entitled to that." It's fucked up that we needed in hashtag to make this point, but that's just 2017 I guess.

Shout out to these four women for stepping forward. Hopefully their statements will start to incite some change in our political system. But then again, as long as we have a president who is a proud supporter of "grabbing women by the pussy" and a Vice President who is one red cloak order away from forcing us all to say things like "Under His Eye," progress will probably be slow.
Heads up, you need to keep up with the news. It's not cute anymore. That's why we've created a 5x weekly newsletter called The 'Sup that will explain all the news of the week in a hilarious af way. Because if we weren't laughing, we'd be crying. Sign up for The 'Sup now!