The Cringiest Celeb TikToks Of The Week
After taking a month off of cataloging the worst TikToks our famous people have to offer, it's safe to say not much has changed. We're still in the middle of a pandemic, social distancing isn't going anywhere, and yes, celebrities are still acting very cringey on TikTok. While some of our faves have gotten bored and mostly abandoned their awful TikToks (Vanessa Hudgens, please come back), there are still more than enough celebs who just can't put their phones down. Whether you're into sh*tty dancing, rough attempts at comedy, or half-hearted activism, there's something here for everyone this week.
December 12-18:
Meghan Trainor
I would love to let Meghan Trainor enjoy her pregnancy journey in peace without dragging her, but wtf is this video, honestly. Daryl Sabara's energy really stresses me out, and him yelling at me and trying to get crunk with a stroller while "Thotiana" plays in the background is not my preferred holiday vibe, to say the least.
Jenny McCarthy
I have no problem with celebs doing ads on TikTok, but I appreciate when they at least show a little commitment to the assignment. Jenny McCarthy has done two videos for Dunkin' promoting their season sugarplum macchiato, and in both, it's very obvious that she isn't actually taking a sip. I've tried it, and it's gross, but the least she could do is drink it with a smile on her face!
Bryce Hall
In a year full of lows, learning about Bryce Hall was definitely one of my lowest points. This video of him dancing in a Santa suit 10/1o ruined my day, and also, we shouldn't be doing fat suits anymore, come on.
December 5-11:
Bhad Bhabie
In this video, 17-year-old Bhad Bhabie (aka "cash me outside" girl) plays a prank on her mom by giving her a box with a positive pregnancy test inside. These kind of pranks aren't really funny in any context, but there's something extra cringe about this one. First of all, her mom clearly doesn't want to be on camera, and then her reaction to the test is to repeatedly say "I will f*cking stab you." Yikes! Idk about their family dynamic, but this isn't cute to me.
Tyra Banks
There's nothing Tyra loves more than sharing a little wisdom, and in this 'Tok, she talks about the difference between inventing and innovating. I don't really think these words are that confusing, but I also don't think Tyra did a very good job of explaining herself. Like, I'm not confident she could use both of these words correctly in a sentence. So let's discuss: was the smize an invention or an innovation?
Perez Hilton
Most of Perez Hilton's videos are just D-list celebrity news no one cares about, but this one is bad in a totally different way.  I'm 100% sure Perez with this devil filter is my new sleep paralysis demon, so I guess I just won't be sleeping for the next few days. I hate it here.
Tana Mongeau
There is… a lot going on in Tana's life right now. Apparently her ex made a mean song about her, and then her best friend hooked up with her new man IN HER HOUSE? I'm cringing at this whole situation because I feel bad for Tana, but also, why is she making TikToks about it?? Girl, figure this sh*t out! Also, stop having friends over, it's a pandemic!
November 28-December 4:
Jonathan Cheban
I thought Jonathan's videos of him shoveling food into his mouth were upsetting, but this is way worse. He's puckering up his gross lips and smothering them with hand soap, and then trying to blow bubbles. Sorry, is he five years old? Sir, please get a grip.
Jack Black
As a followup to his deeply cringeworthy WAP video, Jack Black is back with another TikTok of him dancing, this time in a Spider-Man costume. Again, something I really did not need to see. Just gonna throw this out there as a note to many of the celebs who cannot dance, but seem determined to make dancing TikToks: no one is making you do that! Stop it!
Wiz Khalifa
In this video, Wiz Khalifa rolls up to a drive-thru COVID testing site, with a joint clearly lit in the car, and we see the full swabbing process from start to finish. First of all, I'm really not a fan of seeing people get these swabs stuck up their noses on camera, but it also feels super inconsiderate to have smoke blowing in the face of this poor woman administering the COVID test. These people are going above and beyond to keep us safe, so please be considerate to them!
November 21-27:
Heidi Montag
I really thought I was done roasting celebrity "WAP" videos like, a month ago, but Heidi and Audrina just had to go and post this three months too late. Obviously, the dancing is not good—as you know by now, Heidi's dancing is never good. But more than anything, it's so half-assed! Audrina just walks off halfway through the video, leaving Heidi to fend for herself, and she really doesn't know what she's doing. This makes me sad.
Howie Mandel
In this video, Howie shows off his new face mask, which is perhaps the most unsettling thing I've ever seen. I really hope he never wears this in public, because people will be traumatized.
JoJo Siwa
This is a clip from a music video and not like, an actual TikTok, but we still need to discuss whatever the f*ck JoJo is wearing. It looks like she skinned a polar bear, and then bedazzled its entire body and turned it into a coat. The amount of glitter on her face is actually making me physically uncomfortable, and her hair bow has never been bigger. Someone stop her!
Lil Miquela
We've discussed CGI influencer Lil Miquela before, but before this week, I've never dared to look at her TikTok. Little did I know, she actually has a reality show on Snapchat now! I have so many questions. What does a reality show about a fake person entail? Why is this happening now? And did anyone know Snapchat had shows?? I can't let myself think about this too much, because it'll just make me angry.
November 14-20:
Charli D'Amelio
Charli has been getting roasted over a recent YouTube video, but today I'm focusing on one of her TikToks from this week, an ad for Dunkin. As part of her partnership with the brand, they created a drink called "The Charli," which is cold brew with caramel and whole milk. I've had it, and it took me like, three days to digest all that dairy. In this video, she reminds her followers that the drink is still available, but she doesn't seem all that committed to selling it. Twice, she says it's "pretty good", which is how I describe something when I don't like it but I don't want to be rude. Come on girl, earn those coins!
Dr. Phil
Dr. Phil continues his streak of making everyone uncomfy on TikTok with this video of him vibing to some hold music. Really, Dr. Phil dancing is something I never need to see, and as he gets more animated throughout the video (and gets his wife involved), it just gets worse.
Heidi Montag
Heidi hasn't made an appearance on this list in a while, but she's been busy making TikToks this week, and most of them are bad. Notably, she has been hanging out with Audrina Patridge, so the reboot of The Hills might finally be getting a second season. But in this video, Heidi just kind of dances around to the beginning "Candy Shop" while her mask gradually slips under her nose. The caption says something about going on the boat that's in the background, but she never actually shows us whether she got to go on the boat! That's just bad writing.
Derek Hough
I make a point of not looking at Derek Hough's TikTok too often because it makes me mad, but I really hate when he tries to be hot. I'm pretty sure this whole backyard laundry setup is for a photo shoot, so I can't fault him for being extra, but thrusting to "Pony" on a laundry basket? That's where I draw the line. Someone stop this man!!
November 7-13:
Bryce Hall
Bryce Hall is one of TikTok's most notorious f*ckboys, and hating his content is one of my favorite pastimes. Currently, he and his fellow Hype House member Josh Richards are taking part in No Shave November, and their results after nearly two weeks are kind of hilariously underwhelming. I always regret taking the dive into Bryce's videos, but at least today he gave me something to laugh at.
Barbara Corcoran
Big congrats to Shark Tank star Barbara Corcoran, who makes her first appearance on the list this week. In this TikTok, she acts out a POV scenario where she's listening to a pitch on Shark Tank, and then the person chooses Mark Cuban's offer. Her face as she chokes herself off camera is truly horrifying, but also, can we talk about her outfit? She's dressed like a middle schooler, and I truly don't understand it. Why is she wearing a backpack!!! I have so many questions.
Iggy Azalea
I'm always wary of anything Iggy Azalea does, but for the most part, she's actually pretty funny on TikTok. But this video of her twerking to an edited sound of Biden calling himself "daddy"… I hate it here. Honestly, I would hate this sound no matter what the video was, but there's something about the front view of someone twerking that's particularly unsettling. Luckily, Iggy has already gone back to making videos about eating pizza in bed, so I don't need to unfollow her.
JoJo Siwa
I know this is an ad, but the thought of JoJo Siwa consuming an energy drink is actually terrifying to me. Like, I needed an energy drink in college when I had a paper due the next day that I hadn't started. JoJo Siwa does not need an energy drink, and I'm concerned that she might literally explode if she drank a full one of these.
October 31-November 6:
Dr. Phil
I only put one Halloween TikTok on this list because, to be honest, Halloween already feels like it was seven months ago. But I couldn't just skip over Dr. Phil's jarring Halloween costume—Grandpa Joe from Willy Wonka. I have no desire to see Dr. Phil in a nightgown, and his weak attempt at dancing just makes it worse. Some people just don't need to do Halloween.
JoJo Siwa
I know that this nighttime routine video from JoJo Siwa is a joke, but I still found myself cringing. I'm used to seeing the cars with her face plastered all over them, but her house still gives me a headache. I love eating cake for dinner as much as the next person, but this is just too much. And watching her cover her entire face in glitter made my skin itch. Also, why is she in the shower with clothes on? This is not for me.
Candace Cameron Bure
We all know Candace Cameron Bure loves the Bible, and of course there's nothing wrong with that. But she keeps doing these cutesy Bible videos where she lip-syncs to a baby voice, and I find them deeply unsettling. Also, Candace posted this video amid major uncertainty about the outcome of the Presidential election, and I don't love the sentiment that we should just stop being worried about real world sh*t because of the Bible. That's not how the world works!
Howie Mandel
Y'all know by know that I'm not the biggest fan of Howie Mandel's TikToks, but whatever, some people like them. But my nerves are already shot, and I definitely didn't need to see this humongous teddy bear barreling toward me today. The "Where Is The Love" sound is majorly trending on TikTok right now, and I have to say, this is one of my least favorite takes on it.
October 24-30:
Bob Saget
The 60+ male celebs continue to crank out the content on TikTok, and I continue to hate it. I really thought we were done with "WAP" content a few weeks ago, but Bob Saget didn't get a chance to post his take until this week. Well, it's here, and it's awful. The bucket and mop bit is pretty run of the mill, but the clip of him with water pouring out of his mouth? It'll take me weeks to get over that. WEEKS! Note to any and all middle-aged celebs out there who have yet to post a "WAP" video: skip it, please!
Tyra Banks
First of all, Tyra has posted four different videos in the past week that she clearly filmed at the same time, so props to her for planning out her content! But this video made me die a little inside. She really thought she was doing something here! This feels like an over the top bit she would've done to introduce an acting challenge on America's Next Top Model, but when she's alone in her house doing it on TikTok, the whole thing just feels bizarre. Maybe if she had Miss J in the video it would've been better.
Jonathan Cheban
Every time I include a Foodgod TikTok on this list, I tell myself it's going to be the last one, but he really outdid himself this week. He's bugging out (as per usual) about some guava ice cream, and then he does a slurping noise/motion toward the camera that is so foul, I honestly think he belongs in prison. I can't even describe how uncomfortable I am right now, but if you watch the video, you'll understand where I'm coming from. Jonathan, PLEASE!
Meghan Trainor
As part of this ad she did for a soap brand, Meghan Trainor was supposed to "come clean" about something, and the big secret she chose was that she likes eating chips with ketchup, and drinks milk with ice cubes in it. Okay, so first of all, what a lame confession. But als0—EW! Potato chips with ketchup is not something I want to try, but whatever, I guess I low-key get it. But this adult woman is drinking whole glasses of milk with ICE CUBES??? I knew I didn't like her for a reason.
October 17-23:
James Charles
Personally, I always cringe when James Charles tries to remind us he can sing, but this one is especially bad because the video starts with him sneezing INTO HIS HAND. In this time of widespread germophobia, could James not at least show proper sneezing protocol on camera?? And then, without washing his hands or anything, he touches his face!!! James, what are you doing!!!
Bryce Hall
Earlier this week, the tabloids were all over the story of how TikTok star Bryce Hall got into a brawl with staff at a restaurant in LA after they told him he wasn't allowed to vape at his table. For reference, this is the same asshole who got his electricity shut off by the city after he refused to stop having parties during the pandemic. In this TikTok, we see him at the golf course in the same outfit that he was wearing during the fight, and it's so cringe to watch him just do like, anything. I don't understand why all these random hot guys are so famous, but can we please cancel Bryce Hall?
Woah Vicky
If you're unfamiliar with Woah Vicky, welcome to a very specific corner of the internet. She's a 20-year-old social media star and sometimes rapper who's probably best known for two things: falsely claiming to be Black, and getting in a full-on fist fight with Bhad Bhabie. She also has arguably one of the most annoying voices of anyone on the planet, and this video of her belting out "A Thousand Miles" in the back of a car is the vocal equivalent of nails on a chalkboard. Okay, sorry for doing that to you, you may now go back to pretending you don't know who she is.
Meghan Trainor
Is it a good thing that Meghan Trainor is using her platform to encourage everyone to vote? Absolutely! But I did not need to come on TikTok today and be assaulted by the visual of Spy Kids star Daryl Sabara twerking for the camera. Absolutely not, no way. This is too much! The voting song is cute; she should've just posted a video of herself and kept it moving.
October 10-16:
Candace Cameron Bure
Candace Cameron Bure being religious is nothing new, and I'm certainly not going to roast her for that. But I have no issue roasting her for this bizarre choreographed dance where she uses her Bible as a prop. This feels like one of the less impressive routines from Dance Moms, but performed by a 50-year-old woman with a not-great sense of rhythm. I expected there to at least be a Bible verse in the caption or something, but it appears that Candace just felt compelled to dance.
Melissa Gorga
This TikTok is pretty standard stuff from Melissa, except for the fact that there are two random men sitting in the background, both wearing masks and looking very confused. Melissa, who are these dudes? Neither of them are her husband (ily Joey), and they certainly don't look like they're interested in being in a TikTok. This is why I don't make TikToks in public.
Jonathan Cheban
My nemesis was back at it this week, attending one of those godforsaken Sugar Factory events that Kardashian-adjacent celebs thrive on. This time, rather than going for some diabetes fishbowl cocktail, Jonathan tried some sliders with rainbow buns, and I've never wanted to throw up more than I do right now. Sorry, but a GREEN hamburger bun belongs nowhere near a human digestive system. Every day we stray further from god's light.
Jessica Alba
I respect Jessica Alba's business woman hustle, and she's undoubtedly more successful than I will ever be. But you know what I don't want to see? Recipe ideas that are inspired by DIAPERS. Yes, I swear to god, this cookie recipe is inspired by Jessica's new line of fall-themed diapers. The cookies look yummy, but now I'm literally going to be thinking of a baby's sh*t the entire time I'm eating them. No thank you!
October 2-9:
JoJo Siwa
MJ🤍⚡️ I learned my first MJ dance today!!! This is the real choreo from his "This Is It" tour!!!🤟🏼
Soooo… who's gonna tell JoJo Siwa about Michael Jackson? She didn't do anything wrong here—we all love MJ's music, and the dancing is great, but I feel like someone on her team should maybe steer her away from doing more of these videos in the future. She's 17, she can handle the truth. Learn some of Janet's choreography instead!
Dr. Phil
Afternoon vibe. @420doggface208
♬ Dreams (2004 Remaster) – Fleetwood Mac
Dr. Phil is quickly becoming one of the TikTokers I love to hate the most, and this video of him trying to be seductive while driving a golf cart and chugging cranberry juice will most likely give me nightmares. The "daddy" video was funny and all, but we cannot let Dr. Phil think he is some kind of sex symbol. 2020 is already bad enough, and I cannot handle this.
Jenny McCarthy
It happened. ##realityripple 👻
♬ original sound – Jenny McCarthy
Does Jenny McCarthy actually have ghosts in her house? She sure thinks so! This video feels like a bootleg version of Paranormal Activity, except nothing interesting happens, and the protagonist is an anti-vaxxer. No thanks! This week, Jenny also posted a TikTok of her trying on one of the heads of the Masked Singer costumes (she's a judge), and I can only imagine how many germs are in those things. Ew!
Logan Paul
Logan's brother Jake has barely posted on TikTok since his house got raided by the FBI over the summer, but the elder Paul brother is still up to his old, annoying ways. This week, he posted a video of himself walking off of a private jet, and accidentally spilling a briefcase full of cash. I'm 95% sure this was a staged video and he did it on purpose, because that's kind of his whole thing, but either way, this video is obnoxious. Idk if Logan is aware of what's happening in the world rn (probs not), but most people don't have private jets and boxes of money lying around.
September 26-October 2:
Howie Mandel
I'm not sure I really get the point of Howie's original video, and the duet he did with himself is even more lame. Howie's dad humor has proved really popular on TikTok, but as I've said before, it just does nothing for me.
Tana Mongeau
At this point, I've really discarded any expectations about Tana Mongeau following COVID protocols, but this is just flat-out dumb, and the video isn't even funny! She's kissing Noah Cyrus (Miley's little sister) with masks on, and I really can't with the whole mask kissing thing. If it's your actual partner, fine, it's just a little weird, but you shouldn't be doing this with randos.
Jason Derulo
Jason Derulo has made a second career out of doing the most on TikTok, and this money tree video is no exception. Truly,  I feel bad for whatever assistant had to spend an hour taping fake dollar bills to the leaves of this tree, and then another hour sweeping them all up off the ground afterward. The video isn't even funny, so like, is this worth it?
Addison Rae
Welcome back, Addison and Sheri! First off, I still don't understand how these TikTok famous kids with millions of followers getting away with posting such lazy, uninteresting videos. For the men, it's the sh*tty shirtless dancing, and for people like Addison and Charli, it's the sh*tty dancing, but with shirts on. Also, I still don't want to see thirsty Mama Sheri dancing on my For You Page. Sorry, not sorry. At least the background is scenic?
September 21-25:
Heidi Montag
After a few weeks of leaving her followers high and dry, my cringe queen Heidi finally returned to TikTok this week. Apparently she didn't use her time way working on new video concepts, because this week she delivered another video of her making googly eyes at the camera while waving around some of Spencer's crystals. At least she was smart to use a trending song, but she didn't actually really do the trend. Heidi, please never stop.
Tana Mongeau
It's definitely not breaking news that Tana Mongeau gets fillers, and I really don't care one way or the other, but oh my god, why is no one at the med spa wearing a f*cking mask??? The only time anyone in this situation should be mask-free is if they're literally having something injected into the lower half of their face, so it's disappointing to see supposed medical professionals being so care-free. We know Tana isn't being that careful when it comes to social distancing, but you'd expect better from someone who sees patients for a living.
Jonathan Cheban
Usually, Jonathan Cheban makes this list for disgusting videos of him shoving way too much food in his mouth at once, but he switched things up this week by trying to do comedy. He's on a stationary bike located on a rooftop, which then blasts off into the moon. Cool effect honestly, but it's totally ruined by him calling out "FG phone home" over and over again. To be fair, he does look like an alien, but honestly I'd prefer he sticks to the nasty food videos in the future.
Addison Rae
Addison isn't really doing anything wrong here, but her mother Sheri (whose "WAP" dance made this list previously) continues to give me a great deal of bad vibes. The thirst just radiates from every pore of her being, and to be honest, I don't know why she insists on doing these stupid dances with her daughter. I really hope rumors about this family getting a reality show aren't real, because this woman does not need any more attention.
September 14-20:
KJ Apa
Pardon me if I missed something here, but why on earth is KJ Apa dipping his hair in his tea? And why is he then letting the tea drip off of his hair and into his mouth? This is a bizarre thing to do in the first place, and given that his hair looks greasy AF, this cannot be remotely sanitary. The one plus here is that I guess the orange hair means that Riverdale really is happening again, so congrats if you're one of the 10 people still watching.
Dr. Phil
In this video, Dr. Phil shares some "fun psychological facts", which are mostly oversimplified life hacks that I'm not have any real basis in psychology. The facts are pretty lame overall, but I take personal offense to Dr. Phil's suggestion that we should all be getting ready for work like normal even if we're all still working from home. Dr. Phil, why do you care if I'm wearing sweatpants for the 200th day in a row? Mind your own business!
Kourtney Kardashian
Kourtney hadn't posted a TikTok in like, three months, but she made her big return to the 'Tok with this bizarre photo slideshow of her walking through the hall of her house. The music is weird, the angle is weird, and the photos look like they were taken on an iPhone from 2011. Kourt, are you okay? I guess Addison wasn't around to help her make this one, because the quality is seriously lacking.
Howie Mandel
Like I've said before, Howie Mandel is huge on TikTok, and I've never quite gotten the appeal. Whatever, people like dad humor I guess. But there is something so wrong about seeing Howie Mandel—one of the most famous bald people—wearing a wig, and I can't quite put my finger on it. Maybe it's this specific wig, but this video is making my physically uncomfortable. Howie, please go back to being bald, it's for the greater good.
September 5-13:
Addison Rae
I have no issue being a little embarrassing in public in the name of getting ~content~, but doing a TikTok dance in the middle of a crowded restaurant, in the middle of a pandemic, while randos are everywhere around you? It's a little much for me. Addison has a big empty house to half-ass these dances in! Or she could go to Kourtney's house! Of course, because TikTok is wild, this video still got over two million likes. Why do I even try?
Dr. Phil
Dr. Phil's video pleading with people to stop calling him daddy went totally viral over the weekend, and I have to admit, it's grown on me. The first time I saw it, I was horrified—both with what I was seeing, and the idea that anyone would call him daddy in the first place. But now that I've seen it a few (dozen) more times, I've come to appreciate this as the comedy gold that it is. Dr. Phil, I might be cringing, but please make more of these videos.
Tana Mongeau
Just like Addison, Tana also made a TikTok at a restaurant this week, but hers is cringe for an entirely different reason. While she giggles into her phone camera, we see a waiter bringing her food in full mask, gloves, glasses, and face shield. I'm not trying to shame anyone for supporting restaurants right now, but something about making a stupid video while your waiter looks like a f*cking stormtrooper feels… dystopian. I hope she at least asked the waiter if he was okay with her posting this.
Derek Hough
Derek Hough's videos always make me feel mildly uncomfortable, and this one where he's shirtless and keeps punching the camera reeks of toxic masculinity. I'm not saying Derek himself is toxic, but I just don't love this vibe. Also, are these fitness facilities in his home? Private? He's not wearing a mask at all, so I certainly hope this isn't a public gym. The thought of stepping foot into a gym right now makes me shiver, so it's kind of wild that other people are just hanging out making TikToks by the weight machines.
August 29-September 4:
Heidi Montag
Heidi, Heidi, Heidi. I am continually impressed with Heidi Montag's ability to pump out the unintentionally disturbing content on TikTok, and this drag makeup filter is some of her worst work yet. The Disney theme music has never been more chilling. If you're reading this and you know Heidi personally, please ask her to stop.
Jonathan Cheban
I mean, do I need to explain why I cringed at this video of FoodGod shoveling banana pudding into his mouth with the world's largest spoon? Everything this clown does is over the top, and this ridiculous dessert tower is no different. Honestly, this stuff is probably delicious, but now it's been ruined for me. Thanks, Jonathan!
Perez Hilton
If you're still getting your celeb news from Perez Hilton in 2020, I have questions, but his TikTok videos are A LOT. If you actually want to know what's going on with Britney Spears and her conservatorship, read this article instead. It's more coherent, and you don't have to stare into Perez's creepy eyes.
Howie Mandel
If you're one of the three remaining famous people on TikTok who hasn't already done the "WAP" dance, I have a message for you: YOU DON'T HAVE TO! Please, for the love of god, just leave it alone! There are a lot of things I need right now, but seeing Howie Mandel twerk is absolutely not on that list. I really wish I could unsee this.
August 22-28:
Meghan Trainor
Ring ring—it's your sleep paralysis demon calling! Meghan Trainor's TikTok presence is all over the map, and while I don't love when she tries to do cute videos with her husband Daryl Sabara, I certainly don't love this either. Idk what she was trying to accomplish here, but now her close-up face is permanently seared into my brain.
Bob Saget
It's always a bumpy ride with boomers on TikTok, and personally, I never needed to see Danny Tanner dancing to a remix of "Love Story." When he pulled out the ring box, I was expecting something funny to happen, but instead, he reveals a wire ring and then just kind of stands around, and then starts hip thrusting. Ew. Bob, you have to have a clear concept if you don't want the video to fall flat!
Sheri Easterling
The name Sheri Easterling probably doesn't ring a bell, but she's Addison Rae's mom, and she has over 10 million followers, because TikTok is wild. Everything about Sheri's online presence is cringe, but she really outdid herself with her take on the viral "WAP" dance. Last week, I came for Lisa Rinna for her "WAP" video, but this is much, much worse. The thirst is REAL, and I'm upset.
Kevin Bacon
Back to the boomer men! Kevin Bacon is on TikTok for some reason, and this week he shared a groundbreaking recipe for how to eat a mango. The whole thing is uncomfortable, because Kevin has to whisper because his wife is sleeping. And then, at the end, he bites into the mango like a literal animal, and it's just too much for me. Someone get this man a napkin.
August 15-21:
Jonathan Cheban
You know what I didn't need to see at 10am today? Foodgod shoveling piping hot pizza into his mouth,  and then letting it drop back onto the plate. I realize that I'm now making all of you suffer through the same video, but sorry, we're in this together. Every time I watch Jonathan Cheban's videos they make me upset, which means I should probably just stop looking, but it's like a car crash at this point.
Justin Bieber
Justin Bieber only posts on TikTok sporadically, but when he does, it's almost never good. In this one, he just sings a few seconds of his song "Intentions," with a filter on his face that's honestly disturbing to look at. By now, most celebrities as famous as Justin have either stopped using TikTok or invested money in being really good at TikTok (Jason Derulo, Will Smith), so Justin's uncomfortable, poorly-lit videos feels like they're from a different era (aka March 2020).
Heidi Montag
God bless sweet Heidi Montag, who completely missed the point of this TikTok trend. You're supposed to list some specific trauma you went through, and other top-tier examples include numerous people saying "I was on Dance Moms" and Claudia Conway saying "my mom is Kellyanne Conway." Heidi has PLENTY of good material for this trend, like being married to Spencer Pratt, or her mom telling her she didn't look pretty on TV after having 10 cosmetic surgeries, but she just went with "you can't." Heidi, I was rooting for you!!
Kelley Flanagan
You'll need your sound on for the full cringe effect of this one—it's a real audiovisual experience. Kelley starts by failing miserably at a TikTok dance that she wasn't equipped to try in the first place, and then we hear Pilot Pete behind the camera telling Kelley that she looks like a hot bunny. Pardon me while I throw up in my mouth. The gushy posts from these two have always rubbed me the wrong way, and this isn't helping.
Lisa Rinna
Lisa Rinna's signature dancing videos have recently become a source of conflict on RHOBH, and while I wouldn't love it if my mom was posting stuff like this, Lisa can do whatever she wants. But with this "WAP" video, Lisa has really outdone herself. She's flashing her crotch, she's on the floor, she is truly doing the most. Whether you're team Rinna or not, I really feel like this one could've stayed in the drafts.
August 8-14:
Hannah Godwin
This video of Hannah and Dylan doing the "It's the (fill in the blank) for me" trend is actually really cute! Rather than cringing AT this one, I'm cringing on behalf of Hannah, who gets thoroughly clowned by Dylan when he brings up all the other guys she made out with while stringing him along on Bachelor in Paradise. Honestly, good for him for being able to joke about this, because it was pretty rough to watch. Ugh, I miss 2019.
Hannah Brown
This video of Hannah trying on a bunch of different outfits exudes strong "I'm not like other girls" energy. Like, good for you, sometimes you wear dresses and sometimes you don't—is that special? Also, we're all at home 24/7, so wearing pajamas during the day is basically the norm at this point.
Kelley Flanagan
The Bachelor ladies really had a strong showing this week, and this drone footage of Kelley's awkward dancing on a rock just added to the overall cringe factor. Also… is she trying to say she and Pilot Pete are engaged?? Like, I don't think she is, but also, is she? If not, the the part about pulling out a ring makes absolutely no sense. I guess I won't waste too much brain power trying to figure it out.
Perez Hilton
Perez Hilton has always weirded me out, and watching him yell about 15-year-old Charli D'Amelio's maybe-cheating scandal feels skeezy as f*ck. Perez has made numerous TikToks about Charli's relationship status, and it's… bizarre. Get a hobby! Also, this format of his head just popping into the screen from various angles is giving me a headache.
August 2-7:
Kelley Flanagan
This week was Pilot Pete's 29th birthday, and Kelley celebrated her man with a montage of all their experiences as a couple. Well, all their experiences minus the time he dumped her on a TV show. But the actual cringe part of this is that their entire relationship has taken place during a pandemic, yet this video makes it clear they've been doing an awful lot of traveling in the last few months. I get that Peter is a pilot, but like, this is a lot.
JoJo Siwa
JoJo Siwa has a boyfriend! In case you don't pay much attention to her, she's actually not nine years old—she's 17, and she's dating a guy named Mark. She introduced him to her followers in this video where he's wearing one of her signature ridiculous outfits, and you can just see the fear in his eyes, because he knows he's about to be used for content for as long as this relationship lasts. Good luck, Mark, hope you like finding glitter everywhere!
Gabi Butler
Gabi Butler was one of the breakout stars of Netflix's Cheer, which shockingly premiered in 2020, even though it feels like three years ago. This week, Gabi was apparently teaching a cheer session in Texas, where the coronavirus situation is… not great. It's good that the kids are wearing masks, I guess, but they're also all literally touching each other. With schools in many states reopening, this is about to be the norm, but that doesn't mean it's a good idea.
Pauly D
Pauly D's TikTok content is mostly fine, though I don't love his Versace robe. But mainly, I need to bring up his brown leather couch, that looks like those mediocre ice cream sandwiches they handed out at elementary school events. You know, the ones that were wrapped in paper, and mostly just got on your hands? And on top of being ugly, I cannot imagine that is a comfortable couch. Pauly D, please get some better furniture!
Candace Cameron Bure
Now that Fuller House is over, I guess Candace Cameron Bure has a lot of time on her hands, and she's spending it… learning TikTok dances. Except, I'm not sure this is a TikTok dance so much as choreography from a middle school production of The Sound of Music. Bless her heart, Candace really is trying so hard here, and it shows! I would rather see her attempting the "Savage" dance, honestly, because at least it would be funny.
July 25-August 1:
Addison Rae
Ah yes, Addison, our favorite new Kardashian! Here's the thing. Addison is so popular on TikTok that she doesn't even have to care about the quality of her videos anymore. Like, if two people walk in front of the camera while you're recording, DO ANOTHER TAKE! If my friend is taking pics of me, I'm not gonna post the one with her thumb in front of the lens. This still got five million likes (I'm sick), but come on.
Meghan Trainor
Remember how Meghan Trainor is married to the buy who played Juni in Spy Kids? Well, if you forgot, there you go. Apparently they've been watching Grey's Anatomy recently, and Daryl (the husband) bought some scrubs so he can join in. The thing is, I think they're joking, but getting cast on Grey's would be the biggest thing to happen to his career in a very long time. He wishes he could hang with Meredith! Also, I have an inherent distrust of people who are just now discovering Grey's Anatomy for the first time.
Tana Mongeau
Is it any surprise that Tana Mongeau isn't following proper social distancing protocols? I already would've said no, and then she was seen at that massive influencer party a couple weeks ago. But this time, she's dancing with her friends in the parking lot before going grocery shopping (why), and though they're wearing masks, she and her friend "kiss" each other. No, please no. Wearing a mask is great, but it's not just a cute little costume piece for your funny TikTok.
Derek Hough
It's always a little cringe when celebs upload promo videos on TikTok, but I get it. But this—a montage of Derek Hough making faces on World of Dance, set to Harry Styles' "Watermelon Sugar"—is beyond. The song choice has nothing to do with anything, and the faces are… a lot. It's no secret that the Hough family is not my favorite, and this isn't doing anything to help.
Francesca Farago
Last week, Too Hot To Handle's Francesca was randomly hanging out with Tana, and this week she's found a new crew of friends to not quarantine with. Honestly, seeing any video of a group of friends who obviously aren't social distancing is a little triggering right now, and the LA influencer community seems to be following absolutely no rules. But aside from that, WTF is this video? Are they playing ring around the rosy? Grow up, lol.
July 14-24:
Nikita Dragun
We already came for YouTube star Nikita Dragun for having a giant mask-free party this week, but the poor pandemic decisions don't end there. In this video, she's surrounded by a posse of young men that all look exactly alike, and again, there are no masks here. Nikita, honey, I can send you a mask if you can't find one!
Jonathan Cheban
Jonathan Cheban, AKA Foodgod, has me blocked on Instagram, so honestly I forget that he exists sometimes. But I'm not safe from seeing his content on TikTok, and it's just as annoying as you would expect. He posts A LOT, and right now I'm particularly upset by his horrible acting in this obviously staged video. A ginormous ice cream sandwich is pretty much par for the course for Foodgod, but still, ew. Also, I hope this is an old video, because no one is wearing a mask.
Howie Mandel
Despite being decades older than the main TikTok demographic, Howie Mandel is actually super successful on the platform. Apparently a lot of Zoomers didn't even realize he was famous before TikTok, which like, smh. A lot of his videos are cute and/or funny, but this? This is straight-up nightmare fuel. I feel like I'm watching a haunted jack-in-the-box, and I'd like it to stop.
Tana Mongeau
Please welcome back to the stage, Tana Mongeau! After partying with Nikita Dragun this week, Tana also hung out with Francesca from Too Hot To Handle. I swear, these people are seeing more friends in a week during a pandemic than I ever did before corona. Aside from the cringe aspect of hanging out in a state where social gatherings are currently prohibited, this video is also just a complete mess. Truly, what is going on here?
Heidi Montag
Someday I will stop paying attention to Heidi's tragic TikToks, but that day is not today. As usual, she's shilling for Spencer's crystal company by holding the crystals up and looking at them like she's confused. This time, she's got Looney Toons as her backing track, and her faces and fake running are too much for me to handle. Heidi, please.
July 4-13:
Tana Mongeau
I think I speak for all of us when I say "TANA NOOOOOOO." That's right, Tana is hanging out with Jake Paul again (that's her ex-fake husband, if you can't be bothered to remember anything about these people). She says they're just friends, but 1) why is he cuddling with her during a pandemic and 2) why would she even want to be friends with him? Idk, I just have a bad feeling about this.
Reese Witherspoon
For this one, I'm cringing in solidarity with Reese's 16-year-old son, Deacon. He just released his first single last week, and of course, Reese wants to turn it into a TikTok dance. The song is catchy AF, btw. I'm sure Deacon appreciates his mom's support, and it's cute that she's so excited for him, but that doesn't mean the cringe level isn't off the charts.
Jason Tartick
Since Hamilton came to Disney+ earlier this month, it's been a big trending topic, but a TikTok of Jason Tartick lip-syncing to King George's song is one piece of content I would've been fine without. I can just imagine Kaitlyn coaching him through this, and he probably did 100 takes to get it right. I guess it's kind of cute, but still, I'll just watch the real thing.
Heidi Montag
Look, I almost feel bad including Heidi again, but how does she not know that you if you want the bottle to "explode", you have to shake the champagne before popping the cork? I refuse to believe Heidi Montag has never popped a bottle in her life. Also, what is this photo shoot for? She's wearing a yellow dress with sneakers, and in another video, she's posing with a cowboy hat (not wearing it, posing with it). Whaat is going on?
Perez Hilton
This emoji filter that Perez Hilton is using is the scariest thing I've ever seen in my life. You thought The Shining was scary? Try Perez talking about dates through a giant lip emoji. Nope, no thank you, I'd like my money back. Can't wait to have nightmares about this tonight!
June 26-July 3:
Heidi Montag
Has Heidi been possessed by aliens? In this video, she's trying the famous TikTok "slow walk" (which she's not very good at), but she's also holding two of Spencer's crystal necklaces. She says that the crystals have her energy moving, but there is absolutely no energy happening in this video. Her dead-eyed stare into the camera might give me nightmares, not gonna lie.
Jake Paul
Around here, Jake Paul is mostly known for his fake marriage to Tana Mongeau, and for generally being an ass, but did you know he's a professional boxer now? He apparently won his first pro fight in January, but he's not looking too good in this clip. I know this list is about cringing, but watching him get punched repeatedly is… kind of satisfying.
Kelley Flanagan
I'm sure you weren't wondering, but just in case you were, Kelley and Pilot Pete are still going strong. Kelley posted this sappy montage of their times together, set to a TikTok sound of some girl talking about how life's small moments are beautiful. Ew. Conveniently, Kelley left out any clips of her time on The Bachelor, because I guess those don't really fit with the narrative.
Rita Ora
We've talked a lot about performative allyship in the last month or so, and while I love Rita Ora, this Pride TikTok is a damn mess. She's been quarantining at a rented cottage in the Cotswolds (very The Holiday vibes), which she filled with about 1,000 balloons, just so she can bust through them and shout "Happy Pride!" Lol, thanks Rita! Also, her new single is playing in the background, because she has to get her product placement in there somewhere. I really hope she donated to some LGBTQ organizations or something, because this video is not it.
James Charles
As tempting as it is, I am not here to clown James Charles for his dancing. I could, trust me, but that's not truly the issue here. Instead, I'm choosing to focus on the moment when he turns sideways, and we see that the waist of his jeans is being held in with a literal clamp. This is a classic move on Say Yes To The Dress, but those women are trying on sample-size dresses that don't actually fit them. James, please get some jeans that fit. I know you can afford them!
Check back next week for what TikTok messes the celebs have in store for us—can't wait to see how they continue to ruin this platform!
Don't miss out on any pop culture or entertainment news. Subscribe to our weekly newsletter here. 
Images: Kathy Hutchins / Shutterstock.com; tanamongeaulol, officialreesetiktok, jason_tartick3, perezhilton, heidimontag, jakepaul, kelleyflanagan, hannahg11, jasonderulo, ritaora, jamescharles / TikTok
4 Times Celebrity Influencers Were Terrible At Their Jobs
As much as we like to give influencers a hard time, they don't necessarily have the easiest job in the world. Working freelance is stressful, and if your livelihood depends on creating engaging content that'll get your followers to buy stuff they don't need, you have to be on top of your game. Shilling for subscription boxes might not be as important as like, curing cancer, but there is still some skill level involved, and not all sponsored content is created equal. Some influencers work hard to create content that feels authentic and like a natural fit for their brand, while others are happy to throw together an Instagram story for whatever brand cuts them a check, and it shows.
While some influencers have crossed the line into being offensive or making blatantly false claims about products, others are just guilty of being lazy and misleading with their ~content~. In particular, this seems to be an epidemic when it comes to makeup and skin care endorsements, and the results are both hilarious and infuriating. Honestly, the bar is on the floor for these people, and they miss the mark way too often. Even though sales is tough, it's really not that difficult to actually use a product you're getting paid a lot of money to endorse and use in a video! Just put the f*cking cream on your face! But no, they can't even do that. Here are some of the times celebrity influencers were terrible at their jobs, for your viewing pleasure.
Hannah Godwin
This instance is what inspired me to write this article in the first place. On Wednesday, Bachelor Nation's Hannah Godwin posted a series of Instagram stories about her nighttime skin care routine, highlighting her Ultimate Skin Spa Facial Cleansing System. Hannah didn't indicate that the post was an ad, but she added a swipe up link, so she wants you to know what product she's using and appears to be endorsing it. But in the video, it's painfully obvious that Hannah doesn't actually put any cleanser on the brush!
and if you don't use any product, one tube will last forever! pic.twitter.com/H4Tx75ohBj

— Dylan Hafer (@thedylanhafer) November 21, 2019
When I first saw this video, I had to go back and watch it a few times, because I couldn't even believe how obvious it was. She could have held the brush out of the frame for a second, but no, we can all see that zero product is going onto that brush. It looks like she's actually letting the brush touch her skin, but even that's being debated in the comments on Reddit. Hot on the heels of being roasted for her mispronunciation of "gnocchi" (still not over her thinking it's pronnounced "nosh"), you'd think she'd be a little more careful on her stories, but nope—she's getting roasted.
Shay Mitchell
While you might expect a cringeworthy skin care video from a former Bachelor contestant, major celebrities make the same exact kind of f*ckups. Case in point: Shay Mitchell. These days, Shay has a brand new show on Hulu and is busy being a first-time mom, but last year she was busy getting dragged for a Bioré ad she did. First, I have to point out that this was literally an ad on Snapchat… oof. I barely use Snapchat anymore, but if this is the kind of content celebrities are posting, clearly I'm not missing much. (Or, like, maybe I am, given how hilariously bad this was?)
Watch the video for yourself, then we'll talk:
SHE AINT EVEN ACTUALLY RUB HER EYE IM CRYING LMFAOOOO pic.twitter.com/JVbWbg5P1i

— jor ❄️ (@ohjlizzle) September 9, 2018
I'M CRYING. She's obviously using a filter with some kind of glowing effect, which seems like a weird choice for a makeup remover ad in the first place. But that's not the real crime here. Shay actually puts the cleansing water on the pad, but there is absolutely no way that thing ever touched her eye. It's not even close! After one quick swipe, she shows us the pad—covered in mascara and eyeliner—but her eye makeup is 100% untouched. Like, not even a smudge. Shay, come on!! I'm rooting for you, but this is just too damn much.
Millie Bobby Brown
Our next fail, from Stranger Things star Millie Bobby Brown, is really unbelievable. I had no idea that Millie actually has her own skin care line, but it exists, and it's called florence by mills. It's wild to me that anyone is taking skin care advice from a 15-year-old, considering everyone I know had horrible acne at that age, but good for her I guess. But what was less good for her was this video she posted of her nighttime skin care routine a couple months ago.
I'm speechless. Two full minutes, and not one drop of those products ever came anywhere near her face. First, she holds the mist bottle approximately a foot and a half away, and then the continually just rubs her dry hands on her dry face, all the while saying things like "applying now!" She might actually put on the lip oil at the end, but who even cares? This is really the work of an actress committed to her craft.
Unsurprisingly, Millie's followers weren't impressed with this "skin care routine," and she got so much backlash that she issued an apology on her Insta feed, hot off the Notes App presses. You all know I love a Notes App apology, and this one doesn't disappoint. LOL at Millie claiming that the video was only meant to "replicate" her personal process.
Millie Bobby Brown is still fully a child, so I don't need to be too hard on her, but hopefully she learned her lesson here. If you can't even commit to using your own products in a video, that's not exactly going to inspire people to spend money on them.
Kylie Jenner
Last, but never least, we of course have Kylie Jenner. From doing approximately 500 makeup and skin care videos over the past few years, you'd think she would be the best at this kind of thing, but she makes mistakes too, like this video from May where she showed off her new Kylie Skin Foaming Face Wash. In this video, there's no doubt that Kylie is actually using the product, but the question is whether it actually does anything.
After lathering up her face and rinsing with water, Kylie grabs a towel to dry off her face. But after, you can clearly see that the towel is COVERED IN MAKEUP. Kylie, what??
morning and night 💦 pic.twitter.com/y5jibIxnfM

— Kylie Skin (@kylieskin) May 29, 2019
I haven't tried any of Kylie's skin care products, but this video doesn't make me want to spend money on them. If your face wash leaves your face still caked in foundation, I hate to break it to you, but it doesn't f*cking work. For a $24 bottle of face wash, I expect a little more.
I don't always have high expectations for celebrities and influencers promoting products on social media, but I at least want them to physically use the products they're shilling. Are there other celebs you love to see mess up their endorsements? Please let me know in the comments, because I could watch these people be idiots for days.
UPDATED: Tayshia & John Paul Jones Broke Up
UPDATE: Aaaand just like that, it's officially over. After a few days of rumors, Tayshia finally took to Instagram on Wednesday afternoon to confirm the news that she and John Paul Jones have decided to go their separate ways. Sad! Tayshia says in the post that she likes to keep her personal life private, which is pretty hilarious for someone who's been in multiple reality TV relationships in the past year. Obviously, she realized this too, and it's good to hear the news straight from the source.
She says that after a while, the fact that they live across the country was just too much to handle. Truly like, shocking that long distance isn't easy, huh? Tayshia says sshe and JPJ are still "the best of friends," which like, who knows if we actually believe that. But John Paul Jones did comment on the post with a heart emoji, so at least we know they haven't blocked each other. So yeah, we're saying farewell to this BiP couple, but it seems like things are on pretty good terms.
It's been a cool two months since Bachelor in Paradise ended, but if you think we here at Betches have been sleeping on the statuses of these couples just because of a little thing like production ending, then you'd better think again. What else am I supposed to do with my time during regular business hours if not aggressively deep diving into these people's private lives? Actual work? Nah, I don't think so. Well, the Demi and Kristian breakup rumors aren't the only couple updates we need to talk about. It's recently come to my attention via a Reddit thread (a place where all hard-hitting journalism stories truly begin IMO) that BiP prom king and queen John Paul Jones and Tayshia Adams might be officially over (as if they were ever really together to begin with). 
When the two hit it off in Mexico this summer, I just instinctively knew that it was entirely for ratings. I mean, Tayshia referred to John Paul Jones, a man I'm convinced was only a part of the Bachelor franchise because he lost a bet to his frat brothers and was blackmailed into going on the show, as an "old soul" and "very deep" after he butchered some Shakespeare lines on national television. 

A deep thinker, indeed.
And while most of the reality TV-loving world has been shipping these two since Tayshia ran down the beach wailing "I'M SORRY JOHN", I've had my doubts as to the legitimacy of their relationship for awhile now. Turns out, I was right to be skeptical, because apparently Tayshia was caught RED-HANDED out on a date with another man last week. 
Reddit user Poopburb (not a great username I know, but a whistleblower nonetheless!) posted in a thread that their coworker's neighbor spotted Tayshia out on what appeared to be a date that wasn't with JPJ in Newport Beach on October 24th. The coworker's neighbor said that Tayshia and the mystery man were "flirting and touching all night" and there's even video evidence to back up the claim. If you watch the video, Tayshia is most certainly with someone who doesn't have the hair of a long-lost Hanson brother but, like, she could also just be catching dinner with an old friend. Fans are saying the video is damning because Tayshia and her date are sitting on the same side of the booth, which apparently means they're dating. Again, not really rock solid evidence of a break up with JPJ so much as rock solid evidence that Tayshia might be a sociopath, because only monsters sit on the same side of the booth as the other person they're dining with, but fine Reddit. 
This isn't the first time it's been speculated that JPJ and Tayshia's relationship was all for publicity. Reality Steve tweeted that the couple had broken up way back in September, and were only keeping up appearances on social media for the fans and sponsorship deals. While fans were outraged at that accusation, Tayshia and JPJ haven't exactly been flaunting their relationship, and by that I mean they're about as active on each other's socials as I am with the cousin my mother guilt-tripped me into following on Instagram (you know who you are, Sabrina!). In fact, they've almost been nonexistent from each other's Instagrams, until October 7th, when Tayshia was briefly mentioned on JPJ's IG feed while both were at a brunch with other Bachelor alums. Tbh to me, their lack of vom-inducing posts says more about their relationship status than this shaky 30-second video.
But all of this speculation on Tayshia and JPJ's relationship has made me wonder about the other couples from last season's Bachelor in Paradise. Are they still in love and dry humping on my Instagram feed? Pretending to date the other for spon-con purposes? Broken up and summoning a vengeance demon to plague the other with incurable acne and a mild case of crabs? I've done some digging and here's what I've discovered:
Hannah G & Dylan: Definitely Still Together
Okay, was this even a real question? These two have been going strong ever since they got engaged in Paradise, and I know this because Dylan won't shut the f*ck up about it on his Instagram. But, I mean, every happiness to you both!
Katie & Chris: It's Complicated
Moving on to Katie and Chris. Their reunion on the BiP after show was hard to watch. Katie admitted that Chris is a piece of sh*t and Chris looked like he would just rather be excluded from this narrative. After the finale aired, it appeared the couple had made up and were giving their relationship another chance because ad revenue true love is real after all. That said, Chris has been suspiciously absent from Katie's Instagram ever since the After the Final Rose episode aired, but she was also seen wearing her engagement ring at some sort of influencer retreat on October 11th. Chris also shocked us all when he posted a photo with her on IG a few days ago. So, like, maybe they are fine? Either that or they don't want to give Neil Lane his ring back! I'll let you be the judge!
Demi & Kristian: Probs Broken Up
: 
We already talked about this, so click here if you want all the details we have so far. Long story short, it's not looking good. There's plenty of evidence, but this shady comment that Kristian's sister left on Demi's photo is probably all you need to see.
NOT DESPERATE AT ALL. Y'all I'm dead. Deceased. The comment has since been deleted, but god bless the internet and rabid Bachelor fans for always doing the most when it comes to screen shotting the evidence. Since this feels like a comment I have definitely left on my sister's ex-boyfriend's new "in a relationship" status on FB, I'm going to go ahead and say I'm pretty sure Demi and Kristian's relationship status is deader than my last house plant. 
So there you go! That's the status on all the Bachelor in Paradise couples as far as I can tell from judging their social media posts. Now, if you'll excuse me, I need to go explain to my mother what spon-con is and why people would fake a relationship to get it. TTYL!
Images: Giphy (1); @chrisjbukowski /Instagram (1); @dylanbarbour /Instagram (1); @its_thesnatchelor /Instagram (1)
Our Spoiler-Free Predictions For The 'Bachelor In Paradise' Couples
The Bachelorette finale is this week, but as we wait with bated breath to find out which fame whore Hannah is contractually obligated to spend the next 90 days with, I've already moved on. Why, you ask? Because next week, Bachelor in Paradise begins! It's the best show in the franchise because it has the most drama, the most tears, and as my mother says, the most "swapping of STDs." She said it, not me! I can't help it, I just love watching Bachelor Nation get drunk and hit on each other. It's like taking a secret peek into all their DMs, and even though it's horrifyingly messy and you're so embarrassed, national TV won't let you look away. What could be better?
My favorite thing to do as we approach the Bachelor in Paradise premiere is predict the couples that will come out of the season. I don't want to brag *wink*, but I did correctly predict Kendall and Joe last season, and that was when all the spoilers were saying she was getting with Leo. Some people might say I'm a bit of a BiP savant. Okay, fine, those people are me, I say it. And now I'm back again to work my magic. Let me preface these predictions and tell you that I've based them off one trailer that I half-watched while a Law & Order: SVU marathon was playing, and I've included some people that are not on the official released list of cast members because I saw them on the preview, so I know they were there. You can't fool me, ABC! So, are we ready to make sweeping assumptions about people's character in order to pair them up with other people we've made sweeping assumptions about? I sure am! 
Annaliese Puccini And Cam Ayala, Chris Bukowski, John Paul Jones

I don't get why Annaliese has such a problem finding love. I mean, sure, she has multiple irrational fears including bumper cars and puppies, but I grew up with a paralyzing fear of poppable balloons and that's never stopped me from being lov… oh, wait. I take it back. 
Last season, Annaliese seemed to cycle through all the men that no one wanted so that she always had a man and a rose, only to get unceremoniously dumped by a "social media participant" on the Paradise reunion. It seems she's somehow recovered from that humiliation, and is back for more. A leopard can't change its spots, so I think she'll do the same thing this season and pick up the guys that no self-respecting bumper car lover would ever be interested in. And that means Cam Ayala, a skinny white dude that raps and says "ABC, Always Be Cam"; Chris Bukowski, a guy who is so old it's probably illegal for him to be in the same room as most of these women; and John Paul Jones, our very first serial killer to grace The Bachelor. Thanks for taking one for the team, Annaliese! 
Demi Burnett And Bri Barnes

Okay, this one is a shot in the dark. In the trailer, Demi is seen making out with a woman and saying that she's in love. The woman looks like she is tall, white, and blonde. But, no one that I saw on the cast list really fits that description. So, I'm literally casting someone myself, and if I'm right, I will expect endless accolades and will be insufferable for the rest of my life. Bri was the one who showed up on Colton's season pretending to have an Australian accent. She didn't last long, but that's a ballsy move to get noticed, and something I think Demi would think was hilarious and appreciate. And Bri fits the physical description. That's all I got, but I think relationships have been based on less, right Arie?
Also, Demi, if you're looking for a sexually fluid dating show next time, might I suggest the sh*t show that is Are You The One? I think you'd fit in nicely. 
Blake Horstmann And Hannah Godwin

Once Blake manages to finish crying over his parent's divorce, Hannah will swim to him through his river of tears and together they will form the most perfect, most boring, All-American couple. 
Caelynn Miller-Keyes And Dean Unglert

This Caelynn and Dean prediction might be influenced by things I've seen around the internet but never clicked on, I'll admit it. We must be willing to accept help in order to predict correctly be our best selves, right? 
I'm a little concerned by this pairing because the preview makes Dean look like a 70's pedophile with a giggling problem, so I can't really imagine what will draw Caelynn to him. I do imagine that once they get together Caelynn insists on a Miss Congeniality-esque makeover for Dean, and he will emerge from a beach hut resplendent, dripping in sweat, and flipping his hair to the tune of "Mustang Sally". 
Bibiana Julian And Mike Johnson

Bibiana didn't have much luck last year, and I want her to find love SO BADLY. She is funny, sassy, and has short hair, so basically she is me if I was willing to humiliate myself in exchange for a FabFitFun sponsorship. Mike is hot, and sweet, and would call Bibiana a queen, which I think she really needs to hear (just a guess!). What a perfect couple. And yes, I basically did just set myself up with Mike. Call me! 
So those are the pairings I think will be getting together this season on Paradise! Best of luck to all the happy couples, and if you decide to get married next season I hope you'll consider a prenup. 
Images: Giphy (5)
Hannah B. Is The Bachelorette ABC Deserves
As I sit here on this shockingly sunny Wednesday morning, two things are very clear: this hangover might kill me, and Hannah B. is going to make one hell of a Bachelorette. Sure, there's plenty to complain about, starting with the fact that she's younger than me (she's 24; I am…not). I'd rather not see more of Alabama than I have to (or more pageant footage, for that matter), but for f*ck's sake, half of the final four were some variation of pageant girls from Alabama. And yes, we've watched Hannah B. struggle to string together basic sentences, which some might consider a red flag. But I'm here to tell you why this tongue-tied, Southern pageant queen will give us the most fun season we've had in years—and why any other choice would have been a huge mistake.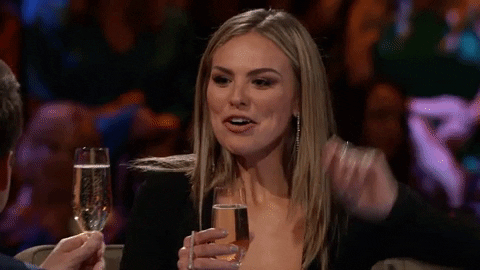 First, let's take a look at who was in line to be the Bachelorette. In this Variety interview, ABC exec Rob Mills confirms that they spoke to everyone in the final four plus Demi while making their decision. Let's take Demi out of the equation real quick: that woman was born to be on Paradise, and I'm pretty sure we have no idea what her real voice sounds like. Also, she is deeply and fundamentally not ready to get married, which we should at least still pretend is a prerequisite for being on this show.
So, that leaves Tayshia, Hannah G., and Caelynn—all of whom technically deserve the Bachelorette title more than Hannah B. Going by the rules of Becca's season, if your leading man deviates from the script and ambushes you for a surprise on-camera breakup, you are supposed to be the next Bachelorette. So both Hannah G. and Tayshia got pretty f*cked there. Actually, it's kind of a fun game to think about who got a worse deal out of this season. Is it Hannah G., who's gotten shockingly little screen time for someone who looks like a Barbie come to life, up to and including them cutting her fantasy suite? Or is it Tayshia, the divorced 28-year-old who jumped out of a plane, got dumped on camera, held a sobbing Colton in her arms, and STILL didn't get chosen as the second-ever non-white Bachelorette? (It's Tayshia, Tayshia got more f*cked here.)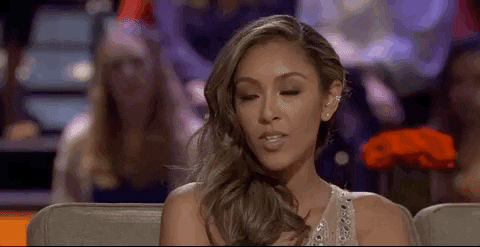 But here's the thing. We can all agree the Bachelorette shouldn't have been Hannah G.—she has a thriving career of "content creating" ahead of her either way, and I think she's about as ready for marriage as Demi is (f*cking 23-year-olds). Can we all secretly, quietly agree that we didn't want it to be the qualified and mature Tayshia either? I want many good things to happen for her, and I'm genuinely grateful that her screen time forced Colton to open his mouth for reasons other than kissing. But first of all, the last two Bachelorettes we've had have been responsible, grown-up women, and it's been boring as hell. Second of all, while it's f*cking disgraceful that there's only ever been one non-white Bachelorette, ABC needs to do some serious work on itself before they are ready to have another.
The show, in its current state, is barely equipped to handle a Bachelorette of color. Let's not forget the many "yikes" moments in Rachel's season where ABC cheerfully broadcast that it has no idea how to address race in a thoughtful way. They (probably purposefully) put a feminist-hating, Black Lives Matter-disparaging bigot on the show as a potential suitor to the first black Bachelorette, and kept him on for weeks, forcing the black contestants to explain to him why his own actions displayed undertones of racism. In my opinion, the change that needs to happen is ABC hiring more people of color and doing a serious overhaul of their many regressive attitudes—not throwing another black woman into a series of semi-racist situations with all of America watching.
Similarly, on the subject of topics ABC is unequipped to handle, Caelynn would also have been a disaster. When Caelynn shared the story of her sexual assault, it was moving, unflinching, and brave. She proved her eloquence, her inner strength, and her ability to be truly vulnerable on camera. But holy sh*t, can you imagine a season of The Bachelorette actually grappling with this? Think about the male contestants they pick. You know at least four of them would have made tone-deaf references to sexual assault before the end of night one. And Caelynn would have had to tell her story and relive that trauma several more times on camera, with different men, who have differing abilities to respond correctly. It would have been painful, sad, and peppered with tactless transitions from Chris Harrison. And let's not forget that the producers, in all their "careful vetting", let a convicted sex offender compete on Becca's season—and he made it pretty far in the process! Caelynn has a valid and important story to tell, but I'm glad we're not seeing it on The Bachelorette.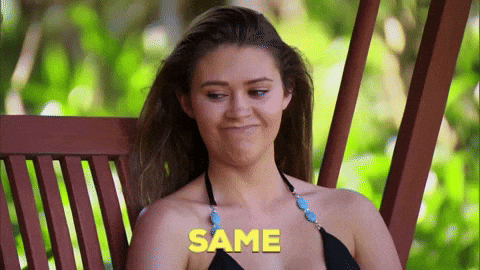 So, is my final point that Hannah B. is the perfect choice because she's young, white, and trauma-free? While I don't love the look of that sentence, that kind of is my argument. Rachel and Becca K., like I said, are smart, confident, gainfully employed women who know what they want. One of them wound up with her second choice, and the other with a MAGA troll—not exactly the empowering message we hoped they'd send. So maybe, at least for this season, we can stop pretending that The Bachelorette has the capacity to be an empowering show. I don't care if Hannah B. has the vocabulary of a fourth-grader and has never felt real pain. The Bachelorette is terrible at portraying eloquent women and their trauma in a watchable way anyway.
Hannah B., with her terrifying smile and big shiny eyes, was exactly the same person when she got sent home as she was when she arrived. While all the other girls slowly crumbled and dropped their facades, Hannah B. didn't flinch. ABC doesn't need or want an accomplished, mature woman as their Bachelorette. They need a marionette doll who can watch this guy rap without gagging. There will be no opportunity to get upset on this season of The Bachelorette—I'm sure whoever Hannah B. ends up with will be a great first husband. Until ABC is ready to make The Bachelorette a show that can handle serious issues without embarrassing everyone involved, bring on the Hannah B. Roll tide!
Images: ABC; Giphy (3)