Where To Buy All The 'Bachelor In Paradise' Finale Looks
Well ladies and gentlemen, these past few weeks of Bachelor In Paradise have truly been a journey, to say the least. We've laughed, we've cried, we've watched two grown men tackle each other to the ground over a piñata. But this beautiful journey all in the name of love finally came to a conclusion last night with a THREE HOUR LONG finale show. And, if you're a true #BachelorNation stan, you too gave up the entirety of your Tuesday night for this, and only complained a little bit.
Now of course, this A+ Bachelor In Paradise cast has never been one to disappoint, and they exceeded expectations AGAIN last night, bringing us some intense drama, plus many fire outfits. I've got to say, out of all the seasons, Colton had the best group of consistently stylish girls. And, tbh, their put-together fashionable looks gives them way more credibility during their arguments, at least in my eyes. Like, am I going to respect a girl in a tacky bodycon who's throwing shade during the reunion? Highly doubtful. But, am I going to 100% agree with everything out of Hannah G.'s mouth since she looks so freaking cute in her blue Cinderella-like dress? Duh! Call me shallow but hell, I'm your resident fashion writer. Anyway, if the one question you came away with after watching the Bachelor in Paradise finale was "how can I get these dresses?" then look no further.
1. Hannah G.'s One-Shoulder Dress

Lovers + Friends Alexander Dress, $158
As if Hannah G. couldn't already be any more perfect, she legit showed up last night looking like Cinderella pre-clock-striking-midnight. She looked stylish and classy in an effortlessly hot way in her pale powder blue one-shoulder dress which, of course, is already basically sold out. There's currently only L and XL sizes available, but by the time this article goes up, I doubt those will even be an option. Sorry! Knowing I'd be the bearer of bad news here, I thought I'd remedy the fact that this dress is almost sold out by finding out where the beautiful white and blue floral dress she got engaged in was from. Welp, even less luck there, that dress, which is from Lulu's, is sold out across the board. Sooo thanks for delivering the looks Hannah G., but no thanks for being so pretty and cool that they're all already sold out. Ugh!
2. Demi's Neon Dress

Demi looks straight-up perfect, and I'm feeling that middle part. Although, quick call out, what's up with everyone's glittery eye shadow last night??? Like, cute but why—where's the sponsorship here? Anyway, I expected nothing less from Demi than to show up looking like her Demi-goddess self in this killer neon dress. Oh, and also, can someone please let me know the products behind Demi's flawless face makeup routine??? How can one person embody so much beauty inside and out? #DemiForPresident2020
3. Tayshia's White Mini Dress

Meshki Melody Satin Twist Front Dress, $14
I love Tayshia and I stan her, but I don't know that I can ever get behind her and JPJ. It's just too much and makes me feel weird. BUT, per usual, she looked amazing and her dress is actually unbelievably affordable right now because it's super on sale. So even though I don't commend her love life choices here, I do commend her outfits, and I'll be ordering this cheap dress.
4. Caelynn's Strapless Dress

Jay Godfrey Kerr Midi Dress, $99
Okay, so I don't know if Caelynn was just trying to play up the whole "I'm-so-chill-I-live-in-a-van-now" vibe last night or what, but her look was kind of subpar. Don't get me wrong, she still looked beautiful, and this white dress that she wore looked amazing. However, it kind of looks like she got ready with a limited time constraint or something. I mean, maybe the van only has one mirror and Dean got priority? Caused he looked pretty handsome in a very Oompa Loompa meets "Old Town Road" type of way.
5. Kristina's Lacey Dress

Kristina came to this reunion ready to make a statement. She showed up in a lacey lingerie dress with some serious cleavage. Kristina clearly isn't giving up on love with that level of cleavage, so hopefully some Bachelor alums (other than Blake) will slide into her DMs given how fantastic she looks.
6. Katie's Black Sparkly Dress

I'm going to be honest here, things aren't looking so good for Katie. I mean, looks-wise she slayed last night in this sparkly long sleeve dress. However, the lack of communication between her and Chris was legit hurting my brain, and it was making it hard for me to enjoy her stylish dress. Not to mention, for a couple that's still currently together it was pretty weird to hear Katie bash Chris. I don't know, doesn't seem promising to me. But regardless, this look was promising af, so keep doing you Katie.
7. Crystal's V-Neck Jumpsuit

Nightcap Wisteria Jumpsuit, $396
Per usual, Krystal looked amazing last night in this v-neck lace jumpsuit. There are limited sizes still available, so if you want it, don't wait. Oh, and it also comes in black too! If it weren't almost $400, I would probably buy two.
All in all, I was very pleased with this season of Bachelor In Paradise and the variety of stylish looks we got from all the girls. I mean, they pretty much all just ordered their entire wardrobes from Revolve, but hey, it worked. Not to mention, it made my job of figuring out what they wore a lot easier. Next up, I can't wait to see what everyone wears to Stagecoach!
Images: @bigblondehair (2), @spotherstyle, @demi_not_lovato, @bachelorinparadise, @kristinaschulman, @coachkrystal_ / Instagram; Revolve (4); Meshki; Jay Godfrey; Planet Blue
Betches may receive a portion of revenue if you click a link and purchase a product or service. The links are independently placed and do not influence editorial content.
UPDATED: Who's Going On 'Bachelor In Paradise' Season 6?
I'll go ahead and share an unpopular opinion: summer is kind of a trash season. Sure, the first month of day drinking out in the sun is fun—but the next two months are exhausting. By the time August rolls around, there's literally nothing I'd rather do than curl up in an air-conditioned room and binge on Bachelor in Paradise. Since we have to suffer through another round of The Bachelorette before ABC will give us what we really want, they're keeping Bachelor in Paradise season 6 cast decisions pretty quiet for now. But because I'm ~that bitch~ I decided to creep around the internet anyway and see what I could find out. Here's who you should (and shouldn't) expect to see on Bachelor in Paradise season 6.
Demi Burnett

Demi is the closest thing we have to a fully confirmed BiP contestant, given that Chris Harrison said we'd "see again somewhere" on Women Tell All. Unless they're giving her her own talk show, that's a pretty clear indication she'll be hitting the beach in August. Also, it kind of seems like fans would riot in the streets if she didn't join the cast, so I'm glad both ABC and Demi are going along with it.
Forget about @colton jumping the fence, I'm more hyped for @demi_burnett to spill some TEA tomorrow night?☕️

(She better be on Bachelor in Paradise or I'm gonna fight someone)

— lauren ღ (@laurennn2313) March 5, 2019
Courtney Curtis

Yes, the contestant who stuffed a pacifier in Demi's mouth on Women Tell All. Yes, I do think that's the only reason she'll be offered a role, and no, I don't think she'll last very long. However, Courtney has proven that she is drama-hungry enough to do just about anything, and has precisely the kind of high tolerance for embarrassing herself that's required to appear on the Bachelor franchise. We'll get her back on Bachelor in Paradise season 6 if for no other reason than two episodes of re-ignited Demi drama.
Courtney baby you only got screentime an a possible spot on Paradise because of Demi be grateful and keep it pushing sis cause Demi is winning this fight ? #WomenTellAll pic.twitter.com/V89GLStNK5

— Olivia Broussard (@OliviaBroussar1) March 6, 2019
Caelynn Miller-Keyes

Caelynn, on the other hand, people are less sure about. When asked on Ellen back in March whether she'd consider joining the Paradise cast, she "answered with a solid 'maybe.'" But given her overall takeaway from being on The Bachelor ("this process sucked for me," it was "absolute hell," etc.), not everyone is sure she's ready to dive back in to reality TV. Then again, those comments were largely made in response to questions about whether she'd be the next Bachelorette. Given that she wasn't offered the role, this could have just been her attempt to save face. IMO, Caelynn might ghost the ABC producers for a month or two when they ask—but she'll come around.
Hannah G(odwin)

Will everyone's favorite content creator get back in the game?! Honestly, given that she cracked 1M Instagram followers from The Bachelor alone, I'm not sure what else she needs from Paradise. Apparently, she doesn't feel the same way, and has been dropping references to Paradise left and right in her interviews. Specifically, references to meeting Blake Horstmann, the Bachelor Nation-approved romantic pick for her. "I think Blake's a catch. So I'd like to see him there," Hannah G. told Extra TV. "I'd have to hang out with him to kind of figure out if that would work and everything. So maybe Paradise would be a spot to meet each other. Who knows. But also I want to go in super open-minded and just go in with my gut."
IDK about you, but that definitely sounds like someone who's going on Paradise to me. And possibly, someone about to Tia the sh*t out of Blake while there.
Can we get Blake and Hannah G together on #BachelorInParadise and call if a day? Those two deserve love and would be magic together. #TheBachelor

— Jackie (@jlhalvy) March 12, 2019
Blake Horstmann

On that note, can we expect to see Blake in Paradise? Word has it he didn't join the cast last year because he was still in talks to be the next Bachelor at the time. But talking to Us Weekly in March, Blake said the following: "If I'm single, I probably will be on Paradise." Hear that, my Colorado betches? If you want Blake on Paradise, just make sure no one dates him in the next three months. Should be easy enough.
Tayshia Adams

Now for some more troubling news. Tayshia Adams, who was essentially robbed of the Bachelorette title, might…not have been asked to join Bachelor in Paradise season 6 either?! In a recent Vulture interview, Tayshia was asked whether she'd ever go back on reality TV. Her answer: "I have mixed feelings about that. I'm looking forward to what other opportunities come around, whether with Paradise or anything else. I'll never say never. But it's a different world."
That sounds to me like someone who has distinctly not been offered a place on Paradise—and who would very much accept it if she were. Wondering which opportunities will "come around" implies a lot less confidence that Hannah G.'s statement that she "want to go in super open-minded." If I'm right on this, the only question that remains is what the f*ck ABC's problem with Tayshia is. She was the only member of Colton's final four who could talk about something other than their relationship, and I feel that kind of mental acuity should be rewarded. For what it's worth, Evan Bass agrees with me.
Tayshia is so great. So much class. Sad she feels ashamed that some idiot cheated on her. I don't think she'll end up with Colton but hot damn she'll easily engaged by the end of paradise! #thebachelor

— Evan Bass (@ebassclinics) March 5, 2019
Joe Barsano

Since Joe was eliminated from The Bachelorette night one (good spot, Hannah!), he was able to confirm to Variety last week that he'll be appearing on Paradise. He's otherwise known as the "Box King," because oh IDK he made it his Insta handle, Twitter handle, and the entire theme of his intro video for The Bachelorette. This guy came in guns blazing (from a branding perspective, NOT a romantic perspective) and sadly, I think it'll make him as boring on Paradise as he was on The Bachelorette. You have to at least pretend you're in it for something other than cold, hard cash, Joe—that's what gets you roses.
Cam Ayala

Cam was a slightly more memorable Bachelorette candidate than Joe, but unfortunately only because he came off like a total f*cking psycho. He was actually giving me major Chris Randone vibes, so even though his turn on Paradise isn't confirmed, I would be majorly shocked if he didn't appear. After all, Paradise is where they send all the "misunderstood" (read: emotionally unstable) rejects. Now, as to who will be the Krystal to Cam's Chris—Demi was the closest thing Colton's season had to a villain, and I can't see her falling for his bullsh*t. Maybe they'll bring back Chelsea? She's been around the Bachelor block so many times now I think she'd say yes to anybody. 
John Paul Jones

Finally, John Paul Jones. He hasn't been eliminated on The Bachelorette yet (and honestly, he's been more fo a legit contender than I expected) but search your souls: do you really think Alabama Hannah is walking out of there with a ring put on her finger by John Paul Jones? He looks like he's 16, has no discernible job, and told Hannah outright that his long-term plan is to ride on her coattails. Relatable? Absolutely. But not Bachelorette husband material. Everything about him is a gimmick, which makes him perfect for Paradise: and while I think Demi's a little too sharp for him, I could see pageant queen Caelynn wanting someone like this to follow her around and hold her purse. (Sidenote: do we think Caelynn's ego would allow her to date one of Hannah's cast-offs? Time will tell…)
That's all I have for now—but rumor has it the full cast list for Bachelor in Paradise season 6 will drop in June, when Hannah B. has kicked a few garbage men off her round to join the fun. Can't wait!
Images: Disney ABC Press; @laurennn2313, @jlhalvy, @ebassclinics, @OliviaBroussar1 / Twitter
Hannah B. Is The Bachelorette ABC Deserves
As I sit here on this shockingly sunny Wednesday morning, two things are very clear: this hangover might kill me, and Hannah B. is going to make one hell of a Bachelorette. Sure, there's plenty to complain about, starting with the fact that she's younger than me (she's 24; I am…not). I'd rather not see more of Alabama than I have to (or more pageant footage, for that matter), but for f*ck's sake, half of the final four were some variation of pageant girls from Alabama. And yes, we've watched Hannah B. struggle to string together basic sentences, which some might consider a red flag. But I'm here to tell you why this tongue-tied, Southern pageant queen will give us the most fun season we've had in years—and why any other choice would have been a huge mistake.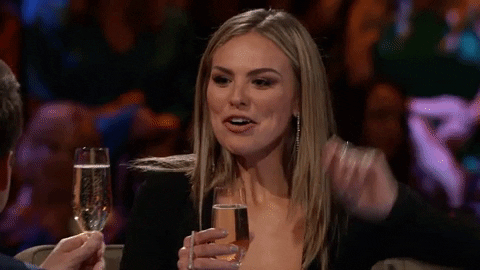 First, let's take a look at who was in line to be the Bachelorette. In this Variety interview, ABC exec Rob Mills confirms that they spoke to everyone in the final four plus Demi while making their decision. Let's take Demi out of the equation real quick: that woman was born to be on Paradise, and I'm pretty sure we have no idea what her real voice sounds like. Also, she is deeply and fundamentally not ready to get married, which we should at least still pretend is a prerequisite for being on this show.
So, that leaves Tayshia, Hannah G., and Caelynn—all of whom technically deserve the Bachelorette title more than Hannah B. Going by the rules of Becca's season, if your leading man deviates from the script and ambushes you for a surprise on-camera breakup, you are supposed to be the next Bachelorette. So both Hannah G. and Tayshia got pretty f*cked there. Actually, it's kind of a fun game to think about who got a worse deal out of this season. Is it Hannah G., who's gotten shockingly little screen time for someone who looks like a Barbie come to life, up to and including them cutting her fantasy suite? Or is it Tayshia, the divorced 28-year-old who jumped out of a plane, got dumped on camera, held a sobbing Colton in her arms, and STILL didn't get chosen as the second-ever non-white Bachelorette? (It's Tayshia, Tayshia got more f*cked here.)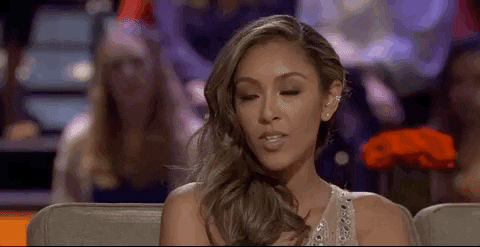 But here's the thing. We can all agree the Bachelorette shouldn't have been Hannah G.—she has a thriving career of "content creating" ahead of her either way, and I think she's about as ready for marriage as Demi is (f*cking 23-year-olds). Can we all secretly, quietly agree that we didn't want it to be the qualified and mature Tayshia either? I want many good things to happen for her, and I'm genuinely grateful that her screen time forced Colton to open his mouth for reasons other than kissing. But first of all, the last two Bachelorettes we've had have been responsible, grown-up women, and it's been boring as hell. Second of all, while it's f*cking disgraceful that there's only ever been one non-white Bachelorette, ABC needs to do some serious work on itself before they are ready to have another.
The show, in its current state, is barely equipped to handle a Bachelorette of color. Let's not forget the many "yikes" moments in Rachel's season where ABC cheerfully broadcast that it has no idea how to address race in a thoughtful way. They (probably purposefully) put a feminist-hating, Black Lives Matter-disparaging bigot on the show as a potential suitor to the first black Bachelorette, and kept him on for weeks, forcing the black contestants to explain to him why his own actions displayed undertones of racism. In my opinion, the change that needs to happen is ABC hiring more people of color and doing a serious overhaul of their many regressive attitudes—not throwing another black woman into a series of semi-racist situations with all of America watching.
Similarly, on the subject of topics ABC is unequipped to handle, Caelynn would also have been a disaster. When Caelynn shared the story of her sexual assault, it was moving, unflinching, and brave. She proved her eloquence, her inner strength, and her ability to be truly vulnerable on camera. But holy sh*t, can you imagine a season of The Bachelorette actually grappling with this? Think about the male contestants they pick. You know at least four of them would have made tone-deaf references to sexual assault before the end of night one. And Caelynn would have had to tell her story and relive that trauma several more times on camera, with different men, who have differing abilities to respond correctly. It would have been painful, sad, and peppered with tactless transitions from Chris Harrison. And let's not forget that the producers, in all their "careful vetting", let a convicted sex offender compete on Becca's season—and he made it pretty far in the process! Caelynn has a valid and important story to tell, but I'm glad we're not seeing it on The Bachelorette.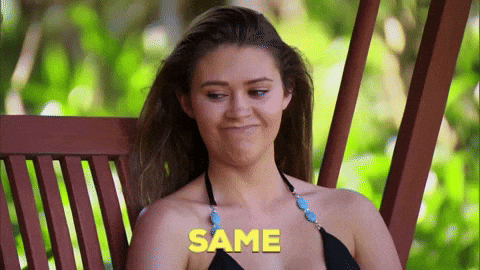 So, is my final point that Hannah B. is the perfect choice because she's young, white, and trauma-free? While I don't love the look of that sentence, that kind of is my argument. Rachel and Becca K., like I said, are smart, confident, gainfully employed women who know what they want. One of them wound up with her second choice, and the other with a MAGA troll—not exactly the empowering message we hoped they'd send. So maybe, at least for this season, we can stop pretending that The Bachelorette has the capacity to be an empowering show. I don't care if Hannah B. has the vocabulary of a fourth-grader and has never felt real pain. The Bachelorette is terrible at portraying eloquent women and their trauma in a watchable way anyway.
Hannah B., with her terrifying smile and big shiny eyes, was exactly the same person when she got sent home as she was when she arrived. While all the other girls slowly crumbled and dropped their facades, Hannah B. didn't flinch. ABC doesn't need or want an accomplished, mature woman as their Bachelorette. They need a marionette doll who can watch this guy rap without gagging. There will be no opportunity to get upset on this season of The Bachelorette—I'm sure whoever Hannah B. ends up with will be a great first husband. Until ABC is ready to make The Bachelorette a show that can handle serious issues without embarrassing everyone involved, bring on the Hannah B. Roll tide!
Images: ABC; Giphy (3)
The Best 'Bachelor' Recap You'll Ever Read: Season 23 Finale, Night 2
Presented by

Welcome back to hell night two of The Bachelor season finale because, yes, Colton's season is STILL somehow going on. I should know, I've only been praying all day that God would drop an anvil on my head or something and finally put me out of my misery. But alas, I'm still here. Last night we watched Colton audition for Naked and Afraid take to the wild streets of Portugal until Chris Harrison, who earned his paycheck and then some, coddled his ego enough that he could be lured back to the hotel. Snaps for you, Chris! The rest of the episode flipped back and forth between Colton dumping any woman who would actually sleep with him and live content from After The Final Rose. The episode ended with Colton deciding to risk the last remnants of his dignity by getting on his hands and knees and begging to Cassie to take him back. Jesus.   
Moving on to this week. Chris Harrison starts things off by posing this question to the audience: can Cassie be bribed find love with Colton or will he remain a virgin forever? Because I guess that's what's really important here, not finding unconditional love and everlasting happiness, but that Colton really needs to get laid!!
Cassie opens the door and she doesn't look at all surprised to see Colton there. Is it normal for her to have grown-ass men sobbing at her door?
COLTON: I broke up with Tayshia and Hannah for you.
CASSIE:

Did she just straight-up laugh in his face when he said that? CASSIE! At least keep it together until he's not in the room! Also, Colton, it's not looking good for you, buddy. Cassie's like "I don't understand because other girls told me they were farther along with and I literally said I'm not interested??" Yeah, it's a mystery to us too, Cassie.
She is so turned off by him right now, it's crazy. She's, like, still trying to convince him to dump her, but Colton is clinging on to her for dear life. I also just don't understand why Cassie is freaking out like this? He says they don't have to get engaged at the end, so the only reason she should be freaking out is if she actually doesn't like him, which is definitely the case!!
Wait. Why are they kissing now?? I don't understand. Are they together? Are they breaking up? Is it a pity kiss? WHAT IS HAPPENING.
COLTON: I know you don't want to be seen with me in public anymore, but I can offer you a free trip to Spain?
CASSIE: Fine.
FINE?! I can't believe I'm wasting FOUR HOURS of my life that I will never be able to get back on a girl that has the same feelings about her relationship as I do about saltine crackers.
Cassie Meets The Fam
Yes, you read that right. A girl who might describe her feelings for Colton as lukewarm at best is going to meet his parents. Colton explains what went down during the fantasy suites, and his parents look appropriately horrified, and not just about the amount of times their adult son has mentioned his virginity during family breakfast.

Colton says he's going to be optimistic about this relationship, but there's literally no one else, so really what are his options? 
Right away Uncle John is like "So are you dating? Just friends? Letting Colton at least get a BJ at the end of all this?" UNCLE JOHN. He's worse then my friend Ashley who's always asking me to define the relationship when she knows damn well that I prefer to keep any of my romantic entanglements an emotional arms-length away. God!
Colton's mom pulls him aside, and I hope she slaps some sense into him. Is it just me or is Colton acting like they're actually dating? But Cassie has not at all said that those words. He's acting like once they leave this show, Cassie will be his. Um, after she leaves ABC's clutches she's not contractually obligated to be anywhere near you anymore, bro.
CASSIE: Where should I start when it comes to our relationship?
COLTON'S MOM: Well, you can start with your decision to bail.
ME TO MY DOG, ALONE IN OUR LIVING ROOM:

Y'all, I'm truly living for the disgust Colton's family is openly displaying for Cassie rn. They're not even trying to hide it at this point. His mother is practically sneering into her margarita, and his dad is crying because he hates her so much. Their resentment is putting an extra spring in my step.
The Last One-On-One Date
Colton gets one last chance to bribe Cassie not to leave him while the cameras aren't rolling, and he is pulling out all the stops. Romantic scenery, a once-in-a-lifetime activity which he can twist into a metaphor about their relationship and taking a "leap of faith." God, I hope it all blows up in his face.
For the date, they're having a picnic seaside, but first they have to shimmy down a cliff. Cassie, you better be careful what you say to him…one wrong word and Colton might throw himself off that cliff. Honestly, I'm hoping they both fall to their deaths.

Cassie finally admits that she has commitment issues, and not only is she not ready to get married, but she can't even see herself dating someone, which is why she signed up for a show where the end goal is to be in a committed relationship. Makes sense.
Cut to the cocktail portion of this evening, and Cassie is pretending to be mildly attracted to Colton again. Which producer had to whisper "thousands more Instagram followers" into her ear before this to get her hyped enough for this date?
CASSIE: You've taught me a lot. Like I can't get away no matter how far I run.
That's the spirit, girlfriend!
Colton asks Cassie if she feels like giving him pity sex going into the fantasy suite and she says yes!! Against all odds (and so many tears), Colton is actually going to lose his virginity. He kicks production out and all but throws his mic and his underwear out into the hallway. This is so uncomfortable. Like, I'm watching a docuseries on a brothel. I feel dirty.
Cut to the next morning and Colton is all but waving her bra in the air for the cameras, he's that f*cking smug.
COLTON: We did what was right for our relationship.
ALSO COLTON:

Good for you, Colton! you're a big boy now. I hope those five seconds were everything you dreamed they would be.
After The Final Rose
Chris brings out Colton and Cassie and, because he is a messy bitch, immediately asks them if they banged. He doesn't even pretend to beat around the bush. Though, now that I think about it, that's probably about as much foreplay as Colton gave Cassie in Portugal, so by all means Chris Harrison, carry on.
God. F*ck off, Colton. He's like "I know I profited off my virginity for the past 10 weeks, but now that you want an answer I'm not going to tell you." Yeah the only reason he's not "kissing and telling" is because Cassie's dad probably threatened to castrate him or something.
COLTON: We've come really far since our time on the show. Cassie is actually letting me breathe the same air as her now!
I'm sorry, but did Colton just say that "spending a lot of time together" is a big step in their relationship? Was he not mentally and emotionally prepared to MARRY someone at the beginning of this, and now he's just settling for being allowed to be within 100 feet of his girlfriend? Oh, Colton.
ABC rolls out some footage of their time together post-production and it's really sweet to watch Cassie finally get on board with this and read what production wrote about Colton word-for-word. Thanks for finally getting with the program, sweetie!
Okay, who tf is Air Supply and why are they on my screen rn? Is ABC punking me? Is this just another one-on-one and the season is still happening?? I'm so confused.
I love that they're forcing Colton and Cassie to dance in front of this entire viewing audience like the performing circus animals they are. Dance, monkeys, dance! 

Also, the band is belting out the lyrics "making love out of nothing at all" as these two pretend to be into each other is the ultimate burn. Bravo, ABC.
Next up, ABC announces the next Bachelorette and it's… Alabama Hannah!! Wow. This might be the first time Hannah B has beat Caelynn out for anything in her entire damn life, and I am here for it. Honestly, Caelynn will probably have better luck on Ship than with the psychos ABC chooses her, so who really won here?
Unpopular opinion: I love Alabama Hannah, and I'm so happy they chose her to be the next Bachelorette. I know I gave her a lot of sh*t at the beginning of Colton's season, but she's really grown on me. And I love, love, LOVE that she's not in the least bit poised or put-together. She's going to be a hot mess and I think her bumbling ass is going to make for great TV.
Hannah B as The Bachelorette telling the guys in the house to pack they're bags because they're going overseas pic.twitter.com/LFfXpIn7GE

— Betches (@betchesluvthis) March 13, 2019

CHRIS HARRISON: What's your ideal man?
HANNAH: I just hope they can string words together.
Funny, that's where my bar is set too.
Speaking of her men, ABC decides to bring out five men from Hannah's season RIGHT NOW to woo her. My first impression of Hannah's guys goes as such:
I will be slipping in to Luke's DMs approximately 1 glass of wine from now

The one who brought champagne is doing the Lord's work. Hannah's face is like, "Thank god for the champagne, but I wish it was vodka."

Oh, this one is cute! Oh wait. Oh dear god NO. He's rapping. Why is the white guy rapping? I take it back and burn my TV.

I'm not convinced Luke #2 is not Nick Viall trying but failing to hide his identity with a heavy amount of plastic surgery.
Hannah says all the men were great and she wishes she could give out a rose and Chris is like "Well how convenient because we have one right here!" Chris, I know you just shamelessly promoted your acting stint on Single Parents, but my god, you need to work on your surprise coincidence face.
HANNAH: You were all so great!
ALSO HANNAH:

She gives the rose to Mr. Malibu Most Wanted and it's going to make for a fun season if she's out here picking the guys that actually show a personality instead of the ones showing off their new jaws they just got perfectly contoured at the filler clinic.
And that's a wrap for the season, betches! If you need me, I'll just be here trying to bleach my brain from ever having seen Colton's shiny, sobbing face. See you hoes in May for The Bachelorette!
Images: Giphy (6); ABC (2)
Diggy Moreland's 'Bachelor' Recap: Someone Go Check On Hannah G.
We have made it to week nine, and I can't believe it's taken more than two months for us to reach the high point of this season. No, not referring to a proposal, I'm referring to a fence jump that we all could EASILY see if we watched any episode of COPS. The fact that we've been waiting this long to see Colton jump over something that's shorter than his stack of expired Trojans boggles my mind. Let's see if it lived up to the hype…
Monday's episode kicks off with Chris Harrison and Colton sitting on the steps of the house from Forrest Gump, where Colton is requesting sleeping bags to be present in the unavoidable and dreaded fantasy suites. After telling him "We can't do that, but I'll look into bunk beds," Chris settles Colton's nerves and reassures him that it's just like riding a bike. Yea, but this 20-something-year-old's bike needs training wheels.

As a last attempt to gain platinum status on United, Colton and the three remaining girls pack their bags and head to Portugal. Realizing that this may be the country where he loses his virginity, Colton takes several selfies in order to compare 'Before' and 'After' look. Spoiler alert: you look the same after having sex. But who's going to have a shot at stealing his V-card first? Tayshia, you're up to bat.
As Tayshia is walking through the streets of Portugual looking for the nearest payphone to arrange a getaway car, she stumbles upon Colton, and realizes that she might as well go on this date. After seeing that Colton has an Enterprise Helicopter key, her mood perks up. For those keeping track at home, this is the third time they've been in the air together. Bungee jumping, skydiving, and now a helicopter. (Air Colton > Ground Colton, apparently.) After talking about Portugal's chief exports (don't watch if you're narcoleptic, as this date is sleep-inducing), they land, and then head to a cliff to enjoy a picnic with a view. Except they don't. That picnic basket is emptier than Chick-Fil-A on Sundays. Because making out on a cliff is too cliché, they head to a lighthouse, where kissing is not only welcomed, but encouraged.
Wardrobe change, aka, night date time! Tayshia and Colton chat over dinner about her previous marriage, and how she divorced him because he refused to put the toilet seat down. (Statistics show that this is the cause of 80% of divorces.) Sticking with the week one storyline, Colton continues to talk about what could be about to happen in the next couple of hours, and how he's open to it. The whole date, he continues to say: "I appreciate you." Colton, Colton, Colton. This is where you say: "I love you." You say: "I appreciate you" to someone who bails you out of jail, or to a friend who buys you a drink because you left your credit card at the bar the night before.
Upon opening the fantasy suite card, we see two things. 1. That Chris Harrison writes in Comic Sans and 2. This boy is nervous! Tayshia takes Colton up on the invite to the suite, and Here. We. Go. In the background, they have the soundtrack to Aladdin playing, and you just know it's about to be "A Whole New World." Except it wasn't. By all indications of how Tayshia woke up the next morning, that bed definitely had a pillow wall between the two. There are "after sex" cues that should be visible the next morning, and Tayshia had none of them. She looked upset, hair was fresh from the beauty salon, and she was still wearing her belt from last night. According to my math, adding all those things up equates to no sex in the champagne room. If the deed was done, Tayshia would've woken up dehydrated, hair in ponytail, and stumbling around the apartment butt-ass naked looking for pancake mix. Verdict? Virginity still intact.

Realizing that Cassie has been twiddling her thumbs for 48 hours straight, Colton makes his way to pick her up in a Model-T Ford from the 1860s. After spending some time walking around town, dancing with Portuguese mistresses, and trying to fight his way into the friendzone, Cassie and Colton sit to reflect about hometowns. He tells her, "I could really see myself being a part of your family," and she responds with, "I like string cheese." To be fair, who doesn't? But Cassie, come on, wrong place, wrong time. Cassie has not been emotionally available for Colton this entire season, and like his NFL career, it's not going to happen anytime soon. Colton is really laying it on thick, but he does tell Cassie that her father didn't give him his blessing. Cassie seems shocked, but I've seen better acting from a puppy in a PetsMart commercial. Not buying it.
In typical father fashion, Cassie's dad shows up unannounced in the first ever Bachelor minivan to let her know "Just so you know, Colton is not invited to the cookout." He lectures her about how you know when you love someone, and Cassie communicates that, like learning pre-calculus, she'll get there eventually. The luggage-less father returns to the airport to fly home because he left his hazards on at LAX, and they don't play around at Arrivals.
After the impromptu visit from her dad, Cassie has made the decision that since she's paid LA rent for all these months, she's going to go home and get her money's worth. The night portion of the date is filmed in a Portuguese open house, and this is where the episode starts to be somewhat interesting. Colton continues to tell her he loves her, and Cassie dodges those bullets like 6th grade dodgeball tournament.
How long are Cassie & Colton contractually obligated to sit on this IKEA living room set??#thebachelor

— Diggy Moreland (@diggymoreland) March 5, 2019
Transcript of Colton & Cassie's Date:
Colton: "I love you."
Cassie: "Portugal is amazing."
Colton: "I hope I'm with you in the end."
Cassie: "Bacon is my favorite!"
Colton: "I feel differently with you."
Cassie: "Wool scarves makes me itch."
Cassie tells him that she doesn't think she can get there, but she wanted to tell him in person, because this is her favorite dress and she thinks America will love it too. He then throws every Hail Mary in the book, including "I think of you even when I'm with the other girls." Cassie says "That's cool and all, but can you drop me off at the airport?" Finding her own ride, Cassie leaves, and Colton heads back to his room…alone. Seeing that room service forgot to make him a towel swan for the day, he screams "I'M DONE!" and starts running. Production, stray dogs, and even Chris Harrison in his Patagonia quarter-zip (in the midst of his cucumber facial) chase Colton as he storms off the property. The only thing preventing him from leaving the property is this white fence, and Colton shows that, unlike the movie, white men CAN jump, and even gets a perfect score from the Russian judge on the landing. He sprints out into the Portuguese night, nowhere to be found. I mean, he has to return right? Not only does he have the only key to Hannah G.'s room, but continental breakfast on the property ends at 11am. Only time will tell…or the spoilers.

The Women Tell All
Before we get to find out if Colton even wants to know what Hannah G. is like in the third fantasy suite, these women get their last chance to solidify Instagram deals say their peace. As an only child, I'm not sure what growing up with siblings is like, but after seeing this, I'm DEFINITELY glad I didn't grow up with a house full of sisters. With all these girls talking over each other, my Closed Captioning went into overdrive and knocked the power out of an entire Chicago city block.
Not gonna lie, when they introduced the cast, I was 100% sure that most of these people were paid actresses, since I don't remember them AT all. They start off with Catherine, and she decides it's too sunny in the studio, so she provides a few fellow cast members with some shade. I just wish someone would've commented on her pantsuit that would've made Roseanne jealous.
Nicole and Onyeka revisit their "feud," and this is far from family-related. Onyeka proves that she wasn't a bully by breaking down the Oxford definition, and Nicole proves that she's a mime, because she doesn't say sh*t. I actually feel bad for Nicole, because she's trying to get a word in, but Onyeka's mouth runs on diesel, so you know it's not stopping soon.
The bomb that Katie dropped on her way out ("You have some people remaining not here for marriage") is addressed and she mentions names this time: Caelynn and Cassie. Caelynn is the only one there to defend herself, and she does say she was there for the right reason, and that was to get sponsored by Crate & Barrel, because she's too old to sit on IKEA furniture she can't pronounce. Other girls pile on Katie's side, and at the same time, are uninviting themselves to Caelynn's C&B housewarming party in the process.
Demi vs. Courtney might be the best battle of the night. I wouldn't call this World War 3, but more like, "Battle for the Last Pair of XS Lululemon Yoga Pants." Demi comes out with several clapbacks, and Courtney sits there silent, not blinking, like she's at an optometrist appointment. Courtney, can you read these letters on the chart: "U–R-Done." After being called "bed bugs of the house," Courtney puts her tail between her legs and retreats.

Hannah B. and Caelynn get their time to say their peace as well. Hannah B. says she's still looking for someone to love her fiercely, but more importantly, ABC lets her redo her disaster of a toast, which is already better because she used actual words this time. Caelynn got to confront Colton about what really happened, and he pretty much told her he found out she still owed past due fees at Blockbuster, and he didn't need anyone that irresponsible in his life in 2019.
Next week is the FINAL week, and then we get to return to life as normal. Wait, has someone let Hannah G. out of her room yet?!
Images: ABC; Giphy (4); @diggymoreland / Twitter