Your Hangovers *Are* Getting Worse As You Get Older & Here's Why
Raise your hand if you've ever been personally victimized by vodka. Seriously, have anyone else's hangovers gotten significantly worse after the age of 25? It used to be as easy as going out, throwing back a nauseating amount of jungle juice and cheap liquor, and bouncing back after a greasy breakfast sandwich and a quick power nap. Now, it's two glasses of wine and a headache for the next three days. I used to pride myself on the fact that I wasn't a "puker", but after I hit my mid-twenties, just a couple rounds of skinny margs would be followed by hours of holding my hair back the next morning. What gives? Are we just getting weaker in our old age, or is it possible that we've forgotten how bad our hangovers really were when we were younger?
Looking back at old Snapchats from college, all we see are the blurry videos of the nights of our youth, and not the mornings after that we spent throwing up and vowing to never drink again. So is it us, or is it science? As it turns out, there are valid medical reasons for why we can't stomach our hangovers as well as we used to, excuse the pun. In addition to my own personal "research" (drinking), I reached out to some medical experts to provide some much-needed insight on why hangovers feel worse as we get older. 
Hangover Hell
Even if you don't drink, it's pretty safe to say that everyone is familiar with what a hangover is. Generally, it's a day of sickness, complaining, and overall misery that follows a night of heavy drinking. But what are hangovers, medically speaking? I spoke with integrative physician Dr. Taz Bhatia, who broke down the science behind hangovers. Dr. Taz says, "The technical name is veisalgia and refers to a syndrome of symptoms post-alcohol—headaches, fatigue, nausea, vomiting, and focus issues."
I don't know about you, but I always feel more justified when I can put a medical term to my woes. Saying "I have veisalgia!" sounds way more serious than just saying "I'm hungover," and therefore warrants more sympathy instead of judgment from your friends and family. Dr. Taz adds, "Many of these symptoms are most likely from detox pathways getting overworked along with leaching of key nutrients like B vitamins and amino acids."
Have you also noticed that, as you've gotten older, regardless of what or how much you're drinking, your hangover the next day is exceptionally dreadful? Take solace in knowing that you're not alone, and that you're not imagining this; your hangovers really are getting worse as you're getting older. I'll give you a moment to go yell "I told you so!" at whoever mocked you for being a wimp during your last hangover. Dr. Jason Burke, hangover specialist and founder of Hangover Heaven IV Hydration, says, "Yes, hangovers are getting much worse as we age. I say that when people are 20 years old, hangovers last one hour, when you get to age 30 they last all day, and once you become over 40, they become a multi-day experience." So, something to look forward to. Yay. 
Age And Alcohol 
So why do hangovers get worse as we get older? "Because the body's reserves are worn down—and there is often not the nutrient reserve, immune reserve, and given time—a greater accumulation of toxins that stress liver function," says Dr. Taz. Yet another reason to begrudge getting older, enzyme activity in your liver decreases as you age; therefore, your body might not be metabolizing alcohol as well as it did when you were younger. And as we get older, our percentage of body water also decreases, which can increase our blood alcohol concentration (even when we drink less), thus giving us worse hangovers the next day. Furthermore, Dr. Burke explains, "As people age, their ability to rebound, heal, and recover becomes less. As your body ages, it loses its regenerative functions. A hangover is a physical insult to your body. This is why you feel so bad. So, when you are 20 years old you rebound from anything faster, including hangovers. Unfortunately the only thing that gets better with age is wisdom." Ironically, I think I need a drink to help come to terms with this bitter fact.
Ready to resent your hangover and men, even more? In addition to getting worse with age, studies have also suggested that women experience more severe hangovers than men. To add even more salt to the wound (sans the tequila), Dr. Burke says that women may begin dealing with harsher hangovers at around age 27 or 28, whereas men may not start to experience issues until age 30 or 31. So I guess alcohol is sexist now, too. As to why women have more intense hangovers, Dr. Taz says, "There are studies that show that women have slower detox pathways and therefore don't metabolize alcohol as well." I seriously feel betrayed by my body right now.
Dr. Burke adds, "Women experience worse hangovers than men, mainly due to nausea and vomiting. This can be incapacitating. Women tend to get more nauseous and men tend to get more headaches with hangovers. Most people can function to a certain degree with a bad headache, but if somebody is vomiting uncontrollably, there is really nothing else to be done." Sad, but true. Personally, I recommend aiming your vomit at a guy so that they can be just as upset and miserable as you are. Balance restored. 
How To Help Your Hangover
Just because you can't stop yourself from aging doesn't mean that all hope is lost. There are still preventative steps you can take to help ease the severity of your inevitable hangover. For starters, the type of alcohol you choose can play a role in how much you suffer the next day. We probably all know this already, but in case you don't, Dr. Burke advises, "Darker alcohols definitely cause worse hangovers than clear alcohol. And cheap alcohol causes worse hangovers than high-end alcohol." Sounds like top shelf shots all around! Dr. Taz also recommends loading up on B vitamins, vitamin C, and staying hydrated. So, while you might not be able to fully prevent a hangover, you can still do your best to soften the blow. 
Additionally, Dr. Burke relays, "The best way to not end up feeling like death warmed over the next morning is to have a plan when you go out. Especially if you are near age 30 or older." Basically—and I know nobody wants to hear this—know your limits. You can't expect to drink five vodka sodas and miraculously feel fine the next day, no matter how much vitamin B you pound. Sorry!
As for drinking an abundance of water as a means of warding off a hangover, Dr. Burke says it can help, but only to a small degree: "If you have had 12 shots of Jagermeister, you can drink all the water you want and you will still feel like death in the morning. It will help somewhat, but it does not resolve the neuro inflammation, nor the oxidative stress." Harsh, but fair. I mean, drink the water; you're probably dehydrated anyway. Just don't expect it to work a miracle.
On the chance that you find yourself in a situation where one drink turned into five and you didn't take any pre-drinking precautions, don't beat yourself up. It's going to happen. Just go for any of your tried-and-true hangover hacks and try and remember that this feeling won't last forever. Hydrate yourself with electrolytes, and sleep it off knowing that your hangovers are getting worse as you age, it's just science—sorry!
Image: Space_Cat / Shutterstock.com
Quick Ways To Recover From The Horror Story That Was Your Halloween Weekend
Oh boy, Halloweekend is over, and you're probably too scared to even look in the mirror at the moment, let alone show up at work. Whether you're currently regretting all the Fireball shots you chased with mini Kit Kats, your hookup with some tool in a Donald Trump costume, or your brilliant idea to debut your entire shit-show of a night on your Snapchat story, you've put your body through a lot, and you're struggling with the pain of Monday morning sobriety. You've had your fun and eaten your fair share of candy, but now it's time to get your shit together. Here's how to recover your body from its current state of Halloween horror.
1. Drink Water
Fucking duh. Water is the universally accepted hangover cure, and as such, it does wonders for your headaches, dehydration, and any post-drinking digestion issues. If you've been getting your fluids from sketchy punch and vodka sodas all weekend, your body is in desperate need of water, so start chugging. Water has been proven to cure hangovers since ancient times (I assume), and if you forgot to drink some before going to bed, it's not too late to start now. If you're an overachiever, add some lemon and ginger to help soothe your stomach and get your metabolism moving again. If it keeps Kourtney Kardashian skinny after three births, chances are it'll help you out after this weekend.
2. Throw Out The Candy
If you woke up this morning with candy corn in your bed, you've overdone it on the Halloween candy, and it's not the time to store the extras in your desk drawer or buy fun sized Twix bars on sale at CVS. There's a reason adults don't go trick-or-treating, and it's not because we have better things to do. Well, it sort of is, but it's MOSTLY because we don't have the metabolism we had at age eight. Sorry. Just get rid of your candy so you won't be tempted to eat it all week. You can even offer it to your neighbor as a peace treaty for all the times they've told you to keep the noise down. Works like a charm.

3. Get Some Sleep
This tip seems pretty obvious, but for some reason people think their bodies won't mind if they run on less than five hours of sleep for like, two weeks straight. If you got no sleep this weekend, you owe it to your body to put down the Red Bull (yes, and the Adderall) and rest up, even if that means calling in for a sick day, or worse—cancelling happy hour plans. When your body is deprived of sleep, not only are you lacking energy, but your brain tries to compensate by telling you you're hungry, so you end up craving junk food and chocolate all day. Oh, and coffee doesn't count. Get some sleep.
4. Eat Omega-3's
We don't usually believe in the power of superfoods or magical ingredients, but omega-3's are the shit. End of story. A lot of people take omega-3 supplements to help with weight loss and skin care, but you can get enough of them just by eating the right foods. Things like salmon, walnuts, and flax seeds are all packed with omega-3's, and you'll notice a difference within a few days of eating them. Omega-3's help fight inflammation, protect your body from viruses, and even help prevent breakouts. If you're feeling gross from your weekend drinking bender, stop Googling SkinnyTeas and start making some salmon. You'll thank us.

5. Limit Dairy Intake
As much as we love our daily Sweetgreen salad with extra feta, try to eliminate dairy from your diet as much as you can, at least for the next few days. If you tend to feel bloated from drinking and your skin is prone to breakouts, eating a lot of dairy will only make those symptoms worse. To make your body feel and look better after this weekend, cut out the dairy, and try to stick to whole grains, lean protein sources, and healthy fats (see: the salmon argument). You might not be straight-up lactose intolerant, but most people have trouble digesting dairy like other foods, so you might as well make things easier on your body right now and just avoid.
6. Sweat That Shit Out
And finally, the advice that no one wants to hear, but seems pretty inevitable. If you feel like shit after one too many tequila shots, you can chug a Poland Spring bottle and eat a slice of whole grain toast, but there's nothing better for your body than breaking a sweat. You might feel nauseous and slightly suicidal, but take an Advil, put on your sports bra, and suck it up. (Words I live by tbh.) Book a bike, go on a run, sign up for yoga—we don't care. Just do a workout that will allow your body to sweat out the toxins it's accumulated over the weekend. It'll probably suck and you'll want to cry or vomit (or both), but you'll end up feeling and looking so much better. Obviously not right away, but like, maybe after a shower.

6 Things That Will Actually Cure Your Hangover
As a soon-to-be 26-year-old, definitely the worst part about being on the wrong side of 25 has got to be that I'm about to lose my health insurance my hangovers are debilitating. I'm talking about a full 72-hour affair. First, there's the general hangover that comes with all the nausea, headaches, fatigue, and praying for the sweet release of death. Then the next day I'm still congested af and sneezing up what I assume are the remnants of my terrible life choices, and on top of that I'm still tired. THEN, I'm still tired for a good day after that, just in time for the weekend to roll around and for me to start drinking again. What's a borderline alcoholic girl to do? Thankfully, science and frat bros with their parents' money entrepreneurs have got our back. I've tried just about every hangover cure there is, aside from abstaining from alcohol, so I'm going to tell you about the best ones.
This stuff comes in a tiny bottle that's only a little bigger than your average container of 5-Hour Energy, which is good for people like me who don't enjoy swallowing massive amounts of liquid. (And I wonder why I'm single.) It's basically got a bunch of chemical compounds that are supposed to boost your body's natural response to alcohol—shit like milk thistle, prickly pear, and something called DHM that sounds like the main ingredients of a capsule I ingested this weekend at EZoo. You're supposed to go out and do what you normally would do, come home and drink Morning Recovery, and then enjoy your next day hangover-free. However, because I'm a delinquent, I drank this shit while I was pregaming (which they say you can also do), and I think the effects were still the same. I went to EZoo, drank copious amounts of Heineken and tequila, and still woke up hangover-free, even without the initial headache and residual nausea I usually get from my typical two glasses of wine at happy hour. As an extra bonus, Morning Recovery is giving Betches readers a discount if you use the code BETCHES10 at checkout!

2. Mentis
I ordered this shit off GoFundMe because I'm forever chasing a way to avoid consequences for my actions. Sue me. Mentis is similar to Morning Recovery in that it contains a bunch of ingredients I can't pronounce and don't care to understand, and it basically has a lot of supplements and shit to help your body repair itself. It comes in a little packet much like your regular Emergen-C and you pour it into water and drink the water. The main difference here is, you NEED to take it BEFORE you start drinking. Seems easy enough unless you're me and start drinking at 3pm most days and don't bring your Mentis to brunch. Oh well. I tried this, and I also felt like I avoided a hangover which was pretty impressive considering I mixed a lot of types of alcohol and had a tequila soda at like, 1:30am because I'm a psychopath with no regard for my own life. The only downside to this stuff is that while the peach flavor is good, this shit is chalky as hell. It was v hard to choke down the whole glass. But I'd take that over being immobile and marathoning five straight hours of Parks and Rec on a gorgeous 80-degree Sunday any day.

3. Eat A Burger
I've only recently discovered that eating a burger before I go out drinking will save me from a debilitating hangover the next day. And science backs me up on this, so stay with me here. The protein from the meat has amino acids and B vitamins that help you process the undesirable byproducts of alcohol, and eating a meal that consists of carbs, fat, and protein helps you metabolize the alcohol. You might feel bloated and disgusting, but science didn't tell you to order the side of fries over the salad, so it sounds like this is a personal problem.

4. Take An Advil
Even if you don't have a headache, it's not a bad idea to take an ibuprofen before bed to reduce inflammation caused by alcohol. Plus, that extra sip of water required for you to swallow the pill probably doesn't hurt either. However, you need to make sure that you're taking ibuprofen and NOT acetaminophen. I always get the two confused and used to take them interchangeably until my friend yelled at me, because it's a TERRIBLE idea. Drinking on acetaminophen (and even taking it the day after drinking) can lead to liver damage, which is precisely the organ you want to protect if you want alcohol to remain a part of your life. Just so you remember, acetaminophen is Tylenol and ibuprofen is Advil. Bookmark this page for later; you're welcome.

5. Don't Black Out
Apologies for sounding like a MADD presentation, but in my (very extensive) experience the only way to guarantee I don't have a terrible hangover is to not black out. Once I experience memory loss, I'm fucked. Obviously there's no science to speak to this because scientists are lame and can't hang, but like, this would be my personal recommendation to you. Get wasted, just don't black out, and maybe there's a shred of hope for you and all the errands you have to run tomorrow.

6. Drink A Ton Of Water
Groundbreaking, I know. But the best way to prevent AND cure your hangover is to drink a ton of water. Alternate water in between your drinks. Drink water before you go to bed. Then, the next day, drink water every time you think you're hungry. (Spoiler alert: You're probably just thirsty.) And luckily for you, our best-selling water bottles are back in stock! These stainless steel water bottles will keep your water (or other beverages… we won't tell) cool so you don't vom when you take a big sip. They're Champagne in color and say "Not Not Hungover"…just like you. They're back in stock so buy them here!

How To Do Your Makeup When You're Too Hungover To Move
It's a given that there's a huge difference in your alcohol tolerance and the severity of your hangover since you first started stealing from your parent's liquor stash. As a teen, your liver was a champ, making you feel invincible the next morning. Fast forward to being 20-something, and you're probs black out after like, one shot. The idea of opening your eyes the next day seems unthinkable unless you have an IV of water injected into your bloodstream. I wish this was an exaggeration but, I know this is def the story of your life because like, same. That fourth shot of Fireball always sounds like a phenom' idea until you're hating yourself after waking up next to cold pizza in last night's outfit and forgetting every Snapchat you sent to your Tinder guy. What's worse is rebelliously drinking on a weekday because karma is a bitch the next day, you still have to go to fucking work. Although you don't have the capability and energy to do a full face of makeup when you're hungover AF, there's no way you're leaving the house with it. Here's how to look like a rockstar just by doing the bare minimum so you can be appear like a functioning member of society.

Water, Advil, And Primer (In That Order)
In order to even get out of bed, you're going to need to chug a shit ton of water because your brain needs it more than you rn. Pop a couple of Advils and let's just focus on getting through the day without voming on everyone who crosses your path. Now that you're standing in front of the mirror and trying not to make eye contact with your own reflection, you're going to need to start with the Too Faced Hangover Replenishing Face Primer. Since Too Faced just gets us, this primer is literally made to repair our face from alcohol's damage. Infused with coconut water, the primer will restore your skin's shine and hydration so you don't feel and look like paper mâché.

Use Under-Eye Concealer
You're ready to begin looking like the upstanding citizen you are. It's like we just know you or something because luckily, we've already compiled the best under-eye concealers that cost less than the organic salad you eat for lunch everyday. Pick your choice and use generously so you don't look like you've aged 20 years overnight. Seriously, use it or you'll probs look like this:

Rub A BB Cream All Over
We want to skip any powder-based makeup because you don't want your skin to dry out more than it already has. The Diorskin Nude BB Creme is just what you need for minimal coverage that hydrates and covers any blemishes you got overnight since you def passed out with your makeup on (again). Find the shade that's right for your skin tone, because discoloration is not cute, and apply to areas that need the most TLC. Blend with a liquid foundation brush instead of your finger to ensure your bullshit of a makeup job doesn't look worse than what we started with.

Get A Contour Stick
To keep it quick and easy, lightly contour using the v convenient Wander Beauty On-The-Glow Bronzer and Illuminator. The nausea isn't going to disappear right away but you can at least fix how pale you look. Assuming you know how to contour only because I don't feel like explaining tbh, use the matte bronzer that's best for your skin tone in the hollow of your cheekbones, on your forehead, and sides of your nose. This will restore some of your natural glow. Finish with the attached highlighter on the areas that always seem to get oily first—the center of your forehead, bridge of your nose, chin, and upper cheeks. Blend seamlessly using a beautyblender. Common sense, right? By this point, you should start looking like a person again.

Swipe Some Eyeshadow And Layer Up On Mascara
Hide last night's smokey eye with just a tad of eyeshadow. Find a color that's neutral or nude so that it comes off as natural-looking instead of clownlike. You'll want to line your inner eye with the same color so you look ten times more awake than you really feel. Then layer on the best mascara ever, bareMinerals Flawless Definition Mascara, for long volumized lashes. Without mascara, none of this is really worth it, so apply as many coats as you need to feel functional.

Lastly, all you need is some chapstick and your fave nude lip gloss before heading out the door. Don't forget to wear sunglasses all day, even inside is somewhat acceptable for obvious reasons, and everyone will know not to speak to you. This was fun, though so, while you telling yourself that you're never drinking again, until next time this weekend, betch.

How To Recover From Your Fourth Of July Bender Without Giving Up Alcohol
Whether you spent your long weekend taking poolside tequila shots or eating lobster rolls while scouting out the underwhelming crowd at Gurney's, you currently feel like shit. I mean, it makes sense. When you start drinking vodka out of a water bottle on the LIRR Friday afternoon and don't stop until late Tuesday night, you can expect to feel pretty shitty for a few days afterwards. Fourth of July was a sick time and you got 200 likes on your American flag bikini Insta, but now you're getting back to reality and it's time to get your body back on track. Here's how to recover from your Fourth of July drinking bender.
1. Cut The Salt, Chug The Water
You might notice that aside from being colossally hungover and in need of a new phone and/or Snapchat identity, you're also bloated as fuck. I mean, the amount of sodium and empty calories in your beer and hot dog intake is probably the reason, but it's nothing that can't be fixed. By cutting out salty foods this week and drinking as much water as you can, you'll start flushing unwanted toxins out of your body and you'll slowly notice yourself getting less bloated by the day. I mean, your food might be bland and your bathroom runs might increase, but it's worth it. We saw you at that buffet when everyone else was watching the fireworks. You had your fun.

2. Get A Good Night's Sleep
Another reason for feeling so gross is lack of sleep. I mean, there's no chance you got your recommended 7-9 hours per night when you were drunk-eating a family size bag of Doritos after the club at 4am, so don't pretend you're on a normal sleep cycle. Take this week to actually get into bed at a reasonable hour, put your phone away, and go the fuck to sleep. Also, many studies show that lack of sleep makes your body crave junk food, so you'll actually make healthier food choices during the day when you get more sleep at night. Can't argue with that.

3. Do A HIIT Workout
We totally get that you don't want to drag your hungover body out of bed to make it to the gym, but doing a quick HIIT workout at home will actually make you feel (and look) a lot better. High intensity interval training raises your heart rate in short intervals, so your body is actually burning calories during the workout and afterwards. The science behind it is called EPOC, and it's basically about how when your body works super hard for a short amount of time, then your body has to restore oxygen for up to 24 hours afterwards. Studies have proven that even a 15- or 20-minute workout will do the trick, so I'd start now if I were you.

4. Eat Real Meals
This might sound stupid, but simply eating real meals with whole foods will help your body recover from the damage you've done to it this weekend. Your body is used to eating substantial meals, so when you put it through 3-5 days of vodka for breakfast and rosé for dinner, it might be a bit confused. Focus on eating real meals for breakfast, lunch, and dinner, and you'll automatically start feeling better. Also make sure those meals aren't coming from a frozen box or like, a McDonald's dollar menu.

5. Be (Slightly) Less Social
We're not telling you to cancel plans every night this week, but if you're still feeling nauseous and bloated from this weekend, it's probably not the best week for happy hour and late-night dinners every night. Staying on track when you're out is hard enough, so adding a pitcher of sangria and three bowls of tortilla chips in the mix is just not helping your case. The happy hour frosé and unlimited guac bowls will still be available all summer, so take these few nights to cook for yourself and relax alc-free. Like, if Martha Stewart could do it for five months, you can do it for a week, but if you HAVE to drink, we stand by our BBQ advice and say just have everything on the rocks. Meaning no vodka sodas, yes vodka on the rocks with a fuck ton of limes—that way there's no carbonated sodas to bloat you even further. And if you're going to drink, drink a TON of water too. Sounds less fun, probs not worth it, but that's for you to decide.

6. Get Your Hands On Some Ginger
Whether you're taking a wellness shot with ginger and cayenne, or just ordering an extra side of ginger with your rice-less sushi roll, a little ginger goes a long way with healing bloating, nausea, and inflammation. It might not taste as good as the red wine you've been chugging all weekend, but it'll seriously help you out and you'll thank us when you feel like a human again. I mean, we know this info literally goes down the drain once you're ready to rally again next weekend, but try to get some ginger in your system before you buy your liver its goodbye gift.

Read: How To Detox From Your Fourth Of July Blackout
How To Recover From A Festival When Taking A Sick Day Is Not An Option
If you've scrolled through Instagram recently or walked through Penn Station wondering if there's an LF convention in town, you're well aware that festival season has begun. If you just got back from Gov Ball and you're wondering how to cope post-festival, we've got you covered. From the shitty alcohol you snuck in a Poland Spring bottle to the French fries stand you just had to stop by in between artists, you feel pretty shitty right now and we're here to help. Here's how to undo the damage from a music festival:
1. Get A Good Night Of Sleep
This should be obvious, but in case you somehow feel the need to rally and go out the night after a music festival because you literally can't stop won't stop, we're here to tell you that you should actually stop. At least for a couple days. By catching up on sleep and getting your body back on a normal sleep cycle, you'll find that you'll start feeling better without any crash diets or excessive amounts of coffee. Plus, it's been proven that more sleep prevents you from craving fattening foods, so you're basically dieting just by cancelling plans and going to sleep a bit earlier. You're welcome.

2. Eat Frequent Mini-Meals
If you're feeling bloated or nauseous from indulging in fast food or salty snacks after a festival, try eating small, frequent meals for a couple days afterwards. Instead of eating three meals a day, break up your meals into 5 or 6 different ones to keep your metabolism moving and help get your digestion back on track. Your metabolism speeds up when you consume mini-meals throughout the day, so you're helping your body recover naturally by keeping it as active as possible after you've been treating it like shit all weekend.
3. Go Do Cardio
No, really. Go. Not only does getting a good sweat feel amazing, but it actually helps you recover from all of the alcohol you've been consuming. When you do a spin class or go for a run after a weekend of drinking, not only is your body burning calories, but it's also literally sweating out the alcohol that's still in your body. So, if you start smelling vodka mid-SoulCycle, just try your best not to vom before arms and know that you're doing something right.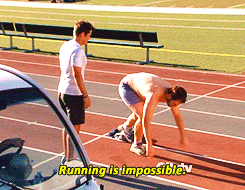 4. Take Biotin
There are few occasions where betches depend on supplements, but if your nails, hair, and skin need some serious TLC after a festival, biotin is literally your new best friend. Biotin is a natural supplement that helps strengthen your nails, fix your damaged hair, and help hydrate your skin, so after you've been outdoors being bounced around on the shoulders of some ratchet denim vest, you'll need some of this. Stock up and thank us later.
5. Eat Whole Foods
There's no detox in the world like REAL food, so skip the diet teas and the artificial 100-calorie packs, and eat real, whole foods. We're referring to anything along the lines of vegetables, whole grains, fruits, nuts, and lean proteins. Try to limit processed foods like cereals, bars, and packaged snacks for a few days, and you'll see a huge difference in your body, skin, and overall energy levels. People will start asking if you just got back from Gov Ball or from some spiritually cleansing exotic yoga retreat.

6. Aloe Vera & Cool Showers
One thing people tend to forget about music festivals is that they're outdoors in the brutal summer heat, meaning you will get sunburned. You might have ordered your flower crown online a month ago, bought your homeless-looking denim shorts two months ago, and stocked up on chasers all week, but you obviously neglected to wear sunscreen, and you're currently dealing with the painful consequences. The best things you can do right now are just to take cool showers, smother your body in aloe vera, and keep telling everyone how good you'll look when it fades into a tan.