5 Sex Toys You Can Wear In Public
If you're anything like me, you probably think of sex toys as something to be used in the privacy of your own home, either alone or with your partner. But that's beginning to change as high-tech start-ups reconceptualize the way we think about sex toys, especially when these companies are run by women. One notable manifestation of this trend are sex toys that double as wearable accessories. With these, gone are the days where your only option for a vibrator was a veiny phallus molded from the dong of a washed-up porn star (though if that's your thing, do you). Read on for a list of sex toys you can take with you anywhere.

While it may look like your typical lace thong, this baby has a hidden pocket that fits a mini vibrator. What's more, it's also remote control operable up to a range of 10 meters, so you can cede control to someone else if that's your kink. According to the product description, "you won't have to choose between turning up to work or climaxing, popping to the post office or climaxing, or going to a wedding or climaxing." The wedding example is a bit of a weird flex, but these undies could come in handy for one of those work meetings that could have been an email.

These earrings are not necessarily for the faint of nip heart. Though they may look like your typical architectural jewelry, they're modeled after the alligator nipple clamp, a staple in the BDSM world. The great thing about clamps is that they can be adjusted to suit your tolerance, whether it's a simple desire to increase sensation or to heighten pleasure with some pain. Considering that the nipples are a major erogenous zone for many people, these earrings are a creative option that will both get you off and completely fool your more vanilla co-workers.

If you're toying (see what I did there?) with the idea of purchasing a wearable sex toy, this is the one I would start with. The Vesper necklace is perhaps the most well-known and popular wearable sex toy on this list, and it's easy to see why. Its sleek design and three power settings make it both a beautiful piece of jewelry and a powerful vibrator. And there's just something indulgent about wearing a literal vibrator out in the open: as one reviewer put it, "It's like wearing a secret around my neck and in public!"

If the nipple clamps weren't for you but you're game for some light BDSM, these bangles are a great option. They're dainty, yellow gold and engraved, making for a beautiful pair of bracelets on their own. But after a long day of enduring passive-aggressive emails from Karen in Accounting, you can meet up with your partner outside of the office (or in the office if you're having an affair with a coworker, I don't know your life) and use these "surprisingly strong" handcuffs for a little bit of fun.

Rounding out the list is a ring with 5-star reviews that doubles as a vibrator. What appears on the surface as a chic cocktail ring is actually a multispeed waterproof vibrator with customizable modes that let you control the vibrations with your own hand movements. Although it may seem small, reviewers agree that this sucker "packs a punch." I guess my ex was right and size doesn't really matter after all.

The growing prominence of wearable sex toys on the market is exciting. By allowing people, especially women, to literally wear their sexuality on their sleeve (or neck, or ear, or finger), wearable sex toys subverts the societal notion that sex is something shameful that needs to be kept hidden. That's a vibe (OK, I'll stop) that we can all get into.
Images: Marvin Meyer / Unsplash; Giphy (1)
Easy BDSM Moves For Beginners
Whether you're single or attached, it's very likely that you're not having the hottest sex you could be. I totally get it—between  actual work and the very busy workout/eat out/blackout schedule of a successful young millennial, it's hard to put effort into yet another activity. But you need to be excited about sex to be having good sex. And IMO, if you're looking to upgrade your sex life, trying some BDSM-inspired moves is an awesome place to start. Here are the best BDSM-inspired moves for beginners.
Blindfolds
Blindfolds are a great choice for many reasons. First of all, you definitely already have something that could work as one. (If you don't, go buy 20 scarves and a sleep mask immediately. God.) Second: it's a small difference, but it changes how you feel—by a LOT. All sensations are heightened when you can't see, and the fact that you don't know what's coming gives you butterflies, like buying a pair of $400 boots, or non-jittery Adderall sending a risky text. The blindfolded party (preferably also restrained) will be forced to give up all control here. This makes playing with blindfolds a great time to experiment with teasing, light spanking, or anything else you would find too awkward with eye contact involved. But if the idea of butterflies sounds unpleasant to you, BDSM may not be for you. There's a difference between wanting to "switch things up" and being genuinely turned on by the power shifts/pain play involved in BDSM. There are plenty of other options if the latter isn't true for you.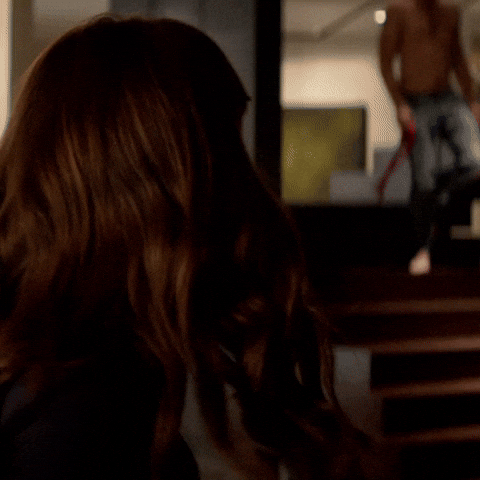 Bondage
As with blindfolds, you either have bondage materials in your home or you walk around all fall without accessories. Also, as with blindfolds, bondage is the kind of thing that heightens every sensation once it's in place. If you or your partner enjoys the idea of taking control but struggles to fully act on it in the moment, using either a blindfold or restraints are both great ways to get that final push to a dominant/submissive situation. And for shy beginners or those just starting out, it can be just the push you need to get over your awkwardness and go for it.
On a more practical level, you have some options when it comes to bondage. Usually, your first move will be making sure hands are restrained. You want it tight enough so they can't just wriggle loose, but not so tight it's cutting off their circulation. (Also, fashion a knot you know how to untie. *moment of silence for the articles of clothing I've had cut off me.*) You can also use lower body restraints, though that obviously requires a higher comfort level for both people.
Use Your Words
No, this is not another speech about how communication is key for a healthy sex life. (Though while we're on the subject…this is especially true with BDSM.) But in this case, I'm actually talking about incorporating some aspects of BDSM into how you talk to your partner. How you do this depends on which aspect of BDSM you're attracted to. If you're more submissive, you can experiment with calling your partner sir/madam/master (or incorporate a punishment if you slip up). This is especially hot if it's used while the submissive partner is blindfolded/restrained. You can also try incorporating begging, or adding some explicit descriptions of what you'd like to do—while holding back—to any teasing you're doing.
Another route you can try is using aggressive language (bitch/slut/whore/etc.) This can be exclusively in the bedroom, or how you turn your partner on when you're texting throughout the day. As with all things BDSM, it should take you out of your comfort zone, but in a way that makes you feel excited—not frightened or genuinely abused. (See all of 50 Shades for a thorough "what not to do.") And obvi, don't do anything you're uncomfortable with.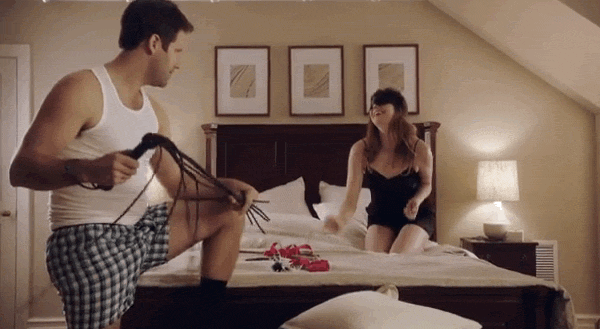 Largely in thanks to the aforementioned trilogy, BDSM has sadly been made synonymous with "hotter" sex in recent years. But BDSM doesn't feel hotter for everyone (for example, Anastasia Steele), and you should pay attention if it doesn't for you. If you want to push your boundaries or experiment with BDSM specifically, though, this list is a good start.
Giphy (4); lounisproduction / Pexels