6 Cute Halloween Nail Art Ideas That Are Festive But Not Freaky
We're mere weeks away from the holiday most beloved by betches: Halloween. And what's not to love about a holiday that encourages you to drunk eat chocolate while you drunk dial your ex? Tbh Halloween is so much more than just showing up on October 31st ready to fuck up your life in a pair of poorly constructed animal ears. No, Halloween is all about the long game, about how you incorporate dressing up like a slut and poisoning your body with pumpkin flavored liquor the holiday spirit into your everyday life. Some people choose to do this by testing the literal limits of my sanity every casual Friday during the month of October by showing up to work in anime cosplay and telling everyone they're just being "festive." Then there are those who spend the first 30 days of October building up to the big event by tagging old college photos of themselves dressed like a baby prostitute at a theme party with the caption "More trick than treat! *Winky Face Emoji*". To each their own, but also I'm unfollowing everyone. Others choose to act less like a cry for help be more subtle about showing their love for Halloween, and one way to go about doing that are chic af Halloween nails. Now there's a fine line between chic and cheesy, so don't get it twisted. Here are 6 Halloween nail trends that aren't totally heinous.
1. Pastel Pumpkin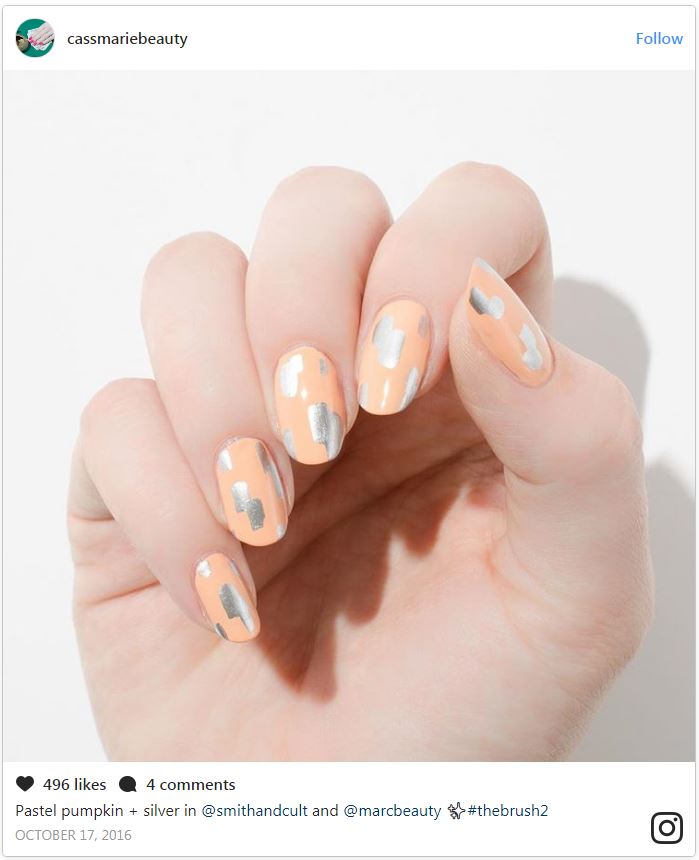 We all know that whoever said orange was the new pink was seriously disturbed, but it is Halloween, so I guess we have to tolerate it for time being. Believe it or not, pastel orange is going to be the way to chic this fall color up. I know, never did I ever think I'd use the words "pastel" and "fall" in the same sentence, but as long as pigs are flying maybe I should get back on Bumble and see if I can lock down a man for cuffing season? Lol, I crack myself up. Even though pastels are usually reserved for spring and summer, 2017 is the year that literally nobody could give a shit about rules and civility, so why not make pastels in the fall a thing. It's truly anarchy out there in the world.
2. Cat Claws

A cat costume for Halloween? Groundbreaking. Even though dressing up as a cat for Halloween all but screams, "I have the personality of low-fat yogurt," these bomb-ass nails will give a new twist to a basic bitch's go-to costume.
3. The Walking Dead Inside

If you're into staying up all night to rewatch all of Scandal and ruining your fucking life the zombified look, then you've got to try this ombre red nail effect. It'll make you look badass and be the perfect bloody accessory for your Halloween costume.
4. Halloween Accents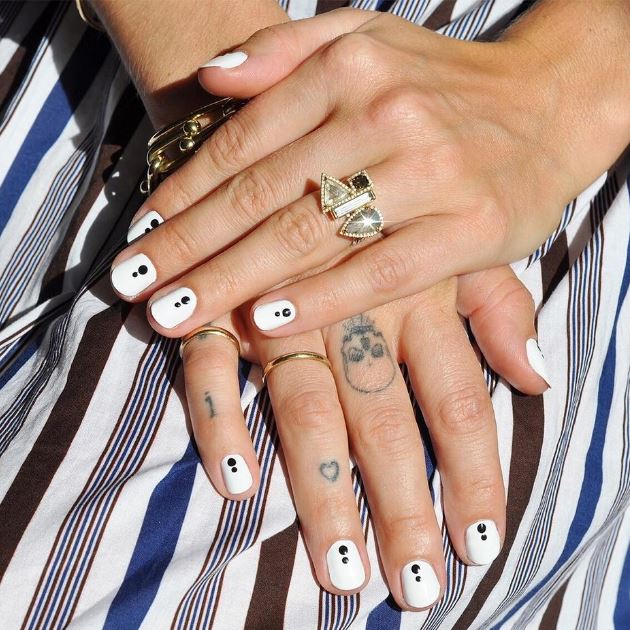 If you want to look like you don't give a shit when you give a shit be more subtle with your Halloween spirit, then try for some Halloween nail accents like white nails with black graphic accents or black nails with orange accents. It says you barely give a fuck about Halloween even though you 100 percent paid $35+ for that special manicure.
5. Witchy Vibes

I consider myself a basic witch pretty much 365 days of the year, but October is the one month where I truly get to express the fact that I'm vengeful AF someone who acts like she's an extra on AHS Coven. Lol I'm so random. Go for a basic black background and then add some witchy gold accents so that all of your ex-boyfriends will know that you're one "u up" text away from going all Madison Montgomery on their asses.
6. Basic Black

Obviously, you don't need a specific season or event to embrace the color black, but like, Halloween is as good excuse as any. Aside from the color black being iconic, it will also look amaze with any costume you choose.
What a Guy's Halloween Costume Says About How Much Of A Fuckboy He Is
You know how some people say they can judge a guy based on how he treats waiters? Or how he acts around the elderly? Well, we prefer to judge guys based on how they show up on Halloween. While a girl can spend weeks putting together the final touches on her Wonder Woman corset, guys usually think of their costumes 10 minutes before the pregame, or they just don't dress up at all. You'd think it wouldn't be that hard for a guy to put on a decent costume that doesn't scream "I'm a tool," but for some reason, so many miss the mark. Here's what a guy's costume says about him, just so you know what you're waking up next to on November 1st.
The Full-On Mascot Suit
Oh god. The full suit. This is your typical "Who would actually buy that?" costume, including but not limited to: the banana, the M&M, the Angry Bird, the Ninja Turtle, the Pikachu, the hotdog, and that goddamn yellow minion. Cringe. Costumes like these are so alarming, and it probably means this guy is an immature freak who is likely to take your relationship too seriously. Like, he's trying too hard to be funny, and he definitely looked you up on Facebook when he went to the bathroom. He's a creep. Just like any costumed adult you would avoid in Times Square, avoid this guy too. However, I do want a copy of the receipt to laugh at how much this guy spent at Party City. I just really need to know.

The Donald Trump Costume
If you show up in a Donald Trump costume on Halloween, I'd like to sit you down privately and ask you how exactly you thought this would go over. Trump won the election a year ago, and the joke hasn't suddenly gotten funnier since Halloween 12 months ago. I mean, at least at that time no one knew he would win yet. Also, what is your goal here? Because if it's to hook up, then you're sorely mistaken. Do you really think a girl would look at your costume and think like, "OMG Donald Trump, how cute and funny! I think I'll go home with that guy." Nope. At least in a Hillary costume you could potentially get with a drunk feminist and call it a night. The Trump costume is a huge red flag for sooo many reasons. Next.
The Jersey & Jeans
This costume honestly takes no effort whatsoever, but we kinda respect a guy who throws on a basketball jersey five seconds before he leaves the house. Hear us out. It shows that he's chill and mature enough not to give a fuck about Halloween, but also realizes that he needs to do something to commemorate the holiday. Plus, every guy just looks good in a jersey and jeans. It's a fact. Like, this guy is simple, to the point, and mature enough to not make a fool out of himself. He's already lived in Murray Hill and he's over it. This is the type of guy who wants to order wine at dinner and knows exactly what bottle he wants. Plus, he'll probably take you to a Knicks game. He's a keeper.

The Very Creative Pun
Pun costumes are those ones that make you take a second to think about it, and then say, "OH I get it, but like… why." We're referring to the "Cereal Killer" dressed in a Frosted Flakes shirt with a water gun. Or the "Starbucks" with gold stars and money signs painted on a Hanes V-neck. These stories are real and they're tragic, and so is this guy. I mean, you might be impressed that he went to Yale or that he reads a lot, but like, this guy put way too much thought into this costume and he's either a legit weirdo or he's missing a screw. Most likely both.
The Firefighter/ Military/ Policeman Variation
This is a tough one, because it depends on how much commitment this guy has put into this costume. Like, if he's just wearing aviators and a police hat with a normal outfit, this guy probably has his shit together and we can get on board. On the other hand, if it's obvious that the guy ordered a full-on firefighter suit online three weeks ago, this kid has to get his priorities straight. Plus, he probably thinks he looks legitimately sexy in his too-short camo shorts, when he just looks like a 14-year-old boy dressing up as Magic Mike. This is probably the guy who enjoys group chats and still refers to his 2007 AEPi mixers as his "glory days." Send help.

The T-Shirt That Says "This is My Costume"
Ugh, my heart goes out to the guys who find this T-shirt in Target and think it would be a clever, no-fuss Halloween costume. I mean, this guy is obviously lost and has no sisters, but he actually might not be such a bad guy. This is one of those guys who has potential to be legit boyfriend material, but you'd just have to take his AmEx to purchase him a new wardrobe and a few necessary Kiehl's products. This is the kid who was nerdy in high school, but he's honestly kinda hot now and probably cleans his socks off the floor without being asked. Don't give up on him just yet. But also don't go home with him. I mean, have you seen his shirt? It's not his night.