I'm A Mouse, Duh: Weekend Horoscopes For October 26-28
The sun sextiles Saturn this weekend, which is, unfortunately, putting a big fat emphasis on all the responsibilities you've been blowing off while figuring out your Halloween plans. Get as much done as possible on Saturday before heading out, so your hangxiety isn't off the charts on Sunday morning. Trust me, when the moon enters Cancer on Sunday night, you'll want to take advantage of that sentimental homebody energy by laying on the couch and watching Halloweentown, instead of curling up in the fetal position reading all of the horrifying drunk texts you sent the night before.
Aries
Halloween celebrations are usually the perfect time for you to show off your confidence, Aries, but for some reason, you're feeling a little low this year. Don't waste time doubting yourself. Besides, the sketchy website you bought your kind-of-risky costume from doesn't do refunds, so there's really no turning back now. I mean, everyone knows you look good, so maybe don't fish for too many compliments. 

Taurus
Are you part of a group or couple Halloween costume this year? If for some reason, you're feeling like you're stuck with the sh*t end of the stick, it's time to come out of your comfort zone and tell everyone what you really think. Everyone knows Gretchen is the least exciting Plastics costume, so if there's still time for you to make the case for why you should be a Regina, you should totally let everyone know.
Gemini
Don't be surprised if you wake up to a few texts from unknown numbers on Sunday asking what time you want to meet for brunch. You're about to be that girl in the bathroom complimenting a stranger's costume makeup that you recognize from a James Charles tutorial. Making new friends is fine, I guess, but remember to follow through on your promises if you plan on actually keeping your new crew around.

Cancer
Scorpio season is a really creative time for you, so take full advantage and make this Halloweekend your b*tch. Whether you're pulling off the most unique costume or pulling in triple-digit likes with a hilarious Instagram caption, this weekend's looking like a full send for you.
Leo
Your mind is kind of in a weird place this weekend, Leo. You'll find it difficult to really give anyone your full attention. So when someone's explaining their super-niche costume or the rules of an unnecessarily complicated drinking game, try to at least look like you're listening. Luckily, this is a good weekend for people to be too distracted to really be offended by that type of thing.

Virgo
This weekend, please remember that when Bad Bunny rapped "I spend in the club, what you have in the bank," he was throwing down a verse on a Cardi B song and not actually trying to give anyone financial advice. It may seem obvious, but when you check your bank account on Sunday morning, you're probably going to wonder who the f*ck inspired you to act so bougie.
Libra
Don't be surprised if you finish this weekend with a search history filled with Whole 30 recipes and questions about the Keto diet. If you've been treating your body like sh*t recently, you'll really start to feel it soon. I mean, it's going to be 0% fun to start a new lifestyle before you properly celebrate Halloween, so maybe just treat this weekend like your last hurrah for a while?

Scorpio
Wear a comfortable shoe this weekend, because you're about to spend the next few days jumping to conclusions. You're basically a walking billboard for all of the reasons people refuse to date Scorpios. Sorry, but it's true. Your birthday month is the perfect time to make everything about you, but in a "we're going to dinner Friday, drinks Saturday and brunch Sunday," kind of way. Not a Blac Chyna "ARE YOU STILL TEXTIN' B*TCHES?" way. Feel me?
Sagittarius
You know when people say that they're just having sooo much fun dating at the moment, but nobody believes them because dating is the worst? Well like, that's actually you right now. You're actually having a really fun time casually hanging out without the stress of what the future holds. That obviously will make for an amazing Halloweekend. Maybe you'll end up with a story about a really great hookup you'll have while dressed as like, Ruther Bader Ginsburg.

Capricorn
You are serving major HBIC vibes all weekend. On Friday and Saturday, you'll take the reigns of the group chat, decide on a pregame spot, and find the perfect bar. Just like, try not to shout orders. On Sunday, you'll probably feel like you still have a lot of sh*t to catch up on, which maybe you should have spent some time on earlier in the weekend before exerting all of your energy bossing around your friends.
Aquarius
You've kind of been a ball of stress for a while now, and you're itching to get into a little trouble to temporarily stop the worrying about whatever has you feeling tense. You're most likely just blowing things out of proportion, but if you really need an excuse to take a million fake blood jello shots this weekend, just screenshot this and save it as your golden ticket to the blackout factory.

Pisces
This weekend is going to have to be a bit about compromising. Did you promise your roommate you'd go to brunch with her, even though you're really broke and would rather stay in and binge the new season of Making a Murderer? Maybe just do it, enjoy some bottomless bellinis, and try to cut back on your seasonal coffee orders in the upcoming week.
Images: Aral Tasher/Unsplash; Giphy (6)
Why Halloween Is The Single Most Overrated Day Of The Year
Ah, Halloween—innovative costumes, chilling haunted house-inspired decor, and that crisp, cool weather we look forward to all year. Haaaa, I fucking wish. Idk if it's the incessant articles about fall that I force my 59 followers friends to read or the pure rage I develop when my attempt at a slutty Poison Ivy costume somehow always ends up looking like Shrek, but what we think of Halloween actually only exists in places like Pinterest or borderline demonic Disney films. And yeah, it might sound like I've become a bitter bitch, but that's only because I'm actually a bitter bitch.
Anyway, I'm not here to throw all my problems on you—my therapist frowned upon that. There's a lot that goes into Halloween that never actually happens, and that's honestly way too much work for an attempt at record-breaking Instagram likes on a night you probably won't remember anyway. Thankfully, I'm here to let you down easy and tell you what to really expect come your boyfriend's sister's grand big's monster bash, and why I think Halloween is the most overrated holiday (sorry, Satan, but I'm going to hell anyway). But if you're one of those idiots who lives and breathes Halloween because you hate yourself so much that you have to be someone else to feel good, you can go shave your back now drown in your own bowl of Mini-Twix.
Actual convo we'll have if you disagree with me:

Fall Weather
EXPECTATION: You're already planning your pumpkin patch-inspired Instagram complete with that fall sweater from Nordstrom's annual sale (BACK IN FUCKING JULY) that you've been harboring for like, seven years now. Once September hits, you're about to rip the tags off your new leather boots, so you can eagerly mask your post-summer bloat in the cutest cozy fall attire, because you know what they say: boyfriends come and go, but leggings are forever.
REALITY: Don't even get me started. Actually, never mind—I've already been triggered. I despise our garbage president for many reasons, but mostly because he's apparently unaware of this thing called Global Warming that's causing me to freeze my ass off, and then sweat my dick off all in the short amount of time it takes me to get to the bar after work on a Friday. Nothing tastes as good as baggy clothes make us feel, but no amount of likes on a fall OOTD pic is worth the buckets of boob sweat generated by this incessant heat stroke.

Halloween Decorations
EXPECTATION: This will be the year you finally give in and line your mantle with those annoying sticky webs that literally cling to everything you own. You're so ready to go full Grandma Cromwell and deck the halls with boughs of horror—oh, and HELLO, stupidly over-priced adorbs accent pillows!
REALITY: You know when you take your headphones out of your bag after just putting them in 30 seconds ago and they're in just as big of a clusterfuck as your life is? After going through the entire bag of web, congrats—you've successfully covered about three square feet of wall space in what looks like a heap of unrolled cotton balls. Stick a skull head on your table, and leave the decorating to your parents from now on.

Pumpkin Carving
EXPECTATION: Getting my friends together to do dumb activities no one cares about, like carving pumpkins, as an excuse to get shitfaced on a Wednesday is the one LinkedIn skill I pride myself in being endorsed on. The excitement of chugging pumpkin beer and watching throwbacks like Mom's Got a Date With a Vampire while competing to see who can carve the best pumpkin without anyone asking "Wait, what is that?" is thrilling.
REALITY: Don't get me wrong: pumpkin carving is the best—besides the part where you actually have to carve the pumpkin. It's like painting a room: the movies make it look like it's as exhilarating as sending a hoe-ish text at 2am, but in reality, it's so much more than that. Three minutes into regretting trying to carve a Cheshire Cat, you'll make the slightest wrong cut, only to knock a whole row of teeth out and fuck up the entire thing. Not only will you be stuck cleaning pumpkin goo off the table, but your jack-o-lantern will probably look like it just went on a 3-month alcohol bender and woke up with a half-opened eye and four teeth missing. Whatever, that's why the devil invented alcohol.

Buying Candy
EXPECTATION: You hit up the Halloween aisle for the best and most frowned-upon candy and in the process, you even selflessly think to bag some up for your besties!
Side note: when tf did tiny bags of candy become so expensive? Tbh, my friends aren't that great.
REALITY: It apparently didn't occur to you that you either live on the 27th floor of a city complex or a tiny dorm room, and that the only children you'll probably see all day are the ones dressed in fugly '90s getup in the Dannon Yogurt commercial. You've gotta get rid of the candy somehow, so you decide to take one for the team and experiment with the Wonka Nerds and craft your own witches brew of flavored hangover vodka, but like, it could be worse… Also, you're welcome for that million-dollar idea.

Making Your Costume
EXPECTATION: The absolute best part of Halloween is crafting up the most original, not-too-slutty-but-pretty-fucking-slutty costume. For once, you got ahead of the game and began the planning process even before October came around. And to top it all off, you found the perfect YouTube makeup tutorial you're about to watch like, 12 times in order to get the perfect sexy zombie bride face. No really, this is about to be some next-level shit.
REALITY: Spoiler alert: It's October 30th. You've achieved nothing but an overloaded Amazon shopping cart filled with items that are 100% guaranteed to overdraft your checking account. Your party is tomorrow night, so you should probably just try Sears. Lol JK, I'm your friend, remember? You knew this would happen again, so you should really just order the best effing costume you've ever worn from our Betches store (yeah it's a plug, fucking prosecute me) to save yourself time, money, and a year's worth of embarrassment when you think about showing up in last year's bumble bee leotard.

The Halloween Party
EXPECTATION: The night has finally arrived. You and your friends are planning on getting inappropriately drunk before arriving to the party—for precautionary purposes, of course. You'll be sipping on whatever the fuck is in that witches brew concoction, while yelling "OMG that's so good!" to your friend's unoriginal Khaleesi/possibly-also-Elsa-from-Frozen getup. You managed to get that one Instagram you're about to fully dissect and edit when you're alone later on, so yeah, life is good.
REALITY: You show up only to lay eyes half the party wearing your typical run-of-the-mill fuckboy Halloween staple: A white tee with some sort of dumb fucking saying like "Error 404: Costume Not Found" sharpied on it. Nobody told you that a "horror" theme was actually because of your ears bleeding from hearing "Monster Mash" play on repeat 87 times. Oh, and that witches brew? I'd steer clear unless you're into the kind of thing that is chugging the leftover middle cup ingredients from King's Cup. But it's ok because if all else fails, there's always some Freeform marathon to binge while also bingeing Snickers and tequila.

Happy haunting, witches.
The 11 Garbage People You Meet At Every Halloween Party
Head Pro pretends to not like Halloween, but he's really just bad at coming up with costumes. Email him at [email protected], and follow him on Twitter and Insta at @betchesheadpro.
Halloween is Tuesday, which means that all of your Halloween party-going is happening this week and reaching a crescendo this weekend. Don't ask me why we treat Halloween like other holidays where you HAVE to have the party before the actual date, them's just the rules. Fuck you in advance for giving me side-eye for showing up to your November 4th party in my Boba Fett costume. Shit was expensive.
Anyway, what makes Halloween parties Halloween parties is that you show up in costume, otherwise you're just a weirdo for throwing a party on a questionably macabre holiday. The thing is, though, is that if you go to enough parties, you notice that with little variation, they all include the same cast of characters and costumes. Here's a non-exhaustive list of the people you'll meet, and how to deal with them.
1. The Couple Who Thinks They're Funny
Couple's costumes are without fail annoying af because the people wearing them almost always put too much work into them. Sometimes they try to be current, so this year you might see a lot of couples dressed as Wonder Woman and whichever one of the Chrises was her sidekick. But more often than not, they try to be "clever" and somehow miss the mark. Like, I've seen so many couples where the guy was a big black ball and the girl was an iron chain—sorry ladies, but you're both the ball and the chain. That's all on you.
How to deal with them: If you're single, don't. If you're with a date, have a picture at the ready of some really good costume the two of you did to make them feel worse about theirs.
2. The Guy Who Thinks He's Clever
Making a clever costume is a fool's errand. It literally only works when other people see it, think about it for one or two beats and then go "ohhhh I get it!" That shit is hard as hell to pull off, man. Otherwise, you end up with one of three scenarios: 1) No one gets the costume even after you explain it, 2) You have to explain it but it's still not funny, or 3) It needs no explanation but it's just dumb as fuck. One year, one of my bros stapled a bunch of pictures of his exes to a sheet and wore it over his head as "the ghost of girlfriends past." It was real fucking dumb, and kind of fucked up too, now that I think about it. Don't put that JuJu on people, dude.
How to deal with them: Regardless of which of the three ways they fuck it up, your response should always be "oh… ok." That's it. These people crave approval more than anything. Don't give in.

3. The Intentionally Too-Soon Guy
Without fail, someone will take a recent celebrity death and make a costume out of it. This year, you're gonna see a lot of fuckboy Hugh Hefners out there. Worse is the fact that that more often than not the costumes are shitty; wearing a dirty bathrobe and the sweatpants you woke up in do not make for a convincing smut tycoon.
How to deal with them: Whatever you do, don't get mad. These guys get off on being CRAZY and EDGY and DARING TO GO THERE. Their goal is to shock you, because if they shock you that means they can manipulate your emotions, and if they can manipulate your emotions they think that means they can fuck you with their socks still on. It's a vicious cycle.
4. The Slutty Whatever Girl
My hot take? Slutty costumes are used far more as pop culture joke fodder than they are actual costumes. But there will be one, maybe two of these girls at every party, made I guess a little more likely by the fact that this very website sells slutty mouse costumes or whatever. Either way, they'll stick out like ingrown hairs, because normal fucking adults can work up a costume that's still sexy without going full-blown "slutty sign language interpreter."
How to deal with them: Praise them for having the courage to wear those costumes and empower women. These girls strapped themselves in and hoisted their boobs up because they wanted to turn some heads and feel sexy, not lead the 4th wave of feminism.
5. Every Version Of Taylor Swift From The 'LWYMMD' Video
You just know a group's gonna fuckin' do this. The only question is, do they go with all the new Taylor outfits, or all of the "dead" Taylors? If the #squad's big enough, why not both? They'll metastasize across the dance floor whenever that (or any TSwift) song comes on, and you'll never have wished more for an asteroid to hit and end this fucked up experiment called humanity.
How to deal with them: No need, because you're either one of them or they'll be standing in a circle looking at their phones the whole time. You should, however, pay the DJ all of the money you have on you to not play any Taylor Swift songs. Sometimes petty justice is the only justice.

6. The Political Costumes
Unavoidable, but especially so because of the times we live in. Lots of guys will wear those creepy rubber Donald Trump masks, which is actually fine until they start in on their terrible impressions of him (sad!). Probably lots of Hillarys, too. That's also fine, I guess, until they try to get clever with it by also doing zombie makeup and saying they're "Hillary's electability" or some insufferable shit. You will suddenly find yourself on the other side of the gun control debate, if only so that you can quickly buy one to turn it on yourself.
How to deal with them: Bizarrely, I don't think these people actually want to talk politics, so you should talk a shitload of politics with them. Figure out where they stand, and then present yourself as an even more extreme version. Oh, they like Bernie and his platform? Well Bernie is just as much a Wall Street puppet as the next Democratic sellout, and you're gonna lead the revolution that returns the means of production not back to the proletariat, but to Mother Nature!
7. The People Not In Costume But Just Dressed Like Goths
These people have a twisted relationship with Halloween, because on the one hand, they're the weirdos who claim to be into the "dark arts" and lied about drinking a bat's blood back in middle school. On the other hand, they hate how a celebration of their Dark Lord has been co-opted by the mainstream, so for once their morose expressions are genuine. They'll be in the corner, casting spells on everyone.
How to deal with them: These people secretly wish they could be accepted by the popular crowd, so be as ditzy and fun-having as you can possibly be. Even if you got stuck being Zombie Taylor.

8. The Decade Costumes
I don't understand why this is a thing, but it is. Like, how are you supposed to represent an entire decade with an outfit, and why would you want to? Oh, you're supposed to be "the 80s?" Cool, which one of your leg warmers represents the sale of weapons to Iran to secretly fund right-wing Nicaraguan rebels?
How to deal with them: In reality it's virtually impossible to capture the essence of a decade, because 1980 looked nothing like 1990, 1990 looked nothing like 2000, etc. That's why, when they tell you what they are, say it looks more like an adjacent decade to you. "70s? Ok, it's just that this outfit looks a lot more late 60s to me." They'll hate it.
9. The Person Not In Costume Because They Hate Halloween
Look fucker, you have 364 other days of the year to show up to a party in your street clothes. If you don't like dressing up, either sit your ass at home or go to an Irish bar, where the costume theme is always "pretending Irish-American culture is legitimate and deserving of celebration." They think they're cool and above it all and will try to fuck you by approaching you in a corner and saying "man, this is so childish, right?" Gross.
How to deal with them: Do a drive-by and say "nice costume!" just before you're out of earshot. It won't give them time to launch into their "I'm a REAL adult" spiel.
10. The Socially Conscious Costumes
Why yes, I totally agree that The Handmaid's Tale is a perfect reflection of where we are as a society right now, and your Offred costume totally improves the ambience. Lotta those, I expect, but don't count out the people who try to be walking political cartoons. The guy dressed up as a solar system and also wearing a doctor's mask? Wow, a biting commentary on universal healthcare, friend. The dude in the MAGA hat with the "lock her up" sign? Now that's a man with his thumb on the pulse.
How to deal with them: Unlike the overtly political people, these folks EXTREMELY want to talk about politics. Keep the conversation light until you can escape.

11. The Person Not In Costume Because They Couldn't Think Of One
So, more often than not this is me.
How to deal with them: Be nice. I'm not exactly proud of myself.
Head Pro pretends to not like Halloween, but he's really just bad at coming up with costumes. Email him at [email protected], and follow him on Twitter and Insta at @betchesheadpro.
Get In Loser, We're Going Brunching: Come To The Betches Of Comedy Brunch Tour
You know how we're like, so funny and relatable and you wish you could hang out with us? Well now you can (basically). That's because we're hosting our third annual Betches of Comedy Brunch Tour in cities near you. And if you live in New York, you literally will get to sit with us. If you don't live in New York, IDK what to tell you. Move?
Here's the deal. On Saturday, October 28th we're hosting comedy shows across the country in SEVEN CITIES. If you live in New York (we covered this), Los Angeles, DC/Arlington, Chicago, Boston, Nashville, and/or Philadelphia, to paraphrase that fuckboy you're hooking up with, come through. If you are still like, "I don't understand, WTF is a comedy brunch?" It's actually very simple so allow me to explain. It's a stand-up show where a bunch of comedians will perform their funniest material. And it's taking place in the afternoon, hence, brunch food and drinks will be available. Got it? Great. If not, IDK what to tell you fam.
For the not slow among us, there's one more element to the Betches of Comedy tour: Halloween. You didn't think we'd forget every betch's favorite holiday, did you? God, it's like you don't know us at all. We're encouraging everyone to show up in your Halloween costume because it's Halloweekend, duh. You *might* want to adjust your costume a bit for the daytime so you don't look like a streetwalker, but like, we're not going to tell you how to live your life. Think of it this way: Now you don't have to stand in front of your closet for 20 minutes the morning of the show, yelling "I have nothing to wear!" into your closet full of clothes and make all your friends late to the show. You are so welcome. And there will be amaze Insta photo opps so you'll want to look your most festive, just telling you now.

Don't know what to wear? Don't worry about it, because we literally think of everything. Remember our best-selling I'm A Mouse Duh Halloween costumes from last year? Well, they're back and on sale now at Shop Betches. But this year we added a new costume: Boo You Whore. These overside T-shirt dresses are super comfy and you can slut them up by wearing them solo or down by pairing them with leggings.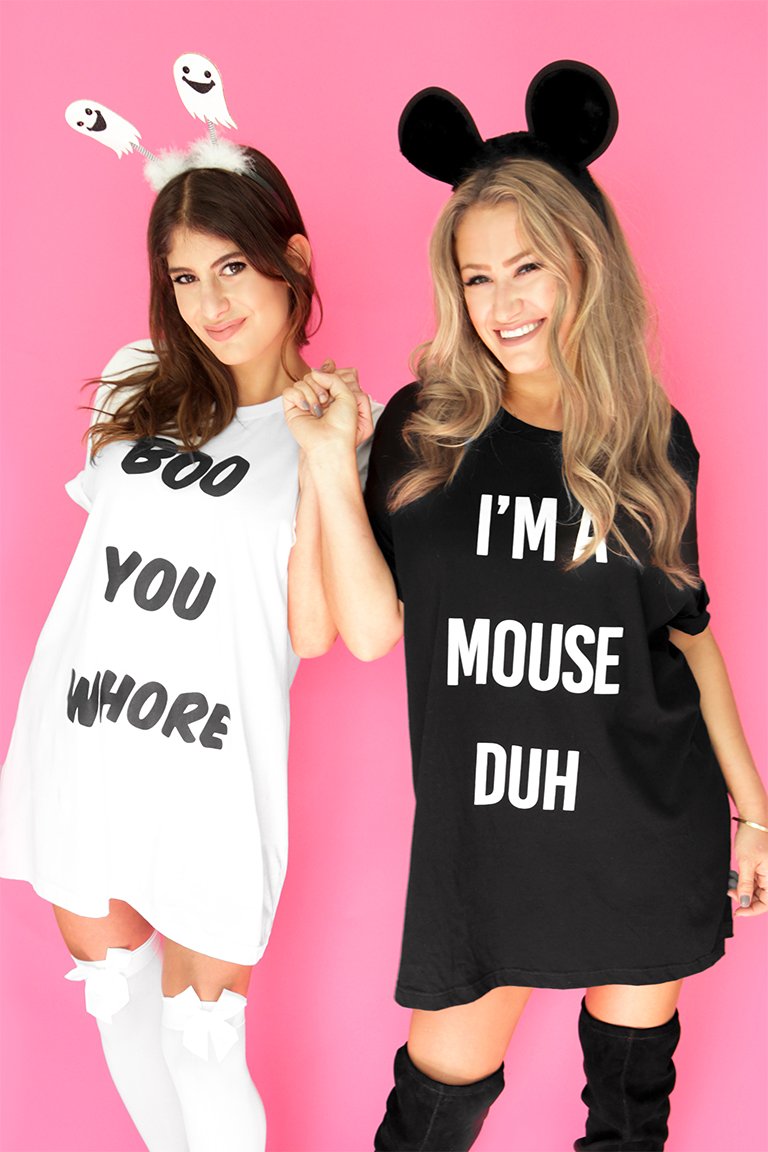 So what are you waiting for?! Tickets are on sale NOW for the Betches of Comedy tour stop in your city. Tickets and info below.
New York – Gotham Comedy Club
Philadelphia – World Cafe Live
Los Angeles – The Mint
Arlington – Arlington Draft House
Chicago – City Winery
Nashville – Zanies
Boston – Laugh Boston
See you there!