Ways To Switch Up Your Hair In Quarantine Without F*cking It Up
When entering quarantine, I knew that my skin and hair would thrive like never before. No makeup, just skin care. Not flat iron, just au naturale. 
That being said, 30-something days later, the trend of dying and cutting your hair at home is on the rise, and I for one feel like this must be controlled. The box dye you once bleached your hair with in seventh grade is no longer acceptable, and cutting your bangs with kitchen scissors WILL ruin your life. 
While I'd like to think I know everything, I turned to Joico's Larisa Love for some DIY hair advice. Love has been in the industry for 10 years, has a casual half-million Instagram followers, and owns Larisa Love Salon in Studio City, CA. So basically, she knows a little more about hair than me. 
When I asked Love the "dos" of coloring and cutting hair at home, her answer was simple: Don't. 
"There are many things I would recommend for people to try out with their hair while being quarantined, but coloring or cutting their hair is NOT one of them. I say leave it to the professional when it comes to those two categories, but there are so many other things you can do to experiment with your hair." Love explains. "Hair trends online that are making me cringe are the people who are not professionally licensed trying to cut and color their hair! It almost always doesn't come out as successful as you want, and you end up with more of a mess than what you started with," she added. I mean, where is the lie?
So, how does one refresh hair without permanently butchering your precious locks?
Dry Shampoo
The less you wash your hair, the less oils are stripped. Giving your hair a break can result in less breakage (see what I did there). Love recommends adding dry shampoo to freshly washed hair (which is new to me) to add volume at the root and soak up oils before the oils have time to get the hair greasy. Volume allows the hair to not lay as close on the root, which contributes to hair staying oil-free for longer periods of time. Of course, you can also freshen up between washes with dry shampoo. Basically, what I gather from this, is when it comes to washing your hair, less is more.

Joico Weekend Hair Dry Shampoo
Ditch the Heat
This feels kind of obvious, but some people are ~ addicted ~ to maintaining the perfect blowout or using a flat iron even when nobody can see them. But, the only thing you're maintaining is the consistency of damaging your hair, so stop that. Love recommends falling in love with your natural hair (probably because she's never seen mine) and finding the perfect products for you. If you're naturally a frizz ball (hi) a zero-heat styling cream like this one from Joico can help tame the beast. If you've got naturally straight hair, or perfect curls that don't result in frizz, just keep on keeping on and consider yourself #blessed. 
Refresh Your Color (Safely)
If you just CAN'T with your hair color anymore, I get it. Personally, my beachy blonde has turned yellow, and my roots can be seen from 10 miles away. Love has a solution for every color to take you from drab to fab without changing your routine one bit.
For the brunettes: Use a blue color balance shampoo to add a cool tone. Love recommends Joico's Color Balance Blue, but for a more affordable alternative, we love Fanola's No Orange Shampoo. 


For the redheads: Use a shampoo dedicated to you that embraces the red. Love recommends Joico's Color Infuse Red. John Frieda's Radiant Red Boosting Shampoo is also an affordable alternative with over 500 five-star reviews on Amazon.


John Frieda Radiant Red Boosting Shampoo
For the blondes (we're the difficult ones): Use a purple shampoo if your hair tends to get brassy and you want to cancel out the warmth. Use a violet shampoo if your hair tends to get golden and you want more of a white tone to your hair. Try this shampoo if you want to detox AND brighten your blonde.


Kérastase Blond Absolu Anti-Brass Purple Shampoo

Joico Blonde Life Brightening Shampoo
For all the above, Love recommends leaving on wet hair for 3-5 minutes to allow shampoo to absorb. 
No matter your color: If you color your hair, Love recommends washing in lukewarm to cold water. Adding heat to the hair strips the color off faster (which is quite inconvenient when every salon in the country is closed). 
If you've reached this point and still want to color your hair at home, don't act yet. There is still one more acceptable do, so that you don't ruin your hair (after all, there's still some hope of hot girl summer).
Garnier Nutrisse offers a color-care mask, Nutrisse Color Revivers, that refreshes color while also restoring softness, smoothness, and shine (it only takes five minutes). This mask is nice because it only needs to be used once every two weeks, which speaks to lazy people like myself. It's also extremely affordable ($7.99), and in a pandemic, that matters. In case you weren't already convinced, it comes personally recommended by Selena Gomez's hair stylist, Nikki Lee. "Right now, I am all about the Garnier Nutrisse Color Revivers. They restore vibrancy and smoothness and work great for a refresh of color and shine at this time when you can't get in the salon," she says. I trust her.

Garnier Nutrisse Color Reviver Masks
So, in a nutshell, there is no room for DIY hair coloring or cutting at home. It might look fun on Instagram, but the reality is simply *not* as pretty. 
Images: Ulta; Amazon; Garnier; Element 5 Digital / Unsplash
Betches may receive a portion of revenue if you click a link and purchase a product or service. The links are independently placed and do not influence editorial content.
Is Your Haircut A Good Idea Or Cry For Help? A Stylist Weighs In
As January drones on and our New Year's resolutions crumble, we look for other ways to spice up what's left of our lives. There's a right and wrong way to do this, and a haircut could go in either of those directions. We've all gotten a little too scissor-happy and ended up regretting it for the next year while waiting for our hair to grow back. (I'm convinced your hair grows slower when you actually want it to be longer.) So before you make an appointment with your stylist, maybe ask yourself: do you really want bangs or do you just need a therapist and a weighted blanket? Is your haircut a cute "new year, new me" transformation, or a cry for help? Don't just take our opinion. We consulted hair stylist-extraordinaire, Dhiran Mistry from Spoke & Weal Soho, to spill the tea on which haircuts are truly the worst.     
Bob/Lob
Good Idea: The power-suit of hairstyles has to be a badass bob or lob (aka a long bob). It's sharp, means business, and doesn't text its ex at 3am. While it can be a risky hairstyle to try, chopping off those dead locks and getting a clean look seriously helps you portray the image that you have your sh*t together. Mistry also suggests keeping your bob as simple as possible, no high-low or low-key mullets.

Cry For Help: Where it takes a real f*cking turn is when you get too round and bubbly with it. We do not want any bowl cuts happening here. This tragic look, also known as the mom bob, basically screams "I'm 36, my name is Linda, I comment hearts on Reese Witherspoon's Instagrams thinking she'll see it and care, and I've started hiding the good wine from the kids."
Pixie Cut
Good Idea: This hairstyle is often super stigmatized, according to Mistry. As a stylist originally from London, he says that many Europeans love to rock the pixie look, but since being in America, he's noticed many women are uncomfortable cutting their hair that short. For one simple reason: men. They ruin f*cking everything. Mistry's best advice: dump his ass. Don't let him micromanage your hair and try to craft you into some dumb image he has in his head of what beauty should look like. You're your own prize, betch.
Cry For Help: I know you might be traumatized from the pixie cuts of Kate Gosselin circa her TLC show or Jamie Lee Curtis à la Freaky Friday, but these are not the inspos you show your hairdresser.
Venture into the stylings of Cara Delevingne, Janelle Monae, or my personal favourite pixie on the planet, Lupita Nyong'o. So relive your study abroad days and go for this classy European cut.   
Shaved Head
Good Idea: Rocking a bald head is one of the most confident and badass hairstyles you can go for. You ain't hiding anything behind lushes locks or tight curls, it's all on display. Mistry says many women can pull off this look, but few find the courage to actually do it. He adds that most people (me) use their hair as a distraction from their face because they're self-conscious about their appearance. But bald bitches know they look sick AF with or without hair.
Cry For Help: If your mental health is questionable and you've been on a two-week bender, you're at an extremely high risk of going all Britney 2007. This is not just a cry for help, but a f*cking scream. If you go bald, do it right or not at all. Impulse head shaving has never once turned out to be a good thing. I can literally promise you that.
One of the best shaved-head looks has to be iconic South Sudanese model and former VS Angel, Grace Bol:
Bangs
Good Idea: Most clients that come to Mistry ask for bangs in order to cover something up—forehead, acne, and in a recent case, a scar from a woman's Christmas tree falling on her. In other cases of bang requests, Mistry has recently been getting a ton for microbangs. When done right, microbangs can look gothic-chic and modern.  
Cry For Help: Cutting them yourself. Enough said.
Modern-Day Shag
Good Idea: Though you can't perfect the messy bun, you may be able to rock a modern-day shag hairstyle. This look has a ton of texture, layers, and sex appeal. Flawless beings such as Alexa Chung and Julianne Hough are perfect examples to show your hairdresser, Mistry suggests.
Cry For Help: Please, for the love of all that is good in this world. Do not show them a picture of Lisa Rinna. This is NOT the type of shag you're going for. We love Rinna, but you don't have a daily glam squad to maintain such hair on yourself, and before you know it you'll be collecting cigarette buds and a small family of birds in your nest of hair.  
Dyed Hair
Good Idea: We love a good Balayage, but the absolute key to dying your hair according to Mistry is not to stray too far from your original shade. The further you go from your natural color, the more likely you are to damage your hair, and there ain't nothing cute about that.

Cry For Help: Don't trick yourself into thinking blondes have more fun. Bleached out peroxide blonde hair is just about as classy as Lindsay Lohan's mugshot(s). Dip dying died along with Tumblr in 2012, so don't try the partial bleaching.
For more hair inspiration, follow Dhiran Mistry on Instagram.
Images: Adrian Sava / Unsplash; dhiranmistry_ (2), alexachung, yukamannami, gracebol, caradelevingne / Instagram
The Best Haircuts For Your Face Shape
2018 is legit right around the corner, and what better way to start off the new year than with a healthy dose of self hatred trendy new haircut that you're bound to despise by the time your New Year's Day hangover starts to fade? Lol I love being me. And picking out a haircut can be v v difficult sometimes. You might actually have to, like, look at yourself in the mirror and take an introspective look at what's working with your face shape. *shudders* But lucky for you I know how to Google search have an innate gift for picking out haircuts that are the right cut for your face shape. You're so fucking welcome. We've already predicted the hair trends that are about to be literally everywhere in 2018, so here's which of those trendiest cuts are right for your face shape.
ROUND FACES
What You Should Ask Your Stylist For: Middle Part With Long Layers
Why it Works: So it's not super inventive, fucking sue me, but the cut will look amaze on you. Plus it may or may not help you to land a ginger prince as a fiancé, like the last lucky bitch who rocked this haircut, which is literally all the proof I need to do anything. Just saying. The key here is to go with a cut that leaves hair a few inches past your shoulders with layers that hit right at your jaw. Also, be sure to tell your stylist to cut a bit on the sides to create subtle angles.

OVAL FACES
What You Should Ask Your Stylist For: Messy Pixie
Why it Works: People with oval face shapes are blessed in every way because they can literally get away with any haircut they want. Which is probs why Bekah M., a person who also has an oval shaped face, and her Instagram account looks like me and all the different personalities I use to start free trials. Something to keep in mind when talking to your stylist is that you want to go for an extreme cut whether it's something super short or with super long layers. Anything in between will fuck with the symmetry of your face. We recommend going short with the messy pixie because that look is about to be everywhere in 2018.

HEART SHAPED FACES
What You Should Ask Your Stylist For: Curtain Bangs
Why it Works: With heart shaped faces, the goal is always to decrease the width of your massive fucking forehead (sorry, was that too harsh?) and increase the width of the lower part of your face. You're also going to want to embrace the fringe haircuts *cough* curtain bangs *cough, cough* because a piecey-er haircut will elongate your face more. The good news is, curtain bangs are about to be every-fucking-where in 2018—seriously, Pinterest predicted it—so you're about to be ahead of the curve with your new cut. Embrace that shit.

SQUARE FACES
What You Should Ask Your Stylist For: Cher Hair
Why it Works: Super long hair worn straight softens square angles. The middle part also opens up the middle of your face, drawing attention away from the harsh angles of your jawline. Kim Kardashian has used some sort of strategically placed Instagram posts sorcery to make this hair trend the next big thing for 2018. And, like, so what if it gives you an unnecessary reason to feel close to the Kardashians import hair extensions from starving kids in India? At least you'll look good AF in the new year.

DIAMOND FACES
What You Should Ask Your Stylist For: Blunt Bob
Why it Works: If you have a diamond shaped face, then you have angles for fucking days. The good news is you might have a decent shot at modeling for something other than Sugar Bear Hair, good for fucking you. The bad news is you need watch your proportions with your hair cut, lest you end up frightening small children with your harsh angles. Straight chin-length bobs work best for this face shape, because it reduces the width of your cheekbones and shortens the overall length of your face.

The 5 Haircuts To Ask Your Stylist For In 2018
We're exactly one month away from the new year, which is great because this year I've been trash has been the worst and I can't wait until it's fucking over. And with a new year comes the inevitable hope that there will also be a "new you". Maybe a you who doesn't buy her work attire from Forever21 or who isn't in an emotionally committed relationship with her Seamless guy. Well, a girl can dream. Anyway, here are 5 haircut trends that are about to be everyfuckingwhere in 2018 so you can embrace the best "new you" aka the same you, but with better hair.
1. Curtain Bangs
Curtain bangs are officially happening and we can thank the psychos on Pinterest who gave this trend a 600 percent increase in pins this year. It's a dreamy, yet romantic look that works best on people who have straight hair. So if your New Year's Eve resolution is to be more "daring" but you don't actually want to take any risks, then this haircut might be right for you. It's like getting bangs, but not, because they're basically almost all grown out anyway.

2. Extra Long Hair
Kim Kardashian has been trying to make fetch extra long hair extensions happen for a straight-up year now, and apparently she's going to get her wish, because 2018 is the year of long-ass hair. Extra long hair or "Cher hair" is predicted to be one of the hottest hair trends of 2018, which is great because I literally just got a lob last week. Seriously. This is v good for my my mental health rn. Anyway, unless you can afford to import hair extensions from a starving child in India *cough* Kim K *cough cough* then you better start growing your hair out now.

3. Blunt Bob With Bangs
If you're one of those who wants to look betchy AF but doesn't want to commit to hair that's long enough to accidentally touch a toilet seat, then the blunt bob/bang combo is going to be the haircut for you. I'm not gonna lie, it takes one hell of a confident woman to pull this look off, but if Elena Gilbert—someone who survived after her entire family died, turned into a vampire, hooked up with her ex's brother (and got away with it), found out she was a doppelgänger to the nastiest skank bitch in town, and still had to graduate high school during all of this—can pull of this look, then so can you.

4. The Grown-Out Pixie
Is it wrong that I'm predicting style trends based off of someone who hasn't even hit puberty yet? Whatever. If it's wrong, then Netflix shouldn't have made a 12-year-old so fucking chic I don't want to be right. Last year the pixie cut was everywhere, so naturally the grown-out pixie, or as I like to call it, the wtf-have-I-done-I-just-want-long-hair-again cut is going to be the "it" look of 2018. I mean, how else should you start a new year if not with a haircut that says you're full of shame and regret from last year's poor decisions? Anyway, if you got the pixie cut because one time Millie Bobby Brown got a pixie cut, then this is the perfect new look for you. Try leaving it extra long on top to give you some more styling options.

5. The Meghan Markle Knock-Off
In case you're a mole person and missed it, the hottest European ginger is officially off the market thanks to Meghan Markle. That lucky fucking bitch. But if you can't have her man, you can at least attempt to replicate her hairstyle so that you can feel close to Prince Harry like an actual princess in the new year. This isn't so much a haircut as just a look you can attempt before hitting up happy hour. It's the first Friday back at work after the Thanksgiving holiday, what the fuck do you want from me. Long hair and bouncy curls are about to be everywhere because of this bitch, I'm calling it now.

Don't Get Bangs Without Reading This First
It's that time of year again, when Mercury is in retrograde I start to feel the need to sabotage my own happiness by making some stupid, drastic decision about my look and, guys, I think bangs might be in my future. I've already talked about how face framing bangs are about to be one of the hottest haircuts of summer 2017 and I'm either drinking the Kool-Aid or watching way too many of Selena Gomez's Instagram stories because I'm suddenly all about the bangs trend. But I never do anything without first consulting the internet, researching the shit out of whatever life ruining decision I'm about to make, and then disregarding all of that advice and doing the life ruining thing anyways. LOL I'm so random.
So since I'm determined to make bangs happen I've taken it upon myself to make a semi-accurate comprehensive guide to getting bangs so you won't spend the next 3-6 months hating your reflection. Or your might. Idk. Feel free to talk shit in the comments, because either way you still have bangs and I still have wine. Mwuah ha ha. So yeah let's talk about bangs. Read this at your own peril.

Your Face Shape Is Everything
First things first, your face shape is everything. Don't just get bangs because Selena Gomez takes fire selfies with them or because you binge watched an entire season of GirlBoss and decided the actress whose face or name you cannot place looks hella cool with bangs (for instance). You need to figure out your face shape and what type of bangs will look best on you before you let your German hairstylist Susi loose on your hair. For long, narrow faces you'll need to get a blunt fringe cut that hits just below your brows to make your face look fuller. For round or square faces try bangs just above the brow. Heart-shaped faces can do whatever the fuck they want, because apparently all types of bangs suit your face shape and now I hate you.
It Requires A Shit Ton Of Maintenance
Like more than just the literal bare minimum that we all strive for. Ugh. Bangs need to be trimmed every six weeks, lest you look like that unfortunate girl from your middle school homeroom who bore a striking resemblance to Todd from Wedding Crashers.

Some salons actually consider trimming bangs a complimentary service and won't charge you for it, but if you live in New York good fucking luck finding any such stylist to take pity on you and your bangs. Last week some guy on the street forced me to take his "album," and when I took it so he would stop harassing me, he charged me 10 bucks. So that's the kind of garbage city we live in.
ANYWAY, you can also try and cut your bangs yourself, though that sounds like some sort of Fear Factor challenge. But if you're determined to play Russian roulette with your hair, don't make any big drastic cuts. Rather, take off millimeters at a time. And for the love of god, DO NOT pull a Hannah Horvath and just starting cutting in one straight, solid line. Instead, twist your bangs and point the scissors up so you snip at the ends, leaving an imprecise line.

There's An Adjustment Period
Similar to the bro who claims he's "not good at relationships", if you haven't had bangs before then, like your man, you'll probs need to retrain your hair to do whatever the fuck you want it to do. Stylists say it can take up to several weeks for your hair to finally start cooperating with you. So, like, right around the time you need to get it cut again. *internally screams*
What You Should Ask Your Hairstylist For
So if you're reading this and you're thinking "fuck it, my horoscope said to be daring this month, so yeah let's try bangs" then I've got your line-up right here. If you only want to be as daring as Giselle's dress at the Met Gala then simple side swept bangs are what you should ask your stylist for. This is a style for anyone who wants to ease into bangs. They're easy to blend with layers around your face and low-maintenance enough to work on any hair length. They're also v easy to style and grow out so it's like you're barely taking any risks.

If you're only medium-daring, like a person who take nudes but doesn't include their face, then face framing bangs are going to be your go-to. The cut itself is a little shorter and riskier, but still super easy to style and maintain.

Lastly, if you're spirit animal is Rihanna with a flask at an awards ceremony then you should try the dramatic bang aka the short and tousled look. Wearing very short bangs (translation: two to three inches) is v edgy but takes a lot of styling and patience. For example, when you have bangs that short you can't just blow dry them any which way you want. You'll need to pull them straight down with your fingers while blow drying, and once dry, comb them down or use a dab of pomade for a tousled 90s–inspired texture. And if that sounds like a lot of work, that's because it fucking is, so be forewarned.

So ladies, now that you know your best bangs, take a few five shots and head over to your stylist to experience either the best haircut of your life or the most regret you've felt since that one time you slept with a guy below 5'9″. It's really 50/50 at this point. Kisses!
What Summer Haircut You Should Get Based Off Your Face Shape
Summer is just around the corner and suddenly I'm feeling personally victimized because I've spent the last 3-4 months sitting on my couch eating cheese and drinking wine and judging Bachelor contestants on Instagram. And I am certainly not ready to be, like, social or in clothing that covers less than 90% of my body. But I guess I'll have to make the transition to my summer self at some point and instead of, say, tackling the areas of my life that might actually take work and commitment like eating healthy and going to the gym, I'm going to actively avoid those parts and focus on an issue that money can solve. Like a new haircut. I'll most def be consulting my very trusted hair stylist, Susi, who may or may not give me an extra complimentary glass of chardonnay in exchange for a very overpriced haircut and 3-4 expensive AF beauty products that I did not need in the first place. What we have, you can't fake that, ya know? *laughs into empty wine glass* I recognize that we don't all have a Susi in our lives to con trick exploit guide us on our summer hairstyle journey, but that's why I've put together this super extensive and not at judgmental list of summer haircuts that are the best for your face type:
HEART SHAPED: Shoulder Length Bob
Picture Aria's haircut from PLL season seven or whatever fucking season is still somehow getting air time. I know, I know. Never did I ever think a haircut on Aria fucking Montgomery would actually be in season for summer, but then again I also didn't think people were stupid enough to spend 12K on a music festival that didn't actually exist. You learn something new every day.
But back to the haircut. Instead of assaulting my eyes with like, glittery graphic tees and metallic jeans, Aria's actually on trend. *questions entire existence* This cut looks good AF on Lucy Hale's heart shaped face and you should ask your stylist for a shoulder-grazing bob with layers placed around the bottom. Lower layers help create extra movement and dimension in your hair without you having to do a damn thing. Style it with a center part to add length to your face and create more symmetry.

HAIRCUT RISK LEVEL: Lower than all of the Liar's IQ's put together
ROUND SHAPED: Face Framing Bangs
I know what you're thinking, BANGS? Does everyone regret getting them? Yes. But should people with round faces still get them? Also yes. Baby faces of the world, pay attention because this is your time to shine. Face framing bangs are the perfect way to take your summer look from Wizards of Waverly Place to Justin Bieber Sends Me Dick Pics and that's really the best transformation you can ask for. The fringe is the focal point of this cut and it's v important that the stylist cuts your bangs to that focal point. Be sure to reiterate this to your stylist lest she feels the wrath of your Yelp review. And sorry if you end up hating your bangs. Feel free to skewer me in the comments.

HAIRCUT RISK LEVEL: Posting a selfie with the dog filter to your story
OVAL SHAPED: The Pixie
This cut can seem terrifying, especially if you have super long hair to begin. I bet it's because you have this theory that if you cut off all your hair you'd look like a British man BUT if you have a very petite, oval face shape then you were literally made for this haircut, so grow a pair and take the plunge. Plus you'll look like Millie Bobby Brown aka the betchiest preteen to ever grace my Netflix account (and a personal style icon of mine because, yes, I take style advice from 12-year-olds). Ask your stylist for a short, layered cut with a longer top that stops just below the cheekbone and tapers in the back toward the nape. That way your hair won't overpower your face and you'll just look sleek AF.

HAIRCUT RISK LEVEL: Day drinking on an empty stomach and literally hoping for the best
DIAMOND SHAPED: Angled Lob
You've got cheekbones and, as a person whose winter face resembles that of the Pillsbury doughboy, you should absolutely stop fucking around and get this haircut. Take a page out of Kim Kardashian's book for a dramatic, edgy summer look. Make sure your stylist emphasizes the clean angles of your face to really play up your features.

HAIRCUT RISK LEVEL: Posting the group vacation photo on Instagram when everyone else looks like shit in it
SQUARE SHAPED: The Perm
UGH I did not want to have to put this one on the list but apparently perms are back in style because people have lost their goddamn minds. And by people I mean me because I'm seriously considering this cut for summer 2017. You know something's in when your overpriced salon with 100k Insta followers is posting about it. If you have naturally curly hair then you should ask your stylist for a lot of short, vertical layers in the hair, which gives your curls a more bouncy/full shape.

​
If you don't have naturally curly hair then be sure to ask your stylist to use a larger rod when perming your hair. It's less overpowering on your face, but still gives you enough volume to resemble the less hot cousin of a lesser known Victoria's Secret model. Now, no one spread this shit around lest my mother find out. I've already been tagged in two very smug Facebook posts and I've reached my quota for told ya so's this week.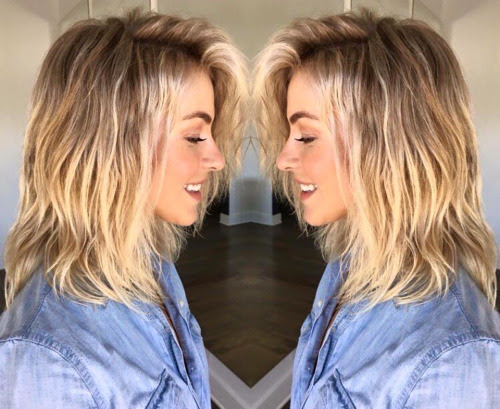 HAIRCUT RISK LEVEL: Having to tell your mother "You were right"
IDFK SHAPED: The Buzz
I had to address this one because this cut is all the rage among Hollywood's biggest cries for help stars. Technically, the right face shape for this cut is a diamond shape but I'm also thinking "lost your damn mind" or "my acting career is clearly struggling" are more accurate face types for this hair trend. I know this year has been, like, hard with our dwindling rights and Donald J. Cheeto casually leading us into WWIII but that's no reason to regress back to Britney Spears circa 2007. Handle your shit like an adult by taking slow, calming breaths and also consuming alcohol. N'amastay.

Read: The Best Swimsuits For Your Body Type
Selena Gomez's New Haircut Proves She's Winning (Sorry, Bella)
Selena Gomez has been ready for a while, and now she's finally getting it. After years of dating (and getting restraining orders from) Justin Bieber and maybe dating Orlando Bloom, the singer has upgraded to none other than Starboy/probable sex freak, The Weeknd. This, of course, comes shortly after The Weeknd and Gigi Hadid's shadow, Bella Hadid, broke up and then made weird eye contact at the VS Fashion Show. In the words of living legend Kristin Cavallari, draaaama.

While Bella's had a good year, Selena's glow up has been increasing at a rapid rate. To prove this, please view Selena's new textured lob:

Not like it's a competition or anything, but I'm just saying if it were, Selena would be winning right now. Plus, unlike Bella, Selena's super talented. TBH Selena and The Weeknd might actually be a good match. Or I might just be saying that because I want them to make a song together. Tough to say.
Either way, none for Bella Hadid bye.