20 Black-Owned Beauty Brands You Can Support Right Now
In addition to reading books on racism, listening to podcasts on the history of white supremacy, following Black activists and educators, and holding those close to us accountable, one of the ways we can support Black people right now is by buying from Black-owned businesses. I've chosen 20 (of the many) incredible Black-owned beauty brands to purchase from that create amazing products for people of all skin tones. Your next makeup haul might just be sooner than you think.
1. Beauty Bakerie
If you haven't heard of Beauty Bakerie, you're missing out. This fun, creative brand has a food theme, and all products are vegan and cruelty-free. Founded by Cashmere Nicole, this brand is built off of strength. A young mom, breast cancer survivor, and entrepreneur, Nicole is your modern day superwoman. Personally, I'm a big fan of the Flour Setting Powder. The packaging is cute AF, and the product works wonders for setting your face and keeping it in place all day.
2. Juvia's Place
I personally was introduced to Juvia's Place from YouTube tutorials, and was instantly blown away by the colors in their eyeshadow palettes. It was created by Chichi Eburu to pay homage to the birthplace of beauty, Africa, and celebrate the rulers and queens whose techniques are still used today in makeup. It's no surprise that Juvia's Place is famous for their rich and vibrant palettes, perfect for any occasion. Patchy shadows are the enemy, but despite the bright colors, Juvia's Place has you covered for a smooth, flawless application.
3. Mented Cosmetics
Mented Cosmetics was founded with one goal in mind: find the perfect nude lip. Founders KJ Miller and Amanda E. Johnson came up with the idea over a glass of pinot (iconic), and have since produced makeup that actually works for women of every skin tone. That being said, the must-have product here is of course, the semi-matte nude lipsticks, which come in nine shades.
4. Fenty Beauty
Fenty Beauty needs no introduction, created by living icon Rihanna. I feel like I could write a short essay here about how every single thing Rihanna touches turns to gold, but if you don't already know that by now, I can't help you. Fenty Beauty made waves when they launched with 40 foundation shades, setting the new standard for the makeup industry (which was, quite honestly, long overdue) and encouraged brands to be more inclusive. My personal favorite is the Pro Filt'r Soft Matte Longwear Foundation, and given the 3,300 five-star reviews, I'd say I'm not alone.
5. Coloured Raine
Coloured Raine was founded with the promise of a line that encouraged self-expression and diversity, and included shades specifically made for people of color. Founder Loraine R. Dowdy left the financial industry to pursue her passion, and as beauty lovers know, it sure paid off. Whether you like to go bold and or subtle, the eyeshadow singles are must-haves, giving you the option to build your own color story without having to purchase a full-sized palette.
6. Pat McGrath
Pat McGrath's namesake brand is one of the most famous in the industry, with good reason. She's been said to be the most influential makeup artist in the world, and her products follow suit. If you haven't tried a Pat McGrath lipstick, you ARE missing out. I can say with confidence I've never had a lipstick work as well as the MatteTrance™ line, and as someone who probably owns 200+ lipsticks, that is saying a lot. It operates almost like a liquid lip, in the sense that it allows for all day wear and no budging, but sits on the lip more comfortably, avoiding the dry feeling that liquid lips often cause. If you aren't sure about color, the Mini Lipstick Trios give you the chance to test out the brand and retail for only $25.
7. Range Beauty
Range Beauty is "clean beauty for the forgotten shades" and right off the bat I can tell you that this message is simple yet powerful. The beauty industry has come a long way, but we still see a lack of makeup for people of color, and founder Alicia Scott decided to take matters into her own hands. From the "fairest of fair to the deepest of deep", Range Beauty is known for their foundations, formulated with sensitive skin in mind. While makeup so often causes more irritation, these foundations have antibacterial properties to treat and prevent eczema and acne, control oil, soothe the skin, and prevent clogged pores. Consider this your skin care-friendly must-have foundation.
8. Nyakio™ Beauty
Nyakio Beauty is a clean and green skin care line, allowing you to never question your ingredients. Founded by Nyakio Grieco, who started her skin care business using lessons from her Kenyan family, Nyakio Beauty is best known for their Sweet Almond Cleansing Balm, which literally melts away all your troubles (and dirt, and impurities, and all of the other gross things that linger on our skin). The balm-to-oil texture feels like a spa experience in the comfort of your home.
9. Base Butter
I can't even explain why, but something about the word "butter" in products and brand names gets me every time. Lip butter, face butter, body butter? Give me all the butter. I love seeing women come together to succeed, and that is exactly what Base Butter founders She'Neil Johnson and Nicolette Graves have done. With the mission to help women feel more comfortable in their skin (and literally make their skin feel more comfortable), Base Butter has products like the Aloe vera Face Jelly that revitalize and rejuvenate your skin. A healthy balance of aloe to protect the skin, evening primrose to boost elasticity, and lavender and tee tree to calm and disinfect, this moisturizer is one that keeps me coming back for more.
10. Epara Skincare
Luxury skin care that uses African botanicals? Yes please. Founded by Ozohu Adoh, Epara Skincare is a "brand born out of a need to provide luxury skin care products to women with dark skin tones." Adoh, who received her MBA from Oxford University, made the decision to develop her own products after seeing a lack of products that could treat her own skin concerns. The Intense Hydrating Mask in particular is nourishing and creamy; the mask softens, cleanses and purifies the skin, leaving it hydrated, bright, and even in tone.
11. Hyper Skin
Goodbye dark spots, hello Hyper Skin! Founder Desiree Verdejo conceptualized Hyper Skin after dealing with aggressive breakouts during pregnancy. The brand launched with the popular Hyper Clean Vitamin C Serum, working to smooth fine lines and rough texture, and dramatically clear dark spots from hyper-pigmentation.
12. skin BUTTR
Hello I'm back for more butter brands. skin BUTTR, founded by my ANTM idol Tatiana Elizabeth Price (!!!), is made of natural body and skin care products. The body line consists of whipped shea-based body butters and scrubs, and the skincare line is an all-natural, step-by-step hydrating system. The scrubs and body butters are equally amazing, but if you're stuck inside and dry at the moment, the Cocoa Vanilla will hydrate your life and leave your skin glowing. You'll also smell delicious. You're welcome in advance.
13. Kaike
You had me at marshmallow. Kaike (pronounced like cake!) was founded by Keli Smith with a belief in celebrating your skin. Kaike is plant-based and made up of multi-purpose products for a more practical skin care routine. With yummy products like Frosting, you can moisturize your body and hair simultaneously. Plus, it literally smells like frosting, so you'll smell amazing.
14. The Honey Pot Company
Designed for ~ down there ~, The Honey Pot Company is plant-based feminine care. They are the first complete feminine care system powered by herbs, and for that, we are thankful. The Honey Pot Company was founded by Bea Dixon, who is open with the fact that she made her own line simply because she was suffering and couldn't find vaginal relief. The line varies from organic tampons to feminine wipes.
15. Briogeo
Briogeo. Where do I even begin? I so genuinely love this brand. Literally every single product is great, and my bathroom cabinets are flooding with favorites from the line. Founded by Nancy Twine, who casually formulated her first product at age five (yes, literally), Briogeo is my favorite clean hair brand on the market. It's actually hard for me to select a favorite product (I'm being dramatic, but idc), but having naturally curly hair, I always opt for the Curl Charisma line, which helps tame my lion's mane every morning.
16. GIRL+HAIR
GIRL+HAIR is dermatologist-designed, founded by Dr. Camille H-Verovic. Targeting growth, itch relief, and odor relief, this line was designed for the hair and scalp. You'll absolutely want to get your hands on their newest product, Curl Cloud, a hydrating pimento and castor oil hair mask. Heavenly.
17. TGIN
If you haven't noticed yet, I am a sucker for brand names, and TGIN may be in first place: Thank God It's Natural. As someone who generally tries to keep my products clean, this name tells me off the bat we are good to go—love that. On top of running a successful business, founder Chris-Tia Donaldson is a successful author. Her book Thank God I'm Natural: The Ultimate Guide to Caring for Natural Hair is a #1 Amazon bestseller—yes, big deal! TGIN has a full rose water line that includes leave-in conditioners, hair masks, and styling products, all to enhance your hair's natural beauty.
18. Miss Jessie's
Miss Jessie's was founded by sisters Miko and Titi Branch who wanted to give curly haired women a reason to look forward to trying new products. Too often, brands miss the mark when advertising the "perfect" hair, showing straight, thick, shiny hair that's not the most inclusive. The line was inspired by their grandmother, Miss Jessie Mae Branch. When they were children, Miss Jessie would create all sorts of formulas at her kitchen table to help tame and style her granddaughter's beautiful curly hair. Some winners include the Curly Buttercreme (which hydrates hair) and Curly Pudding (which relaxes natural curls).
19. SheaMoisture
Sheamoisture was founded on the belief that the best in personal care and beauty should not belong to the few, and their accessibility comes compromise-free. Built off the legacy of his grandmother, Sofi Tucker, Richelieu Dennis has created a line of natural, sustainably produced products. Their creamy, dreamy leave-in conditioner provides relief, and is a must for anyone who regularly destroys their hair with heat and color.
20. Camille Rose
And for the grand finale, Camille Rose. Founded by Janell Stephens, who has been an iconic trendsetter within the beauty space, Camille Rose was too built on the foundation of inclusivity. Their "about me" section reads: "We seek to share the purest and warmest joy, happiness, trust and gratitude to each and every person who experiences our products," and if that doesn't make you a customer, IDK what will. With products to cleanse, define, and bring life to your hair, Camille Rose embraces the natural gift of curls. I recommend the Aloe Whipped Butter Gel (butter again!), crafted to provide moisture and light styling hold.
These 20 lines are in good company with 100s of other Black-owned brands, and I encourage you to purchase, support, and comment more brands below! Check out this Instagram post that highlights Black-owned brands that are also cruelty-free.
Images: SofikoS / Shutterstock; Beauty Bakerie, Juvia's Place, Mented Cosmetics, Fenty Beauty, Coloured Raine, Pat McGrath, Range Beauty, Nyakio Beauty, Base Butter, Epara Skincare, Hyper Skin, skin BUTTR, Kaike, The Honey Pot Company, Briogeo, GIRL+HAIR, TGIN, Miss Jessie's, SheaMoisture, Camille Rose / Instagram
Ways To Switch Up Your Hair In Quarantine Without F*cking It Up
When entering quarantine, I knew that my skin and hair would thrive like never before. No makeup, just skin care. Not flat iron, just au naturale. 
That being said, 30-something days later, the trend of dying and cutting your hair at home is on the rise, and I for one feel like this must be controlled. The box dye you once bleached your hair with in seventh grade is no longer acceptable, and cutting your bangs with kitchen scissors WILL ruin your life. 
While I'd like to think I know everything, I turned to Joico's Larisa Love for some DIY hair advice. Love has been in the industry for 10 years, has a casual half-million Instagram followers, and owns Larisa Love Salon in Studio City, CA. So basically, she knows a little more about hair than me. 
When I asked Love the "dos" of coloring and cutting hair at home, her answer was simple: Don't. 
"There are many things I would recommend for people to try out with their hair while being quarantined, but coloring or cutting their hair is NOT one of them. I say leave it to the professional when it comes to those two categories, but there are so many other things you can do to experiment with your hair." Love explains. "Hair trends online that are making me cringe are the people who are not professionally licensed trying to cut and color their hair! It almost always doesn't come out as successful as you want, and you end up with more of a mess than what you started with," she added. I mean, where is the lie?
So, how does one refresh hair without permanently butchering your precious locks?
Dry Shampoo
The less you wash your hair, the less oils are stripped. Giving your hair a break can result in less breakage (see what I did there). Love recommends adding dry shampoo to freshly washed hair (which is new to me) to add volume at the root and soak up oils before the oils have time to get the hair greasy. Volume allows the hair to not lay as close on the root, which contributes to hair staying oil-free for longer periods of time. Of course, you can also freshen up between washes with dry shampoo. Basically, what I gather from this, is when it comes to washing your hair, less is more.

Joico Weekend Hair Dry Shampoo
Ditch the Heat
This feels kind of obvious, but some people are ~ addicted ~ to maintaining the perfect blowout or using a flat iron even when nobody can see them. But, the only thing you're maintaining is the consistency of damaging your hair, so stop that. Love recommends falling in love with your natural hair (probably because she's never seen mine) and finding the perfect products for you. If you're naturally a frizz ball (hi) a zero-heat styling cream like this one from Joico can help tame the beast. If you've got naturally straight hair, or perfect curls that don't result in frizz, just keep on keeping on and consider yourself #blessed. 
Refresh Your Color (Safely)
If you just CAN'T with your hair color anymore, I get it. Personally, my beachy blonde has turned yellow, and my roots can be seen from 10 miles away. Love has a solution for every color to take you from drab to fab without changing your routine one bit.
For the brunettes: Use a blue color balance shampoo to add a cool tone. Love recommends Joico's Color Balance Blue, but for a more affordable alternative, we love Fanola's No Orange Shampoo. 


For the redheads: Use a shampoo dedicated to you that embraces the red. Love recommends Joico's Color Infuse Red. John Frieda's Radiant Red Boosting Shampoo is also an affordable alternative with over 500 five-star reviews on Amazon.


John Frieda Radiant Red Boosting Shampoo
For the blondes (we're the difficult ones): Use a purple shampoo if your hair tends to get brassy and you want to cancel out the warmth. Use a violet shampoo if your hair tends to get golden and you want more of a white tone to your hair. Try this shampoo if you want to detox AND brighten your blonde.


Kérastase Blond Absolu Anti-Brass Purple Shampoo

Joico Blonde Life Brightening Shampoo
For all the above, Love recommends leaving on wet hair for 3-5 minutes to allow shampoo to absorb. 
No matter your color: If you color your hair, Love recommends washing in lukewarm to cold water. Adding heat to the hair strips the color off faster (which is quite inconvenient when every salon in the country is closed). 
If you've reached this point and still want to color your hair at home, don't act yet. There is still one more acceptable do, so that you don't ruin your hair (after all, there's still some hope of hot girl summer).
Garnier Nutrisse offers a color-care mask, Nutrisse Color Revivers, that refreshes color while also restoring softness, smoothness, and shine (it only takes five minutes). This mask is nice because it only needs to be used once every two weeks, which speaks to lazy people like myself. It's also extremely affordable ($7.99), and in a pandemic, that matters. In case you weren't already convinced, it comes personally recommended by Selena Gomez's hair stylist, Nikki Lee. "Right now, I am all about the Garnier Nutrisse Color Revivers. They restore vibrancy and smoothness and work great for a refresh of color and shine at this time when you can't get in the salon," she says. I trust her.

Garnier Nutrisse Color Reviver Masks
So, in a nutshell, there is no room for DIY hair coloring or cutting at home. It might look fun on Instagram, but the reality is simply *not* as pretty. 
Images: Ulta; Amazon; Garnier; Element 5 Digital / Unsplash
Betches may receive a portion of revenue if you click a link and purchase a product or service. The links are independently placed and do not influence editorial content.
Everything You Need To Know About Keratin, From A Girl Who Hates Her Hair
Growing up, I hated going in any form of water. This made me the odd kid out when I was younger, especially at camp. Whenever we HAD to go in the pool or the lake, I would fake sick or beg my parents to write a letter excusing me, ostracizing myself even more as that brat who wouldn't go in the water. Was it because I couldn't swim? Had a fear of water? No, and no. I couldn't go in the water because then once I got out, everyone would realize that I had a wild Jew 'fro, and then what?!?! My best friend all those years was probably my hair straightener. Luckily, as I got older, the beauty world realized I was not alone and developed a frizz cure: Keratin treatment, which I've sworn by since the first time I tried it over a decade ago.
Despite Keratin treatment being around for a long time, my friends still ask me how I tamed the wild beast that sits upon my head. When I explain that I get it done every 4-5 months, they still can't grasp what this actually entails. So I looked to the pros at John Barrett Salon to get the lowdown on the treatment that quite literally saved my hair.
Who Is The Ideal Candidate For A Keratin Treatment?

"Someone with unruly frizzy hair," says Keratin pro Carter Todd. He adds that you don't want to come in if your hair is "over-processed in terms of bleached to the max," because it will just get damaged. And if you don't want pin-straight hair? That's totally okay, you could still consider getting keratin. "Some people want straight hair, while some just want their hairline done—it can be customized," Todd explains. "So if you still want some curls, then we would flatiron the product in less during the treatment. The amount of it being ironed in dictates the results, to an extent." He also emphasizes the importance of having a thorough consult at a salon before starting your treatment, making sure the people you're speaking to are certified and have trained with the actual hair product company.
What Are The Results Like?
girls with straight hair don't know how privileged they are

— ? (@layawn) June 18, 2019

Keratin may be a universal term in that mostly everyone knows about it, but that doesn't mean you'll experience the same outcome everywhere you go. Some cheaper salons make their own formula, which can be dangerous because they might use ingredients that can be harmful to your health. A safe way to judge is that if a salon's prices are too good to be true, they usually are. Sorry, but it's generally a fact—and I learned this the hard way. I saw and felt a huge difference in the results from when I went to a "hair bar" for $175 and a properly trained salon for around $500. Yes, that sounds expensive, but most beauty procedures and treatments are. After all, your health isn't a place where you want to be cheap or cut corners. Also, I have thick long hair that goes down to my mid-back and thus requires a LOT of product, which probably affects the price too.
According to Todd, the price depends on your hair type. He says, "For people who have no color treatments, the results will be milder. If the hair is completely virgin, it's less receptive to treatment." It's also important to consider what time of year you're getting the treatment done. "Keratin treatments in the summer last for a shorter time than the winter because you're sweating, swimming, and exposed to the sun. In general, it depends on how often you shampoo your hair since the product 'washes' out as opposed to growing out like Japanese Straightening treatment." So, if you shampoo once a week, your keratin treatment will last longer than if you wash your hair, like, three times a week. If you need to wash your hair more often during the week, Carter recommends that you rinse your hair with just conditioner, and if you're frequently in the ocean (first off, give me your life), make sure to rinse your hair with water so the salt isn't sitting in your hair.
How Often Should You Get Treated?

This depends entirely on the person's hair. "Some people can do it every 3 months," Carter says, "but for others, I would suggest they only do it 1-2 times per year."
What's The Difference Between A Keratin Treatment And Japanese Straightening?
As we briefly mentioned above, Keratin washes out, while Japanese Straightening grows out, leaving your hair ridgy at the root. But the real difference lies in what actually happens to the hair during these treatments. Carter explains, "Japanese Straightening completely restructures the hair from the inside out and involves an abundance of chemicals that leave you with a completely permanent treatment that grows out." Keratin, on the other hand, works on the outside layers of the hair only. Explains Todd, "The treatment goes into the hair with the Keratin nutrients, and the high heat from the hair iron seals it up for an extended period of time. Each time you shampoo it, a little bit of the treatment comes out. Sulfate-free shampoo helps to make it last as long as possible."
At the end of the day, if there is one beauty treatment I swear by, it's a Keratin treatment. It helps to severely diminish frizz while still allowing you to style your hair any which way you want, all without changing the actual composition of your hair structure. If you're thinking about trying it but still don't know if it's right for you, most places offer complimentary consultations, so definitely take advantage of that!
Images: Giphy, Unsplash, layawn/Twitter 
Alcohol-Infused Beauty Products You'll Want To Try ASAP
If we know how to do one thing, it's happy hour. We also know a thing or two about prepping to go from the office to happy hour, and lucky for you betches we've rounded up the best alcohol-infused beauty products to get you ready for your next one. The best part? The use of these products won't cause you an agonizing hangover the next morning, and are in fact perfect even when your plans don't involve alcohol (so, almost never).

The Kardashian's OG hair stylist Jen Atkin created this moisturizing rosé-inspired oil that you can use daily, all over. It definitely gives new meaning to "rosé all day". The oil smells like rosé and bergamot (aka absolute heaven), and absorbs super fast so it illuminates both your hair and skin without making either too greasy or shiny.

If throwing back cheap beers with your coworkers is your idea of a good happy hour, then reach for Bröö's Craft Beer Moisturizing Shampoo. It's actually infused with freshly hopped craft beer. As crazy as it sounds, the malted barley in beer is actually full of vitamin V, proteins, and minerals to make your hair shiny and strong. Looks like the frat bros in college were on to something with all of those beer showers at football tailgates.

If you're a liquor gal who prefers a shower cocktail over a shower beer, Yes to's body wash cocktail actually detoxifies your skin without intoxicating the rest of you. The boozy body wash is packed with lemon, ginger, and epsom salt to cleanse your skin and leave you smelling super sweet.

For the days where you wish you were drunk on a beach somewhere (which, let's be real, is probs everyday) then there's Philosophy's Melon Daiquiri 3-in-1 Shampoo, Shower Gel and Bubble Bath. At least you can smell like a frozen daiquiri (minus the alcohol), even if you can't be drinking one on the beach. The shower gel has hints of melon, watermelon, and lime juice to make your skin and hair feel soft and smell fruity, in the best way possible.

We've all heard about the health benefits of drinking red wine: it's an antioxidant, it promotes healthy cholesterol levels, it prevents coronary heart disease, etc. Thanks to TonyMoly's red wine sheet mask, we've learned that red wine is good for your skin, too. The sheet mask uses red wine extract to purify and tighten your skin, and reduce the appearance of your pores in about 20 minutes. Who would've thought that during all those years spent slapping/chugging bags of Franzia and ending up with horrendous hangovers, you could've been using that wine to take care of your pores?

Now you can smell like your fav summer cocktail, which, if that sounds like it'd be horrible then just think of it as like a hair of the dog situation. But we swear, this perfume actually does smell good—it's like a crisp, fresh scent with a citrusy twist. Just spritz it on when you're super fucking hungover before you head to brunch, and you'll feel better faster than you can say "Can I get a bloody, please?"

When you're ready to go from office professional to thirsty Thursday thot, swipe on Buxom's Full-On Lip Cream in Blushing Margarita. That hot guy across the bar will 100% fall drunk in love with your pout. What's more, the full coverage liquid lipstick will stay on even if you get drunk enough to end the night with an intense PDA-filled makeout sesh.
If You're Obsessed With Dry Shampoo, You Need To Start Using Dry Conditioner
If you're one of those people that avoids washing their hair at all costs and dry shampoo is your bff, meet dry conditioner, the product that will soon become your soulmate. You know that third-day hair when, while it may not be greasy thanks to dry shampoo, it's definitely dry, brittle, and dull looking? Yeah, that's what dry conditioner is for: to enhance shine, moisturize, reduce frizz and soften your unwashed strands and bring them back to life. To put it simply, if your favorite hair serum and your favorite dry shampoo hooked up and had a lovechild, they would give birth to a dry conditioner. Another product to save you time in the morning and to help you preserve your overpriced blowout? We're here for it.
So if you're over that matted, dry, tangled look that you try to pass off as JBF hair but instead you just end up looking homeless, we rounded up five of the best dry conditioners you need to add to your routine ASAP.

If you're obsessed with smelling like a coconut even when you're not at the beach, Marc Anthony's offering should be your go-to. The dry conditioner goes on clear, gets rid of frizz, and helps to put definition back into second- and third-day hair, all while making you smell like you've spent the day lathered in sunscreen. In the best way possible, obvi.

Your favorite blowout spot knows a thing or two about preserving your styled hair, so expect only the best from Drybar. The dry conditioner spray is packed with argan oil to hydrate and get rid of frizz, mango butter to restore softness, and tiare flower to detangle and leave hair polished. The best part? It smells like jasmine, sandalwood, and vanilla, aka Drybar's signature scent.

We'll spare you the word play on girls with "knotty" hair and tell you that Eva NYC's dry conditioner is perfect for those with manes that are full of tangles. Its main component is Vitamin B5, which softens and strengthens so you can actually get a brush through your hair. What's more, Eva's Forget Me Knot also gets rid of that annoying wintertime static so that you don't look like you just got electrocuted.

Amika's products are made for literally every hair texture on the planet, so you can imagine that their products also aim to do a little bit of everything—and that's definitely the case with their dry conditioner. Its B5 component works to strengthen, protect against breakage, reduce split ends, and smooth the strands in addition to adding moisture, shine, and eliminating flyaways. So if you have fine, fragile hair, get you some Amika.

There's something about using an Oribe product that makes you feel instantly cooler (yet more sophisticated), and that is definitely the case with the Soft Dry Conditioner Spray. Spraying the dry conditioner on is kind of like when you spray fabric softener on your clothes—your strands become instantly softer, better smelling, and all-around better looking, not to mention free of tangles to preserve your style for yet another day.
Image: Averie Woodward / Unsplash
Betches may receive a portion of revenue if you click a link in this article and buy a product or service. The links are independently placed and do not influence editorial content.
10 Everyday Habits That Are Destroying Your Hair
Hair health is for reals. You may think it doesn't take a genius to get good, long, healthy hair, but you could be wrong. Like, did you know that 90% of your normal routine is probably leading to breakage and the actual opposite of shampoo commercial hair? It's sad, but it's true. Since we only hang out with people who have nice clothes and hair, we figured it was our godly duty to inform you of the everyday shit you're def doing that's fucking up your potentially shiny, amazing hair. So say goodbye to things like cotton pillowcases, towels, and hot water. SAD.
1. Hot Water
I love washing away the stench of failure a day at the office as much as the next betch, but it's important to know that turning that dial all the way up to HOT can lead to breakage and frizz because you're washing out all the natural oils in your hair. You can still take a hot shower, just don't, like, overdo it.
2. Wrapping Your Hair In A Towel
Because towels aren't, by nature, that soft, using one to wrap around your head turban-style can actually lead to more breakage. Rubbing and trying to dry hair with a towel is even worse. Using something like a jersey material is actually WAY better and more absorbent.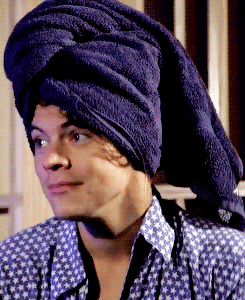 3. Sleeping On A Cotton Pillowcase
YAS QUEEN. Stop sleeping on that plebeian material and invest in a silk or satin pillowcase (like this one from SLIP that we swear by). Not only is it gentler on your skin and less likely to give you wrinkles (bless), but it also won't play host to as much friction as cotton, which can lead to hair breakage.
4. Dry Shampoo
Alright, well, I guess I'll just go fuck myself. APPARENTLY using too much dry shampoo can block your scalp's pores and make your hair super dull. It can even lead to literal pimples on your head. I've never felt so betrayed.

Get your 99% Dry Shampoo beanie here
5. Putting Your Hair In A Top Knot
I KNOW. According to Doris Day, an important historical figure NYC dermatologist, tight hairstyles put strain on hair follicles, damaging them and creating scars that can, in turn, destroy the follicle forever. So, like, go ahead and wear the topknot, but not every day and not hella tight.
6. Skipping Milk And Red Meat
Sooooo the juice cleanse you're on may have you feeling super in touch with your inner zen, but it isn't doing jack shit for your hair. Turns out you need protein and calcium to provide keratin, which helps protect hair from the inside out. The more you know.

7. Not Cleaning Your Brushes
We all have one—don't deny it. Dirty brushes can actually irritate your scalp and result in clogged pores, equaling not so shiny tresses.
8. Skipping Breakfast
Ughhhhh. So apparently, hair needs nutrients just like the rest of your body, and not eating can fuck that shit up. Like, not chugging some OJ and stuffing a granola bar in your face at 7am can actually lead to shedding and slower growth of your hair. So, like, eat.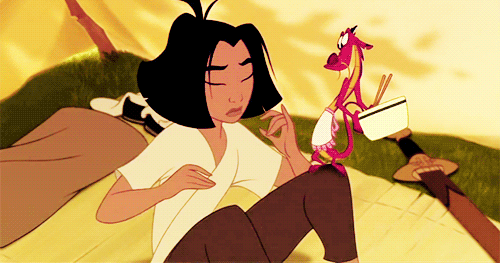 9. Going To Bed With Wet Hair
Although moms everywhere will attest that going to bed with a wet head will def result in pneumonia/AIDS/death, it actually is super bad for your hair—not so much your health. Putting wet hair in a ponytail and going to bed can lead to breakage since the hair is in a not-so-strong state.
10. Skipping The Hairdresser
If you're trying to grow out your hair, a trip to the salon seems out of the question. But not going could actually be worse for your long tress quest. As your hair grows, you're obv going to have split ends. If you don't cut 'em off, and keep growing everything out, those splits are going to travel upward. So, like, go to the hairdresser—ask for a "dusting" or to JUST remove split ends. It'll be okay.

6 Habits You're Guilty Of That Are Making Your Hair Greasy
If there's anything that's disgusting, embarrassing, and a telltale sign that you've run out of fucks to give, it's greasy hair. I get it, though. Showering, especially on hair wash days, is v time consuming. Sure, the amount of energy it takes to actually walk and get in the shower is a lot, but once you're in there, you're basically never leaving. Nothing amps up your mood for the rest of the week like freshly washed hair on a Sunday night, when it's voluptuous, bouncy, and full of life for once. But there's also nothing more frustrating than waking up the next morning to a fucking grease ball. Like, why bother having hair to begin with? YOU TRIED, DAMN IT. Unfortunately for you, it's the little things you're doing on a daily basis that are contributing to the oiliness. Stop doing this shit and maybe for once, you'll be able to go *three* days without washing (and having it look obvious). You're welcome.
1. You're Touching Your Hair Too Much
Similar to what we do to our face, we touch our hair too much. IDK why we do things that we know are really fucking bad for us (like say, IDK weekly binge-drinking?), but we need to stop. Like, yesterday. More often than not, our hands are gross, dirty, and full of so much grime, it's making me vom. If you're constantly touching your hair, you're obvs putting all of that nasty shit onto your hair. This including constantly fixing your part, twirling your hair, or tucking it behind your ears. If you can't refrain, make sure to wash your hands at the very least beforehand.

2. Overusing Dry Shampoo
Find a happy medium with how often you use your dry shampoo. I know, it's the best thing ever and since we're all lazy af, we couldn't imagine our lives without it, but unfortunately, too much of it works the exact opposite. Overusing dry shampoo leads to gross buildup since it absorbs both excess and natural oils and ruins our hair's balance to keep it healthy. If you must, use only once a week max (WASH YOUR HAIR, PEOPLE) and use a spray that has little to no residue, like Klorane Dry Shampoo with Oat Milk.

3. You're Washing Too Often
On top of making sure you're washing your hair correctly, you can't *over wash* your hair either. Washing too much ends up ridding your hair of all its natural oil (even the good kind), which in result makes your hair produce twice as much. FML. Reduce to washing it only every other day, or if you're some sort of magical creature, 3-4 times a week.

4. Using Products That Promise "Shiny Hair"
First of all, why? Second of all, no. If you already suffer from greasy hair all the time, then steer clear from shit that promises shiny hair. Fucking duh. Shiny hair shit is only acceptable if your hair is super dry and probs never ever greasy, in which case, you probably have no need to read this article. These products usually contain an abnormal amount of silicones, which are really fucking bad for your hair and make it 10 times more oily. Instead, use a clarifying shampoo once a week like Bumble and Bumble Bb. Sunday Shampoo, or literally anything else.

5. Brushing Your Hair Too Much And Forgetting To Clean Your Brush
As much as we try to ensure our hair doesn't end up looking like a rat's nest by the end of the day, overly brushing your hair can cause your hair to produce more oil than necessary since you're constantly stripping it of its natural oils. If you can barely remember to wash your makeup brushes, you def can't remember to clean your hairbrush. If you can't put time aside to hand-wash your hairbrush as often (and I don't blame you), be sure to remove all of the nasty, dirty hair that's piled up. If you don't, you're just putting that back on your head every time you brush. Fucking gross, dude.

e
6. Over-Conditioning
We all love conditioner. We love it more than shampoo, which is why we probs always run out of it first. However, like too much of anything, too much conditioner is like, really bad for your hair. An excessive amount adds an extra layer of oil and product buildup so your hair is ultimately lame, limp, and lifeless like your Bumble fuckboy. While it's good to leave conditioner in for a tiny bit more, make sure to rinse it out just after a minute. Instead of conditioning your whole head, because it's honestly so unnecessary, only condition the ends.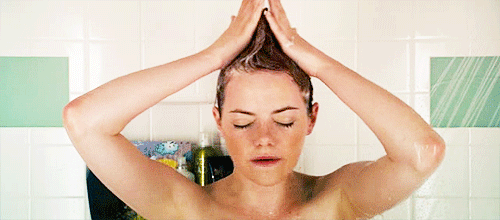 Images: freestocks.org / Unsplash; Giphy ( 6 )
How To Get Longer Hair Without Resorting To SugarBearHair
From Rapunzel to Kim Kardashian and Ariana Grande, long hair has been in for a while now. I mean, even Amber Rose was rocking long hair at the VMAs this year—that's how you know this shit is serious. And during New York Fashion Week this year, a bunch of designers gave their models extensions down to their butts—which seems impractical if you ask me, but I guess that's why nobody asks me. So yeah, unsurprisingly, long hair is here to stay. But what's probably not here to stay? The money in your bank account. Extensions are expensive af, but there's an easier and cheaper way to get long locks. And no, a certain sugary bear-shaped gummy vitamin is not involved in the making of this hair. Here's all the shit you need to buy so you can embody the "long hair, don't care" life.
For starters, nothing is going to change if you have a shitty shampoo. You need a volumizing vitamin-loaded shampoo that will give you bounce and tons of nutrients that encourage quick growth. The infused Vitamin B helps strengthen and thicken fragile hair so you won't feel like you're pulling clumps out of your head every morning. (P.S., if you're doing that, read this on how to prevent your hair from falling out.) Don't forget to use the corresponding conditioner because if not, did you even really wash your hair?

This is basically a bomb facial for your hair. This treatment prevents hair breakage by strengthening each and every follicle, all the way through each strand. It ensures your hair stays strong enough to not fall out in order for it to grow faster and actually stay long, that way you're not wasting your precious time. Use in between shampoo and conditioner for like, 5 minutes.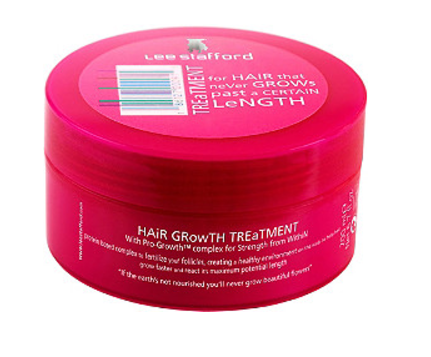 On the rare chance that you didn't know biotin was the holy grail for hair, now you know. Biotin encourages hair strength and growth like nothing else. Needless to say, this oil treatment that's composed of a lot of biotin and collagen hydrates, protects, and nourishes your hair for extra long, voluptuous, healthy locks. It def doesn't make your hair look greasy, and the fact that it smells like a tropical rainforest is an added bonus.

I know people say perfection isn't real, but they obviously haven't met me used coconut oil. Coconut oil works for just about anything you can imagine—from makeup remover to acne-free skin (bless) to insanely healthy hair. This multi-purpose detangler can also be used as a leave-in conditioner that softens and strengthens your hair. After regular conditioner or in place of it, leave this in for just a few minutes before rinsing out and voilà. No more ripping your hair out after brushing it.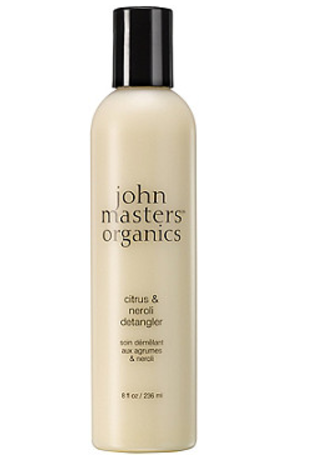 As an apology to your very likely heat-damaged hair, apply this finishing treatment to the very ends of your hair after styling—wet or dry, whatever floats your boat, it doesn't matter. Not only does it allow your hair to grow a million times faster and give it a gorge shine, but it also helps with oil control and eliminates frizz all at the same time. Ugh, there is a god.