Bekah M From 'The Bachelor's Best & Worst Hair Transformations
The producers over at The Bachelor have been shaking things up this season ever since they selected a literal retiree Arie to be their next Bachelor and decided to pair him up with someone who just stopped using her fake I.D., like, yesterday. Just a casual reminder that I'm talking about Bekah M. here, who is literally more age-appropriate to be Arie's adoptive daughter than life partner, but whatever. Bekah M.'s age isn't the only thing making waves this season. People are also losing their shit over her because her hair, like my patience every time Arie tries to feel her up during a rose ceremony, is short AF. Let that sink in, people. A woman with short hair is actually sexually appealing to one of the most eligible Flat Tummy Tea sponsors bachelors in America. This is what we marched for!! Tbh the pixie cut actually isn't Bekak M's craziest haircut and I know this because I am an avid follower of her Instagram account and, let me tell you right now, that account looks less like it belongs to a single human and more like it belongs to someone trying to fake different personalities for various free streaming trials. Since it's Friday, and I was already planning to spend my day deep-stalking reality TV contestants instead of actually doing any actual work, I've decided to waste my precious free time by blessing you all with a definitive ranking of Bekah M.'s hairstyles. You're welcome.
7. Smurf Hair
Okay, was this some sort of phase that took over America's youth and I somehow missed it? Because Bella Thorne tried to pull this same shit a few years back by labeling herself a ~yUnG sMurF~ (her exact wording, not mine) and I do not fucking get it. Is this a sign of the Jingle Jangle drug use that Riverdale keeps alluding to? The only other plausible explanation I can come up with for a hairstyle such as this is that Bekah was trying to get sponsored by Urban Outfitters on Instagram, and I don't think that's not a good enough reason to use the word penetrate dye your hair the color of a Papa Smurf. No, this shit gets last place.
6. Short & Sweet
This one just barely missed last place because, honestly, it's so average. I, mean, am I rocking a similar haircut at this very moment, only in blonde? Yes, but I'm also not some mutant who escaped from Professor X's house just to compete in The Bachelor and low-key incite jealousy in me every bitch who's ever thought about rocking a pixie but whose hair stylist told them it would make them look like a prepubescent boy. No, I expect more from the mutant Bekah.
5. The Brown Bob
Ah, the predecessor to the infamous pixie. As we've mentioned before, if you're going short for the first time it's important to start out with a longer cut than you actually want just to make sure you don't completely ruin your life with one single decision (you know, aside from your Friday night plans). It looks like Bekah followed my sound advice—I knew I liked that girl—because this haircut is the equivalent of pulling over at a sketchy gas station for shitty coffee on the road trip to an actual good haircut. All I can say is, I'm v glad this cut only lasted all of 355 likes an Instagram post. 
4. Pink & Chic
I know I just shit on funky colored hair literally three minutes into this post, but I'm actually really digging this millennial pink look and it is making me reconsider all of my life choices. I'll be sure to tell my German hairstylist, Susi, next time I'm at the salon that one time I saw Bekah M. wearing pink hair and a bob and so now I'm going to wear pink hair and a bob. Again, Bekah looks almost unrecognizable with her latest hairstyle but I like that she let us know with her caption that this is, indeed, Bekah. It's an important distinction.
3. The Buzz Cut

Kidding! This is actually an image of a member of an ancient lizard species known as a chameleon and not Bekah M rocking the buzz cut look, though it's getting increasingly harder to tell with each passing photo. I just wanted to throw this one in there in case you weren't paying attention. Moving on. 
2. Blonde Hair Don't Care
Okay, I retract my earlier statement because this girl is 100 percent a goddamn chameleon. That, or she's worse than MK and Ashley Olsen at the whole witness protection thing and keeps having to change her look up so she can stay in Australia with all of her Aussie boyfriends. Like, this doesn't even look like the same human. Seriously. The "Evolution of Bekah M.'s Hair" should have been what I wrote my senior thesis on instead of the influence of manic pixie dream girls on hipster society.
1. The Pixie
I know if I cut off all my hair I'd look like a British man, but tbh, the pixie is her best look yet. Lucky bitch. It's chic, it's different, it does make her look like the offspring of Peter Pan and Tinkerbell, but that strategy seems to be a strong one when competing for a new daddy Arie's heart, so you do you boo boo.  
Images:  @whats_ur_sign / Instagram (6); @claudelrheault / Unsplash (1)
Hidden Rainbow Roots Are The Trendiest New Way To Tell Your Employer You Drop Acid
I have had it up to here *gestures to practically empty wine bottle* with high schoolers and beauty bloggers on Instagram trying to trend-set the weirdest shit they can Google. I mean, tattooing fake freckles on your face? Lisa Frank makeup? Super long hair extensions? Fine, I get that one. Celebs are doing it and celebs are really just 14-year-olds with massive bank accounts. But this latest one, rainbow hair roots? I'm all about switching up your look but I draw a firm line at hair that rivals a preschooler's artwork.
Rainbow roots are apparently the latest in spring hair trends and I would bet my unnecessarily complicated Starbucks drink order that mermaid- and unicorn-obsessed hipsters are at the forefront of this trend. This is what it looks like (brace yourselves):

And the worst part is the internet actually seems to be into this look. DON'T FALL FOR THE HIPSTER PROPAGANDA, PEOPLE.  I mean, can you imagine if someone you know and love showed up to brunch with hair like this? Shudders.

For once America isn't the one fucking up starting an asinine hair trend. Instead we have the Aussies to blame for this, specifically the blondies of Melbourne Salon. It seems impossible that the same country that brought us the Hemsworth brothers could also be responsible for starting this hair monstrosity, but since they've literally started nothing else it kind of makes sense (stop trying to make Vegemite happen).
In what I can only assume was some sort of Regina George Plastics hazing ritual gone awry, the Blondies of Melbourne managed to convince some poor lower-level client (I assume) to play guinea pig for them while they presented to the world the modern day Ronald McDonald look (FYI that's the only name I'll refer to this hair trend by from here on out). In an Instagram hair tutorial that went viral, the Aussie's took their victim client from pixie cut to hair that says "my employer definitely thinks I'm on acid."
Hidden Rainbow Roots: The Latest Hair Color Trend to Lose Your Mind Over https://t.co/4T6P2oQzPf pic.twitter.com/kwf9xXTk4d

— Cosmopolitan (@Cosmopolitan) March 28, 2017
If you're attempting this look because A) you're having a quarter life crisis and want to fit in with the youths or B) you want to start shit with me on Instagram, then for the love of god do not attempt this look at home. You will fuck it up and I will not hesitate to anonymously blast you for it online from the safety of my home.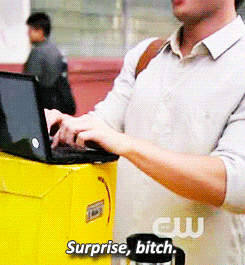 You should consult your stylist—and also maybe your therapist—immediately before considering this look. The look itself is a pretty easy process. Stylists bleach just the roots of your hair and then apply a variety of colors in a fuck me up fam "rainbow-like" manner, leaving the top layers untouched. The result being subtle on the outside, batshit on the inside. A description taken directly from my Bumble profile. Something to keep in mind before taking on this look is that growing out the dye will be a bitch. But something tells me that the type of person who takes on this hair trend is also the type of person who takes on other time-consuming projects like clean eating and turning fuckboys into boyfriend material. LOL.
Beauty experts are calling this the "perfect look" for Bonnaroo or Coachella this summer, but I'm calling it perfect fodder for your future children to mercilessly mock you with. Better get on this trend quick because I have a feeling it's going to fade faster than your vacation Instagram story. 
Perms Are Making A Comeback, And Our Mothers Could Not Be More Thrilled
You know when you're having a really great morning, you look good and you feel good, and then you read something really fucked up like margaritas are giving you skin rashes and you lose your will to live? Well, you may want to rethink getting out of bed this morning because this just in: perms are making a comeback. Anddd the hits just keep on coming.
Apparently perms are making a comeback and this must be stopped before my mother tags me in a very smug Facebook post. This is not a drill, people. Places like InStyle magazine, Marie Claire, and Women's Health magazine have confirmed the story, but then again they also confirm stories like "Welcome to the Dollhouse: A Conversation With A Human Barbie" so can they really be trusted? I'll leave that up to you. BUT if my worst nightmare is coming true and the '80s are coming back one beauty trend at a time, then here's what you need to know about it:
1. Carrie Bradshaw's Hair Isn't Making A Comeback, Thank God
You can kind of breathe easy because the type of perm that's making a comeback is not the over-volumized, tight curls, horrifying bangs type that we know and abhor. THANK GOD. But rather, the natural bend-in-the-hair type of perm, made famous by human praying mantises Victoria's Secret models. Tbh it kinda makes me feel a little superior that Victoria's Secret models might be walking around with permed hair (even if they look good AF doing it). Like, you may get the great body and date famous, beautiful people and have the metabolism of an anorexic 14-year-old girl and… I'm not sure where I was going with this but suddenly I have the urge to drink my feelings.

*opens bottle of wine*
2. It's All About The Air Dried, I-Just-Emerged-From-A-Fucking-Lagoon Look
Which is a step away from the super styled curling iron waves that we know and love. Hmm is that why barrel curls were replaced on Nick's season of The Bachelor with I'm-too-busy-getting-wasted-by-the-pool-to-finish-my-hair-before-the-rose-ceremony curls? Were those bitches actually ahead of the style curve or were they just, like, drunk and lazy? Food for thought.

Lol nah. Any girl who wears a leopard print headband isn't ahead of anything other than the guy she's flipping off on the New Jersey turnpike.
3. It All Depends On The Size Of The Rod
As is true with all things in life, how much I judge you your perm depends on the size of the rod. No, seriously. You can't make this shit up. Using smaller rods will get you looking like a bridesmaid at your mother's wedding somebody just put Baby in the corner, while larger rods give you that beachy wave perfection. Either way you should def consult with your hair stylist (Hi, Susi) to see how big of a rod you should use.

4. If Your Hair Color Isn't Natural Then You're In For A Fucking Problem
Unless you're one of those girls who are in my burn book don't color their hair, then you're in for a real fucking problem. Overly highlighted hair doesn't hold perms the same way natural hair does. This is especially true if you're one of my sorority sisters bleaching your hair, because bleach-highlighted strands have a different consistency than the strands that aren't highlighted, and this can seriously fuck with your curls. But because there is a God and She is obsessed with Flashdance rn, there are thio-free treatments (aka treatments that use a different chemical to break the bonds in hair) available for people who dye their hair and/or want a less damaging treatment.

Fuck, now I kind of want a perm. No one show my mother this, lest I eat shit in the family group chat. But seriously, I'm off to go reevaluate my life since apparently hell has frozen over.