10 Things You Didn't Realize Happened In 2019
2020, amirite? That's it, that's the article.
I'm kidding! But seriously, have all years just gotten progressively worse, or does it only feel this way because of the 24-hour news cycle and advent of social media making it impossible to escape or stop talking about the bad news? Or is this the inevitable byproduct of capitalism, racism, environmental injustice, and fascism going unchecked and reaching a boiling point? Too deep for this article? Too deep for this article. If you thought the "Trump is going to tweet us into WWIII" phase of 2020 felt like forever ago, allow me to send you off the deep end by taking it a step further and reminiscing on huge cultural events that seem like they happened in another lifetime, but in fact, only took place in 2019. Get ready to go off a proverbial cliff.
Jordyn Woods Went On Red Table Talk
I remember it like it was both yesterday and 17 years ago: we were all in the office (a physical office, can you imagine?), gathered around the flat-screen TV, watching Jordyn Woods go on Red Table Talk with Jada Pinkett Smith to discuss her alleged tryst with Tristan Thompson. It was the kiss heard 'round the world: Jordyn, BFF of Kylie Jenner, smooching the baby daddy and ex of Kylie's sister? It was a wild time. The memes. The jokes. The memes again. I miss it more than I miss some of my actual friends whom I haven't seen in months.
Colton Jumped The Fence

Back when Colton Underwood was merely boring and not f*cking scary, we all waited with bated breath for the night he would finally vault himself over a fence in order to chase down the love of his life, Cassie Randolph. In retrospect, perhaps that should have been a sign this man did not exactly have a healthy attachment style. Anyway! Back in March 2019, The Bachelor viewers finally saw that long-awaited fence jump that Chris Harrison had been teasing out all season. Can't believe we were actually looking forward to this at one point in our lives. But if I could somehow fence jump myself out of this universe, I definitely would.
Area 51 Raid
What I wouldn't give for aliens to come to abduct me right now and take me away from this hellscape, tbh. This time last year, thousands of people RSVP'd to a Facebook event expressing their intent to storm Area 51. Nobody really did, because the event was made as a joke—although a few people did show up. What happened to them? Has anyone followed up or were they just wiped away from existence by the government? Anyway, looking back on it, I think we should have just gone for it and raided Area 51. Honestly, it's not too late! Whatever could happen surely can't make things any worse, right?
Justin & Hailey's Wedding
It feels like these two have been married for decades, what with their constant Instagram PDA and general parent-like wardrobe aesthetic, but you would be wrong in thinking this marriage has been on the books for that long. That's right, friends, Justin Bieber and Hailey Baldwin only actually had their wedding in September 2019 (though they did have a courthouse wedding exactly one year before that, in 2018). When time is a complete social construct, it's easy to forget that I have cans of black beans in my pantry that are older than this marriage.
College Admissions Scandal
Ah yes, remember a time when rich people would actually be punished for their crimes? It was not actually so long ago, merely the faraway time of 2019, when Lori Loughlin, Felicity Huffman, et. al. got busted for participating in an elaborate (and if you ask me, stupid) scheme to get their kids admitted to colleges under false pretenses. The charges were made public in March of 2019 and the sting was called Operation Varsity Blues. We got so much from this, including Olivia Jade's fake rowing pictures, Lori Loughlin's every attempt to justify her very much illegal actions, Felicity Huffman's joke of a jail sentence, and probably the inevitable Netflix and Hulu documentaries. Do you think Olivia Jade will play herself in the fictionalized adaptation for HBO?
Bradley & Gaga's Oscars Performance

Okay, to be fair, A Star Is Born was big in 2018 technically, since The Oscars take place in February. But still, who else can barely remember a time when you could have 100 people in a room, regardless of whether or not 99 of those people believe in you? I shudder at the thought now. As does the time Bradley Cooper and Lady Gaga basically had sex on stage with their eyes while performing the breakout hit from the movie they starred in together. It feels like 5 years ago, but it was really more like one and a half.
Series Finale of 'Game of Thrones'
Yeah, the series finale of Game of Thrones completely sucked, but you know what's even worse? The series finale of American democracy. I really wish the biggest thing we had to complain about was investing years in a TV show that completely sh*t the bed on its ending. Even though Game of Thrones only ended in May 2019, I for one have enjoyed this extremely blissful period in which I stopped having to pretend like I cared at all. Honestly, I wish it had ended sooner.
Miley Cyrus & Liam Hemsworth's Divorce
View this post on Instagram
…And Miley's subsequent Hot Girl Summer journey. We have yet to see anything like the utter messiness of Miley and Liam getting divorced after basically pulling a decade-long "will-they-won't-they" on the general public, and then Miley gallivanting around Italy with Kaitlynn Carter, who had just divorced from her ex, Brody Jenner. It was a media circus that we were all living for. Ugh, those were fun times.
The U.S. Women's Soccer Team Won The World Cup
Jesus f*cking Christ, look at how much can change in a year. In July 2019, the U.S. Women's Soccer team won the 2019 FIFA World Cup, and we were all "girl power!" and "goals!" and "Megan Rapinoe is bae ". Now, we're all "Make The Handmaid's Tale fictional again" and "please don't confirm a Supreme Court Justice who basically walked straight out of Gilead" and "should I get an IUD?"
Trump Was Impeached
Yeah, that only happened in December 2019. And thank goodness it taught him a much-needed lesson on not overstepping your power, denouncing white supremacists, and gracefully conceding should he lose the general election come November. Oh, wait.
Don't miss out on any pop culture or entertainment news. Subscribe to our weekly newsletter here. 
Images: DFree / Shutterstock.com; Giphy; haileybieber, mileycyrus / Instagram; Ed Herrera / Getty Images
Is Justin Bieber And Hailey Baldwin's Marriage Doomed?
If you're like me, you stopped caring about Justin Bieber back in 2012, had a very brief reassessment of your feelings when "Despacito" dropped, but then returned to regular programming (i.e. not giving a sh*t) when other, better songs came out shortly thereafter. Well, the former swoopy-banged child who sounded whiter than snow when attempting a Spanish accent just landed a Vogue cover with his wife, Hailey Baldwin. I know, it still feels weird to write that out. I guess Hailey is officially one less lonely girl, and apparently that's the kind of ~international shockathon~ that deserves a Vogue cover and complementary feature? But unlike most wedding-centric blabfests in major publications and Instagram captions in which the newlyweds are especially mushy and insufferably in love, Hailey and Justin Bieber are candid—they're weirdly skeptical about marriage and aren't afraid to share their mistrust of each other with the Vogue writer they literally just met. Don't get me wrong, their candor made for a great read. What it did not do is convince me that their marriage is going to last any longer than the half and half sitting in my fridge right now.
As a creative writing major, I will start my critique with one positive comment, as you do: Hailey looks stunning on the cover in a white Prada dress and Tiffany & Co jewelry. That's the only nice thing I have to say because everything else about the cover is pretty horrific, not limited to Justin's creepy drug dealer smirk.
But I'm not here to provide an art critique. I got the sense that the article wants me to conclude that Justin and Hailey are perfect for each other, despite what tradition and/or common sense may lead many to believe. Maybe I'm just cynical, but my reading experience was a little different. As the girl sitting at the desk next to mine can attest, I made my way through the interview, periodically exclaiming "oh no" to myself with increasing volume.
For instance, we're not even midway into the third paragraph before Hailey admits, "Marriage is very hard" after being married for about 12 weeks. I've never been married, but I can't imagine the struggles are that real after being husband and wife for less time than it takes for my car to require an oil change. Isn't there a phrase for the newlywed bliss many couples feel in the beginning stages of their marriage? Oh right, the honeymoon phase. Well, maybe that will come when they actually have a honeymoon, who knows. It's pretty telling when the writer notes, "It is impossible not to feel, in Justin's presence, that he is still recovering from something." If those kinds of emotions are so obvious to a complete stranger, I wonder how his one true love feels. Can she also tell that Justin is a delicate mess capable of imploding any a moment's notice?
That's not the only sign Justin and Hailey's relationship is on shaky foundation. If you are alive, well, and have Instagram, you know that the couple dated for a hot second a few years ago, but the relationship exploded when "a betrayal occurred", as Vogue calls it. Or as I call it: when he cheated on her. She essentially took the high road and ghosted him, and we had mad respect for her. At least I did, since my response to getting cheated on is sending north of 500 drunk texts telling him how much I hate him and the details of his impending murder. To make a long story short, we know how this story ended: with Justin and Hailey rushing walking down the figurative aisle (they have yet to finalize a formal wedding). Call me crazy, but I assumed they'd had a deep, long conversation about the "betrayal" before mutually agreeing to spend forever together. But apparently, this conversation (that I may or may not have fully scripted out in my head) did not ever take place. Hailey says, "Negative things happened that we still need to talk about and work through." In other words, Hailey took the same approach to Justin's cheating as I do to seeing a spider in my room: say and do nothing, and hope it will go away. No honey, you should have talked and worked through this sh*t before you signed a document legally binding you to this child man who once peed in a trash can in a five-star restaurant's kitchen. 
I am not a Belieber, but I do have so much sympathy for child stars who are basically forced into a life of enormous empty houses and even bigger trust issues, and Justin is not an exception. He says, "I've struggled with the feeling that people are using me or aren't really there for me." As the forever designated driver, I can relate and empathize with him on this. But he also admits he doesn't even fully trust Hailey, which is a concerning and insulting thing to say about your wife, especially while she is literally sitting right next to you. But, unlike me, Hailey doesn't appear fazed by this admission. She instead diverts the narrative to a simpler time, back when they first locked eyes from across the room. She says, "One day Justin walked into Hillsong and was like, 'Hey, you got older.' I was like, 'Yeah, what's up?' Over time he became my best guy friend. I was running around with him as his homie." And I've got to wonder: Did Bella Hadid circa her insanely-uncomfortable-to-watch Complex interview just highjack Hailey Baldwin's brain? But more importantly, I get the impression that Hailey's engagement to Justin was as much as shock to all of us as it was to Hailey. She admits of their reunion, "he was like, 'We're not going to be friends.' I was like, 'We're not?' Within a month, he had slipped an enormous oval-shaped diamond ring on her finger." Yes, this is romantic, but it's also questionable. Like, you got married without even talking about it? Sure, whirlwind romances happen all the time, but they're not exactly known for lasting.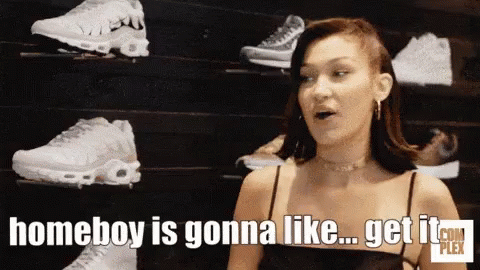 Nearing the end of the article, Justin unknowingly sums up the issues with his marriage by saying of Hailey, "She's trying to be this grown-up." Ah yes, how could we forget that they are both actual children masquerading as functional adults who do things like make lifelong commitments to one another? Maybe that's why this marriage is off to a weird start! There's a reason the legal drinking age is 21, and I'm not a doctor, but I'm pretty sure it's because your brain doesn't fully develop until then. And sure, 22 is old enough to legally drink at your wedding, but is it really old enough to understand the full ramifications of your decisions? I won't attempt to answer that, but I will say that at 22, I still thought side bangs flattered my face. Then again, I haven't had a religious awakening, so who knows!
Ok, I'm not like, the Grinch of love, so I will say that after going through all 3,621 words, it is clear that there is definitely a lot of love between Hailey and Justin. They care about each other more than a lot of people who have been together for years and should have broken up by now. Hailey says, "We're coming from a really genuine place. But we're two young people who are learning as we go. I'm not going to sit here and lie and say it's all a magical fantasy. It's always going to be hard. It's a choice. You don't feel it every single day. You don't wake up every day saying, 'I'm absolutely so in love and you are perfect.' That's not what being married is. But there's something beautiful about it anyway—about wanting to fight for something, commit to building with someone. We're really young, and that's a scary aspect. We're going to change a lot. But we're committed to growing together and supporting each other in those changes. That's how I look at it. At the end of the day, too, he's my best friend. I never get sick of him."
I can't imagine being married to Justin Bieber is anything short of a magical fantasy (lol jk it's my actual worst nightmare), but she has a good point. People who get married assuming it's going to be all rainbows and dinner dates are usually the ones who get divorced because they weren't expecting a lifelong commitment to be the slightest bit challenging. And yet, all Justin manages to choke out in response to this thoughtful take on marriage is, "And you're my baby boo." But just because I question the longevity of Justin and Hailey's marriage doesn't mean I want them to fail! In fact, I wish them all the best and want them to succeed—even if I don't see it happening.
Images: voguemagazine / Instagram (3); Giphy
The Top 5 Worst Celebrity Parents
I'm a writer living in New York City, so obviously I'm obsessed with therapy. And two incontrovertible truths my shrink has told me? One: using humor as a defense mechanism to compensate for my emotional unavailability is only f*cking up any of my chances at a healthy, intimate relationship, thus making me destined for crippling loneliness. Two: parents are the sole reason that anyone is so f*cked up. It's evident that mommy and daddy issues are the lifeblood of petty drama on a public scale, toxic celebrity relationships, and reality television. We love that sh*t at Betches. So let's all raise a vodka soda to awful parents of celebrities. I've rounded up who I deem to be the worst celebrity parents, but be sure not to drink too much because that could mess with your antidepressants!
1. Stephen Baldwin
Dads can be so embarrassing. One time I was at a really chic, celebrity-studded spot and Hailey Baldwin was there with her dad. She looked gorgeous, tastefully dressed, and was absolutely flawless in person, whereas her dad was wearing a trucker hat and what I believe were board shorts. I thought it was bad when I went to a Halloween party when I was little with my dad dressed up like my mom. But trust me, what Stephen did to Hailey was ten times more embarrassing.
He also was recently out to lunch with Hailey and Justin when the newlyweds got into a tiff. Color me shocked that two crazy kids who barely dated before they got married are already having trouble in paradise. Onlookers noted that Stephen facilitated in resolving the situation, and then smacked Justin on the a**. Look, a lot of us want to grab Justin's a**, but a lot of us aren't creepy enough to actually go there. And if Stephen playing grab-the-booty with his son-in-law isn't proof enough that he's a mortifying dad, peep this Instagram video and tell me this isn't enough incriminating evidence to get emancipated:
View this post on Instagram
The f*ck did I just watch?
2. Dina Lohan
Dina Lohan really loves her kids. Like, really, really loves her kids. See?
It's ironic that Lindsay Lohan played Cady Heron in Mean Girls when she had Regina George's mom in real life. That is if Regina George's mom allowed underage girls to drink inside a house that hosted happy hour 24 hours a day. Dina is known to go out clubbing with Lindsay, whose substance abuse issues have previously landed her in jail. Maybe not the best idea to blatantly enable your daughter that way? IDK, I don't have kids. I'm just spitballing ideas here.
Dina also had a failed reality show called Living Lohan. It was about her trying to get her youngest daughter Ali's career off the ground. Critics lambasted Dina, calling it "exploitative" and "trashy". Most reality television is exploitative and trashy, but Dina somehow managed to make it completely unwatchable. The only redeeming quality about Dina is that one time she met my ex-best friend at Starbucks and told her that she resembled her daughter when her daughter was at her peak crackhead phase.
3. Joe Simpson
In classic Donald Trump fashion, father of Ashlee and Jessica Simpson just loves to talk about his daughter's bodies, specifically Jessica's. Joe was quoted in a 2004 article for GQ saying, "Jessica never tries to be sexy. She just is sexy. If you put her in a T-shirt or you put her in a bustier, she's sexy in both. She's got DOUBLE Ds! You can't cover those suckers up!" That's totally normal praise any father would give their daughter? Right???
In 2012, Simpson was caught cheating on his wife of 34 years with an aspiring male model, Bryce Chandler Hill. Hill was only 21 at the time (younger than both his daughters) and Simpson was 54. The two were introduced by a mutual friend of Ashlee and Jessica, so it doesn't quite get more f*cked up than that. The affair allegedly went on for a year, but Simpson still denies all rumors about being gay to this day.
To top this all off, Simpson also had his Twitter account "hacked" back in 2014. For the hour he was locked out, his account posted over 40 tweets claiming that he was a child molester. That couples well with being accused of fitting your daughter for her training bra. Can someone say dad of the year?
4. Billy Ray Cyrus
Okay, we all try to forget, but remember when Miley went through her awful phase? Like broke-up-with-Liam-twerked-on-giant-stuffed-animals-and-made-trash-music phase? Yeah, that wasn't her fault. Ask any shrink out there, and they will tell you that your nasty skank phase is your parents' fault. Miley even came forward and said Hannah Montana really f*cked her up. And who was instrumental in that? Her father.
I mean, Jesus Christ, not only did he play a stage parent, he played her father on the show and had the world's most annoying catchphrases. Billy Ray later came forward and said the show ruined his family. Um, you're an adult who should have his children's best interest at heart. Miley was a clueless kid, so why'd you do it in the first place? Billy Ray is a one-hit wonder who piggybacked off his daughter's fame 10 years ago. So he's got loads of time on his hands. Maybe he should use that time to parent instead of posting sh*t on Twitter that only a teenage girl would post.
Much to think about. pic.twitter.com/8Er6a0qANY

— Billy Ray Cyrus (@billyraycyrus) June 9, 2015
5. Donald Trump
Look, every parent has a favorite kid, but good parents just refuse to admit it. Yet Donald Trump admitted that Tiffany is the daughter that he's "less proud of." Um, Tiffany is the only adult kid of his that probably isn't going to be indicted for treason or whatever, so maybe take it easy on her.
His son Donald Trump Jr. is also probably going to be indicted because he was doing his father's bidding. And besides Ivanka and her husband Jared's legal transgressions, let's focus on the fact that Donald seems to have the creepiest relationship on the planet with her. He once said she has a nice enough figure to be featured in Playboy. He also frequently makes comments about how hot her body is. Just like any dad would. He even went as far as to say that he would totally date her if he weren't her father. Did Southern states vote for Trump because he's just as chill with incest as they are? (LOL is that too far?) From being a father and husband to a businessman to the president to a decent human being, Donald Trump is clearly a horrific person on every level. But remember Hillary's emails, though?
Images: (@stephenbaldwin7/Instagram; @sassyskips/Instagram; @charliercollection/Instagram; @billyrayecyrus/Twitter)
6 Celebrity Couples We're Shocked Made It Through The Year
Every year, people say "this is the year of devastating celebrity breakups!" Look, we're all really sad that Jenna Dewan and Channing Tatum didn't work out, but 2018 was surprisingly a year of toxic couples staying together (???). Pete and Ariana obviously didn't make it, but things have been weirdly stable other than that. For what it's worth, when these couples actually break up, the fallout and drama will probably be incredible to watch. But for now, here are some of the most shocking celebrity couples that made it through 2018 (relatively) unscathed.
1. Tristan Thompson And Khloé Kardashian
Okay, this is an obvious one, because Tristan cheated on Khloé while she was pregnant. I'm sure that her family is trying to save face right now by pretending to get along with him, but it was obvious in recent KUWTK episodes that they despise him. I get that he's 6'10", makes really cute babies, is 6'10", is extremely good looking, and is 6'10" (I'm terrified), but let's not forget that Tristan cheated on Khloé while she was LITERALLY carrying his child.
He's also been caught since the cheating scandal getting way too flirty with other chicks in public. I get that Khloé wants to try and work things out for the sake of True, but how can Tristan even look that adorable, mushy little baby in the eyes when her name is a reminder that honesty and loyalty clearly isn't his forte? Also, never forget that Khloé and Tristan did that cringeworthy maternity photo shoot. Obviously, I blame him instead of her for that fiasco, because did I mention that Tristan cheated on Khloé when she was pregnant?
2. Scott Disick And Sofia Richie
When Kourtney and Younes broke up, Sofia was in need of, like, a Pez dispenser full of Xanax. I love Sofia, but even after all this time, I can't shake the feeling that Scott is only dating her to piss Kourtney off. Here's what I'm thinking: Justin Bieber was Kourtney's rebound after dumping Scott, and Sofia is Justin's ex. What stings even more is that Sofia is Nicole Richie's little sister, and Nicole and Kourtney basically grew up together. It was also recently discussed on KUWTK that Scott and Kourtney both want another baby. Someone even suggested that they just have another one together. Stranger things have happened.
Let's not forget that Scott refuses to throw Sofia a follow on Instagram, and barely features her on his feed. Meanwhile, he's in every other picture she posts and even had his face as her phone case at one point. This is not the sign of a balanced relationship. He's also literally been photographed borderline cheating on her. I honestly think at this point he's just staying with her to prove to Kourtney that he was dating Sofia out of love and not spite. Maybe Scott and Kourtney will get back together eventually, or maybe they won't, but you'll never convince me that they're not both thinking about it.
3. Justin Bieber And Hailey Baldwin
Did anyone see these two actually making it to the altar? No. Did everyone see them making it to a New York courthouse? Yes, but only in the sense of Justin getting into some legal drama and Hailey serving as a witness. None of us expected them to go their for their marriage license, because we all thought this engagement was a complete joke. Sources close to them justified the engagement by saying she had made him happy for the last three weeks of dating, so they decided to get engaged. They also said he was planning on proposing to her for weeks. How can you be with someone for three weeks and plan on proposing to them for weeks? The math just doesn't make sense!
Fans try to justify it by saying "they got back together" but um, not really. In the past, they were casually dating and hooking up from time to time, but nothing official. Selena was the one who Justin wrote all those songs about and kept pursuing. He even convinced her to break up with The Weeknd. Yet Hailey's The One? A part of me will always believe that Justin and Selena belong together. Sorry Hailey, but Justin can only keep up these thirsty Instagram comments for so long.
4. Emily Ratajkowski And Sebastian Bear-McClard
How is this marriage still a thing? He was her rebound after a three-year relationship. They knew each other for, like, five seconds before getting engaged. Sebastian even proposed with a ring that he made out of a paper clip. They also made it on our trashiest weddings list because they deprived us all of seeing Emily go all-out-influencer for her wedding. Also, it would've been dope to see Emily play the field for a while. In terms of her charisma and disposition, she seems like she has major Rihanna vibes. She's a bad b*tch, and it's a shame we didn't get to see her single phase.
5. Jax Taylor And Brittany Cartwright
All right, allow me to paint you a picture of an actual adult male: he has had numerous affairs with women besides his significant other, an affair with a porn star, adamantly lied about said affair with this porn star at the expense of others, has a sh*tty fake tan, and is a reality star. I'm talking about Jax Taylor. This guy is clearly never going to be monogamous. Whenever I tell someone that I write about Vanderpump Rules, eight times out of ten they will tell me that they know someone that's hooked up with Jax. That's not a great track record, I gotta say. Brittany seems sweet, and I just don't want her to get hurt by Jax more than she already has. Whatever, it's her life, but he's a 39-year-old man, and it seems unlikely that he's going to change his ways at this point.
6. Mod Sun And Bella Thorne
In a lot of ways, Mod Sun and Bella Thorne are perfect for each other. They're obnoxious, questionably talented, and a lot of people find them nauseating. But they're like the Chad Kroeger and Avril Lavigne of America. They're totally a perfect match because they're the only people on the planet who could tolerate each other. Bella Thorne is what would've happened had I never stopped my "double vodka Red Bulls and whipped cream flavored vodka, make out with five guys in one night, scream-sing all the words to "Caribou Lou" by Tech N9ne" phase. But unlike me, Bella still has time to grow out of her questionable phase considering she's barely legal.
Mod Sun, on the other hand, is 31. He's a full adult. His tattoo situation makes him look like the doodles of a 7th-grader, if that kid also spent his time shoplifting from Hot Topic and doing whippits. And did I mention they named their dog Tampon? Is it supposed to be ironic that the most unhygienic couple on the planet named their dog after a feminine hygiene product? Or are they just trying to be obnoxious? Who's to say? Either way, I have a lot of questions here.
But congrats to all these happy couples for making it through the dumpster fire that was 2018! Can't wait to see who will break up and who will get prematurely engaged next year.
Images: @khloekardashian / Instagram; @sofiarichie / Instagram; @commentsbycelebs / Instagram; @emrata / Instagram; @brittany / Instagram; @bellathorne / Instagram
There's Evidence Justin Bieber And Hailey Baldwin Are Already Married
Besides all that stuff that's happening with Russia or whatever, the most important story this summer has been the barrage of celebrity engagements. Pete and Ariana kicked things off, and most recently, Nick Jonas and Priyanka Chopra hopped on the bandwagon. This, of course, leaves Justin Bieber and Hailey Baldwin, who shocked us all when they recently rekindled their romance. Well, they apparently didn't want a long engagement, because there are some major hints that they might have already gotten married in secret. Dun dun DUN. Let's examine the evidence.
First of all, we have some jewelry to discuss. Specifically, Hailey's recent choice of rings. After Justin proposed to Hailey, she was seen out and about wearing a big gorgeous engagement ring. The ring, which features an oval-shaped diamond and 18k yellow gold, probably costs more than my childhood home, but it's whatever, I'm not jealous. As you can see in the photos below, Hailey was last seen wearing this ring on July 29th, with no other rings on that finger. That's important, but I also need to know how she wears white pants that long without getting dirt and sh*t all over them. Celebrities, they're just like us but cleaner?
Fast forward one day to July 30th. Time really flies when you're getting prematurely engaged having fun. If you look at the photos below, you'll notice a few things. First of all, Hailey has clearly recently discovered hair gel. I mean, that hair is slick. She's also wearing the same outfit that I would wear to a '90s-themed music festival and nowhere else, but she's just going to a deli in Brooklyn. Same girl, same. The windbreaker (dress?) is sadly not available for purchase online, but the airplane seatbelt can be yours for a small fee of $163. Sign me up!
Sorry, back to the jewelry. If you direct your attention to to Hailey's ring finger once again, you'll notice that the engagement ring is gone (I stole it), and has been replaced with two other rings. One is some kind of stackable gold ring, but the other looks, um, a heck of a lot like a wedding ring. Upon closer inspection, it's a simple band that's covered in diamonds, which reallllllly looks like a wedding ring. Hm.
So, if the jewelry is any indication, something happened between the 29th and the 30th that made Hailey want to switch up her ring finger situation. So what's the other evidence that a wedding might have taken place? First of all, we have a telling Justin/paparazzi interaction from July 29th. When asked about new music, he responded that his number-one priority right now is getting married. Like, he said that there wouldn't be any more new music until after he was married. When I read this, I was thinking the timeframe was probably in months, but maybe he was thinking hours?
That's not the only thing that makes a secret wedding seem possible. Remember those first photos from July 29th, where Hailey is definitely wearing her ring? Well, she was with Justin that day, and one of the stops they made was at our favorite hangout spot, Hillsong Church. That's right, they met with the pastor. When JB groupie/Pastor Carl Lentz is involved, you know something important is going down. I love making jokes about Justin and his love for church, but wow, we've gotten a lot of great photos of him and various girlfriends leaving church.

So now I'm just waiting for Justin to release a new song, so we know for sure that the wedding is done and dusted. Meanwhile, we'll all be left to closely examine what combination of rings Hailey is wearing in her paparazzi photos. I would pretend that this sounds boring and stupid, but honestly I can't get enough of all of these wild celebrity relationship stories. Summer '18, keep 'em coming.
Images: @hlybaldwin / Instagram (2); Giphy
Is Justin Bieber's Mom Shading Him Over His Engagement?
Young love. It's so beautiful, so powerful, so all-consuming, and so damn stupid. And you know who is the stupidest of all the stupids out there? Justin Bieber. That's right, I said it. As everyone in the world now knows, Justin Bieber got engaged to the daughter of the scariest-looking Baldwin brother last month, in some sort of strange plot to prove to Selena Gomez he doesn't still sniff a lock of her hair before bed every night. I assume.
Since the engagement, family members of both Justin and Hailey have expressed excitement and joy for this blessed train wreck of an event. But guess who doesn't seem too excited about this mild natural disaster? Justin's mom, Pattie Mallette. And you know why? Because his mama don't like you, Hailey, and she likes everyone. That, or Pattie has at least one iota of common sense in her brain and can see that this is going to end about as well as the Red Wedding.

I'm sure you're asking yourself how I, someone laying in their bed in the tri-state area, could possibly know that Pattie is just not that into this rushed engagement, and the answer to that is simple: Twitter.  According to this article in Cosmopolitan, there are a few pieces of evidence. But, as much as I want to believe this conspiracy theory, the evidence is about as strong as my will to live on a Monday morning.  Let's take a look at these straws for which fans are desperately grasping.
First, we have Pattie's Twitter bio. According to all the Beliebers out there getting their panties in a twist about this, Pattie's bio used to say, "yes Justin Bieber is my son." That was recently removed and now her bio only reads #LoveWins #LOVEARMY. Okay, so yes, it is a little suspicious that she removed that line from her bio, but maybe she figured after 9 years on Twitter, we already knew she was his mom? And considering Justin Bieber's abs are aggressively staring at me from a pinned tweet at the top of her feed, could she really be THAT mad at him? I wouldn't even feel comfortable staring at my son's naked torso when I'm proud of his decisions, let alone when he is making a mockery of the sanctity of marriage.
Life is worth living. #love pic.twitter.com/RiagCLjUaH

— Pattie Mallette (@pattiemallette) July 2, 2018
Pattie also recently tweeted "Love is unconditional." And I know Twitter is not, like, a binding contract, but it would be a little petty if she was mad at Justin for getting engaged to a model that his erect penis is telling him he loves. Certainly not unconditional.
The next piece of evidence that every Cosmo girl should know is that Pattie liked the following tweet from The Bachelor's OG virgin Sean Lowe:
Pattie removed @fearofgodkid from her bio and liked this tweet ???????????? @theseIenagomez_ pic.twitter.com/fM9J1xhhSq

— Justin Bieber & Selena Gomez (@lbelievejelena) July 21, 2018
Look guys, I read into everything. I have spent hours poring over Taylor Swift lyrics to see if there's anything to the rumors that she and Karlie Kloss were in love. And even I think this might be a stretch. The title of the Cosmo article says this is a tweet "shading rushed engagements." BUT IS IT? This is clearly a tweet shading the garbage crop of Bachelorette contestants this season. And even though Pattie liked it, is it that far off to assume that she is also just bitter that Wills got cut unjustly?
So, as I mentioned, weak evidence at best. I do actually hope Pattie is pissed at Justin for this incredibly rash decision, but I doubt she's leaving us all breadcrumbs on social media. We should keep our eyes on this, though, because you never know when flimsy evidence can become a possibly literal smoking gun. And if there's anything more fun than the rushed engagement of two twentysomething millionaires, it's a blood feud.
Images: giphy; @pattiemallette/Twitter; @ibelievejelena/Twitter
The Weirdest Celeb Responses To Justin Bieber & Hailey Baldwin's Engagement
It's been nearly 48 hours since the news of Justin Bieber and Hailey Baldwin's engagement broke, and I'm slowly wrapping my mind around it. Young love is in the air, and I guess my allergy medicine is finally kicking in. Yesterday, we brought you a breakdown of Justin Bieber's Instagram announcement, which was a hell of a lot to process. The photo currently has over 10 million likes, which is fully what I expect when I eventually get engaged. The amount of likes is staggering, but the comment section really has some celebrity gems. Here are a few of my favorites, along with one truly special tweet. This relationship is the gift that keeps on giving, so buckle up.
Paris Hilton & Yolanda Hadid
Paris Hilton just knows exactly what I need, and she fucking delivers. Apparently "congratulations" was too big of a word to spell, so she decided to go with the simpler "congrats." It's okay girl, spelling is hard. However, she failed to delete her original comment, where she couldn't spell "congratulations" correctly. Honestly, how did autocorrect not catch this? Whatever, I'm happy about it. Congrarulations Paris, you've made my day. Please also note Yolanda Hadid, former Real Housewife and mother of Bella and Gigi, who is also happy about the news. Will Bella and The Weeknd be our next surprise engagement? Stay tuned.

Marshmello & Diddy
My favorite thing about this screenshot is that both Marshmello and Diddy call Justin "brother." Look at his influence, just wow. Honestly, I always forget that Justin has actual hip-hop connections, dating back to when Usher basically gave birth to him circa 2008. Good times, good times.

Ryan Good (& Hailey Baldwin)
Okay, so idk who Ryan Good is, but this is a good find. This is why @commentsbycelebs is so important. Okay, so Ryan Good is actually like a producer or something, who used to date Ashley Benson and obviously has a lot of famous friends. Irrelevant, but I'm really glad that Hailey shares my feelings about the mustache. Like, I'm attracted to the mustache in a gross, confusing way, but if Justin doesn't shave it for the wedding then I'm gonna jump off a fucking bridge. It's fine, I'm fine.

Jessica Alba, Jessica Alba, & Jessica Alba
God, I just love when celebrities are bad at technology. Unlike Paris Hilton, Jessica Alba didn't make any unfortunate typos in her comment, but she still managed to post it three different times. I love it. The comment itself is actually a little weird, because it doesn't actually mention the fact that Justin is engaged, or that Hailey even exists. This comment is like the equivalent of when you ask if someone likes your outfit and they just say "you're so pretty!" Like, thanks I guess, but what about the outfit? I'm also in love with the Bieber fan account popping off about Selena Gomez at the bottom.

Ariana Grande
I love Ariana Grande, but she might need to learn to take a joke. The original joke about Scooter Braun is an excellent joke. It just is. Much like all the jokes about Kris Jenner working harder than the devil, it's just fucking funny. Ariana's sense of humor, however, is apparently broken, so she clapped back with some BS about finding love. Okay, I get it, you're in love. She's since deleted her tweet, so maybe she realized she took it too seriously. Whatever, she's clearly still happy for Justin and Hailey after her "hooooraaaaay" comment on his Instagram.

Images: @justinbieber / Instagram (4); @arianagrande / Twitter
New Celebrity Couples We Don't See Lasting Through The Summer
Is it just me, or is it getting harder and harder to keep up with new celebrity couples? While some couples are all over Instagram with each other, others play it so low-key that you have to dig through tabloids and paparazzi photos to even know if they're still hanging out. There have been some interesting new celebrity couples recently, but I'm not convinced that all of them will last until the end of this sentence. Who's bound to get engaged, and who's just fucking around? These are my predictions about some of the most interesting new celebrity couples. I don't have a crystal ball or anything, so lmk in the comments if you think any of my guesses are wrong. I can't promise to care, though.
1. Hailey Baldwin & Justin Bieber
Once-upon-a-time fuckbuddies Hailey and Justin have recently reignited their relationship, and it seems to be going well. After they were spotted making out all over NYC, they've been seen hanging out more, including going to church together in LA. That's a favorite date activity for Justin, but does it mean that he's serious about Hailey? I have to say, the fact that they're currently rocking the exact same haircut is both cute and disgusting. I think they're having fun for the summer, but Justin will get distracted by the time Labor Day rolls around.
2. Ariana Grande & Pete Davidson
I've already spent way too much mental energy on Pete and Ariana's absurd relationship, so I won't rehash all the details here. Despite the questionable timeline of their relationship and engagement, I actually think they could be the real deal. Assuming they don't fuck things up by getting married too soon, I could see them being together for a long time. Like, years. But also maybe they could cool it with the Instagram posts, just a little?
3. Dakota Johnson & Chris Martin
Dakota and Chris have been dating since last fall, so they're the least new couple on this list, but we also know very little about them. I respect that they want to keep things private, but I'd also like more details please. Sources say they've been getting serious and that Dakota has recently been spending a lot of time at Chris' place in Malibu. Dakota seems like kind of a wet blanket, but considering that Chris spent years with Gwyneth Paltrow, Dakota probably seems like Snooki in comparison. I see this relationship lasting for another six months to a year, but I doubt this will end in a wedding.
4. Anwar Hadid & Sonia Ben Ammar
We already discussed how the youngest Hadid was seen hanging out with this French-Tunisian model just days after making out with Kendall Jenner. Are they dating? Is this the beginning of a relationship? I have no idea, but I'm predicting one of two things: either Anwar has already blocked Sonia's number and moved on to someone new, or they will be together for a long time. Actually no, I'm definitely going with the first one. He's too young and too pretty to settle down, and he just got out of a serious relationship. Anwar is definitely DTF with any hot model right now.
5. Kendall Jenner & Ben Simmons
It's been nearly a month since Kendall Jenner was first seen hanging out with NBA Rookie of the Year Ben Simmons, and a lot has happened. Mainly, things were complicated when Kendall was seen making out with Anwar Hadid earlier this month. This all feels so incestuous, but I'm also turned on? Since her night out with Anwar, Kendall has been seen with Ben multiple times, signaling that they're at least a little serious. They even went grocery shopping together, which is such an adult choice of activities. Idk if Kendall is in the mood for anything major, but it's the off-season for Ben, so it makes sense for them to have fun. Who knows, Maybe Kendall is destined to become a basketball wife?
6. Nick Jonas & Priyanka Chopra
This is truly one of the most random celebrity couples in recent memory, but they're looking more and more real. After attending the Met Gala "as friends," Nick and Priyanka quickly evolved into an It Couple, and now there are even rumors that they're going to get engaged soon. I still feel strongly that Nick Jonas is meant to end up with me, so I can't say I'm a fan, but Priyanka is an amazing catch. I can also see Nick getting along well with someone older, so maybe this couple is really going to last. I'm calling it now, they're going to have beautiful babies together.
Images: moonlight_jdrew, petedavidson, dakotajohnson, modelsstylee, benxkendall, ericpriyanka / Instagram