Fitness Equipment You Can Actually Buy Now
Much like when the gym gets super crowded in January due to the assholes I affectionately refer to as "Resolutioners", people are suddenly gaining a newfound interest in fitness in this quarantine. I get it, while I'm here eating my weight in salt and vinegar chips, you all have visions of emerging from lockdown with six-pack abs. However, since everyone and their mom now thinks they're the next Jillian Michaels, workout equipment has gone the way of toilet paper and hand sanitizer. It is sold out everywhere. But fear not! You don't have to jog up and down your hallway to meet your workout goals at home! I've done some research and found equipment that you can still purchase and have delivered to you. Congratulations on actually having a summer body this year instead of looking like a blobfish like me! Or we can just decide blobfish is the new sexy body type and all be happy doing nothing?
Me at the beach this summer:

Anyway, here's workout equipment you can actually buy right now that doesn't cost $3,000 on Amazon.

A stability ball is one of those universal fitness items that you can do almost anything with. Plus, you could sub it as your desk chair when you work from home to engage your core and prevent back issues. You can do planks, abs, and any of these awesome ideas for a full body workout. Plus, it's deflatable, so once we're out of quarantine, you can deflate it and stash it for when you need it next without it taking up your entire apartment.

This wheel roller kit includes four things and is super easy to store when the gym comes back and you're not stuck at home. You can do all kinds of abs and pushup exercises with these, and then it also has a jump rope to get your cardio in. Although it might make your downstairs neighbor insane. If you're not sure how to use a roller wheel, check out this video. You'll have abs of steel in no time.

The thing about crunches is that most people actually do them wrong. Since you can't hire a trainer to perfect your abs routine, an ab trainer will help. Instead of swinging your body forward using other muscle groups, this super cheap piece of equipment forces you to engage only your abs to pull yourself up. That six-pack will appear in no time. Once I decide to start Postmates-ing salad instead of Dog Haus, it's over for you hoes.

Yoga mats are out of stock almost everywhere, or the price is jacked up to like a million dollars (for what? It's literally a piece of foam), but this FILA one is functional and cheap. Even if you're not doing yoga, a yoga mat is perfect for a ton of exercises and way more comfortable than the weird slanted floor in your apartment. I'm not sure why every apartment I've ever lived in is slightly crooked (seriously, is it just me?), but a little cushioning for your stretches and body weight workouts makes a big difference.

A jump rope is a great way to get cardio without risking getting coronavirus at the overcrowded park. Although maybe do it in a community space in your apartment so your neighbors don't attempt to assassinate you so they can get some peace and quiet. This jump rope even has a removable weight in each handle to up the resistance. Hey, maybe you can invent a dark jump rope song about coronavirus, like how Ring Around The Rosie is really about everyone dying from the plague! Too much?

You can use hand weights for a full body workout, plus these ones are both affordable ($7.99!) and in stock! They also have heavier versions. Use these weights for arms, abs, and pretty much anything else. Find some inspiration on YouTube with videos like these. Plus, using weights is a quiet activity that will not make your roommates or neighbors insane.

I'm totally kidding. This is apparently a Boxing Fight Ball on a headband. But like. Doesn't this look like something else? Use it for exercise or for scary bedroom games, I guess.
What are your at home workout tips? How are you staying fit in quarantine? Or are you just saying f*ck it and that it's Future You's problem? Let me know in the comments!
Images: The Creative Exchange / Unsplash; Giphy; Walmart (4); Kohls (3)
Betches may receive a portion of revenue if you click a link and purchase a product or service. The links are independently placed and do not influence editorial content.
5 Free Fitness Apps You Can Do From Home
Sometimes there's not enough time, or motivation, in the day to get to the gym. And sometimes, we simply don't have the funds for a membership (or you'd rather spend what little money you have on food or alcohol…no judgment). But, thanks to the invention of the smartphone, you don't have to actually step foot in a gym to get your workout in. There are a lot of good fitness apps that require a paid subscription, but I'm going to go ahead and jump to the conclusion that if you don't want to spend $10 a month to go to Planet Fitness or wherever, you probably also don't want to spend money for an app, either. That's why I picked out my top five favorite free fitness apps to download and get sweating to. (I don't feel bad anymore about seeing 5 + hours at the end of the day on my screen time…I'm working out!) Grab your weights and your cutest pair of leggings, and let's get started.

This app offers categories of workouts for every muscle in your body, including abs, butt, back, shoulders, arms, and more. The exercises are mostly for your at-home gym sesh, but they do offer a few workout routines for during the day, like "deskercise", "chair exercises", and "office stretch"… but please, be low-key if you're doing them at work. What I love about this app is that they offer plenty of workouts that you can do in only seven minutes. These include 7M Butt, 7M Sweat, and 7M Beginner. I love these guides because I know I can get through seven minutes of work without the thought of "when is this overrrrr??" repeating in my head the entire workout. You can see your progress on a calendar based on your workout history and calories burned. Def recommend.


When setting up the app, it will ask you a few questions to help personalize your workouts. It asks for what you think your level is (beginner, intermediate, or pro) and how many sessions a week you want to work out (2, 3, or 4). It then asks you for your goal, whether that be to lose weight, stay fit, or gain muscle. This way, the experience will be tailored to you and your body. Fitness Challenge gives you an outline of your workout before starting, so you know what you're getting into before you begin. It tells you how much time the workout will last, what exactly you'll be doing, and how many times you're doing it. It comes with five categories to choose from: full body, sexy legs and butt, abs and flat tummy, bikini body, and skinny toned arms. Count me in.


If you're a yogi, this is the app for you, but in addition to yoga, Daily Yoga also incorporates other mainstream workouts. Once signed in, you choose your goal. This app's options are: start as beginner, stay healthy, lose weight, skill improvement, muscle tone, and stress relief. I LOVE how they named these goals. But Daily Yoga doesn't only provide workouts—it goes one step further, offering audio and music to guide you through your practices. They have guided meditations, mantras, mindfulness training, and more—all of which you can download straight to your phone. I recommend listening to the music before bed at night for a spa-like relaxation that'll put you into a deep sleep.


You can sign up for FitOn through FACEBOOK, which is great, because then you don't have to waste time plugging in personal info and can get moving instead. It does ask a few questions to personalize your experience, though, which I do appreciate. It first asks you about your goal. Are you using the app to lose weight? Reduce stress? For post-natal fitness? I like this app because it doesn't just give you three basic goal choices; it has a bunch more to offer. After that, it asks for your favorite types of workouts ranging from yoga, to HIIT, and dance. Then, you're in! If you aren't ready to work out right away, you can set reminders to do so later on, which I use way too frequently. It gives you a ton of choices, like which trainer you want to take, the target area you want to work on, and trending activities to start. FitOn even gives you a custom-made schedule. You can see all your upcoming workouts and the intensity of each. You can even invite your friends to share your progress, if you're competitive like that. There is also a section on advice from trainers, ranging from articles to videos that are informational and worth a watch.


If you aren't into high-intensity workouts or sweating too much, this app is perfect for you. It's all about walking, and only walking. Walking is the perfect way to burn off calories and reduce stress. I think walking is one of the most important workouts—especially walking outside. Obvs if it's crazy weather, just hop on the treadmill, NBD. The app goes by days, so they have a list of workouts designed for you each day to complete. You can walk for meditation, renewal, midlife women, stress, or for burning off the cheese pizza you had for dinner last night, which I like to do. (Okay, so that last option I made up.) All totally great. It also tracks your steps and calories burned, if you're over your iPhone health app after the latest update, which most of us are.
There are so many other free fitness apps you can check out, but these ones offer a good range of services that everyone can enjoy and are easy to use. These are the perfect start to get motivated and move throughout your week. You can use them in your living room, at your office, outside walking your pup, or even in class (def be cautious though…). Hope these apps help you and guide you to achieve your goals.
Images: Dane Wetton / Unsplash; Workout For Women; Fitness Challenge; Daily Yoga; FitOn; BetterMe: Walking
4 Ways To Get Over A Weight Loss Plateau
A weight loss plateau is beyond frustrating, and the worst part is it's not even really about what you're doing right or wrong. A plateau is the result of our bodies' evolution and a survival mechanism that has helped our species thrive. (Caroline Dooner talks a lot about how our bodies' survival mechanisms are meant to thwart weight loss efforts in her F*ck Your Diet series.) A weight loss plateau is the outcome of our bodies needing less energy to function, and our metabolism slowing, when we lose weight. Our biology isn't that happy with our weight loss. It triggers a signal that we're about to go through some trying times. It thinks we're about to run out of food. So when we lose weight, our bodies start to tell us to hang onto the nutrients in the things we eat, and slows down our metabolism.
Here's the science behind a weight loss plateau (get ready for some math):
Metabolism (Total Daily Energy Expenditure) = Basal Metabolic Rate (the bare minimum number of calories you need to survive at complete rest) + Exercise (calories burned during exercise)  + Non-Exercise Expenditure (calories burned through other activities other than exercise) + Thermal Effect Of Food (energy used to digest the food we eat)
So, generally speaking, if your intake is greater than your metabolism, it will lead to weight gain, and if your intake is less than your metabolism, it will lead to weight loss.

Simple enough, right? We've heard of different variations of this same equation before (we've all heard "calories in vs. calories out" at one point or another), but our bodies are so clever that once we lose weight, the calories used at rest will also decrease. Therefore, if every other aspect of your energy expenditure stays the same (exercise, non-exercise expenditure, and thermal effect) then your overall metabolism will be lower. So what gives? Am I telling you that now you have to spend another 30 extra minutes in the gym to compensate? No, not unless you feel like it. Here are four other ways to get over a weight loss plateau.
Sneak In More Non-Exercise Physical Activity
A lot of people have the mindset that you need to be in a gym to get in physical activity, which kind of limits their ability to see the opportunities we have to be active in daily life. Take the stairs instead of the escalator or the elevator when you can, walk or bike instead of driving, and stand instead of sitting. Go for a walk with your dog, or go for a hike with a friend instead of going to get drinks (or hike to get the drinks). You can even just stretch while watching TV. Little things add up. A study was published that claims fidgeting and working to maintain correct posture burns up to 800 more calories than sitting still. So just get moving in some way.
Don't Work Out Longer, Work Out Smarter
You can still limit your workouts to an hour and increase the efficiency if you maximize your time. Working smarter in the gym means less rest, more resistance, and more sets/reps. Just make sure you're not doing the same workout at the same intensity as the day you started months ago, because your body needs you to step your game up. Another way I like to add intensity to my workouts is to add more combined movements, so instead of just doing squats, I'll add in a shoulder press at the standing part of the movement. More muscles worked means more calories burned in the same amount of time.
Don't Neglect The Weights
By now, you should know that weights don't make you bulky. If you have more muscle cells, you'll be burning more energy at rest than if you had more fat cells in your body. This will help you to maintain that same metabolic rate pre-weight loss.
If you've found your weight loss plateaued and your exercise routine consists of mostly cardio, it's time to incorporate weights in a more significant way. Cardio is fantastic, and those who are starting on their fitness journey can find great results with it. However, because cardio does very little in terms of muscle building, cardio-focused individuals will hit a plateau early on because they lose the weight and then their metabolism slows. My recommendation is to cut the cardio portion of your workout routine in half and use the other half of the time to complete a few resistance training circuits. So if you're used to doing an hour of cardio, do 30 minutes and use the other 30 to do three to four sets of five to six resistance training moves.
Choose Protein
So, here's a wild concept: your body actually burns calories when digesting. The dietary-induced thermal effect—sorry, more science—is the energy needed after we eat a certain food to digest and absorb the nutrients in our body. So if you're trying to get over a weight loss plateau, it might be time to eat a little smarter. And by that I mean, eat more foods that take more energy to burn. This is called the food's thermogenic rate. Fat, for example, uses 0 to 100 calories to digest for every 100 calories consumed (or, it has a thermogenic rate of 11-18% for non-obese individuals). Protein, on the other hand, has the greatest thermal effect of about 20-30%. This means your body uses the most energy to digest protein which means more calories burned! According to the same study, protein also helps you stay full the longest. By making protein the spotlight of your meals, you can increase your metabolism rate.
A weight loss plateau is something that is probably going to happen to you at some point. The good news is that we can mitigate the effects of it by controlling other aspects of our energy expenditure. A plateau could also mean that it's time to take a step back and appreciate your journey so far, because you didn't get to this plateau without having first put in the work! It is also a sign that you're ready to step your workouts to the next level if you've been stuck in a pattern or routine for a while. So while plateaus can feel discouraging, it's a sign that you're physically ready to advance to the next level. Your body is ready to take the stairs instead of elevators, to do faster sprints and that extra set of bicep curls. Instead of being down, pat yourself on the back and go do those sprints!
5 Gym Machines You Need To Stop Being Intimidated By
I don't know about you guys, but I always feel a little weird in the weights/machine section at the gym because I'm usually the only woman amongst a gaggle of retired frat bros who I don't want to talk to, look at, or breathe near, and yet they somehow always manage to pump iron right next to me. Truth be told, I don't really spend a ton of time in this area because it's always been a little bit intimidating to me, but after realizing that I lack the upper body strength to lift my MacBook air, I did a reassessment of my workout regimen. So, I swallowed my insecurities, wommaned up and asked a fitness, expert to help me become the most Beyoncé circa Coachella 2018 version of myself (while still eating sugar, dairy, and carbs). I asked Mike Clancy, lifestyle coach, certified personal trainer, and founder of MikeClancyTraining, about which gym machines I should stop being afraid of and start using . Mike knows what the f*ck he's talking about, so if you're trying to get strong for 2020, listen up and stop tiptoeing around these pieces of gym equipment.
1. Yoga Ball

There are so many things you can do with a yoga ball that have absolutely nothing to do with yoga. Clancy says, "Consider using the yoga (Swiss) ball for ab exercises, since the roundness allows your spine to fully flex and extend, unlike crunches and sit-ups. The ball is also great for providing support for your lower back when you are curling up and down." As a new fan of the yoga ball, I'll share a few of my favorite exercises. Get in the plank position with the tops of your feet on the ball. Slowly lift your butt in the air and lower. The ball will roll toward your straight arms with every lift and back with every lower. This targets every part of your abs and you will be so sore the next day that breathing will be a chore.
Another option is to lay on your back with your legs extended in front of you and hold the ball between your ankles. Reach for something behind you for stability if you need to, and do everything in your power to keep your lower back on the ground as you lift the ball straight up and back down. Your upper abs will be screaming to make it stop, but they'll thank you when you're rocking those cute little muscle indents. Lastly, if you're having an off day and want to have a more chill ab day, sit on the ball with your back as straight as you can. Put your hands behind your head and lean back enough so that your back is parallel to the floor. Use your abs to pull you up without breaking your posture or letting your elbows cave in.
2. Hip Extension Machine

Do you guys know about these? Not all gyms have them, but if my Murray Hill sh*thole Crunch does, I feel like a lot of gyms have to. I've also learned that, unlike treadmills and rowing machines, all hip extender machines are a little different. Mine, for instance, is a padded metal pole with hand grips behind it and pedals in front of it. Am I creating a brilliant visual or failing miserably? I realize this kind of sounds like I'm describing a torture device. Anyway, so one of your feet is on the ground and the other is on the pedal. Bend both of your knees slightly and push on the pedal with the ball of your foot. You don't need to push back really far, maybe just a few inches. This targets your lower ass, which creates that scoop of ice cream shape. Isn't that all we want in life? You can also adjust the pedal so it's next to you instead of behind you and do the same exercise to the side which works your side glutes.
If you've ever taken a barre class, this machine is like the glutes section, but way more effective because there's resistance with the machine. It's also a lot easier on your joints than trying to lift your leg in the air while putting all of your body weight on your wrists and one knee. Ouch! 
3. Cable Biceps Bar

The bicep machine is pretty self-explanatory, but I will walk you through it just in case you need a little bit of motivation. The machine is pretty small, which makes it way less intimidating that those terrifying full-body workout machines. So you set the weight you want to lift, grab the bar, and do your bicep curls. I usually start with eight pounds and work my way up from there. Clancy says, "Try using the bar attachment on the cables for performing strict bicep curls. By keeping your elbows in a fixed position, the bar will help build and sustain tension in your arms, dramatically increasing the effect compared to normal sets."
The key is to go slowly so that you're lifting and lowering with muscle, not momentum. You can bend your arms in a 90-degree angle starting at your hips and do a half curl or fully extend your arms down your lefts for the lower and fully bend them for the lift.  If you're not feeling it, don't push it. 
4. Hanging Leg Raise

This is another ab machine that targets your lower abs and it is very, very effective—speaking from experience aka my sore abs. The hanging leg raise is a machine that's shaped like a "T" with padded poles for you to put your arms on while your legs and abs do all the work. Your arms are bent in a 90-degree angle in front of you while your legs are fully extended beneath you. 
Slowly lift your legs without separating or bending them and slowly lower. According to Clancy, "The flexion of your hips using straight legs will highlight and target the ever-popular lower abs, and get you one step closer to the V in your stomach. Lean back and slowly raise and lower your legs to really enhance the contraction." You can also do this same exercise with your legs extending on a slight angle to work your side abs. And if you're really feeling yourself, you can bend your knees at your chest and extend in front of you without putting them down. I've only seen one person do that and she was my trainer at the time, so you may need to work up to that one.
5. TRX Bands

These are fab. They take up no space and are actually really easy to use. If you don't want to do push-ups on the ground for whatever reason, TRX bands are for you. You can perform two different types of push-ups with these, and both are as painful as hell to do. But it's the kind of pain that will later remind you that you're getting strong. Clancy says, "Those yellow TRX bands are great for calisthenics and bodyweight exercises because they move in all directions, the movement options are endless. In particular, TRX bands are phenomenal for doing rows and other pulling motions. You can incorporate fully-body, multi-joint movements such as a squat-to-row, or a reverse lunge to one-leg knee lifts." If all of that sounds really confusing, just remember that if YouTube can teach you how to expertly execute a smokey eye, it can teach you how to do a one-knee leg lift. 
I personally only really use the bands for arm exercises and sometimes abs, but because they are just two bands hanging from the ceiling, you can really use them for anything your heart desires. Get swole.
Images: Unsplash; Shutterstock (5)
Is The Elliptical Worth It? An Investigation
If you go to the gym with any regularity (ok, stop bragging), you likely have a love-hate relationship with the elliptical. On the one hand, it's literally the easiest machine there. On the other hand, you kind of feel like a fake piece of sh*t because pop culture consistently references the elliptical as a non-workout. But as we've learned in 2019, the workout you're seeing all over Instagram is not necessarily the right one for you—and types of cardio you'd written off as a waste of time could actually be valuable (hello, walking on the treadmill!). So, is the elliptical actually worth it? Here are the results of my investigation.
Sidenote: Women of Twitter, please stop bragging about using the squat rack over the elliptical. You are giving the worst men in the world so much ammunition. Just use whatever machines make you happy.
I'm literally the only girl who uses the squat rack at snap… And the only one who isn't always on a freaking elliptical.

— Bailey Bowlin (@baileybowlin) April 30, 2013
If you're a girl and go to the squat rack instead of the elliptical you become 100x more attractive

— Nick Marquart (@NickMarquart) June 22, 2014
The Elliptical Feels Easier, But It's Not
The short answer is yes, the elliptical is worth it! Don't believe me? Good, I'm not a licensed professional! Y'all are learning. ISSA-certified fitness nutrition specialist and trainer Adam Rosante weighed in on this for Cosmo, and his ~professional~ opinion is that "all movement is good movement." The myth that elliptical machines are somehow worse for you than other cardio, he says, comes from the fact that it puts less pressure on your joints than running outside or using a treadmill. So the workout may feel less intense, but it's not—provided, of course, that you're putting in a good amount of effort.
Science Says It's As Good As A Treadmill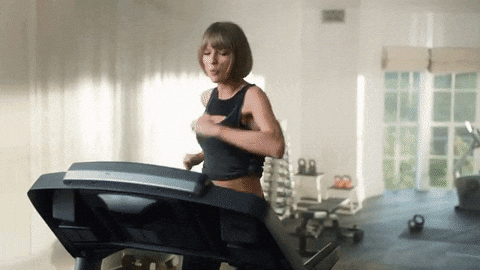 A 2010 study in The Journal of Strength & Conditioning Research (sounds like a great read) tested a group of people's oxygen consumption, energy expenditure, and heart rate while performing 15-minute exercise tests on a treadmill and elliptical. The study found that there was no difference in oxygen consumption or energy expenditure for treadmill vs. elliptical, and that heart rates were slightly higher across the board on the elliptical. The study concluded that for "cross training or noncompetition-specific exercise an elliptical device is an acceptable alternative to a treadmill." I'd pretty confidently describe all my exercising as noncompetition-specific, so I personally find this to be great news.
This Doctor Says It's Better Than A Treadmill
Next up, board-certified sports medicine specialist Dr. Edward Laskowski weighs in. He confirms that you can get an "effective aerobic workout" from either a treadmill or an elliptical machine, and suggests you let your personal fitness goals dictate which one you choose. For example, if you're training for a race, you will probably want to stick to running-based cardio. If you're not a masochist, though, the elliptical offers several distinct advantages. As Adam Rosante pointed out, it puts less pressure on your joints—which means it's a good choice if you suffer from pain in your knees, hips, or back. Your elliptical workout can also be customized to work different parts of your body, Dr. Laskowski points out: pedaling in reverse will activate your calves and hamstrings, while using the handles will activate your upper body.
Basically: on both machines you're getting out what you put in, but if you're not a professional runner and actually looking for a full-body workout (hello), the elliptical could be a good choice. Or, y'know, this:
Like just about any other exercise known to man, how you complete the exercise is the important thing. And when it comes to the elliptical, that means making sure your form is correct, adding an appropriate amount of resistance, and working in some interval training. The treadmill can also be totally useless if you don't push yourself on it—so can the rower, the squat rack, and even that $40 SoulCycle class. TBH, I think the elliptical has largely gotten such a bad rap due to the self-fulfilling prophecy: you don't think it's a hard workout, so you don't try hard on it. So tomorrow, I invite you to stride into the gym and go absolutely apesh*t on the nearest elliptical. If you still don't think it's an effective cardio workout, then I give you permission to sound off below.
Images: Giphy (1); @dylanhafer / Instagram; @NickMarquart, @baileybowlin / Twitter
Is It Better To Work Out In The Morning Or At Night?
So much of fitness is divided into teams. We have Team Yoga vs. Team Bootcamp, Team Gyms vs. Team Outdoor, Team Workout Solo vs. Team Workout Class. Now, we have Team Early Risers vs. Team Night Owls. Some people will work out early in the morning, while others find they put their best effort in later in the day or even late at night. Today, I'm going to break down the pros and cons of working out in the morning and at night that I have found in science and from personal experience. As always, I'll let you decide what is best for your routine.
Team Early Riser
There was a time where I would wake up at 4:45am for a 5am workout. That was because I would have to leave the house by 7am to drop my dog off at daycare then head to an 8:30am class at school, go train morning clients, come back to school for a 3pm class, go train afternoon clients, then come back to school again for lab at 7pm. I would then pick up my dog at 9:30pm from daycare, then get home around 10:30pm. This schedule, or different but equally long variants of it, comprised my entire work week. Talk about a schedule from HELL. The only reason I did 5am workouts was because I had no other choice. I applaud people who do this voluntarily, truly. And it seems like they might be onto something.
Studies have shown that those who exercise early in the morning make better food choices throughout the day by lowering neural response to food, and another study shows that exercise during a fasted state results in improved muscular adaptations. I will say, though, that if you're not used to working out while in a fasted state, you will not feel as strong as you normally do when you're adjusting to this new routine. Be careful of feeling dizzy or nauseous, and take it a little lighter for the first few early morning sessions. You might feel extra tired, even though you're doing less work.
For me, the first couple of weeks, waking up seemed impossible, but over time, I adjusted. It felt great to get it out of the way and not have to worry about cramming it in somehow. As a trainer, I also worked better when I knew I had already done my work. From personal experience, my most committed and consistent clients were the ones who exercised earlier in the day as opposed to my afternoon or evening clients. They were the rockstars. When you think about it, it makes sense—you're working out before anyone has a chance to throw your day off track, so whatever happens, at least you got that workout in.
Morning workouts get points for easing up the rest of your day's schedule and setting the right tone for the rest of your day. It may also help you get to your fitness goals faster by better utilizing fat stores in a fasted state, although there are contradicting studies, so the jury is still out on this.
Team Night Owl
I work out best, weight-lifting wise, in the afternoon or evening. Let me have some food in me, let me get some other work done for a bit, run some errands—or, in L.A., just be in the car long enough to build up some angst and anger—and I unwind at the gym.
Studies have shown that you're naturally stronger and mentally more prepared for exercise later in the day, which could really help you in lifting heavier and longer or sprinting faster. Your body is actually more capable of increased endurance training during this time as well, so these benefits aren't only limited to resistance training. I find this to be true in practice—I am able to really work during these afternoon workouts because my body is already up and ready to go. There's no getting eye boogers out, no hitting the snooze button. Because of this, I am usually more sore after an evening all-out effort workout than morning sessions where I'm still tired, lifting too heavy makes me dizzy, and I'm wishing I was back in bed.
While I am an afternoon/evening exerciser nowadays (those 5am days are long gone—the earliest I'll do is 7am when I first wake up), I will say the temptation to skip a workout in the afternoon or evening is greater. The day goes on and maybe things come up that leave you too drained to even imagine setting foot in a gym, or Netflix just ends up sounding like a wayyy better idea.
Evening workouts are great if you're really looking for an extra oomph to put into your workouts. Your body (and let's face it, mind and mood) are more prepared to really put the pedal to the medal a little later on in the day. It can also help you ease off a particularly stressful day at work.
Bottom Line
View this post on Instagram
Here's the thing: the end of a workout feels like a relief no matter what time you're done with it. Do what works for your schedule and choose whatever time makes exercise less of a chore for you. The end goal here is that you can stick to doing this for a long time. So whether that's crossing exercise off the to-do list first thing in the morning, or giving yourself some time to ease yourself into the mindset, everyone has their preference. I will say if you're more likely to dip on a workout, then just get it out of the way in the morning, but if you're really looking to put in that work or let off some steam, then wait until your body is already fueled and warmed up from the day. Sometimes, you gotta just get it in where you can fit it in, honey, so you might be all over the board, and if that's the case, give yourself a round of applause for not letting anything get in the way of you and your workout. All that matters is creating a routine that works for you, whether that's morning, evening, or a mix of both.
Please note: If you're training for something particular, such as a marathon, you should train the same time as that event. You want to keep your body's routine the same and amplify that routine (optimize the body's circadian rhythm), so don't mix it up with training in the evening if your marathon is set to start at 8am. You want your body to be used to and basically, totally trained, at running at 8am.
I would love to hear what time of day you prefer to exercise and why. Sound off below!
Images: Unsplash; @dietstartstomorrow (3)/ Instagram
5 Machines You're Not Using At The Gym That You Should Be
I feel like I'm constantly hearing about how gym machines are useless, ineffective, and a waste of time. However, this is, like a lot of other things you read on the internet, a huge exaggeration. Yes, some exercise machines are less effective than body weight or free weight exercises. But, part of that level of efficacy is based on how you're actually using those machines. The designs of lots of exercise machines out there are flawed, and allow you to be "lazy" even while working out. Consequently, using machines can make you believe you're getting in a great workout when in reality your workout is subpar. For example, when I get on the elliptical for 40 minutes and "work out" while simultaneously making in-depth weekend plans in my group chat and barely breaking a sweat, I can justify and tell myself I had a great workout. When, in actuality, my lack of sweat and fatigue post-workout tell me otherwise. The exercise machines that follow take away the option to f*ck around during your workout, and therefore provide a much more effective use of your gym time. Here are five machines at the gym that you're not using, but should be.
1. Rower
When using the rower, focus on your stroke rate and the total distance rowed, rather than a set amount of time on the machine (like I used to do). Honestly, I used to just get on the rower and "row" for approximately two minutes and then get off because, tbh, I had no clue what I was doing. I thought the fact that I even sat on the machine meant I had a solid workout but like, obvi that's not the case. Since I've started taking Orange Theory classes, I've learned how to get an effective, sweat-inducing workout on the rower by using the proper form. That being said, in order to get the most out of a rowing workout, be sure to familiarize yourself with the proper form prior to heading to the gym. This way, you won't only look like a pro, but you'll also be set up for a pro-level workout. BTW, using the rowing machine for 30 minutes at a moderate pace can burn 210 calories for a 125-pound person, and the best part is you get a full-body workout from it.
2. StairMaster
Okay, you might already be using this machine but like, are you actually using it? Trust me, just like I've had my fair share of two-minute stints on the rower, I've attempted a StairMaster or two in my day. However, little did I know you can get much more from your StairMaster workout by doing different types of moves while on the machine, like the ones laid out in the video above. Not only does doing a variety of moves give you a better workout, it also eliminates boredom from doing the same mundane stepping motion for 20 minutes straight. If you're just straight using the StairMaster, you can still burn a good amount of calories—someone who weighs 160 pounds can burn about 360 calories in 30 minutes, so yeah, it's worth sticking with it for more than two minutes.
3. Assisted Pull-Up/Dip Machine
This machine is a lot less intimidating than the regular non-assisted version, because it eliminates the risk of straight-up embarrassing yourself with your lack of arm strength. Pull ups and dips are difficult af, and require some serious upper body strength, which personally, I don't have. That being said, the assisted version of this machine is an awesome alternative because it allows you to still get the benefits of the exercise without having to already have the strength necessary to even attempt the workout in the first place. Additionally, it allows you to gradually add weight, so you can continually build up your strength over time. A pro tip a girl at the gym once told me: the more weight you put on, the easier it is to do the dip. If you want more of a challenge, you actually want to put less weight on. Don't ask me why—something about resistance? IDK. The assisted dip machine isn't a cardio machine, so it's not really for blasting calories—more for toning and strength training.
4. Captain's Chair
If you're like me, you've seen this machine at the gym and wondered how the f*ck you use it. You may have even been as bold as to have attempted to use it…and then quickly ran away from it once you realized you had no clue what you were doing. However, if you actually do know how to use this machine, it can be a great and effective workout for working your abs, hip flexors, and obliques. This is another machine that requires proper form in order to get the maximum results from the workout, so prepare yourself by watching videos for tips on form and adjustments for beginners.
5. Air Bike
Usually when I use a bike at the gym, I use that low-to-the-ground one where you feel like you're just lounging as you mindlessly pedal. You know, so I can just sit there and text the entire time. Surprisingly though, my lame excuse for a workout on this bike is not the most effective use of my time. Instead, it's much more effective to use the air bike, which gets your arms involved for a full, total body workout. (While also eliminating the option to text and bullsh*t your whole workout.) It provides a great cardio workout that doesn't allow any room for slacking. Which, for someone with my lack of self-discipline, is a huge plus. And it's not just me saying that—you can burn 1.5 times more calories on an air bike than a regular stationary bike.
If you can conquer the treachery of just getting yourself to the gym, then you might as well know which machines to utilize for your most effective workout once you're there. Sure, machines can be intimidating af, but that's why I recommend watching some quick step-by-step tutorials for proper form, and even for workout plans for specific machines. Like, if you're going to do the hard work of actually getting yourself to the gym, you might as well put the group chat on mute for an hour and actually get some benefits from your workout, right?!?!? Right.
Images: delmonofit, abbeyerceg, livinleggings, blogilates, orangetheory / Instagram
Why Squats Won't Get You Your Dream Booty, And What To Do Instead
Squats have never been such a popular exercise as they are right now. Every where I look, men and women everywhere are taking up all the squat racks and Smith machines just squatting their lives away. There are booty building guides that have you doing sets after sets of nothing but squats. And still, after all my time in the gym, squats are some of the most incorrectly performed movements I've seen, setting people up for injury. And even after all those damn squats…I always hear people complaining about lack of results. So what TF gives?
Let's start off how I love to start off everything: with the basics, baby. The basis of the squat move is pushing your body away from the floor, extending up from the hip and knee joints. So, going from low to high. Sitting to standing. Sounds simple right? Like, Grandma Edna who is 80 can go from sitting to standing. Now add into that…
The range of motion of your ankle joint, making sure that your heels NEVER leave the ground (and I mean NEVER, even if you're doing a heel elevated squat where your heels are on propped on plates, your heels should not leave contact with the plates).
Focusing on pushing your hips back as far as they can go (this will ensure that the movement is firing your glutes and hamstrings as much as it fires the quadriceps).
Engaging your core as you lower AND as you rise.
Flexing and squeezing your glutes at the very top of the squat as you stand back up.

It's a lot to think about, guys, I know. When done correctly, squats are a fantastic movement for determining strength. I mean, it's the cornerstone movement of many Olympic lifts such as the snatch, cleans, and jerks for a reason. It is a super effective movement for developing strength and size in your lower body…just maybe not so much for your butt.
Studies have shown that the basic squat is actually activating much more of the quadriceps than the hamstrings and glutes, the areas we really want to target. It's no wonder that those who have only been squatting in hopes of butt gains aren't usually satisfied with the results. Please don't get me wrong, squats are GREAT, but for the purpose of booty gains, there are better options out there to help you achieve your goals more effectively.
Instead of squatting like a basic fitness commoner, a study in 2015 (and results I've seen IRL) have shown these movements to be more effective in gluteal activation during an EMG test: a single leg squat, a side step up, and hip thrust. I explain the correct way to do each of the moves below. If you're a beginner, don't add weights until you're comfortable with the movements of each exercise.
Single Leg Squat

You can use the assistance of a TRX rope to help you move through this exercise.
Standing on one leg, flex your other leg so that it is more parallel to the ground in front of you. This way it's not touching the floor, so you're not cheating yourself.
Push your hips back and begin to bend the standing knee like you're sitting in a chair behind you.
Pushing from your HEEL, slowly push yourself back to standing.
Side Step-Up

Stand right next to a bench or elevated step. The leg closest to the step will be the one working.
Stepping laterally, push up on the heels to lift yourself into standing position on the step.
Slowly lower, keeping your working leg on the bench.
Hip Thrust

Lying on your back, place your feet on the ground, knees bent.
Driving up from your heels (sense a pattern here?), lift your hips straight up into the air.
Engage your core to stabilize yourself and prevent OVER-extension of the lumbar (that's not doing you any favors, don't be extra).
Slowly lower your hips back down to the ground.
When it comes down to it, squats are a great exercise, they just aren't doing exactly what you want them to. No one likes to waste time at the gym, so it's all about figuring out which exercises are the most efficient in terms of meeting your goals. Try these other ones out, and you might finally get that Instagram-model ass you've been squatting toward for years!
Images: Giphy; Unity Intensity; Gfycat