Upper Body Exercises To Target The Muscles You're Ignoring
When it comes to choosing workouts, some exercises just seem obvious, like doing squats for a perky butt or planks for rock-hard abs. And don't get me wrong, I'll do squats and planks until they're out of style. *BUT* I think it's also important to work on the muscles we don't often think about, especially as girls. We tend to think we just need a little toning and cardio here and there, but there are a lot of important muscles that we neglect at the gym, especially our upper body muscles. It's time to address WTF to do about them. Here are some underrated upper body exercises and why you should be working them.
1. Chest Presses
Aside from a few modified push-ups as a warmup, most girls never think about working their chest muscles. I mean, the chest press seems like a guy's exercise, and it can be super intimidating. What many women don't realize is that your chest muscles just create a stronger upper body in general, which literally makes it easier to do basic activities, like opening doors and holding heavy bags. People also find that chest presses can even give yourself a little chest lift, so you can stop buying push-up bras. So start your upper body exercises with chest presses. Grab two dumbbells and lie flat on a bench with the weights at chest height and your elbows out toward your sides. Then, press the weights upward, keeping them over your chest the entire time, and bringing them back down after every rep and avoiding pushing with your shoulders.
2. Lying Back Extensions
People tend to do a lot of rowing and lat pulldowns to target back muscles, and these exercises are great, but we tend to forget about our back extensor muscles, which are located at the lower back. They're super important for core engagement, stability, and avoiding injury. Doing lying back extensions will help you avoid hurting yourself at the gym, considering you basically use your back in any exercise, like even running or spinning. Lay out a mat and then lie on your stomach with your head facing the floor and your arms out over your head in a "Y" shape. Then, slowly lift your legs and arms off the floor, keeping only the area from your stomach to your thighs on the mat (if that's too hard, leave your legs alone and just lift your upper body). Lower back down and then lift back up, feeling the tension in your lower back.

3. Inner Core Leg Lifts
We do a lot of ab movements around here, but there's a major difference between your ab muscles and your core muscles. Most ab workouts, like bicycles and Russian twists, don't target the transversus abdominis, which is the muscle that connects to our pelvic floor and internal organs. In order to strengthen these inner muscles, do inner core leg lifts. Start by lying on your back with your knees bent, and slowly lift your right foot off the floor, keeping your core engaged as you lower it back down. Then, do the same on the left, and switch back and forth, exhaling with each rep. These are supposed to be slow and controlled movements, so don't worry if you're not getting your heart rate up or sweating, but DO worry if you're just kicking the ground without feeling it in your abs. Then you're probs doing it wrong.

4. Lateral Raises
Toning your shoulder muscles will make your whole arm look more defined and just so much better, and the most ideal way is to work the front of the muscle and the side of it in one workout to tone every angle. The lateral deltoid, aka the side of your shoulder, is really what gives your arms a toned look, and it's often neglected because people just don't realize what a difference it makes. Standing up with a dumbbell in each with your palms facing your thighs, keep your elbows slightly bent and raise your arms to the side until the weight reaches shoulder height. Then, slowly lower the dumbbell back down to your thigh. Keep raising them up and down, and try not to bounce your legs to use momentum to lift them. The goal is to keep tension in your shoulders the whole time and not get any help from your lower body.

5. Single-Arm Planks
Obviously your abs aren't a "forgotten about" muscle, but we often overlook the most basic functions of our core muscles, which include stability and balance. Upper body exercises like single-arm planks strengthen the core while testing your stability. By doing moves like these, you'll notice that yoga poses get easier to hold, being in third position on a spin bike feels more natural, and other ab movements are just less painful. So basically, the single-arm plank is essentially a regular plank, but you only use one hand at a time. Duh. It's easier to start with your hand centered in front of your chest, but try to work it back out to under your shoulder as you get stronger. The idea is to keep your body square to the ground without raising your hips on one side, and keep your core tight the entire time.

Images: Ayo Ogunseinde /Unsplash; Giphy (4), Pinterest (1), 
6 Moves To Tone Your Legs And Butt For Shorts Season
After a god-awful winter and no spring season whatsoever, summer has arrived, and it literally has no chill. We totally skipped over denim jacket weather and basically went straight to face-directly-in-the-AC-vent weather, so it's time to dress accordingly. If you're putting on your shorts for the first time in a year and notice your legs could use some much-needed toning and tightening, don't panic. Do these six leg exercises, and once you're done, repeat the whole circuit another three times to really tone and strengthen your legs. And also, like, try not to cry when you sit down tomorrow. Consider yourself warned.  
1. Curtsey Lunges
Regular squats and lunges can get boring and repetitive, so trying out different leg exercises and variations help target your muscles in a different way. Curtsey lunges are great because they hit various muscle groups in your quads and glutes, and they also challenge your body's overall balance and stability. They're v underrated. The idea here is to lunge backwards like you would regularly, but instead of bringing your knee directly behind you, bring it in a diagonal direction, crossing behind your other leg. Like a curtsey, get it?? Bend your knees and lower your hips until your thigh is parallel to the floor. Then, return to standing position and do the same on the other leg. Complete 10 reps per leg, and if you feel like it's too easy, hold a weight in each hand to add resistance.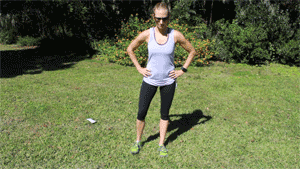 2. Swiss Ball Hamstring Curls
This exercise is based on using a swiss ball, but if your gym doesn't have one, this can also work using TRX bands or the rowing machine. Begin on the floor by lying on your back with your feet up on top of the ball. You want your ankles to be on top of the ball when your legs are fully extended. Raise your hips off the ground, keeping your weight in your shoulders and your feet. Then, flex your knees, pulling the ball inward toward your body while squeezing the backs of your legs. Once the ball is "curled" inward, straighten out your legs again, rolling it outwards. Aim for 15 reps.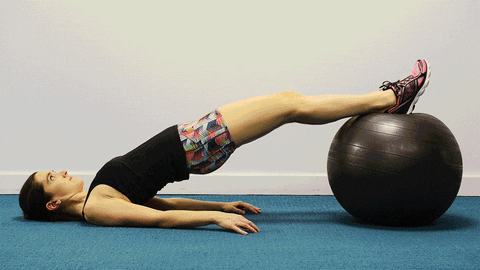 3. Single Leg Glute Bridges
Glute bridges are a classic butt exercise, but by focusing on one leg at a time, you also hit your hamstrings, which are the muscles that make up the backs of your legs. You're basically getting the best of both worlds because you're working your thighs and butt in one simple move. Lucky you. Lying on a mat, keep your hands at your sides and your knees bent out in front of you. Then, extend one leg as you lift your butt off the ground, squeezing your glutes and lifting your hips toward the ceiling. Think about pushing down with your left heel as you lift. Do 10 reps on one leg and then switch to the other.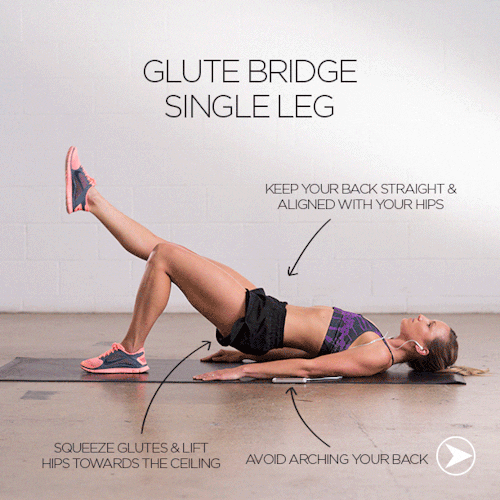 4. Jumping Sumo Squats
We tend to do a lot of squats and jump squats in our leg workouts, but the sumo squat is a different variation that a lot of people ignore. The idea here is to do a jump squat, but your stance is more like that of a ballerina, with your toes turned outward and your legs further apart than they'd usually be. This way, when you squat down, the resistance shifts from your quads to your glutes, and it becomes more of a butt-focused movement. You're also getting your heart rate up and burning calories because like, you're jumping. Duh. Try doing 15-20 jumps without stopping.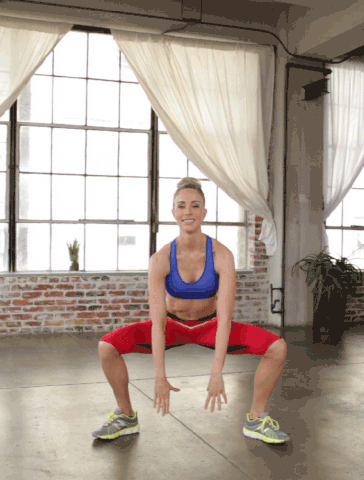 5. Elevated Reverse Lunges
Reverse lunges are a staple leg movement, and by elevating your front leg, you're adding pressure to that leg's quad muscle, and you REALLY feel the burn on these. The idea here is to find some sort of box or elevated step that you can put your front foot on, and then lunge backwards, bringing the back leg even further down than you would on a regular surface. This way, your quads get more resistance—kinda like when you turn up the torq on a spin bike. Remember to keep your chest up and head straight the whole time to avoid leaning forward. If these are too hard, lose the elevation and just do lunges on the ground. And if they're easy, hold a weight, like the badass chick in this gif.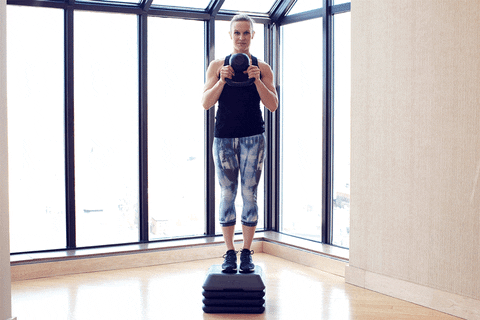 6. Wall Sit
Wall sits look relatively easy, but you might notice after a few seconds that your thighs are on fire and you want to die. This is normal. This move is also great because your body is basically in a squatting position, but your back is protected, so you can really engage all of the muscles in your legs to keep you stable. With your back flat against a wall, set your feet about shoulder-width apart, about two feet out from the wall. Slide your back down the wall, bending your knees as low as you can get. Hold the position for one minute, and remember to contract your abs while you're holding it. Your legs will probably start shaking, but that just means it's working. Just think about how good your legs will look in your new romper.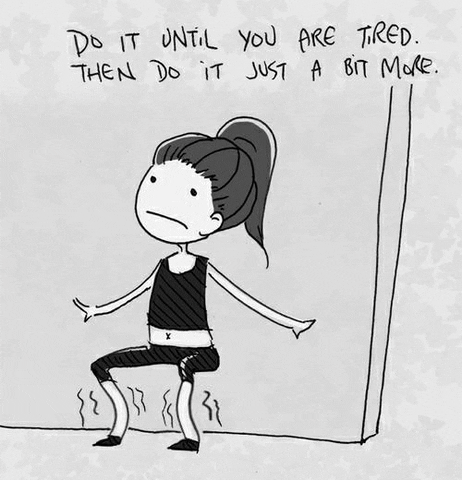 Images: Shutterstock; Giphy (6)
6 Lower Ab Exercises That Will Make You Look Amazing In A Crop Top
You may have gotten away with hiding under winter coats and Bachelor episodes for the past few months, but soon it'll be time to step outside in minimal layers, and your bod is nowhere close to being ready. I mean, I don't blame you. The only people who consistently eat salads and go to the gym all winter are like, psychopaths people who bet too much money on their 2018 resolutions. When it's time to put on your new ASOS crop top, you'll want your abs to look amazing, and the lower ab region of your core can be the hardest to target. If you want to define that area and lose your love handles, you'll have to start putting in the work, starting with these lower ab exercises.
1. Leg Lifts
Lying on the floor, place your legs straight out in front of you and your hands on the ground or under your lower back if you're prone to lower back pain. Lift your legs up, keeping them as straight as possible with your knees slightly bent until they make a 90-degree angle with the floor. Hold the contraction at the top for the second, then SLOWLY lower your legs down to the floor in front of you. If you have lower back problems or need a modification, try doing the move with your hands under your tailbone. It sounds ineffective, but it actually makes it so much easier.

2. Flutter Kicks
Flutter kicks are another one of the lower ab exercises that are done lying on your back, but this time you actually need to lift your head and shoulders off of the mat to fully target the lower region of your core. Once again, put your hands under your tailbone if you feel any pain in your lower back. Then, lift your legs up in front of you (they can be slightly bent), and literally kick your feet out in front of you in a little flutter motion. You should feel your lower abs working as you kick, and the movement should be small and controlled. Note that these aren't scissor kicks, so if you feel like you're kicking around like a Rockette, you're doing it wrong.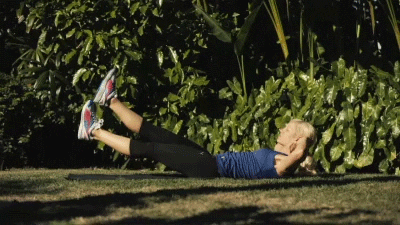 3. TRX Pikes
These can also be done on a rowing machine or gliders if you don't have a TRX in your gym, and if you're doing it at home, you can even use a hand towel on a wooden floor. If you're using the TRX, put your feet into the straps and then turn over, coming into a plank position with your hands on the floor and your feet hanging in the straps. Then, think about pushing your hands into the ground and pulling your legs toward your chest with your hips, keeping your legs as straight as possible. Try to focus on lifting with your abs while preventing your ankles from pointing. Once your head is looking in between your arms, slowly lower your hips back into your starting plank position. These are hard AF, so if you need to just do a couple reps and then hold a plank, go for it.

4. Dead Bugs
IDK who came up with the name for this move, but it'll demolish your entire core so we're gonna go with it. Lie on your back with your arms extended, but bend your knees so that they're creating a 90 degree angle above your hips. Engage your core and press your lower back into the floor as you slowly extend one leg toward the floor, almost hitting your foot to the ground. Then, bring it back to its bent position and do the same on the other side. Keep alternating sides, and if it feels easy, you can even get your arms involved by extending the opposite arm toward your leg each time you bend.

5. Raised Leg Circles
This exercise requires a lot of physical space, so if you're like, two feet away from someone else's mat, you may need to move to a more spacious area of the gym. This is another one of those lower ab exercises where you're lying on your back but raising your neck and shoulders off the floor. To start, extend your legs out in front of you and lift them a couple inches off the ground. The higher you raise them, the easier it'll be. Then, keep your feet and legs together as you literally circle them around you, keeping your hips on the ground as much as you can. Try to aim for six to eight circles in each direction. Make sure your feet don't touch the ground the entire time and that you're using your core instead of using momentum to swing them around.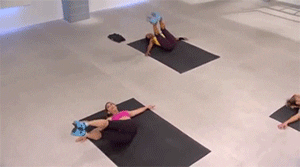 6. Hollow Body Hold
This move is a LOT harder than it looks, so try holding it for 25 seconds, and then slowly work your way up to 35, 45, and eventually a full minute. If you thought time moved slowly when planking, wait until you try this. The hollow body hold is exactly what is sounds like, so you'll be starting lying on the ground. Then, raise your feet off the ground and your arms at the same time, keeping your arms straight behind your head. So basically, only your lower back/ tailbone should be touching the ground, and your abs should be super tight the whole time. If you want to make it easier, put your arms out in front of you or to your sides. If you want to make it harder, hold a weight in your arms and hold it overhead. Just please don't blame me if it hurts to laugh tomorrow.

Images: Matthew Kane / Unsplash; Bionic Body (1); Giphy (5)
A Cardio Workout For People Who Hate Cardio
Unless you're some athletic psychopath who runs marathons on Sunday mornings, we can all agree that cardio is the worst. It's a chore, like giving a blow job getting a root canal or your monthly Brazilian. Even though you know it's worth it, you still sit in the European Wax Center waiting room trying not to cry in public. In fact, I don't really care what people say about post-workout endorphins. They're really not worth the hype. Like, I don't have a husband to shoot anyway, so what's the point? Oh right, my physical appearance general health and well-being. Cardio sucks, but like any chore, you've gotta get it done every now and then, so you might as well find a way that works for you. For all the anti-runners, spinners, and jump-ropers (seriously what are you) try this cardio workout.
1. Bodyweight Squats
Most cardio workouts start out with jumping jacks or jogging in place as a warm-up, but we're gonna be nice and let you skip that bullshit. A lot of people don't realize that doing bodyweight toning moves can actually get your heart rate up as much as classic cardio moves do, so bodyweight squats are a great way to warm up without wanting to head home before the workout even starts. Stand with your feet shoulder width apart and place your hands behind your head or out in front of you. Then, flex at your knees and hips, sitting back with your hips until your butt is in line with your knees or thighs. Get as low as you can, and then stand back up. Do 20 reps at a fast pace, but make sure you're getting your butt low every time. Half-squats don't count.

2. Jump Squats
Now that you know how to do a squat, you're going to jump at the top of the movement every time, so instead of standing straight up, you'll pop up from the bottom in an explosive movement, and then land back in your squat again. The idea here is to burn calories while burning out the same muscle groups we were just using. Try to hit 20-30 jumps without stopping. Your thighs may burn, but then again, just be thankful you're not in a 60-minute Flywheel class being asked to turn the Torq up five notches with the Fall Out Boy soundtrack blasting in the background.

3. Forward & Backward Lunges
The squat moves we just did were all about the butt muscles, so now we're doing lunges to focus on other muscle groups in your legs, like your quads and hamstrings. The reason we're doing a ton of leg movements is because your legs have some of the biggest muscle groups in your body, so you actually burn the most calories when you do lower body movements. Standing with your feet hip width apart, lunge your leg backwards into a 90 degree angle, and then stand back up and alternate. Do 10 steps backwards and then 10 steps forwards before switching to your other leg.

4. Mountain Climbers
Nothing sounds worse than climbing a mountain, but this move doesn't involve a Camelbak or a Clif bar, so bear with me. Mountain climbers engage your core while you move your legs, so you kinda forget you're doing cardio because it's also an ab move. And if you haven't heard, abs are like, really trendy right now. Start with your hands on the ground, keeping your shoulders over your wrists and your abs engaged. Then, jog your knees into your chest without letting your butt raise upwards. Think about staying in a plank position with only your legs moving. You'll feel the burn in your core while burning calories with your legs. It's a win-win.

5. Battle Ropes
If your gym has battle ropes available, now's your time to use them. Battle ropes will target your arms while getting your heart rate up, so you're basically giving your legs a break while your arms do all the work for a minute. They might feel super thick and heavy, but once you start whipping them around, you'll see how good of a workout they can give you. Keeping your elbows as close as you can to your body, flick your hands up and down, or hold onto the ropes with both hands and slam them until your arms feel like noodles (whatever those are). Try going for 30 seconds straight, and then rest for 30 seconds, and then do another 30 seconds of work.

6. Froggers
If you've ever been to a workout class, you've probably been forced to do burpees, which are the fitness equivalent of getting punched in the face. However, there's a reason they burn so many calories, and it's because they get every muscle in your body working at once. If you hate cardio, you can skip the burpees for today and do froggers instead, which are basically burpees without the standing up and jumping part. The idea is to start in a "frog" looking position, squatting down with your hands in between your thighs. Put your hands on the ground and jump your feet straight back until your body is in a high plank. Then, jump your feet forward, raising your hands off the ground. Do 10-15 reps total.

7. Plank Hold
Holding a plank isn't exactly a killer cardio move, but if you're doing it right, you should be engaging all the muscles in your body, and your body could actually burn more calories this way than you would by just running around. Plus, ending your workout with a plank hold is ideal because your body is already in the fat burning zone, so you're toning your muscles while keeping the fat burn going. With your forearms on the ground and your legs out behind you, think about keeping your body in one straight line while drawing your belly button in toward your spine. Squeeze your abs, butt, and your back muscles, keeping your whole body tight the entire time. Try to hold for a minute, and if you want more of a challenge, elevate your feet onto a block or medicine ball. Also, people tend to hold their breath here, so don't make that mistake. It would suck to stop breathing after you've already come this far.