Celebs You Didn't Know (Or Forgot) Have Their Own Companies
You'd think being an A-list celeb in a major box office movie or being a best-selling platinum artist would get you a satisfying amount of press, wealth, and Instagram followers… but apparently not. Many of the most successful pop-culture icons—popularity and net worth speaking—have decided to start their own businesses for what you would assume is the clout, extra dollars, and *maybe* because they actually have some business sense.  
And let's get real. Some celeb businesses have blessed our lives in a major way by becoming the makeup we swear by or the clothing we've spent WAY too much on, while others fly under the radar. Seriously, there are a sh*t ton of celeb-founded businesses that are better kept secrets than the Ellen scandal pre-2020… So sit back, relax, and get ready to be surprised about the business ventures certain celebs have, and nod your head as you remember some of the star-started companies you totally forgot existed. 
Gwen Stefani
Founder, L.A.M.B., gx by Gwen Stefani, and Zuma Rock 
Despite being a fashion icon since the day No Doubt blew up, Gwen Stefani's current businesses and brands are all in the… optical industry? 
As random as being in the optical space seems, her brands L.A.M.B., gx by Gwen Stefani, and Zuma Rock seem to be doing pretty well, and can be found at retailers including Lord & Taylor and Nordstrom across the U.S. Cue Rich Girl.
View this post on Instagram
L.A.M.B. was actually launched in 2003, and you may remember it as an edgy yet chic fashion brand that had clothing, handbags, and accessories. And if you're a true Gwen stan, you know the L.A.M.B. collection shares a name with her studio album Love, Angel, Music, Baby.  
The brand did its last apparel showing at fashion week in 2015, and has since pivoted to focus on eyewear only. And similar to the original early 2000s L.A.M.B. apparel collections, Gwen says her current eyewear products "still have that edgy, weird 'Where did you get those?' vibe." 
Robert De Niro
Co-Founder, first Nobu restaurant
We all know that Nobu is famous for being the restaurant chain that A-list celebs frequent and up-and-coming influencers take IG pics at to seem relevant. Seriously, the Kardashians have likely had as many meals at Nobu Malibu as Trump has had at KFC. 
What most people don't know, however, is that the first Nobu location was co-founded by one of Hollywood's greatest: Robert De Niro. 
How this came about is that De Niro had met chef and to-be Nobu co-founder Nobuyuki Matsuhisa at one of Matsuhisa's LA restaurants in 1987. After being wowed AF by the food, De Niro connected with Matsuhisa to extend help in launching a New York restaurant if Matsuhisa ever planned on doing so. From there, Nobu's first location was opened in Tribeca in 1994. 
Steve Carell
Owner, Marshfield Hills General Store
View this post on Instagram
If you thought being the star of a hit nine-season TV show like The Office and lead in multiple major motion pictures would keep you busy enough, think again. At least in Steve Carell's case, there's apparently enough time and hustle left over to start a side venture. 
Carell and his wife Nancy own a historic general store in Marshfield Hills, Massachusetts, where the couple grew up. Marshfield Hills General Store was founded in 1969, but was purchased by the Carells in 2009 after the previous owners had put the quaint landmark shop up for sale.
And even though you'd think one Hollywood's leading comedic actors gets enough press, the general store website doesn't sleep on doing its part to promote Carell. Seriously, the site has a menu option called "Where's Steve?" that links to a page with trailers and clips from movies and shows he's been in. At this point, who's working harder: the website or Carell's PR agent?! 
Jessica Simpson
Founder, The Jessica Simpson Collection
Jessica Simpson is iconic, and so is her fashion line, The Jessica Simpson Collection. It was a simpler time, but remember when the perfect Saturday night outfit was Jessica Simpson heels and a bandage dress, accessorized with side bangs and lip gloss?
Thankfully, but not surprisingly, The Jessica Simpson Collection still exists, and has expanded from being just a shoe line to including jewelry, clothing, luggage… and literally everything in-between. Seriously, your entire wardrobe could be purchased solely from her site – and I promise, you'll feel no regrets if you do.  
In 2016, Forbes reported that the company was bringing in $1 billion in revenue yearly (holy sh*t! Who knew The Dukes of Hazzard wouldn't be Simpson's biggest money maker?), and Simpson credits part of its success over the years to being inclusive. She told WWD in 2015 "People buy my clothes because I'm good at listening to what they want and need… The Jessica Simpson Collection is not geared toward one person."
Charlize Theron
Founder, Denver & Delilah Films
It turns out you have more to thank Charlize Theron for than inspiring you to cut your hair short (even though you literally looked nothing like her when you did)… you also have to thank her for producing some of your favorite movies and TV shows.  
Theron launched her production company, Denver & Delilah Films, in 2003. Since then, it's produced shows like Girlboss, and movies including Bombshell, Atomic Blonde, The Addams Family, and Monster. That's right—her company not only produced those, but she also starred in most of them… double income on a single project? Who TF would say no to that! 
And if you're wondering where the inspiration for the company's name came from, Theron named it after her two dogs. Ugh, SO cute! 
Venus Williams
Founder, V Starr Interiors
Talk about a hidden talent—did you know Venus Williams founded an interior design company?! 
According to an interview she did with Elle in 2019, her passion for design was developed as a teen, and from there, she explored that by designing rooms in their family house, including her bedroom. As a teen, I was personally only passionate about Jacob from Twilight, so kudos to Williams for being productive AF. 
View this post on Instagram
Eventually, at the height of William's tennis career in 2002, she started her own professional interior design company called V Starr Interiors. And maybe, if it weren't for constant media coverage on Olympic, Wimbledon, US Open, etc. etc. wins, we'd actually know Williams publicly as a renowned interior designer. After all, popular hotels, sports clubs, colleges, and professional athletes have hired V Starr to do their interiors… and from the V Starr Interiors website, these designs are truly chef's kiss. 
Paris Hilton
Founder, Paris Hilton Fragrances 
In case you forgot, here's a PSA that Paris Hilton is pretty much the celeb fragrance queen. You're welcome for the reminder. 
Since 2005, Paris has released 25 fragrances across the globe and has over $3 billion in sales according to her recent documentary, This Is Paris. Oh, and that number probably only factors in some of the sales of her latest fragrance, Electrify, which was released this year. And apparently, the Electrify scent was inspired by Paris' DJ career and her "true passion for music, dancing and living in the moment."
At this point, I seriously think we need a full on presidential-format debate on who works harder: Paris Hilton or Kris Jenner. I mean, between Paris' fragrances, DJ'ing, makeup line, clothing line, and more, this girl knows how to work and has a serious chance against the Momager herself.  
Fergie
Co-Owner and Partner, Voli Vodka
View this post on Instagram
Fergie and Bethenny Frankel have plenty in common—lots of money, a divorce, a sh*t ton of Instagram followers, experience leaving a band/show that made them famous but ultimately returning… and a low-cal alcohol brand. 
Although the brand Voli Vodka was launched in 2008, Fergie was brought on as a partner and part owner in 2012 alongside Pitbull. Apparently, having global status is a prerequisite for joining Voli Vodka… Pitbull = Mr. Worldwide… Fergie = London Bridge. 
Similar to Skinny Girl, Voli Vodka is low-cal, and that seemingly makes it the perfect addition to Fergie's healthy lifestyle, according to a quote she gave Food & Wine magazine in 2017.
Don't miss out on any pop culture or entertainment news. Subscribe to our weekly newsletter here. 
Images: lamb, marshfieldhillsgeneral, vstarrdesign, 
The Weirdest Celebrity Baby Names Until X Æ A-12 Happened
Everything about the world right now is weird, but celebrities are still finding new and exciting ways to shock us. This week, Grimes and Elon Musk had their baby, and while we weren't expecting a traditional name from these two notorious weirdos, their alleged choice is even stranger than we could've imagined: X Æ A-12.
Just let that sink in for a second: X Æ A-12.
Remember when everyone freaked out over Gwyneth Paltrow naming her baby Apple? That was cute. Before you even ask, no, I have no f*cking clue how X Æ A-12 is pronounced. Or what it means. Or if it's an actual legal name that you're allowed to give a child. All I know is that it looks like fraternity letters mixed with the name of a spaceship, and I hate it. But while we wait for more details on what might be the worst baby name of all time, let's take a look at some of the other weirdest celebrity baby names.
Stormi
In the two years since Kylie announced her surprise baby, I feel like we've heard the name Stormi approximately one million times. At this point, I actually think it's kind of cute, but that doesn't change the fact that it's just not a name. Like, Kylie took a weather condition that's not even a good one, then messed up the spelling. I'm honestly mad at how well it works, but I really hope that normal people don't start doing this for their names. We don't need kids named Hurrikayn and Flurri running around.
Bronx Mowgli
View this post on Instagram
Ashlee Simpson and Pete Wentz's baby was in the first major wave of weird celeb name choices, but unlike some of the more tame ones, this still bothers me. I wouldn't love Bronx on its own, but MOWGLI? As in, the feral child from The Jungle Book, who kind of sucks as a character?? I just need to know the thought process here. Ashlee's second child, with Evan Ross, is named Jagger Snow, which is still interesting, but a little less puzzling. She just announced she's pregnant again, so I can't wait to see what she cooks up this time.
Cricket Pearl & Birdie Leigh
Busy Philipps, what is you doin? I guess coming from a woman named Elizabeth, but who chooses to go by Busy, this really isn't a surprise. Birdie Leigh really just sounds like a name that came out of a Tumblr generator in 2011, so I'm not that mad, but Cricket Pearl? If my mom named me Cricket, I would be so f*cking mad. Like, that is a literal insect, can you not?
Charlie Wolf
View this post on Instagram
Out of context, Charlie Wolf is a pretty normal name. Wolf is an interesting middle name choice, but I kind of like it! The weird thing here is that three (3) different celebs have chosen this exact name in the last five years. THREE! Zooey Deschanel was the first to claim it, back in 2017. Then, last fall, Lauren Conrad announced the same name for her second baby. Coincidence? Maybe, who knows. But then, just a month later, Bachelor alums Carly and Evan chose the same name!! Names are hard, and there's nothing wrong with taking some inspiration, but they had to know the tabloids would be all over these matching names. Wait… maybe that's exactly what they wanted?
Pilot Inspektor
As an avid skateboarder and a former Scientologist, it's no surprise that actor Jason Lee wanted a unique name. But this? He named his son Pilot Inspektor, which sounds like the name they'd give an incompetent spy played by Steve Carrell in a comedy movie. Lee said that he chose "Pilot" after one of his favorite songs, but that doesn't explain the tragedy of a middle name that is Inspektor. If you're going to name your child after a random English word, at least spell it correctly?
Poppy Honey Rosie, Daisy Boo Pamela, Buddy Bear, Petal Blossom Rainbow, & River Rocket
View this post on Instagram
You'd be forgiven for thinking these were the names of the Care Bears, and not actual human children. Celeb chef Jamie Oliver has five children with Juliette Norton, and each of their kids' names sounds like it was specifically selected to make me uncomfortable. I think my personal (least) favorite is Daisy Boo Pamela, just for the sheer randomness of Pamela being tacked on the end. But I also love Buddy Bear, which should be a nickname for a stuffed animal, not a child.
Apollo Bowie Flynn & Zuma Nesta Rock
Remember back when Gwen Stefani was cool? Before she was wifed up by Blake Shelton, she and Gavin Rossdale had three kids together, and two of the names are bizarre. Kingston, you get a pass on this list. But Apollo Bowie Flynn and Zuma Nesta Rock are both just doing way too much. Triple names are already a mouthful, and these ones are total sensory overload.
Lockett & Lazer
Did you know Diplo has two kids? Well, now you do! He has two sons, Lockett and Lazer, which sound like names of super villains in a futuristic Disney Channel Original Movie (Jessie and James from Team Rocket are shaking). They're definitely not the strangest names on this list, but they're not normal, either. Early in the quarantimes, Diplo posted a super sweet video of him seeing his sons through a window, explaining that he had to isolate away from them for everyone's safety. Aaaaand now I'm crying.
Moon Unit, Dweezil, & Diva Muffin
Rounding out this list, we have what I feel is the worst collective set of names, maybe ever. Frank Zappa was a musician known for his avant-garde work, and he chose pretty avant-garde names for his own kids, too. While most of the ones on this list are from the last ~15 years. Frank Zappa named his daughter Moon Unit way back in 1967! He followed that up with Dweezil and Diva Muffin, both of which are really astonishingly strange. Honestly, if I had to choose between being named X Æ A-12 and Diva Muffin, I might choose X Æ A-12. At least X Æ A-12 isn't going to earn me a lifetime of vagina puns. There, I said it!
People can name their babies whatever they want, and maybe these unique choices are better than all those women from your hometown who just slap an "-eigh" on any old name and call it a day. There are lots of Kayleighs in the world, but I'm pretty sure there's only one Daisy Boo Pamela. But please, don't name your kid Daisy Boo Pamela. Literally anything else.
Images: Sky Cinema / Shutterstock.com; ashleesimpsonross, laurenconrad, jamieoliver, diplo / Instagram
10 Iconic 90s Music Video Outfits That Inspired Your Slutty Middle School Wardrobe
Before style trends were dependent on the Kardashians, CW teen dramas, or even our Cheeto president there was the 1990s. Ah, the 90s. A simpler time, a time when Britney Spears was still a "virgin" and boys in matching denim ensembles were considered sex symbols. What a time to be alive.
It could be nostalgia kicking in or it could be this $8 bottle of red wine that's mostly empty, but either way I'm about to revisit some of my favorite shit shows fashion choices and beauty looks from the best 1990s music videos.
1. "JUST A GIRL" — GWEN STEFANI (1995)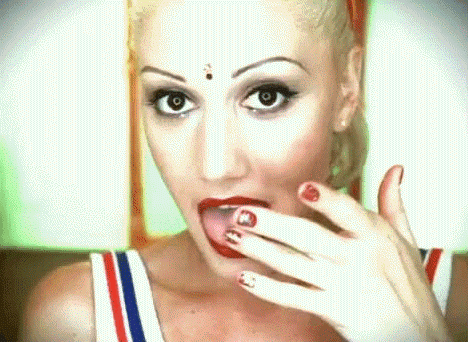 Oh, Gwen. Where do I even begin with you? Perhaps with the semi-culturally offensive red jewelry in the middle of your forehead? The fugly giant hair barrettes? Or the men's track pants you're wearing? Please also keep in mind that this person has a very successful FASHION LINE today, which I can only imagine Twitter is responsible for. Gwen's style is something I'll understand about as much as I understand clear plastic boots, which is to say I don't fucking get it. Let's also not let this moment pass without discussing how Gwen's eyebrows are thinner than my will to live. They are actually making me so uncomfortable. I need an adult.
2. "MMMBOP" — HANSON (1997)

Seeing prepubescent boys with better hair than me makes me want to heavily drink. Seriously, shouldn't you be getting head lice from kids on the playground, not giving a grown woman hair envy?
3. "I WANT YOU BACK" — N*SYNC (1997)

I mean seriously wtf were we thinking? To be fair, this music video actually features some of the less offensive fashion choices from their time in the spotlight. Shocking, I know.

Also #neverforget JT's ramen noodle hair. I love that since Justin went solo and didn't become a has-been like the rest of the band, he thinks he's better than everyone. Like, you might be married and successful and actually pretty funny anytime you appear on SNL, but you still wore a JEAN SUIT to the American Music Awards. Know yourself.
4. "(HIT ME )…BABY ONE MORE TIME" — BRITNEY SPEARS (1999)

An iconic Britney moment that forever made me want to dress like a baby prostitute. Thanks for giving us years of slutty Halloween costumes. You the real MVP, Brit.
5. "SAY MY NAME" — DESTINY'S CHILD (1999)

You know I had to add in the Queen here. And I guess I have to mention her backup singers band mates too. Aside from the fact that the lyrics in this song are fire and I use them in daily in my life, Beyoncé also looks like a fucking goddess in this music video. Groundbreaking, I know. I'll even forgive her for those gold hoops because we all know hoops are Regina's thing. An important note, though: If your skin burns in the sun, you should absolutely, under no circumstances, attempt her hairstyle at home.
6. "GOOD VIBRATIONS" — MARKY MARK AND THE FUNKY BUNCH (1991)

Fuck, this boy is ripped talented. The original fuckboy, his signature look was not wearing a shirt, touching himself, and giving white people hope of becoming a rapper. 10/10 would hit that.
7. "DIRRTY" — CHRISTINA AGUILERA (2002)

While not *technically* a 90s song, I'm still including it because Kylie Jenner made this video relevant again. Those dirty AF blue hair extensions, the assless chaps, THE BODY JEWELRY—she made slutty chic. Not all heroes wear capes, people. She was also single-handedly responsible for every dress code violation phone call my mother received about me from grades 8-12. *starts a slow clap*
8. "ALWAYS BE MY BABY" — MARIAH CAREY (1995)

Aka the reason I thought butterfly hair clips were a statement piece. She spends this entire music video swinging over a lake in a classic jean-on-jean ensemble, looking as angelic as her voice sounds.
9. "WANNABE" — THE SPICE GIRLS (1996)

The original Plastics, these girls are responsible for stereotypes in cliques and my hideous metallic mini dress in middle school. Also for giving my boyfriend an excuse to "get with my friends."
10. "AARON'S PARTY (COME GET IT)" — AARON CARTER (2000)

Again, not exactly a 90s song but I couldn't not include this one. First of all, Aaron Carter is, what, 9 in this music video? Maybe? And he's throwing fucking ragers while his parents are out to dinner? I applaud you, son. Also the fact that a third grader is rapping on a bicycle in a fur coat while middle school girls grind up on him. I'd be lying if I said I didn't want to be one of those middle school hoes. And you'd be lying too.
Anddd now I have "Aaron's Party" stuck in my head. Brb I'm just going to do something productive bang my head against a wall until I stop singing rap lyrics written by and for a 12-year-old.