12 Walking Red Flags To Avoid On Dating Apps
Now that it's March, cuffing season is about to come to a screeching halt, which means it's time to hop back on that Tinder horse and get to swiping. But it's important to remember to date responsibly. Get your vaccine, meet up in public, and, most of all, avoid these 12 potential suitors like the omicron variant.
The Basic Bathroom Bro
We all know this guy. His profile picture is a bathroom selfie. He's probably shirtless—or at the very least, if you keep scrolling, you'll see a shirtless photo somewhere in his profile. His name is something douchey, like Chad or Brad or Aston, and he's an "entrepreneur," though it's unclear what he's actually entrepreneuring.
He's super into working out and wants a woman who "cares about fitness," but really, her gym membership matters far less to him than what she looks like. In his bio, he also mentions that he's looking for a girl who "isn't crazy" Because there's nothing hotter than some good old-fashioned bathroom-mirror misogyny.  
And why is he taking a selfie in the bathroom, anyway? Doesn't he know that's where people go to shit? 
The Guitar Guy
This guy isn't holding a fish (thank God), but before you get too excited, don't because he's holding a guitar, instead. And he is wearing a fitted tee and a broody expression. Maybe he's broody in real life, or perhaps he wants to pretend. Either way, he's definitely going to want to play a song for you—probably something acoustic—even if he sucks. Best case scenario, he doesn't suck, but you'll still have to sit there politely for at least two or three minutes while he performs a solo concert for you. (And, yes, he's going to do it shirtless, too.)  
The "Just Ask" Jackass
In his bio, this guy wrote something along the lines of, "If you want to know, just ask."
Which, OK. Fine. No one likes to fill out their dating profile. But this lack of effort does not bode well for any potential sex life down the road. If he can't spare enough time to write out more than seven words, do you really think he's going to take the time to find your G-spot?
The "Right Reasons" Romeo
Let's see—he's wearing a shirt. He's in a socially acceptable place (i.e., anywhere but the bathroom). He's smiling. He even wrote a whole paragraph. Oh, this guy is good. And he wants you to know it.
You keep reading. His profile says he's "looking for his soulmate," that he's "not here to play games or hook up," and that he's "here for the…" oh God. Did he say "right reasons?" Is he looking for a date or a spot on The Bachelor? 
I'm not buying it. Just like with every Bachelor contestant ever, there's a fuckboy lurking beneath that good guy act. 
The Sapiosexual
He wants you to know that he's not shallow—even though he's using a dating app designed for superficial swiping. He thinks that using big words like this will make him seem smart rather than just pretentious. Oh, but he is. He's the type of guy that pronounces it "encyclopaedia," Ted-Mosby style, and corrects you when you say it like a normal person. 
He finds a way to mansplain something in every conversation or flex his faux-intellect or both simultaneously. He thinks he's smarter than everyone around him, especially you. And when you decide, just for fun, to take an online IQ test together and end up with a higher score, he'll tell you that IQ tests aren't an accurate reflection of intelligence because, God forbid, he admits to being wrong about anything, ever. 
The Tinder Denier
His profile says, "We can just say we met at the library," or something equally cringeworthy. So, either he's A) super willing to lie about trivial issues—like, I don't know, how the two of you met—or B) really into the whole librarian thing. Also, does he think that hitting on someone at the library is a better look than being on a dating app? Is he aware that it's 2022? 
The Bro with a Baby
This guy has a photo of himself with a baby or young child. But, don't worry! It's not his! If you read his bio, he'll be sure to mention that they're his niece/nephew/friends' kid. He has a picture of them on his dating profile because it proves he's good with kids. See, they're both smiling! So, even though he's not tied down to any parental responsibilities at the moment, he really wants you to know that he'll make a great father eventually. 
He's clearly taking a page from Friends and trying to use this cute, innocent kiddo as a pick-up artist prop. Not cool, man. Not. Cool.
The Pastor
His entire profile talks about God, religion, or how he's a "man of faith." His faith is important to him; he wants to make that VERY clear. This, my friend, is a trap. He's probably a serial killer. Or, at the very least, he's a recovering sex addict who found Jesus and changed his ways. And, in the spirit of honesty, he tells you that he cheated on his ex-wife with multiple sex workers. The resulting divorce prompted him to seek help, and now, well, now he's a man of God. Technically, his SAA sponsor says he shouldn't date at all during the first year of recovery, but it's been nine months, and he's pretty sure it's fine. After all, he's a good Christian now. 
The Bill Shakespeare
Everything on his profile makes him seem like a catch, so you swipe right. You're hopeful about this one. But, then, you match, and everything changes. He messages you a lot. Like, a LOT.
His messages aren't sentences, either—they're paragraphs. He asks multiple questions in one message. He wants to know your whole life story before the first date. What's more, he wants you to know his, too. How does he have so much free time? I'm sure he'll tell you in excruciating detail if you ask.
The Guy Who Likes His Women Like His Coffee
Stop me if you've heard this one before. "I like my women like I like my coffee… without another man's dick in it."
Um—Who came up with this line? Is it supposed to be funny? Am I supposed to feel bad for you?
To be honest, it seems like you're using Tinder to air an odd grievance against your ex. To be even more real, I'm starting to think your ex had a point.
The Don Juan
If he talks about how good he is in bed or how well-endowed he is, I can save you some time and tell you he definitely isn't. But if you give him your number, he is going to send you a dick pic.
The Guy Who's "Getting a Divorce"
Spoiler alert: he's married. And not patient enough to wait until he's not married to look for a date.
Image: Shingi Rice  / Unsplash
The Hottest Players In The 2018 World Cup
Let's just come right out and admit it. What we know about soccer can be summed up with "David Beckham". And if you thought 2018 couldn't get any worse with Trump, it turns out the U.S. has to face the worldwide humiliation of not making it into this year's World Cup competition for the first time since 1986. The U.S. women's national team, on the other hand, has three World Cup titles under its belt—though they are paid a lot less, but that's a conversation for another time. On a lighter note, the World Cup gives us the opportunity to search for the next generation of soccer hotties. And a convenient side-effect is that you can sound like you know what you're talking about while traveling abroad or impressing guys who are into soccer (and obnoxiously call it "football" even though they studied abroad one time in Barcelona for three months, six years ago). Here's a cheat sheet of the hottest players in the 2018 World Cup to get you started.
Olivier Giroud, 
France
Giroud is the striker for the French National team. He has modeled just as much as he has played soccer. Giroud has been featured on the covers of Tetu and GQ, and the 6'4" 27-year-old endorses Hugo Boss and Puma. Oui oui, j'aime Olivier.
Gerard Pique, Spain
So what if he's married to Shakira…
Asmir Begovic, Bosnia and Herzegovina
We couldn't locate Bosnia or Herzegovina on a map if our lives depended on it, but now we have a valid reason to do some research. Begovic is a 6'6" 28-year-old goalkeeper playing for the Bosnian National Team. On top of being gorgeous, he can speak four languages: English, French, Bosnian, and German. If that isn't sexy, I don't know what is.
Mats Hummels, Germany 
Basically, the best thing that's come out of Germany since beer. 
Yaya Touré, Ivory Coast
Yaya Touré is a midfielder and devoted captain for the Ivory Coast National team, exemplified by his impressive build. He recently led the Ivory Coast National Team to victory in the 2015 African Cup of Nations. He's extremely humble and charitable, shown by his major involvement in many philanthropic organizations in West Africa.
James Rodriguez, Colombia
Rodriguez is a 24-year-old striker for the Colombian National team. In the 2014 World Cup, he emerged as the top scorer of the entire South American continent. One of his goals was even awarded the best goal of the entire tournament. Rodriguez is a family man who's been married since 2010 (sighs) and endorses Adidas and Rexona, among other brands.
Sergio Ramos, Spain
Sergio Ramos represents the Spain National Team in the World Cup. He is the proud captain of Real Madrid FC. His devotion to his career has resulted in a faultless six-pack, which I believe we can all agree to be a positive side effect.
Cristiano Ronaldo, Portugal
This guy needs no introduction at all. If you don't know who Cristiano Ronaldo is, you just may have been living under a rock. His dedication to his performance has resulted in his beautiful physique, and Ronaldo has been topping lists of sexiest soccer players since day one.
Images: oliviergiroud_love, 3gerardpique, asmirbegovicfans, aussenrist15, yayatoureofficial, jamesrodriguez10, sergioramos, cristiano / Instagram
3 Ways You're Scaring Guys Off Without Realizing
The annoying thing about dating advice, generally speaking, is that it tends to be 100% based on other peoples' opinions. And if you've ever engaged in polite conversation, you'll know that most peoples' opinions fucking suck. I've read countless times that showing up late and mentioning horoscopes is a guaranteed dealbreaker, but my Scorpio boyfriend (tragic, I know) was kind enough to overlook all that, and we've been thriving ever since. So, I'm not here to give advice on dating specifically, an activity at which everyone unabashedly sucks. Instead, I'm here to make sure you actually make it to the point where you can decide whether or not you want a second date, rather than taking yourself out of the running with a too-soon friend request or some other amateur bullshit. Here are three ways you're scaring guys off before you get a chance to reject them yourself. Take notes.
Overusing Social Media
Social media is tricky. You need a distraction from the all-consuming task of not triple-texting, so you decide to post an Instagram story that happens to highlight your breasts and/or totally raging social life. And which you then go on to update every 30 minutes. Totally harmless right? Wrong. If triple-texting is unattractive because it looks like you're too into him, non-stop social media is unattractive because it looks like you're way too into your phone/yourself. (Which like, you are, but let him find that out on his own.)
Social media stories typically fall into two acceptable categories. If they're actually interesting/entertaining (what the kids refer to as "quality content"), post away. Keep in mind that this typically requires you having an interesting job or life, such as interacting with celebrities. Just my two cents. If your stories fall more into the "day in the life but my hair looks good" category, you're going to really want to limit it to the highlights. ONE selfie er day. ONE meal pic every three days, and the sunlight better be hitting your avocado toast JUST right. You get the idea.
Guys watching a story you updated every two minutes aren't admiring your fun, cool life. They're picturing you standing in the middle of that scene with your eyeballs glued to your phone. More importantly, they're picturing dating you as an unpaid photographer gig with a side of watching you scroll through filters. (Again, this is accurate, but it's also a reality that men need to be phased into slowly. If they're aware of what's happening before it's too late to stop it, you're doing it wrong.)
You're not Kim K. You can't get away with this.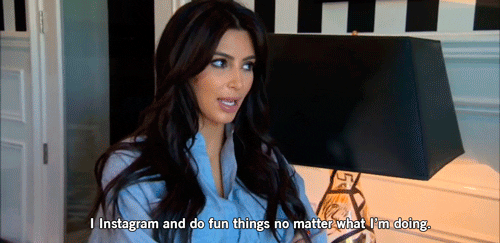 Planning Out Every Last Detail
On average, it takes me and my boyfriend maybe 60 texts to nail down a dinner date. I reject the first 15 restaurant suggestions, he suggests between seven and 12 different meeting points, I get preemptively snarky about his outfit, and the fun rolls on. Fine and good when you've tricked someone into you're in a committed relationship. Early on, though, anything above a single-digit number of texts to make a plan is going to be off-putting. This includes everything from the first "when should we get together" text to when you're actually, physically speaking. Which means you should leave room for one "I'm here" text when you arrive, and should absolutely not be texting "do you want me to get a table or meet at the bar? LMK!" once you do arrive.
Texting back and forth over every detail makes you seem like you can't make a decision without outside input, and runs the risk of exhausting him so much that the idea of meeting you in person no longer seems fun. This includes texts moving around the meet-up time, suggesting more than two locations (or including more than a five-word description of either one), or in any way reiterating the plans you've literally just made. (The boy can both scroll up and read, right? If not, get higher standards.) If you're taking the initiative to make the plan, actually make the plan. And if he's taking charge, either agree to something quickly or decide his suggestions all suck and just cancel altogether. Anything else will just breed irritation when your name pops up on their phone.
Your crush if you don't ease TF up: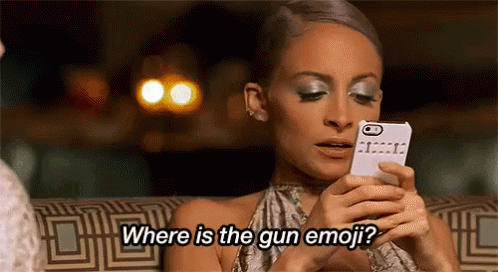 Taking The "Cool Girl" Thing Too Literally
Congratulations, you are a grown-ass woman. Everything in your life falls perfectly into place, seemingly without effort. You don't need this man's validation, and you won't be crushed if this date doesn't go well. You're down for anything that comes up, but you're just as down to walk away. You are the perfect embodiment of everything men are supposed to want women to be. Well—SURPRISE, BITCH! This is 2018, and perfect is no longer good enough. While I maintain that the above is a great attitude to hold internally, there are two glaring issues. One, this is true for exactly no one; you likely try very hard for everything you've achieved, and care at least a little, and hiding that is dumb. Two, it leaves very little room for you to make a meaningful connection. If someone's going to get to know you, you have to show some vulnerability.
That means you can't just be "fine with whatever" when it comes to spending the night, going out again, or picking your first vacation spot. You have to be honest about what you want, even if that means maybe not getting it. While being the Cool Girl might keep a guy interested in chasing you for a decently long time, maintaining the Cool Girl virtually guarantees that he'll never be actually interested in dating you. In fact, he has no idea who the fuck you are beyond a girl who answers his texts less quickly than his other matches, and is therefore intriguing. Somewhere, some bitch who probably has an adorable Southern accent will outplay you by answering his texts just as slowly but then confessing that she's getting attached on date three with a giggle that makes him feel like a Big Special Man. It's all about balance.
This is where being a Cool Girl gets you. Covered in blood and hugging Ben "I specialize in on- and off-screen adultery" Affleck. Don't be the Cool Girl, ladies!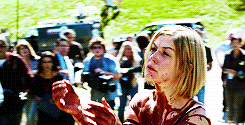 Once you're on the actual date, everyone has a million highly specific preferences for what person they want you to be. (You do too, don't lie.) But with these tips, you'll hopefully at least make it on the date before you fuck it up. Good luck out there!
Images: Giphy (3)
What His Underwear Says About Him
When it comes to men's underwear, I kind of thought everyone agreed: it's something you don't pay much attention to unless there's something wrong. And when you notice it for a good reason, it's typically less of a "wow, that's some breathable cotton" and more of a, "I didn't realize how good this person looks barely clothed" thing (see: Justin Bieber's Calvin Klein ad). That being said, my boyfriend approached this topic with a rabid amount of enthusiasm for someone who once held up a pair of baby-pink underwear and said "these started out navy" who's not particularly into fashion, and he quickly affirmed that what a guy's underwear says about him does matter. So, since he's been in "like, a million locker rooms," and has "seen some shit," I'll be peppering in his feedback below. Read on to find out what the underwear he wears to your hookup says about him.
Boxers
You're familiar with boxers; you saw them on every guy you hooked up with in high school, and now you probably sleep in them. As suggested by the previous sentence, guys regularly rocking boxer shorts are pretty immature and definitely haven't taken the time to upgrade their wardrobe to what an adult should be wearing. After all, boxers are too loose/bulky to be worn with pants that actually fit, so this is either a guy who wears shorts year-round or still thinks oversized jeans are "a look." Also, I'll go ahead and assume this guy isn't particularly athletic, since boxers offer exactly zero support; they're useless for exercise; and they do equally little for showing off a guy's bod. In other words, he's either not working with anything he wants to showcase or, yet again, he has no effing idea how to dress himself. Save yourself the Oedipus complex and move on.

Tighty Whities
I refuse to spend too much time on tighty whities because you, as a reader, deserve better than that. Assuming that we're working with old-school resembles-a-diaper tighty whities (which is the last time I heard anyone really use this term) and not just a white version of well-made briefs, everything that is true of boxers is true of tighty whities times one thousand. Long story short: any guy who wears this underwear knowing that he might have sex with you doesn't respect you, and his mom still buys his underwear.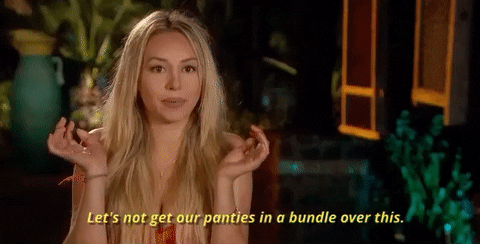 Briefs
I don't think I fully grasped the difference between briefs and boxer briefs before today, and damn. Briefs are… brief, as in the smallest possible amount of fabric while still covering someone's ass and genitals. They are also skin-tight, an underwear feature my boyfriend says is chosen for one of two reasons: "tiny dick" or "big dick." A website called "The Underwear Expert" confirms that "many are engineered to enhance the package." Whether a guy is using briefs as the equivalent of a push-up bra, or just wishes he could tattoo WELL-ENDOWED MAN on his forehead, this guy is likely vain in all the wrong ways and least likely to care if you have an orgasm. He's also the most likely to skip leg day, and spray cologne on his dick "for the ladies." Obviously, if he looks as hot in them as he thinks he does, you can let this slide.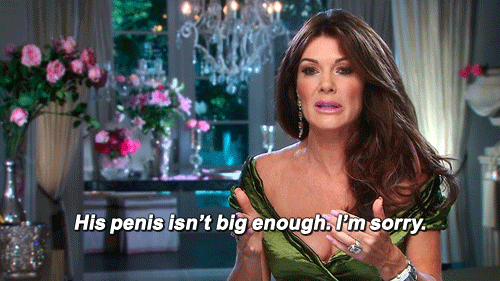 Boxer Briefs
Boxer briefs are like the buttoned-up aunt of regular briefs—they're longer (usually covering half the thigh) and a little more forgiving without any of boxers' "flowing in the wind with a giant hole in front" nonsense. TBH, guys wearing boxer briefs raise relatively few red flags: they're a grown-up alternative to boxers, they're tight enough to show off a nice ass, and they're both flattering and low-key enough to draw a nice line between "he didn't think about his underwear choice at all" and "he thought about his underwear choice way too much." Since these can err on the side of being a bit reserved/boring, boxer brief guy probably isn't the most adventurous (sexually or otherwise) and probably ordered 20 of the same boxer briefs on Amazon the same weekend that he threw out all his boxers.

Trunks
I've saved the best for last here, but fair warning for anyone getting riled by boxer brief description: if you thought I was way off, you were probably actually picturing trunks. Trunks are a hybrid between briefs and boxer briefs, meaning they cover one-third of the thigh instead of half, and I don't know how guys buy anything else once they know these exist. If guys need a foot and a half of underwear to cover them while playing sports, fine. When they're showing up for sex, they should step up and flash a little leg, which is not a huge ask given that "sexy underwear" for women covers between zero and ten percent of your ass. Trunks mean he actually tried more than one type of underwear before considering himself stocked for life, and he's decently aware of what he looks good in. Get yourself a guy who wears trunks.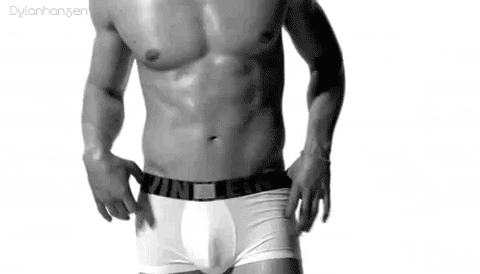 Not happy with how your fuckboy stacked up in the above assessment? Good news: Valentine's Day is coming up, and there's no better way to say "I'm only in this for the sex" than the gift of underwear. Don't believe me? You're more than welcome to check out the parade of fuckboys blowing cash at Victoria's Secret on February 13th for yourself.
Images: Shutterstock; Giphy (5)
Myths About Playing Hard To Get That Are Sabotaging Your Dating Life
Playing "hard to get" has always confused me as a dating concept. First of all, you do this most effectively when you're actually uninterested—which, beyond being straight-up annoying, leads to you being text-bombed by guys you'd rather forget meeting because they think your silence is part of some elaborate game. Second of all, dumb as it is, playing hard to get remains effective, aka why the guys you fully ignore are sending you those declarations of love. And be honest: even a meh date can start seeming like the One Who Got Away when you don't hear from him a week out (after all, if he has better options than you, that's kind of impressive). You know the basics (wait to text back, say no to the first offered plan, reference your teeming social life), but I'm here to offer you some advice on how to play hard to get like a betch: minimum fucks given, maximum reward.
Don't Actually Make Yourself Busier
"Get out of the house" is a frequent staple of "playing hard to get" advice, and I am here to put a stop to it. I don't know who first came up with the idea that lying to boys about how busy you are should interrupt your napping schedule, but I see no correlation between the number of days you leave him on read and what you do with the rest of your time. The sneaky underlying theory here is that if you force yourself out of the house you'll actually distract yourself from waiting for him to text and become a de facto more interesting/less available person, but I'm calling bullshit. If you can flake on plans with your friends without picking up a bi-weekly knitting class, then you can certainly ignore Jake from Hinge for the same amount of effort. If you eventually feel the need to account for your whereabouts, the key is to just exaggerate existing activities (e.g. that jog you went on three months ago = training for a half-marathon), but this is a totally different game from hard to get. You don't have to be busy to ignore someone, and it's actually more of a power play if you're not.

Don't Story Your Whole Life
On that note, stop video-documenting every second you spend outside of your bed and obsessively posting it to Instagram/Snapchat. If you're casually texting a bunch of guys and just generally entertaining your audience of fans, then fine—but if there's one guy you're posting for, you'll spend your whole day/night checking to see if he watched it yet and getting progressively more tempted to contact him. You'll also probably seem unbearably thirsty in the story to begin with. Not creating a video diary of your life goes along with the pointer about not making plans—the more real effort you're putting in, the less likely this strategy is going well for you. And not to put too fine a point on it, but if you're Snapchatting from yet another "Wine Wednesday" with the girls, then the guy you're into may or may not pick up that you're a cool, independent lady; what he'll definitely pick up is that you're not out with another guy.

Don't Make Him Jealous/Be A Dick
If you are out with another guy, or guy friends, or a bar where men are also in attendance, you may be tempted to post a few casual jealousy-inspiring pictures. Before you do this, keep in mind that there are limited good outcomes, and you're probably too drunk to toe the line between "obviously staged" and "oh I guess she's dating someone else." If it looks evident that you're hanging out with some guy just so you can have a video of it (AKA filming him when he's not looking, repeatedly yelling "Justin smile!!!" so he looks up, etc.), any guy you've been flirting with is going to be immediately suspicious and probably turned off. And if you post an overly romantic Snap of your guy friend at dinner and immediately get a text, the guy texting you is bad news and you are in for a brief yet terrible time with him. Basic rule of thumb: Don't post for jealousy unless there's actually something to be jealous about, and don't purposely try to hurt people's feelings and then text them asking them out the next day. That's emotional whiplash, not "hard to get," and it will only make guys accurately think that dating you is a stressful and confusing experience.

It's a totally natural urge to not want to overwhelm a new crush by texting him all hours of the day, but living a double life so he finds you cool and interesting while never hanging out with you isn't great either. The whole idea is that he's unsure that you like him enough to make time for him yet—not that you're so busy that you physically can't reach your phone to text him. So chill out, set timers that remind you "DON'T TEXT" if need be, and remember that you are actually hard to get 99% of the time for 99% of the population; it's just easy to forget that when you're excited about a new guy, and you don't need to do anything more than act like your normal icy self.
Get more honest af dating advice like this in our second book, I Had A Nice Time And Other Lies.
What His Choice Of First Date Activity Says About The Kind Of Fuckboy He Is
It's 2017, and we live in a relentless era of fuckboys. Thanks to a society that lets men feel like they rule the world (Google: The Patriarchy), guys generally suck. Dating is a minefield of trying to avoid the worst of them, and this has all been put on steroids by the prevalence of social media. Now, there are entire websites dedicated to the worst in fuckboy pre-date behavior (@byefelipe), but what about when an IRL meet up is already scheduled? It's important to keep your guard up from the first moment, and analyzing his first date choice is a crucial part of this. Like, don't assume everything is all good just because he didn't send you an unsolicited photo of his erect penis. That is not the standard of good behavior we want to promote. It's not even the bare minimum. It's like always shitting in a toilet, as opposed to a hole you dig in the ground—just expected as a productive member of society. Here's how you can tell what kind of fuckboy you have on your hands based off that very first date.
Fancy Cocktails: The Wall Street Fuckboy
He's got a great job, so you might want to keep him around for a while. Just beware that along with the job, he probably also two other girlfriends who won't be afraid to get territorial. Conversely, he'll def get jealous and think you're "flirting with the waiter" wherever you go because he figures you're always on the prowl for a hookup, just like he is. Get him to buy you some nice shit, but don't get too involved, because he knows how to play the game just as well as you and def has one of those rich guy inferiority complexes you read about in Gossip Girl.

Tailgate/Sporting Event: The Frat Fuckboy
No matter his age, he will show up wearing a frocket tee or a polo, and you will hate every minute of it. Quit acting like a chill girl and demand better for yourself. Sorry fellas, but if we have to drink out of a fucking red solo cup on a first date, that's going to be the last date. Ever. Dating is cancelled. And unless we're sitting courtside at an NBA game, we don't want to watch sports with you.

Bowling Alley: The Fuckboy Who Lives At Home
If your Uber pulls up at a fucking bowling alley, run like the last Lululemon store in the world is having a clearance sale. He absolutely still lives with his parents, maybe even by choice, which makes it even weirder. As a semi-functioning adult with your life semi-together, you have absolutely no time for date ideas that are just repurposed from the birthday parties you attended in second grade. (Also includes: mini golf, ceramics painting, etc.) Also, he's probably sober, and not for a good reason like, "suffering from alcoholism," but for a stupid reason like "I wouldn't want to disappoint my mom."

Live Music Club: The Hipster Fuckboy
He might not seem intimidating at first, but the hipster fuckboy will constantly judge you for not knowing about rando "jam bands" and not being a vegan. Sorry dudes, but we'd rather eat meat and dairy than hang around to "hear music" until 3am. You guys will barely be able to talk at all because of all the noise pollution around you, and that's probably a good thing because this fuckboy has very little to offer outside a good IPA recommendation.

Casual Hangout: The Fuckbuddy Fuckboy
If you are going to his house for the "first date," then call Ashton Kutcher because you've been punk'd. This is not a date, it's a glorified booty call that he felt too awkward to be honest about. Even if he seems cool, he's obviously not interested in anything serious. That's not necessarily a problem, but don't lie to yourself. Being delusional went out of style in like, 2013.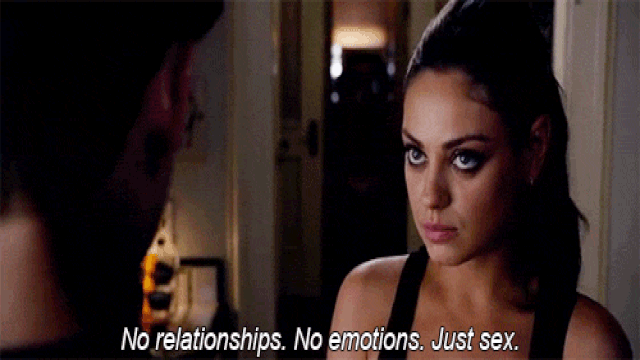 Dive Bar: The Has-Been Fuckboy
This man may be 24-30 years old, but mentally he's still stuck in college. He could clearly afford to take you someplace nice (or at least someplace without sports memorabilia on the walls), but instead he chose this. He probably still drinks shitty beer because it makes him feel young. You know what your future will look like, and this is not it.

The Movies: The Antisocial Fuckboy
We like going to the movies as much as the next person, but why pay $11 to not talk to someone for two hours when you could just stay in bed and do a face mask? You deserve a man who can hold a decent conversation, so seeing a movie before the third date is a major red flag.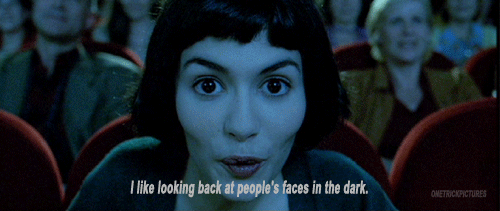 Coffee: The Cheap Fuckboy
If a guy suggests coffee as a first date, just cancel immediately. Is this dude Mr. Krabs? The difference between a cup of coffee and a beer is like, $4. This guy thinks he's being casual by setting up a coffee date, when it's obvious he just doesn't want to "invest" in you so early on by buying you a cocktail like a goddamn adult. If you go out with this fuckboy and don't put out or agree to a second date, he'll probably send you a formal invoice for the vodka soda he bought you. Sure, it will be fun to roast him in your group chat, but it's going to come at a price. Literally. Not to mention, anyone who drinks coffee after like, 5pm is a psycho. You don't have to date the poor; you can just donate to Unicef or something.

Nice Restaurant: The Too-Good-To-Be-True Fuckboy
You know what they say: if something seems too good to be true, it usually is. But you can at least let it buy you dinner first before you find out? If a man offers to take you to a restaurant with 3 or more dollar signs on Yelp, make sure you show up with a pointed list of questions designed to show his flaws. Whether it's chronic bad breath or he's got bodies hidden in his freezer, you need to get to the bottom of these things.

What kind of fuckboy should you date based on your horoscope? Find out here!
What a Guy's Halloween Costume Says About How Much Of A Fuckboy He Is
You know how some people say they can judge a guy based on how he treats waiters? Or how he acts around the elderly? Well, we prefer to judge guys based on how they show up on Halloween. While a girl can spend weeks putting together the final touches on her Wonder Woman corset, guys usually think of their costumes 10 minutes before the pregame, or they just don't dress up at all. You'd think it wouldn't be that hard for a guy to put on a decent costume that doesn't scream "I'm a tool," but for some reason, so many miss the mark. Here's what a guy's costume says about him, just so you know what you're waking up next to on November 1st.
The Full-On Mascot Suit
Oh god. The full suit. This is your typical "Who would actually buy that?" costume, including but not limited to: the banana, the M&M, the Angry Bird, the Ninja Turtle, the Pikachu, the hotdog, and that goddamn yellow minion. Cringe. Costumes like these are so alarming, and it probably means this guy is an immature freak who is likely to take your relationship too seriously. Like, he's trying too hard to be funny, and he definitely looked you up on Facebook when he went to the bathroom. He's a creep. Just like any costumed adult you would avoid in Times Square, avoid this guy too. However, I do want a copy of the receipt to laugh at how much this guy spent at Party City. I just really need to know.

The Donald Trump Costume
If you show up in a Donald Trump costume on Halloween, I'd like to sit you down privately and ask you how exactly you thought this would go over. Trump won the election a year ago, and the joke hasn't suddenly gotten funnier since Halloween 12 months ago. I mean, at least at that time no one knew he would win yet. Also, what is your goal here? Because if it's to hook up, then you're sorely mistaken. Do you really think a girl would look at your costume and think like, "OMG Donald Trump, how cute and funny! I think I'll go home with that guy." Nope. At least in a Hillary costume you could potentially get with a drunk feminist and call it a night. The Trump costume is a huge red flag for sooo many reasons. Next.
The Jersey & Jeans
This costume honestly takes no effort whatsoever, but we kinda respect a guy who throws on a basketball jersey five seconds before he leaves the house. Hear us out. It shows that he's chill and mature enough not to give a fuck about Halloween, but also realizes that he needs to do something to commemorate the holiday. Plus, every guy just looks good in a jersey and jeans. It's a fact. Like, this guy is simple, to the point, and mature enough to not make a fool out of himself. He's already lived in Murray Hill and he's over it. This is the type of guy who wants to order wine at dinner and knows exactly what bottle he wants. Plus, he'll probably take you to a Knicks game. He's a keeper.

The Very Creative Pun
Pun costumes are those ones that make you take a second to think about it, and then say, "OH I get it, but like… why." We're referring to the "Cereal Killer" dressed in a Frosted Flakes shirt with a water gun. Or the "Starbucks" with gold stars and money signs painted on a Hanes V-neck. These stories are real and they're tragic, and so is this guy. I mean, you might be impressed that he went to Yale or that he reads a lot, but like, this guy put way too much thought into this costume and he's either a legit weirdo or he's missing a screw. Most likely both.
The Firefighter/ Military/ Policeman Variation
This is a tough one, because it depends on how much commitment this guy has put into this costume. Like, if he's just wearing aviators and a police hat with a normal outfit, this guy probably has his shit together and we can get on board. On the other hand, if it's obvious that the guy ordered a full-on firefighter suit online three weeks ago, this kid has to get his priorities straight. Plus, he probably thinks he looks legitimately sexy in his too-short camo shorts, when he just looks like a 14-year-old boy dressing up as Magic Mike. This is probably the guy who enjoys group chats and still refers to his 2007 AEPi mixers as his "glory days." Send help.

The T-Shirt That Says "This is My Costume"
Ugh, my heart goes out to the guys who find this T-shirt in Target and think it would be a clever, no-fuss Halloween costume. I mean, this guy is obviously lost and has no sisters, but he actually might not be such a bad guy. This is one of those guys who has potential to be legit boyfriend material, but you'd just have to take his AmEx to purchase him a new wardrobe and a few necessary Kiehl's products. This is the kid who was nerdy in high school, but he's honestly kinda hot now and probably cleans his socks off the floor without being asked. Don't give up on him just yet. But also don't go home with him. I mean, have you seen his shirt? It's not his night.
6 Places To Have Sex This Summer That Won't Get Sand In Your Vag
Summertimmmme, and the girls are easy… that's how that goes, right? For real though, I'm not sure what it is about summer that makes me want to dry hump on every possible outdoor surface, but I can't help it. Maybe it's because I'm too fucking lazy sweaty to do anything that constitutes as real exercise, or maybe it's because the vacation mentality of traveling to an unknown location and not running into every toolbag from college at the bar arouses me. Idk. Most of our sexual summer fantasies date all the way back to the fuckboy era of Danny Zuko when he sang about devirginizing poor Sandy with entire summer of boring missionary sex on the beach. Yeah, real fucking original, guys. Taking your sex life outside the bedroom and onto sandy shores may 'stimulate your senses' or whatever, but it'll also stimulate mad frizz hair. Also chafing hurts like a bitch and it's just not cute. I'm not saying you need to aim as high as like, the fucking Grand Canyon, but here are 6 other places to do the deed this summer that won't have you peeing out sand three weeks later.
On A Hike
Let's get one thing straight: Betches are nature girls by heart. Meaning that we can make any Northface product look decent with the right makeover, and we always know that under-tree lighting is bad for our complexion. We're also natural-born sexual deviants, so honestly, having sex in the woods is not rocket science. Rabbits fornicate like… well, rabbits, and they're the dumbest fucking creatures, so you should have no problem getting away with this. So, ok I already know what you're thinking. Exercise = sweat, but don't worry. We don't mean you should actually hike. We mean you should Instagram hike, which just means walking until you find an ideal location and stopping immediately. Just be sure to remove as little clothing as possible. If you get caught you can always the "Omg I swear I felt a bug crawl in there" excuse.

At The Park
If forest fornication isn't exactly your thing, try your local park. It's more human-friendly and you won't have to question whether or not his sack just rubbed against poison oak. Parks are also equipped with more than enough props to spruce up your sex life. Benches and slides and swings, oh my! My only suggestion would be to at least keep it in your pants til sundown, because hi, respect the children. Now that I think about it, also make sure to clean up after yourself. This is not a fucking Holiday Inn.

On A Balcony
If he lives in the city (or god forbid his parents' home) and he uses the balcony as a place to kick it with his boys after poker night and not for a breezy bang, he's gay doing it wrong. What better summer soundtrack than incessant sirens and road rage to get your blood boiling on a warm summer night? Really though, the balcony is like the best of both worlds because it's public without being public property. And if it really sucks that bad, you still have a whole mess of safer options to choose from inside. Sort of like my lineup of Bumble rejects.

In A Car
Before you start bitching about my unoriginality with this one, sit down and hear me out. It's called a convertible. The late Rose once told Jack Dawson to "take her to the stars" just before partaking in crammed love-making in a dusty old car, but you're so much better than that. Nothing says romance like copping a feel under your mini-skirt while pretending like you actually care where the Big Dipper is. A convertible is a nice touch to car sex because you have so much more room for activity, and can experiment with more positions without pulling a seatbelt buckle out of your ass every 5 min.

On A Canoe
On second thought, this is a fucking terrible idea. Don't do this.

On A Boat
Unlike making one sudden movement on a canoe and ending up drenched (not the good kind) from head to toe, rent a boat to take out on the lake or harbor. It's much more secluded and thankfully, you have the motion of the ocean to guide you. Just make sure you're with someone you actually want to have sex with because if it sucks, you're stuck pretending to enjoy his company because it's like, frowned upon to throw his ass overboard or whatever.

On A Golf Course
Guys are genetically programmed to at least pretend like they like playing golf without falling asleep, and fucking duh on the sex part, so sex on a golf course is like a guaranteed hole in one (so much pun intended). A golf course is the perfect place to fork it out because, for one, they're never lit at night, and also Bingo ends around 7 at the country club, so your chances of getting caught are slim to none. Plus, have you ever tried out running a golf cart? It's easier than my best friend on spring break. Security can suck it.