What Guys Think About Bathing Suits
Ever since some nerd made it illegal to swim naked because he couldn't get a tan, people have been forced to suit up before hitting the beach. So until some brave soul takes it to the Supreme Court and fights the good fight, we're stuck with swimsuits. Fortunately, visionaries have been locked in a lab for decades researching the best ways to show some skin without breaking the law. Unfortunately, some of these creations are so hideous that they should be locked in a sunless basement along with their swag-less creators. But some of them are God's gift to mankind. So I'm here to tell you what guys think about bathing suits. If you disagree, it just proves that men don't know anything about fashion.
The Stomach Cut-Out
Let's all stop and take a moment appreciate how impressively awful this is. It looks like someone got blackout drunk and tried to make a one-piece out of their grandma's favorite couch but ran out of material. As if the awkward stomach cut-out wasn't bad enough, it also ties in the front. WHY? The only thing the front tie does is make it look like you have shoelaces hanging between your boobs. Unforgivable. But worst of all, this disaster is guaranteed to leave you with the least sexy tan lines of all time. Nobody wants to walk around naked looking like a modern art mess. Miss me with this.

Victoria's Secret keyhole front-tie one piece
The Bandeau
First of all, you can't go wrong with the classic bikini bottom. It's the mimosa of bathing suits: if you don't like it, you're an asshole and should kindly leave brunch. The top is also good, especially if you go with a brighter color, because it fulfills every guy's childhood fantasy of having a shot with The Little Mermaid. Just me, then?

Victoria's Secret ruched front bandeau
High Waisted
The top is great. We don't need to talk about the top. The bottom, though? Let's talk about the bottom. The bottom looks like it tried to reach the top, got half way and said "fuck it, it's nap time." Yeah, I know high-waisted bottoms have been a trend for a while, and I've been sitting on that joke for years. It's not so much the high waist in particular, it's the fact that the bottoms are just high waisted enough to cover half the belly button—why? A belly button is like a bank heist, you gotta be all in or all out.

Victoria's Secret embroidered strappy high-waist bikini
This Kind That Looks Like A Bra
Every guy likes seeing a girl in a bra. It's the second best thing besides seeing a girl out of a bra, and this style plays it up perfectly. It's classy, it's fun, and by blurring the line between bra and bathing suit, it makes the guy think he's seeing more than he actually is. Which is always a win, because who wants to do more than you have to?

 Victoria's Secret strappy side scoop push-up
Triangle Bikini
A timeless classic. Sexy. Simple. Stylish. And unlike the latest iPhone, it's not desperately trying to add features no one asked for or gives a damn about. No frills, hoops, bangles, dangles, or zippers in sight. Save that shit for a handbag. Every strap has a place and a purpose. 10/10. The best use of shapes I've seen since kindergarten.

The Funny/Ironic One-Piece
Ah, the ironic one-piece. It's cute if you're wearing it for a reason, like a sorority formal, a bachelorette party, or a court-mandated hearing, but if you're casually wearing this at a rooftop pool, it screams "Please follow me on IG before I wash down another Xanax with Smirnoff!" Would Baywatch still be iconic if Pamela Anderson jogged down the beach with "PERF" stamped on her chest? Maybe… I'm honestly surprised they didn't do that in the remake, but hey, there's always hope for the sequel. Point is, if you're gonna rock a one-piece, stick with a solid color or a print, otherwise you're just wearing the female equivalent of a "sun's out, guns out" bro tank. Jaeger bombs, anyone?

Private Party Champagne Campaign swimsuit
Images: Victoria's Secret (4); J. Crew; Private Party
What Guys Think About What You Order On A First Date
Head Pro would love to take you out for tacos, or at least to a place that sells tacos along with booze. Email him at [email protected], and follow him on Twitter/Insta at @betchesheadpro.
I don't know if you were aware of this, but the totality of your time here on Earth is spent interacting with other humans in ways designed to pluck at your deepest insecurities. Nowhere is this more true than in dating. All of a sudden, when the prospect of mutual coed nudity becomes even a distant possibility, it becomes even more unnerving. What do you wear? What body parts do you shave? What do I order on the first date?
Wait, what's that? Oh, hell yeah baby. The dead plants and animals you put in your mouth that will one day pass out your backside are (or can be, at least) the subject of scrutiny. Now, I believe that somewhere on this internet site, I'm on the record as saying that dinner is a bad idea for a first date, and I stand by that—happy hour, a few drinks, and decide on the rest from there. I'll also go on record, right now, and say that any guy who actually says anything about what you eat on a first (or any) date is an asshole not worth your time.
But: People do still do dinner as a first date, and when you go to dinner, the person across the table from you is going to have some kind of opinion on what's set in front of you. Not, like, a STRONG opinion, but an opinion all the same. Do with this information what you will, but here's what a guy might be thinking based on what you order on your first date.
1. Salad
This probably comes as no surprise, but ordering a salad on a first date is cliché and try-hard. Now, if you're clearly a very skinny person, or just in California where salad is all you're legally allowed to eat, that's one thing. But otherwise salads are a little messy, difficult to eat while holding a conversation, and all you're conveying is that you're someone who's incapable of being your real self when it's most beneficial. You'll get kale stuck in your teeth, and I won't tell you about it.
2. Wings
Oops, still try-hard, just in the other direction. Since everything you read tells you to not eat anything messy on a first date, the girl who orders wings is deliberately ordering something messy to show that she's a cool girl who's not like other girls. Yawn. I like sticking it to The Man (and wings) as much as anything, but your performative wing-eating is annoying. Plus wings aren't even a real meal.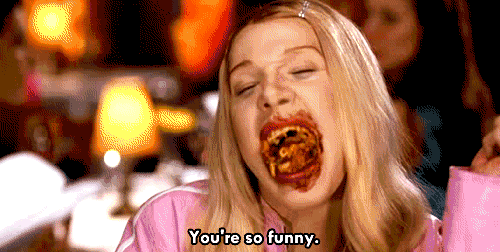 3. Just Booze
I will GLADLY eat while you just sit there drinking, but I'll also stop feigning concern for your numerous childhood issues the moment I tie a knot in the condom and drop it in your bathroom trash.
4. Pasta
I mean, pasta's alright if we're actually at an Italian restaurant I guess. But otherwise, like, what kind of adult orders chicken Alfredo at a restaurant? This isn't your college dining hall. If you're choosing pasta over everything else on the menu, I've either taken you to a shitty restaurant or you're boring as hell. One of those things is way more likely than the other.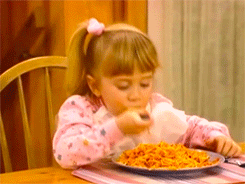 5. Some Expensive Shit
Look, even if you're not pulling some "girl's gotta eat" shit, ordering the most expensive thing on the menu makes you a sucker—it's almost never worth it. That's especially true of a first date, when no non-idiot is going to take you to the most expensive place in town. Ordering the porterhouse at an otherwise laid-back place isn't clever or betchy, it's tacky. And not just because I'm paying for it (but it doesn't hurt!).
6. A Burger
A burger's a pretty good choice, because it's hard to find fault with them. I guess the only thing I would worry about is if it's a place that serves those giant half pound pub-style burgers. I personally avoid them because if I want to keep drinking afterward or do anything physical (talking about fucking), I don't want all that cow weighing me down. If you go for it anyway, all I'm thinking is that sometime soon, you're gonna spend a lot of time on the toilet.

7. Tacos
Honestly, I got nothing. They're not overly messy or heavy, and don't say anything other than that you like things that are good. There you have it: Tacos are the perfect first date food. And if you only go out with people who are cool with eating tacos for dinner, well, that's a pretty good way to go through life.
Head Pro would love to take you out for tacos, or at least to a place that sells tacos along with booze. Email him at [email protected], and follow him on twitter/Insta at @betchesheadpro.
What Guys Think Of The 5 Summer Trends You're Obsessed With
We can all agree that men know nothing about fashion, food, travel, or truly anything. Let's be clear, I am a man—a super gay man, yes—but I know about straight guy stuff because I unfortunately know many of them. Even grew up with several.
Recently I overheard a straight guy named Randy (I can't even) say "Huh, that look cool," in regards to a woman's flawless ombre that she most definitely paid millions for, as he tucked his football back into his pants and grunted about classic rock. I looked at the floor shaking my head, my own freshly dyed faux-gray hair falling into my eyes. Most men simply don't get it, and yet their opinions are considered "important," what with them essentially ruining running our entire government and making decisions for us and all that fun stuff. It's insane bullshit, but until the day we completely dismantle the patriarchy it's important to take time to see things from everyone's point of view. Or so I am told by straight white men.
I spent many years pretending I was a straight man, acting indifferent towards any and all fashion trends so people wouldn't find out my secrets of being gay and also fashionable, because society drives it into our heads that those things go hand in hand and that we shouldn't express them. Which is why I asked some aforementioned straight men what they thought about the hottest summer trends. Here's what they had to say:
1. Denim Skirts
Let's begin by talking about the elephant in the room. Summer is approaching more rapidly than global warming can destroy us, and denim skirts are coming back faster than Beyoncé's body after she had Blue Ivy.
Personally, I fucking hate denim skirts. Nothing says "I shop mostly at strip malls upstate" like a denim skirt. Even the high fashion ones you can get for hundreds of dollars in Soho look like they could be Faded Glory by Walmart. The opinion of the straight male, however, seems to skew very different. Straight guys love denim skirts. They live for them, in fact. You want the attention of a fuckboy? Slap on a denim skirt from Forever 21, a little mascara and a band T-shirt you've never actually listened to/cared about and the fuckboys will come crawling out of the woodwork like pretentious termites. Take Sean from Maine, for example, who said, "Denim skirts are okay. They're pretty hot I guess. Like, in the summer I like them." I didn't have time to punch Sean from Maine in the face and also he is my brother's friend so instead I mentally clocked him as a fuckboy and moved on.

2. Starbucks' Unicorn Frappuccino
Speaking of things that are insane, let's discuss Starbucks' Unicorn Frappucino. It's only here for a very brief time and I think we all need to thank whatever God we pray to that they go away as fast as they came. They're literally all sugar and food coloring and Starbucks' baristas hate making them. If I was ever interested in a dude and he ordered a fucking Unicorn Frappucino, I would probably wait for it to come out and then throw it in his face. If a straight guy thinks it's cute or charming that you want a Unicorn Frappucino then he's an idiot, or very possibly a pedophile, and you should ghost him immediately—and I'll add we should all ghost the Unicorn Frappucino. To get a straight guy to comment on a Unicorn Frappucino they'd have to admit that they've had one, which would make them maybe seem gay to their friends at the gym, so you'll have to just trust me on this one.
3. Underboob
"What's underboob?" Dan, a bartender in Brooklyn asks while pretending to be stressed about making me a vodka martini. After showing him my go-to underboob picture from Kylie Jenner's Instagram, he changes his tune. "Ohh, yeah, yeah…I like that. I like underboob." So complex, the male species is.

So that brings me to underboob. Of course fucking sicko straight dudes love underboob, but the thing is…so do I?!? If it's done tastefully it can be shocking and exciting and even high fashion. Celebs everywhere are doing it, from Lady Gaga to Gigi Hadid. Women have been showing top boob for centuries, and side boob for the last three years or so, so why not show off the bottom? It exudes confidence and when I see it I automatically think that the woman showing it off is not to be messed with. I mean, Beyoncé and Nicki Minaj have been doing it for years, so it's truly insane that it's taken this long to really catch on. Plus, now you can show off that tattoo you got on your rib cage when you were 18 that you never want your mom to see.
4. Pink Eyeshadow
Hot. Pink. Eyeshadow. It was very popular at the Met Gala, with celebs from Jennifer Connelly to Selena Gomez sporting the attention-getter with no apologies. I'm very into it. I think it makes the eyes pop while sending a subtle message of "I'm confident and I'm better than you, which may be due in part to the Adderall I just railed," which is always the message I try to send. Straight men tend to shy away from a bold eye or a bold lip—or a bold personality, for that matter—but I'm here for it. My friend's boyfriend Ian said, "What's eyeshadow?" After I convinced him that knowing what eyeshadow is doesn't make him gay, he finally admitted that he knew what it was and also that he didn't like it. See? They're timid about very bold makeup choices as it may draw attention from other men and you may end up leaving them for someone more confident. Men and peacocks essentially think the same way.
5. Center Parts
Center-parted hair is back and sort of becoming classic, at least if Mariska Hargitay's hairstyle on this season of Law & Order: SVU is any indication. The center part has never really gone away, and with Kim K sporting one at the Met Gala last week, it's sure to be popular this summer. Center parts are…fine. My personal taste is a little…flashier…but if you're heading to the beach or to a house party and you don't have a lot of time to get ready, then yes, by all means go with the center part. Fuckboys love a center part because it's not too flashy and they think they're deep for being into a girl that looks high fashion. As I explain this article to a friend, her boyfriend who we'll call Straight Eric mentions he likes center parts because it makes girls seem seem smart and sophisticated. While I can't disagree, I am surprised he knows what the word sophisticated means.

To wrap up, I'd like to say that only one opinion matters and that's yours. Fashion trends wouldn't happen if someone wasn't the first person to slap on hot pink eyeshadow, or reveal underboob. Where would we as a society be without the brave trailblazer who thought "maybe I'll part my hair…but in the middle?!" There's no excuse for the Unicorn Frappucino, but hopefully this summer has some other fun food trends in store for us, preferably ones that won't give you immediate health issues related to high insulin levels.
The takeaway I hope you learn from this is all men are insecure and you should never change your makeup or wardrobe or anything about you at all based on their preference. (Unless they're like…Ralph Lauren. Then maybe listen to his fashion advice.)