The Keto Diet Might Be Bad For Your Heart, A New Study Finds
In a recent turn of events, science has found diets that favor the "cavemen" way of eating might not be the best health bet. What a shame, considering the Paleo and its stricter high-fat cousin, the Ketogenic diet, have both quickly risen the ranks to become two of today's trendiest diets.

A study published in July 2019 in the European Journal of Nutrition looked at the gut microbiome (the bacteria) of 90 subjects. Half of the subjects were on the Paleo diet, and the other half were the control group. The study followed these subjects for over a year, focusing on looking at the impacts of decreased resistant starch consumption on serum trimethylamine-N-oxide (TMAO, for short). TMAO is a by-product from our digestive system's breakdown of fatty foods, and elevated levels of TMAO have been associated with a higher risk for heart disease. The study also looked at the diet's impact on the abundance of gut bacteria.
The participants of the study were separated into control and experimental groups. The control group was required to make no changes to their diet for the year and practice a well-rounded diet that included dairy, grains, and legumes (the latter are restricted on the Paleo diet).  The experimental group was required to follow the Paleo diet, and consume no more than 1 serving a day of grains and dairy products. Because that's a pretty f*cking strict rule to stick to for a year, they ended up dividing participants into two groups, those who stuck to the rule (the die-hards) were under the Strict Paleo group (SP) and those who broke the rules were under the Pseudo Paleo group (PP). OOP! They pretty much called a whole group of them fake, and I am here for it.
So, anyway.
The study found that the TMAO levels in the Strict Paleo group were much higher, due to significantly higher levels of red meat consumption. Gut flora (microbiota) levels were also disrupted, with an abundance of the bacterium Hungatella. This bacterium is a producer of TMAO, so that makes sense… more TMAO producer, more TMAO. Two other bacteria, Roseburia and Bifidobacteria, were found to be significantly less abundant in the Paleo groups. These two strains are found to be abundant in subjects that consume starches. The authors of the study suggest that the lower overall fiber consumption levels in subjects that were in the Paleo groups and the lack of starches (that are necessary to help microbiota thrive) in the long-term may have negative implications on gut and heart health.
SIDENOTE: Now of course, just because the subjects in this study had low levels of fiber does not mean your BFF that is on the Paleo diet is also low in fiber because she/he/you could be getting your leafy greens in (a wise tactic on or off Paleo). But because this wasn't the case here, they don't have data on your guys' gut environment, sorry.

So then I, of course, did further research. Roseburia and Bifidobacteria are key bacteria that impact overall health of the host (us). In obese individuals, the levels of Bifidobacteria are reduced and disrupted levels of gut bacteria could be a factor in obesity. But I think the key takeaway from this article is less about demonizing the Paleo diet (so anyone on Paleo and Keto, don't come at me in the comments) and more about realizing that so many factors of our health, beyond the number on the scale or the pant size, are influenced by nutrition. By restricting your diet too much, or by completely ignoring a food group, you are also impacting certain biological systems and environments in our body.
My message here is this: Our body is an insane system that works together. The fact that a bacteria that lives in our digestive system to digest fat and protein can create a gaseous byproduct that can cause heart disease is just one of the many complicated engineering systems of our bodies. Like, how are you going to live in me and try to kill me? But it's a way of suggesting your body needs balance. So the fact that fad diet creators and followers have attempted time and again to reduce our entire system to sets of rules should warrant careful observation and monitoring of how your body and mind feels and functions on these diets. Be careful about cutting food groups out completely, be careful about any diets that push their own products on you, and do not only what makes you healthy but also happy.
Images: Giphy (2)
7 Tricks Celebrities Do To Make Their Stomachs Look Flat
People say the camera adds 10 pounds, but like, I'm convinced that only applies to when you open your iPhone camera and it's accidentally on selfie mode. Celebrities are known to have perfect bodies, and despite a few bad paparazzi shots of a hungover Amanda Bynes, I fully agree. I mean, I know they spend a lot of money on personal trainers and nutritionists, but I think we deserve to know some of the tricks they use to get their stomachs to look perfectly flat and feel amazing despite all the flying and drinking they do. After doing some thorough research on the topic, I'm ready to share. Here are some celebrities' favorite tummy hacks.
Jessica Alba: Probiotics
Jessica Alba is a client of celebrity nutritionist Kelly Leveque, and her clientele also includes Chelsea Handler and Emmy Rossum. This woman knows how to make women look great, and her trick is probiotics. In fact, Jessica Alba doesn't even diet or watch her calories, because she's mainly focused on eating in order to improve her gut health. Apparently your gut health helps regulate your hormones and control your weight, so by improving the microbiome in your gut, you'll slim down and feel great.
Kourtney Kardashian: Green Tea
As much as we love our coffee, green tea is having its moment right now, and the Kardashians are totally funding it. Kourtney Kardashian can probably write a book about her list of health hacks (Kris Jenner, great opportunity here), and we've already tried a few of them. The flat tummy hack she swears by right now is her daily green tea latte. She drinks it with honey and almond milk, and she says it makes her stomach feel and look its best.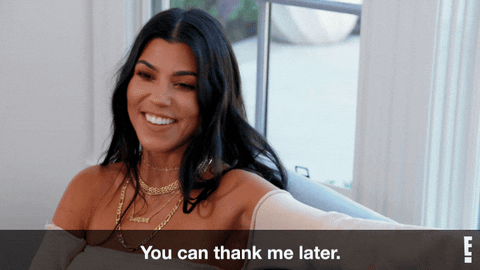 Meghan Markle: Water
An article recently came out about how Meghan Markle can take long flights all the time and still avoid bloating and puffiness. Important news right here. Anyway, it turns out she swears by her probiotic and drinking tons of water. She says this combo actually helps with jet lag and it prevents your body from bloating and even becoming constipated. Especially when flying at high altitudes, your stomach becomes filled with air, so loading up on water while traveling is a must. Start chugging.
Adriana Lima: Breakfast Smoothie
If you thought all Victoria's Secret models skip breakfast and eat three unsalted cashews for lunch, Adriana Lima says drinking a filling smoothie in the morning is actually what makes her look so good. Obviously aside from all the ab workouts she does, Lima says she looks her best in a crop top when she drinks a breakfast smoothie, usually with avocado, honey, or yogurt. She claims it boosts her energy and kick-starts her metabolism for the day. And I mean, it seems like it's working for her.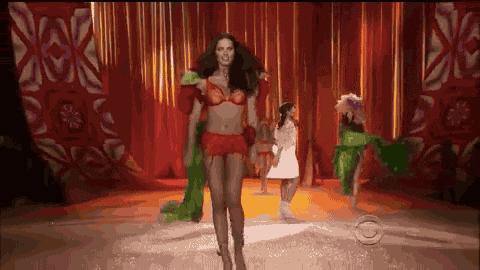 Khloé Kardashian: 5 Staple Foods
Khloé has obviously hired a team of health and fitness professionals to get her body to look its best, but she has her own tricks when she's not getting her ass kicked by Gunnar Peterson on national TV. Apparently Khloé sticks with five foods that give her that slim stomach look: avocado, ginger, watermelon, tomatoes, and oats. I assume she eats other foods aside from these five, but she likes incorporating these into her diet and says they helped her see results that complement her hard work in the gym, and they obviously work. I mean, there's a reason Revenge Body exists.
Emmy Rossum: No Fructose
I haven't heard the word fructose since freshman year biology, but apparently Emmy Rossum avoids fruit when she wants to de-bloat and feel her best in a tight dress. Fructose is the natural sugar in fruit, and although fruit is obviously good for you, having too much of it can make you bloated, and that's because the fructose feeds the gut bacteria that could make you look puffy and full. Honestly, if we're talking about giving up FRUIT, I'm scared to see what else she avoids, but like, it's her life.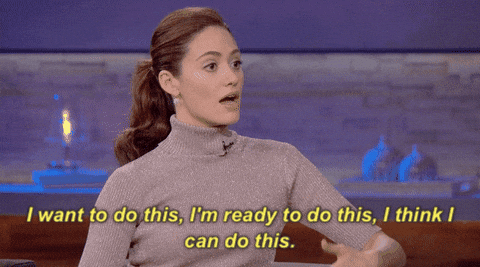 Miranda Kerr: Dandelion Tea & Goat Milk
Okay, this could be the weirdest hack of all, but Miranda Kerr is literally goals so let's talk about it. People always ask Miranda what she likes to eat, and she usually has normal answers, like toast and eggs and green juice. BUT Miranda also swears by this mixture of dandelion tea with goat milk. She says it has cleansing and detoxifying effects. I looked it up, and it turns out dandelion root actually has a ton of antioxidants and it can work to detoxify your body and reduce inflammation, so she's not crazy. She doesn't explain why she adds goat milk, but dairy from goats tends to be easier to digest than from a cow, so that's probably the reason. Personally I don't plan on trying this one right now, but if anyone does, please report back. I need to see what this girl's raving about.
Images: Giphy (3)
6 Fat Burning Foods You'll Want To Add To Your Diet Right Away
It's pretty damn tempting to buy every skinny tea and diet plan you see on Instagram, but honestly there's no real trick to fat burning unless you're eating a balanced diet and working out regularly. It took us a while to accept this tragic reality, but after trying every diet on social media and experiencing continual disappointment, it might be the hard truth. With that being said, there are definitely some foods that have certain compounds and nutrients that could help you burn fat more easily—fat burning foods, if you will. We did some research to find the superfoods that have been proven to help with weight loss, and we're currently ordering each one in bulk. Here are the fat burning foods you to add to your diet.
1. Cayenne Pepper
Pepper has a compound in it called capsaicin, which has been proven to spike your metabolism and boost your body's ability to convert food into energy instead of storing it as fat. Spicy foods also tend to suppress your appetite, which is one of the reasons why you may be super full after eating something spicy for lunch. According to the American Journal of Clinical Nutrition, you just need to add a pinch of cayenne pepper to your meal and it'll help your body burn fat after you eat. So like, pass the pepper.

2. Black Beans
Just in case you needed that extra push to order Mexican for dinner tonight, black beans may be one of the coveted fat burning foods, although that burrito might not be. If you ask me, black beans should be trendier than they are, because they're low-key magical. In fact, some researchers say they're equivalent to a fat-burning pill, but like, much more legal (some disagree, but over all, adding beans to your diet as part of a healthy weight loss regimen can help you lose weight). Black beans are filled with slow-digesting fiber that feeds the bacteria in your gut and trigger a chemical called butyrate, which basically helps your body burn fat more efficiently.

3. Grapefruit
It may be time to stalk up on grapefruits ASAP. In a 2006 study, scientists realized how magical grapefruits are when they asked a group of participants to drink apple juice everyday and another group to drink grapefruit juice everyday. It turned out the grapefruit people lost more weight and their bodies' metabolic rate sped up dramatically, and the apple juice people went home in shame (I paraphrase). Not only are grapefruits rich in bioactive compounds that help break down body fat and regulate your blood sugar, but they also lower your body's insulin and speed up your metabolism. Game changer. Just don't douse it in sugar, duh, because that defeats the purpose of fat burning foods.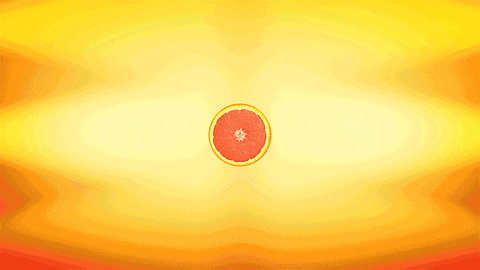 4. Bone Broth
You may have seen your favorite health bloggers sipping on homemade bone broth recently, but this trend actually has a ton of scientific proof behind it. Bone broth is filled with vitamins and collagen, and its nutrients can also help reduce inflammation in the gut, which often leads to weight loss. By healing the gut and filling our bodies with good bacteria, bone broth can make you less bloated, be better protected against sickness, and promote fat loss in the body.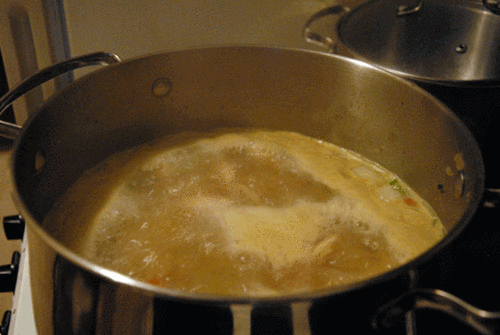 5. Eggs
People used to think the cholesterol in egg yolks would make you fat, but actually the opposite may be true. The egg yolk myth started decades ago, but it turns out we were wrong back then and we're like, much smarter nowadays (cue the video of people eating Tide pods in 2018). Eggs are packed with protein and vitamins, and the cholesterol in the yolk has no real impact on cholesterol metabolism in your body. Some evidence even shows that eggs may raise levels of HDL cholesterol in your body, which helps prevent heart disease. The protein and healthy fat combination in eggs will keep you full for longer and have been linked to fat loss, so like, it may not help you burn fat as expressly as some of these other fat burning foods, but eggs may help you lose weight overall. Bottom line, you can stop pretending you like egg whites.

6. Anything Fermented
Fermented foods, like sauerkraut, Kombucha, kimchi, kefir, tempeh, and miso are all foods that could majorly help your body burn fat. This comes back to the whole idea of the good bacteria in your gut. By improving your gut health, you help your digestion work better and boost your body's immunity. Nobody's promising that if you start drinking Kombrewcha you'll lose three pounds overnight, but these foods are super healthy for you and they just get your system working better, which could very likely help you lose fat, as long as you're not like, eating the sauerkraut on a hot dog. You're on your own in that case.

Images: Trang Doan / Pexels; Elle Hughes, Charisse Kenion, / Unsplash; Tiburi, Edwina MC / Pixabay;  Giphy (2)