Leo Dottavio Had A Complete Meltdown On Twitter
Happy Thursday! I've woken up in a world where recent Bachelor in Paradise reject, Leo Dottavio, had a very public meltdown on Twitter last night. You know, the guy who gaslighted the sh*t out of Kendall, threw a drink in Joe's face, and otherwise trashed whatever goodwill he'd earned on The Bachelorette. Over the past 24 hours, Leo has tweeted what some perceive to be attacks on former friends, threats of violence, and messed-up views on masculinity. While we expect this kind of behavior from our government, it's much more unsettling when it comes from a Bachelor in Paradise contestant. Let's take a look at how this spiraled out.
Apparently, things kicked off with this tweet from previous contestant Amanda Stanton.
Just got a lovely DM from Leo calling me a "piece of shit" & that my tweet about him last night is going to "come back to haunt me"…so i guess he can never blame "editing" #BachelorinParadise

— Amanda Stanton (@amandastantonnn) August 29, 2018
Oh, and in case you were wondering the HEINOUS tweet that sparked his outrage:
Catching up on #BachelorInParadise from last week. Thoughts: 1. I'm glad Jacqueline went home. She was too good for this show. 2. I love seeing @JubileeSharpe1 face on my TV! 3. Leo scares me.

— Amanda Stanton (@amandastantonnn) August 28, 2018
There was also, reportedly, a comment about Leo's place of employment. The Daily Mail reported that Amanda said, "Slightly off topic but Leo did get fired from WaterWorld, right? Need to make sure before I take the kids…"
Apparently Leo has some sort of Jonathan Cheban-level radar for his name (as one commenter pointed out, she didn't even tag him).
Original tweets have been deleted from this point on, but luckily US Weekly has done some detailed reporting,  and Instagram account @thebachelorbanter is here with the receipts. Leo reportedly fires back with the following:
If you're unclear what this is about, please see Bekah and Leo's interactions from earlier this month. Basically, Bekah got some DMs from women alleging Leo had sexually harassed them. He denied everything and had his lawyer send Bekah a letter demanding she retract her statements and issue an apology. He insisted, as he still does, that the harassment claims are false.
At this point, Tanner (another former contestant), suggests that Leo needs help. Leo responds with a joke about being a narcissist, then tells him he wants to fight him. Again, I'd recommend reading this in full, but he really gets into the masculinity politics with the ending: "When I knock you out can I stand over you and call you a beta?" I can only hope this is a joke and real men don't call each other "betas" and "alphas", except I read enough Reddit to know that there are absolutely people out there who use those terms in earnest. I just can't be sure if Leo is one of those people.
With that tweet, Leo sets off Nick Viall's spidey senses for when a sensitive male Bachelor contestant is needed. Either that, or he felt an interaction involving the Bachelor franchise had just gone on too long without him. He chimes in with the following tweet:
Breaking news: Self proclaimed Alpha suggests Charity boxing match with someone they have a clear physical advantage over as means to inflate their own ego all while further demonstrating their deep insecurities. https://t.co/EyyR0qC6xZ

— Nick Viall (@viallnicholas28) August 29, 2018
Look, Nick Viall's never been my favorite person. But someone if someone is going to call out toxic masculinity, the guy who cried in every episode of The Bachelor seems like a good candidate. Again, Leo deleted his responses, but US Weekly reports the following response: "Hey nick how about you and tanner at the same time vs me?… For allllll the marbles let's goooooo." Nick's response to this is still up—as are the comments.
Wait … you can beat us both up at the same time? … that's like sooo cool https://t.co/TNcyTnUBnS

— Nick Viall (@viallnicholas28) August 29, 2018
Now, maybe there's some fun new youth lingo I'm missing out on, but I truly had no idea where Leo was going with the "marbles" comment. So I have to say that Dean's responses are my absolute favorite here. NO, NOT JUST BECAUSE HE'S SO PRETTY. (Hi Dean!) Look how funny this is:
Are marbles still a thing? Why would anyone want ALL the marbles. Honestly, that seems like a burden.

— Dean Michael Unglert (@deanie_babies) August 29, 2018
A BURDEN. Dean. I'm laughing, I'm crying, I'm gazing into your blue, blue eyes…ugh. This brief moment of lightness is interrupted by Leo's now-deleted tweets back at Nick, reportedly saying the following:
"Jesus your forefathers would frown at your weakness my friend…This kind of adherence to physical altercation is what makes high school kids turn to guns. Be a good example and stand up to a cyber bully like I am… in person."
I don't think Leo knows what "adherence" means or how to use it. But I think he meant to say that refusing to engage in physical violence is the reason why kids shoot up schools…? It's not the guns that are the problem; it's the fact that boys are no longer beating the sh*t out of each other on a regular basis. Someone call Betsy DeVos and get mandatory fight clubs in school across the nation.
Finally, I happily don't have to deal with his "forefathers" comment, because Nick Viall did it for me:
Apologies for the delayed response. I went to a WaterWorld to look for you but you weren't there.

To be honest, my forefathers might have frowned at my support of feminism and gender/race/sexual orientation equality too …so like, it's fine https://t.co/iAPuaRg8CP

— Nick Viall (@viallnicholas28) August 29, 2018
For those of you who have lives outside of this, the WaterWorld dig is a reference to the fact that Leo reportedly works or worked there. And look, I hate to give Nick Viall the "feminist hero" title he's so blatantly vying for, but if the gender-neutral cape fits…
Even Deanie Babies, who in all other instances wins me over, was a little off the mark with his response. He commented "I would have forgotten we're living in the 1920's without it," which misses the point that sadly, this kind of garbage is as prevalent in 2018 as it ever was.
Leo ended the feud with a very confusing comment that amounts to "real men don't shoot up schools". No, I'm not sure how he got there, either, or if he watches the news. What I'm also not sure of? How many brain cells I lost in following this feud.
Mostly, my feelings from all this are outrage toward ABC. ABC, you need to screen your contestants better before you give them a national audience. First of all, for the safety of ALL contestants, and second of all, to give our eyes a break from this guy who is, at best, woefully inept at successfully pulling off sarcasm. 2017 me is shocked to hear me say this, but praise be for Nick Viall and Deanie Babies—the true heroes of last night's saga.
NRA Members Are Blowing Up Their Yeti Coolers Because This Is America, Damn It
One thing's for sure, it's hard being a conservative in America. You have only the slimmest of majorities in all branches of the federal government (except the House of Representatives, where it is large). A scant 33 states are run by Republican governors, and a worrying simple majority of 27 states where Republicans either have total control or veto-proof majorities. Worse still, Christians make up a paltry 71% of the American population. The Second Amendment to the Constitution (obviously the best one) could at any moment quickly and easily be repealed with a 2/3 majority in both houses of congress and an affirmative vote by at least 38 states. The point is, the conservative way of life is under attack like never before, which is why it makes total and absolute sense that these brave patriots are blowing up $500 Yeti coolers.
Ok, I'll explain.
If you're not familiar, Yeti makes exceptionally high-quality (yet insanely overpriced) coolers for hunters, fishermen, and any well-to-do rednecks who don't mind paying up to $1,300 for a beer holder. This is mine, and it was only $250:
Naturally, a discount on such a pricey frat-tastic status symbol is welcome. Imagine the outrage, then, when the very same Real Americans received notice from the NRA-ILA that Yeti had succumbed to pressure from the sicko progressive left and would no longer sell to the NRA or offer discounts to their members:
Suddenly, without prior notice, YETI has declined to do business with The NRA Foundation saying they no longer wish to be an NRA vendor, and refused to say why. They will only say they will no longer sell products to The NRA Foundation. That certainly isn't sportsmanlike. In fact, YETI should be ashamed. They have declined to continue helping America's young people enjoy outdoor recreational activities.
This is, obviously, a direct attack on the liberty of all Americans, and especially those who pay money to be a member of the gun industry's lobbying arm like to exercise their Constitutionally-protected right to bear arms. They had but one recourse: voluntarily destroy those expensive-ass coolers to own the fuckin' libs. Oh, and destroy them they did.
This American Patriot filled his Yeti coolers with explosive shit then shot them in an excruciatingly long Facebook Live video.
This guy took a less violent approach, opting to squash his Yeti tumbler in a bench vice.
Not to miss out, these ladies showed those commie pinko cooler makers who REALLY represents American values by filling one full of tannerite:
Finally, this Patriot not only destroyed his Yeti tumbler, but he also joined the NRA. Talk about getting a double return on your investment!
So proud of my country!
Naturally, the pansies at Yeti saw their profits slipping away, and tried to walk back their clear disdain for our Constitutional rights in a statement of their own:
Uh huh, sure. That's what they all say. Don't be fooled by their elitist legalese and liberal double-speak! The best way to show these companies that you won't stand for the degradation of American values and erosion of our way of life is, and always will be, to spend your money on their products so you can film yourself destroying them.
Heads up, you need to keep up with the news. It's not cute anymore. That's why we've created a 5x weekly newsletter called The 'Sup that will explain all the news of the week in a hilarious af way. Because if we weren't laughing, we'd be crying. Sign up for The 'Sup now!
5 Perfect Clapbacks To Gun Nuts On The Internet
You know what I'm sick of? I mean, literally everything, but more specifically I am sick of arguing about gun control. But for some reason, some people don't agree with me. Unbelievable, I know. Look, people love their guns. They want to have them. They want to hold them, until death do them part, etc…etc… These gun-toting Americans have all sorts of arguments as to why they should be able to walk around with an assault weapon. So, we put together some gun control clapbacks you can use when fighting with your gun-loving uncle on Facebook. You're welcome, betches.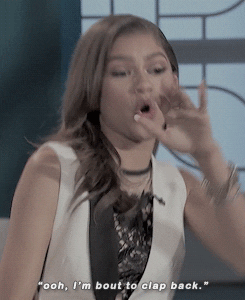 "Guns Don't Kill People, People Kill People."
Factual Response: On average, 96 people in America are killed with guns everyday. Sure, the ones pulling the triggers are human people, but the bullets are what's killing the victims. Guns are efficient in killing people. That's what they are designed to do. In 1996, Australia banned certain semi-automatic, self-loading rifles and shotguns, and made stricter licensing and registration laws. The results was a decline in homicides. When people don't have access to guns, there are less people being killed by guns, and thus less people being killed in general. People kill people with guns. It's as simple as that.
Betchy Response: Guns literally kill thousands of Americans every year, so you can go shave your back now.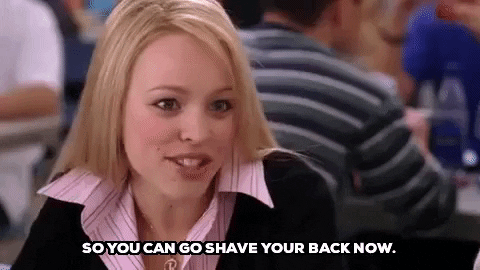 "It's My Constitutional Right!!!"
Factual Response:  You're right, the Second Amendment gives all Americans the right to bear arms. It was also written in 1791, right after Americans had won a war by overthrowing an oppressive government by fighting back…with guns. The second amendment states, "A well regulated Militia, being necessary to the security of a free State, the right of the people to keep and bear Arms, shall not be infringed."  This was written as a means to make sure state militias could have access to guns so they could fight back against a tyrannical federal government. Today, state militias are the National Guard. I'm pretty sure they have the guns they need to protect us and themselves. Also, casual reminder that the Constitution was written during a time when Americans had the right to own people. Times change, we progress, and we need to update our laws as we go. We live in a different America now, where gun violence is a problem, and the British army trying to oppress us is not. It's time for the laws to change.
Betchy Response: If you loves guns so much, why don't you marry them? Oh wait, you can't because that's not in the Constitution.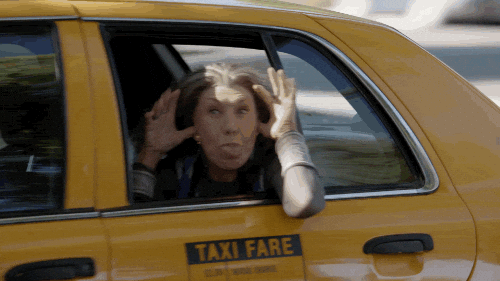 "We Need MORE Guns To Protect Ourselves Against Other People With Guns"
Factual Response: Can you stop a mass shooter by shooting them? Sure. But you would only fire off your gun once the mass shooter has fired off theirs, and chances are innocent lives have already been lost at that point. Trump has proposed arming teachers with guns as a way to increase school safety. This not only puts guns in a classroom, making a fatal  gun accident 100 percent more likely, it also doesn't address the problem: a mass shooter having easy access to an assault weapon in the first place. A study based on data from 2012 to 2014 suggests that, on average, 5,790 children in the United States go to the  emergency room each year for a gun-related injury. About 21% of those injuries are accidental. Putting guns in the same room as children leads to more accidents. Also, are we really going to give guns to public school teachers when we can't even provide some of them with basic materials such as pens and pencils?
Betchy Response: Oh, you think guns + guns = less deaths by bullets? Groundbreaking.

"What You're Proposing Won't Work Because Of XYZ"
Factual Response: Look, maybe you have some hypotheses for why gun control laws won't work. And maybe you're right. But the fact of the matter is that what we are doing right now is not working. On average, there are 13,000 gun homicides in the United States each year. By contrast, Japan, which has strict laws for obtaining firearms, has about 10 shooting deaths a year in a population of 127 million people. Clearly, America is doing something wrong. So it makes absolutely no sense to not at least try something new. Maybe it won't work. But what we have now also isn't working. When something doesn't work, you try another way and see if that works. That's how you solve problems.
Betchy Response: There are two kinds of evil people in this world. People who do evil stuff, and people who see evil stuff being done and don't try to stop it. *drops mic*

"This Is A Mental Health Issue, Not A Gun Issue!"
Factual Response: This may blow your mind, but a problem can have more than one factor causing it. Yes, this country has a mental health issue, in that we don't make access to mental health care accessible enough. And yes, there is a gun issue in this country. People are allowed to buy guns too easily. In fact, someone who is mentally ill would have an easier time buying a gun than receiving psychiatric treatment. That's a problem. Also, throwing mental health as a blanket term on the cause of gun violence is unfair, inaccurate, and stigmatizing. Most people with mental health issues are not violent. In an interview with PBS, Dr. Louis Kraus, the forensic psychiatry chief at Chicago's Rush University Medical College, said "The concept that mental illness is a precursor to violent behavior is nonsense. The vast majority of gun violence is not attributable to mental illness." Blaming mental illness is ignoring the real problem: access to guns. Could we do a better job at providing those who suffer with mental illness with the treatment they need? Absolutely. Could we also do a better job at making sure people, including those who are suffering from severe mental health issues,  don't have access to a gun? Abso-fucking-lutely.
Betchy Response: Boo, you whore!

Heads up, you need to keep up with the news. It's not cute anymore. That's why we've created a 5x weekly newsletter called The 'Sup that will explain all the news of the week in a hilarious af way. Because if we weren't laughing, we'd be crying. Sign up for The 'Sup now!
Everything You Can Do To Support The Parkland Shooting Survivors
As is the unfortunate reality with every mass shooting, every person with a mouth and an opinion has been shouting/tweeting/skywriting their stance on gun control on every possible platform since the Parkland shooting took place last week. Between politicians, teachers, parents, and a reality TV star the president, Republicans and Democrats are super divided on the issue and are fighting over guns like a couple fighting over who gets to keep the dog after they break up. Coming as a shock to literally no one, the most mature and proactive contributors to the gun control debate have been the students who had to live through the actual horror of hiding under their desks from a madman bent on murder. So yeah, I'd say maybe it's worth listening to them for a hot sec.
On March 24, the students of Marjory Stoneman Douglas High School and their families will take to Washington D.C. and lead the March For Our Lives to protest gun violence and the silence from lawmakers when it comes to making changes to prevent these atrocities. So far, all that has been offered from many Republican politicians is the load of shit they like to call "thoughts and prayers." Thoughts and prayers didn't work when I tried to wing my college finals having never opened a textbook, so they sure as hell are not going to work in preventing another unhinged person with access to firearms from taking innocent lives.
Students who just had their entire high school experience destroyed: So you're just gonna do nothing to fix the way guns are sold and regulated in this country?
Republicans:

The students in Parkland are also firm that there is no such thing as "too soon" to start talking about enacting change. Less than 24 hours after the massacre, senior David Hogg spoke to CNN saying, "We're children. You guys are the adults. You need to take some action and play a role. Work together. Come over your politics and get something done." Translation: get the fuck over yourselves and stop acting like actual teenagers when you don't even have to deal with things like acne and awkward sexual tension anymore. Oh wait, those never go away? Fantastic.

Other students have been taking to Twitter to demand action and call out the ridiculous and offensive statements made by Trump and human spiked seltzer hangover, Tomi Lahren. In case you also avoid following the orange ball of gas on Twitter for fear that you'll lose a few brain cells, allow me to direct you to the tweet where he literally blames the victims for not being able to stop a mentally ill classmate from aiming a gun at their faces. And here's another where he makes the issue about himself by claiming the FBI could have stopped the shooting if they weren't so preoccupied with the Russia investigation. *slams head against keyboard*

Emma Gonzalez, another student survivor with a badass Charlize Theron buzzcut, gave a powerful speech in response to the lack of action, calling out flimsy statements from politicians and insisting that Parkland will be the "last mass shooting" if the government gets their shit together and enacts change. Emma brings the heat for nearly 12 minutes, literally getting a crowd of people to chant "WE CALL BS" at lawmakers, which is the same strategy I used when I realized my ex still kept in touch with Tinder girls. I can confirm, it's v effective.

Leading up to the March For Our Lives, the students of Marjory Stoneman Douglas and their supporters have no intention of ending the conversation on gun control, which may be a major shift from the usual cycle of nothing ever changing after mass shooting events in the US. Just like the Women's March, a bunch of sister marches are being organized in different states on March 24 to show support, which you can officially register for here. I, for one, have already prepared what to write on my sign in response to officials who won't get off their Second Amendment high horse long enough to remember that children are dying:

Heads up, you need to keep up with the news. It's not cute anymore. That's why we've created a 5x weekly newsletter called The 'Sup that will explain all the news of the week in a hilarious af way. Because if we weren't laughing, we'd be crying. Sign up for The 'Sup now!