The Betches' Bachelorette Guide To Miami
Planning sucks, and bachelorette parties are a ton of work. So we're taking all the guesswork out of planning a bachelorette party by breaking down top bachelorette destinations. Our guides will tell you where to stay, eat, party, how to get around, and give you a sample itinerary that you can follow. You're welcome. 
Miami is one of the biggest bachelorette destinations in the country, and for obvious reasons—it's packed with countless hotels, bars, restaurants, pools, and clubs prime for partying. And then there's South Beach, where you can mingle with bronzed hard bodies in skimpy swimwear, or simply live your best life sporting matching bride squad outfits for Insta opps before hitting the frozen daiquiri joints across the street. Magic City is the ultimate mix of high-low with different tiers of accommodations and day (and night) life options. So, by all means, ball out if you've got that kind of cash, or pregame your big day with your besties on a moderate budget. Your call. Luckily we've included options for both, as well as a flexible itinerary that caters to all kinds of brides and her minions besties. Here is your official Betches Bachelorette Guide to Miami.
How To Get There
Another reason to go with Miami for the bach? It's cheap to get to and close, especially if you're traveling from the East Coast, South, or Midwest. Expect to be up in the air for about three hours if you're flying out of New York, and obviously use that time to get a head start on the weekend debauchery with in-flight nips. The NYC airports also churn out over 28 flights per day, so you can go super early to take advantage of a bottomless brunch when you deplane, or go late Thursday to squeeze another night in. Flights from the South are typically shorter (around 1.5 hours to 2.5) and airfare is usually in the $200-300 range, although you can find some steals in the $150-200 range. The Miami International Airport is one of the largest in the country, which is ideal for your cause, since anyone in bad shape on the last day (read: they slept through their flight home) can easily hop on another direct. After soaking up the booze with a hangover-curing cubano at Versailles Cuban Bakery, in terminal D of course. Even West Coasters don't have it that bad on a 5-hour flight. I mean, it's not 6+ like some desirable destinations.
How To Get Around
Even if you think walking from point A to point B sounds like a smart idea in Miami, esp. around South Beach, let us warn you by saying good luck not dying of heat exhaustion. Temps can be crazy high during the day (and still hot at night), so if you're slamming drinks by the pool and then trying to make moves, you're probably going to faint. Hence why Ubers and Lyfts are strongly advised. And who wants to ruin their makeup? Not us. Boats are another key mode of transportation here, so make your hottest most sociable friend take one for the team and secure a few men with yachts (or at least a small schooner with a working engine) to act as your personal chauffeurs for the weekend. 
Where To Stay
The best thing about choosing your bach pad in Miami is that there is ZERO shortage of hotels here. Seriously, like a million with more popping up every day. And because of the fierce competition, you can usually get reasonable deals, especially on packages for bachelorettes or large groups, with 3rd or 4th night free offerings. Our advice is to do your research and book early, to score as many benefits as possible.
The Confidante Miami Beach: If you're looking for a beachfront hotel with endless photo opps, make a res at The Confidante. You probably recognize the hotel's iconic beach set up with their multi-colored striped lounges and umbrellas. Elevate your experience by renting a poolside cabana where you can get drinks & food brought right to your chair. There are two pools, one of for families and one for adults so feel free to get rowdy. Prices are extremely reasonable and once your friends see pics of the hotel, they'll immediately be on board.
View this post on Instagram
The Miami Beach Edition: Chances are if you're staying at The Edition, you're not the only girl group that is, which means more new friends. Much like other Edition locations, its got all the bells and whistles: well-appointed decor, roomy suites, killer amenities (oh hi, Le Labo products and BEATS Bluetooth speakers), and award-winning restaurants and bars. It's basically bachelorette heaven, because you never have to leave.
What sets their Miami outpost apart from the rest however, is the Basement, featuring a 2,000-square-foot nightclub, rainbow ice rink, and neon-lit, 4-lane bowling alley with balls and shoes designed by famous artists. Verrrrry Studio 54, #NBD. And those restaurants we spoke of? Celeb chef Jean-Georges Vongerichten created the menu at Matador Room and Market at Edition, even the bar snacks in the Basement Bowl Lounge are JG approved. They also throw a party just for the ladies every Wednesday called "Femme Fatale" with complementary slushies and ice skating. You also can't forget about the special bottle pricing for bachelorette parties every night of the week. Can't go wrong at The Edition.
Four Seasons Hotel at The Surf Club, Surfside: If you and your mains are a classy bunch, or simply looking to bougie it up on your last fling before the ring, look no further than Four Seasons Surfside. Miami legend: The Surf Club opened its doors on New Year's Eve in 1930 and has a fresh new look and feel, thanks to the addition of 101 tower rooms, cabana studios, and residences. So it's intimate, yet spacious, and 100% our aesthetic. And speaking of cabanas, they restored their original ones that Frank Sinatra, Elizabeth Taylor, Joan Crawford, and Winston Churchill used to party in, back in the day. We're talking art deco luxe quarters with private bathrooms and showers, because why trek back to your room to rinse off when you can take care of business in the 'BANA?!
There's also Le Sirenuse Miami, Mare by Le Sirenuse, and Thomas Keller's The Surf Club Restaurant for celebratory meals, and no shortage of champagne. Between The Champagne Bar and the rolling champagne trolley at TSCR, your bubbly supply will never run dry. And what's a girls' getaway without a next-level spa outing to pamper the bride + co? They have that covered, too. Susanne Kaufmann facials, Biologique Recherche body treatments, and every kind of massage are par for the course in this wellness retreat, which you clearly need during an overly indulgent few days away. The hammam and steam rooms double as a sweat lodge for much-needed detoxing—just sayin'.
Faena Miami Beach: What's not to love about this over-the-top gem? It's bachelorette GOALS due to the Damien Hirst's "Gone but not Forgotten" gilded woolly mammoth skeleton that's #1 for photos, and don't even get us started on the oceanfront suites. Sprawling balconies with sick views and and beds so dreamy you could literally spend your entire vacay there only scratch the surface of why this place slays so hard. It also doesn't hurt that everyone sauntering through the muraled hallways and palm tree lined paths is supermodel stunning, so just a little heads up to pack the quality content outfits.
Then there's the red and white striped umbrella dotted beach, grand pool, and three restaurants to consider: Los Fuegos by Francis Mallmann, Pao by Paul Qui, and the tropical Veranda. Definitely don't leave without experiencing their Samsara Cabaret, either. A sultry theatrical performance that blends aerialist choreography, acrobatics, and insane talent—it's exactly what a gaggle of girls looking for a memorable time should witness.
Where To Eat
View this post on Instagram
MILA Rooftop: Located right in the heart of South Beach, MILA's rooftop offers the exact vibe you're looking for to celebrate a bachelorette. If you're going to splurge on one dining experience, let it be here. They offer an upscale "MediterrAsian" menu and the drinks are strong and tasty.
Gianni's at The Villa: A trip to the Versace Mansion when in Miami bacheloretting is mandatory for the group photos in front of the Million Mosaic Pool alone. Wear your best loud and proud Versace-inspired lewks and party like it's the '90s and you're Naomi, Christy, and Cindy. Pro Tip: Order the 24K gold margarita, homemade truffle gnocchi, and ask to tour Donatella's room post-dinner. You don't want to miss it, trust us.
Kyu: Asian fusion, Miami style. Most of the food is either grilled or raw with a healthy dose of veggies, but it's all seriously yummy. And it's fun. Fun always wins in our book. Make a res one of your first nights in town, when you're still trying to keep the late-night binge (and carbs) in check.
Le Sirenuse Miami: Couldn't decide between Positano or Miami for your bachelorette party? Why choose when the famed Amalfi Coast mainstay now has a glamorous 2nd home in Magic City? The glitzy Champagne Bar is where you begin (dressed to the nines, duh), followed by a full-on Mediterranean feast of all the seafood and pasta.
Swan & Bar Bevy: You've probably seen the très pretty in pink Swan gracing your Instagram feed ever since it opened last year, and it's still a solid choice for cocktails and nibbles, with a side of photoshoots. Since it's nestled in the heart of Miami's trendy Design District, we suggest swinging by for drinks at the gorg, rose-hued, flower-bedecked bar or sitting al fresco in the twinkling garden before finding some street art to snap the group in composed squatted arrangements.
Los Fuegos: The vibe at Francis Mallmann's Los Feugos is sexy AF. Think shell-encrusted columns and trees entwined with lights outside, and cushy couches draped in leopard inside. Brace yourselves for an epic lunch or GNO, the Argentine way. Their whole asado experience is not to be missed, because everything tastes better cooked over an open flame (after you've had a few), especially Mallmann's crazy addictive empanadas. If you're anything like us, you'll be licking your plate clean by the end of the night trying to order more and posing with the animal statues scattered about.
Mr. Chow: You know it, you love it, you are most definitely gonna crave it when you're wasted after day drinking. Mr. Chow's private dining room is key for noshing family style, when you just want to to dig into heaping piles of noodles, platters of plump little dumplings, and their signature ma mignon and Beijing duck, behind closed doors. We're hangry, all right?!   
Zuma Miami: Celebrate the bride with your tribe at this waterfront hot spot where rubbing elbows with celebs is a given. Their VIP room just got a facelift so your crew can dine like boss bitches with your own closed-off terrace, custom menus, and Instagram-worthy views of the Miami River. That waterway definitely comes in handy when you need to pull up like the true QUEENS you are, via boat. The restaurant will also cater a full-blown dinner with drinks dockside—or out at sea—but try not to fall overboard after one too many shots, k?  
Where To Party
Nikki Beach Miami: The first Nikki Beach to ever open—yes, before St. Tropez and St. Barths—is alive and well and the place to be on Amazing Sundays. There are boho-chic teepees everywhere, an intoxicating beachy scent wafting throughout the grounds, and a ton of people dancing to "happy music" by world-class DJs. Add crazy delish sushi boats and ice buckets overflowing with rosé to the list of perks and you'll understand why wanting to move into your personal daybed is a serious consideration.
W South Beach: The W believes in the three B's, and so do we: beach, babes, and bikinis. With newly renovated cabanas, private bungalows with outdoor showers, and the adults-only miniWET pool, you could spend an entire day here and never get bored. You could also pass out and have to be woken up around 4pm to go home. Should you be a real trooper and ready to keep going, there's WALL, their ultra-lounge fit for a night of dancing and trying to balance in heels.
Bagatelle Miami Beach: When in hot-as-hell Miami it's important to stay hydrated, and brides-to-be can indulge in oversized goblets of mixed drinks, or magnums of champagne at Bagatelle because #YOLO. No ask is too small, either. They'll create personalized bachelorette menus with logos for their famed party brunches, and on Wednesdays you can take advantage of their weekly "Bacchanal" for a drunken sh*tshow that also happens to be BYOB-friendly. No corkage fee and half off their entire wine and champagne list? We're there.  
The Rooftop at 1 Hotel South Beach: You have to be over 21 to be allowed up to this 18-story-high paradise, so try not to lose your license (or your bag) during the weekend. Their "Sip.Swim" Sunday soirée is open to hotel guests and locals alike from noon until 6pm, and the scene is supreme for toasting the bride and flirting with hotties pre-wedding handcuffs bands.
Nighttime Entertainment
E11EVEN Miami: When you want a mega lounge and a 24/7 strip club in one, E11EVEN has your bridal back. Known for attracting top-notch talent, celeb performers, and hot girls that can do contortionist moves (take note for your wedding night), it's the premiere after-party locale. So much so, that they offer an "It's The After Party" package, that includes VIP table service and congrats messages streaming on the club's LED screens. You can even be that chick in the club and sneak up to the DJ booth to request your songs because it's YOUR night.
STORY and LIV: These OG Miami clubs have been around forevs, and therefore have bachelorette shenanigans locked and loaded. Get escorted to your table, have bottles with fireworks come out on the reg, dance on banquettes, and hope you don't expose yourself…you know, stuff that would make mom and dad proud. Just be sure to check their event cals to see which big-deal DJs are going to be on the tables while you're in town. You don't want to miss Calvin Harris, Tiësto, Diplo, or Steve Aoki, now do you??
Friday, Day 1
Pro Tip: Don't sleep Thursday night, so you can board the earliest possible flight Friday am
Drop your bags at the hotel lobby desk since it's probably too early to check in, do a quick change into the swimsuit you obvi packed in your carry-on, and head to the pool like a girl on a mission with your comically large cups full of booze.

Post up in your cabana (and order rounds of tequila shots like a pro), then relax for a few hours before throwing on swim cover-ups and make your way to lunch.

Lunch outside at Los Fuegos, The Edition, or Swan/Bar Bevy, and try to remember to drink some water in addition to carb loading so you actually make it through the rest of the night.

Return to the pool for more debauchery and a nap.

Wake up, get your glam on, blast some single lady anthems with the bride, and head to dinner at Gianni's or Le Sirenuse.

Friday night is your night to go HARD, so drink some more water and roll into the club at E11EVEN or STORY.
Saturday, Day 2
Pro Tip: Make sure you keep charcoal pills, Pedialyte, and coconut water next to your bed to consume the second your eyes open, and if you're really a great bridesmaid, you'll book IV drips to cure the crew's massive hangovers at REVIV
Brunch at Bagatelle, where you won't feel the slightest bit guilty about ordering a hair of the dog, because everyone is about to get LIT.
If you plan on doing something other than get sloshed at the pool the rest of the day, good job being an overachiever. But if you want to do that and something else, book an afternoon catamaran charter on 

GetYourGuide

 that includes four hours of fun and a cruise to a sandbar for water activities and more drankkkkks. They also offer a 1-Hour Wynwood Walls and Street Art Tour 

for groups interested in a little culture to balance out the mayhem.

Put your ass in bed and NAP!

Wake up and dial room service for more booze and try to make yourself presentable for the night.

Do dinner at KYU, Mr. Chow, or The Surf Club.

If you need a change of pace and want laid-back bars instead of intense clubs, stumble into Broken Shaker at Freehand Miami, Rose Bar at Delano, Racket, Wood Tavern, and Sweet Liberty
Sunday, Day 3
Pro Tip: Hopefully you took it sorta easy Saturday night because Sunday is the best pool party day in Miami. If not, bottoms up!
Hold a quick group powwow for outfit coordination and required flair, then Uber over to Nikki Beach to start the day.
Lunch, drink, tan, reminisce and close your tab, you've got more places to hit
Up next: Sip.Swim at 1 Hotel
Set an alarm to chug at least 3 full cups of water

You know what time it is—NAP TIME!

Find something clean to wear and settle in for food coma at Zuma, or try Upland or Michael's Genuine for pizza/pasta/burgers since you don't have to be in swimwear the next day
Monday, Day 4
Book the next flight out if you didn't depart Sunday night. Good luck and godspeed—we hope you still have some essentials for the plane in your bach survival kit.
The Five Stages of Using Tinder
Remember when you first got Tinder? It's been a while, but apparently it still has a shady following. Like I actually hear about people meeting on Tinder still and them it's like, wait, people still use that?? Apparently some do, but then there are those of us who went through the five stages and are sooo #82 over it.
1. Kid in a candy store

Like a sixth grader at Dylan's Candy Bar—you know, back when that was still a thing—your enthusiasm is unstoppable. You will swipe through the masses and get so many matches that you'll wonder if this many people seem to find you attractive, why did you have to resort to tinder in the first place?
2. Wide-eyed naiveté

You're the Tinder game Ted Mosby. Everyone that messages you could be The One, even the guy that says, "Hey girl, you make me wanna douse you in green paint and spank you like a disobedient avocado!" …Ok, maybe not him. You give out your number with the eagerness of an elderly couple giving out candy on Halloween. You text and consider meeting up with nearly everyone who asks, because you don't want to fuck with "destiny."
3. Reality check

All these guys are complete idiots and 5 minutes into getting your number they're going to ask you for nudes.
4. Extreme jadedness

"There are no good men left in the world. At least Tinder is doing me a favor by exposing these jerks for the vapid, sex-starved animals they are right off the bat so I don't have to bother putting my trust in them first." You'll still swipe through people all the time because let's be real it's fun but every time you get a new match or message your heart drops a little. "That's just one more asshole who's going to act normal until he thinks he can get it in…" You're beginning to make Taylor Swift look well-adjusted. The 'block' button becomes your new best friend.
5. Tinder what?

By this point you've either met a guy IRL or you've realized that Tinder is kind of stupid. You haven't been on in so long you're not sure if you even have it anymore, and when someone brings it up it's kind of like when someone brings up some rando from your high school: "Ohhhh yeah I almost forgot about Tinder! Is Tinder still around these days? What's Tinder up to? Does anyone even talk to Tinder anymore? Last I heard Tinder was pregnant with triplets, can anyone confirm?" You get the idea.
How To Survive a Night Out With Hipsters
No one ever intends for it to happen. You're out to dinner with friends, someone mentions an acquaintance's house party and 3 tequila shots later you find yourself somewhere you never thought you'd be: a hipster's living room. It's not just the faint smell of pot or even the stack of vinyl records piled in the corner that gives it away; it's the dingy window sills and overall lack of cleanliness that confirm your location. It feels more like a commune than a house with the 2-day old pizza and bags of weed out for everyone to enjoy, bathrooms lacking doors but overcompensating with incense, and home-brewed kombucha jugs lining the kitchen counters. There are no framed pictures of important events: birthdays, girls nights, nothing. What does fill the lackluster walls are homemade signs ("keep the damn door closed") and 5"x7" prints of paintings no one outside their circle would recognize.
Now that you've taken in what is around you, it's time to figure out who is around you. Hipsters are kind of like vampires in the sense that they only come out at night and are pale AF. Seeing them in their natural habitat can be both frightening and unsettling. First of all, you realize that you are the only one within sight whose outfit did not come from a garage sale. Your Tory Burch riding boots might as well be a neon sign reading "basic bitch." The only similarity between the smorgasbord of mismatched outfits around you is the fact that none of them are worn with bras. Apparently saggy tits are in this year. Other than that, the styles range from 90's grunge to flapper girl. Denim jackets, suspenders, crop tops, the shoes Louisa May Alcott wore, and velvet for days. You are also quick to realize that you are the only one with perfect vision (because all these bitches have glasses) and you seem to be the only one wearing any form of foundation/tinted moisturizer… the time hipsters put into their lipstick must be to blame for the neglect shown towards their shiny foreheads.

Pretty soon your perfect outfit, perky boobs and flawless complexion will draw the attention of the hipsters around you. They may be super high, but they can sniff out mainstream-ness in any level of consciousness. Should you run? Sudden movements will only make them paranoid. Plus, your ride home is somewhere in this house so you have no choice but to accept that you're balls deep in hipster town. Your survival instincts will start to kick in. First, search the house for converse and oversized sweatshirts; there's bound to be some that fit you somewhere. Run your hands all through your hair so it gets oily and stringy and pull it into a messy braid. Use whatever you can find to alter your appearance. Hats are always a good idea. Whatever you do, keep your bra on. Your Victoria's Secret push-up is the only thing keeping you from losing your dignity.
Next, find alcohol. If all you find is an empty gin bottle (of course they'd only have fucking gin), find the closest gas station. It won't be more than a 2 minute walk, guaranteed. For being such avid fans of growing their own food and being all natural and shit, hipsters can always be counted on to live within walking distance of modern conveniences so they can buy cigarettes and take advantage of public transportation. Once you're there, buy something big because it has to last you the next few hours. I recommend a bottle of your favorite wine or better yet, champagne. If there was ever a time to drink champagne out of the bottle, now would be the time.
When you get back to the house, you will most likely find yourself forced into a conversation you don't understand or care about. Mumbling things like "the 1 percent", "farm-to-table" or even just nodding will keep you in the convo for as long as you need to be. This could also be a great time to catch up on any sleep. Hipsters may judge a bitch for being put together and having exceptional taste in makeup, clothes, etc, but they have no problem with coked-out weirdos falling asleep on their bathroom floor. So, find a couch that looks asbestos-free and sleep off this whole nightmare.

If you should choose to stay semi-conscious during the next few hours, you're going to have to be smart. You may find yourself tempted to dabble in the hipsters' drugs as they start bringing out the cocaine and various pills. Taking advantage of free drugs may be fun among friends, but these people are definitely not your friends. Yes, you need to numb yourself to the fact that you are surrounded by the underbelly of society with no way out, but you can't completely lose your inhibitions. Do you want to wake up tomorrow wrapped in the soft arms of a mustachioed mixologist? Fuck that. Talk about sleeping with the enemy…
As more and more people either start passing out or heading to another location (probably a bar too "hip" to have a name), you will most likely be able to sort through the sea of hipsters to find your (asshole) friend who brought you here and GTFO. If her eyes are glazed over and she's using words like "typography" or is raving about the IPA she just drank, no worries. It'll wear off soon.
When you get home, shower (really scrubbing may be necessary), check for new tattoos (real or temporary), take three Advil PM's, download every episode of The Hills, and fall asleep to the soothing sound of Lauren Conrad's voice. You'll wake up refreshed, rejuvenated and last night's events will be nothing more than a distant memory.
How To Initiate Conversation On Dating Apps Without Sounding Like A Creep
Bros, this article is for you because I know at least 75% of you are currently huddled over your iPhones with 3 of your bros like, "Dude! Just write 'when you're ready come and get it' and hit send! Works 60% of the time, every time." No, it doesn't. If it did, you wouldn't need Tinder. But since you do need Tinder or some other dating app that relies upon societal conventions aka you sending the first message, you also need our advice. I've spent a lot of time on dating apps and I hate a lot of things most guys try to say to me, so I'm the perfect person to tell you how not to approach me.
Don't: Start your message with "hey beautiful," "hey sexy," or even worse, "hey girl."
I think most girls would agree with me that having someone I don't know call me beautiful makes me gag more than…well, my own finger. Or the word "moist." Don't be that guy. The way to a betch's heart is not through her gag reflex. (Yes, I know how that sounded but I stand by my previous statement.)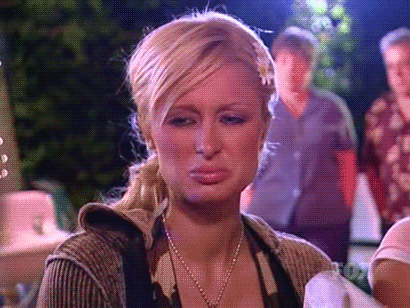 What's your end game? I say thank you and you're all, "So you agree? You think you're really pretty?" Yeah no thanks, if I wanted to have some guy compliment me only to be like "Oh okay, actin' all cocky and shit… fuck you bitch you're not even cute anyway," I'd literally walk down the fucking street. It's a no from me.
Also don't get me started on "hey girl…" Yes I am a girl, thanks for noticing, Stevie Wonder. Am I supposed to be flattered? Unless you're an actual rapper or Ryan Gosling, you cannot pull this off. Until that happens, quit using memes as your pickup inspiration, or at least check out some new memes—like, ones that have been created after 2009.
Do: Compliment something specific about my appearance.
"Love your hair," or "gorgeous smile," or "break me off a piece of dat ass!" See, now we can debate the merits of Tresemmé vs. Herbal Essences, and bond over getting our braces done in fifth grade by Dr. Silverstein. Btw I was just kidding about that last one, making sure you're paying attention.

**Sidenote: This bro will tell you that starting a conversation with "hey cutie ;)" is a surefire way to get into a girl's pants. I say, tread carefully. Some girls like being called cute. Some (hi) will want to bash you over the head because you basically just equated her to a small child.
Don't: Use a stupid pickup line.
"If I flipped a coin, what are the chances of me getting head?" "If you were a booger, I'd pick you first." "Are you from Jamaica? Cause Jamaican me crazy, girl."…Basically anything involving a pun qualifies as "stupid" and should be left to my dad when he's drunk and trying to entertain people.
Basically, don't ever use one of these corny pickup lines unless you're prepared for me to answer with, "Did it hurt? When you fell down from heaven and landed on your head?"
Do: Try to come up with something witty based off my profile, or point out shit we have in common.
The ability to read is a trait that is highly coveted among females in search of a mate. It's called evolution, look it up.
Don't: Read too much into it.
Yes, I'm wearing a Superman shirt in my fifth picture. No, I do not want to discuss my favorite Superman story arc with you. I haven't even seen Man of Steel. It was just a Halloween costume.

Don't: Not say anything
If I wanted to be the one to make the first move, we'd be on Bumble rn and this article would be moot.
Do: Ask me what I'm up to tonight/this weekend.
Odds are my plans are more fun than yours, and what betch doesn't like talking about herself? I mean, that's basically the tag line of this site. Plus if you tell me what you're doing I can automatically rule out one place I will not be going. Unless you're going to buy a round for me and all my friends. Then maybe we can talk.
Good luck guys, and may the odds be ever in your favor!
How To: Handle A Cat Caller
Some men are gentlemen. They listen when you talk and ask you questions and respect whether or not you want to fuck them. These men are called pros and we reward them with our company and blowjobs, if we feel like it.
Okay so now that I've gotten all that #NotAllMen shit out if the way let's talk about the everyday creepy assholes who roam the streets chasing tail and blurring the line between man and beast. I'm talking, of course, about cat callers.
Every betch on earth has been cat called. In fact, you don't even have to be a betch to be cat called. You just have to be vaguely female-presenting and outside. It's fucking lame, and I think I speak for all betches when I say we're over it. So here's our guide making it through the day without being gobbled up by some dude who amounts to nothing more than a literal animal wearing human clothes.
DO: Look Visibly Disgusted
Betches have a whole range of faces for letting someone know you hate them without ever actually acknowledging them. So use all your skills: bitchy resting face, eye rolling, pretending to vomit, actually vomiting. Whatever makes you feel good and lets this creeper know you are far from interested.
DON'T: Engage
Like most wild beasts, cat callers lose their shit when you make eye contact, so don't. Turn up your headphones, put on your sunglasses, and walk on by. Let this fool know that shouting down women on the street is less of a dating strategy and more of a sign that he won't be moving out of his mom's basement anytime soon. When you talk to these freaks or smile at them or say hello then they've gotten what they wanted: your attention, and there are plenty of normal, not-insane bros who haven't even earned that.
DO: Tell Someone
If you find yourself in a situation where you're moving from a regular cat call situation to a first-scene-in-robocop type situation, fucking tell someone. Go into the nearest store or flag down the nearest sane person and let them know what's going on. Girls find a million reasons not to report being harassed because it feels shitty and takes time and makes you seem dramatic, but fuck that. Be dramatic. You didn't bat an eyelash when you drunkenly flipped out at a dude who spilled his drink on your satin shoes, so why give this actual psychopath a pass?
DON'T: Let anyone convince you it's flattering
Any girl who's ever had to run to the store in sweatpants on her period with a hangover knows that cat calling has nothing to do with how you look. In fact, it has nothing to do with anything except the fact that you appear to have a vagina and that makes some men think they can shout at you. Like, oh you think I look beautiful? Well I already fucking knew that because I'm a perfect fucking snowflake. These dudes would cat call an actual cat if they thought it would understand what they were saying, so don't let them try to convince you that their unsolicited comments on your appearance are something you should be grateful for. It's fucking gross and he can go shave his back now.
The Betches' Guide to Feminism
Thanks to Beyoncé and that African lady on "Flawless," we are now all familiar with the definition of feminism (something about waking up like this I think?) Now that Bey has taken it upon herself to show us that feminism has less to do with burning your bra and man-hating and more to do with loving yourself and getting the respect you deserve, it's time for betches to embrace the term and not puss out when somebody asks them point blank if they're a feminist. (Note—the term "puss out" probs not super pro-feminist but, whatever. We all take on what we can handle.)
So that being said, here are some betchy feminist buzzwords you can use the next time some bro tries to take you down a notch just because you won't touch his nasty-ass d.
#1 "The Patriarchy"
A long long time ago a bunch of cave bros got together and decided that they couldn't have women leaving their caves and doing things because they might start doing those things better than men can do them. This idea persisted throughout history as bros convinced themselves that if women were allowed to have jobs and drive cars then men would never get hard again or some other bullshit, and thus the patriarchy was born. The patriarchy is all around us and is constantly trying to hold betches down. Luckily all the betchy ladies in politics and a bunch of just regular citizen betches are not having that shit anymore and are fighting on the daily for a betch's right to decide not to carry a fuckboy's illegitimate child to term and to get paid the same amount as bros for the work they don't do. TG.
#2 "Gaslighting"
So, there are a lot of super long articles about the psychological impacts of gaslighting and how shitty it is, but for the sake of not boring the shit out of you, here's a crash course. Remember when your so-called bf blew you off for like a full week and then told everyone you were a "psycho bitch" when you finally went off on him via text? That's gaslighting. Remember that dude you met on Tinder who said his ex was "crazy" but then after a little investigation you found out he just cheated on her a bunch? Again, that's gaslighting. Remember that time you were in the car with your hot stepbrother and some chick in a beret laughed at your understanding of Hamlet even though you know you remember Mel Gibson accurately? You guessed it—gaslighting.
Gaslighting is a term that comes from some old-ass movie that means when a bro (or anyone—betches can gaslight other betches) tries to deflect their own shittiness by trying to make you feel insecure and stupid, usually by telling everyone you're crazy and making you feel crazy. This is the ultimate in shady bro behavior, but unlike other shady things bros do, it's not attractive. Gaslighting is bullshit and is used by people who want to take away your agency and make you feel small so next time somebody tries to do it to you tell them to fuck off and be like "you can go gaslight your back now byeeeeeeee."
#3 Slut Shaming
Every betch observes the code of not fucking bros (sometimes) differently. For some betches, "sometimes" literally means "some of the time" and for others it means "basically every weekend now that I'm on Tinder." Whatever. Do you. A betch is a gift to society and if she chooses to bestow that gift upon an entire basketball team, that's her prerogative. No judgement. Slut shaming is when people fail to mind their own fucking business and act like what you do or don't put into your front pocket has anything to do with them. Luckily, betches have been long times champions of the anti-slut shaming movement by embracing the joys of dressing like a slut and always keeping in mind that we've "got to stop calling each other sluts and whores because it just makes it okay for guys to call you sluts and whores." Thanks Tina.
#4 "The Bechdel Test"
The Bechdel Test is a test for movies that asks one simple question: Does the movie portray at least two named female characters who talk about something other than a man. Sounds easy, but a legit large percentage of movies do not pass this very simple test and it's like come on, if I could pass Organic Chem you can pass the Bechdel test. It's not fucking hard. Luckily, the Bechdel test might as well be renamed the Betchdel test because all our fav movies like Clueless, Mean Girls, Bring it On, and Spring Breakers all pass the shit out of it proving once and for all that feminism and betchism go hand in hand.
How To Send A Decently Professional Work Email
Sending emails is the most awkward way of communicating. You're literally writing a letter to someone, which requires an intro, a body, and a signature. Alas, it is a way of life now, so you best know how to write one. Here's how you should be starting and ending your emails.
Regarding formalities
You could go back and forth with someone all day, starting email after email with, "Hi Marshall" and signing each with, "Regards." You don't need that kind of uppity corporate nonsense in your life. If you work with the person, they don't need (or deserve) an introduction email after email. Similarly, if you're emailing a client, respectfully start the initial email with an intro, but cut it off after that. If it's a new day and you're sending a follow-up, it's probably a good idea to greet them again.

If you've been away for a while and come back with a million and one questions for someone, give that email an opener, such as:
"Glad to be back—a few things I wanted to discuss."
Same goes for if someone you work with went away.
"Hope you had a great time in Vegas and didn't get any VD!"

Except not the VD part. That was a test.
When it comes to your point
Get to it—quickly. Aside from like, newspapers, I can't think of a more boring thing to read than emails. So please, get creative. There's nothing worse then recycling the same generic email jargon. "Hope you're doing well." "Attached, you'll find…"
Cut the crap. I can't tell you how many people will appreciate it.
When it comes to actually sending
Timing is important. Avoid sending emails at, say, the end of the day (particularly if you know when your coworkers/boss leave). They've rounded their day up and thrown in the towel until tomorrow. Don't fuck with their groove by sending them a hefty email.

Remember: You're in control of your emails. Don't be afraid to let your personality shine through, within reason. Now get out there and send a professional and semi-exciting (but not too exciting) email.
Images: Giphy; Shutterstock.com