How To Train Your Eyebrows So They Don't Suck
Eyebrow trends are fickle at best. At one time, your arches were supposed to be plucked and pencil thin, and now you can't scroll through your discover page without seeing a close-up of a blocky, over-filled brows that Groucho Marx would envy. But when it comes to getting your best eyebrows, it isn't all about beating them into submission. Try taking a gentler approach toward shaping that will be kinder to yourself and your brows in the long run… and also make them look better. Read below for tips on how to train your eyebrows so they don't suck.
Find Out What You're Working With 
Keeping up with my eyebrows is an extreme sport I swear

— cupid (@taqawi_05) May 25, 2019
Counterintuitive? Yes. But first get completely hands-off, says New York brow expert Joey Healy. To do that, you'll want to let your brows go untouched for about four to six weeks. I know it sounds scary, but that's the amount of time it takes for a full growth cycle. "Even if you're plucking with the best intentions, you might be reiterating the same shape that you want to change," Healy explains. (Aka if you don't like how your brows are looking, it's probably your fault.) Holding off on plucking is also the only way to see what fullness you can get back if you have patchiness. 
You can also try adding a growth serum to your routine, using it twice daily for those six weeks as a kick start. (Afterward, you can switch to once daily.) Los Angeles Brow expert Kristie Streicher notes that the first grow-out period is the hardest for those who have a habit of tweezing just a couple hairs a day (you know who you are), but it's critical. "Once you start removing all the unwanted hair at once, it starts training the hair to grow where you want it," she says.  Translation: Your brows will get easier to maintain and will naturally hold the shape you want longer. Yeah, it's annoying to not have instant gratification, but you've got to keep your eyes on the prize.
Set Brow Goals
View this post on Instagram
Despite trends that come and go, there is a perfect shape where your brows should begin, arch, and end, and it's based on your own face shape. Says Streicher, "This brow creates a frame above the eye that accentuates the cheekbones and opens the entire face," Unfortunately, these may or may not be the brows you were born with. To find your ideal shape, all you need is straight edge like a pencil. Find where your brows should start by holding the pencil vertically against the bridge of your nose (not the nostril!) up to your brow bone. That's where your brows should begin. Maybe mark it with eyeliner or something if you're new to this. Tweezing those wispy front hairs away will make your brows look too far apart, but removing any hairs far past or underneath will help open up the eyes for a peppier look. 
To find the point of arch, use the same straight edge diagonally from the bridge of your nose, across your pupil to your brow. It will land about two thirds the length of your brow. A common mistake is making the arch too close to the bridge, which you should avoid at all costs, because as Healy puts it, "Centered arches always make you seem surprised, sometimes even worried." Yikes. And worse, the rounded shape can exacerbate under-eye bags—so imagine having hungover, puffy face at all times. Finally, to find the correct end point, hold the straight edge against the bridge to the outer corner of the eye. Any hairs that grow past this can create the impression of drooping—get rid of them.
Then, Tweeze Away
For the artistic precision your sweet face deserves, stick to tweezing for hair removal. If you're scared you're going to mess it up alone in your bathroom, try a specialist who will hold your hand is going to take the time to go hair by hair. I'm sorry, but this means you're going to have to break up with your waxer for a bit. While it may seem more efficient to wax or thread, over time those harsher methods can break down the elasticity of your skin. They can also cause new issues with your eyebrows by thinning the hairs you need or creating an odd geometry for the brows that's hard to come back from. Instead, go slow with the tweezers. Perch next to a window for natural light and—this is the crazy part—ditch the magnifying mirror. "They make you lose perspective," says Healy. "You look too closely and brows end up overly plucked." Taking a step back helps you see the shape of your brows from a normal angle. If you do mess up—just take a pause. Don't try to balance them out, because you'll definitely end up f*cking your whole situation up even more. You might need to take a small L and put a pin in the plucking for a little while. Just keep using your serum and a little makeup to tide you over. Repeat after me: Do. Not. Pluck. More!!!
Keep It Up  
Consider your brows the same why you think about your highlights or clear skin—it's not a one-and-done deal, and maintenance is required. After shaping, stay on a schedule of waiting to tweeze every four to six weeks based on how fast your brows grow. You'll notice over time that the stragglers will start to fall in line and stop growing where you keep getting rid of them, helping you keep in mind your preferred shape with less effort (win!). Restraint is your friend when it comes to maintenance. Healy suggests if you're worried about overdoing it at home, set a timer for five minutes and stop tweezing when the buzzer sounds—that way you can't go too far into tadpole territory. If sparseness persists, the quickest fix is a little brow powder. Putting color on the skin between the hairs gives the illusion of fuller brows without looking unnatural. For thicker brows that still need definition and lift, grab a tinted gel to get the fluffy look that's currently trending. The goof-proof way to apply product is to go from the tail towards the front of the brow—overly drawn and heavy in the tail makes you look out-of-date. If you're uncertain about your color, cheat towards using a shade that's a touch lighter and ashier than you think. Once you get a routine down, it shouldn't take more than a minute to get awesome brows. After that, you can worry about everything else.
Build Your Brow Kit:
Images: Felipe Bustillo / Unsplash; kristiestreicher, joeyhealybrows / Instagram; @taqawi_05/Twitter
'Leaving Neverland' Is About More Than Michael Jackson
In the past 48 hours, I watched the entirety of Leaving Neverland, director Dan Reed's two-part, four-hour documentary about two men who claim to have suffered sexual abuse as children, and how they grapple with that trauma to this day. To say I have an emotional hangover would be an understatement—I am sad in ways I didn't know I could be. While sob-emoji texting my friends, though, I noticed a pattern. When someone hadn't heard of Leaving Neverland, I clarified: I was watching "the Michael Jackson documentary." And it's true—the man accused of sexual abuse in this doc is Michael Jackson, and "Neverland" in the title refers to Jackson's 2,800-acre ranch, where he allegedly abused an unknown number of prepubescent boys in the '90s and 2000s. But having seen the film, I bristle at the idea that this is a Michael Jackson documentary. This is a documentary about child sexual abuse.
Wade Robson and James Safechuck are the two men who tell their stories in Leaving Neverland. Both are indisputably connected to Jackson: Safechuck appeared in a Pepsi commercial with him at the age of 8, and Robson met him at age 5 in Australia, after winning a dance competition. Jackson took a special liking to Safechuck and Robson, and both boys' relationships with the singer went down similar paths. Jackson would invite the boys' families on trips, paying for their transportation and lodging, and opening up a world of fame and money they'd never seen before. He told the boys' mothers that their children were special, that he loved them, and he wanted to help their careers. He said he saw himself in them—and these mothers, dazzled with the vision of raising the next Michael Jackson, struggled to deny Jackson anything.
What Jackson wanted was extended, unsupervised time with their young children. While Robson and Safechuck's mothers were brought along for many visits to Neverland, they slept in a separate house, and allowed their children to share a bed with Jackson. Safechuck accompanied Jackson on tour; Robson was left alone at Neverland for days at a time. In a 2005 trial for Jackson's alleged assault of a different 13-year-old boy, it came to light that Jackson would call Robson's mother at 1am, saying he needed to see Wade right away. Joy Robson (Wade's mother) would drive him there promptly, and send him straight to Jackson's bedroom. At the time, the boys insisted that they loved Michael, and he loved them. It wasn't until they had children of their own that they were able to see the sexual experiences they describe with Jackson—and they describe many—as abuse.
It takes days to recover from this documentary. Five minutes in you will think to yourself "oh my God, every word they are saying is true." https://t.co/JMoA6Y0dEo

— Judd Apatow (@JuddApatow) March 2, 2019
In this moment, it feels surreal to report on these men's stories of sexual abuse and name the abuser as Michael Jackson. Beyond the shock of hearing these accusations about any beloved celebrity, it feels surreal to name him now because the film focuses so little on the figure of Michael Jackson himself. When you hear "Michael Jackson documentary," even knowing it's about allegations of sexual abuse, you expect the film to take on Jackson's legacy. You expect Jackson to be presented first as an icon: to hear Jackson's music, or accounts of his persona and cultural impact. Maybe a narrator hyping up how adored he was, before smashing down the hammer of these accusations. But Leaving Neverland does nothing of the sort.
Instead, Leaving Neverland addresses Jackson's celebrity only in the context of the effect it had on Robson, Safechuck, and their families. It's important to these stories of sexual abuse to know that Jackson was famous and powerful, because that status informed the parents' decisions to give him that access to their sons. Similarly, it's important to hear about how Robson and Safechuck personally admired him: his impact on them as a performer, before they ever met, informed how ecstatic they were when he showed an interest in them; how predisposed they were to admire him and want him in their lives.
As a former child actress, I can't help but watch this documentary and think about how wrong it is for children to be put in the position of performing for the soul purpose of pleasing adults. It's such a slippery, dangerous, often abusive slope. #LeavingNeverland

— Amber Tamblyn (@ambertamblyn) March 4, 2019
Even clips of Jackson's performances, or screaming fans, are limited to instances that highlight the trauma it caused to these men. The swarming fans attending Jackson's tour compounded Safechuck's sense of being overwhelmed and alone. The line of protesters attending Jackson's trial played on Robson's sense of obligation to protect his friend. Leaving Neverland never gives us those images solely to show us that Jackson was beloved, and thus entirely avoids the expected structure for a documentary accused of being "posthumous character assassination." If Reed's intention had been (primarily) to shatter the world's impression of Michael Jackson, I would have expected to first be shown what that impression is—then see it darkly juxtaposed with these men's stories. Neverland doesn't feel like the dismantling of a celebrity's reputation. It feels like two deeply personal accounts of childhood trauma in which their abuser happened to be famous.
#LeavingNeverland isn't about the spider or the fly. It is about the web.
Listen to survivors. Learn about grooming. Understand that victims have complex feelings. Share 800-4-A-CHILD or 800.656.HOPE! Promote help. pic.twitter.com/2JOxWlDI3y

— Jenn (@8675309Carson) March 4, 2019
Of course, the fact that Leaving Neverland doesn't explicitly state "here's proof that Michael Jackson was a child molester" won't do much to change people's reactions to the film. Those determined to believe in Jackson's innocence will do so anyway (though I struggle to understand how, if they take the time to watch the film). And those who believe the stories of Robson and Safechuck will effectively have any lingering fond doubts extinguished. Nonetheless, I think it's an important and correct choice that Reed focused the film so tightly on these two men and their stories.
Painful as it is for Robson and Safechuck to continue seeing Michael Jackson celebrated, they didn't strike me as crusaders for his worldwide vilification. They struck me as two men still actively, painfully grappling with the trauma they suffered as children, talking through both what happened and how they behaved in the wake of it. What Leaving Neverland does best, in my opinion, is provide a road map for how this type of abuse can affect people through adulthood, and shed some light on why it's so difficult for child victims to come forward. And frankly, that's a much more important story than whether or not a late pop star is deserving of our love.
If you or someone you know is a survivor of sexual abuse, call the National Sexual Assault Hotline at 800-656-HOPE
Images: HBO; metoomvt / Instagram; juddapatow, ambertamblyn, 8675309Carson / Twitter
Is Laser Hair Removal Worth It? What To Know Before You Book
I've literally always wanted laser hair removal. It seemed completely unattainable; an urban legend of hairlessness reserved for celebrities (or like, Corinne). Then things changed. Instagram influencers started publicizing the "secrets" of their beauty routines. (Hint: many involved laser.) Laser centers multiplied (at least in NYC/LA), and prices dropped. And, most importantly, I graduated college, got a job, and started paying my own bills (*sob*). The only silver lining of that last change? I suddenly had free reign over how I wanted to irresponsibly blow spend my money. So on a day I was feeling particularly brazen (read: my paycheck had just hit), I went for it. I bought five Brazilian laser hair removal sessions at the "special discount price" of $800. Having gone through the process, here's what you should know before getting laser hair removal.

The Cost Of Laser Hair Removal
Obviously, the cost of laser hair removal will vary depending on what you want done, where you go, and whether you've heard of Groupon. Groupon is a must (especially if you live in NYC or LA, where you'll get the best deals), but don't go crazy. You should always research facilities by reputation first—a hack lasering job can leave you with scarring, burning, and a whole host of other nasty consequences—and then see what deals are available. It's also important to note that most areas will take a minimum of five sessions to see lasting results. (If you have particularly thick hair, it can take a few more). So, most places offer packages of 5 or 6, which I highly recommend if it's your first time.
All told, you should be able to buy a set of underarm treatments for around $200, bikini/Brazilian for around $500, and lower leg for upwards of $700. (Disclaimer: I live in DC, so my options were more limited. Hence the $800 payment). And while I found myself paying off my laser hair removal treatment over several months, I haven't regretted it. I've been getting Brazilian waxes since high school, usually at around $50 each. So I went to a very dark place thinking how much money I could've saved by getting laser earlier. On the other hand, the cost of shaving my legs is so relatively cheap (financially—the emotional toll is enormous). So I couldn't quite justify a laser leg treatment since a razor is like, $20 every few months or whatever. You ultimately need to decide what makes sense for you.

The Experience
As I said before, I've been getting Brazilian waxes monthly for a little under a decade. So compared to that, the pain of laser hair removal was NBD. It's kind of like a hot, sharp pinch, but it passes quickly and they give you a cooling pad after. It's obviously not the most relaxing experience in the world—I'm naked from the waist down and talking about my weekend plans with a stranger, after all. Other cons include some redness/swelling for 24 hours max (not every time), the terrifying comment that I might find "ash in my underwear," and the time my time my technician shaved me instead of giving me the option to do it myself. But it only takes about 15 minutes per session (legs take longer), and honestly, no hair removal is fun.
Disclaimer: If your skin is particularly sensitive, or if you're at a facility that's using shitty machines, you may have a more painful experience. Never be afraid to ask questions about what to reasonably expect from treatment, or more information about how the procedure works and what they're using.
The Results
To be honest, I'm not as blown away as I thought I'd be. Five sessions later, I'm still growing hair—thin and fine hair, granted, and it's mostly invisible unless you're six inches away. Then again, I'm really only doing this treatment for the people who are six inches away, and I'd been hoping for a full-on Beyoncé bikini line. I also have some ingrown hairs, and hoped laser would heal those marks. And it did—but again, it didn't eliminate them entirely. It just made them less obvious.
Since having a few fine hairs on my lower legs would bother me less than having them on my bikini line, I don't think I would have these complaints with lower leg laser treatment. I'm just still trying to justify the cost to myself. Which brings me back to the original question: Is laser hair removal worth it?

In certain cases, like replacing a waxing habit, I say just do it. Even if it's not quite the swath of Barbie skin I had in mind, my bikini line is effectively clean. I won't have to put mental energy into whether I'm bikini-ready all summer, and I've already saved $250 and three hours of my life from waxes I no longer need. On the other hand, buying laser for areas where the alternative is shaving (like my legs) is still something I can't commit to. In the end, it all comes down to your current needs. If you're someone who shaves her legs every day, is sensitive to razor burn, and freaks out at the first sign of stubble, then laser might be for you. It won't turn you into a Victoria's Secret Angel, but it will take unwanted hair off your mind for a long, long time.*
*(Touch-ups after a few years are common.)
Images: Tumblr (3); @alexiswaters_ / Instagram
What Your Eyebrows Should Look Like Based On Your Face Shape
Your eyebrows can completely change your face if they aren't done correctly. This is why we spend so much on waxing, threading, and fuck-all else to try to look like sultry beauties and undo the damage of 2002-era sperm brows that will never grow back. Especially if you have chronic RBF (same), get your eyebrows looking good so you don't look so angry and get rid of that fucking unibrow. Styling your brows is actually based on a formula that anyone could follow. So save your money and do this shit yourself to shape your brows from now on.
To shape your brows, follow these guidelines. Just hold up your eyebrow pencil (or whatever) to see the straight lines. Then, you're gonna take a bunch of measurements. The first measurement is how far your eyebrows should go in. We used to be so afraid of unibrows (tbh, fair) that we severely overplucked, and our sad eyebrows now start waaay too far apart from each other. For the chic brows we see everywhere now, your eyebrows should start lining up from the outside of your nostril.

If you have a giant schnoz that Daddy wouldn't pay to fix, please adjust accordingly.
Pluck everything in between these lines. If your eyebrows don't meet these lines, this is where you need to fill them in. It may seem unnatural at first, but let this part grow out to make your brows look thicker and fierce.
The next measurement is where your brows should arch. If you're looking straight ahead, it is a line from your outer nostril to the outside of your iris to your brow. This is should be the highest point of your arch. You can make it subtle or dramatic, but this is where it needs to go. After this line, your brow should start sloping down, lest you look evil or perpetually surprised.

The last measurement is where your eyebrows should end. I had disgusting Gwen-Stefani-in-the-90's brows in high school, so I have to color mine in to get the end bit of it. Ugh.

This is from the outer nostril to the end corner of your eye and up to your brow. Wherever that meets, that is where your brow should end. Unless you're Chewbacca, you probably don't need to pluck beyond this point, but if you need to fill it in, we have some options. Now that you know where your eyebrows are supposed to go, if they don't quite make the cut, you can use either a brow pencil or brow powder. And because I assume you're utterly helpless if you're reading this article, I've taken the time to select some of the best brow products for you. I know, I'm such a good friend.

Anastasia Beverly Hills Brow Wiz
The Anastasia Beverly Hills Brow Wiz is the best pencil I've ever tried. It's waterproof, highly pigmented, and doesn't smudge off to make you look like a dirty homeless person halfway through the day. When filling in your brows, use short, quick strokes to mimic hair and then use the little brush on the end to blend out harsh lines. You especially need to blend the inner side of your eyebrows (where they start) to make them look natural.
If you want a more subtle brow, get yourself an eyebrow powder. Do NOT use eyeshadow. Eyeshadow is supposed to blend, meaning the second your nasty forehead oil begins, your eyebrows will straight-up melt.

Anastasia Beverly Hills Brow Powder Duo
This brow powder is also waterproof, smudgeproof, and creates a more natural brow if you don't need a lot of coverage. Just make sure to use a brow brush to smudge out at least the start of the brows. Use a clean mascara wand or something like this:

Sephora Collection Classic Double Ended – Filler & Spoolie #208
Lastly, if you want your brows to be dark, thick, and straight-up bulletproof, use a gel pomade like this:

Anastasia Beverly Hills DIPBROW™ Pomade
You will die with perfect eyebrows, as this shit never comes off.
Now you have no excuse to walk around with sad little spermy brows. Get out there and get your shit together.
Images: Author (3), Sephora (4)
Betches may receive a portion of revenue if you click a link in this article and buy a product or service. The links are independently placed and do not influence editorial content.
If You're Obsessed With Dry Shampoo, You Need To Start Using Dry Conditioner
If you're one of those people that avoids washing their hair at all costs and dry shampoo is your bff, meet dry conditioner, the product that will soon become your soulmate. You know that third-day hair when, while it may not be greasy thanks to dry shampoo, it's definitely dry, brittle, and dull looking? Yeah, that's what dry conditioner is for: to enhance shine, moisturize, reduce frizz and soften your unwashed strands and bring them back to life. To put it simply, if your favorite hair serum and your favorite dry shampoo hooked up and had a lovechild, they would give birth to a dry conditioner. Another product to save you time in the morning and to help you preserve your overpriced blowout? We're here for it.
So if you're over that matted, dry, tangled look that you try to pass off as JBF hair but instead you just end up looking homeless, we rounded up five of the best dry conditioners you need to add to your routine ASAP.

If you're obsessed with smelling like a coconut even when you're not at the beach, Marc Anthony's offering should be your go-to. The dry conditioner goes on clear, gets rid of frizz, and helps to put definition back into second- and third-day hair, all while making you smell like you've spent the day lathered in sunscreen. In the best way possible, obvi.

Your favorite blowout spot knows a thing or two about preserving your styled hair, so expect only the best from Drybar. The dry conditioner spray is packed with argan oil to hydrate and get rid of frizz, mango butter to restore softness, and tiare flower to detangle and leave hair polished. The best part? It smells like jasmine, sandalwood, and vanilla, aka Drybar's signature scent.

We'll spare you the word play on girls with "knotty" hair and tell you that Eva NYC's dry conditioner is perfect for those with manes that are full of tangles. Its main component is Vitamin B5, which softens and strengthens so you can actually get a brush through your hair. What's more, Eva's Forget Me Knot also gets rid of that annoying wintertime static so that you don't look like you just got electrocuted.

Amika's products are made for literally every hair texture on the planet, so you can imagine that their products also aim to do a little bit of everything—and that's definitely the case with their dry conditioner. Its B5 component works to strengthen, protect against breakage, reduce split ends, and smooth the strands in addition to adding moisture, shine, and eliminating flyaways. So if you have fine, fragile hair, get you some Amika.

There's something about using an Oribe product that makes you feel instantly cooler (yet more sophisticated), and that is definitely the case with the Soft Dry Conditioner Spray. Spraying the dry conditioner on is kind of like when you spray fabric softener on your clothes—your strands become instantly softer, better smelling, and all-around better looking, not to mention free of tangles to preserve your style for yet another day.
Image: Averie Woodward / Unsplash
Betches may receive a portion of revenue if you click a link in this article and buy a product or service. The links are independently placed and do not influence editorial content.
What Do Guys Think Of Pubic Hair? I Grew A Bush To Find Out
Everything about the 90's is coming back right now: Choker necklaces. Jean skirts. John Stamos. People are essentially dressing like Bruno Mars, but unironically. Also, the bush is maybe coming back in style? No, not the George W. kind. (I'm talking about pubic hair.) In the 70's and 80's, it was all about the apple bottoms jeans and cooch with the fur. In the 90's, women would trim and clip-clip-hooray. By the early 2000's it was the landing strip, which also served as an arrow saying "come on down!" in a Bob Barker voice.
Then the dot com boomed happened, and porn was no longer something men stumbled upon by finding an old Playboy magazine with the pages stuck together. Millennial men learned how to have sex from Kim Kardashian and Ray J, which actually explains a lot now that I think about it.
It's estimated that around 25% of all internet searches are for porn. Why is this relevant? Because of the rapid rise of internet porn, directors started having their talent shave everything down to baby smoothness. It started out as a visibility issue, because if you remember the late 90s and early 2000s, online video wasn't exactly HD. But with bald bits, audiences could clearly see every salacious angle.

So boys grew up jacking it to fully exposed clitorises (yet can never seem to find them). Eventually, they went from Boyz to Men and grew up expecting women to mimic their porny counterparts. We fucking did it for some reason, and didn't question how weird it was—like Snoop Dogg and Martha Stewart's friendship.
Anyway, six weeks ago I put down the razor, saved the bikini wax money, and grew out a bush. Note to all bushy betches looking to try this at home: it takes well over a month to really get the bird's nest aesthetic, or at least it did for me.
Next came the highly scientific experiment: What would guys think of my bush? I've gone through wintertime dick cleanses where my leg hair was long enough to donate to Locks of Love, but this was the first time I had really had left my grass uncut in a decade. My semi-slutty sorority days are long gone, so it's not like Chad from Sig Ep (who has Pornhub as his homepage) is going to give a shit. The guys I'm dating are in their late twenties and early thirties. I learned they like their woman to look like just that—a woman.
No guys said anything about my furry wonder down under while we were fooling around, but I brought it up during pillow talk. You know, romance. I was slightly nervous before the big bush debut, but I also knew no man was going to be super into me and suddenly change his mind and decline his exclusive invite to club shrub.

The first time was late at night and the lights were mostly off, so the big reveal wasn't that dramatic. I'm sure he felt a difference, but he was a happy camper. The next time, the guy started fingering me with my jeans still on and tried to be sexy and said, "oh, you have hair down there. I'm low-key into that." One guy actually said he liked it better than fully shaved, because the resulting stumble is apparently unpleasant when he's down there doing the Lord's work.
The verdict is in: one dude said he was a little surprised but definitely happy with it, one dude thought it made me super cool and confident, and one dude might have a fetish he's not owning up to. They all kept calling though.
Verdict: I suggest experimenting with hair down there as much as you did with purple eyeshadow in the seventh grade.
How To Make Your Vagine Platinum
Just when I wanted to trade in watching The Bachelor for watching paint dry, Corinne Olympios, nap queen and personal hero of mine, said this: "My heart is gold, but my vagine is platinum." And sorority girls all over America got out their bedazzlers and went to town on making matching T-shirts because #feminism. Seriously, I saw like like 4 of those in the crowd during The Women Tell All.
Catch up on the best Women Tell All recap you'll ever read here!
First of all, can we all slow clap for this girl? Because she has more confidence in one hair extension than any fuckboy who messages "send nudes" at 12pm on a Tuesday, and that is fucking empowering.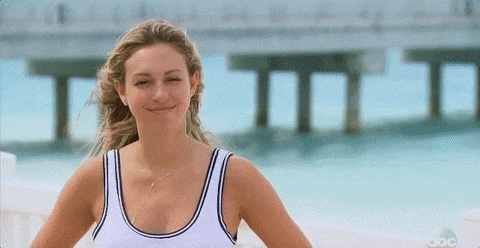 Second of all, WTF is a platinum vagine and like, should I be concerned that mine might be sterling? Is it literally platinum? Did her father buy her a golden vagina the same way he bought her a multi-million dollar company and Nick's $3,000 kept man uniform? Or is there some sort of groundbreaking beauty regimen involved here that may or may not also be the secret ingredient to Raquel's cheese pasta? These are the questions that keep me up late at night when I should be wondering about the state of our world or, like, really doing anything else with my life.
Thank god the internet is shameless because we now have the answer. In a statement to Entertainment Weekly, Corinne said this: "I'm lasered. It's like, small and cute. There's no weird things going on down there." So… it's just lasered? Groundbreaking. Honestly I expected more from the girl who sprayed her tits with whipped cream on national television, but I guess we all have to realize one day that our hero is just some rich girl chugging Champagne in Miami. Sighs.

But in case you don't want to drop a cool $250-$500 dollars to look like a 12-year-old beauty queen downstairs (because that's how much lasering your vag costs), there are actually other beauty regimens you can invest in. For example, if you're more low-maintenance and natural a Nice Girl, your go-to vagine product is going to be Fur Oil, i.e. the product Emma Watson just announced she uses, and which we conveniently endorsed in our 2016 Holiday Gift Guide.

Aside from the name making me want to vomit a little it's actually a good AF product. Made with grape seed, jojoba, tea tree, and clary sage seed oils, this brand is all about making your pubic hair soft and manageable. It's also antiseptic and antimicrobial, and it works to prevent ingrown hairs. Praise. The downside is one teeny, tiny vial of this vagina oil costs $39 and is more than I'm willing to spend on most bottles of wine. Plus side? It's literally made for Disney princesses so maybe some birds and shit will come sing to you and your platinum vagine.
Or if you're feeling rich AF and want to treat yourself like a Kardashian, then you can make you and your vagine an appointment for a vajacial aka facials for your vagina. Seriously, Khloé Kardashian spends a fuck ton on of money on these. As if I needed one more reason to unfollow these bitches on Snapchat. But I won't because I Keep Up hate myself. Vajacials include exfoliation, toning, and some sort of a "face" mask for your vagina. And you can expect to drop $75 on the appointment. Jesus. Here I am worrying about the extra two dollars I'm spending to make the minimum on my Seamless order and there are people out there spending more money on their vaginas than the cost of a high-priced escort.
So do what you will with these beauty recommendations. In the end, your vagine is as platinum as you think it is and how you take care of it should be solely for you and your comfort level. Not the crying douche-canoe in a sexless turtleneck that you're dating.