Male Awards Voters Are Reportedly Skipping "Little Women"
The phrase "Dream Team" gets thrown around a little too often. Whether it's someone referring to a bagel and iced coffee combo or when your coworkers talk about their trivia team that came in third, it's been a little overused. The only time in recent history that it was beyond appropriate, perhaps even understated? When referring to the new Little Women film adaptation.
Directed and written by Greta Gerwig, actual genius and force behind Lady Bird and Frances Ha, this film was immediately considered to be a Film Du Jour. On top of that, you have top female producers behind it and… a cast that is essentially Fantasy Football but for the Oscars: Saoirse Ronan, Emma Watson, Laura Dern, Timothee Chalamet and yeah, Meryl Streep. An aggressively white period piece with quirky mainstream talent is usually the definition of Oscar bait. Which is why so many people are confused as to why it's barely making any buzz in the award circuit this for? Oh yeah, men. 

The film's big name producer Amy Pascal told Vanity Fair that male critics and awards voters don't appear interested in a female-fronted film that tells the dynamic coming-of-age stories of a brilliant case of women.
According to Vanity Fair: "RSVPs for the first screening in October, as well as many others that Sony Pictures hosted around Los Angeles in recent weeks, were skewed about two to one in favor of women."
"I don't think that came to the screenings in droves, let me put it that way," Pascal told the outlet. "And I'm not sure when they got their DVDs that they watched them." She also noted she believes the skewed audience is more "unconscious bias" than "a malicious rejection,"
While women are mainly showing up for the screenings, men still dominate voting membership for major awards, though organizations are making progress towards gender parity.
It's unfortunately not shocking that men aren't flocking to this "coming-of-age period drama" because unfortunately John Wick is in zero scenes. Additionally, the title is a combination of two of their least favorite words: Little (unlike their penis, they swear) and Women. And no, this isn't an Elizabeth Banks defending Charlies Angels like reasoning, but it sounds like they quite literally just aren't showing up.
The snubbing has already begun with the Screen Actors Guild Awards COMPLETELY shutting out the film, which has a 97% Rotten Tomatoes score. (Don't worry, they of course nominated The Irishman five times). The Golden Globes only gave the film two noms: Best Original Score and Best Actress for Saoirse. Naturally, when you see Saoirse's name you immediately just write "Award Nominee" (which makes it very awkward for her at Starbucks) so her recognition was a given, but for the rest of this team to be snubbed is a bad sign for the Oscars—and just a harsh reality check about women-driven films. 
Pascal also noted that "Queen & Slim" which was directed by Melina Matsoukas and features police violence against an African American couple, has also been ignored by the awards.
"I think it's kind of the same thing. It's a different bias," Pascal told Vanity Fair. ", These kinds of stories are important to me, and these kinds of stories are less important to me."
Tracy Letts, one of the actors in Little Women, is tired of this (rightfully so), telling Vanity Fair that he "can't believe we're still having this f*cking discussion where movies by men, and about men, and for men are considered default movies. And women's movies fall into this separate and unequal category It's absurd."
See, men, it's not hard to make us swoon for you, just say that you believe things should be equally respected And I mean, Oscar nominations haven't been released yet, and on top of that the film hasn't even come out for the public, so hopefully the Oscar's end up making up for these snubs (which, is an lol considering their history) or at least public opinion can sway people's minds about this movie about a beautiful, important story. 
The Oscar Nominated Movies You Need To See & Where To Watch Them
The 90th Academy Awards are coming up, and unless you want to spend the entire night refreshing Instagram and wondering WTF Jimmy Kimmel is talking about, you're gonna need to watch some movies. This year's Oscars is gonna be good, and not just because of the endless shade-throwing at Harvey Weinstein. It's been a weird year for Hollywood, but the films have been great, so if you don't see some of the nominated movies beforehand, you're missing out on good movies and a ton of cultural references.  I've basically spent the past two months generously donating my paycheck to AMC Theaters, so I've seen like, every Oscar nominated movie. Here are seven Oscar movies you should watch ASAP, and some tips about where you can still find them.
1. Lady Bird
Lady Bird has been out for a while, so if you haven't seen it yet, I'm just really impressed that you've literally had social plans since Thanksgiving and haven't caved for a good movie night. I personally saw Lady Bird as soon as it came out, and I knew it would be nominated. It's like I have ESPN or something. It's nominated for best picture and four other categories too, so it's v relevant. Plus, Saoirse Ronan kills it as the lead and Greta Gerwig is the film's badass female director, so yeah, the future is fucking female. Unfortunately, the movie isn't in many theaters anymore, but it's being released on iTunes and Amazon on February 13th, so you have no excuse.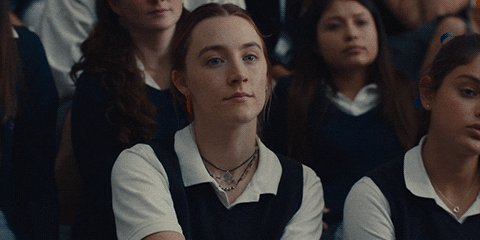 2. Three Billboards Outside Ebbing, Missouri
Also nominated for best picture, also amazing. If you're not familiar with Frances McDormand, she's the one who was cursing at the Golden Globes and accidentally wore navy when everyone else wore black. She DGAF and I'm kind of obsessed with her. This is one of those movies that you're literally passionate about after it's over. Go see it. It's still playing in a few theaters, but in case you can't find it, it'll be available on Redbox on February 27th.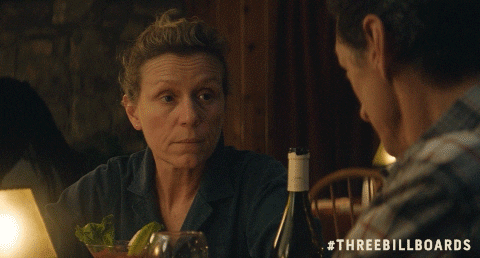 3. The Post
Some people told me they thought The Post seemed slow, but honestly I loved it, and it's not just because I have an actual crush on Meryl Streep. Tom Hanks kills it too. Have I mentioned Meryl Streep? The whole movie is about the Pentagon Papers being published in the Washington Post, and even if you don't care about journalism or politics, you'll love the story because Katharine Graham is literally an American icon. Oh yeah, and it's a true story. The Post is still playing in most theaters, so cancel your plans this weekend and go see it. Sorry, you're gonna have to leave the house. That's all.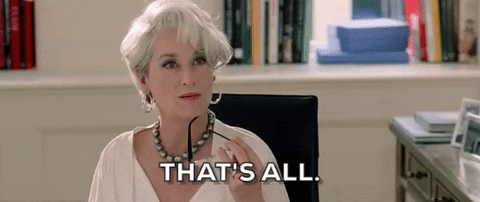 4. I, Tonya
Another American classic. I, Tonya is incredible because you basically follow a true story without really knowing what happened or who's telling the truth, even after the movie's over. The skating is sick, the costumes are great, and Margot Robbie might actually beat Nicole Kidman for my favorite Australian. Critics are saying the film is being snubbed this year because it only has three nominations, but, like, that's enough to see it. This one's also still in theaters. Go.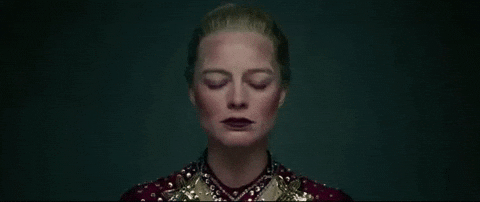 5. Dunkirk
Dunkirk is one of those movies that you hear about it and immediately dismiss it to go see Kate McKinnon in Rough Night, but then you hear everyone talking about it and reconsider your decision. Dunkirk is basically nominated for every category—best picture, director, cinematography, film editing, sound editing, production design—you name it. Again, even if you don't care about politics or war movies, it's worth seeing, because it's literally mind-blowing. It's also just a really important part of history, so like, it doesn't hurt to educate yourself a bit. The best part is that it came out in the summer, so it's already available for streaming on Amazon, YouTube, Google Play, and Blu-Ray. Blessings.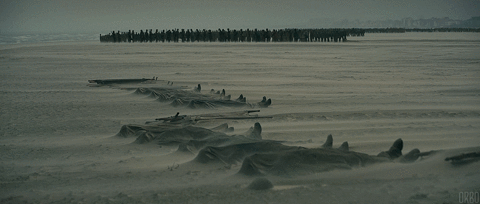 6. The Shape of Water
Okay, HEAR ME OUT on this one. When I first saw The Shape of Water, I was kind of weirded out by the whole girl/merman romance plot, and couldn't really get past that. But honestly, this movie has 13 nominations and it is sweeping every category. It's breaking records in film history, and for that reason alone it's worth seeing. Plus, the special effects and cinematography are actually really cool, if you're into that stuff. It's also v dramatic, so you're kind of on the edge of your seat the whole time. You know, once you get past the whole underwater sci-fi storyline. You'll be able to watch this on Amazon starting on February 27th, which gives you just enough time to squeeze it in before the Oscars.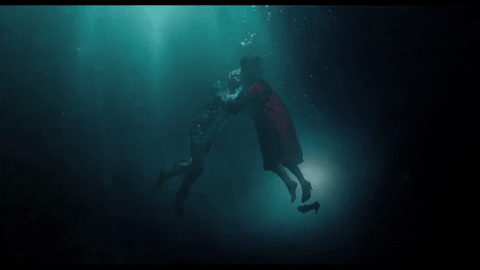 7. Molly's Game
People might hate me for this one because Molly's Game only got one nomination, and films like Get Out and Call Me By Your Name might be way more important. Those movies are good too, HOWEVER, I'm recommending Molly's Game because it totally deserved more than it got. I mean, aside from the fact that Jessica Chastain was literally at her all-time prime, the actual story is fascinating, and personally I'd like to meet the real Molly Bloom and ask her like, a million questions. It's a true story and it's fast-paced and super interesting. Even if you know nothing about poker you'll still love it. You just might need to Google a couple things afterwards. You'll also have to get your ass to a movie theater to catch this, but did I mention Idris Elba is in it? Yeah.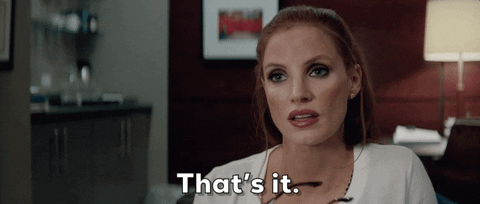 Images: Courtesy of NEON and 30WEST; Giphy (7)
The Biggest Snubs & Surprises From The Oscar 2018 Nominations
This morning, Hollywood woke up early to congratulate itself on another great year, and by that we mean the Oscar nominations were announced. It's not a very surprising list this year, with most of the favorites from other awards shows showing up in force, but there are a few interesting choices to analyze. The actual Oscars are in March this year because of the Olympics, so you might actually have time to see a few of the movies, imagine that!
Surprise: Greta Gerwig
Let's hear it for the LADIES!!! Greta Gerwig landed a nomination for directing Lady Bird, becoming just the fifth woman EVER to be nominated in this category. Lady Bird is amazing and Greta is very deserving, so this is only really a surprise because the Academy usually prefers, um, white dudes. Four for you Greta, you go Greta.
Snub: James Franco
After the super shocking revelation this month that James Franco is a fucking creep, it was unclear whether the voting period was late enough to stop him from getting an Oscar nomination for The Disaster Artist. He may have won the Golden Globe, but when it comes to the Oscars he's officially canceled. Bye!!!
Surprise: 'Darkest Hour'
Gary Oldman (aka Sirius Black) has been winning every major award for his performance as Winston Churchill, but Darkest Hour got a surprising invite to the Best Picture party. If you're trying to watch all the nominated movies, sorry but you're going to have to sit through two hours of World War II shit. We don't make the rules here.
Snub: Tiffany Haddish
Tiffany Haddish was the surprise breakout star of the summer in Girls Trip, and she generated some modest awards buzz, but the Academy decided to go with five less surprising choices. Apparently even the best delivery of lines like "BOOTY HOLE" don't win you an Oscar, go figure.
Surprise: Netflix
Netflix's original movie Mudbound made a big splash, landing four nominations, including Supporting Actress for Mary J. Blige. Yeah, that's right, Mary J. Blige can act, and you can witness it for yourself on Netflix without even leaving your bed. Rachel Morrison also became the first woman ever (!!!) to be nominated for Best Cinematography, so she deserves to get wasted on a Tuesday.
Snub-ish: Actors of Color
Remember a few years ago when the Academy failed to nominate any non-white actor for two fucking years in a row? Well, things have gotten a little better, but not good enough. This year, four out of 20 acting nominees are black, and the rest are white AF. We love Meryl Streep, but come on.
Surprise: 'Get Out'
Get Out came away with four nominations, all in major categories: Best Picture, Actor, Director, and Original Screenplay. It deserved recognition, but still surprising that the Academy actually embraced a horror movie centered around black people that came out in February. Also let this sink in: two years ago, Jordan Peele was known as "the short one from Key & Peele." Now he's a double Oscar nominee.
Snub: 'Fifty Shades Darker'
It's just not fair at this point. What do Anastasia Steele and Christian Grey have to do to get a little respect around here? For the second movie in a row, they've been completely ignored by the Oscars. They have one more movie coming out next month, so we'll keep our fingers crossed for a Best Picture nomination next year.
Surprise: 'Beauty And The Beast'
Yeah I know it was only nominated for Costume Design and Production Design, but didn't this movie come out at least three years ago? What year is it? Who am I?
Read the full list of nominees below.
Best picture
Call Me By Your Name
Darkest Hour
Dunkirk
Get Out
Lady Bird
Phantom Thread
The Post
The Shape Of Water
Three Billboards Outside Ebbing, Missouri
Directing
Christopher Nolan (Dunkirk)
Jordan Peele (Get Out)
Greta Gerwig (Lady Bird)
Paul Thomas Anderson (Phantom Thread)
Guillermo Del Toro (The Shape Of Water)
Actress in a leading role
Sally Hawkins (The Shape Of Water)
Frances McDormand (Three Billboards Outside Ebbing, Missouri)
Margot Robbie (I, Tonya)
Saoirse Ronan (Lady Bird)
Meryl Streep (The Post)
Actor in a leading role
Timothée Chalamet (Call Me By Your Name)
Daniel Day-Lewis (Phantom Thread)
Daniel Kaluuya (Get Out)
Gary Oldman (Darkest Hour)
Denzel Washington (Roman J. Israel, Esq.)
Writing (original screenplay)
The Big Sick
Get Out
Lady Bird
The Shape Of Water
Three Billboards Outside Ebbing, Missouri
Writing (adapted screenplay)
Call Me By Your Name
The Disaster Artist
Logan
Molly's Game
Mudbound
Animated feature film
The Boss Baby
The Breadwinner
Coco
Ferdinand
Loving Vincent
Music (original song)
"Mighty River" (Mudbound)
"Mystery of Love" (Call Me By Your Name)
"Remember Me" (Coco)
"Stand Up for Something" (Marshall)
"This is Me" (The Greatest Showman)
Documentary (feature)
Abacus: Small Enough To Jail
Faces Places
Icarus
Last Men In Aleppo
Strong Island
Documentary (short subject)
Edith + Eddie
Heaven Is A Traffic Jam On The 405
Heroin(e)
Knife Skills
Traffic Stop
Foreign language film
A Fantastic Woman
The Insult
Loveless
On Body And Soul
The Square
Actor in a supporting role
Willem Dafoe (The Florida Project)
Woody Harrelson (Three Billboards Outside Ebbing, Missouri)
Richard Jenkins (The Shape Of Water)
Christopher Plummer (All The Money In The World)
Sam Rockwell (Three Billboards Outside Ebbing, Missouri)
Actress in a supporting role
Mary J. Blige (Mudbound)
Allison Janney (I, Tonya)
Lesley Manville (Phantom Thread)
Laurie Metcalf (Lady Bird)
Octavia Spencer (The Shape Of Water)
Makeup and hairstyling
Darkest Hour
Victoria & Abdul
Wonder
Film editing
Baby Driver
Dunkirk
I, Tonya
The Shape Of Water
Three Billboards Outside Ebbing, Missouri
Visual effects
Blade Runner 2049
Guardians Of The Galaxy Vol. 2
Kong: Skull Island
Star Wars: The Last Jedi
War For The Planet Of The Apes
Music (original score)
Dunkirk
Phantom Thread
The Shape Of Water
Star Wars: The Last Jedi
Three Billboards Outside Ebbing, Missouri
Short film (live action)
DeKalb Elementary
The Eleven O'Clock
My Nephew Emmett
The Silent Child
Watu Wote/All Of Us
Short film (animated)
Dear Basketball
Garden Party
Lou
Negative Space
Revolting Rhymes
Sound mixing
Baby Driver
Blade Runner 2049
Dunkirk
The Shape Of Water
Star Wars: The Last Jedi
Sound editing
Baby Driver
Blade Runner 2049
Dunkirk
The Shape Of Water
Star Wars: The Last Jedi
Costume design
Beauty And The Beast
Darkest Hour
Phantom Thread
The Shape Of Water
Victoria & Abdul
Cinematography
Blade Runner 2049
Darkest Hour
Dunkirk
Mudbound
The Shape Of Water
Production design
Beauty And The Beast
Blade Runner 2049
Darkest Hour
Dunkirk
The Shape Of Water