The Best & Worst Looks At The 60th Annual Grammy Awards
Last night was the 60th Annual Grammy Awards, and the celebrity red carpet looks did not disappoint. Actually, JK. If you were reading a regular fashion roundup, these looks would be considered "non-disappointing." But here, where we live for the opportunity to shit on any and all things fugly, I am disappointed to announce that for the most part, everyone looked pretty good at this year's Grammys. The only person who looked totally awful was that chick who wore the Make America Great Again gown last year. Her name is not even worth Googling, so I'll save you the time and let you know that someone wore a pro-life dress with a fetus design on it. I don't know who keeps inviting this bitch, but it's time they tighten up security at the Grammys. It's just embarrassing at this point. Anyway, here are the celebrities who killed the red carpet… and a few who missed the mark for good measure. Let's be honest, a best dressed list gets boring faster than a Bachelor group date without alcohol.
THE BEST
Cardi B

Cardi B could have rolled up in a Fashion Nova bodycon and Steve Madden heels and we'd all still say she was the best dressed because America is a cult and Belcalis Almanzar is our fearless leader. Obviously, she looked absolutely amazing in an Ashi gown with—you guessed it— Christian Louboutin bloody shoes. She literally looks like an angel with actual wings. *insert Cardi okurrrr chirp here*
Chrissy Teigen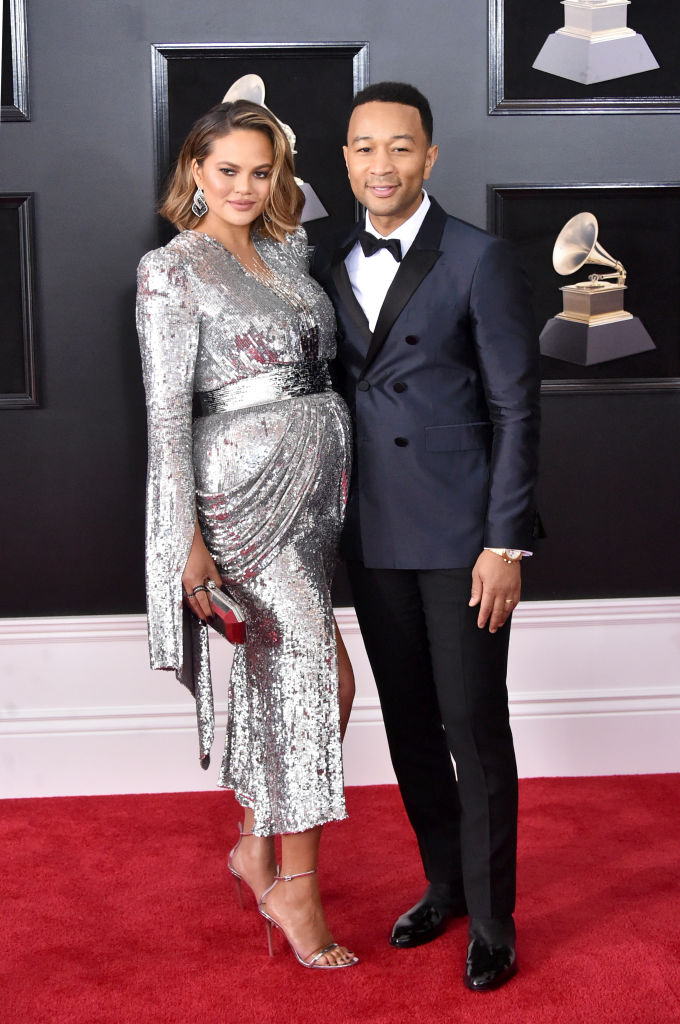 Chrissy Teigen always looks perfect, so seeing her on a best dressed list is as likely as finding an empty bottle of Jergens and a crushed Big Mac box in Trump's bathroom trash can. Her Yanina Couture gown would make anyone else look like a disco ball, but she worked it.
Lady Gaga

Gaga's red carpet style has relatively calmed down (…kind of) recently, but this look is a pretty good happy medium of classic shocking Gaga and some of her more subtle looks. This Armani gown is obv stunning, but she kept it on brand with a Daenerys Targaryen looking braid. She also took off the ball gown skirt, revealing a lace bodysuit for the actual ceremony. Sitting next to Lady Gaga at an award show is apparently no longer a risk for injury.
SZA

First-time Grammy attendee and person-who-definitely-should-have-won-Best-New-Artist, SZA may have just created one of my favorite red carpet looks ever. This Atelier Versace gown is like, the definition of looking effortlessly perfect. She makes the Disney Princesses look like total scrubs.
Eve

I think we're finally past the point where when a female celebrity wears a pantsuit on a red carpet, everyone's like "OMG this is so new and cutting edge!" Like, this isn't 1850. I'm glad we're not shocked by pants anymore. Anyway, Eve's striped sparkled pantsuit is a little Beetlejuice, but overall dope AF.
Maren Morris

Maren Morris's silver cutout dress is like, two cutouts away from looking like a glitter glue snowflake made by a kindergartener, and it kind of reminds me of that dress Ariel Winter wore to the Modern Family premiere, but it still definitely works. It's amazing. She also spoke out about gun control while on the red carpet, which is something country stars with a conservative fan base generally try to avoid. Basically, Maren is a bad betch who DGAF about following rules and I'm kind of obsessed with her now.
Miley Cyrus

*Billy Ray Cyrus voice* My lil' Miley Ray done growed up! Okay, but actually, Miley is giving us serious old Hollywood vibes with this red gown. Her performance was also incred and didn't even involve any uncomfortable licking… even if it did involve a number of uncomfortable flirty looks at Elton John. Baby steps, I guess.
THE WORST
James Corden

You'd think that the host of the fucking Grammys would take the time to make sure his suit was properly fitted, but you'd be wrong. The front was like, not ironed and the proportions of it made him look like this bird:

James changed halfway through the show, probably because somebody fired his stylist on the spot.
Sarah Silverman

Not sure how Sarah Silverman got ahold of Cady Heron's Halloween dress, but it wasn't the best choice for the red carpet.
Lil Uzi Vert

I know being an emo rapper is like, low-key his thing (think about it…), but I feel like with the amount of money Lil Uzi Vert has, he probably could have bought his outfit somewhere a little more upscale than Hot Topic. Maybe I'm just salty because if this look had happened when I was in middle school, I would have been the most trendy girl in 8th grade. And yet, that chain probably cost more than my apartment *Clutches my black pencil eyeliner, whispering "all my friends are dead" and weeping to myself*
Julia Michaels

From far away, Julia's gown is totally fine. However, when you look closer, you'll find that it's bedazzled with butterflies. Fucking butterflies. The skirt of this dress looks like it was made out of curtains from the set of an American Girl Doll catalogue photo shoot. In other words, it's a full-on Monet.
P!nk

P!nk is pretty open about the fact that she literally does not give a shit about what she wears, but like, come the fuck on. There's a difference between showing up in something boring because you can't be bothered to care, and putting on… whatever the fuck this is. It's like, half muppet, half fuzzy flip flops you wore to cheer camp in middle school. How many Truffula Trees had to die for this dress, P!nk?
Jenny McCarthy

Genuinely thought this photo of Jenny McCarthy was of a mannequin of a store called like, "Mystique" or some shit that you can't tell if it's supposed to be trashy club wear or literal S&M stuff. When you add in the outdated Katy Perry hair and the inexplicable sunglasses indoors, I feel like I'm looking at a female police officer character in a video game. I wasn't sure what Jenny McCarthy was doing at the Grammys before, and now I'm even less sure.
The Best Grammys Red Carpet Looks In History
If you want to know how relevant a celebrity is, take a look at what they wear to an award show red carpet. If they're irrelevant, they'll probably wear something over-the-top. This usually creates enough buzz to promote whatever shit they're trying to sell, or at the very least, gets their name Googled a couple of times. However, if a celebrity is totally iconic, they generally nail a red carpet look. Like, let's be realistic. Britney Spears has never needed to dress up like a cartoon character or animal to get people to talk about her or listen to her music. In honor of the upcoming 60th Annual Grammy Awards, let's obsess over the most perfectly executed Grammys looks of all time.
Rihanna, 2017
Realistically, this list could just be filled with photos of Rihanna every time she has attended the Grammys. I think we've all established that an ugly outfit is no longer ugly only when Rihanna decides so. Besides the fact that this skirt is totally to die for and the sparkly crop top shows off her legendary underboob tat, RiRi made a lasting impression at the 2017 Grammys by drinking out of a blinged-out flask all night. We do not deserve Rihanna.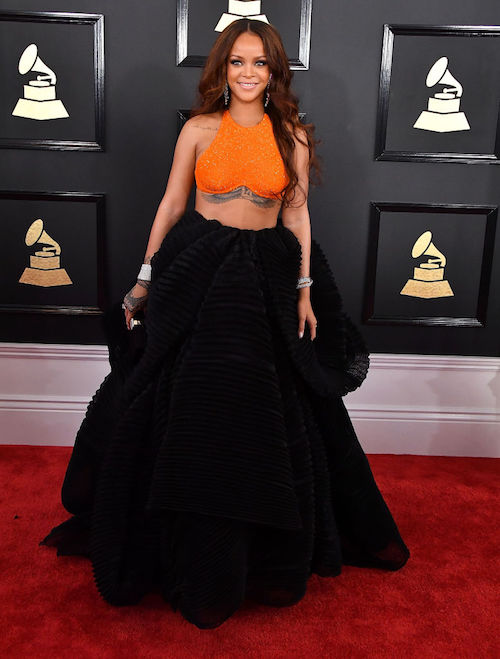 Adele, 2017
When I think of iconic Grammys looks, Adele's green gown always comes to mind. It's the perfect example of a genuinely elegant, not stupidly extra red carpet look. Like, hate to sound like a cliché dad, but it's definitely possible to have a memorable Grammys look without whipping out a boob or wearing a dress that wouldn't make it through airport TSA.

Jennifer Lopez, 2000
I mean, to be totally honest, I don't LOVE this dress. But in 2000, everyone lost their shit over JLo's green Versace gown with the most insane plunging neckline in history. People loved this dress so much that it actually is the reason Google Image Search was invented.

Beyoncé, 2013
The Grammys red carpet is basically just a chance for celebs to try to one-up each other. If done correctly, a strategically styled Grammys look can guarantee you'll be buzzed about for years to come. Except, when you're Beyoncé, you're already the most relevant person on the face of the planet, so you can just throw on a laid-back jumpsuit and watch as all of the peasants of the world still talk about how amazing you look.

Taylor Swift, 2016
I rip on Taylor Swift all of the time, but I have to admit that she did have the ultimate Grammys glow-up. This unreal Atelier Versace two-piece gown is definitely an upgrade from her old prom-inspired red carpet looks.

Britney Spears, 2000
UGH. This dress is actually iconic. This photo is 18 years old, and I still randomly think about it and get pissed off that I'll never look this good at any point in my life. It's basically the "Lucky" music video in real life. This is one of the greatest red carpet looks in history.

Lady Gaga, 2015
Lady Gaga has pulled some really wild shit on red carpets, but in 2015, she did something that really surprised us all. Gaga opted for super low-key, classically glamorous looks all night long. She walked the red carpet in a silver Brandon Maxwell gown, and changed into an unreal black gown for the end of the night. Plus, her hair looked incred.

Kim Kardashian, 2011
Before Kanye was sending KKW memos on how to dress, Kim had a very distinct style that was soooo Calabasas. Gold sparkles, hair extensions, a spray tan, and chunky patent Louboutins is classic Kardashian. Looking at this outfit makes me nostalgic for when Rob was still really hot and Kylie was still in her awkward phase.

Ariana Grande, 2016
I'm pretty sure Ariana Grande's 2016 Grammys red carpet look is what started girls captioning every picture of themselves in a red dress with the chick in a red dress emoji. Ariana is literally the human embodiment of the red dress emoji in this Romona Keveza gown. Classic red dresses are almost always a hit, but Ari really killed it in this one.

The Worst Grammys Fashion Looks Of All Time
Eh, no offense, but the Grammy Awards are kind of the most boring music award show. Besides the Milli Vanilli lip sync scandal of 1990 (which like, doesn't even count because that was basically 100 years ago), the Grammys are usually relatively scandal-free. The VMAs seriously get all the good drama. Anyway, it's still a pretty decent chance to talk shit, because there are always going to be a few guaranteed heinous outfits. In honor of the upcoming 60th Grammy Awards, let's take a stroll down memory lane and rip on some of the ugliest outfits to ever grace the Grammys red carpet.
Katy Perry, 2017
Katy Perry is one of those celebrities that most people dislike, but can't exactly explain why. She was super likable at the beginning of her career when she was wearing cupcakes as clothing, but somewhere along the line, she became totally unbearable. I think this dress may have been that turning point.

Iggy Azalea, 2015
Iggy's dress isn't necessarily horrible, but this hairstyle is another story. As you'll probably remember (if your brain is filled with memes instead of useful information, like mine), this braid sparked tons of memes, comparing Iggy's head to everything from a bird's nest to a loaf of challah. Honestly, I'm craving a Panera broccoli cheddar bread bowl just looking at this.

Nicki Minaj, 2012
In 2012, Nicki Minaj wore a very confusing Versace cape and took a dude dressed as the Pope as her date. I'm assuming she had a reason for dressing like this to the Grammys, but this was six years ago, and if I can't remember it, it's irrelevant by now.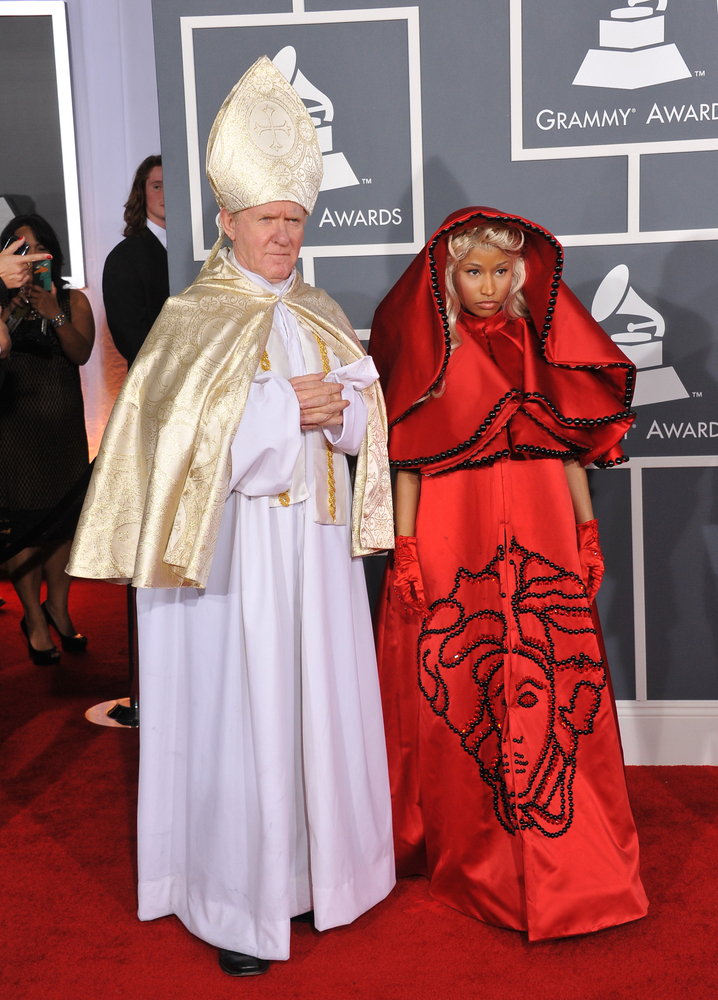 Taylor Swift, 2008
In 2008, the world was a better place. Taylor Swift didn't have bangs yet and was still a sweet little country singer. Although I will cherish this year as the least annoying Swift year since she became famous, this red carpet look is tragic. It really screams "my parents are letting me go to prom with an upperclassmen this year, but my curfew is 9:30."
Taylor attended GRAMMYs for the first time in 2008 at the age of 18! She had 1 nomination! #GRAMMYs #TaylorSwift pic.twitter.com/JUAcSKZwe1

— T (@LegionellaT) February 15, 2016
Dencia, 2016
I have no idea who Dencia is, but when you Google her, her Wikipedia job description is "entrepreneur." Does that mean she sells LipSense on Instagram? Anyway, she wore a onesie with stuffed Hello Kitty dolls hanging from it and bejeweled crotch wings. Goodbye.

Lady Gaga, 2010
I was really trying to avoid including Lady Gaga in this list, because the rules just like, don't apply to her. If she wants to wear a meat dress, we're going to let her wear a meat dress, and we're not going to say anything about it. However, this dress should have been stopped. It's just plain rude to go to a seated event decked out in spikes and hoops.

M.I.A., 2009
This dress is… a lot. It looks like a beach umbrella from CVS. I'm confused as to why M.I.A., who attended the 2009 Grammy Awards on her literal due date, would choose to wear a dress with as much fabric as physically possible while simultaneously trying to show off her baby bump.

Sheryl Crow, 2002
I got a feeling I'm not the only one who effing hates this outfit. Sheryl Crow's 2002 outfit is exhausting to look at, so please just insert your own "Soak Up the Sun" joke in reference to her ugly frameless sunglasses. I'm not even going to dignify that cape or romper with a joke.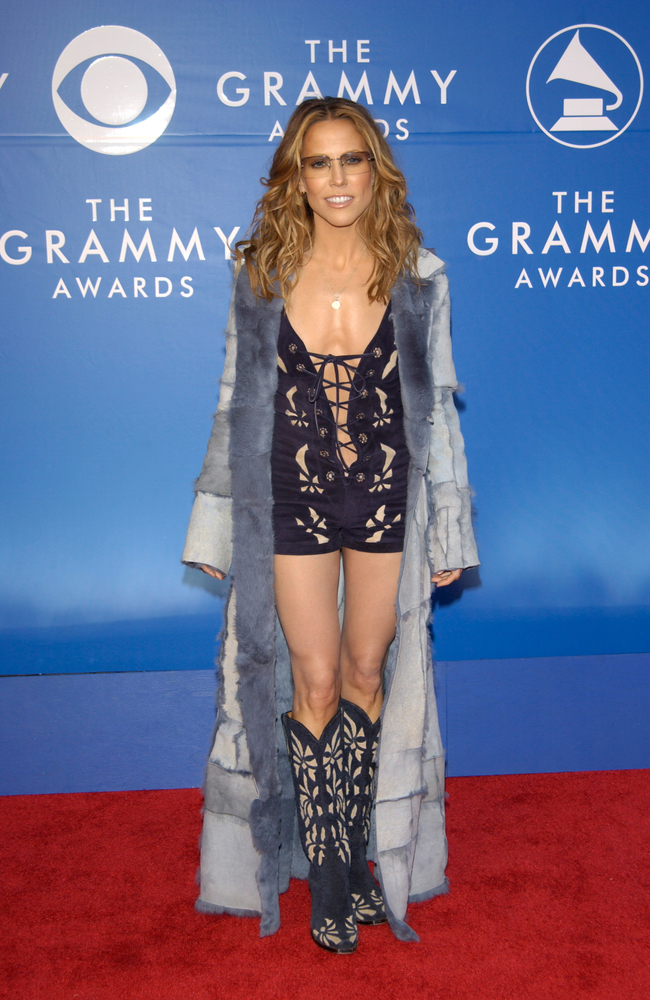 Joy Villa, 2017
At the 2017 Grammys, Joy Villa wore the fugliest dress that has ever graced a red carpet in award show history. Obviously, this was a publicity stunt, because nobody would wear a "Make America Great Again" gown unless they were super desperate for attention. Unfortunately, it didn't work, because I still don't know who the fuck Joy Villa is and needed to Google "Ugly Trump dress Grammys" to find out.