WTF To Do If You're About To Graduate
It's been over six weeks since seniors in college began to realize that the Senior Spring they had been dreaming about since their first semester wasn't going to happen. No darties, no senior week, no thesis presentations, no more wine nights with your roommates, no more chances to shoot your shot with that guy in lecture, and no walking across the stage in a cap and gown to tie it all up. For a lot of seniors, this news hit hard because, aside from all of these losses, it felt like the world was telling them they needed to become full-grown adults a few months before they were ready (if any of us can really be ready to enter into the real world). In March, rather than May, they had to face the inevitable truth: college actually does end. 
As April comes to a close, and as some of us have maybe gotten into the swing of online classes, virtual graduation dates are fast approaching. So what does life look like when college actually ends during a pandemic? Many seniors are feeling the weight of the highest unemployment rate since the Great Depression and the impending recession pressing down on them. Many have had start dates pushed or jobs offers rescinded altogether. All in all, it's a clusterf*ck, leading many to wonder: what the hell should we do? Betches spoke with career expert Joy Altimare for suggestions on how new graduates can prepare to enter this now-f*cked-up workforce.
Do: Use This Experience To Your Advantage
me, turning my wifi off & on again: i am a woman in STEM

— Karen Chee (@karencheee) April 23, 2020
Recent grads can and should use this online term to their advantage. "Recent graduates have an advantage," Altimare told us, "The new normal in the workplace will look a lot like how they have learned during the last four years." So basically, all that time you spent on social media during class was not time wasted, and simply knowing how to set up a video chat puts you ahead of the curve. (If you think I'm exaggerating, ask your parents to make a Zoom call, and realize that's what most companies are dealing with.) Altimare says, "virtual and tele-learning are very similar to how professional environments will operate moving forward." Wow, I can't wait to tell my mom that I actually learned something useful in college (how to open a bottlecap with a spoon does not count, apparently). 
Altimare also advises new grads to tell companies what you learned from online classes, and apply that to a professional environment. She says, "now more than ever, employers are looking for very smart individuals who are energized to help navigate this new normal." So, we should "tout that as a skillset unique to the existing workforce and provide examples to demonstrate how you can apply this approach to add to the success of the company." This could mean showing off that you know how to change your Zoom background, or explaining how you can stay efficient and motivated in any environment. If you've figured out how to manage your time during these insane past few weeks, that is definitely a skill you should want to share with future employers. 
Don't: Forget About Networking
I feel like as far as social media goes, LinkedIn is definitely the awkward middle child. In the midst of a pandemic, it feels even more forgotten. Like, when was the last time you actually thought about logging on? Even though it may be the last thing on your mind, it's still super important to keep networking. "Continue to use technology to network," Altimare tells us."Do not go dark on your LinkedIn and make sure your Facebook/Instagram/Twitter do not only contain videos of you doing a #dontrush challenge." I guess I'll keep my challenges to TikTok, since I'm pretty sure nobody is networking on there.
What you put on social media is just as important as ever, so before you go posting all the pictures you've had stashed of you chugging alcohol underage, Altimare advises that "It's super important that you use this time to demonstrate resilience and positivity across your social platforms." She recognizes that it doesn't necessarily fit into everyone's aesthetic. "You don't have to begin a daily gratitude post," she says, but "it is important to show you're using this time to stay focused—are you helping the elderly in your neighborhood? Ask others to join you vs. just posting you delivering meals. Are you organizing a virtual yoga class for your friends? Show that instead of the virtual happy hour on your feed." 
Don't: Spend All Your $
I'm a huge "add to cart, check total, close window" girl, but quarantine has led to more than a few "treat yourself" moments, which I justify by telling myself I'm saving so much money since I'm not eating or going out. Since we can't have nice things, apparently this is not the move, according to Altimare. "Start saving your money… in fact, massively start saving," she says. "You are probably not in the dorms, not going to the movies, not buying your food and not going to any of the activities that you would have had to contribute to for your senior year." Okay, you didn't have to rub it in like that, but I see the point. Even more, Altimare says, "if you are really lucky, you're staying with your parents, so you're not paying for rent. That is a huge lift to your bottom line—save that money." I mean, she's right considering the job market is unstable right now… I just want my tie-dye loungewear.
Altimare warns that if you're imagining all the ways you're going to indulge once you can leave your house, you might want to think twice: "when the country begins to re-open, do not spend that money on a trip with your girlfriends." Altimare suggests "look to creating a nice nest egg—something around 3-months' worth of expenses—so that when you finally find that job and move out into your own apartment, you have a bit more comfort." 
Do: Start Working From Home
What's the age where you transform from 'young professional' to 'professional'?

— U Up? (@uuppodcast) April 17, 2020
Altimare's last piece of advice for new grads is "if you can, try to start working from home." Everyone has so much time on their hands (especially when school is over and you don't have a job), so "use your creativity to turn a hobby into a lucrative side-gig while we're all quarantined." If you're looking for ideas, Altimare proposes to "try to get published on a weekly blog, or begin selling your wares via a marketplace." And then, of course, "save that money!"
The prospect of starting your adult life right now does not sound appealing to anyone. However, if you can make a few proactive and productive decisions during this period, you might be able to save yourself some stress later on when we finally get out of this mess (BTW can someone tell me when that will be?). Hopefully, these tips can help you get a head start on where you want to be and what you can be doing to help your future. 
Images: Pang Yuhao / Unsplash
The 7 Places To Travel After You Graduate, Before The Real World Kills Your Soul
In spite of showing up to class hungover after dollar beer nights almost every week, you still made it to graduation. Congratulations betch, you're about to leave the best time of your life and just be in… the rest of your life. Before you join the real world and have to make small talk with Annie from sales every Monday morning in the office kitchen, you need to enjoy your summer after graduation by some much needed traveling. So after you throw that cap up and attend approximately sixty graduation parties, go explore (aka get drunk in) these cities and celebrate never having to write another paper again.
1. Thailand
If only you could get free miles for every time you order pad thai, you could get a free trip to Thailand. Chances are this isn't a place you studied abroad in, so it's the perfect candidate for a post-grad trip. The Full Moon Party is an all-night party on an island that every visiting foreigner is going to be at. It's like the Coachella of Thailand, but with more neon and less cultural appropriation. Well, actually we can't promise the last part, because there will be Aussies there and they're unpredictable.
2. Road Trip Across The U.S.
This is perfect if you're already moving to a new city, because you're going to have to move your shit somewhere anyway. Road tripping across the U.S. is something you thought about since you saw Britney in Crossroads and honestly it's worth doing. Just make sure you get a good enough group together so you have someone to switch off driving with you. Plus the more rural you get the cheaper alcohol is. Bring a polaroid camera to get some IRL Instagram photos. Wait, are those just called photos? *stares off into space for 20 minutes* Also, you'll be surprised how fun thrifting is in small towns, and you'll be able to pick up some dope clothes and finally get rid of your Forever 21 shit from college.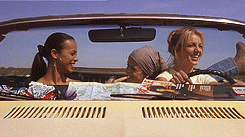 3. Berlin
Berlin is like the nice guy we friendzoned in freshman year and then got super hot when he started working out. Like, we imagine it's a chill city but now it's one of the best places to be as a young adult. Everyone speaks English so you can get by without doing much work, and people are friendly to Americans. People love getting naked in clubs, but not in the creepy way. Plus people judge you for having your phone out at bars, which means you can actually have a good time off-line and be present in the moment or whatever my mom is constantly yelling at me to do.
4. Australia
Before you have to think about the answer to the "what's next" question, get on a plane and get as far away from your anxiety about the future as you possibly can. Australia has hot people, beaches, and adorable koalas. Everyone in Australia is constantly traveling outside of Australia, so you might as well return the favor. Plus even if you don't land the jobs you want, getting bad news while learning to surf from an instructor named Monty isn't such a bad thing.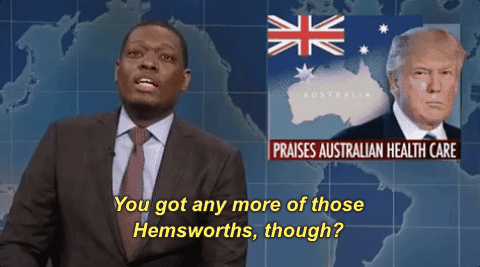 5. Iceland
If you don't want to spend money before you actually start working full-time, we got you. Iceland is between Europe and the U.S. and it's always cheap to fly there. You probably know it from every Instagram model's page ever, but you can swim in the Blue Lagoon and who knows, maybe you'll get a new Linkedin headshot out of it. Sure, you'll be dressed completely inappropriately but at least everyone will know you're adventurous. Iceland is a beautiful place and cheap to visit, which is perfect for your uncertainty about your future.
6. New Orleans
Take a graduation trip to New Orleans, trust us. If we had to describe New Orleans we'd say it's the back tattoo of the South, but like in a good way. NOLA knows how to party. It's a great place if you want to celebrate but still feel like an adult. Like, you've graduated from making out with randos in Mexico on Spring Break, and now you're meeting strangers while surrounded by a ton of culture and great music. Plus the next time you come back it will probably be for your bachelorette party and that's not going to be the same. Also Beyoncé filmed all of Lemonade there so you can hit up all the spots and pretend to be Bey even more than you normally do.

7. Amsterdam
Amsterdam is like the Vegas of Europe with less wedding chapels. Everything looks like it's taken straight out of a Snow White storybook, so when you get high on the (legal) brownies, you can actually feel like you're a princess from a fairytale. Unfortunately if you've got drug tests for your jobs you might want to skip the coffee shops here, but also you could just pass your drug test and then take a quick vacation before starting work. Plus you can bike everywhere here, which means you can work off whatever remaining Freshman 15 you still have on you.
What To Wear To College Graduation So Your Family Doesn't Know You're Hungover AF
Well, it's May, and for the love of god, enough with the Justin Timberlake jokes. If someone tells me, "It's gonna be Maaay," in a voice more annoying than Anna Kendrick's one more time, please never fucking speak to me again.
Although you've probably been in denial about it since like, January, it's officially time to say goodbye to shitty house parties and the past four years (or more if you're like, a show-off) that you drank away. It's about that time when you start counting down how many more Dollar Beers or Thirsty Thursdays or whatever your weekly alcoholic pseudo-holiday is that you have left.
You will soon be forced to join the Dark Side adulthood. It's a hard, violent fall where you'll break a lot of shit and the worst part is realizing it is no longer acceptable to puke and rally, especially at an office holiday party. I know your sorority usually condones this type of behavior, but everyone needs to go through this transformation in life. If Snooki can go from getting arrested on a public beach at like, 3pm to soberly doing arts and crafts with her two kids, then so can you.
It's obvious that the cap and gown you have to wear is hideous and looks like a huge garbage bag flailing in the wind. You'll need something that turns heads because this is the whole fucking school we're talking about. Unfortunately, your ceremony probably doesn't have a theme so you can't take the easy way out and wear the outfit you wore to that Anything But Clothes party.
You need the betchiest dress that says, "I may or may not have puked this morning, but I am Beyoncé, always," along with a pair of sexy heels that won't cause you to pull a Lizzie McGuire when you walk across that stage.

1. The Classic LWD
In addition to possessing a LBD, every betch should own a little white dress. Tbh, I'm not really sure where the tradition for wearing white to graduation originated, but you really can't go wrong with the color. White is supposed to symbolize, like, purity or something, so I guess you should wear white to cleanse yourself all of those times you hugged the toilet at a frat house. Your parents will be so proud of their little angel girl when you get that diploma.

1.STATE Eyelet Cotton Off The Shoulder Dress
This flirty off the shoulder shift dress says, "I totally blacked out and ugly cried at the bar last night when 'Good Riddance' came on, but at least I showed up to my graduation on time."
Pair with a Vince Camuto bootie to add flair and extra stability for the stage.

Vince Camuto Tarita Laser-Cut Bootie
2. An Elegant Maxi
This is for the girl who can breeze through a final even though her first time cracking the textbook open was the night before. A maxi requires the least amount of effort possible, but always manages to make everyone feel as though you have graced them with your presence.
When you excuse yourself to the bathroom several times to quickly vom, no one will ever suspect a thing, because this dress says you're too classy for that. I guarantee you'll feel like that badass dragon queen in Game of Thrones when you stride across the stage.

But here's the dress:

Pair with the thin ankle strap heel all your favorite celebs are wearing right now. The extra wide heel makes sitting and standing for long hours bearable.

3. The Perfect Cocktail Dress
A fitted party dress shows everyone you are two things every betch should be: Fabulous but evil Classy and fabulous. You have the confidence, looks, and the brains. Most of us are lucky if we get have two of these, so if you agree that you have it all, I probably hate you.

This dress comes in a wide range of colors (black included), but consider this deep purple because it's just as good as black, it's just as cute as black, and when did it become okay for one color to be the boss of everything? You should totally just pick purple.
Pair with Sarah Jessica Parker block heel sandals in a contrasting bright shade of purple or a neutral brown. They come with a tassel and for whatever reason why, apparently tassels are all the rage right now.

SJP By Sarah Jessica Parker Elope Ankle Tie Block Heel Sandals
4. Skater Or Wrap Dress
If you're looking for a dress that hides the freshman 15 or senior 20 you gained, I can't really think of a dress more perfect than this style. No one has to know how many times you gave in to drunk pizza. It hugs your waist while providing a flowy illusion so you won't have to suck in during pictures.
Plus it comes with a V fetch black floral print that's even more flattering.

Pair with Stessy pumps that take a modern twist on the timeless basic essential. Get them in pale pink or nude.

5. The V Versatile High-Low Dress
For the betches who enjoy sipping rosé on an outdoor patio but can also shotgun a beer at a dage, a high-low dress is for you. They're great for aggressively whipping the fishtail when you walk by people and making them feel like peasants because what they can do, you can always do better. Now, you'll have a degree to vouch for that. And remember, when in doubt, always wear red.

BCBGMAXAZRIA Rosalyn Cutout High-Low Dress
Pair with Jessica Simpson's bold patterned Doreena sandals to add some color. Don't freak about the heel height because the thick platform will give you all the balance you need.

Jessica Simpson Doreena Platform Lace-Up Sandals

This Girl Spent An Insane Amount Of Money To Throw A Fake Wedding To Her Diploma
In what is undoubtedly the most extra engagement announcement of 2017, some doctor is marrying her medical degree after nine beautiful years together. You know how when you're in college, there's always that one friend who pretends she's married to her studies because she barely has time to curl her hair, let alone go on a date with some fuckboy with too much hair gel and a Sperrys addiction? This is basically that, but after the dial has been turned up so far it broke off. I get that med students are constitutionally incapable of chilling out, but did nobody think to tell her that spending $3,000 on a fake wedding when you've got loans to pay is borderline insane?
Honestly, she has gone all the fucking way with this one, to the point where it's almost admirable. Not only did this chick have an engagement-style photo shoot with her diploma, but she created an elaborate "graduwedding" page on The Knot, complete with guest book and registry. According to the webpage, there will be speeches. Cake. Formal attire. A themed Snapchat filter, which is hopelessly lame but I guess you can't expect people who've lived and breathed medical textbooks for the last decade to understand the nuances of social media. I'm not sure if there's a hashtag, but there probably is, and I would bet my life savings it's a pun so bad my dad wouldn't even make it.

Normally I would never condone this kind of behavior—fake engagements stopped being funny after that guy married a burrito. In fact, I would like it on the record that the very fact that I had to type that sentence means we've gone too far. Everyone gets it: Engagement season sucks, we place too much value on relationships, blah blah blah. I just fail to see how pretending to marry your dog or a fucking diploma accomplishes anything except annoying everyone on your Facebook feed.

However, I'm prepared to make an exception in this case. Instead of staging some half-assed photoshoot with a diploma and calling it a day, the future Mrs. M.D. is spending thousands of dollars and rounding up dozens of friends and family for a party to celebrate her own damn self. It's the kind self-absorption I have no choice but to respect. However, even if I'm on my deathbed I will never let this woman treat me, considering she prioritized planning an elaborate party just for the purposes of going internet viral over like, studying for med school and shit. I hope FAFSA sees this.

Anyway, I believe I'm forced to offer my congratulations to the happy couple. May they have many happy years together, etc. etc. But so help me God, if I see another fake wedding go viral I'm going to do something drastic like delete my Instagram.