There Are More Claims That A-Rod Cheated On J.Lo
Unless you live underground, you're likely aware that A-Rod (of Yankees fame) and J.Lo (of the block) decided to consciously couple and announced their engagement on March 9. There was a 10-carat ring. A picturesque sunset over a bay we've never heard of. A previously great baseball player and his big bootied love, just soaking up each other's awesomeness, as they've been doing since they started dating in 2017. Everything was literally great. I mean, J.Lo even managed to look surprised, which is shocking considering she's had somewhere between four and six men propose to her. Based on their social media alone, they seem like couple goals. But only 48 hours after the ex-baseball star got down on one knee, there were accusations flying regarding Mr. Rodriguez's wandering eyes (and d*ck). Can't say we're surprised, because we can never have nice things. But here's a refresher for you on what's going on in paradise, and why there might be new troubles on the horizon.
We told you all about part one of this "is he or isn't he" bullsh*t in that ex-baseball dude Jose
Canseco accused A-Rod
of actually being the cause of his own marriage ending. He threw these accusations like a sh*tty ground ball just two days after A-Rod popped the question. He also tried to get A-Rod to box him, which I would 100% be down to watch, but that's neither here nor there.
ARod what happened to your eye? Did one of your girlfriends do that to you? Stop being such a liar and a cheat

— Jose Canseco (@JoseCanseco) March 17, 2019

Canseco's ex-wife, Jessica Sekely, quickly denied those rumors, seemingly squashing the whole "is he cheating" rumors. Did they bone? I have no idea, and I kind of don't care, since it seems like the attempt of a disgruntled sad ex-baseball player to throw his ex-wife's reputation under the bus.
However, now there's another person coming forward with claims that A-Rod is doing our BFF, Jenny, dirty on the DL. Let me be the first to say, "hasn't J.Lo been through enough?" I mean, the woman has been engaged several times and isn't eating carbs (probably). There's only so much she can handle. Unlike the Canseco rumors, these newest claims seem significantly more interesting, since they involve a lot less sad baseball players and a lot more (alleged) d*ck pics. Who's throwing shade? British Playboy Playmate Zoe Gregory claims that A-Rod sent her inappropriate (and seemingly one-sided) texts for about three months before he decided to hitch his wagon and now dead career to J.Lo with that sunset proposal.
Ex-Playmate claims A-Rod was sexting her just a few weeks before proposing to JLohttps://t.co/IESV8AVbr4 pic.twitter.com/T1Rr5N1E4e

— Barstool Sports (@barstoolsports) March 26, 2019
Zoe Gregory, Playmate and alleged A-Rod d*ck pic recipient
Gregory, 44, lives in L.A. and says the texts, sent over WhatsApp, ranged from asking how many times she'd "been" with a few of her girlfriends (ew), to if and when she could fly out to San Francisco, to requesting "naughty videos." Apparently, A-Rod also gifted a d*ck pic to Gregory, which allegedly showed his "manhood" (gag) and his "muscly thigh." What a charmer. The texts started around Boxing Day, which is in December, of 2018, and continued right into February. There's no word on why the texts and communications stopped (did they even?) but Gregory alleges that J.Lo "doesn't deserve this." Weirdly, we agree on that point.
View this post on Instagram
The couple in happier, more engage-y times
On the one hand, this isn't the first time A-Rod has been accused of being sketchy. His first marriage ended because of his supposedly numerous extra-marital activities. Then you have the whole Canseco thing, and the fact that celebrity gossip guru, Enty Lawyer, has been claiming for a while now that A-Rod has been cheating.
Based on his history, it seems like sending gross texts to an ex-Playboy model is right in this guy's wheelhouse. However, these texts seem awfully one-sided and, I'm sorry, but until I see the blurred-out d*ck pic, I'm not sure I buy it.
Neither J.Lo or A-Rod have outright addressed the claims yet, but I wouldn't be surprised if Jenny puts a kabash on what would be her fourth marriage. Girl, go have some you time.
Images: Getty Images; jlo / Instagram; barstoolsports, josecanseco / Twitter
This New True Crime Podcast Is The Next 'Dirty John'
If you've listened to Dirty John or Dr. Death, then you have an idea of what Wondery's podcasts offer. They're grisly, salacious looks into crimes you never knew existed, and honestly my morning commute has never been better. This week, Wondery dropped their newest podcast: Over My Dead Body. It tells the story of Dan and Wendi, "two good-looking attorneys" with "a bad breakup, a worse divorce, and a murder case involving a menagerie of high-priced lawyers and unexpected co-conspirators." So basically, the details of how a power couple fell apart, plus a murder twist. That's literally all of my favorite things.
So, what's the crime being investigated here? If you're the kind of person who hates having an appropriate amount of context spoilers, then I'd recommend you stop reading here.
Do I google the story @WonderyMedia did for #overmydeadbody podcast or keep guessing who's responsible? I've changed my mind 5 times! #truecrime pic.twitter.com/wS6410j6sX

— Jamie- Uglee Truth Podcast (@theugleetruth) February 14, 2019
Still with me? Good. In 2014, Dan Markel (the husband) was found dead in his Tallahassee home: shot in the head. According to Refinery29, Wendi Adelson's (the wife's) family was "immediately suspected of hiring someone to complete the crime." To be fair, if I had a bad divorce from someone I would want my family to at least OFFER to send a hitman. (JK! My family's not rich enough to pull that off.) The podcast starts with the story of Dan and Wendy's relationship (and subsequent divorce), then goes into the details of Dan's death and the investigation that followed.
Given how the trial in this case concludes, the story becomes less about their relationship, and more about the dynamics of race and privilege involved in the trial. Despite the Adelson family being immediate suspects, and further connections being found between the family and the suspected hitman, no family members were ultimately charged with any crimes. Instead, only people of color were arrested in connection to the crime. Given that the Adelsons are a wealthy, white family, Over My Dead Body explores how the family's privilege may have played a role in who was ultimately charged for this crime. I mean, yeah, if it's between wealthy Floridians staging a hit on their ex-son-in-law and a random break-in, I am 100% going with the former. People from Florida are, as a rule, insane. In-laws are also generally insane. It just adds up.
I listened to the first episode this morning, and what struck me most (other than how f*cking addictive it was) was how easy it was to forget that the story led up to a murder. Episode one starts with Dan's upbringing, then how he met Wendi, and what their wedding was like. They also interview friends who knew them as a couple. It tells you, from Dan's perspective, about the divorce. And as much as I love hearing the gory details of a murder, I have to say I find autopsies of relationships equally interesting—and this one sounds like a real mess. Also, and this may just be because I'm a messy b*tch, I live for seeing any two people who are described as "the perfect couple" be torn down. Especially when they try really hard to convince people they are, in fact, a perfect couple.
If you binge the first few episodes of 'Over My Dead Body' (can't blame you) and are hungry for more true crime content, here's a list of other relationships with famously violent ends. Enjoy.
Debra Newell
I mentioned 'Dirty John' earlier, but if you're not lucky enough to have listened yet, then here's what you're missing. 'Dirty John' is the story of Debra Newell, a wealthy, middle-aged interior designer, and John Meehan, the criminal and con man who seduces her. In classic Wondery fashion, the story starts with the dynamics of the relationship: the intense emotions, the broken trust, what it looked like from the outside. But as tensions build, the focus shifts from how to spot and catch a con man—and more to how you survive him. (If you're more of a visual learner, there's now a Bravo series on this too.)
Lorena Bobbitt
Lorena Bobbitt famously became known as the woman who cut off her husband's penis. While this crime was thrown around as a zany joke for most of the '90s, details of the crime—and the relationship leading up to it—are far from funny. I'll let you discover the rest on your own (preferably by watching Jordan Peele's new Amazon series about it), but suffice it to say that women don't typically go around cutting off genitalia without due cause.
Jodi Arias
On May 8, 2013, Jodi Arias was convicted of first-degree murder for the death of ex-boyfriend Travis Alexander. Alexander and Arias met in 2006, and began a long-distance relationship in 2007. Over their 18-month, off-and-on relationship, Arias moved twice to be closer to Alexander. Meanwhile, Alexander's friends consistently disliked Arias and felt her behavior was "worrying." Naturally, when these same friends found Alexander covered in stab wounds with a gunshot to the head, they pointed the police in Arias' direction. Arias pled "not guilty" to initial charges, but claimed she committed the murder was self-defense two years later, and alleged that she was a victim of domestic violence. While the Jodi Arias story doesn't have a TV show (so sad), there is a Lifetime movie that I am very excited to watch.
Basically, if you like hearing people talk sh*t about other peoples' relationships along with your regular dose of true crime, any one of these stories will be right up your alley. Do yourself a favor and start Over My Dead Body today, then drop your number in the comments so I can text you all my insane theories as I come up with them. Thanks!
Images: Bravo; Instagram; Twitter; Instagram; Instagram
The Most Dramatic Celebrity Scandals Of 2018
Celebrity scandals are what I live for. Okay, that is a slight exaggeration. But I love the thrill of knowing a new piece of gossip that lowers the level of perfection my fav celebrities have and makes them seem more human. 2017 was a pretty good year for celebrity scandals, but the celebrity scandals of 2018 did not disappoint. From feuds with the President to cheating scandals, 2018 was a dramatic AF year. Personally, I'm just glad it's almost over. Then again, I said that about 2017, and 2018 turned out to be a way worse year. Well, whatever. I guess I have no way of knowing. Anyway, in no particular order, here were the biggest celebrity scandals of 2018.
1. Stormy Daniels Vs. Donald Trump
The year started off with a BANG. On January 12, the Wall Street Journal disclosed that Trump's lawyer paid Stormy $130,000 of hush money a month before the 2016 elections. After this was publicized, it snowballed into a major scandal, as it always does when Trump is involved. In October, Stormy appeared on Jimmy Kimmel Live and disclosed some juicy gossip. If you want to know what the President's penis looks like, I highly recommend watching it (if you haven't already), or you can read this article where we broke it down. Or—and this is what I recommend—you could do neither and live your life in a relative state of bliss, never knowing the details of our president's penis.

2. Tristan Thompson Cheatin
In April, a day before Khloé Kardashian gave birth to their daughter True, TMZ released videos of Tristan cheating on Koko. There had been rumors in the past of Tristan cheating, but it takes a real a**hole to cheat on his girlfriend WHILE SHE IS IN LABOR. While the couple has stayed rather hush-hush about the major scandal, Kim Kardashian (thank god) couldn't keep her opinions to herself. She said, "I hate him. Sorry not sorry." You bet I'm watching this season of KUWTK to see all the drama unfold.
3. Allison Mack Sex Trafficking Scandal
WTF. Former Smallville actress Allison Mack was charged with sex trafficking, sex trafficking conspiracy, and forced labor conspiracy for her involvement with the organization NXIVM. Women were recruited to join the alleged sex cult that was branded as "a female mentorship group that addressed their weaknesses." Well, that's one way to put it. She is currently out on a $5 million bond and under house arrest in her parents' California home. And my parents wouldn't even let me come home if I got a public urination ticket.
Every family has their fair share of drama when it comes time for a wedding. But Meghan and Harry's wedding had a unique set of dramatic events. First, Meghan's half-sister, Samantha Markle, started commenting on multiple "mistakes" she believes Meghan has been making. Rightfully so, Meghan decided the only family members to be invited to her wedding would be her father and mother. But wait, there's more (obvs). After news broke that Meghan's father staged photos for the paparazzi to take of him and earned some money, he decided he would not be attending the wedding "because he was getting heart surgery that same day". I guess becoming a princess really isn't as glamorous as I thought.
5. Kylie Jenner's Secret Pregnancy 
This list wouldn't be complete without the most ULTIMATE secret celebrity pregnancy of all time. Although rumors started circulating in September 2017, Kylie's pregnancy was not *officially* revealed until the birth of her daughter, Stormi, in February through an incredible video. But that didn't stop fans from coming up with the most absurd theories for her pregnancy, including that she was Kim's surrogate or her baby daddy was actually her bodyguard. Nonetheless, this was one of the biggest celebrity scandals of the year.

6. Nicki Minaj and Cardi B… Still
The drama between Cardi B and Nicki Minaj has been brewing since early 2017, but the real tea spilled at the Harper's Bazaar ICONS party on September 7, 2018. A physical fight broke out at New York Fashion Week, where Cardi threw her heel at Nicki, but ended up with a bruise on her own face. Like, LMK how that happens. The feud is never-ending. It even led Cardi to post some nasty words about Nicki on Instagram. The timeline of their fight is too exhausting to even think about so read all the details here.

Twitter tends to be the source of many large scandals these days, and TBH, I'm not mad about it. But the glory of the internet is that even though something may be deleted, we can always find it. On May 28th, Roseanne took to Twitter to address Valerie Jarett, Barack Obama's adviser, and wrote "Muslim brotherhood & planet of the apes had a baby = vj." ABC worked fast and canceled her show revival immediately and released a statement explaining that her views do not align with theirs. She then got dropped by her talent agent and Roseanne reruns were no longer showed on Viacom channels. What did Roseanne have to say about this? She blames the tweets on the Ambien she had taken. Which literally nobody believed, and even the creators of Ambien clarified is not a real side effect.
People of all races, religions and nationalities work at Sanofi every day to improve the lives of people around the world. While all pharmaceutical treatments have side effects, racism is not a known side effect of any Sanofi medication.

— Sanofi US (@SanofiUS) May 30, 2018

When you get burned by a pharmaceutical company, take every seat.
Images: Giphy (2); @iamcardib / Instagram ; SanofiUS / Twitter
3 Crazy But Believable Theories About Why Pete And Ariana Broke Up
I'm still processing the news of Pete Davidson and Ariana Grande's breakup, and there are still so many questions, namely, why Pete and Ariana broke up. While we keep waiting for some more official answers, or even just a brief statement, why not speculate on some things? Enter Enty Lawyer, a self-described "300-pound entertainment lawyer who has been married six times, lives in his parent's basement and has an obsession with digging up celebrity dirt." If you don't know Enty (we are on a first-name basis, get on my level), you should. He's known for his scary accurate blind gossip items, which are basically unnamed celebrity gossip rumors that have not been confirmed, but more often than not end up being correct. He doesn't name names, but he will leave clues as to who his blind items are about, and it's the readers' jobs to try to figure it out, basically like a riddle. Enty also has a podcast, which is literally amazing. In a recent episode, he did a deep dive into some theories behind why Pete and Ariana broke up, and I decided to cover a few of the more believable ones. You should def listen to his entire episode for all his theories. Obviously, none of these have been confirmed, so all of these should be taken with a grain of salt, but there's a lot to consider.
Cheating
Okay, so in the past, we've discussed the truly insane timeline of Pete and Ariana's relationship. Without any inside knowledge of the situation, it basically seems impossible that there wasn't some kind of cheating/dishonesty going on at the beginning of this relationship, even if things didn't get physical until both Pete and Ariana were single. I have my doubts, but that's neither here nor there. More interestingly, Enty says that Ariana has recently been texting (and maybe even sexting) with her ex, Big Sean. Okay, so I liked Ari and Big Sean when they were originally together, but I think she really needs to stop dating the same three men over and over again. Maybe it's just me, but I feel like Ari should probably just spend some time alone working on herself, given the year she's had.
Missed Appearances
Ariana's entire career, she's always been pretty reliable. You never hear about her being tough to work with or erratic, other than some famous donut licking. But lately, Ariana hasn't been great at showing up to things. She was apparently supposed to be featured at last month's Emmy Awards, but just didn't show up at the last minute. She also skipped the American Music Awards, where she was a nominee. She dropped out of Saturday Night Live with short notice, leading them to replace her with Kanye—and we all know how well that went. But most importantly, just in the past week, she skipped a charity event hosted by Scooter Braun, her own manager, where she was allegedly going to perform. That's not a good look at all, and it leads to the suspicion that her team may have had a talk with her about how Pete was affecting her reputation.
Mac
As if Pete and Ariana's relationship wasn't crazy enough already, the sudden death of Mac Miller really cast a tragic shadow on things. His passing obviously deeply affected Ariana, and that's not something most people easily bounce back from. Mac was in her life for years, and she loved him no matter what. A source told PEOPLE that his death "made her rethink many things in her life", like getting married. It makes sense that suffering a devastating loss would make you reevaluate your life.
These are just some of the theories thrown out in Enty's podcast. You really should listen to the whole thing, because he throws out a lot of wild stuff. You do have to pay for it, but it's worth it.
Jenna Cooper And Reality Steve's Feud Has Escalated
Bachelor Nation never ceases to amaze us with the absurdity that puts their contestants people in the limelight. The Jenna Cooper-Jordan Kimball drama continues but this time, Jordan is nowhere to be heard (but we'll get to that later). Instead, Jenna Cooper and Reality Steve now have beef. Jenna posted a public statement on Instagram this weekend addressing the text messages Reality Steve posted in his article exposing her fake relationship. Nine hours later, Reality Steve posted his statement on Twitter in response. This is a classic "he said, she said" dilemma told via screenshots from the Notes app, so let me break it down for you.
The Plaintiff: Jenna Cooper
Jenna has accused Steve of publishing "fake texts" and telling "vicious lies" about her. Her lawyers have requested he hand over the text files so they can "forensically examine" them (see below). As well, Steve has been asked to identify who sent him these files and how he was able to "vet" their authenticity. See below for Jenna's full statement (and gratuitous glamor shot).
I have a few issues with her statement. I get it girl, if these texts weren't from you then I'd be v pissed. But not once did you mention in your statement that you didn't cheat on Jordan. Steve explained in his statement that she neglected to mention that the cheating rumor was false. Even Shakespeare would agree, "the lady doth protest too much" aka she's denying everything so much, it's basically admitting she did it.
The Defendant: Reality Steve
Steve posted his counter-statement on Twitter following Jenna's allegations. He stated that Jenna's lawyers demanded he release the information on who sent him the text messages in question. If he refused to do so, they would assume the messages were "fabricated to harm Jenna." That seems like a rather large jump to conclusion, but whaetvs, I'm not a lawyer. Keep in mind, which Steve also includes in his statement, that he has dealt with his fair share of drama when it comes to releasing spoilers about The Bachelor so he has done his research on what he is legally allowed to post or not. Here's Steve's rebuttal to Jenna's allegations.
Here is my response to Jenna's silly Instagram post she put up at 12:30am this morning. Go check it out if you haven't had a good laugh to start your day… pic.twitter.com/AVIz8mcCRw

— RealitySteve (@RealitySteve) September 22, 2018
Sidenote: lol that Steve's first instinct was to call out the modeling pic.
The Breakdown
Reality Steve publishes an article containing what he claims are text messages between Jenna and a man who is not Jordan, basically expressing that she was never in love with Jordan.
Jenna released a public statement about the messages 10 days after Steve's original article was published. Why did she wait so long to release a statement? Weird.
Jenna accuses Steve of hiding behind his lawyer during this whole confrontation but she began this fiasco with her lawyers reaching out to him. Seems rather hypocritical.
Jenna is asking Steve for the original messages so they can be "forensically examined." IDK how you forensically examine text messages. Also, Steve was sent screenshots of messages from his anonymous source so that's not going to help her in a forensic examination (whatever that entails).
Steve claims that these messages have "been verified they are from Jenna, these are confirmed from her phone number, so in case you have any doubts, just know this has been vetted out." I have a few issues with this statement in his original article. Firstly, is the only way they were verified is from the anonymous source who sent them? Not so reliable. Secondly, how were they confirmed they were from her phone number and how do we know for sure someone didn't just spoof Jenna's number? (Yes, I watch Law & Order: SVU.)
Jenna is asking Steve to reveal his anonymous source. But by doing this, Steve risks losing his reputation as a reliable source of information and breaking the trust he has with those who provide him with information. He's also not legally obligated to reveal his sources. Also, unless Jenna has cheated on Jordan with multiple men, why does she need to know the identity of the source?
Where is Jordan in all this? Would love to get his thoughts.
The Verdict
TBH I'm no lawyer so I can't say for sure. BUT, I can say that I think Jenna looks pretty ridiculous. If she spent half her time denying the cheating allegations as much as she denies those texts are from her, then maybe she'd be in a different situation. Also, by getting lawyers involved in all this, she's only prolonging the amount of time it's going to take for people to forget about this scandal. Like, I don't really get the point of this. Jenna already lost Jordan; what good is going to come out of this "investigation"? I think it's also telling that when Reality Steve's lawyers wouldn't comply to Jenna's requests, she took everything public to social media. Would you really do that if you had a winning case? Not according to the fake, honorary law degree bestowed upon me by Dick Wolf.
In any case, I love a good scandal, so I'm excited to watch this circus continue to play out in the media, if for nothing else, so that I can put off thinking about Colton for a little longer. I will be waiting for updates with bated breath.
Giphy: Images (2)
Someone Please Explain These Khloé Kardashian Instagrams
It's been a full, like, eight days since one of the Kardashians has decided to announce her pregnancy at the very end of the work day and send the entire media into a frenzy. Given all that's been happening in the world, it makes sense, and I for one am glad that Kris Jenner has been able to put aside her thirst for publicity for the time being. But that doesn't mean I've stopped thinking about Khloé Kardashian's pregnancy. I have not. I'm still losing sleep over it, and it's gotten to the point where my boss has had to "gently" remind me that Khloé Kardashian pregnancy rumor-induced sleep deprivation is not a valid excuse for calling out of work. But I still have so many thoughts. Mainly, is Khloé Kardashian really pregnant? I've stalked her Instagram lately, and I have some doubts.
First off, I'd just like to say that between Khloé and Kylie, I find it much easier to believe that Khloé is pregnant. She's older, she's wiser (not that the bar is that high, but still), and she's in a steady relationship of more than five months. She's also reportedly wanted to get pregnant for a long time. So I would very much support her as a new Kardashian mom (because my support is really what matters here). I'm just genuinely confused. We haven't heard anything from Khloé either way, which is just weird. Like, what are you all gaining here by remaining silent, other than my continued speculation?? Please advise.
Okay anyway, now onto the conspiracy theories. Khloé is supposedly pregnant, and she's probably the most likely one out of anyone to be pregnant, and yet, she posted this Instagram five days ago: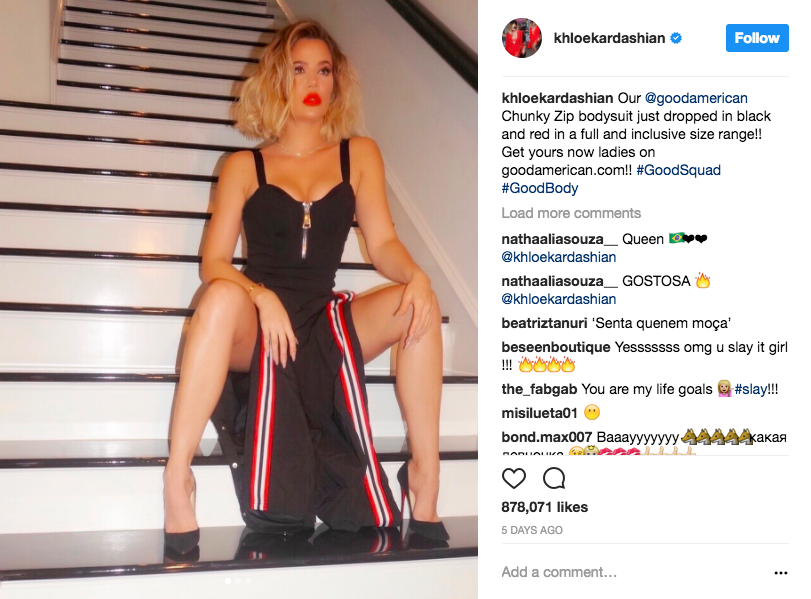 Normally I'd say this photo could have been taken a long time ago, but this is supposedly a new item that just dropped. How long in advance could she have gotten a new item to take a picture of it? And seriously, look how skinny she is. Someone please PM me the name of Khloé's personal trainer. Jokes, I can't afford him or her and half of that is probably lipo anyway.
But I'm not done. Khloé posted the following Instagram on September 23rd, which again, wasn't that long ago.

Not only does she not look pregnant, homegirl has ABS. Now note the caption: "Last swim before we're off to Cleveland!" I had to do a lot of extra Googling to compensate for my nonexistent sports knowledge, but basically here's the gist: Khloé's boyfriend and maybe baby daddy, Tristan Thompson, plays for the Cleveland Cavaliers. Khloé was in Cleveland with Tristan on September 26th, according to PEOPLE. If on September 23rd, she took her "last swim" before heading to Cleveland, and she was in Cleveland no later than September 26th, then we're talking a maximum of three days difference. Incidentally (or not really, I just like using that word), news of Khloé's rumored pregnancy also broke on September 26th. Like I said about Kylie before, people typically wait to start telling family and friends they're pregnant until they're around 10 to 12 weeks along, and like I also said about Kylie, women can start to show at that point. So if she's supposedly nearly three months along at this point, and has abs like that, again I say, somebody PLEASE PM me her personal trainer.
Seriously, HOW??? How can Khloé be pregnant with a six-pack when I'm over here, decidedly NOT pregnant, and rocking a mini keg? *Looks down sadly at loaf of garlic bread in my lap*
That's all I've got for today, folks. If Khloé is pregnant, which is looking increasingly likely to be the case, mazel tov to her and Tristan and apologies to their future child for all the "your mom is a MILF" comments they're going to have to deal with.
The Internet Thinks Taylor Swift Is Hiding In A Suitcase And We're Here For It
Today is the one year anniversary of Kim Kardashian ruining Taylor Swift's life via Snapchat, and you'll be happy to know that Taylor is now a fully-functioning, completely normal human being who takes reasonable methods of transportation to and from her various appointments. Yeah, no she's not. Taylor has stayed out of the spotlight in the last couple months, which is why this story is all the more incredible: Taylor may have hid in a suitcase so she wouldn't be seen by the paparazzi.
A FUCKING SUITCASE.
I mean, I get why Taylor would need to hide from the paps. You know what they say, "People throw rocks at things that shine." Here's what we know: Taylor Swift has an apartment in Tribeca. It's probably scary nice on the inside, but that's not what we're here to talk about. The other day, a fleet of cars showed up outside the apartment, and then nearly a dozen security guards helped to move an enormous black suitcase into the trunk of one of the SUVs. They were extremely careful with the baggage, not putting it on the ground even though it had wheels.

So what could it be? Because the internet is the best place in the world, the leading theory is obviously that Taylor herself was in the bag. This is only a theory, but it's a fun theory and we're bored so let's roll with it.

She hasn't been seen out and about recently, but guests have been regularly coming and going from her apartment. How else is she getting in and out?? Fans are also suspicious because Taylor didn't host her annual 4th of July party this year, but tbh she probably just couldn't get anyone to put up with her shit. She's definitely the girl that takes 40 tries to get the perfect Boomerang.

So was Taylor actually in the suitcase? We may never know, but we fucking hope she was, if for no other reason than her hair would probably look a mess when she got out. Bye Taylor, you're still a snake.
Rob Kardashian Is Dating A New Reality TV Hoe
Rob Kardashian has always been kind of a mystery to us, and his relationship with Blac Chyna was no different. One day it seemed like they were in it for the long haul, and a week later it was like they were never going to speak again. It probably didn't help that Chyna is a Grade-A psycho, and also that Rob couldn't stop TEXTING OTHER BITCHES.
Well, it looks like Rob has moved on from Chyna, and he's picked someone…just as trashy. Her name is Mehgan James, and she's a reality star too! She first appeared on Bad Girls Club (classy!!), and then she was a cast member on the fourth season of Basketball Wives LA. Both shows that we watch religiously, naturally.
So let's talk about Mehgan. First of all, no, that's not a typo. She actually spells her own fucking name wrong, so that's immediate points off. She's also definitely kind of hot, but also she looks crazy in a lot of photos. She definitely looks like she's into botox. To be fair though, Blac Chyna has cheek piercings, so Rob is used to women with questionable cosmetic choices.

Mehgan only made it on Basketball Wives because she used to date Kedrick Brown (still not a typo), a random former NBA player who now plays pro basketball in Turkey to make ends meet. Like, who even knew they had professional basketball in Turkey? Kedrick might be a cool dude, but let's just say Mehgan isn't exactly used to dating all-stars. Sound like Rob is a perfect match!

So now Rob and Mehgan seem to be together, even though Rob's denying it. But Rob has also posted some sappy Instagrams recently about Chyna, which have since been deleted. The official story is that Rob and Chyna are just dedicated to being good parents for Dream, but it's always felt like Rob wasn't actually ready for that relationship to be over. All we really want is one good, hair-pulling confrontation between Chyna and Mehgan, so E! better fire up those cameras. Kris, make it happen.