We Broke Down Every Song In 'Reputation' So You Don't Have To Give Taylor Swift Your Money
Welcome home fam, you've arrived. At long last, Taylor Swift's new album, Reputation, is here, and we have all the details so you can let your group chat know which songs require the most attention. Fasten your seatbelt, we have a lot of shit to talk.
Before I even started listening to the album, I was already annoyed. In a classic move, Taylor decided not to put her album on Spotify and other streaming services for the first week of its release (she clearly needs the money), so I spent $13.99 on iTunes just to get you this review on time. Don't ever say that the Betches have easy lives.
"…Ready For It?"
We've talked about this before. Even if this was the best song ever, I still can't get the image of that naked Taylor mannequin body shit from the music video out of my mind. This song is a little bit of a banger, but only in the most annoying possible way. It at least makes sense as the first song on the album?

"End Game" (feat. Ed Sheeran & Future)
First of all, "Taylor Swift feat. Ed Sheeran & Future" is one of the most confusing things we've ever read. Future looks like he would eat Ed Sheeran for breakfast, but whatever. Taylor shouts (tries to rap?) something about big reputations at the beginning, but tbh she's very overshadowed here by both Ed and Future. She is clearly the third best rapper on this song. Also shout-out to the MVP worst lyric: "I swear I don't love the drama, it loves me." Girl, next.
"I Did Something Bad"
Okay, the title of this song is literally me texting my roommates after every single night out. Taylor thinks narcissists are obsessed with her, but narcissism means…being…obsessed with…yourself? Yeah, she doesn't know what that word means. The chorus of this one is kind of cool, but we could do without the gunshot noises. Taylor probably doesn't even support gun control, ugh.
"Don't Blame Me"
This one has more of a sensitive, mellow vibe, which lets Taylor open up about all the hearts she's broken, and it really doesn't seem like she has any regrets. She says that love makes her crazy, which we can honestly relate to, considering that we make psycho decisions about boys who literally don't know we exist. We have our shit together, don't worry.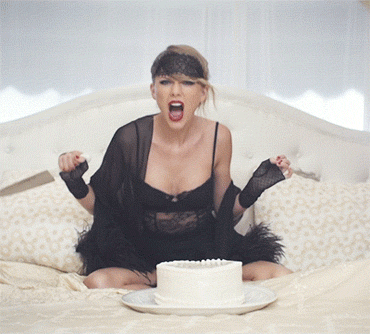 "Delicate"
Taylor says her reputation has never been worse, and she's not wrong. Glad we're on the same page, girly! This sounds like it could have been on one of her old albums, except if she was singing through a robot voice machine. Sad!
"Look What You Made Me Do"
Still hate it. No other comments at this time.
"So It Goes…"
I'm pretty sure four of these songs so far have had the exact same chorus? She's not a bad girl, but she'll do bad things with you. Oooh, sick burn. Is Taylor one of those adults who still think "doing bad things" is, like, letting a guy feel you up?

"Gorgeous"
If you've ever heard of the band CHVRCHES, this is exactly like their music, but worse. These lyrics are very cookie cutter Taylor Swift and we could fall asleep at any minute. The old Taylor is certainly not dead.
"Getaway Car"
"It was the best of times, the worse of crimes." Sometimes her lyrics make me want to throw my computer out the window. This song sounds exactly the same as the rest of the album so far. Have I said that I'm bored, because I'm fucking bored. Also, why is she singing about being at a motel bar? I refuse to believe Taylor Swift has been to a motel in the last decade.
"King of My Heart"
This sounded exactly the same as the rest of the album, but then Taylor started rapping, so it got worse. But then the chorus sounds the same again? There are some cool drums happening for a minute, but seriously she is out of ideas and it's a little sad. And no, Taylor, you're not my American queen, whatever that means.

"Dancing With Our Hands Tied"
I really don't hate this one, mainly because it actually sounds different from the rest of the album. It's pretty catchy and there's no rapping, thank God. There's a reference to an invisible locket that's a little middle school for my taste, but really I'll take what I can get from Ms. Swift.
"Dress"
Sweater! Scarf! Sock! See, I can do it too. OMG, there are lyrics about being drunk and taking a dress off and is Taylor…a badass?!?!? Nah, just a 27-year-old white woman doing normal shit and expecting a medal. *pours another glass of wine*
"This Is Why We Can't Have Nice Things"
Okay for real, this bitch is so extra with her song titles. I hate this one a lot. She says something about "feelin' so Gatsby," and then the chorus sounds like someone put a basic hip-hop beat under a children's song. There's more angsty speak-singing, which is definitely my least favorite thing about this album.
"Call It What You Want"
I'll call it a lame, misguided attempt at a career reinvention, thanks! Taylor says she brought a knife to a gun fight, which is funny considering I'm positive Taylor has been invited to 0 (zero!) gun fights ever. This is not one of the worst songs on the album, but I'm still bored.

"New Year's Day"
Last song!!! This one is actually kind of nice, just a piano and some convoluted story about some promise she made some dude about holding onto memories. All this shit about memories sounds annoying, but at least there aren't like, airhorns during the chorus. Remember when Taylor, like, played instruments? Man, those were the days.
So what's the verdict? The album has a few high points and a lot of low points. Like her shaggy hair, it could use a trim and some additional styling, but there will always be the next album. Or, maybe she'll quit music and just be an annoying cat lady full-time. We wouldn't complain. And if you see me singing this shit at the club, don't @ me.
Here's All The Proof You Need That Taylor Swift Fans Are Psychotic
Head Pro is able to separate the artist from her music and thinks Taylor Swift's songs are mostly fine. Email him at [email protected] and follow him on Twitter and Insta at @betchesheadpro.
Ok look, let's get something out of the way: if being a "fan" of anyone or anything is a core pillar of your identity, you're a fucking mouthbreather and Darwin was wrong about everything. Just look at college football fans, for instance.
But Taylor Swift fans are a different breed, and have created an entire ecosystem that they inhabit. Now, there's a major controversy brewing because Taylor—who, like her fans, is a weird combination of narcissistic and insecure—has divided her following. It all started when she debuted her latest disposable pop single, "Gorgeous." At the very beginning a baby's voice says the word "gorgeous," and fans started asking the totally normal and not at all weird question: whose voice is it?
Explain us the baby's voice Taylor. Who's this? @taylorswift13 #Gorgeous

— Dilara (@queenswifty_) October 20, 2017
Who's the baby at the beginning of gorgeous? Is taylor pregnant and hinting?

— Karl (@minimadkarl) October 20, 2017
It's a strange thing to care about, but whatever. Shit got extremely extra real, however, when Taylor herself responded to someone on Tumblr (because of COURSE Taylor Swift has a Tumblr account) with the following (and now-deleted) cryptic comment:

Per Buzzfeed, the "300" is a reference to the number of people who've been to Taylor's secret listening sessions at her various homes across the country. It's the most Taylor Swift thing ever: a deliberate, narcissistic ​act of sycophancy meant to endear her to her most extreme base and annoy everyone else. It's the entertainment equivalent of the fucking campaign rallies our idiot president keeps throwing for himself a solid nine months after taking office.
Anyway, now the Swifties not in this "inner circle" are red and nude and shitting their diapers with anger, appalled at how their messiah could have betrayed them by telling some people something but not other people.
taylor: 300 people know
everyone: she's confirming some of the fandom are better than others

….
what

— katie / I MET HER (@swiftestgrande) October 20, 2017
you know what really hurts? a fan asked who was the person behind the baby voice and taylor actually answered, "300 people know" thats it

— q (@GUCCIKlM) October 20, 2017

This is just a small sampling because this is supposed to be a quick post, but this is insane. All of it, really. It's insane that Taylor holds "secret" listening sessions for HER OWN MUSIC that she knows damn well won't remain secret, making them obnoxious PR stunts. It's insane that there are people out there who think that she owes them anything other than her music in exchange for their support (and money). Finally, it's maybe most insane of all that Taylor thought dicking around on Tumblr like a horny teenager was a good idea.
Look, I don't care if you like Taylor Swift. She's fine. But if you feel compelled to show your ass online because some people know something about her that you don't, here's what to do: Put down your phone. Walk outside. Look around. Take some deep breaths. Literally anything else you choose to do is more useful than posting your anger online.
Oh, and the voice belongs to Blake Lively and Ryan Reynolds' daughter, James. Happy now?​
Taylor Swift's New Single Is Definitely About *This* Ex-Boyfriend
For every action, there is an equal and opposite reaction. And for every Taylor Swift tune, there is some sad-ass male celebrity the song is about. Anyone who is even remotely familiar with Taylor's discography—aka anyone who has ever gone through a traumatic breakup, or turned on the radio for one second—knows Swift's whole "thing" is putting clues in her songs so you know who she's lyrically roasting. She used to hide these clues in the liner notes of her CDs, but since CDs are over, we only have her lyrics to rely on when untangling the mystery of who Taylor Swift's new single "Gorgeous" is about. Luckily for us, subtlety is not Taylor's strong suit. I mean, her last music video literally started with a gravestone that said "Taylor Swift's Reputation" on it. If homegirl wants you to know something, she will fucking tell you. And it is armed with that very info that we can say, categorically, that Taylor Swift's new song is about none other than fully hot ex boyfriend, Tom Hiddleston.
So like, how do we know this? Mainly because she mentions blue eyes like, 100 fucking times, and Tom Hiddleston has—you guessed it—blue eyes. Now please excuse me while I accept the Nobel Prize for sleuthing. Honestly, it's kind of nice to see Taylor writing about an ex instead of trying to reclaim the narrative of the Kimye fiasco by talking about snakes all the fucking time. Could it be that the Old Taylor is still very much alive? Is she living in a secret Cuban compound with Tupac, popping out posthumous singles until it is safe for her to return to the U.S.? Is this conspiracy theory my new life's work? Yes. Yes to all.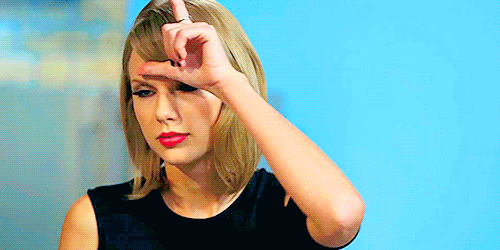 We only have heard three songs off Reputation so far, and if they're any indication, this album is going to be less about the guy that most recently broke her heart, and more about every person who has ever fucked with her in the history of the world.

Let's break it down:
"Look What You Made Me Do" – About the Kimye feud, obviously. Also, being that this song is such a graveyard smash, I have a working theory this song is actually just an homage to "The Monster Mash", which I think we all can appreciate.
"…Ready For It?" – Fans are divided on whether or not this song is about her new BF Joe Alwyn or her ex Harry Styles. What we can all agree on is that this one is def an Old Taylor style relationship inspired tune, further proving my theory that the Old Taylor is alive and well. #OldTaylorTruther
And now, of course, we have "Gorgeous", which everyone agrees is about Tom Hiddleston. And if you're thinking, "Okay, but Taylor Swift has definitely dated other blue eyed people, right?" Sure. But Tom Hiddleston's eyes are the bluest, and that's the point.
Anyway, time to update our running list of who every T. Swift song is about. I have a sneaking suspicion I'll be updating it until the day that I die.
Taylor Swift's New Song "Gorgeous" Is Garbage
Well ladies, it's Friday, and that means that Ms. Taylor Swift has absolutely knocked it out of the park with another new song. It's called "Gorgeous," which is 0% surprising. We're not sure whether this one is better than the first two dumpster fires from her new album, but there's plenty to discuss.
First of all, the song itself sounds better than the first two. It's no "Blank Space," but at least it doesn't have nine different beats clashing together at the same time. Seriously, "Look What You Made Me Do" has so much going on it gives me a headache. This new song sounds simpler, and is less of a departure from her last album.
But oh, the lyrics. That's where the wheels kinda fall off. Because Taylor Swift is an icon of the feminist movement, she chose to go in a cutting-edge direction and write another song about how crazy a man makes her feel. She's really covering new ground, good for her! The song is most likely about current boyfriend Joe Alwyn, the rando British actor who's cute but she could do better. Or can she? At this point, I don't know. I feel like she's got to be paying dudes to date her, because I can't think of a good reason why anyone would willingly sign up for that Tilt-A-Whirl of terror.

Anyway, the lyrics:
"You're so gorgeous/ I can't say anything to your face/ 'Cause look at your face/ And I'm so furious/ At you for making me feel this way/ But what can I say?/ You're gorgeous."
There it is folks, the chorus teenage girls will be shouting for the next six months. In classic Taylor Swift fashion, she's taking no responsibility for her own feelings and placing herself under the control of a man. But remember, she's not a boyfriend girl! Taylor also says she "might sink and drown and die" in Alwyn's the subject's "ocean blue eyes," which is…romantic? Creepy? Fucking dumb?

There are lots more cringey lyrics in the song, but my (least) favorite is probably when she says "guess I'll just stumble on home to my cats, alone, unless you wanna come along." Ugh. Ugh. Ugh. No one cares that you have fucking cats, Taylor!! You're not special!!
Aaaaaand right on time, this piece of shit song is stuck in my head. Brb, gonna go cry and wish that I was as rich as her.