Golden Globes 2018 Recap: Women Are Tired Of Your Sh*t
Read our Golden Globes fashion recap here!
Welcome to awards season, Betches. We kicked off the happiest time of year last night with the 75th annual Golden Globes, God's gift to those of us who love to watch the most famous people in the world get wasted on thousands of bottles of Moët and pretend they're happy for the award winners. Given the current political climate and post-Reckoning world that Hollywood exists in, there was a lot of anticipation on how our favorite stars would tackle the night. Let's just say, the show set the tone for the rest of 2018, and it is "Women Are Tired of Your Shit." The ladies of Hollywood did not come to fucking play and engaged in our two favorite pastimes: talking shit about men, and wearing all black.
Seth Meyers hosted and, other than absolutely killing it, he served to be the only man all night who took the time to address the Time's Up movement that was taking place. Don't get me wrong, I could watch Alexander Skarsgard bumble his way through an acceptance speech for the rest of my life. But seeing as how the dude won for a playing an abusive husband, and given the general mood in the room, you would think he could have thrown out a quick shout-out to survivors or just not assaulting women or something.
True to form, Seth spared no bitch. Compared to Jimmy Fallon's half-hearted jabs at Trump last year, it was a bloodbath, albeit, a bloodbath that everyone very much needed. He wasted no time immediately getting to the point by welcoming all the "ladies and remaining gentlemen" in Hollywood. If you were worried that Harvey Weinstein and Kevin Spacey would be gently mentioned and then immediately smoothed over, our boy Seth did not let you down.
The audience quite literally gasped when Seth went in on Harvey Weinstein, assuring everyone that while he wasn't there last night, he would "be back in 20 years when he becomes the first person ever booed in the in memoriam." The groans returned when Kevin Spacey surfaced and Seth mocked his House of Cards southern accent. "Oh," he deadpanned "is that too mean….to Kevin Spacey."
Basically, Seth tackled everything you could possibly have wanted him to, toeing a supremely fine line between making jokes while not diminishing the very serious issues lying beneath them. Can you believe that 2018 has been kind enough to gift us with one real ally?
The only dull part of Seth's speech came when he and Amy Poehler attempted some sort of back-and-forth bit, but it just felt awkward and didn't go anywhere. You'd think two people who were literally coworkers on SNL would have more on-screen chemistry, but I thought I'd have more chemistry with this guy I met at the bar last week and yet, here I am, hiding in the bathroom writing a Golden Globes recap instead of finishing our date.

THE GOOD
The first thing that we, as a country, need to collectively recognize is that Viola Davis is a goddamn SNACK. The hair. The dress. The glam. THE EYEROLL. Next year hand out miniature statues of her instead of the actual Golden Globes.

The Handmaid's Tale came away with two awards: Best Actress for Elisabeth Moss and one for Best Prediction of the Future Drama. The award for haunting my nightmares is still pending, but the odds are in their favor.
We'll fully dive into Oprah later on in this recap, but for now I'd like to request that she be placed front and center at every award show for the rest of my life so that every overwhelmed celebrity can start their acceptance speech by gasping her name.
The Rock announced that his daughter had been appointed this year's Golden Globe ambassador, which means she hands out the awards and then participates in philanthropy on behalf of the HFPA. Did anyone else spontaneously break out into tears because you know, inexplicably and yet to your core, that The Rock is just an amazing father? Just me? Cool.
I, Tonya took home a couple well-deserved awards, but all I could think about was how angry Nancy Kerrigan was at that very moment. Has anyone checked on her? I hope she's as drunk as we all are to just momentarily forget that Tonya was very much part of a conspiracy to bash her fucking knee in, and now she's chilling at the Golden Globes with Meryl Streep.
Big Little Lies was a big winner, taking home four awards and cementing the girl power vibe of the night. Literally not one person went on stage and mentioned a single man involved in that show. It was amazing. Let's all just stop mentioning men's involvement in anything and see how much happier we all are.
Natalie Portman won our hearts and souls by taking on the nearly impossible job of following Oprah's speech and shutting down the goddamn house. Bring Vine back just so this single moment can live on in perpetuity.

The quick one-liner. The clear disdain. The fact that Greta Gerwig was completely shunned from the Best Director category despite the fact that she directed the movie that won Best Comedy and Best Actress. Burn them all down, Natalie.
Frances McDormand seems like she would say things along the lines of "I'm not a bitch, I just tell it how it is." I'm scared of her. I'm confused as to why she shirked the Time's Up black dress code and opted for blue. Mostly, I respect that the broadcasters were so scared of her that they bleeped out half her acceptance speech for Best Actress in a Drama in fear and anticipation of her saying fuck.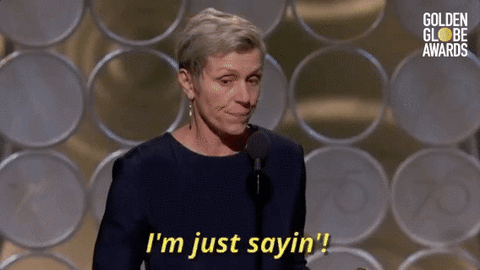 Honorable mention: This technically happened on the red carpet, and not the show itself, but it deserves a shout-out. Debra Messing called out E! for not paying its female hosts the same as men…while be interview on E!
The sheer shade of it is mesmerizing. The only way she could have been betchier was if she started her interview with "No offense but…"
THE BAD
Not sure if everyone was just on their best behavior this year, but there weren't a ton of cringeworthy interactions. That being said, it's the Golden Globes, so there were still a few moments that exacerbated my already raging hangover.
I know that this technically wasn't part of the show, but let's please all take some time today to talk about the L'Oreal commercial that compared Winona Ryder's comeback to damaged hair. Nominate it for Best Limited Series Drama. Play it in advertising classes across the country. Someone apologize to Winona, and while you're at it, to me. It will be seared into my brain for the rest of time.
The return of Roseanne meant that we got to watch her and John Goodman present and award and apparently just collectively forget that she's a fucking Trump supporter. Nice of her to leave her MAGA hat at home, at least.
James Franco took home the award for Best Actor in a Comedy or Musical for his role as Tommy Wiseau in The Disaster Room. He very kindly brought Tommy up on stage with him before body-checking him as he reached for the microphone. This is James' world Tommy, and he's just barely letting you live in it.

Clearly no one has ever explained an indoor voice to James Franco, because he proceeded to scream his acceptance speech into what became an incredibly redundant microphone. He went on to deliver a touching story about how he'd always wished for a brother to collaborate with, probably before remembering that Dave Franco literally exists. It's okay, he loves him more than anything now, so shout-out to the third unnamed Franco I guess.
James Franco: Wow I wish I had my own Coen brother. A brother to collaborate with. A brother.
Dave, probably: Um?
Anyway, if you need me, I'll be in my bedroom writing a thesis about how James Franco is officially over. See you guys in 10 years when I emerge to accept my Pulitzer.
This will be an unpopular take that will likely get me eviscerated in the comments section, but I could have done without the crypt keeper Kirk Douglas portion of the night. I get it. Really. I get the gesture of rolling this 102-year-old man out on stage and forcing him to quite literally age before our very eyes, but I have never experienced greater discomfort than watching him attempt to cough out a sentence while Catherine Zeta-Jones laughs and pretends to understand wtf he's saying. Either my feed had a slight audio malfunction or I could actually HEAR his bones disintegrating on live television. Give the man some Metamucil and let him sleep, please.
Sidenote: If/when I make it to 101 (I drank a kale smoothie today so like, I'll probs live forever) please do not put me on stage to be compared to the world's hottest people, all looking their best, in the prime of their lives. Instead, just show a slideshow of my best thirst traps from when I, too, was young and hot. This statement counts as a living will and is legally binding.
A moment that went generally unnoticed but should definitely be addressed is the random French dude who won an award, got up on stage, and then literally said "If you see a cop, warn a brother."
No one reacted??? Is it because he's French?? I feel like I'm taking crazy pills??? Why didn't the black power table up front reach up and just rip him to shreds?
The night ended on a relatively low note when Three Billboards Outside Ebbing, Missouri took home the final award for Best Drama. It's like the HFPA forgot that an entire movie of Armie Hammer and Timothee Chalamet having sex exists or something.

Another honorable mention from the red carpet: Connie Britton (who is usually on point, always) attempted to get into the #TimesUp spirit by wearing a shirt that said "Poverty is sexist", to which we all replied "Uh….what?" I mean, there's clearly a point that Connie is trying to make here, but nobody is quite sure what it is. Is this about the wage gap? Is it about the intersection between sex, and race, and class? Unclear. The shirt kind of felt like a liberal madlib. is ist. You could do it with anything—global warming is ageist! Gay marriage is racist! Animal cruelty is classist!!
Also, a graphic tee on the red carpet? It's a no from me…
THE OPRAH
January 7th, 2018 was the day that I found out that I really, really care about Oprah. Don't get me wrong, I've never disliked her, but I just didn't realize how much I actually, genuinely, love her. I had no idea my body could harbor this level of devotion. It's like when you don't call your mom for a while but then get drunk and start thinking about how she's getting kind of old now and you end up getting really emotional and leaving her a drunk voicemail about how beautiful she looked at her wedding….not that I've ever done that.
Watching Oprah scream "THEIR Time's Up" to a room full of women who were staring up at her with a level of adoration that the I generally reserve for Harry Styles cured my hangover. Suddenly my skin was moisturized, my body hydrated, my eyesight a perfect 20/20. That speech was more effective than any Adderall I've ever taken in my life. Who needs drugs when Oprah is telling you that a new day is on the horizon? If you watch her speech every morning before you go to work, you'll be a CEO in two years' time.

Oprah: THEIR Time's Up.
Me, lying in the fetal position on my couch, sobbing: I would kill for you.
No recap could or would do it justice. Read it in full. Watch the video once a day. Tattoo the transcript on your body. Know that whatever you're doing, Oprah believes in you. Just don't make the same "Oprah 2020" joke that the entire internet did.
Check out the entire list of winners below and then weep with me over the fact that we didn't get to listen to Timothee Chalamet deliver an acceptance speech. It's okay, we still have The Oscars.
MOVIES
Best motion picture, drama
"Three Billboards Outside Ebbing, Missouri"
Best motion picture, musical or comedy
"Lady Bird"
Best actress in a motion picture, drama
Frances McDormand, "Three Billboards Outside Ebbing, Missouri"
Best actor in a motion picture, drama
Gary Oldman, "Darkest Hour"
Best actor in a motion picture, musical or comedy
James Franco, "The Disaster Artist"
Best actress in a motion picture, musical or comedy
Saoirse Ronan, "Lady Bird"
Best supporting actor, any motion picture
Sam Rockwell, "Three Billboards outside Ebbing, Missouri"
Best supporting actress, any motion picture
Allison Janney, "I, Tonya"
Best director
Guillermo del Toro, "The Shape of Water"
Best original score
Alexandre Desplat, "The Shape of Water"
Best original song
"This Is Me" (from "The Greatest Showman")
Best screenplay
Martin McDonagh, "Three Billboards Outside Ebbing, Missouri"
Best foreign language film
"In the Fade"
TELEVISION
Best television series, drama
"The Handmaid's Tale"
Best television series, musical or comedy
"The Marvelous Mrs. Maisel"
Best limited series or motion picture made for television
"Big Little Lies"
Best actress in a series, limited series or motion picture made for television
Nicole Kidman, "Big Little Lies"
Best actor in a series, limited series or motion picture made for television
Ewan McGregor, "Fargo"
Best actress in a television series, drama
Elisabeth Moss, "The Handmaid's Tale"
Best actor in a television series, drama
Sterling K. Brown, "This Is Us"
Best actress in a television series, musical or comedy
Rachel Brosnahan, "The Marvelous Mrs. Maisel"
Best actor in a television series, musical or comedy
Aziz Ansari, "Master of None"
Best supporting actor in a series, limited series or motion picture made for television
Alexander Skarsgård, "Big Little Lies"
Best supporting actress in a series, limited series or motion picture made for television
Laura Dern, "Big Little Lies"
The Best Dressed At The 2018 Golden Globes & The People Who Didn't Wear Black
Typically, the Golden Globes is the award ceremony known as the one where everyone gets totally tanked. It's kind of infamously known as the sloppiest televised night in Hollywood. This year, while I'm sure people still got super drunk (I'm looking at you, Franco Brothers), the blackout was of a different kind. As anyone with internet access (or at the very least, cable) probably knows, celebrities wore black to the event in support of the Time's Up initiative, which helps fight sexual harassment against in the workplace. Although it wasn't officially strictly enforced, this was basically the most important dress code since the Plastics decided to wear pink on Wednesdays. Because the whole point is to bring women together, anyone who didn't wear black wasn't like, ridiculously shamed or anything, but they were still noted. So this year we're doing things a little differently with our best and worst dressed list. We'll highlight the people who looked especially amazing (since everyone looks good in black), and point out those who, for whatever reason, chose not to.
THE BEST
1. Saoirse Ronan
Saoirse Ronan is totally on top of the fucking world right now. Everyone's obsessed with her, she just won Best Actress for her performance in Lady Bird, and we all can finally almost pronounce her name without having to Google it. Plus, she had someone FaceTime her mom to watch her acceptance speech. Her edgy Atelier Versace gown is to die for, and I think we all wish we could look half as good with such minimal makeup.

2. Kerry Washington
If anyone in this world is capable of making a sequin high-low dress look incredible, it's Olivia Pope. I mean, Kerry Washington. Obviously, she's powerful enough to do anything (she's literally pulling off purple eyeliner here). I don't see why she can't save the real-life America. Maybe if/when Oprah runs for President, Kerry can be her VP.

3. Angelina Jolie
Angelina Jolie also wore Atelier Versace. This custom gown is totally the personification of the "me when I answer the door of my mansion pretending to be shocked when I learn my 78-year-old husband just died" meme. I'm so into it, mostly because I often forget that Mr. & Mrs. Smith is a movie and not real life, and she's not actually going to assassinate Brad Pitt. (Probably.)

4. Millie Bobby Brown
Millie Bobby Brown is barely old enough to be left unattended in a tanning salon lobby, but I'm still going to include her in every best dressed list because she always serves a perfect look. Honesty, it's unfair that the girl will never have an awkward phase, and I will be bringing it up with my therapist during my next session. Millie's backless Calvin Klein dress is super sophisticated in the cutest way possible and probably makes you want to hide your bat mitzvah photos for the rest of eternity.

5. Oprah Winfrey
I mean, fucking duh, it's Oprah. Obviously the woman we all wish was our mom, best friend, boss, and president slayed. I actually don't know if Oprah has ever looked better. I'm pretty sure everyone's still crying from her speech, so there's that, too.

6. Alison Brie
Dress/pants hybrids are usually as risky as drinking tequila while taking antibiotics, but Alison Brie's outfit absolutely nailed it. It also had pockets, so it's the ultimate "thanks it has pockets" gown.

7. Zoe Kravitz
At first glance, Zoe Kravitz's Golden Globes look is really simple with splashes of color in her jewelry and makeup. Obviously, Zoe has her shit together enough to strategically choose even her earrings and ring. Emerald stones are meant to symbolize hope and growth, and were worn by a few actresses as a further statement. This totally makes me feel like a POS for generally having "I can find two of them while on my way out the door" as the primary criteria for choosing earrings.

EVERYONE WHO MISSED THE 'WEAR BLACK' MEMO
1. Blanca Blanco
Blanca explained her fashion choice to Fox News, saying, "I love red," which is kind of like when Kelly Kapoor wore white to Phyllis' wedding because it was "an emergency," and the emergency was she looks really good in white. Blanca clarified, "Wearing red does not mean I am against the movement. I applaud and stand by the courageous actresses that continue to break the cycle of abuse through their actions and fashion style choices. It is one of many factors leading women to a safer place because of their status. I am excited about the #TimesUp movement; true change is long overdue."

2. Frances McDormand
We're willing to give Frances McDormand the benefit of the doubt because she was so amazing in Three Billboards Outside Ebbing, Missouri, a movie that I bet nobody my age saw, except for me. It's clear from Frances' acceptance speech that she wasn't intentionally making a statement against the #TimesUp movement with her dress choice, but rather, she grabbed this navy dress in the dark while rushing out the door. Let he who has never gotten dressed with the lights off cast the first stone.

3. Barbara Meier
I'll save you the trouble of Googling and let you know that Barbara Meier is a German model who won Germany's Next Topmodel in 2006. It's unclear why she was there in the first place—maybe to keep Kendall Jenner company?—and she basically went in the total opposite direction of everyone else, sporting a multicolored floral dress. Awkward. Barbara defended her decision to not wear black, basically saying that women should be able to wear whatever they want, which nobody is arguing with. She said in a translated Instagram post, "We were fighting for a long time for the freedom to wear what it is ok, to dress up a little more sexy. If we now restrict this, because some men can not control themselves, this is a huge step back in my opinion," seemingly missing the point that nobody cares that she dressed sexy, just that she didn't wear black. Oh well. Can't win 'em all.

4. Meher Tatna
As the President of the Hollywood Foreign Press Association, you would think Meher Tatna would have gotten the memo that on the Sunday of the Golden Globes, we wear black. In her defense, though, a source told The Wrap that Tatna "wore the dress that she chose with her mother," adding, "As part of her Indian culture, it's customary to wear a festive color during a celebration." So like, okay, we're not going to argue with her culture. Sources also say that she's a big supporter of Time's Up, so we'll let it slide. her shoes are black, at least?

Here Is Oprah Winfrey's Full Golden Globes Speech
Last night at the Golden Globes, Oprah Winfrey won the Cecil B. DeMille award for outstanding contributions to the world of entertainment, and subsequently our hearts. Oprah was the first black woman to win the prestigious award, and she gave a speech that will go down in history. She talked about sexism, racism, the #MeToo movement, and more. Everybody's talking about this speech today, and if you didn't watch it, you're seriously behind. Below is the full transcript of Oprah's Golden Globes speech, courtesy of ABC, in case you're at work and can't watch a whole video.
In 1964, I was a little girl sitting on the linoleum floor of my mother's house in Milwaukee watching Anne Bancroft present the Oscar for best actor at the 36th Academy Awards. She opened the envelope and said five words that literally made history—"The winner is Sidney Poitier."
Up to the stage came the most elegant man I had ever seen. I remember his tie was white, of course his skin was black—I'd never seen a black man being celebrated like that. I've tried many, many, many times to explain what a moment like that means to a little girl, a kid watching from the cheap seats as my mom came through the door bone-tired from cleaning other people's houses.
But all I can do is quote and say that the explanation in Sidney's performance in "Lilies of the Field," 'Amen, amen. Amen, amen.' In 1982 Sidney received the Cecil B. DeMille Award right here at the Golden Globes, and it is not lost on me that at this moment, there are some little girls watching as I become the first black woman to be given this same award.
It is an honor—it is an honor and it is a privilege to share the evening with all of them and also with the incredible men and women who have inspired me, who challenged me, who sustained me and made my journey to this stage possible. Dennis Swanson, who took a chance on me for "A.M. Chicago," Quincy Jones, who saw me on the show and said to Steven Spielberg, "Yes, she's Sophia in 'The Color Purple;'" Gayle, who's been the definition of what a friend is; and Stedman who's been my rock—just a few to name.
I want to thank the Hollywood Foreign Press Association because we know that the press is under siege these days. But we also know it's the insatiable dedication to uncovering the absolute truth that keeps us from turning a blind eye to corruption and to injustice. To—to tyrants and victims, and secrets and lies. I want to say that I value the press more than ever before as we try to navigate these complicated times, which brings me to this. What I know for sure is that speaking your truth is the most powerful tool we all have. And I'm especially proud and inspired by all the women who have felt strong enough and empowered enough to speak up and share their personal stories. Each of us in this room are celebrated because of the stories that we tell, and this year we became the story.
But it's not just a story affecting the entertainment industry. It's one that transcends any culture, geography, race, religion, politics, or workplace. So I want tonight to express gratitude to all the women who have endured years of abuse and assault because they, like my mother, had children to feed and bills to pay and dreams to pursue.
They're the women whose names we'll never know. They are domestic workers and farm workers. They are working in factories and they work in restaurants and they're in academia, engineering, medicine, and science. They're part of the world of tech and politics and business. They're our athletes in the Olympics and they're our soldiers in the military.
And there's someone else, Recy Taylor, a name I know and I think you should know, too. In 1944, Recy Taylor was a young wife and mother. She was just walking home from a church service she'd attended in Abbeville, Alabama, when she was abducted by six armed white men, raped, and left blindfolded by the side of the road, coming home from church. They threatened to kill her if she ever told anyone, but her story was reported to the NAACP where a young worker by the name of Rosa Parks became the lead investigator on her case, and together they sought justice. But justice wasn't an option in the era of Jim Crow. The men who tried to destroy her were never prosecuted. Recy Taylor died 10 days ago, just shy of her 98th birthday. She lived, as we all have lived, too many years in a culture broken by brutally powerful men. For too long, women have not been heard or believed if they dared to speak the truth to the power of those men. But their time is up. Their time is up. Their time is up.
And I just hope—I just hope that Recy Taylor died knowing that her truth, like the truth of so many other women who were tormented in those years, and even now tormented, goes marching on. It was somewhere in Rosa Parks' heart almost 11 years later, when she made the decision to stay seated on that bus in Montgomery, and it's here with every woman who chooses to say, "Me too." And every man—every man who chooses to listen.
In my career, what I've always tried my best to do, whether on television or through film, is to say something about how men and women really behave. To say how we experience shame, how we love and how we rage, how we fail, how we retreat, persevere, and how we overcome. I've interviewed and portrayed people who've withstood some of the ugliest things life can throw at you, but the one quality all of them seem to share is an ability to maintain hope for a brighter morning, even during our darkest nights.
So I want all the girls watching here, now, to know that a new day is on the horizon! And when that new day finally dawns, it will be because of a lot of magnificent women, many of whom are right here in this room tonight, and some pretty phenomenal men, fighting hard to make sure that they become the leaders who take us to the time when nobody ever has to say "Me too" again. Thank you.
The Biggest Snubs At The Golden Globe Awards 2018
The Golden Globes were last night, and as usual there were a few surprises among the winners. Maybe it doesn't really matter that much, but this is the shit we live for. Here are the biggest snubs from last night, whether they were surprising or just kind of sad.
1. Issa Rae
Okay, Rachel Brosnahan is great in The Marvelous Mrs. Maisel and all, but we were really rooting for our girl Issa to pull out a win for Best Actress in a Comedy Series. Considering these shows' spotty record of acknowledging actors of color, and given how talented Issa is (and how fire her bars are), you'd think they'd have thrown an award at her… but we'll get to that a little later.
2. 'Get Out'
No matter how much you talk this movie up to your conservative relatives, you unfortunately can't say that it's a Golden Globe-winning film. Daniel Kaluuya's side-eye throughout the movie is iconic, and should have won multiple awards on its own. Then again, nominating Get Out for the Best Motion Picture in Musical or Comedy was kind of a tough sell to begin with. At least there's still the Oscars.

3. Margot Robbie
Margot's performance as Tonya Harding was amazing to watch, but she never really had the awards momentum over Saoirse Ronan in Lady Bird. Either way, now we all know Margot can fucking act, and she's sure to be nominated again in the future.
4. 'Game of Thrones'
The era of GoT winning all the awards everywhere seems to be officially over. The show was only nominated for one award last night, and didn't manage a single acting nomination even though it has like 4,000 characters. Sad!
5. Greta Gerwig
Gerwig's film Lady Bird pulled out a win for best picture, but but she wasn't even nominated for Best Director. Natalie Portman pointed out that all the nominees were men, and Greta's exclusion is a damn shame and proof that Hollywood has not even come close to achieving gender equality.

6. 'The Crown'
Last year at the Globes, Netflix's royal drama won big, but this year they basically ignored it and gave the big awards to The Handmaid's Tale instead. Tbh we can't really argue with this, but Netflix is definitely putting some pins in their Hulu voodoo doll. Let's just hope that The Handmaid's Tale continues to only win awards for Best TV Drama and not Best Documentary.
7. Actors Of Color
Sterling K. Brown and Aziz Ansari brought some diversity to the TV awards, but pasty white people went 6 for 6 in the film acting categories. Not a great look, Hollywood Foreign Press.

8. Reese Witherspoon
Okay, so Reese still had a great night, but it can't feel great to lose every major award to Nicole Kidman, even if she is your best friend. It's like when you go out with a friend who rolls up to the pregame looking objectively better than you. You're happy for her, but you're also definitely going to get drunk and send at least one shady table text about how "annoying" she's being. It's only natural.
9. E!
This might not so much be a snub as it is serious shade, but irregardless, when Giuliana Rancic asked Debra Messing why she was wearing black, Debra really let her have it. She said she was wearing black "to thank and honor the brave whistleblowers who came forward to share their stories of harassment and assault and discrimination." But then she really honed in on the E! network, saying, "I was so shocked to hear that E! doesn't believe in paying their female co-hosts the same as their male co-hosts. I mean, I miss Catt Sadler." And she did this all while being interviewed live by E! Yeah. We are not worthy.
Debra Messing drags E! (while being interviewed on E!): "I was so shocked to hear that E! doesn't believing in paying their female co-hosts the same as their male co-hosts" pic.twitter.com/HF3B2uhwtF

— David Mack (@davidmackau) January 7, 2018
10. Sexual Predators
Aaaaaand none for Harvey Weinstein, bye!!