Kendall & Kylie Pretended To Eat Pizza At The Golden Globes
Thought Kendall and Kylie Jenner were nutritionally deficient social media slaves who haven't eaten a carb in over five years? Think again! At the Golden Globes afterparty on Sunday night, the two Kardashian sisters were candidly photographed eating pizza at a perfect 45 degree angle, and the whole situation could not look more natural.
Kendall & Kylie Jenner eating pizza at a Globes after-party is the best https://t.co/q5pFbLuTxe pic.twitter.com/4bKWWHDWNk

— Huffington Post (@HuffingtonPost) January 9, 2017
After a bystander gently explained to Kylie that the crust side goes on the bottom, she was able to effortlessly hold the slice merely two inches from her mouth. This definitely isn't the first time she's ever encountered pizza and she obviously knows how to eat it. She's just waiting for further instructions to test everyone else to see if they know. 

Kendall, meanwhile, couldn't wait to take her first fake bite and dove right in before her sister. She shrugged her shoulders and gave an eye roll as if to say, "I'm not ashamed of my 00 sized figure," and "Models eat junk food all the time. We are naturally perfect and Photoshop isn't real, sorry."
Who would've thought that two of the most high-profile family members in Hollywood would be so down-to-earth? There aren't even any crusts lying around, which means they probably ate those too. Damn ladies, save some for the rest of us!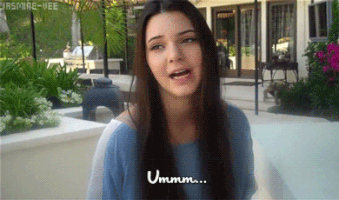 The Best & Worst Beauty Looks At The 2017 Golden Globes
The time has come to talk about one of the lesser-talked-about award ceremonies of the year: the Golden Globes, aka the Oscars' younger, drunker sister. While the Golden Globes red carpet allows stars to give less fucks be a little more casual/experimental than they would be at the Academy Awards, the 2017 lineup was lit. As in, there really weren't that many terrible beauty looks that made me want to (internally) scream/cry/cry-scream. I mean, of course there were still a few losers who missed the mark, but before we get into the fuck ups, let's talk about the shining stars who killed the game, i.e. the red carpet.
BEST:
Emily Ratajkowsfsfsdfksafsfki The Hot "Actress" From "Blurred Lines"

The monochromatic shadow and lip combo. The tousled lob. The full brow. 10/10 would bang.
Emma Stone

Though she's the palest person I've ever seen, Emma Stone usually does it right on the red carpet. Following the success of her 75th film with Ryan Gosling, Emma donned a laid back, whimsical low pony, a sheer rose lip, and a subtle cat eye.
Millie Bobby Brown

As the breakout star of Stranger Things and a former Betch of the Week, Millie murdered the red carpet. Not unlike how she murdered the Demogorgon. Only difference is this time she had soft, subtle makeup and a sleek bob.
Lily Collins

Pulling off a red lip with a pink dress and pink shadow is not easy, but somehow Lily did it just to prove that she can.
Kerry Washington

Here for Olivia Pope's sleek, buttery-highlighted hair and dark lip combo.
Olivia Culpo

The mocha smoked out eye/matte lip/low braid story Olivia's telling is my 2017 mantra. 
WORST:
SJP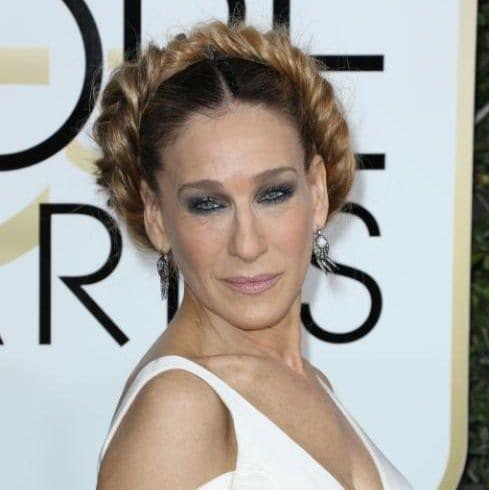 While she might have meant to honor the late and great Carrie Fisher, whatever the fuck is happening with SJP's braids makes me sad. She should have consulted Olivia. (Culpo, not Pope. Though both would probably be appropriate.) 
Milo Ventigmiglia

The poor man's Tom Selleck is now registered under Megan's Law. Seriously, go check.
Tom Hiddleston

Tbh, he looked OK on the outside (whatever), but last night we saw Tom Hiddleston be ugly on the inside. Proving that he loves himself more than he loves poorly printed tank tops, Hiddleston wanted everyone to know that he is an inspiration to UNICEF and Médecins Sans Frontières and the World Food Program.
Tom Hiddleston: Omg thanks for the award. Let me use this platform to talk about Sudan.
The audience: All ears.
Tom Hiddleston: And how I've saved it by acting in a boring show about guns with House.
The audience:

The only thing that would have made up for this is if he thanked Taylor Swift and the audience subsequently boo'd. Sigh. Maybe next year. 
The Best & Worst Dressed At The Golden Globes

Natalie Portman is pregnant AF, so she chose a sensible yellow Prada dress that was probably a leftover from the Jackie set. Literally how is she so pretty?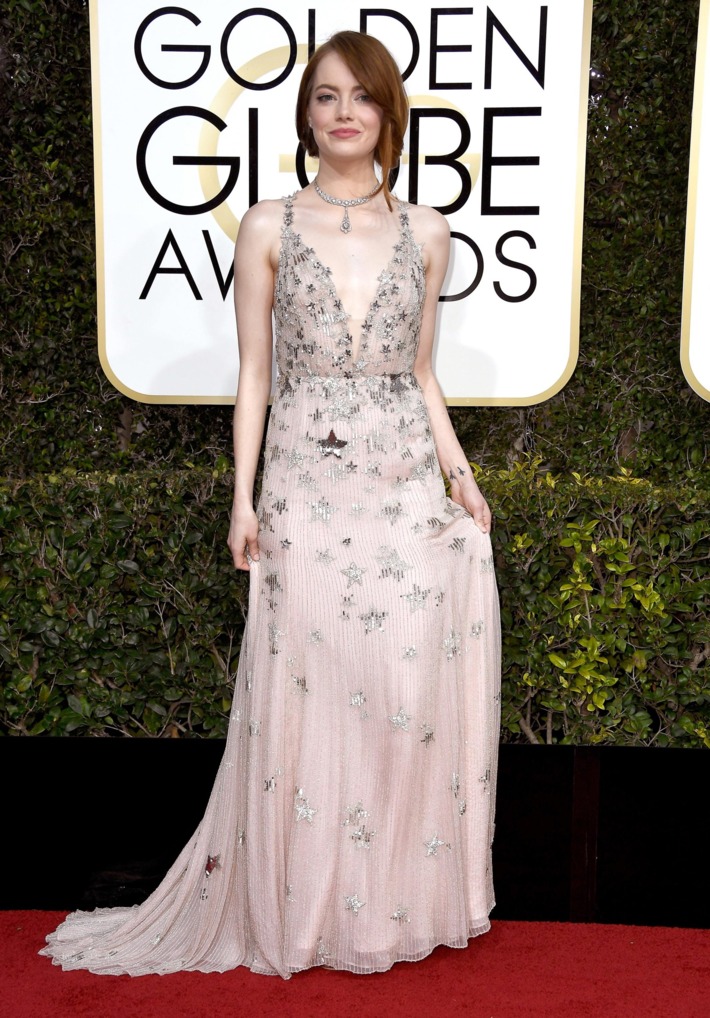 Emma Stone played it safe in a nude Valentino dress with a plunging neckline. She's super pale so it kind of blended in with her skin, but she made sure to remind us that she's the biggest fucking star in Hollywood with the silver stars all over the dress. Honestly, the whole thing was a little bat mitzvah.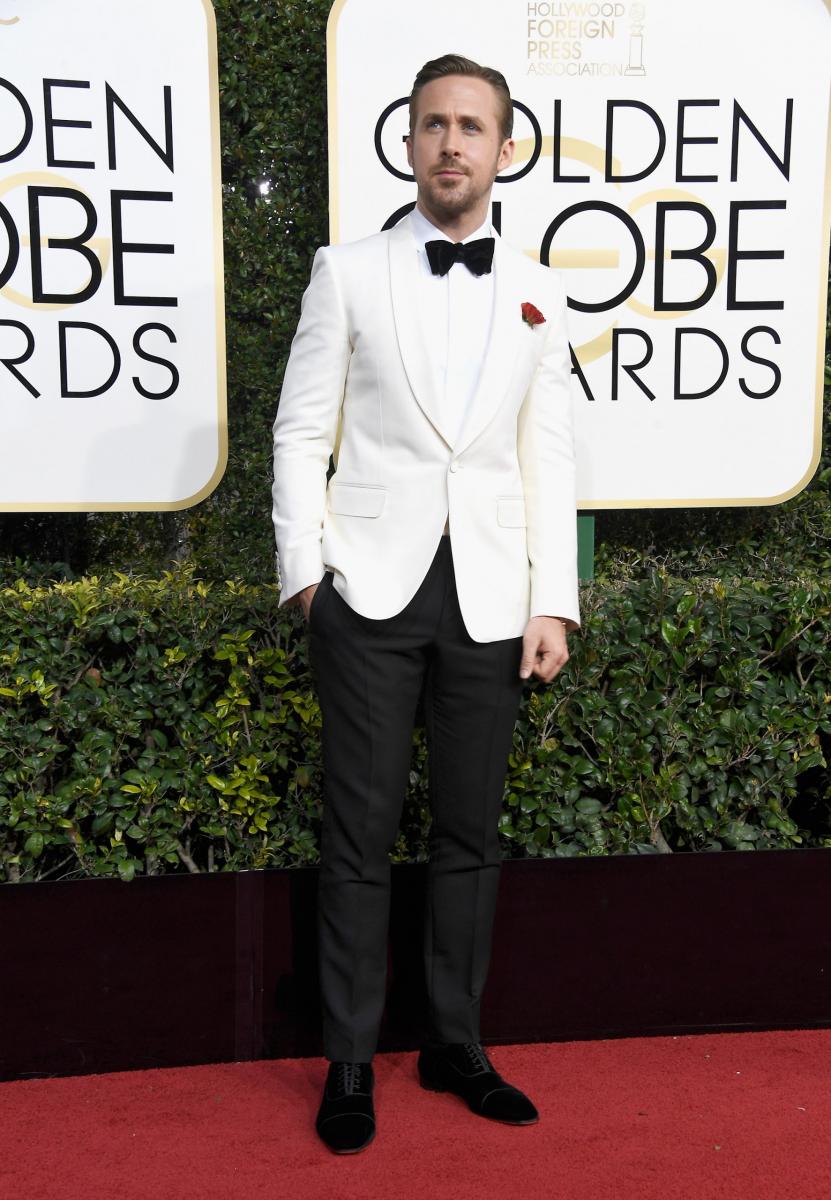 Ryan Gosling chose to wear a white tux, which is usually just what nerdy guys wear to their high school prom, but he's Ryan Gosling so he pulled it off.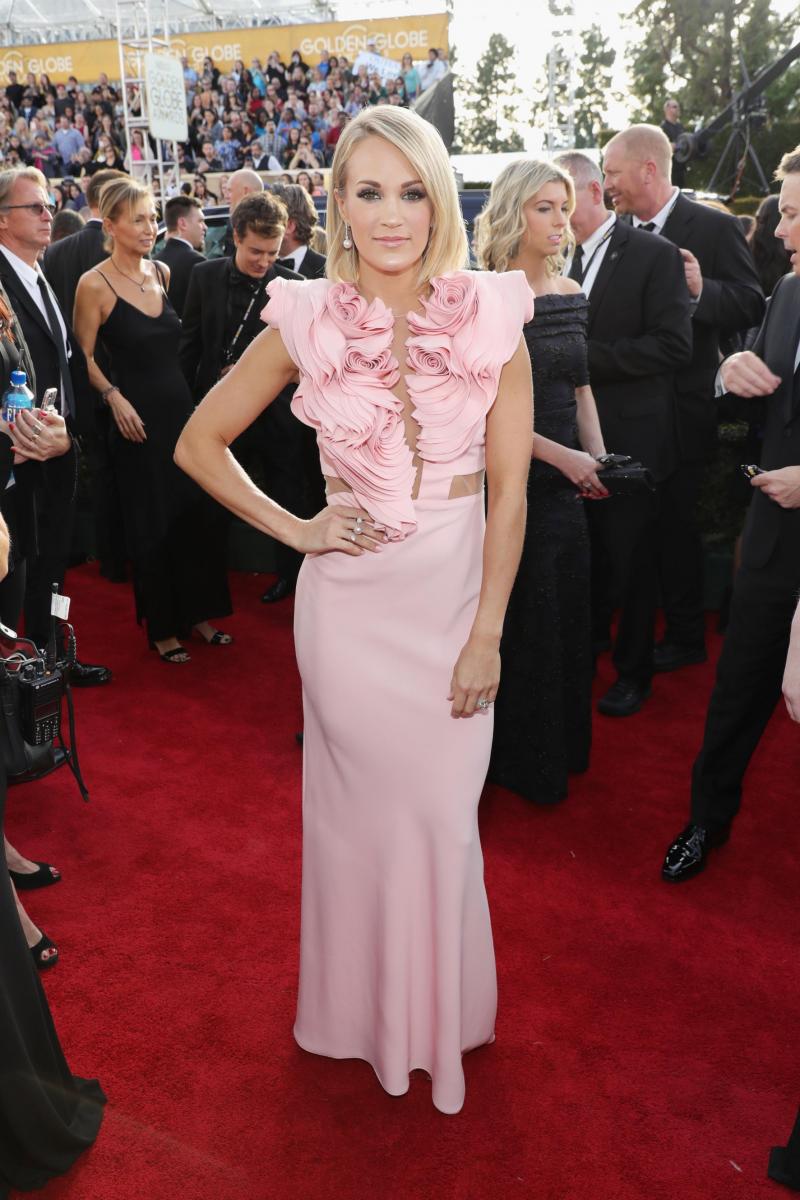 It's unclear why Carrie Underwood was invited, but someone put approximately a million pink ruffles on her chest so you really couldn't miss her.

Blake Lively looked stunning as per usual, while somewhere in Paris, Leighton Meester was probably sitting at a cafe alone. And none for Blair Waldorf, bye.

Kerry Washington's makeup was flawless, but her calf-length yellow lace dress would look better on an 80-year-old woman. Olivia Pope couldn't fix this situation.

Viola Davis finally won something, and she looked incredible doing it in her yellow Michael Kors gown. Slay.

Nicole Kidman's Alexander McQueen dress could have been stunning, but she got caught somewhere between dance recital and artistic sparkly picture of a wave. She has a rocking body, but the life-preserver sleeves really killed this look.

We're not sure who approved Sarah Paulson's hair or dress, but she looks like a soap opera businesswoman from the 1980s. Get it together, Sarah.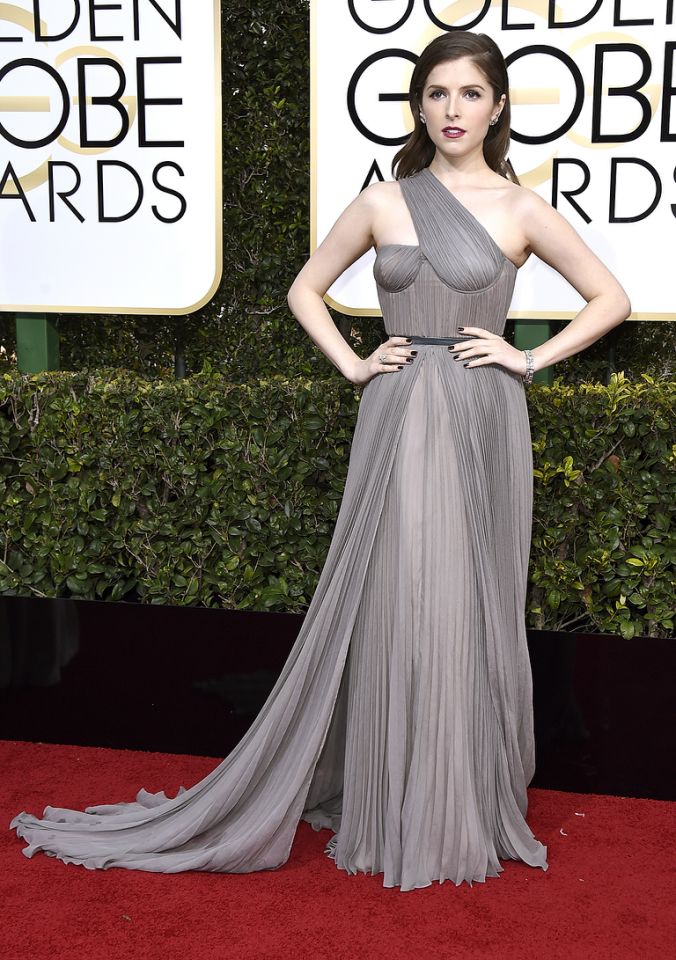 We could literally swear that Anna Kendrick has worn this boring AF dress before, but whatever. Pretty-ish but boring, just like her.

Amy Adams went for reliable sequins, which worked, but the neckline basically looks like a shelf across her chest. Tom Ford, how could you do this to her?

Reese Witherspoon took us straight back to a 2006 red carpet with her basic bitch yellow strapless dress. She looked great, but it's time to step it up.

Chrissy Teigen and John Legend are basically the best thing happening in the world right now, and Chrissy usually kills it on every red carpet. Unfortunately, her gold Marchesa gown really just looked like an outfit from the opening ceremony of the Hunger Games.

Sofia Vergara's New Year's resolution is apparently to not wear fabric anymore, because her dress was basically some foil gum wrappers artfully arranged on sheer mesh. Tasteful!

Connie Britton basically wore an old person's version of a prom dress, but her hair looked perfect like always so she still wins.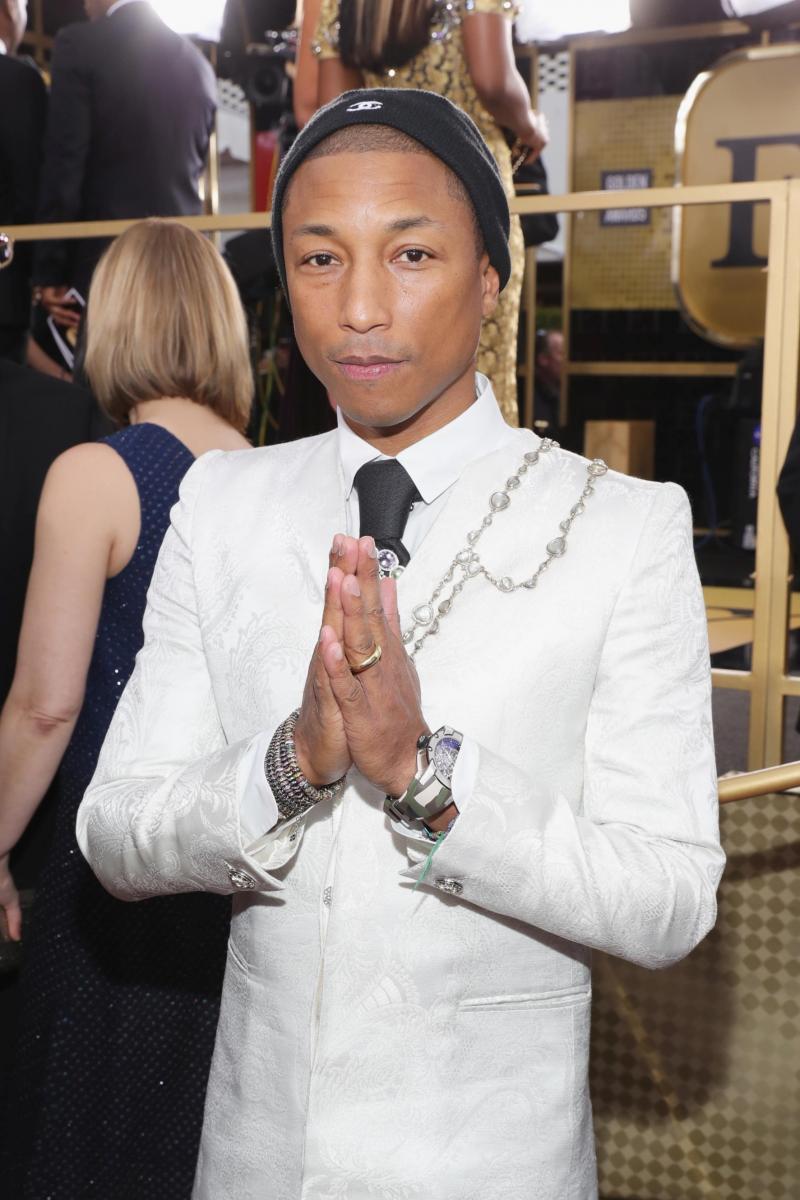 Pharrell wore a dumb white Chanel suit with a crossbody necklace, which is not a thing, but he's still on our shortlist for that giant hat.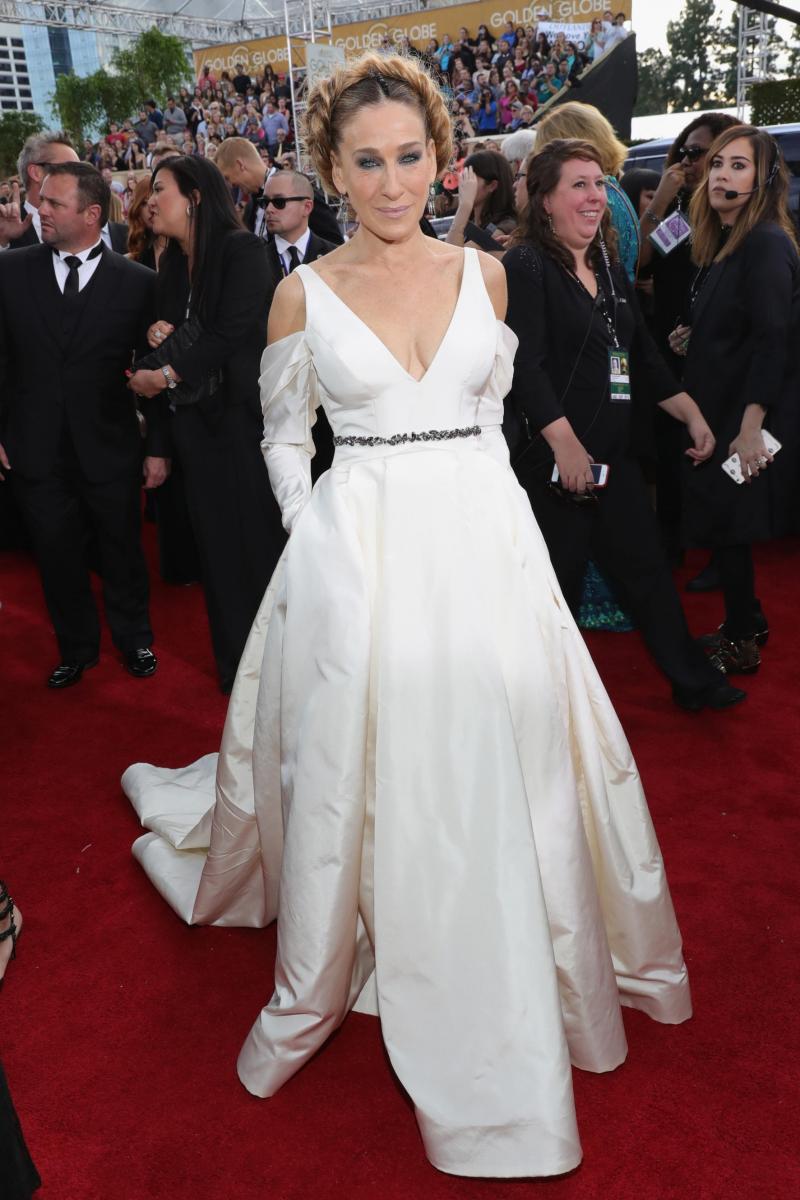 Sarah Jessica Parker literally still thinks it's 1999, which explains why she wore a taffeta ballgown and a curly updo, ugh.

We'd normally hate Michelle Williams' lace Louis Vuitton dress, but she's so fucking chic it hurts. Bonus points for wearing a relatable choker.
Golden Globes 2017 Recap
Every year I actively volunteer to write a recap for the Golden Globes because, as I've stated many times in the past, it's the best award show of the season. Every celebrity you care about and hundreds of others that you don't get shoved into a room that defies any reputable California fire code, and proceed to chug Champagne that costs more than my rent until they're drunk enough to talk about their political opinion on live television. It's like a fun Thanksgiving where your entire family is liberal and instead of actual food you just get more alcohol. On top of that, the night is rife with authentic, disdainful reaction shots because sometimes even paid professionals forget that they are on camera. What more could we want?
After watching last night's show, the answer to that question has changed. We could want, and did want, so much more than the 2017 Golden Globes provided. Jimmy Fallon, who started the night on rough footing with a broken teleprompter, ultimately fell flat as host. Watching him bounce around stage and deliver half-hearted zingers only served as a visceral reminder to us all how much we miss and don't deserve Tina Fey and Amy Poehler.
Not to say that Jimmy didn't get in a few good barbs in the beginning. He brought back my all-time favorite award show trope: mocking the otherworldly dedication that Matt Damon and Ben Affleck have for each other, a perennial crowd pleaser. But the lowest hanging fruit of all, a monologue mocking Donald Trump, felt off-color coming from a guy who was playfully ruffling the screaming yam's hair just a few short weeks ago on his show.

Which brings me to my biggest issue of the night: where the fuck were the Donald Trump jokes?
I'm not asking in a "wow this show was lacking in comedy" way, although it definitely was. I'm asking in a "where was the outrage from a powerful community of untouchable people who openly oppose Donald Trump" way. I'm not even saying they had to be jokes. I'd be fine with passive-aggressive comments, barely disguised disdain, or outright anger, even. Anything more than the few bones thrown to us by Jimmy Fallon.
Like it or not, the people in that auditorium last night are some of the most powerful voices, leaders, and wallets we have. The kind of people who have the power to create change. They are able to voice opinions that most of us can't, on a scale that we will likely never have access to. Their ability to speak and be heard is what America drastically needs, now more than ever, and for the most part they fell silent.
Is it the sole responsibility of a group of celebrities to band together to save America from Donald Trump? No, of course not, although I'd definitely watch that movie. I get that it's a night to kick back and relax, to celebrate their friends and peers, but I still hoped for—expected—more.
Thankfully, our Lord and Savior Meryl Streep put the entire fucking team on her back later on in the night.
Some highlights before we get into our own superlatives for the night:
The La La Land themed opening number served as some serious foreshadowing, with the musical winning a record seven Golden Globes, aka everything it was nominated for.
Barb from Stranger Things was resurrected for a short yet gleaming segment in the opening number. Never forget.
Ryan Murphy added another accolade to his resume with the win for Best Limited TV Series for The People vs. OJ Simpson, and yet no one has made him answer for the last two seasons of American Horror Story.
The Debbie Reynolds and Carrie Fisher tribute brought everyone on the planet with a beating heart to tears, and surely not for the last time this awards season.
Hugh Laurie predicted that this may in fact be the last Golden Globes, and he's probably not wrong. Then he accepted his award on behalf of "psychopathic billionaires everywhere." Must be nice to be able to mock America's rapid devolution into a fascist state and then escape to the UK where everything is just peachy. Oh. Wait.
Dev Patel (who can totally get it) won our hearts and my undying devotion when he showed up on stage to introduce his nominated film Lion with co-star, the tiny and delightful Sunny Pawar.
Tracee Ellis Ross became the first black woman to win Best Actress in a TV Comedy or Musical since Debbie Allen in 1982. In case you're slow on the math, that's 35 years.
Donald Glover thanked Migos in his acceptance speech for Atlanta's win in Best TV Series Comedy or Musical, and then followed up by letting everyone know that there is no better song to have sex to than "Bad and Boujee". Please update your sexy time playlists accordingly.
Other than the actual list of winners, which we'll include at the end for the sake of accuracy, here are some awards that we here at Betches would like to present on behalf of the HFPA.
Best Jimmy Jokes:
"This is the Golden Globes, one of the few places left where America still honors the popular vote."
"There's always the ballots for tonight's Golden Globes, carefully tabulated by the accounting firm of Ernst and Young and Putin."
"Of course, we all know Matt Damon from his greatest acting role, telling Ben Affleck that he liked Batman v Superman."
Worst Faux Pas
This is a toss-up between two cringe worthy moments. The first brought to us by Michael Keaton, who announced Octavia Spencer's role in the nonexistent movie Hidden Fences while presenting for Best Supporting Actress in a Drama. Octavia starred in Hidden Figures, while Viola Davis starred in (and took home the award) for Fences.

Two different movies.
Not the same movie.
Not. The. Same. Movie.
The second moment that made everyone in the audience want to die and blessed us with the ultimate reaction GIF of Christian Slater comes from none other than Tom Hiddleston, a man who shouldn't have been able to draw anymore ire from the public than he did after rocking and "I <3 T.S." shirt on 4th of July.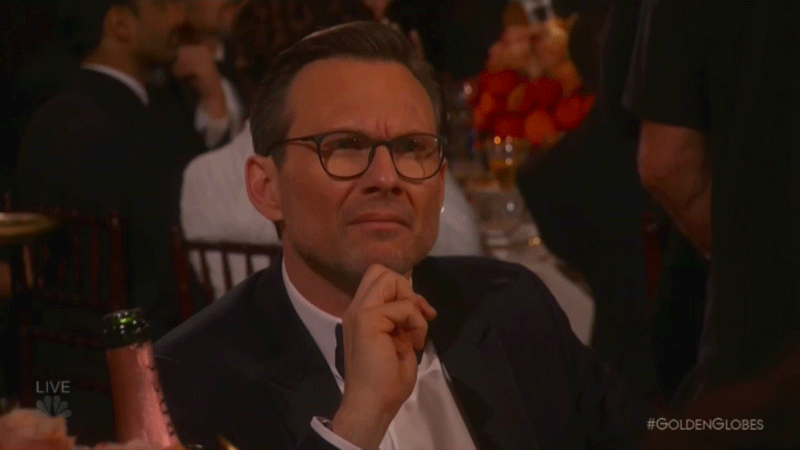 In a comment that was surely meant to sound less pretentious than it came across, Hiddleston shared a cute little anecdote about how he met some Doctors Without Borders working in the war-torn country of Sudan who got through their rougher nights by bingeing The Night Manager. Congrats, Tom. Hope you send Taylor an edible arrangement at the very least for all that free press.
Best Presentation
By the grace of God Meryl Streep, Kristen Wiig and Steve Carrell showed up and hour and a half into the show to deliver the first and last real jokes of the night while presenting for Best Animated Film. If we're not living a real life Hunger Games by this time next year, hopefully they'll get to host.
Best Acceptance Speech
Ryan Gosling once again set the bar for men everywhere with a heart wrenching speech dedicated to his wife, Eva Mendes. Ryan thanked Eva for taking on the responsibility of a full-time parent, while pregnant and caring for her dying brother, so that he could film La La Land. It was a glowing reminder that no man will ever measure up to Ryan Gosling and also that he and Emma Stone are probably never going to happen. Not sure which is more depressing.
Best Moment That We All Missed
While Ryan Gosling walked up to accept his award, pure award show magic was happening in the background and I, for one, will personally never forgive NBC for not having crystal clear footage of it. In a Buzzfeed video that will haunt my sleeping and waking dreams for the rest of my life, Ryan Reynolds deals with his loss by grabbing Andrew Garfield and kissing him full on the mouth. It's a coping mechanism I'd love to employ in the future.
And yes. Andrew reciprocated.

Best Collective Moment Featuring Viola Davis and Meryl Streep
This gets its own category because it is, quite honestly, the only part of the entire award show worth watching. When I die, please project the entire ten-minute clip onto my headstone, on repeat, for all eternity.
We start out with Viola Davis presenting Meryl Streep with the Cecil B. Demille Lifetime Achievement Award, which usually involves a speech littered with anecdotes about the recipient. Obviously we all know Meryl Streep is a big fucking deal, but just how god damn perfect do you have to be to summon this level of reverence from Viola Davis?? The mere thought of the conversations that these two have in private filled me with enough energy to finish this marathon of a show.
Viola: You make me feel that what I have in me—my body, my face, my age—is enough.
Me: 

But when Meryl came on stage to collect her award while all of Hollywood wept, that is when the real magic happened. With the soft, silent voice of a slightly disappointed mother, Streep spent the next five minutes tearing Donald Trump to shreds.
It. Was. Everything.
(unless you were sitting at the sparsely populated conservative table)

I will not do her the disservice of trying to recreate it here, but please watch the speech in whole so that you can be up to date when Donald Trump takes to Twitter tomorrow to try and vilify the single most respected woman in Hollywood. Can't wait for the entire world to set his mentions aflame.
Here is the full list of winners from the night, in case you couldn't last all three hours of it. Hopefully the Oscars will use this unfortunate spectacle as a reason to finally get their shit together. 
MOVIES
Best Supporting Actor
Aaron Taylor-Johnson, Nocturnal Animals
Best Original Score
La La Land
Best Original Song, Motion Picture
"City of Stars," La La Land
Best Supporting Actress
Viola Davis, Fences
Best Actor, Musical or Comedy
Ryan Gosling, La La Land
Best Screenplay
Damien Chazelle, La La Land
Best Animated Film
Zootopia
Best Foreign-Language Film
Elle
Best Director
Damian Chazelle, La La Land
Best Actress, Musical or Comedy
Emma Stone, La La Land
Best Motion Picture, Musical or Comedy
La La Land
Best Actor, Drama
Casey Affleck, Manchester by the Sea
Best Actress, Drama
Isabelle Huppert, Elle
Best Picture, Drama
Moonlight
TELEVISION
Best Actor, Television Drama
Billie Bob Thornton, Goliath
Best Actress, Television Series Comedy or Musical
Tracee Ellis Ross, Black-ish
Best Television Series Comedy or Musical
Atlanta
Best Performance by an Actress In A Mini-series or Motion Picture Made for Television
Sara Paulson, The People v. O.J. Simpson: American Crime Story
Best Television Limited Series or Motion Picture Made for Television
The People v. O.J. Simpson: American Crime Story
Best Performance by an Actor in a Supporting Role in a Series, Mini-Series or Motion Picture Made for Television
Hugh Laurie, The Night Manager
Best Performance by an Actress in a Supporting Role in a Series, Mini-Series or Motion Picture Made for Television
Olivia Colman, The Night Manager
Best Performance by an Actor in a Mini-Series or Motion Picture Made for Television
Tom Hiddleston, The Night Manager
Best Actress, Television Drama
Claire Foy, The Crown
Best Television Drama
The Crown, Netflix
Best Actor, Television Series Comedy or Musical
Donald Glover, Atlanta