Wellness Hacks I Learned on TikTok That Don't Make Me Want to Chuck My Phone Across The Room
Like any other human, I wind down after a long day working from bed home by remaining horizontal and going down a TikTok rabbit hole. Considering we're only 8 weeks into the new year (and 7 weeks into me breaking any New Year's resolutions I had) my For You page seems to consist solely of wellness BS. Don't get me wrong, I love a good life hack. But on the flip side, some of these videos make me feel like, despite the green juice and chia seeds I ingest, I'm not doing enough. The mere thought of the "that girl" era  makes me break out in hives — which I'm pretty sure is the opposite of health and wellness. 
That said, I've decided I'm going to be *gasp* a little selfish this year and take care of myself. Let me get to the point—while I'm not going to take an "internal shower" (tbh the idea of that sounds disgusting) there are some redeeming qualities to WellnessTok. Here are a few trends that don't make me want to delete the app entirely.
Betches may receive a portion of revenue if you click a link and purchase a product or service. The links are independently placed and do not influence editorial content.
Dragging Yourself Out Of Bed and Into Leggings
Contrary to popular belief, hitting the snooze button doesn't count as a HIIT class. And while I don't jump out of bed stoked to hit the gym, putting on some leggings and a sports bra has given me the motivation to start thinking about hitting the elliptical. I can't believe I'm saying this, but I do think being prepared for something makes me more willing to do it (damn my mother for always being right). Putting on this bright set first thing gives me enough serotonin to get on the Peloton instead of using it as a drying rack…most of the time.
Crop Tank High Waist Yoga Leggings Set

QINSEN 2 Piece Ribbed Seamless Set, $33.99, Amazon
Adding Veggies To My Plate Instead of Removing Sh*t
I think it's fair to say we're all tired of hearing about what we shouldn't be eating. Like, explain to me why there is a war on dairy? So when I heard it was better to add something to my plate instead of taking it away, I was thrilled. Sure, it's vegetables, but vegetables get a bad rap IMO. We're always trying to make them something they're not. (We're looking at you, cauliflower gnocchi.) Can we just let them live? And if they're living next to my bowl of pasta, or chopped up in a quiche, I'm all in. What I'm not into though is all the kitchen prep. Enter: the viral veggie chopper. 
Fullstar Vegetable Chopper

Fullstar Vegetable Chopper, $29.99, Amazon
Journaling For, Like, 5 Minutes
I've always dreamed of being a journaling girlie ever since I started going to therapy. But, let's be real here, who actually has the time? And don't get me started on the cringe-factor of some of the journal prompts out there. I've seen this 5 Minute Journal all over TikTok and, naturally, I was influenced to buy it. To my surprise, the prompts were short, sweet, and didn't make me want to die from embarrassment. Honestly, it usually takes me less than 5 minutes a day—which is great because that means I can squeeze in a few more minutes of scrolling. 
The Five Minute Journal

The Five Minute Journal, $28.99, Amazon
Drinking Water. That's It. 
If you haven't seen a TikTok referencing a Stanley cup, you're probably living under a rock. While I wanted to completely avoid the trend at first, I eventually succumbed to the peer pressure. And (surprise) I'll likely never turn back, even though I despise drinking water. Having my Stanley on me at all times has turned things around. It has a handle, which I'm surprisingly grateful for. Look, I'm no NBA player so my grip only extends as far as the jar of pickles I eat over the sink. And the Stanley fits in a cup holder which makes it convenient for travel and commuting. On top of all that, they come in so many colors. I'm practically collecting these things like I did Pokémon cards in the 3rd grade. 
Stanley Adventure Quencher Travel Tumbler

Stanley Adventure Quencher Travel Tumbler, $66, Amazon
Ice Rolling
I'm such a hot mess in the morning that anything that guarantees to snatch my puffy cheeks is likely to be an instant hit in my book. But, I'd be lying if I said I wasn't skeptical of the ice roller hype. Because, much like the vegan mac and cheese I just ate, I was expecting this trend to overpromise and under deliver. Never in my wildest dreams did I expect for this ice roller to turn my mornings around quite like it did. Call me an ice queen because I use this thing while drinking coffee, to ease headaches, and honestly just help me calm TF down. 
ESARORA Ice Roller for Face & Eye

ESARORA Ice Roller for Face & Eye, $21.99, Amazon
Dry Brushing
Listen, I can *feel* you rolling your eyes on this one, but hear me out. I'm not going to lie to you and say I that I fully believe that dry brushing actually helps with your lymphatic whatever, but I will say that it's become a nice ritual for myself—I can lock myself alone in the bathroom for an extra 10 minutes and avoid being bothered. Not to mention, I literally feel like I'm getting groomed like a golden retriever. It really feels like a moment of self-care and pampering without having to worry about being too embarrassed to tell someone the massage pressure is too hard. TBH, I've never been so happy to brush myself off. 
CSM Dry Body Brush for Beautiful Skin

CSM Dry Body Brush for Beautiful Skin, $11.69, Amazon
FEATURE IMAGE CREDIT: Photo by MART PRODUCTION
WTFunds: 5 Finance Myths That Are Totally False
Welcome to WTFunds, where we do what nobody else does and… actually talk about money. Ever scrolled through your Instagram feed, wondering how your friends are affording their lifestyles when they're making the same amount of money as you and you can barely rub two dimes together? Read on, because we'll be talking to real people to break down how much things cost, and how they're paying for it.
When it comes to money, people of all generations throw around catchphrases and adages like coupons at Macy's without ever actually knowing if they're true. People spend their whole lives soaking in all of these finance tips and philosophies, only to hit their twenties and have a total WTF moment because these tips are either completely untrue or are no longer suitable for the lives millennials lead. Mainstream media and older generations love to make jokes about avocado toast being the cause of our financial woes without actually acknowledging how different life is for young people today—riddled with student loan debt, an insane housing market, the list goes on. 
We're Lauren and Kelda, millennial sisters (and avocado toast lovers) living in Seattle, WA. After entering the real world ourselves and watching so many peers come to view money as a subject to be feared and overwhelmed by, we felt compelled to make finance an approachable and exciting topic, not only for our friends, but for all millennials. Instead of focusing on small actions like skipping your morning latte, we want our peers to understand the big deals—compound interest, credit scores, the power of investing—the needle-moving and life-changing concepts. While between the two of us, we do have a background in corporate finance, we truly believe that anyone can master their personal finances and that, no, you don't need to be "good at math" to do so. Together we run Hello HENRYs, a blog on all things personal finance. Kelly Kapoor may be the business bitch, but we're the finance bitches, betches.

Outside of bottomless brunches, Real Housewives marathons, and overpriced skincare, engaging in healthy debate (aka proving people wrong) just may be one of our favorite pastimes. There is no topic that makes this more true than money. Today, we're sharing five of the most common finance myths and why they are actually so false.
1. All Debt Is Equally Bad
(Mostly) FALSE.
Did anyone else grow up hearing about debt as terrible, scary, or dumb? But then you were accepted to college and immediately encouraged to take out thousands of dollars in loans as the first "adult" decision of your life? Ironic, huh? The thing is, though, this happens all the time, and the reality is that the majority of millennials do have some kind of student loan debt. In and of itself, debt is obviously money that you spent without actually having, so in theory, it is never amazing. However, it's super important to differentiate between kinds of debt. 
Debt that is used to better your life can actually be seen as an investment that will help improve your financial health; and while yes, a trip to Bali 100% would better our lives, that's not what we're talking about here. Debt such as a mortgage or a student loan will (hopefully) give you a return on that initial debt investment. Provided that you are only taking out the exact amount that you truly need, receive a low (5% or lower) interest rate, and can afford the monthly payment, these debts are typically worth it and better your financial health. 
Credit card debt, or a car loan for a new Range Rover (when your budget is more 2007 Toyota Camry), on the other hand, is not only hard to get out of, but is also not something that is usually an investment in your future and will cause your credit score to take a hit. 
When evaluating your debt, always prioritize getting out of the "bad" debt and paying off the debt with the highest interest rate first. 
2. Credit Cards Are For Emergencies Only
FALSE. 
Okay, talk about scary. This kind of thinking is exactly why so much of the country is in severe credit card debt. Saying credit cards are only for emergencies or big (aka expensive) purchases, implies that credit cards should be used only when you don't have the funds to cover the purchase yourself. Uh…what?
On the contrary, credit cards should only be used when you DO have the money to cover the purchase. Literally nobody should be judging you for using a credit card to buy your weekly groceries or morning Starbucks—which has happened to us, by the way. This judgment comes because people assume that if you're using a credit card, it means you can't afford it. Again, the exact opposite of when and why you should use a credit card. 

As long as you can pay your balance in full each month, credit cards can be an amazing tool to earn rewards on money you are already spending. They can also provide travel/purchase protection and protection against fraudulent charges, and help you build credit, earn points for free travel, and a myriad of other amazing benefits. We use our credit cards for literally every single purchase that can be made using them. Obviously, we aren't going to force anyone into using a credit card, but we are going to be extra bossy about ensuring that you use them only when you have the funds to immediately pay them off. And also a PSA: stop judging other people's financial lives when you, very likely, don't know anything about them.
3. Monthly Rent Payments Are A Good Indicator Of The Mortgage Payment That You Can Afford
FALSE.
When Lauren bought her first home last year, this was a huge learning moment. For so long, we had heard "If you can afford $X in rent, that same amount could easily be your mortgage payment!" Not true. Owning a home comes with SO many additional monthly payments that are not part of the equation when you're renting. Property taxes, home insurance, HOA dues, PMI (insurance charge if you put down less than 20%—which is extremely common for first-time home buyers). All of these additional fees can easily add up to hundreds of dollars a month in payments. In actuality, if you want your housing payment to stay the same from renting to buying, you'll need to look for a home with a mortgage payment significantly less than your current rent payment.
Also, part B to this equation: Whoever said buying is always smarter than renting was so false. Buying a home can be a smart investment in your financial future, but it isn't always. If you're renting and making other key investing decisions, you can be equally as set up for success in your future, while also not having to deal with the nightmare of needing a new roof or water heater. 
4. You Can't Afford to Invest Until You Have No Debt
FALSE.
Actually—you can't afford not to. Some financial advisors actually tell you not to invest until you have no debt…which, if you have student loans, would mean you aren't making any investments until you're probably in your early thirties, at least. Yikes! There is a super mathematical and logical way to look at this, and it's called the interest rate. You want to throw your extra funds at the highest interest rate. If your student loan has the average 3.5% interest rate, but you could be earning 8-10% in an investment or retirement account, you're effectively losing money by choosing to pay extra on your student loans. Obviously, you always want to make the minimum payments on all of your accounts each month, but after that, your priority for your extra funds should be to the option with the highest interest rate. If you have credit card debt, this will likely always win out.

While we're on the topic of interest rates, another PSA, your hard earned savings and emergency funds should not be sitting in a traditional, low interest savings account at a brick and mortar bank. If you aren't earning a minimum of 1.8% or higher on your savings account, you're doing it wrong and leaving money on the table. 
5. Closing Old Credit Cards Will Boost Your Credit Score
FALSE.
Credit scores are something people talk a lot about, but usually have no idea what actually goes into them. There is literally no mystery about them, though. Remember back in college when the professor laid out the syllabus and what percent each category was worth? I don't know about you, but, as soon as we saw "Attendance" listed at just 5%, we basically gave ourselves a free pass to have a little too much fun on Thursday nights and miss every Friday morning lecture. I mean, at just 5%, we could still come out with an A. Credit scores are pretty much the same. 
FICO literally lays out the five factors that go into earning a perfect credit score and how heavily each factor is weighted. Closing old credit cards hurts two of the five factors: credit utilization rate (30% of your score) and length of credit history (15% of your score). Closing old credit cards could impact almost half of what goes into your credit score. Not a decision to be made lightly.
Credit utilization rate refers to the amount of credit you are using as a percent of what you have available. Let's say you have two credit cards. Credit card A has a $5,000 balance with an $8,000 limit. Credit card B has a $1,000 balance with a $20,000 limit. Currently, you are using $6,000 of credit out of $28,000 available—just 21% and below the max target of 30%. Let's say you decide to close card B (after paying it off) because you barely use it. Your balance dropped to $5,000, but your available credit also dropped to $8,000! That puts your new utilization rate is 63%—not good! 
In addition, while credit history is a smaller factor of your score at just 15%, this is a challenging one for millennials to score highly on because we don't have time on our side. If you decide to close your old college credit card because you don't use it much anymore, you're literally closing one of your longest chapters of credit history—also not good.
Obviously, there are some exceptions to this rule—if closing one card would not drastically affect your utilization rate, you have accounts with longer/better history, a card has a steep annual fee that you aren't getting enough benefit out of, etc. The point is, though, closing a card can have serious consequences on your credit score and is not a decision that you want to make lightly.
There you have it: five of the most commonly thrown around financial myths proven wrong. Talking money is never that fun or glamorous, but the most important thing is to nail the big picture ideas. By doing so, we promise that you can achieve your financial goals, like saving for retirement or buying a home, while still going to Soulcycle, happy hour, or whatever it is that enriches your life and brings you joy! Even with student loans and a less than six figure salary. We are living proof. 
Images: Sharon McCutcheon / Unsplash; Giphy (3); whenshappyhr (2) / Instagram
3 Steps To Make Your New Year's Resolution Successful
2019 is finally here, so we can all pretend to put our 2018 bullsh*t behind us. Personally, I don't think I've ever stuck to a Yew Year's resolution, but maybe someday I will. People always start the new year with the motto "new year, new me" but with v unrealistic expectations. You may want to lose weight, reduce stress, or save money, but without any real plans set in place to achieve those goals, it ain't gonna happen sweetie. It's more likely for Brad Pitt and Angelina Jolie to get back together and then adopt you into their family before you achieve your new year's resolution. Sorry. Researchers say that 60% of people make new year's resolutions, but only 8% actually achieve them. So here are the best ways to make your new year's resolutions the most attainable, according to #science.
Share your goal with family and friends, post to Facebook, put a paper on your fridge. Whatever you got to do. Okay, maybe not Facebook, things aren't that bad. By sharing your goal with others, you are held accountable, which motivates you to work towards it. Better yet? Make a joint resolution with your friend or partner to hold each other accountable and motivate one another. You still have to put in the work, but at least you're not doing it completely alone.

2. Make it Specific
Saying you want to lose weight is great and all, but that doesn't provide any definitive plan to achieve it. Instead of saying "I want to lose three pounds," make your resolution to cut out sugar for 6 weeks and reevaluate after that. Small, specific steps are better than broad ideas. Having a vague new year's resolution is v overwhelming and will make you feel lost. Without a specific place to start (like throwing out all your sugary food), you'll push off starting and then it'll never happen.

It's much easier to stick to your goal if you have a plan to achieve it. If you want to work out more and have bought a gym membership, that's only half the plan. Although tons of people buy gym memberships at the beginning of the year, more often than not, people barely go after the first few weeks. This year, make a realistic plan for yourself to go to the gym every Monday and Thursday (or whatever days go with your schedule). Put it in your calendar and don't miss it. If you have the specific time scheduled, you're more likely to go. Maybe soon, you'll get inspired and want to go even more!

So this year, be realistic about your resolutions, and you might actually see some progress in a few months. Don't beat yourself up if you make some mistakes, because you still have time to make up for them. Best of luck in 2019!
Images: Shutterstock; Giphy (3)
How Workout Classes Trick You Into Thinking You're Burning More Calories
In a bizarre turn of events, we're living in a time when Donald Trump is our president $34 workout classes are normal. Boutique fitness is taking over the workout world, and whether you're a cult follower or just someone who needs a 45-minute sweat before the workday, you've probably been drawn in by a class or two. With so many studios in the market, getting you to book a spot in class is getting competitive, and studios love exaggerating the effects of their workout classes to get you through the door. Here are some ways these workout classes might be tricking you into thinking you're burning more calories than you actually are.
1. The "Fat Burning Zone" Obsession
A lot of fitness studios use new technologies to track your heart rate and count how many calories you burn in each class, and honestly, these numbers aren't always indicative of a good workout, and just because your heart rate isn't in a certain zone, doesn't mean you're not burning calories.. If you're working hard in any class, you'll know when you're getting a sick workout, and you don't need to be told that you're in a specific "fat burning zone" to accomplish that. Trainers have literally come forward and admitted that although you could be burning a few extra calories while your body is in a specific fat-burning zone, it's a waste of mental energy to worry about it, and it doesn't make that big of a difference when it comes to burning fat. If you're particularly into the heart rate monitoring, go for it, but if it's not your thing, it really doesn't matter.


2. The AC Issue
The air conditioning of a studio depends on specific factors, like the building it's in and what the weather is outside, but if you feel a little warm as you're walking into the class, it's probably on purpose. A lot of spin studios and other bootcamp-style classes make the rooms hotter than normal to make sure you start sweating as soon as the class starts, and you end up drenched by the end of the workout. This doesn't mean you're not getting a good workout, but sometimes if you're dripping in sweat, you're tricked into thinking you burned more calories than you actually did. (Unless you signed up for a hot yoga class—obviously.)
3. The Class Right Before You
This goes hand in hand with the AC issue, but honestly it deserves some recognition because it's SO true. Ever notice that you're already kinda hot and sweaty if you walk into a fitness studio right after the previous class just ended? That's because the room is literally warmed up. And it also probably smells disgusting, but let's discuss that another time. While some studios leave 20-30 minutes in between classes for the staff to clean up and air out the room, a lot of busy studios have back-to-back classes without letting the room breathe in between. You end up sweating more and thinking you're burning more calories, but you're not getting a better workout just because you're drenched in sweat. Odds are, you're just doing the same shit in an already sweaty room. Sorry.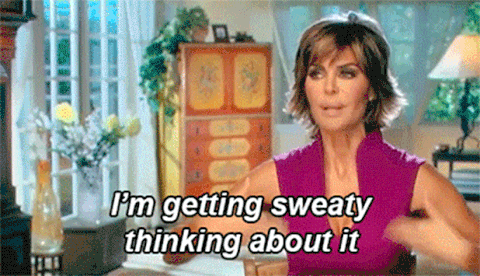 4. The Burnout Effect
In strength training, there is a legit and effective concept called "burnout sets," where you perform a certain exercise repetitively to exhaust the specific muscle. However, group workout classes have taken this idea and used it to make you think you're burning more calories than you might actually be burning. If you've ever spent like, 10 minutes in a barre class doing pulsing squats or felt the burn in your shoulders from the 2-pound weights in spin class, the fire in your muscles is from these burnout-style moves. However, this burning is not always indicative of how effective the workout actually is. You're fatiguing the muscle, but that can be done just as effectively with less reps and heavier weight, so you're just spending more time focusing on the burn. You're literally exhausting your muscles, but that doesn't always mean you're accomplishing more than you would with a regular-timed exercise set.
5. The "Full Body" Trend
This is another fad that workout classes use to draw you in and convince you you're getting some ultimate, total-body sculpting sweaty workout. The "full body" buzzword sounds like you'd be burning a ton of calories, but sometimes targeted workouts that don't work out your entire body can burn just as many calories. It's a marketing strategy, and it's working on you. Full body workouts are great for you, but don't think that if you're just doing an upper-body strength workout that you're not getting as effective of a workout. In fact, sometimes studios just add in moves that target extra body parts to make sure you're super sore the day after, which, once again, isn't always proof that it was a good workout.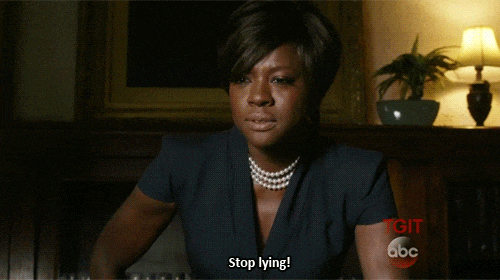 6. The Extra 15-Minute Class
After every Upper East Side mom tried the regular 45-minute classes and still had an extra 15 minutes before the 12pm rush hour at Whole Foods, studios decided to make their classes longer, adding in another 15 minutes to get an even better workout. While these longer classes obviously burn more calories because logically you're working out for a longer amount of time, don't think that these extra few minutes are necessary. HIIT style classes in particular are meant to push you to your limits in a short amount of time, so if you know you're sticking around longer, you might end up pacing yourself (aka not trying as hard the whole time) and burning the same amount of calories that you would have in the shorter class where you'd go all-out from the beginning. Class timing isn't everything, so if you don't want to do burpees to a Meghan Trainor song for another 15 minutes, don't feel guilty about it. We certainly don't.
Images: Martin Barak / Unsplash (1); Giphy (6)
I Did Krystal From 'The Bachelor's Beach Workout And Almost Died Of Boredom
Happy Bachelor Monday, fam. We're back to talking about the one TV franchise that literally takes up more time than football season and March Madness combined. (Don't fight me on that. You don't stalk the players' Instagrams in between games.) If you follow Krystal on social media, you've probably noticed she's even more *Krystal* online than she was on the show. Like, IDK what bothers me more—the fact that she straight-up said the phrase "needle dick" or that she goes by @coachkrystal_ on social media. I'm so concerned. Anyway, whether you refer to Krystal as the most annoying voice in Bachelor history or the girl on a mission to find brand endorsements true love, you can't deny her body looks amazing. So, I decided to try her "beach workout" myself. I found it on her Instagram, obviously.
Unfortunately, my "beach workout" was done in the gym because I live in New York, but I feel like I still got the gist of it. Here's how it went:
 ¼ Mile Run
Coach Krystal (cringing as I type that) claims this workout is her "FAVORITE way" to beat stress, but honestly running sucks, and in my opinion it's pretty stressful. Like, I feel personally victimized by the incline setting on the treadmill. Plus, I could think of a couple other ways to chill out like smoke weed, but running works I guess. I was totally dreading the run portion of the workout, but then I got on the treadmill and like, reached ¼ mile before I even made it through one song. I was confused. Is this a typo? Why would anyone only run ¼ mile? Could I actually get fit running for less time than it takes me to brush my teeth? Okay, moving on.

10 Step Ups (Each Leg)
I used a bench at the gym for this one, and I even held dumbbells in my hands to make it a bit harder. Like, stepping up on a bench 10 times is pretty basic, so I figured the added weight could make it more interesting. Am I already more qualified to be a "coach" than Krystal? Honestly, these aren't terrible, so I'm going to tentatively say yes. I definitely felt the burn in my glutes and quads, and I'd definitely recommend adding the weights. But obviously no shade to Krystal's version…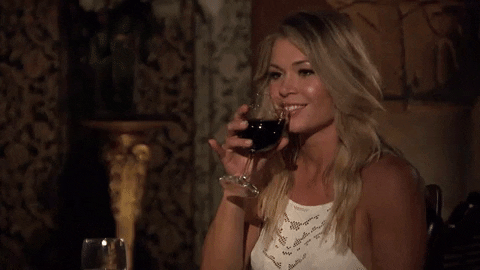 10 Tricep Dips
These ones are tough. Tricep dips are extra tricky because you're not actually using any added weight, but you're also low-key using your entire body weight at the same time. You're basically holding onto a bench behind you while facing the other direction, and then straightening and bending your arms to bring your body up and down with your triceps. Krystal does these with her legs straight, but you can also keep them bent to make it a bit easier. It's more important that you're getting full range of motion with the dipping part of the movement.
10 Leg Raises
Leg raises are always a good lower ab exercise. I'm a fan. Doing only 10 sounds easy, but it's important to do these slowly to really engage your core and feel the burn in the lower part of your abs. The idea is to lie flat with your legs out in front of you, and then raise them up and down while keeping your back flat and your core tight. Krystal does these with her hands behind her head, but if you feel any lower back pain, I suggest keeping your hands under your lower back area.
10 Toe Touches
Another good one—more focused on the upper abs. Staying in the same position as your leg raises, keep your legs in the air, as straight as possible, and then try to touch your feet or toes, bringing your shoulders off the ground with your core. Also, a lot of people do weird shit with their neck here, but try to keep it as neutral as possible and really just use your abs to lift. These should be done faster than the leg raises, so 10 of them should go by pretty fast. Thanks, Krystal.

20 Bicycle Crunches
This is a good burnout move, and it's also for your abs. No wonder this girl has a six-pack. Put your hands behind your head, then bring your knees in towards your chest and lift your shoulder blades off the ground, touching your elbow to the opposite knee in every rep. Bicycle crunches are usually done too fast, but it's really not a race. It's more important that you're crunching with your abs instead of just hitting your elbow to your knee without using your core. Don't cheat yourself. Think about the "shoulder to knee" cue instead of elbow. You should feel this in your obliques and your upper abs, and honestly it should be hard.
My Takeaway
I didn't mind this workout, but I probably wouldn't do it again. Krystal suggests doing 3-5 rounds, and, honestly, I only did two rounds before I got bored. Plus, people were starting to think I didn't know how to work a treadmill because I was only on it for, like, a minute at a time. On the plus side, I definitely broke a sweat, and felt like it was a pretty sufficient full body routine. I wasn't sore the next day, but it was a solid workout and I'd recommend you trying it out for yourself. And if you actually do five rounds, you deserve a glass of wine.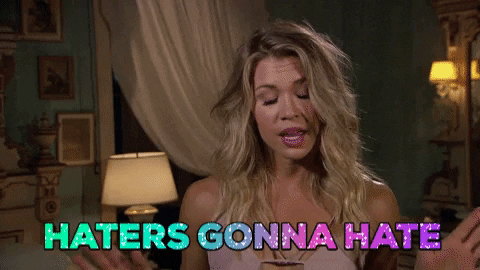 Images: Krystal Nielson, Instagram; Giphy (4). 
What Your New Year's Resolution Should Be Based On Your Zodiac Sign
"New year, new me!" – Literally everyone for the next two weeks. It's inevitable that you're going to be spending a lot of time over the next two weeks drinking to make family functions tolerable reflecting on the garbage year that was 2017, and making plans for the garbage year that is to come. The year of realizing stuff was a full two years ago, and I think it's safe to say that 2017 was the year of being anxious about stuff, but what does 2018 have in store? Well, there's only one way to know, and that's to take a hard look at what was accomplished in 2017 and follow it up with a detailed list of quarterly goals that you will hold yourself accountable for in 2018.
JK. It's time to consult the stars and plan out your life based on whatever it is they say. Fucking duh.
Aries: Get Shit Done
2018 is going to be the year of accomplishing stuff for you, Aries. And look, it's not all going to be easy. If Kim Kardashian's iPhone game taught us anything, it's that going from the D-List to the A-List takes fucking work. You have a year of turning down fun shit to do productive shit ahead of you, Aries. But don't worry, it'll all be worth it when you start killing it so hard you get Insta verified and you score an invite to the Met Gala.
Taurus: Let Shit Go
I know it's hard to imagine, Taurus, but it is time to forgive Amy from your second grade class for starting that (actually true) rumor you peed your pants at her birthday party. Yes, Amy is probably still a bitch, but looking through your elementary school best friend's brother's Instagram to stalk her and make fun of her ugly newborn decision to have a family is not a productive use of your time. That's right, this is the year of getting over stuff for you, Taurus. TBH, it's been a loooong time coming.

Gemini: Invest In Shit
As a Gemini, you change personalities more often than a RuPaul's Drag Race contestant changes looks, so who will you be this year, Gemini? The business bitch. That's right. This year you will feel a sudden motivation to get your finances in order, and you should def answer that call. Who knows when you'll feel like learning wtf a 401K is again. Follow this road as far as it'll take you. It's the year of investing in stuff for you.
Cancer: Fuck Shit Up
No more Mrs. Nice Cancer! This year you are going *off* on everyone and everything that you used to not say shit about because you didn't want to deal with the drama your truth bombs would bring. Sorry world, we're leaving giving a fuck in 2017. This is the year that you take the reigns of your own life, and stop pretending to like people's shitty selfies just because you can tell how thirsty they are. This is your year of ruining stuff and, honestly, we're excited for you.

Leo: Shake Shit Off
I have some bad news for you, Leo. There is haterism in your future. It's not your fault you're so popular, but you know what they say, haters gonna hate. But don't worry, as long as you keep a cool head and focus on your own awesomeness (which has never been hard for you in the past, TBH), you will come out on top, as long as you remember that 2018 is the year of letting stuff slide. Yes, you might catch a subtweet from a coworker who's just mad because you're more fun at happy hour than her, but no, you should not reply via company-wide Slack detailing all the reasons she has no friends. Take that shit to the GroupChat where it belongs.
Virgo: Learn New Shit
The stars and planets are giving you a full brain blast this year and no, it's not just your Adderall prescription. Basically, you're going to be a genius this year, so you might as well put that hyped up brain to good use. If you don't, you run the risk of becoming that bitch in your friend group who is always exhausted from having to explain shit. This year of learning stuff means that things like branching out, starting a Pinterest project, or taking a class in something random won't actually be awful. In fact, it will keep you sane while your dumbass friends try to figure out wtf "net neutrality" means.

Libra: Keep Shit Real
Red alert to your entire friend group, Libra: You've been bitten by the honesty bug this year. For whatever reason, you just cannot see the value of lying about shit just to make people feel better anymore. It's the year of being honest about stuff for you, and yes, that might mean you lose a friend or two along the way, but TBH, cutting people out is all the rage these days anyway. It's like Marilyn Monroe said, "If you can't handle me at my brutally honest, you don't deserve me at my two-faced bitch."
Scorpio: Get Fit As Shit
2018 is bestowing upon you a fuckton of extra energy, and what better way to use that energy than to finally, actually, get on your fitness? Sure, everybody and their childhood frenemy says they're going to get fit for New Year's, but you like, actually are going to, because this year is all about health stuff. I'm actually jelly.

Sagittarius: Explore New Shit
Guess what, Sag, you have some travel in your future. That's right. The desire to GTFO will take you far and wide this year, so we are declaring it the year of exploring stuff. If you don't already have one, look into one of those nice-ass credit cards with travel points so you can hop on a plane easier than you hopped on a d freshman year (it's cool, you were exploring shit then, too). But please, do not get any Chinese symbols, Sanskrit phrases, or the word "wanderlust" tattooed anywhere on your body. If you need to immortalize your travels, do it on Insta. Trust us.
Capricorn: Focus On Your Shit
Let's be real, Capricorn. In 2017 you were distracted af. It's not all your fault. Everything was kind of fucked, but this year it's time to refocus. This year you're going to set goals and like, actually remember and follow through on them. Maybe it's time to get one of those bullet journals Pinterest people are so obsessed with to aid in your year of focusing on stuff. Also, it's time to preemptively cut out any distracting fuckboy relationships that will dull your shine this year. After you get them to pay for you on NYE, of course.

Aquarius: Hustle That Shit
2018 is going to turn you into a low-key entrepreneur, and TBH, you don't hate it. This year will be the year of the side hustle for you, Aquarius, so you should probably get that Squarespace account all set up. Whether it be an Etsy store for your line of subtly sexual cross stitch, or a line of alcohol themed essential oils, your desire to hustle stuff is strong in 2018. Embrace it. You could invent the next fidget spinner.
Pisces: Be Zen And Shit
"Ommmmm"—literally you, every day this year. You're about to become that person in your friend group who went to one yoga class and changes her name to Shavasana. Embrace it. While everybody you know is going to be stressed af, you're going to be clocking in hours on your favorite meditation app, detaching yourself from the material world, or whatever. Spiritual stuff is going to take control of your life this year and, honestly, it's going to turn you into a legit good person, at least for this calendar year.

This Is What Happens When You See A Cute Couple On Instagram
You know those Instagram couples that are #goals? Are they really, though? There could be a whole Alexis Ren x Jay Alvarrez sitch happening, but good lighting and bone structure hides all. You would never know until one pulls out her Twitter fingers and says he's got a small dick confirms the end of the relationship. On a smaller, less #sponsored level, your friends who post couple pictures on which you comment, "Goals *flame emoji*," could've just gotten into an argument and you would never know. In the case of social media vs. reality, who wins? I need to know why one of my "couple goals" couples stopped posting cute pictures at brunch, and I need to know now. I was invested. I rooted for you… we all rooted for you. Knowing all this, I will not stop commenting, "literally so cute, stop," on their photos, because that wedding invite may come in clutch. Watch our latest video to see what goes on behind the scenes of that photo you "just died" over:
For more hilarious videos just like this one, subscribe to our Youtube channel and follow @betchflix on Instagram!
We Feel Personally Victimized By Gwyneth Paltrow's Pantry
If you needed another reason to feel personally victimized by Gwyneth Paltrow, look no further than this photo of her kitchen pantry she just organized with the help of a company called The Home Edit:
Aside from being very pretty and every person's adderall-induced dream, this is about as sad as it gets for a snack station. The inventory includes: two bags of Popchips, some almonds, a bunch of sauces, black beans and more black beans. That was literally my exact diet on spring break in Mexico and I can say from firsthand experience that it's simply not sustainable, even with 75 margaritas included. Speaking of which, you can clearly tell no one in this household is allowed to drink or get within 15 yards of the area because otherwise this entire thing would be destroyed in under ten seconds. All in all, this is not pantry goals, but it is everything we expected from a celeb who is known for permanently detoxing and named her children Apple and Moses.