The Best Exercises To Tone Every Part Of Your Body
Bikini szn is fast approaching, and you know what that means: Time to try on bathing suits, wonder what the hell happened to the ab crack you totally had last summer, remember that you spent the whole winter eating mozzarella sticks, and then look up where your gym is actually located so you can use that membership you forgot about once August hit. So I did some research and compiled a list of some of the best workouts to tone different parts of your body. Let this list guide you the next time you're too broke to pay for another SoulCycle class or you're feeling lost at the gym. Bonus, a lot of these exercises can be done from the comfort of your own home, and we all know not leaving your house always beats actually going outside.
Abs
For some people, having abs is way easier than others (thank you, genetics). I personally have abs, they just so happen to be hiding behind a layer of fat. But before you start doing a million crunches, there are a ton of ab exercises that are way better than traditional crunches. For instance, doing Pilates is a killer way to get abs. If you've never tried it, it's super hard but effective, since it incorporates a ton of ab-targeted exercises. The plank is another of the best workouts to tone your abs, but it can get boring. These exercises below are a little more complex than simple crunches or planks, yet still effective in toning your abs.
Double Dumbbell Drag: Start in a plank position with a dumbbell or kettlebell on the outside of your right arm. While engaging your core and ensuring you don't move your hips, take your left arm under your right and move the dumbbell/kettlebell to the outside of your left arm. Repeat with the right arm. Make sure to keep your wrist beneath your shoulders. Add a push-up if you're fancy.

Plank Hand Taps: If someone is hogging the dumbbells, this one is perfect for you. Start in a plank position and lift your left hand to tap your right shoulder. Repeat on the other side.

Alternating Toe Reach: Lie on your back with your legs straight on the ground and arms straight above your head. Raise your right hand to meet your left leg in the air above your body. Make sure to engage your abs with each move. Repeat with your left hand and right leg.

Arms
A fear of mine is to have the dreaded chicken wing arms, but toning your arms takes a lot of commitment. That means when I don't want to work out, I Google images of Michelle Obama's arms and that motivates me real quick. Here are some of the best arm toning exercises I found.
Upright Row: Stand straight with a dumbbell in each hand, in front of your legs. Raise your arms until they reach your chest, keeping the front of your hands straight in front of you. Lower your arms back down. Repeat.

Tricep Kickbacks: Stand with your legs hip-width apart and your upper body slightly leaning forward from your hips. With a dumbbell in each hand, bend your arm from your elbow towards your chest, then back behind you.

Dumbbell Punch: Standing hip-width apart and with a dumbbell in each hand, pretend you are punching your ex in the face, alternating between each hand.
Glutes
We all like nice butts, and we cannot lie, and sometimes traditional squats won't cut it. If you're tired of people telling you to do squats, here are some more interesting exercises.
Plie Squat: If you speak in ballet talk, start in second position with your feet turned out. If you don't, click here. Go into a plie (aka a squat). Keep your core engaged and each time you recover from the squat, squeeze your butt.

Split Squat Jump: Start with your feet together, and jump up, landing with your legs split in a plie squat until your thighs are parallel to the ground. Push up from the squat and jump your legs back together.

Fire Hydrant: Get on all fours, and lift your left leg up like you are a dog peeing on a fire hydrant. Keep your back flat by engaging your core. Do 15 reps and repeat on the right side.

Legs
If Beyoncé has taught me one thing, it's that toned legs make all the difference.
Reverse Lunge: Start with your legs together. Lift your right leg and bend into a lunge. Bring your feet back together. Repeat with your left leg.

Pistol Squat: Balance on your right leg with your left leg lifted just above the ground. With your arms straight in front of you, lower yourself to the ground and then back up. Repeat with your right leg extended in front of you.

Lateral (Band) Walk: Stand with your legs together. If you want extra resistance, place a resistance band around your knees. Open your right leg to be about hip-width apart and then bring your left leg to meet your right. Repeat starting with your left leg.

Back
Rocking a backless top and showcasing a toned af back would be amazing. Other than the fact that I always need to wear a bra (thanks DDD), my back isn't as toned, tanned, fit, and ready as I'd like it to be. Basically, I should take my own advice and do these workouts more often.
Reverse Fly: Leaning forward from your hips, place your arms straight below you with a dumbbell in each hand. Open your arms to each side, keeping them straight. Squeeze your shoulder blades and then release your arms back in front of you.

Forward Raise: Keeping your legs hip-width apart, back straight, and a dumbbell in each hand, extend your arms straight in front of you. Once they are in line with your shoulders, lower them back to your legs.

Lateral Raise: Repeat the above exercise, but instead of raising your arms in front of you, raise them to either side of you.

Chest
Some people believe working out your chest will give your boobs a perky boost. I've never stuck to an exercise long enough to see any results, but lmk in the comments if you have.
Medicine Ball Push-Up: Do a traditional push-up, but place a medicine ball under your right hand so your back is on a slant. Repeat with the medicine ball under your left hand.

Chest Fly: Lie on your back with your legs bent in an L shape. With a dumbbell in each hand, hold them straight above your chest toward the ceiling. Open your arms until your elbows hover over the ground, but keep your forearms towards the ceiling. Engage your abs to keep your legs supported.

Dumbbell Pullover: Lie on your back with your legs bent, like you are about to do a crunch. Hold a dumbbell in each hand. Raise your arms above your head towards the back of the room, then raise them towards the ceiling until they are directly over your shoulders. Repeat.

Images: Luis Quintero / Unsplash, Giphy (16), Tenor (1) Gfycat (1)
5 Gym Machines You Need To Stop Being Intimidated By
I don't know about you guys, but I always feel a little weird in the weights/machine section at the gym because I'm usually the only woman amongst a gaggle of retired frat bros who I don't want to talk to, look at, or breathe near, and yet they somehow always manage to pump iron right next to me. Truth be told, I don't really spend a ton of time in this area because it's always been a little bit intimidating to me, but after realizing that I lack the upper body strength to lift my MacBook air, I did a reassessment of my workout regimen. So, I swallowed my insecurities, wommaned up and asked a fitness, expert to help me become the most Beyoncé circa Coachella 2018 version of myself (while still eating sugar, dairy, and carbs). I asked Mike Clancy, lifestyle coach, certified personal trainer, and founder of MikeClancyTraining, about which gym machines I should stop being afraid of and start using . Mike knows what the f*ck he's talking about, so if you're trying to get strong for 2020, listen up and stop tiptoeing around these pieces of gym equipment.
1. Yoga Ball

There are so many things you can do with a yoga ball that have absolutely nothing to do with yoga. Clancy says, "Consider using the yoga (Swiss) ball for ab exercises, since the roundness allows your spine to fully flex and extend, unlike crunches and sit-ups. The ball is also great for providing support for your lower back when you are curling up and down." As a new fan of the yoga ball, I'll share a few of my favorite exercises. Get in the plank position with the tops of your feet on the ball. Slowly lift your butt in the air and lower. The ball will roll toward your straight arms with every lift and back with every lower. This targets every part of your abs and you will be so sore the next day that breathing will be a chore.
Another option is to lay on your back with your legs extended in front of you and hold the ball between your ankles. Reach for something behind you for stability if you need to, and do everything in your power to keep your lower back on the ground as you lift the ball straight up and back down. Your upper abs will be screaming to make it stop, but they'll thank you when you're rocking those cute little muscle indents. Lastly, if you're having an off day and want to have a more chill ab day, sit on the ball with your back as straight as you can. Put your hands behind your head and lean back enough so that your back is parallel to the floor. Use your abs to pull you up without breaking your posture or letting your elbows cave in.
2. Hip Extension Machine

Do you guys know about these? Not all gyms have them, but if my Murray Hill sh*thole Crunch does, I feel like a lot of gyms have to. I've also learned that, unlike treadmills and rowing machines, all hip extender machines are a little different. Mine, for instance, is a padded metal pole with hand grips behind it and pedals in front of it. Am I creating a brilliant visual or failing miserably? I realize this kind of sounds like I'm describing a torture device. Anyway, so one of your feet is on the ground and the other is on the pedal. Bend both of your knees slightly and push on the pedal with the ball of your foot. You don't need to push back really far, maybe just a few inches. This targets your lower ass, which creates that scoop of ice cream shape. Isn't that all we want in life? You can also adjust the pedal so it's next to you instead of behind you and do the same exercise to the side which works your side glutes.
If you've ever taken a barre class, this machine is like the glutes section, but way more effective because there's resistance with the machine. It's also a lot easier on your joints than trying to lift your leg in the air while putting all of your body weight on your wrists and one knee. Ouch! 
3. Cable Biceps Bar

The bicep machine is pretty self-explanatory, but I will walk you through it just in case you need a little bit of motivation. The machine is pretty small, which makes it way less intimidating that those terrifying full-body workout machines. So you set the weight you want to lift, grab the bar, and do your bicep curls. I usually start with eight pounds and work my way up from there. Clancy says, "Try using the bar attachment on the cables for performing strict bicep curls. By keeping your elbows in a fixed position, the bar will help build and sustain tension in your arms, dramatically increasing the effect compared to normal sets."
The key is to go slowly so that you're lifting and lowering with muscle, not momentum. You can bend your arms in a 90-degree angle starting at your hips and do a half curl or fully extend your arms down your lefts for the lower and fully bend them for the lift.  If you're not feeling it, don't push it. 
4. Hanging Leg Raise

This is another ab machine that targets your lower abs and it is very, very effective—speaking from experience aka my sore abs. The hanging leg raise is a machine that's shaped like a "T" with padded poles for you to put your arms on while your legs and abs do all the work. Your arms are bent in a 90-degree angle in front of you while your legs are fully extended beneath you. 
Slowly lift your legs without separating or bending them and slowly lower. According to Clancy, "The flexion of your hips using straight legs will highlight and target the ever-popular lower abs, and get you one step closer to the V in your stomach. Lean back and slowly raise and lower your legs to really enhance the contraction." You can also do this same exercise with your legs extending on a slight angle to work your side abs. And if you're really feeling yourself, you can bend your knees at your chest and extend in front of you without putting them down. I've only seen one person do that and she was my trainer at the time, so you may need to work up to that one.
5. TRX Bands

These are fab. They take up no space and are actually really easy to use. If you don't want to do push-ups on the ground for whatever reason, TRX bands are for you. You can perform two different types of push-ups with these, and both are as painful as hell to do. But it's the kind of pain that will later remind you that you're getting strong. Clancy says, "Those yellow TRX bands are great for calisthenics and bodyweight exercises because they move in all directions, the movement options are endless. In particular, TRX bands are phenomenal for doing rows and other pulling motions. You can incorporate fully-body, multi-joint movements such as a squat-to-row, or a reverse lunge to one-leg knee lifts." If all of that sounds really confusing, just remember that if YouTube can teach you how to expertly execute a smokey eye, it can teach you how to do a one-knee leg lift. 
I personally only really use the bands for arm exercises and sometimes abs, but because they are just two bands hanging from the ceiling, you can really use them for anything your heart desires. Get swole.
Images: Unsplash; Shutterstock (5)
6 Moves To Tone Your Legs And Butt For Shorts Season
After a god-awful winter and no spring season whatsoever, summer has arrived, and it literally has no chill. We totally skipped over denim jacket weather and basically went straight to face-directly-in-the-AC-vent weather, so it's time to dress accordingly. If you're putting on your shorts for the first time in a year and notice your legs could use some much-needed toning and tightening, don't panic. Do these six leg exercises, and once you're done, repeat the whole circuit another three times to really tone and strengthen your legs. And also, like, try not to cry when you sit down tomorrow. Consider yourself warned.  
1. Curtsey Lunges
Regular squats and lunges can get boring and repetitive, so trying out different leg exercises and variations help target your muscles in a different way. Curtsey lunges are great because they hit various muscle groups in your quads and glutes, and they also challenge your body's overall balance and stability. They're v underrated. The idea here is to lunge backwards like you would regularly, but instead of bringing your knee directly behind you, bring it in a diagonal direction, crossing behind your other leg. Like a curtsey, get it?? Bend your knees and lower your hips until your thigh is parallel to the floor. Then, return to standing position and do the same on the other leg. Complete 10 reps per leg, and if you feel like it's too easy, hold a weight in each hand to add resistance.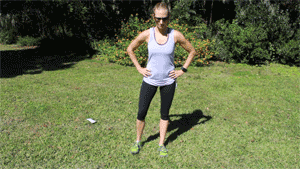 2. Swiss Ball Hamstring Curls
This exercise is based on using a swiss ball, but if your gym doesn't have one, this can also work using TRX bands or the rowing machine. Begin on the floor by lying on your back with your feet up on top of the ball. You want your ankles to be on top of the ball when your legs are fully extended. Raise your hips off the ground, keeping your weight in your shoulders and your feet. Then, flex your knees, pulling the ball inward toward your body while squeezing the backs of your legs. Once the ball is "curled" inward, straighten out your legs again, rolling it outwards. Aim for 15 reps.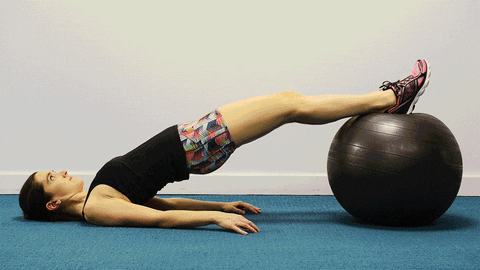 3. Single Leg Glute Bridges
Glute bridges are a classic butt exercise, but by focusing on one leg at a time, you also hit your hamstrings, which are the muscles that make up the backs of your legs. You're basically getting the best of both worlds because you're working your thighs and butt in one simple move. Lucky you. Lying on a mat, keep your hands at your sides and your knees bent out in front of you. Then, extend one leg as you lift your butt off the ground, squeezing your glutes and lifting your hips toward the ceiling. Think about pushing down with your left heel as you lift. Do 10 reps on one leg and then switch to the other.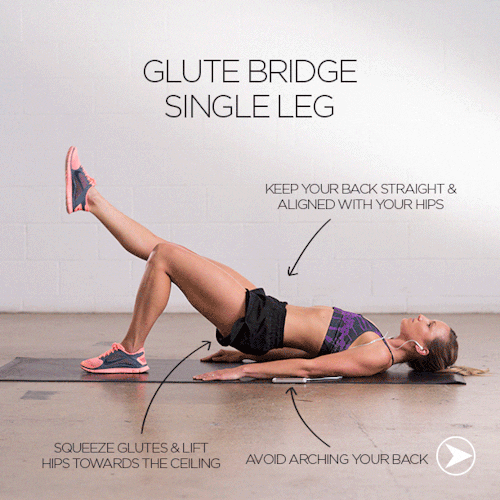 4. Jumping Sumo Squats
We tend to do a lot of squats and jump squats in our leg workouts, but the sumo squat is a different variation that a lot of people ignore. The idea here is to do a jump squat, but your stance is more like that of a ballerina, with your toes turned outward and your legs further apart than they'd usually be. This way, when you squat down, the resistance shifts from your quads to your glutes, and it becomes more of a butt-focused movement. You're also getting your heart rate up and burning calories because like, you're jumping. Duh. Try doing 15-20 jumps without stopping.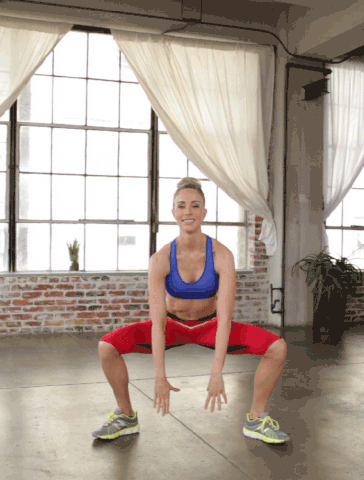 5. Elevated Reverse Lunges
Reverse lunges are a staple leg movement, and by elevating your front leg, you're adding pressure to that leg's quad muscle, and you REALLY feel the burn on these. The idea here is to find some sort of box or elevated step that you can put your front foot on, and then lunge backwards, bringing the back leg even further down than you would on a regular surface. This way, your quads get more resistance—kinda like when you turn up the torq on a spin bike. Remember to keep your chest up and head straight the whole time to avoid leaning forward. If these are too hard, lose the elevation and just do lunges on the ground. And if they're easy, hold a weight, like the badass chick in this gif.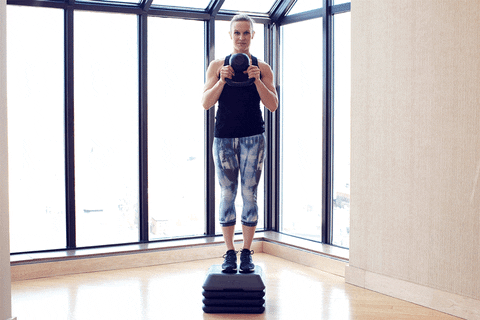 6. Wall Sit
Wall sits look relatively easy, but you might notice after a few seconds that your thighs are on fire and you want to die. This is normal. This move is also great because your body is basically in a squatting position, but your back is protected, so you can really engage all of the muscles in your legs to keep you stable. With your back flat against a wall, set your feet about shoulder-width apart, about two feet out from the wall. Slide your back down the wall, bending your knees as low as you can get. Hold the position for one minute, and remember to contract your abs while you're holding it. Your legs will probably start shaking, but that just means it's working. Just think about how good your legs will look in your new romper.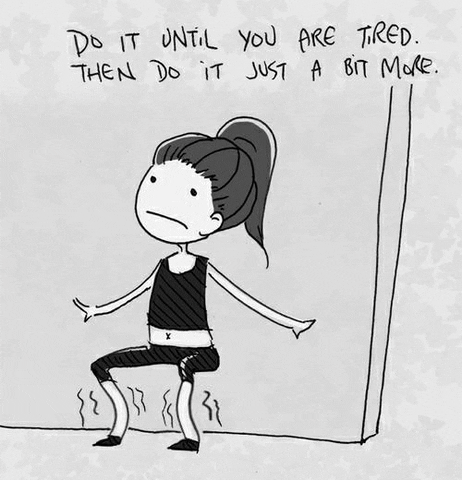 Images: Shutterstock; Giphy (6)