3 Signs That Weight Loss Isn't The Answer To Your Problems
When it comes to weight loss and dieting, we've all heard and believed a lot of lies. The Kardashians get their figures by sipping on Fit Tea! Gluten-free is always better! This is how many calories you should eat! No, this! Frankly, it's exhausting. The most damaging of these lies, in my opinion, is "nothing tastes as good as skinny feels." (To those of you doubting me, I lost 7 pounds with a stomach bug last summer. The taste of mac 'n' cheese kicks that feeling's *ss every time.) Not only is this saying wrong because it was coined by someone who has never tasted food (hi Kate Moss! Big fan), it's wrong because it promotes the idea that—no matter what else is going on—you would feel better if you were skinnier.
On that note, I'm sadly confident that every day of my life so far I would've agreed with the statement "my life would be better if I weighed ten pounds less." Even (and especially!) in moments with much, much more pressing issues directly affecting my well-being. So as we all embark on our respective, crazed self-improvement Januarys, here are some warning signs that your weight is not the real issue. In other words, signs that no matter how much you diet, or how much weight you do manage to lose, it's not going to address what's really bothering you. It won't, ultimately, make you all that much happier. And isn't that really the point?
You Constantly Compare Yourself To Others
Comparing yourself to others is a sure way to "fail" any diet plan. As countless trainers have told me when I whip out an inspo picture of Kendall Jenner, no amount of food restriction or exercise can make your body look like someone else's. You can look like a version of yourself with more muscles, or less fat, or with more or less of a noticeable stomach (I'm told—I've never experienced this myself). And that's it! Those are all your options. So if your desire for weight loss is specifically sparked by seeing a certain body type, I'm afraid to say that dieting will not get you where you want to go.
It's a long, boring process to become okay with what you're born with. (And it's one that the wealthier members of our society forgo for plastic surgery.) Whether the boost you need to get more okay with yourself is retail weekly therapy, daily affirmations, or just better bathroom lighting (I cannot recommend this one strongly enough), I can promise you that happiness is not five pounds away. So stop looking at the scale; the answer is somewhere else.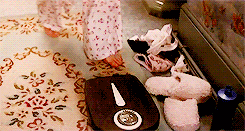 You're Way Too Obsessed With Your Diet
No, this isn't just a fun way to call out vegans and Paleo people. (Though truly, the amount y'all talk about your diets is insane.) One major sign that you're offloading other concerns into one specific area ("I need to lose weight") is when you become incapable of talking or thinking about anything else. When you become so fixated on what you can and can't eat, and when you can expect to see results, and whether or not anything feels different or bad or good all day—it places a huge, untenable amount of pressure on that part of your life. It puts you in a place where you're not able to find happiness from any other aspects of your life (AKA your friends, leaving the house for non-work reasons), and it convinces you even further that the only thing that will make you happy is losing weight.
We're all guilty of going a little overboard with a new venture we're excited about, and I don't want to shame anyone who's put in hard work on a diet. (I did the keto diet for two weeks, and the amount of math involved at every meal almost killed me.) But feeling like you're so obsessed that it's all you can think about means you need to step back. If you're finding that the only joy you get comes from seeing a number on a scale, it's not going to be quite so easy to just jump back into normal life once you're at the weight you think will make you happy. You need to address (right now! at the weight you currently are!) why other aspects of your life aren't fulfilling to you, and work on that at least as much as your diet.

Your Eating Is Mostly Emotional
Late-night shame binging, stuffing your face with apps at a family event, refilling your plate for the third time when your stomach still hurts from the second. Am I just describing my holiday break, or do I have a larger point? Both! What all those eating incidents have in common, beyond the fact that I am a monster, is that they had nothing to do with how hungry I was, or what I really wanted to be in my body. At many points in my life (#growingupfat), I've used food as a distraction—a quick hit of endorphins in the form of chocolate or cheese that took me away from the present moment. Whether that moment was stressful, sad, or just plain boring, eating made it better.
But as it turns out, eating every time you're not 100% okay with your surroundings does not actually feel better in the long run. And every time my emotional eating ticks up, and my weight inevitably changes along with it, I address it in the worst way. I am So Fat! I tell myself. Better go on an all-out diet, starting with green juice at 8 AM. But here's the thing! I was not gaining weight because my breakfasts were bad for me. In fact, I ate pretty healthily, within the context of normal meals. And making those normal meals more restrictive (under the I Am Fat & Therefore Must Diet regime) just exacerbated my emotional eating. Hungry people are weak people, and saying no to a midnight pint of ice cream only got harder when I'd subsisted on lettuce all day.
So, if you're like me and a lot of your "bad eating" tends to happen in these types of settings—where the food has nothing to do with its role as food, and everything to do with your mood—no diet in the world, sadly, will fix it. You have to figure out a peace for yourself in moments that typically have you reaching for food. Because even though there may be unwanted weight involved, it's not the weight that's the problem—it's the way you're using food to control your emotions. (And if you solve that problem, any remaining weight loss goals you have will be so much easier.)
See this? This is a picture of me on Sunday night not a well-adjusted human.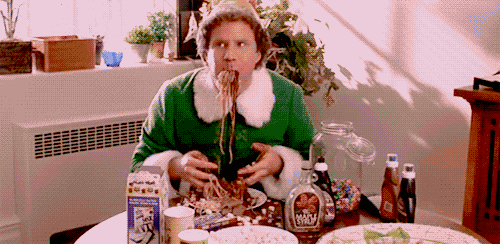 As you can probably tell, I'm guilty of all three of these behaviors. It sucks to feel obsessed with your weight, and it's easy to feel like the whole world encourages that kind of thinking. But the lie that they're selling is that weight loss is everything because weight loss will make you happy. Don't forget that happiness—YOUR happiness—is what you're actually after, and don't be fooled into thinking that weight loss will always, definitely get you there. There are other ways to be happy, and honestly, most of them make me way f*cking happier than going on a diet.
Images: Giphy (3); Unsplash / i yunmai
Should I Go To A Wedding With My Ex? Ask A Pro
Head Pro is happy to answer all your questions about life, love and condoms, if he doesn't throw his computer into the ocean first. Fire up your Outlook machine to email him at [email protected], and follow him on Twitter and Insta at @betchesheadpro.
Dear Head Pro,
I need some advice. There's this guy that I've known for a while now. We run in the same very small and close group of friends. I see him basically everyday at my gym, where he works, and we all hang out every weekend. A couple weeks ago he started snapping me and texting me every night after work, but he'd pretty much completely ignore me at the gym, the most I could get out of him was a smile and a wave.
The smile was an improvement though, up until now he would completely avoid me whenever we were around each other. After a few weeks of this I was just kind of over it so through some flirty texts I told him he should ask me out sometime and he said that would be great and fun and we should go to dinner that Saturday.
Well that Saturday came around and I heard nothing from him about when and where we should go to dinner. So, I did what any self respecting betch would do and didn't text him and went and hung out with my bff, which inevitably ended with us hanging at our other friends house where he also was, awkward! He never said anything about the date or apologized or tried to reschedule. So just when I wrote this guy off as a total jerk, who doesn't deserve to be graced with my presence, our friends are getting food for dinner and he very loudly reminds them of my gluten allergy and tells them to get something different for me *swoon.*
What the hell am I suppose to do? Should I just ditch this guy? I know he likes me but he just seems too shy to do anything about it. And I know I can't do anything else without coming off like completely desperate, which I am not!
Hugs,
Betch who's losing the game
Woo, ok. It took me a while to stop laughing at this one, but: do yourself a favor and stop being so goddamned delusional. This guy doesn't like you. "We should get dinner Saturday" is already pretty noncommittal, and doubly so when it's in response to you awkwardly telling him to ask you out. He clearly had no intention of doing so. He sees you where he works, he knows all the same people and clearly knows how to contact you. And yet he didn't. Because he doesn't like you.
While remembering your fake gluten allergy is an undoubtedly swoon-worthy moment, you'll have a much happier life if you stop reading into things that aren't there. You are friends. He acts friendly towards you. This isn't that hard. Wanting to believe something's real when it isn't doesn't magically make it so. Trust me, I've been playing second base for the Washington Nationals in my head for years now, and I've inexplicably yet to receive an invite to spring training.
It's not going to happen. Stop trying to make it happen.
Dear Head Pro,
Me and boyfriend have happily a year and 5 months we have always always had sex without a condom maybe the first 2we did used , but now since I'm in school and been really focused with my last year so I can graduate I have recently asked him for us to start using again , since I do not want any "accidents" so , I'm not sure if I took the right step on asking him the use condoms again, but his response was totally hum I don't now maybe to supportive and Iam not sure if his being supportive because he has some-one on the side or because like he said "i want to be good with you and support  any decision and if that's want you want I'm okay "
So right now I just want to know or have a different point of view of why he could be all this supportive when sometimes he really is that all supportive be like I said sometime he is and he is a great guy but something in side of me was like waiting for him to be like all upset and ask no to use it …
Dearly
-Nicky…
Sent from my iPhone

I'm like honestly offended by the stupidity of this question. Also, he's definitely cheating on you. Only logical explanation.
Dear Head Pro,
Long story short my boyfriend and I just broke up as he cheated on me. At first he denied but then he fully came to admit his wrongdoing. It's more of a he-said she-said situation as to what ACTUALLY happened, but from his story they just made out, it felt weird to him etc and he left. The girl denies everything & anything, but happened to tell her best friend that relayed the news to my roommate (so again it's hard to know if his story is the truth)(also, they all work together, in finance of course). We were together two years, he's 32 and I'm 24.
We've remained on really great terms since as he was/is my best friend and has openly voiced that he would do anything to get back together, loves me so, I'm the one etc etc blah blah blah. I've basically said we're done until I figure out if I can believe/forgive/trust him again.
See the thing is now that his sister's wedding is down south in about six weeks…. I was also supposed to be in said wedding, but because of these circumstances I've obviously bowed out. ANYWAYS, he still really wants me to come / so does his family and the only people who know we broke up are his immediate family members who, since he cheated on me, know it was his fault and that he fucked up majorly and are rooting for us.
Obviously going away together in the king suite we had booked, we are going to hook up, fight, and experience all the emotions, but ultimately it might help our relationship and worst case I'll get a great tan. Anyways, I'm a little stuck as all my girlfriends despise his existence and I feel like they're against this relationship (for good reason of course). Should I go down south with my ex & his family? Subquestion, is making out completely unforgivable and does this relationship deserve a second chance?
– I've asked way too many people about this so what's one more.
Sent from Outlook
Wow, you're really burying the lede here. Yeah, sure, I guess we can call making out cheating. Like, maybe it's forgivable and maybe it isn't, but it's still on the no-no list. You're pretty clearly grasping for any reason to forgive him because pretending things are back to normal (even though they're not) is a lot easier than trying something new, but: do not go to that fucking wedding with him.
In no universe, real or imagined, will this ultimately "help" your relationship. It will ruin it irreparably. I've seen weddings ruin couples that weren't in the process of reconciliation, so what chance do you think you have? It's made even worse by the fact that this involves his family. There's going to be so much pressure, and booze, and you're going to get in a dumb fight and wind up fucking one of the groomsmen in an industrial kitchen. Then his entire family will go from half-assedly supporting you to hating your fucking guts, because you ruined his sister's wedding.
Honestly, can we collectively make the choice to ignore our primitive impulses and cut it with the "forgiving people who cheat on us" shit? It's a waste of time. No one's that important to where, in the near or distant future, you won't be happier with someone else and all but forget they existed. Like, you can go through the whole rigamarole of fighting and getting back together and (probably) ending up right where you are now, or you and your girlfriends can go do something cool like ride jet skis. I know what I'd do.
Who the fuck still uses outlook for their personal email?
Head Pro is happy to answer all your questions about life, love and condoms, if he doesn't throw his computer into the ocean first. Fire up your Outlook machine to email him at [email protected], and follow him on Twitter and Insta at @betchesheadpro.