5 Beauty Hacks That Are Damaging Your Face
Beauty hacks, beauty hacks. I used to love them, until I realized a lot of them are f*cking terrible. Who would have thought that your typical beauty influencer putting deodorant on her face as primer was all for VIEWS and not to help us out?! From making masks with products that we are supposed to digest to whipping up homemade creations and calling it skin care, not all beauty hacks/DIY are good for you! I'll tell you hacks that are actually worth it another day, but today let me tell you the ones that AIN'T SH*T and are bad for you. Shall we?
1. Tape For Perfect Winged Eyeliner

So many people use this as a beauty hack, because everyone wants a perfect winged liner. This hack used to be the bomb. Sure, it works—but is it good for you? I can't tell you how many times tape has made my eyes water or smudged my work. On that note, have you ever irritated your eyes because how sharp that f*cking tape is? We put it so close to our eyes! 
I also know as humans, we all do our makeup routine differently: I do my face makeup first and the move onto my eyes, but I have seen people do the complete opposite. If you do your eyes first, this might not be an issue, but for me honey, THE TAPE PULLS MY FOUNDATION OFF. Do you know long it takes to become a bad bitch just for this dumb-ass hack to rip it off??
Instead, I figured out that using a business card or an old gift card can give me the same sharp look, without ruining my makeup and making my eyes water. You won't get my masterpiece snatched away from me! Also, using all that tape is such a waste!
2. Heating Up Your Eyelash Curler With A Blowdryer

We do a lot of things wrong when it comes to our eyes. Heat and your eyes just don't mix. I know so many people who do this, so maybe I can change someone's life right now and be an icon. I used to do this, so don't think I'm just talking sh*t. I have ripped out many an eyelash doing this, and I've learned my lesson.
When you heat up a curler with the heat from the blowdryer, you might get a nice curl in the moment, but it's really just burning your lashes off. Not only is a hot curler bad for your lashes, but it's also dangerously close to your lids, and your actual eyeballs. Why risk damaging your eyes for lashes that won't even last? Say you're sorry to your lashes if you have ever done this, and RIP to the lashes we took for granted and lost along the way.

3. Using Actual Glitter As Eyeshadow

I love sparkles. I love being glittery every time I go out. But do I like using glitter that's supposed to be used for arts and crafts on my eyelids? No, I don't, and neither should you. Those little flecks can have incredibly sharp edges, and  a piece of non-cosmetic grade glitter can not only scratch your eye, it can possibly damage it or the skin on the underside of the lid.
If you're putting it anywhere near your face, you should only be using cosmetic-grade glitter. Cosmetic glitter usually has rounded edges, so there's a much lower risk of problems. I know saving a few bucks seems like a great idea, but it's better to just invest in a good glitter meant for your eyes instead of possibly damaging them.
4. Using Mouthwash To Remove Dead Skin

Another big trend/beauty hack that went around was using mouthwash to get rid of dead skin. This is so terrible for your skin. I mean, mouthwash literally has alcohol in it! The heavy amount of alcohol in mouthwash can actually cause redness and peeling, and can burn off an entire layer of skin. That in and of itself should prove how terrible it is. There are tons of good ways to get rid of dead skin, but mouthwash is not the answer. Let's stick to using mouthwash for having good breath and not to damage our skin.
5. The Kylie Jenner Challenge

Now, I'm no doctor, but I can still use common sense to figure out when something isn't healthy. Remember a few years ago, when the infamous Kylie Challenge was completely viral? Yikes. I never did this challenge, but it's only because of all of the terrible stories I heard! I saw stories of this hack damaging lips for weeks at a time. By sucking on a bottle to create a vacuum, you could end up with swelling, broken blood vessels, and even cuts on your skin. This challenge/beauty hack was inspired by Kylie, but I don't fault her for so many people doing it. She even apologized for it becoming viral. Obviously, now we all know that Kylie got lip fillers, and her look had nothing to do with sucking on a Gatorade bottle.
Now I know a lot of people think that this hack went away. Sadly, no. Instead, companies have made specific lip suction cups to do this same hack with. Now, just because it's not a Gatorade bottle doesn't mean it's automatically good for you. It can still damage your lips and skin. Is it worth it? NO!
What's the bottom line? While some beauty hacks can be helpful, most of the time, you should be using actual beauty products as your beauty products. It's fun to find other uses for things you have lying around the house, and you might save some money in the short term, but dealing with f*cked up lips, scratched skin, and/or damaged eyes is way less fun.
Images: Malvestida Magazine / Unsplash; Giphy (5)
5 Office Holiday Party Outfits Your Work Crush Will Def Notice
I don't mean to sound like the Grinch, but office holiday parties are the absolute worst. You have to work all day with these people, have three mental breakdowns in the bathroom (that may or may not be caused by these same coworkers), and then have to socialize with them? You have literally nothing in common with Karen from HR and you know she won't shut up about her kids. Throw alcohol into the mix, and you're playing a dangerous game. How do you drink just enough to tolerate Karen, but not so much that you'll end up blurting out that nobody cares about little Jimmy's baseball game? Not to mention, your invitation says "dress festively." What the f*ck does that even mean? More importantly, how can you slut it up to catch the eye of the office hottie without getting reprimanded by your higher-ups? Not to worry, I have plenty of office holiday party outfits for you so that once when Karen stops yapping about how smart her 2-year-old is (doubt it) you can add in how inexpensive your dress is and how you plan on sleeping with Brett in accounting. Just kidding, maybe don't mention that last part out loud to anyone except Brett in accounting.
You Won't Believe Where Instagram Beauty Bloggers Are Putting Glitter Now
In the newest shitty/bizarre beauty trend—weirdly enough, not started by Kylie Jenner—"glitter tongues" have emerged. In case you can't take the very literal hint, it's literally when you cover your fucking tongue with glitter aka tiny fucking shards of plastic.
Frankly, the word "trend" is FAR too overused. Just because one random beauty blogger in Australia thinks glitter tongues are the next winged eyeliner, does not mean it's a fucking trend. It's kind of like how Kylie Jenner can wear sweats and high heels and get called "trendy", but when I do it I'm "visibly intoxicated" and "need to leave Target immediately".
"Experts" have weighed in on the trend and said that although consuming SOME glitter is okay, most people doing this stupid shit should probably stick to edible glitter. Ya know, like the kind you put on a cake for a 6-year-old's princess themed birthday party.

Who are these experts and what the fuck are they experts of, exactly? Making completely obvious comments about bullshit glamour fads? What could you possibly have your degree in? A B.A. in "Being Smarter than the Average Moron"?
Look, I'm not a beauty expert—partially because YouTube Beauty Bloggers actually make me want to stick my head in a furnace—but I can say with certainty that this is the dumbest shit I have ever heard. Not only am I annoyed that it exists, but I'm equally annoyed that I have to take perfectly good time out of my day to tell you that this is a load of dog crap. On Planet Bullshit. In the galaxy of This Sucks Camel Dicks.
FRIEND: I want to cover my tongue with glitter

ME: Stay right where you are, I'm calling the police
5 Lip Colors You Should Never Wear
Because it's the year 2017 and people will do literally anything for an Instagram like, I'm being pushed to the fucking edge with makeup trends these days. Fucking barbed wire eyebrows? Glitter butts? Grown women buying Unicorn Snot? No, no, no, no. That's it. Trendsetting is cancelled, it's done. None of you bitches can be trusted.
But if I thought people couldn't be trusted to discern a real beauty trend from a moronic one, then I really shouldn't be surprised that people are fucking up their lip color. Because nothing pisses me off more than seeing people try and be "bold" with their lipstick. I know they say the eyes are the window to the soul, but have you ever seen how good I look in a dark purple lipstick? That says wayyy more about my soul then the cat eye I fucked up this morning. That being said, there are some lip colors you should never wear. Like, ever. So buckle up because I have a feeling this might be a rude awakening for some of you bitches. Here are the 5 lip colors you should never be caught dead in:
1. Baby Blue

Jesus, why do you test my patience like this? I'm a good person. I go to work most days, I never go to the gym, and I only drink on the weekends. So why does my extra AF friend always show up to happy hour looking like she just sucked off a Smurf? I will never understand why beauty companies even thought to manufacture this color. Even Kylie cannot make this color look good, and that should say something to you. Like, pastels barely look good as clothing on my body, much less as the fucking focal point on my face. Avoid this color at all costs lest you end up an Internet meme.
2. Electric Orange

I'm not going to call anyone out here *cough* Selena Gomez *cough* but someone is trying to make orange happen and they are seriously disturbed. Perhaps she's trying to prove that she's just as much of an artist as The Weekend so that's why she's made the color orange her pet project for the summer, but you can give it up, Selena, because over my dead body will I let orange lip color become a trend. Selena isn't the only person who's delusional, though. Several beauty sites are calling orange the "hottest color" of spring 2017 and each and every one of those sites are getting a spot in my personal burn book. Let me just be clear here people: Orange looks good on NO ONE. Only wear this color if you want me to mock write about you in future articles.
3. Any Shade Of Green

I made a case for dark green lip color once upon a time but that was in the name of a V important drinking holiday and you really can't take anything I say seriously when I'm trying to match my outfit to a themed drinking event. Like the above Smurf comment I made, people will sure as hell talk shit about you if you show up to the bar looking like you've got a fungus growing on your lips. Don't fucking do it.
4. Glitter

Yes, this is a real shade of lip color. And, yes I'm feeling personally victimized by it. Like, what is even the appropriate setting for said lip color? I'm assuming it's any sort of music event that involves casual drug use. Though, I'm sure if I wore this lip color for any occasion my mom would probs roast me in a Facebook post. Plus, this has to be some sort of health hazard. Can you imagine drunk eating pizza with this mess on your face? You'd be inhaling glitter chunks to go along with your pepperoni. Nah, sorry. There's a reason I don't drink Goldschläger. It's a no from me.
5. Bubble Gum Pink

I'm not saying this lip color looks bad on anyone per se, but it does send a message, and that message is that you still wear a retainer and a training bra. If you're a grown-ass woman wearing this lip shade then you're either Katy Perry or someone who claims Katy Perry is your style icon and either way you can't be trusted. Stay home and write in your sad handwritten book, because no one wants to see that shit in public.
5 Instagram Makeup Accounts For Your Coachella Inspo That Aren't Basic AF
Remember the chubby kid from elementary school gym class who always cost your kickball team a win? Well, he might have been on to something when he said "first is the worst, second is the best," provided he was talking about which Coachella weekend to attend, and not the game at hand (being optimistic about losing is total nice girl behavior, and we'd never condone it here). You see, Coachella style is a slippery slope. One minute you feel like the most beautiful sequined snowflake on Earth, the next you realize that you're just wearing the knockoff version of exactly what Kylie Jenner has on, and your sequin glue is not compatible with sweat. With that in mind, it's probably in your best interest to watch people fuck it up during weekend one, learn from their mistakes, and totally slay for weekend two. For those of you looking to roll into week two with a vengence, makeup is one of the best ways to turn a regular festival look into something totally amazing and Coachella worthy, so here are a few makeup Instagram accounts to creep through for makeup inspiration. Alternatively, you can just take shrooms.

Who thinks to use liquid lipstick for eyebrows and straight glitter for a highlighter? This betch. Like pretty much every other aspect of our lives, sparkly makeup can go really wrong really fast, but Martina has a few sick tricks.
Like I said, glitter is a total hit or miss, but Go Get Glitter is a cosmetics brand that seems to be doing it right. However, according to a law I just made up, I have the right to change my stance on this at anytime. For example, if they come out with a Disney Princess line, I'm out. Go Get Glitter clearly heavily contributed to the trail of glitter that now probably permanently exists in Coachella Valley.
According to Shayla's Instagram posts, she fell down a flight of stairs at Coachella and still looked like a rock star. (If you didn't read that in Cady Heron's voice, you can literally never sit with us.)
Beauty Meets Video is an account filled with makeup done by British betches, which I'll admit are always ahead of the curve in the beauty world. Plus, they have a YouTube channel, which is pretty helpful for anyone whose cosmetic experience consists of mostly last-minute decisions to wear winged eyeliner halfway through a pregame.
Flower crowns are definitely out, but floral makeup might just be the next move. Joanna's feed is filled with rainbow lips, crystal liners, and other creative makeup ideas that you haven't already seen more times than your ex's new girlfriend's Instagram feed.

Read: The Best & Worst Dressed Celebs At Coachella Weekend 1
7 Beauty Looks For Coachella That Aren't Flower Crowns Or Those F*cking Dutch Braids
Festival season is upon us which means that every basic bitch in America is about to start announcing on social media how much of a music connoisseur she is while also Googling "where can I buy flower crowns." Even though it's only been, like, four months of 2017 I've already seen too much in terms of batshit beauty trends. For example, looking like you just gave head the "snogged lips" trend and using condoms to blend your face makeup. That being said, I'm already thinking about how I'll need to psych myself up pop a Xanax before bitches start testing me with their Coachella life choices.
But because I am a generous human, and also because bottles of pinot were "buy one get one" at the store, I thought I'd take the time to enlighten you on how to be less basic this festival season. Here are 7 Coachella beauty trends that will take your Instagram story festival look to the next level:
1. Khaleesi Braids
I swear to god if I see one more long-ass Dutch braid pigtail combo I will lose my goddamn mind. Just because Kylie Jenner said so you pinned this look to your festival fashion inspo board doesn't make you original. Instead try these Khaleesi-inspired braids. This style will make you feel like breeding dragons and destroying men, and if there's a better way to dress while listening to mainstream music with rich people dressed like homeless hippies then I'd like to hear it. Seriously, I'll wait…

2. Tiaras
This just in: Tiaras are the new flower crowns because Beyoncé said so. For real though, Bey started the trend by showing (everyone) up like a fucking queen at the Grammys. But if you're feeling weird about showing up in a full-on golden headdress then try wearing a simple, delicate tiara. It has that "let them eat cake" vibe that's V popular in the White House these days. And it still says everything you were hoping to convey on your Instagram story: that people should not stomp their last season Prada shoes at you, honey.

3. Blue Lips
Pinterest has spoken and dark blue lip color is the official color of spring. TBH this color is speaking to my soul right now. It's V edgy and though there's a 100% chance that this will end up all over your face by the end of the day this color will definitely set you apart from the basic AF crowd. Speaking from experience, just brace yourself for the inevitable "you just blew a Smurf" jokes.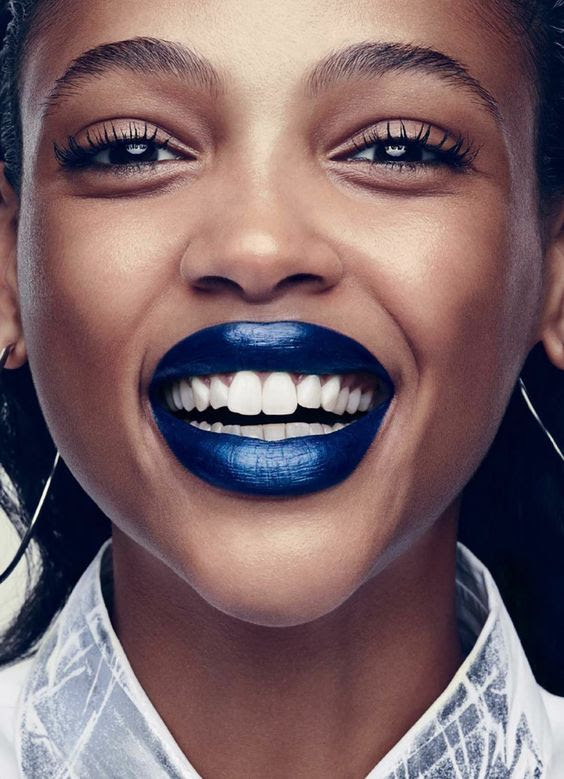 4. Pink Eye Makeup
The bad news if you wear your makeup like this people are going to think you've been snorting Adderall for three days. The good news is, it's Coachella so everyone's snorting Adderall for days! You'll fit right in, kid. 

5. Metallic Nails
Chic, edgy, and it doesn't require your nails to take a trip to Claire's to get pierced. You're welcome.

6. All Glitter Everything
Glitter at a music festival? Groundbreaking. TBH I could've written my entire senior thesis on Coachella's toxic relationship with glitter but sadly my professor didn't think there was enough "merit" to the subject matter. So rude. Regardless, glitter is the ultimate trend at music festivals and amongst casual drug users. #TheMoreYouKnow. There's not enough time in my day to list all the ways you can embarrass your mother wear glitter so I'm just going to list the ones that are the least offensive to me, k?

At the roots of your hair:

Cover up your dandruff and/or oily roots with glitter and dry shampoo = festival logic.
As an under eye accent:

Same logic as above but replace "nasty-ass hair" with "ever-expanding under-eye bags".
As a highlighter:

Honestly, no objections to this look.
7. Braid Chains
The best way to arm yourself from all the bullshit that's bound to go down this festival season is with armor…for your hair. Seriously though, this hair accessory gives off some serious Bad Gal RiRi "don't fuck with me" vibes, and I am about it. Plus it'll make your Forever21 high-waisted shorts and crochet bikini top seem less slutty-on-a-budget and more slutty-with-money. Which is always my end goal when it comes to choosing outfit accessories.