The Throwback TV Shows With The Messiest Hookups
Anyone who knows me knows that I think Gossip Girl is the holy grail of terrible TV, and in these times, it has brought me a lot of comfort. Seriously, when I'm down and feeling blue because I haven't seen another human being IRL since mid-March, just got laid off, and have been subsisting on DiGiorno for way too long, I think about that episode when everyone found out that Blair boned Nate and Chuck, and even Jenny didn't want anything to do with her. Like, what's a pandemic compared to Blair Waldorf's slow and painful demise in the first season??
Anyway, if it isn't clear, I re-watched the entire series over the course of the last two months and am blown away by the fact that none of the characters are bothered that everyone hooks up with everyone's exes! Like, am I too old-fashioned for not wanting my best friend to f*ck my ex?? This got me thinking: GG definitely isn't the only show whose cast is horny af for each other. So join me in taking a walk down memory lane.
'Gossip Girl'

I obviously had to start with the messiest show of all time. In the first and best season, the couples kind of make sense since the characters are all supposed to be juniors in high school and the writers have lots to work with. Nate and Blair have allegedly been dating for 10 years (which means they started seeing each other when they were six, k) and Dan and Serena start dating. Again, this all seems normal. I stan! But then, the rest of the seasons happen and it is very clear that the writers were just kind of like, "idk whatever."
Without going into too much detail because I have a word limit, I'll just say that pretty much all of the guys in this show are eskimo brothers. Dan and Nate both hook up with Blair, Serena, and Vanessa; Jenny hooks up with Chuck and Nate; and Ivy, a random character who doesn't matter, hooks up with Dan, Nate and Rufus (!!). I'm not necessarily judging because everyone on this show is disturbingly attractive, but still, it's a little crazy. These people are supposed to live in New York City and can't find anyone outside their social circle to hook up with? Unrelated, but after season four, everyone just stopped going to college and no one acknowledges it.
'Friends'

There is definitely some cross-contamination here even though it's more subtle than that of GG. On a show with 10 seasons, it's easy to forget who hooks up with whom, but luckily, I remember. Obviously, the two main couples are Ross and Rachel and Chandler and Monica, but there's some overlap I haven't forgotten about. Yes, I'm talking about Rachel hooking up with Joey. Let's not forget that Phoebe also kissed Joey, although they never ended up together, even though Joey did propose. I'm also convinced that Monica and Chandler only got together because the writers didn't feel like bringing in a new character crazy enough to date either of them.
There obv aren't so many inter-cast relationships on Friends as there are on Gossip Girl, but there are def a few instances of the Friends dating the same people. For instance, Joey and Ross both dated the hot science lady, Charlie, and Joey and Chandler both dated Kathy. Ugh, come on, you guys!
'Desperate Housewives'

I truly believe this was one of the best shows literally ever. If you haven't watched it because you were too young to understand what was happening when it was on TV, give it a watch now. It's on Hulu. Anyway, as its name implies, the main characters are all married, but there is one singleton who I absolutely live for. Edie Brit is the Samantha Jones of Desperate Housewives, and she has loves to f*ck her friends' ex-husbands. Is it just me or does that sound like an intro on a Bravo show? She dates Gabby's ex, two of Susan's exes, and makes out with Bree's ex. Yikes! Even though I love Edie as much as I love this show, which is a lot, I always thought that plot line was kind of weird and pointless.
'Girls'

There were two really weird love triangles in this dumpster fire of a show: Adam/Jessa/Hannah and Ray/Marnie/Shoshanna. First of all, the whole premise of Girls is that, at least for a little while, they're all bound by their strong female bond, so why are they all so quick to date each other's boyfriends? Also, I'm confused why two gorgeous, cool, impressive women are both so into Old Man Ray. We'll never know.
'One Tree Hill'

Unlike my experience with Gossip Girl, I watched this show when it was on television and have not thought about it since, so my knowledge of inconspicuous details is pretty unimpressive. However, one thing I'll never forget about this iconic mess is the love triangles. First we have Lucas/Peyton/Brooke then we have Nate/Peyton/Brooke. Uhhhhhh. Brooke and Peyton are the Blair and Serena of the early 2000s, so I guess it makes sense that they're both down to hook up with each other's boyfriends. The Nathan/Brooke situation was never super serious, but Lucas and Peyton got married! After she seriously dated Nathan! What! Does that make them the Dan and Serena of this show?
What did I miss? Are there any other shows where the cast loves to bang each other? Let me know in the comments!
Images: Everett Collection / Shutterstock.com; Giphy (5)
16 Amazon Prime Shows To Watch During Quarantine
Did anyone else think quarantine was going to be right up their alley for the first few weeks, but now they've finished all of Netflix* and there's nothing to do except alternate between staring hopelessly at the ceiling for hours on end and watching TikTok compilations? No one else? Just me?
Well, fear not either way, because even as you reach your final episode on your final show on Netflix, there are still half a dozen other streaming platforms out there waiting for you to give them a whirl. And why not! There are so many hours in the day in quarantine. You are never required to wear pants. You can be on Slack and watch TV in the background. The only rule of quarantine is to never leave your house. The real world has become a place of madness and fiction, and the only solace we can now find is going to be in the fabricated stress of television. 
So, without further ado, here are the best shows available on Amazon Prime during this quarantine. Disclaimer: I haven't spent as many hours on Amazon Prime as Netflix, mostly because it makes me weirdly uneasy to see my recent orders for lamps and cleaning supplies while I also browse for shows, so it goes without saying that I have probably missed a few of them. 
*By all of Netflix, I mean the shows worth watching. 
'Hunters'

The first season of Hunters recently started airing on Prime, and because I'm trying to avoid high-stress situations, I haven't started it. However, executive producer Jordan Peele (Get Out, Us) is an absolute genius storyteller, so it's gotta be super good. It also stars Al Pacino and Logan Lerman from the Percy Jackson movies, whom I completely forgot about, and now I need to watch. The show is set in New York City in 1977 and follows a group of Nazi hunters as they try to dismantle a secret group of Nazi officers that are trying to implement a fourth Reich in America.
'The Marvelous Mrs. Maisel'

If you've ever thought to yourself that maybe you were meant to live a different life and that life is specifically to be a Jewish mother living on the Upper West Side in the 1950s with an undiscovered talent for stand-up comedy, then this show is for you. Created by Amy Sherman-Palladino, of Gilmore Girls fame, The Marvelous Mrs. Maisel follows Midge Maisel's journey through the New York stand-up scene after her husband leaves her for his secretary (schmuck). Would Midge have worked for Betches if it was around back then? Almost certainly, and that's all you need to know.
'Girls'

Didn't we all already watch Girls? Personally, I stopped around Season 5 because every character became as annoying as humanly possible and I couldn't watch Hannah make another terrible decision or listen to Marnie try to launch her singing career for another second. That being said, I did like some of the characters and the incredibly dysfunctional family they created. At least Girls is a really easy binge because the episodes are short and the storylines are engaging and easy to follow. Just don't watch too much in a row, or you will go through what I did and never finish (but that's okay, too). 
'Fleabag'

I haven't watched Fleabag yet, but it won like, all the awards, and I see it everywhere on TL so I think I might just have to start. Phoebe Waller-Bridge writes the show and stars as the titular character, Fleabag. From the season 1 trailer, it seems kind of like a British and more updated version of Girls? As in, the main character kind of self-sabotages everything for herself but you still keep watching to see if maybe she'll turn it around one day. What seems more unique and interesting about it, though, is that Fleabag breaks the fourth wall often to explain to her viewers what's going through her brain, so maybe we have some more perspective and empathy for her questionable choices.
'Modern Love'

Modern Love is a miniseries that brings the New York Times essay column of the same name to life. Whoever was the casting agent really knew what they were doing. They've got Tina Fey, Anne Hathaway, and Dev Patel in their own 30-minute episodes, appearing casually as if they were normal people. The first episode made me cry, and the rest were definitely worth watching. With only eight episodes, this is a great show to watch if you don't want to commit to a whole series. And then you will become addicted to the stories and read 20 essays in one night and convince yourself you can write your own about the guy that has been delivering your groceries for the last week, if only you could come up with a catchy title.
'Sex and the City'

Since we have nothing else to do in quarantine, let's all sit around the kitchen table and discuss with our fellow quarantine inmates which character every person in our friend group most identifies with. Luckily, Sex and the City is on Prime to help you out. The one who is still making you do her Ship matches, just to f*ck with the guys? Samantha. The one who began planning a Zoom wedding immediately and already had a stockpile of hand sanitizer? Charlotte. The one who actually knows the facts of what's going on, but is over talking about it? Miranda. The one who thinks the pandemic is the just the thing to spice up her forthcoming-but-still-unwritten memoir? Carrie.
'Psych'

Psych is a detective sitcom that is the exact show to watch if you want to get really invested in/binge something for like, a minute, but don't want to be thinking about 24/7. Shawn Spencer is a police crime consultant who has convinced the police that he solves cases using psychic abilities, but was really just trained as a child by his dad to have heightened awareness and photographic memory, which is shown in flashbacks. Shawn works with his friend and partner Gus, at his psychic detective agency, Psych.
'The Sopranos'

The world will never get enough American-Italian mobster drama (@The Irishman), and that's all there is to say about that. The Sopranos is regarded as one of the greatest television series of all time, and luckily it's on Prime for you to decide for yourself (although I'm sure everyone has seen at least one episode at some point or another). Tony Soprano is the show's protagonist (if you will), who must balance his family life and role as crime boss of his New Jersey-based crime family—he delves into this narrative through talking to his therapist, Dr. Melfi.
'30 Rock'

Some of us think we are quirky and talented enough to be writing for Saturday Night Live, but just haven't had our big break yet. While we wait for that dream to manifest itself, we can watch 30 Rock. The popular sitcom, created by and starring Tina Fey, is available on Prime, and is based loosely her days as a head writer at SNL (although the live-sketch show depicted in 30 Rock is fictional). 30 Rock is right up there with The Office and Parks and Rec; it's just a super easy sitcom that you can throw on at any time of day and for whatever mood you're in. 
'Downton Abbey'

Downton Abbey is one of my favorite shows ever, and I'm so glad it's on Prime. Downton Abbey takes place in England and follows the lives of the aristocratic Crawley family and their servants from 1912-1926. There is so much drama both upstairs and downstairs, and while there are some people that try to cause tension, mostly everyone gets along and has adorable British accents. It's so easy to watch and get obsessed with, and I promise it's worth it.
'Dance Moms'

Honestly, who let Dance Moms air in the first place? Every Tuesday night in middle school for me featured a Dance Moms and Pretty Little Liars marathon, and looking back, that lineup feels like a bizarre fever dream. The antics of Miss Abby Lee Miller honestly haunt me, and the fact that she went to jail for a minute really doesn't help the whole situation. How did she choreograph those dances every single week? What is the rival studio, the inglorious Candy Apples, up to now? Will Maddie ever not be at the top of the pyramid? 
'Suits'

Mostly just putting this on the list because I think it might be fun to watch Meghan, Duchess of Sussex (wait do we still call her that, or no?) during her life before Harry. Suits is set at a New York City law firm, opening when Harvey Specter hires Mike Ross, a genius college dropout, to help him solve and close cases, despite Mike never attending or graduating from law school at all. 
'Curb Your Enthusiasm'

Larry David, the creator of Seinfeld and hilarious Bernie impersonator on SNL, plays a version of himself in Curb Your Enthusiasm. The 10th season just started, and luckily Prime has all the prior seasons so you can catch up. In the show, David faces the many annoyances of daily life, and basically just calls everyone out on their bullsh*t. TBH the show stresses me out because I am not a confrontational person at all, but it's really funny. I would love to see an episode of David coughing on someone and/or being coughed on during this pandemic. Maybe they're already working on it.
'Law & Order: SVU'

Over the last 20 years, Law & Order: SVU has seemingly gotten away with any and every plotline they could ever think up. My jaw immediately hits the floor every time I watch this show, and it stays there the whole episode. I love how they only seem to get the perp like half the time and then the rest of the time it's a therapy session. I love how they make up mid-season storylines for the main characters, and when you question them, diehard fans comment, "oh yeah, they mentioned that offhandedly 10 seasons ago," as if you should've remembered. I love how Finn seems to improvise all of his lines and no one ever reacts to them. This show is a great watch because you really don't need to watch it any particular order, and after one episode you'll be done with TV for a while.
'American Horror Story'

Eight seasons of AHS are on Prime, and I know everyone has a personal favorite. I only tried to watch this show once, when I was in ninth grade. I remember it so clearly, sitting in my friend's basement in the dark. It was season four: Freak Show. She didn't warn me at all. Enter: the scariest clown I have ever seen. Cue: me not sleeping for a week. That was the last time I ever even thought about watching this show. However, I'm older now, and wiser, and the world is as scary as it's going to get, so I'm considering giving it another try. I'll let you know how it goes. 
'Veep'

Let me be the first to say I would GLADLY elect Julia Louis-Dreyfus as Vice President and/or President of the United States right now, which is her role as the protagonist in Veep. Veep is about the personal and political careers of Selina Meyer, the Vice President, and her wacky but reliable staff as they try to make their mark and advance themselves politically. Does it seem like something like this will ever be allowed to happen in our country? Maybe not, but it's still fun to watch nonetheless.
Hopefully, by this point, you have found some sort of routine for your quarantine, and are not just watching TV for 9 hours a day as you maybe did at the beginning. (And if you are doing that, literally no shame at all.) However, we're in it for the long haul, and we'll need some entertainment to help us through it. If you can't stand staring at the screen any longer, try an audiobook. One show at a time, this quarantine is going to get a little more bearable.
Images: Jose Perez/Bauer-Griffin/GC Images, Amazon (16)
6 Things You Need To Know About Traveling Alone
Way back when I was ~studying abroad,~ my friends and I tried to organize a trip to Amsterdam. Spoiler: it didn't go well and none of us talk to each other anymore. It felt like that Girls episode when they all visited North Fork to "heal" and Marnie went completely psycho—except in my case, we were all Marnie. Fun! Tbh, I would blame the worst four days of my life on me and my friends all being too poor to do anything aside from smoke weed and feel depressed in the Anne Frank House, but I think the real reason is that traveling in groups, no matter how much money you have, sucks. Don't believe me? Take a look at the cyberwar that broke out in your group chat over where to get dinner this weekend. Like, try doing that, but for four days in a different country. So, after the Amsterdam Incident, I've officially decided that every trip I take from now on will be either by myself or with my boyfriend, and since he is suffering from a brutal case of nonexistence, it looks like I'll be traveling alone. And I am totally okay with that.
I know what you're thinking, "wow, that's so depressing!" and to you, I ask, is it? In my experience, when other people get involved in my plans, everything gets messed up and I become irrationally resentful. In other news, I will likely be dying alone. So if you want to protect your friendships from your own rage without sacrificing the ability to travel, maybe you, too, should consider traveling alone. Here are a few things to think about before you do, though.
Get Over Being By Yourself

If you've ever met me, you're probably rolling your eyes right about now because you know that I don't like to do literally anything alone. Like, if I'm eating by myself, it's behind my closed bedroom door where no one can see me deep-throating a burrito. I have no idea why, but I always feel like when I do things alone in public, everyone is staring at me thinking, "That poor, pathetic girl." In reality, since no one knows who I am and because I'm not doing anything worth staring at, exactly zero people are looking my way or thinking anything about me except for maybe "please get out of the way." If you're thinking of traveling alone, I'd start getting used to going to restaurants in a party of one, seeing movies, and shopping by yourself, just so you get used to the feeling of being out in public without anyone else with you. Being by yourself is nothing to be embarrassed about—and you're really going to have to get over that before traveling alone.
Be Safe

I hate that safety is a concern for women traveling alone, but if you've ever seen Taken, you know that the world is a different place for women than it is for Liam Neeson men. Of course, being on your own isn't a reason to not do things like travel, eat, or party; it's just a reason to be extra vigilant. Obv, Taken is the most ridiculous movie ever made and Kim probably could have avoided the whole being kidnapped thing by just, like, not getting in a car with a French stranger and driving straight to her living quarters, but I don't want to victim-blame. Seriously, though, if all the true crime I watch has taught me anything, it's that there are a lot of crazy people out there, so when it comes to staying safe, take precautions! Basic safety tips include not trusting strangers (see, I knew my trust issues would come in handy one day), choosing a good purse with a secure closure (so you don't get pickpocketed), and keeping your passport and other important documents locked up (pickpockets again).
Another big safety tip is to do your research beforehand and don't just roll up to a foreign city totally unprepared. Make sure you are familiar with the vibes of each neighborhood, how to get around, stuff like that. And make sure you have the emergency numbers (like, the 911 equivalent) of wherever you're visiting on hand. That may seem massively unnecessary, because what could possibly happen? But as someone who has broken a rib from simply falling down, let me just say, things could definitely happen. According to Bustle, "Some countries have separate numbers for crimes and medical emergencies," so it's a good idea to write all the important numbers down beforehand (yes, like on paper) in case your phone dies, you have no service, or anything else goes wrong with your phone. Bottom line is, you don't want to have to look that stuff up in an actual emergency.
Accept That Not Everything Will Go According To Plan 

Like I warned my sister-in-law on her wedding day, every detail in the itinerary will not play out perfectly. Don't react like she did; just be cool and accept it. Look, you can't control the weather or whether or not there will be a huge national strike because the president of France wanted to increase the retirement age and now all the monuments are closed, so you can't let mishaps ruin your whole trip. The best way to avoid having your itinerary getting f*cked up by things outside of your control is to not plan out every second of every day. Rather, choose an area you want to see and have a general idea sketched out of what you want to do there, rather than a minute-by-minute timeline that leaves no room for exploring or detours. I recommend picking one or two specific things you'd want to do in the morning, afternoon, and evening. Being on an aggressively strict schedule on vacation is low-key stressful, and part of the fun of taking a solo trip is being able to wander and explore without your annoying friends reminding you that you were supposed to be on your way to the Prado three and a half minutes ago.
Don't Go Off The Grid

My crazy mother has convinced herself that if I walk back to my Midtown East apartment by myself, I will get murdered, so I can't imagine how much that woman will worry when I go to Madrid, which may as well be North Korea to her, by myself. She's very dramatic, but your friends and family will worry about you, so literally going off the grid isn't a good idea—especially if you're going somewhere unfamiliar alone. Whether you want to post every step you take to your Instagram story or just send a simple "I'm alive" text to a few people every night is up to you, but don't be an asshole and just, like, turn your phone off.
Choose Your Accommodations Wisely

So, obviously you should do a ton of research into where you're going to be staying and read enough reviews that you can feel confident and safe with your choice (but not so many reviews that you go down a rabbit hole and just throw your whole trip in the trash… speaking from experience). But, with so many options (hotel vs. hostel vs. Airbnb), your first bet is to zero in on which type of accommodation is right for you. One thing to consider is the balance of comfort vs. isolation. While it's definitely nice to relax at the end of a tiring day in a non-bunk bed in a private room at a hotel or Airbnb, speaking from experience, staying in one of those can make it more difficult to meet people, which can make you feel even more isolated. So you'll really want to be honest with yourself. Assess how easily you can talk to strangers, and whether you feel energized by being around people. If you like being around people but are not good at starting conversations, you might want to find a more social place to stay. If you literally hate people and/or could chat up a wall, you'd probably be fine staying in a place where you will never so much as bump into another person.
Prepare For FOMO

I once skipped a distant friend's birthday dinner at a restaurant I hate because I had a cold, but then I saw everyone's Instagram stories, and you better believe my FOMO was through the damn roof. So much so that I ripped off my floor-length bathrobe, threw on an outfit, and got my sick ass to Brooklyn because missing out is too much for me to handle. Even if you're having the time of your life, you will probably still experience FOMO traveling alone. If you're traveling alone, you are going to have to be okay with the fact that your friends won't pause their own lives while you're living your best one in a different city/state/country. Remember, you are the prize and you took this trip for the Instagrams yourself! Let this trip teach you a lesson about having fun by yourself and being happy for the people having fun without you.
At the end of the day, I wouldn't actually recommend traveling alone every single time you go on vacation (at the very least, so you can save money by splitting costs), but taking a few days to explore the world on your own is a really good way to grow and, considering how much I hate eating alone at a restaurant, I am definitely in need of a little growth. 
Images: Giphy (6); Unsplash
Lena Dunham Is Making A Show About Fake Socialite Anna Delvey
This week, The Cut published a profile on Lena Dunham. The piece is being hailed as a refreshing look at female pain, and an illuminating profile on someone from whom we all assumed we'd heard more than enough. While the piece was indeed less insufferable than I feared it would be, one piece of information included was enough to ruin my day. Lena Dunham has a deal with HBO to create a series on fake German heiress (and real Russian scammer) Anna Delvey. You may have missed that tidbit in the extremely long profile, but yes, a Lena Dunham show about Anna Delvey is supposedly in the works.
In case you don't remember Delvey's story, here's a quick refresher. Delvey broke into the NYC socialite scene after a Parisian fashion internship. With vague claims about wire transfers and generational wealth, she scammed her way into almost $300,000 in unpaid bills for her luxurious lifestyle. She even made up a fake financial adviser, whom she then killed off when people grew suspicious. Last we heard from her, she was somehow Instagramming from Riker's Island. In other words, a baller through and through.
Me to Anna Delvey: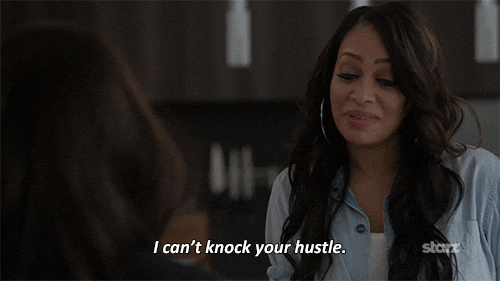 Lena Dunham, last we heard from her, was making a show called Camping, of which no one I know has been able to stomach more than one episode. And yes, we all watched all of Girls, but very few of us felt ultimately good about it. As far as careers go, Lena Dunham's has aged about as well as the box of Chinese takeout I ordered on Saturday night that's still sitting in my fridge. Seeing as Anna Delvey's story of scamming has been a bright spot of joy in an otherwise bleak news cycle, I'm not thrilled about the prospects of a Lena Dunham show about Anna Delvey. Like, ruin Williamsburg all you want, but when you come for my scammers? That's where I draw the line.
The good news is that Lena isn't the only person who's been given the opportunity to translate Delvey's scamming stories to the screen—we've known for a while now that Shonda Rhimes was also tapped to create a series for Netflix about her. Now, when I heard Shonda Rhimes was making her own Delvey show, I was thrilled. Rhimes' handle on sexy, fast-paced drama is exactly what Delvey's story needs. We need secret love affairs, high-fashion montages, and constant overlapping power plays. What we do not need is mournful shots of Delvey on the toilet while a Belle & Sebastian song plays.
The silver lining here? Whatever it looks like, the Lena Dunham show about Anna Delvey can't possibly be as bad and/or offensive as her adaptation of a Syrian refugee's story will be. Cheers to that.
If you love scams, cults, conspiracies, and true crime, listen to Not Another True Crime Podcast! New episodes out now.
Images: Getty Images; Giphy (1)
Rihanna Just Struck A Deal With France Because There's Nothing She Can't Do
Rihanna is a living goddess, sent down from the heavens to bestow unto us the gifts of Fenty Beauty and an endless supply of straight bangers (if your inner middle school self doesn't still get hype over "Pon de Replay," you're wrong). In addition to making us fully support a completely see-through curtain of diamonds as an acceptable outfit choice, she also spends her free time being a major advocate for important causes. Truly, we are unworthy.

Our noble Barbadian queen just made the world a better place again by striking a deal with France to fund education for girls in underprivileged countries. Rihanna is an ambassador of the Global Partnership for Education, and took her passionate work work work work work ethic to their Financing Conference in Dakar earlier this month. There, she was spotted hugging French President Emmanuel Macron because what person in their right mind would pass up getting to touch Rihanna's gorgeous, talented, (presumably) silky smooth skin?!

Actual footage of Macron seeing Rihanna in person
JK, the real reason for their hug was Macron's agreement to Ri's personal request that France would contribute $250 million to the GPE's efforts to ensure that every child receives a basic education – especially those living in the poorest conditions and in countries plagued by conflict and tragedy. Rihanna tweeted her thanks at Macron, who responded, "When I commit, I deliver. @Rihanna, France will always side with those fighting for a better education. #FundEducation" Honestly, I feel you, Macron. If RiRi @-ed me on Twitter I would literally empty my pockets at her feet and beg her to take my next 10 paychecks, my rent, and my first-born child.

Rihanna ended her conference visit with a speech, saying, "We've made tremendous progress today, but of course, our work is never done. We have a long way to go. This is a fight we're never gonna stop fighting until every boy and every girl has access to education." Pop a quick drum beat and a feature from Drake under that and we have our next Top 40 single.
Seriously though, if the same woman who has been nominated for 33 Grammys can get entire foreign nations to hand her money for noble causes, we might have to reevaluate where we need her most and use this power for even more good. You heard it here first…#Rihanna2020

Heads up, you need to keep up with the news. It's not cute anymore. That's why we've created a 5x weekly newsletter called The 'Sup that will explain all the news of the week in a hilarious af way. Because if we weren't laughing, we'd be crying. Sign up for The 'Sup now!
5 Times Our Favorite Shows Tried To Tell Us About Hollywood's Sexual Harassment Problem
In case you've been living under a rock recently, sexual harassment has kind of been having a moment. I mean, if you talked to women ever you'd probably know that sexual harassment's "moment" has lasted throughout all of human history, but whatever. While the rampant sexual abuse in the entertainment industry may have come as a surprise to men some people, for those of us who watch TV like it's our fucking job, *points to self* it's come as less of a surprise.
Some of our favorite TV shows, movies, and award shows were sounding the alarm about creeps like Harvey Weinstein for years, but nobody gave a fuck because like, sexual harassment wasn't having its moment yet. So here's a look back at five times Hollywood literally told us Harvey Weinstein was a fucking creep, and we just totally failed to notice it because we were too busy with other shit.
1. '30 Rock'
30 Rock, aka one of the best, most binge-watchable comedies ever, came for Harvey in both their sixth and seventh seasons, wayyyyy back in 2012. (Ugh, 2012, I miss you. I want to go to there.) And who better to do it than one of the betchiest characters ever created, Jenna Maroney? In season six Jenna says, "I'm not afraid of anyone in show business, I turned down intercourse with Harvey Weinstein on no less than three occasions … out of five." She then comes for Harvey again in season seven, with the fairly disturbing line, "Look, I get it. I know how former lovers can have a hold of you long after they're gone. In some ways, I'm still pinned under a passed-out Harvey Weinstein and it's Thanksgiving."
So, first of all, yikes. Second of all, wow, I can't believe nobody noticed this. In our defense, 30 Rock does have like, 25 jokes per second, so it's hard to zone in on one and decide it's real and not just some crazy shit Tina Fey came up with. Sidenote: Does this mean Mean Girls is real, too?
2. Seth McFarlane At The 2013 Oscars
In case you, like me, blocked out Seth McFarlane's sad 2013 attempt at hosting the Oscars (he literally performed a song called "We Saw Your Boobs" directed at Hollywood actresses, because apparently the Oscars are middle school), you may have missed this joke he made while announcing the nominees for best supporting actress:
"Congratulations. You five ladies no longer have to pretend you're attracted to Harvey Weinstein."
Hmm…well that's…fairly explicit. But again, these are comedians! Are we supposed to take everything this guy says seriously? He created Family Guy, for fuck's sake. According to McFarlane, he wrote the joke after a friend of his confided in him about Weinstein's behavior, and while he didn't want to blow up her spot, he "couldn't help but take a hard swing in direction." He also added, "make no mistake, this joke came from a place of loathing and anger."
Damn Seth, tell us how you really feel tho.
3. 'Entourage'
This one is like, so explicit I'm almost embarrassed for not remembering it—but then again, I kind of turned my brain off any time I was watching Entourage, so who can blame me, really?
Entourage literally featured a character named Harvey Weingard (subtle), who was a giant, fat, mean monster played by Maury Chaykin. It is "widely believed" that this character was inspired by Weinstein. Um…yeah…ya think?
"Do you know who I am? You're gonna beg to get back into the pizza business," Weingard yells in one scene, because like, in addition to being a sexual predator, Harvey Weinstein was also just kind of an asshole.
4 Asia Argento's 'Scarlet Diva'
This one is legit sad and disturbing, so let me issue a trigger warning right here: sad and disturbing shit head. One of Harvey Weinstein's accusers, actress/director/generally brave person Asia Argento, legitimately depicted her encounter with Weinstein in her film Scarlet Diva.
Asia tweeted out the scene (again, there's trigger warning here) shortly after her allegations against Weinstein came to light, proving that this shit has been on the surface all along.
5. 'Girls'
Final shot of @girlsHBO ep "American Bitch" (with Matthew Rhys) that I directed, also entrance to Harvey Weinstein's apartment pic.twitter.com/dwWrc1tzK0

— Richard Shepard (@SaltyShep) October 7, 2017
Lol, y'all didn't think I'd get through this list without a mention of Lena Dunham, did you? In this episode in the last season of Girls, Lena's character meets with a writer she once greatly admired, but now has "disturbing allegations of sexual misconduct" surrounding him.
Disturbing allegations of sexual misconduct, you say? Who does that sound like?
And if you're like, "Eh, that could be about any powerful man," (sad but true, TBH) the director actually hid a clue to the character's inspiration in the final shot. At the end of the episode, Lena (aka Hannah) walks right past Harvey Weinstein's actual NYC apartment, as if to say "I know what you did, and I know where you live." Damn. Savage. Not sure if Harvey Weinstein watches Girls but like, if he does, that must have been pretty shocking.
So there you have it. Turns out half the shit we binge watch while getting stoned on the couch was actually trying to signal very important messages to us.
These Are The Four Types Of Girls You Always See At Brunch
Going to brunch is a sacred rite of betchdom, and the brunch crew that you assemble to meet every Sunday for mimosas is low-key the most important relationship in any betch's life. I mean sure, family is up there, but is family gonna be there for you when you black out at 1pm on a Sunday and end up texting your ex a screenshot of Taylor Swift lyrics? Nah. That's a job for your brunch crew. Within that crew, there are very specific roles that must be played. Each brunch crew must have:
1) "The Social Media Addict," aka the person who spend the entire brunch on her phone, snapping photos and demanding you like them. This behavior is only annoying until she takes a fire pic of you in amazing lighting that gets 100+ likes. Then you remember why she's such an integral part of the crew.
2) "The Deathly Hungover One," aka the person who should actually be in the hospital but somehow made it to brunch. This person will puke 3-4 times throughout the meal and somehow also drink more than anyone.
3) "The One Who's Always Extra," aka the one who always brings the drama. Every week, some catastrophe has befallen this person, whether it be running into her ex at the bar or being tagged in a sub-par photo. 90% of brunch will be spent figuring out this betch's life problems, and she will ignore 100% of the advice your crew provides.
4) "The Annoying Healthy One," aka the one who just came from hot yoga and won't shut tf up about it. She'll order the tiniest salad possible and spend the entire brunch talking about her diet. Most of the time you want to kill her, but she's great for that one week a month where you decide to go to the gym.
5) "The No-Show," aka the person who was maybe kidnapped last night. Has anyone seen Emily? Who was the last person to get her? Wait…
Check Out Our Video 'The Types Of Girls You Meet At Brunch' Below:
All Your Favorite TV Shows Are Getting Canceled
Every May, television networks scramble to make it seem like everything is good and fine, and they announce a whole bunch of new shows you'll never watch, while also canceling most of the ones you've never heard of. Every year, though, there are a few beloved cancelations, or at least shows you've watched because you're too lazy to get up and change the channel. Some have managed to hang on, like Grey's Anatomy (fucking how??) and New Girl, which have both been renewed for another season. Unfortunately, not everyone can get so lucky. Like Jack in the icy waters at the end of Titanic, here's what won't be coming back:
1. 'The Vampire Diaries'
We really hope you're not still watching this in 2017, but we know old habits can die hard. The CW is the patron saint of letting shows go on for way too long (i.e. Supernatural getting a 13TH SEASON), but it was time for this one to go. Poor Nina Dobrev and Ian Somerhalder will have to find something else to do, but we're not that worried. This is one of the last remnants of the late 2000s vampire craze, so honestly we're happy to see it go.

2. 'Bones'
This is one of those shows where you had absolutely no idea when new episodes were on, but somehow you feel like you've seen at least half of them. There will still be plenty of reruns, but Zooey Deschanel's less quirky sister will have to find a new gig. To be fair, this lasted 12 seasons, which is incredible for a show that literally has one plot line.
3. 'Scream Queens'
Ryan Murphy has many shows: American Horror Story, American Crime Story, Feud…and Scream Queens. As fun and ridiculous as it was, this little project never fully got off the ground, and season 2 was pretty fucking tragic. It was sort of like Glee 2.0, but with fake blood instead of musical numbers. For now, Emma Roberts can go back to asking Auntie Julia for money, and Lea Michele can go away forever.

4. 'Masters of Sex'
You've never actually seen a full episode of this show, but you know it has Janis Ian and that your mom absolutely loves it. Now where will she get her wide array of cringey conversation topics? Gone, but not forgotten.
5. 'Girls'
Okay, Girls didn't so much get canceled as like, mutually agreed to be ended, but we're still sad to see it go. Yeah, all the characters were the fucking worst, but that really just made them more relatable. For now, we'll wait patiently for an Elijah spinoff.

6. 'Pretty Little Liars'
God Bless anyone who still watches this mess. You're a real trooper, and you should probably get your head checked out or something. We miss a simpler time, when we didn't fear for our rights and our most pressing concern was figuring out who the fuck was A.
7. 'Orphan Black'
Tatiana Maslany's mind-bending performance on this show has made her one of the baddest betches on TV, and we're sad to see it go. Like a chill party that never quite got invaded by hordes of basic girls, Orphan Black was always just the right amount of underrated.

8. 'Teen Wolf'
We'll miss this one, not as a source of quality television programming, but as a source of hot abs and dramatic gifs. We're not crying, you're crying.