The Full-Body Workout You Can Do In A Corner Of The Gym
If you go to the gym right before 9am or right after 6pm, you know how annoying it can be to get around the place during workout rush hour. As much as we'd all love to work out in an empty gym with the whole place to ourselves, it's v unrealistic unless you're like, a psychotic morning person or like, super rich. Luckily for you, we've put together a workout can literally be done with one mat in a tiny corner of the gym, so you don't have to bother waiting for a machine to become available or for people to step away from the dumbbell racks. Here's a quick workout that will tone your whole body and burn a ton of calories while staying in one space the whole time.  
1. Walkout Push-Ups
The walkout push-up is a great warm-up move because it gets your lower and upper body working without diving right into a cardio or strength move. The idea here is to first warm up your hamstrings by starting in a standing position and folding your arms and head forward, and then get your upper body warmed up by crawling your hands out to a plank position. Once you're in your plank, perform one push-up (drop to your knees if you have to) and then crawl your hands back to your ankles to stand back up, engaging your core at the top each time. Start off slow, and then try to speed up on your last few reps. Do 10 of these in total.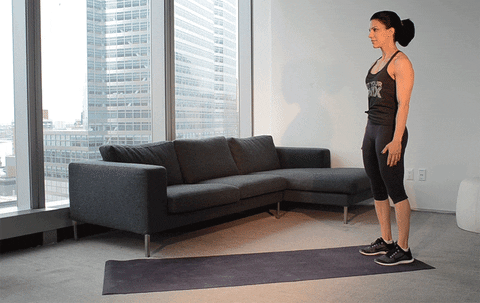 2. Glute Bridge To Oblique Reach
This is another lower and upper body movement, but this time you're working your butt and your obliques, aka your side abs and love handle region. Start by lying on your back with your knees bent and your feet on the ground. Then, extend one leg straight out and lift your hips into a bridge, squeezing your glutes and specifically feeling the burn on that same side. After the bridge, lower your hips back to the ground and reach your arms toward the straight leg while extending the leg upwards. Remember that you're crunching with your abs, so don't just use your arms to swing your body up. This combo is slightly complicated since it's technically two moves in one, so you can take your time on these until you get the hang of it. Do eight reps on each side.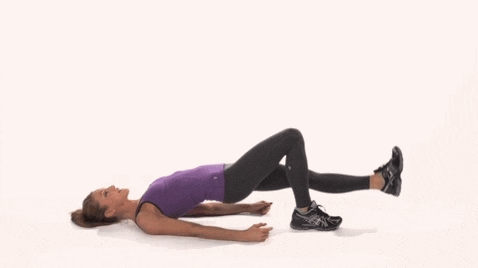 3. Tricep Extensions
You'll need a weight for tricep extensions, but it shouldn't be too hard to find because you can literally use whatever you want—a dumbbell, a weighted medicine ball, or a kettlebell. If you have a kettlebell available to you, you're gonna hold it by its horns (AKA the non-bell part) and lift it up over your head, keeping your elbows straight forward and your arms tight. Then, extend the bell toward the back of your neck, using your triceps to bring the weight up and down each time. If you feel like your elbows are widening out to the side, take a break and reposition yourself. The tricep muscles are really what give your arm that toned, sculpted look, so go heavy on these and take your time. Aim for 10-12 reps.

4. Deadlift To High Pull
The good news with this move is that you can use the same weight you were just using. Again, this is a combo move, so you're totally killing two birds with one stone by working your legs and your arms in one exercise. Place your kettlebell on the ground in front of you, and make sure it's between your legs, but like an inch or two forward. Then, bending your knees slightly, you're going to hinge your hips backward and lift the kettlebell keeping your arms straight, bringing it to your waist as you hinge the hips forward. That's the deadlift part. Then, you're gonna pull the kettlebell up to your chin, using your shoulders to row upright, with your elbows wide towards the sides. Once you complete one rep, bring the kettlebell down to the ground and do five more.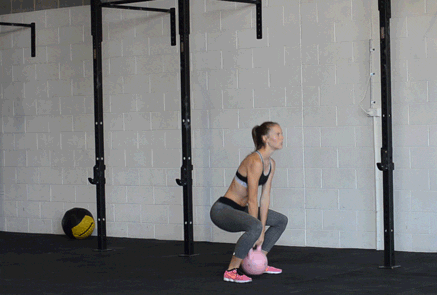 5. Squat Jumps
Now that we've done a bunch of strength work, it's time for some cardio. Your legs burn the most calories out of all the muscles in your body, so doing jumping exercises while combining squats or lunges is super effective. It's also really hard, so pace yourself. Start in a squat position, making sure your knees are behind your feet so you don't hurt yourself. Get super low, and then jump up explosively while straightening out your legs and arms. Aim for 20 reps here, but you might want to die by the time you get to 15. Try to fight through it.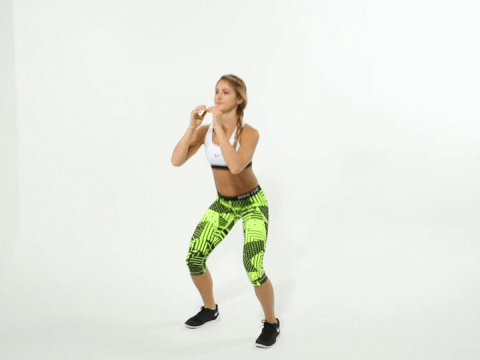 6. Burpees
Burpees are annoying and difficult, but there's a reason you see them in every fitness magazine and at every workout class—they WORK. Start by standing with your feet shoulder-width apart and your arms at your sides. Then, lower your body into a squat and place your hands on the floor in front of you, jumping your feet back so that you're in a plank position. Once your body is in a straight line, lower your chest to the floor and then bring it back up as quickly as you can. Then, jump your feet forward, outside of your hands, and jump up with your arms in the air. Do 8-10 of these, depending on your energy at this point in the workout. Also, keep in mind this is a full-body move, so make sure you follow the motions without just slamming your body down to the ground in the sloppiest way possible.

Images: Trust Tru Katsande; Unsplash, Giphy (5), Pinterest (1)
Upper Body Exercises To Target The Muscles You're Ignoring
When it comes to choosing workouts, some exercises just seem obvious, like doing squats for a perky butt or planks for rock-hard abs. And don't get me wrong, I'll do squats and planks until they're out of style. *BUT* I think it's also important to work on the muscles we don't often think about, especially as girls. We tend to think we just need a little toning and cardio here and there, but there are a lot of important muscles that we neglect at the gym, especially our upper body muscles. It's time to address WTF to do about them. Here are some underrated upper body exercises and why you should be working them.
1. Chest Presses
Aside from a few modified push-ups as a warmup, most girls never think about working their chest muscles. I mean, the chest press seems like a guy's exercise, and it can be super intimidating. What many women don't realize is that your chest muscles just create a stronger upper body in general, which literally makes it easier to do basic activities, like opening doors and holding heavy bags. People also find that chest presses can even give yourself a little chest lift, so you can stop buying push-up bras. So start your upper body exercises with chest presses. Grab two dumbbells and lie flat on a bench with the weights at chest height and your elbows out toward your sides. Then, press the weights upward, keeping them over your chest the entire time, and bringing them back down after every rep and avoiding pushing with your shoulders.
2. Lying Back Extensions
People tend to do a lot of rowing and lat pulldowns to target back muscles, and these exercises are great, but we tend to forget about our back extensor muscles, which are located at the lower back. They're super important for core engagement, stability, and avoiding injury. Doing lying back extensions will help you avoid hurting yourself at the gym, considering you basically use your back in any exercise, like even running or spinning. Lay out a mat and then lie on your stomach with your head facing the floor and your arms out over your head in a "Y" shape. Then, slowly lift your legs and arms off the floor, keeping only the area from your stomach to your thighs on the mat (if that's too hard, leave your legs alone and just lift your upper body). Lower back down and then lift back up, feeling the tension in your lower back.

3. Inner Core Leg Lifts
We do a lot of ab movements around here, but there's a major difference between your ab muscles and your core muscles. Most ab workouts, like bicycles and Russian twists, don't target the transversus abdominis, which is the muscle that connects to our pelvic floor and internal organs. In order to strengthen these inner muscles, do inner core leg lifts. Start by lying on your back with your knees bent, and slowly lift your right foot off the floor, keeping your core engaged as you lower it back down. Then, do the same on the left, and switch back and forth, exhaling with each rep. These are supposed to be slow and controlled movements, so don't worry if you're not getting your heart rate up or sweating, but DO worry if you're just kicking the ground without feeling it in your abs. Then you're probs doing it wrong.

4. Lateral Raises
Toning your shoulder muscles will make your whole arm look more defined and just so much better, and the most ideal way is to work the front of the muscle and the side of it in one workout to tone every angle. The lateral deltoid, aka the side of your shoulder, is really what gives your arms a toned look, and it's often neglected because people just don't realize what a difference it makes. Standing up with a dumbbell in each with your palms facing your thighs, keep your elbows slightly bent and raise your arms to the side until the weight reaches shoulder height. Then, slowly lower the dumbbell back down to your thigh. Keep raising them up and down, and try not to bounce your legs to use momentum to lift them. The goal is to keep tension in your shoulders the whole time and not get any help from your lower body.

5. Single-Arm Planks
Obviously your abs aren't a "forgotten about" muscle, but we often overlook the most basic functions of our core muscles, which include stability and balance. Upper body exercises like single-arm planks strengthen the core while testing your stability. By doing moves like these, you'll notice that yoga poses get easier to hold, being in third position on a spin bike feels more natural, and other ab movements are just less painful. So basically, the single-arm plank is essentially a regular plank, but you only use one hand at a time. Duh. It's easier to start with your hand centered in front of your chest, but try to work it back out to under your shoulder as you get stronger. The idea is to keep your body square to the ground without raising your hips on one side, and keep your core tight the entire time.

Images: Ayo Ogunseinde /Unsplash; Giphy (4), Pinterest (1),